Pages 153-157
A History of the County of Lancaster: Volume 7. Originally published by Victoria County History, London, 1912.
This free content was digitised by double rekeying. All rights reserved.
MEDLAR-WITH-WESHAM
Middelarghe, Middelerwe, 1226; Middilhargh, 1292.
Westhusum, 1203; Westeshum, 1262; Westesom, Westsom, 1292; Wessum, 1324.
Bredekirk, 1249.
Mulebrec, 1249; Molebrek, 1276.
Wesham, with Mowbreck on the east, occupies the southern part of the township, having Medlar as a long prolongation northwards, and Bradkirk, which (though quite detached) is reckoned with Medlar, as a prolongation westward. The total area is 1,965½ acres, (fn. 1) of which the two portions of Medlar furnish 1,079 and Wesham 886½. In 1901 there was a population of 1,826. The surface in general varies from 25 to 60 ft. above the ordnance datum, but there is some higher land on the west of Bradkirk, 125 ft. being there attained.
The principal village is modern, clustering round the railway station on the border of Kirkham. Through it go roads northward to Greenhalgh and north-west through Bradkirk to Weeton and Blackpool. The railway from Preston to Blackpool and Fleetwood crosses the township close to the southern border, having the station already named, which is called Kirkham and Wesham. From it the Lytham line branches off.
There are two cotton factories. The soil is clayey; wheat, oats and potatoes are grown, but most of the land is used for pasture.
The township is governed by a parish council. There are a lecture hall and concert room.
Manors
None of the component parts of the township—Medlar, Wesham, Mowbreck and Bradkirk—is named in Domesday Book; in 1066 they were probably included in Kirkham and Greenhalgh. (fn. 2) Afterwards they were in the hands of different lords.
MEDLAR was about 1180 held in thegnage by Roger de Hutton of Penwortham by a rent of 8s.; it was assessed as one plough-land. (fn. 3) He gave it to his daughter Cecily in free marriage with Benedict Gernet (fn. 4); she afterwards, as it seems, married Ellis de Stiveton or Steeton. She gave Medlar to the Knights of St. John about 1207, and they granted to Gilbert son of Roger son of Reinfred, (fn. 5) he in turn transferring it to the canons of Cockersand. (fn. 6) In 1299 the Hospitallers confirmed the Cockersand right; a rent of 2s., instead of 1s. 6d., was to be paid to them, and 2s. also on the death or removal of an abbot. (fn. 7) The canons retained possession till the Suppression, (fn. 8) and in 1543 Medlar was granted by the Crown to William Eccleston of Great Eccleston. (fn. 9) In 1592 Thomas Eccleston had only a rent of 20s. from lands there, (fn. 10) the greater part having apparently been acquired by the Westbys of Mowbreck, (fn. 11) for in 1557 William Westby held messuages in Medlar and a close called the Cornfield of the king and queen in chief by the fortieth part of a knight's fee and a rent of 8s., (fn. 12) i.e. the old thegnage rent. Land or rent in Medlar was re-granted to the Hospitallers by Queen Mary, as part of the Stidd estate, (fn. 13) and seems afterwards to have been acquired by the Shireburnes. (fn. 14)
WESHAM was in 1189 confirmed to Roger son of Augustin de Heaton by John Count of Mortain; one part, assessed as 4 oxgangs of land, was held by a rent of 2s. yearly, due to the chief lord, Count John; the other part, also assessed as 4 oxgangs, had been granted to Roger by Adam son of Adam Artwin. (fn. 15) Five years later the whole plough-land was confirmed to Roger de Heaton by Theobald Walter, the rent of 4s. being apparently unaltered. (fn. 16) It was held by Roger's heir in 1212, (fn. 17) and in 1262 a later Roger de Heaton was found to have held in chief of the king 8 oxgangs of land in Wesham, 2 in demesne and 6 in service, rendering 4s. yearly. (fn. 18) The estate passed to the lord of Mowbreck, who in 1557 was holding lands, windmill, &c., in Wesham of the king and queen by the rent of 4s. (fn. 19); but the mesne lordship, like that of Mowbreck itself, was vested in the Botelers of Ireland, (fn. 20) perhaps in virtue of the grant of Amounderness, and as an appurtenance of their lordship of Weeton was acquired by the Stanleys. (fn. 21) The Earl of Derby remains the chief landowner to the present time. For a long time part of Wesham was held by the Greenhalgh family, (fn. 22) but was sold to the Masons in the time of Elizabeth. (fn. 23) One or two other holders occur. (fn. 24)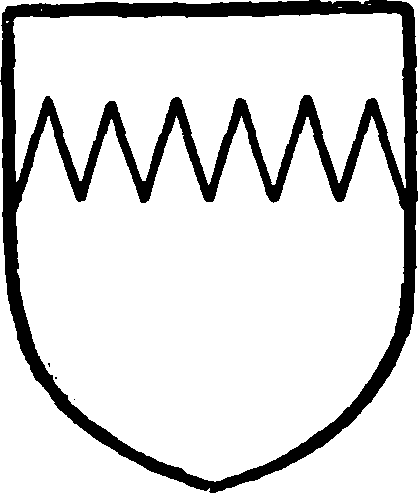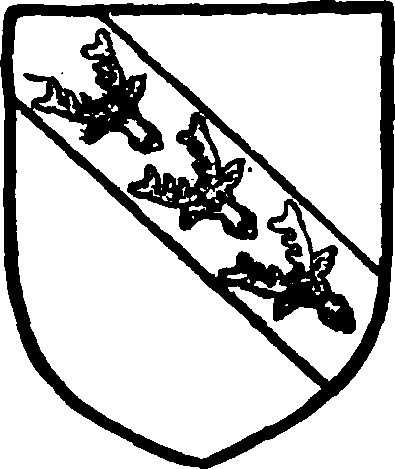 MOWBRECK was from an early time in the possession of the Botelers of Ireland. (fn. 25) Of them it was held, like Wesham, by the Heaton family, the immediate tenant in 1286 being Adam de Bradkirk who rendered 4s. yearly, (fn. 26) which continued to be the service due from the manor. The manor was settled on William de Heaton and Anilla his wife in 1328–30, the free tenants being Nicholas del Marsh, John de Bradkirk, Thomas de Greenhalgh and John son of Roger de Wesham. (fn. 27) About 150 years later the manor was held by one William Westby, (fn. 28) perhaps by descent from Nicholas del Marsh, and in 1479 he settled it upon his son John and Mabel daughter of Richard Boteler. They had issue two daughters—Beatrice, who married Lawrence Preston, and Alice—but John by a second marriage had a son William, who after various disputes obtained the manor from the Prestons. (fn. 29)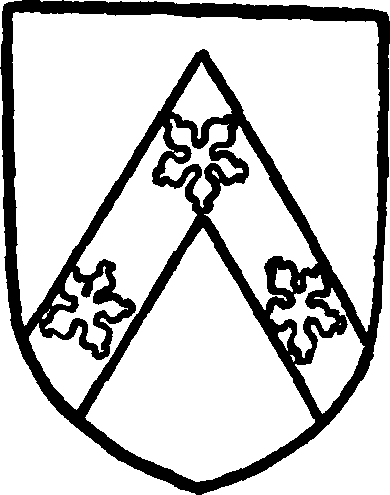 He died in May 1557 holding the manor of Mowbreck of the king and queen as of their duchy of Lancaster in socage by 4s. rent, and leaving a son and heir John, twenty-seven years old. (fn. 30) This son proved one of the most uncompromising adherents of the old religion in the county. At the beginning of active persecution in 1568 he was summoned before the queen's commissioners, and replied that he had 'not resorted to the church Sundays and holydays,' as the laws of the realm required, nor 'received the communion in such sort as by the laws he (was) likewise appointed'; he had entertained William Allen (afterwards Cardinal), not as a disloyal subject but regarding him only as a relative. (fn. 31) He remained constant, and is found on the recusant lists as heavily fined. (fn. 32) In 1585 he sent a petition to the queen asking for some consideration; he was sixty years of age, he had lately paid £25 for the furnishing of a light horseman, (fn. 33) and his goods had been seized for a fine of £80, though his 'ancient rents' amounted to no more than £42 a year. He therefore desired the queen to accept £10 or 20 marks as a composition. (fn. 34) He died in 1591 in possession of the family estates; the heir was his son John, eleven years old. (fn. 35)
The younger John Westby died in 1605, and was succeeded by his brother Thomas, then nineteen years of age. (fn. 36) Thomas Westby, who recorded a pedigree in 1613 (fn. 37) and paid £13 6s. 8d. in 1631 on declining knighthood, (fn. 38) died at Burn in Thornton in September 1638, leaving his son John heir to a somewhat diminished estate. (fn. 39) On the outbreak of the Civil War John Westby and his brothers espoused the king's side, (fn. 40) and his estates were sequestered and finally sold for his recusancy and delinquency by the Parliamentary authorities. (fn. 41) The estate of his brother and successor Francis suffered a like fate, (fn. 42) as did that of his half-brother George. (fn. 43)
Francis Westby succeeded in 1661, and recorded a pedigree in 1664, being then forty-four years of age. (fn. 44) Mowbreck descended to his son Thomas (fn. 45) and grandson John, who in 1717 as a 'Papist' registered his estates at Burn in Thornton, Mowbreck, Westby, &c., the Lancashire portion being valued at £230 6s. 1½d. per annum. (fn. 46) He left four daughters as co-heirs, and they or their representatives, after the death of his brother Robert in 1762, obtained the Mowbreck estates. (fn. 47) Division and sales followed, but part returned by marriage to Thomas Westby of Rawcliffe, a distant cousin. (fn. 48) His estate descended to two of his sons, (fn. 49) and then by will to the son of a nephew, (fn. 50) George Westby, (fn. 51) who was in 1842 followed by his son Joscelyn Tate Fazakerley Westby. (fn. 52) It was in 1893 purchased from the mortgagees by the Earl of Derby, the present owner. (fn. 53)
BRADKIRK, (fn. 54) though recently accounted as part of Medlar, seems always to have belonged to the lords of Wesham. (fn. 55) It gave a surname to a family of long continuance in the district. (fn. 56) Adam de Bradkirk died in September 1349 holding in conjunction with Ismania his wife the manor of Bradkirk of Edmund de Heaton by fealty and the service of 4s. yearly. John his son and heir was only two years of age. (fn. 57) Later the estate was held on lease of the Earl of Derby (fn. 58) by the Parkers, (fn. 59) and in 1653 was purchased by Christopher Parker. (fn. 60) It did not continue much longer in his family, being sold in 1723. After passing through several changes it was again sold in 1797 to Joseph Hornby of Ribby, (fn. 61) and has since descended with his estates.
James Hornby of Medlar, as a recusant, had part of his estate sequestered under the Commonwealth, (fn. 62) and John Swarbrick of Wesham, as a 'Papist,' registered his estate in 1716. (fn. 63)
Christ Church, Wesham, was built in 1894 as a chapel of ease to the parish church of Kirkham.
There is a Primitive Methodist chapel.
During the times of persecution mass was said at Mowbreck, (fn. 64) which remained the seat of the mission till 1809, when it was removed to the chapel opened at Kirkham. As an offshoot of this St. Joseph's, Wesham Cross, was opened in 1886. (fn. 65)