Pages 161-165
A History of the County of Lancaster: Volume 7. Originally published by Victoria County History, London, 1912.
This free content was digitised by double rekeying. All rights reserved.
CLIFTON-WITH-SALWICK
Cliftun, Dom. Bk. Salewic, Dom. Bk.
This is a composite township, Clifton lying to the south-west and Salwick to the north-east, the respective acreages being 2,101 and 1,388, or 3,489 acres in all. (fn. 1) Lund, with its chapel, is about midway between the two hamlets, but in the Clifton portion. This portion has on the south the marshy land by the Ribble, and on the north some moss land. From the marsh the surface rises at first somewhat steeply, the village of Clifton being on the slope; in general the surface continues to rise gradually from that point to near the northern boundary, but with many undulations, over 100 ft. above sea level being attained. In the northern corner the surface falls away somewhat; it is in this part that Pepper Hill is situate. The population was 413 in 1901.
The principal roads are three crossing westward through Lund, Clifton and the Marsh respectively. The line of another westward road, called the Danes' Pad, is traceable to the north of Lund; it is supposed to be of Roman origin. A cross road goes north through Clifton and Salwick to Pepper Hill, (fn. 2) where it meets another going north-west from Preston. There is also a westerly cross-road near. The Preston and Lancaster Canal winds west, north and east through Salwick. The railway from Preston to Blackpool runs westward to the south of the canal, and has a station named Salwick.
There was formerly a cross at Lund village. (fn. 3)
The land is clayey; wheat, beans and oats are grown, but most of the land is in pasture.
The township has a parish council.
Robert son of John Gradwell was born at Clifton in 1777. Educated at Douay he was imprisoned there on the outbreak of the French Revolution. Afterwards he was rector of the English college at Rome, and in 1828 was consecrated (as Bishop of Lydda) to assist Bishop Bramston as vicar-apostolic of the London district. He died, in 1833. (fn. 4) At Clifton also was born George Hilary Brown (1786); he was appointed vicar-apostolic of the Lancashire district in 1840, and ten years later, on the restoration of the hierarchy, became Bishop of Liverpool. He died in 1856. (fn. 5)
Manors
In 1066 CLIFTON, assessed as two plough-lands, and SALWICK, as one, were part of the Amounderness fee of Earl Tostig. (fn. 6) They were sometimes regarded as separate manors, probably their original status, but, as they were adjacent and held in demesne by one lord, Salwick gradually fell into the position of a dependency of Clifton. After the Conquest they were held of the king in thegnage, and in 1212 formed part of an estate of ten plough-lands so held, a rent of 40s. being paid. (fn. 7)
The owner in the year named was Walter son of Osbert, (fn. 8) who seems to have been in possession by 1170. (fn. 9) Walter was followed in 1217 by his son William de Clifton, (fn. 10) who died in 1258 holding ten plough-lands in chief of the king—viz. eight in demesne and two in service—by a rent of 40s. and by finding a suitor at the courts- of the county and the wapentake. His son Henry was of full age and married. (fn. 11) Of Henry practically nothing is known. (fn. 12) He was ancestor of three successive Williams, the first of whom (fn. 13) in 1318 obtained a charter of free warren in his manors of Clifton and Westby. (fn. 14) He died in 1323. (fn. 15) His grandson, another Sir William, (fn. 16) showed himself a lawless and violent man in a dispute in 1337 with the Abbot of Vale Royal. On arbitration he was ordered to acknowledge his guilt and ask for pardon, submitting himself to the abbot's will, to pay 20 marks and compensate for loss. Those who had assisted him were to bring a large candle, which was to be carried round the church of Kirkham on Palm Sunday and offered to St. Michael. (fn. 17) He appears in another light in 1349, obtaining from the Archbishop of York licence for his oratories at Clifton, Westby and Lund. (fn. 18)
Sir William was about 1370 succeeded by his son Sir Robert, (fn. 19) who died in 1401 holding the manors of Clifton, Salwick and Moorhouses, also the manor of Westby and various lands of the king in socage by the service of 40s. yearly. The heir was his nephew Thomas son of Sir Nicholas de Clifton, then twelve years of age. (fn. 20) The manors descended regularly to Cuthbert Clifton, (fn. 21) who died 14 August 1512, leaving an only daughter Elizabeth, the heir male being his brother William. (fn. 22) A division ensued, Clifton going to the daughter and Westby to the brother, (fn. 23) and thus the Cliftons became known as 'of Westby.' Elizabeth by her second husband Sir William Molyneux (fn. 24) had a daughter and heir Anne, (fn. 25) whose grandson Cuthbert Halsall had a daughter and co-heir Anne. She married Thomas Clifton of Westby, and the whole estate became reunited. (fn. 26)
It will thus be convenient to give in this place the descent of the manor of Westby. William Clifton died in 1537, (fn. 27) and was succeeded by his son Thomas, who died in 1551, leaving a son and heir Cuthbert, twelve years of age. (fn. 28) Cuthbert was a recusant in 1577, his income being stated at 100 marks a year. (fn. 29) He died in 1580, leaving a son Thomas, eighteen years of age, (fn. 30) who at his death only five years later was followed by his son Cuthbert, three years old. (fn. 31) This son, the purchaser of Lytham, was made a knight at Lathom in 1617, (fn. 32) and died in 1634 holding the manors of Westby, Lytham and Little Marton. (fn. 33) Thomas, his son and heir, was twentynine years of age, and, as above stated, had recovered the manor of Clifton and the other moiety of the ancient family estate by his marriage with Anne Halsall. Pedigrees of the family were recorded at the heralds' visitations in 1567 (fn. 34) 1613 (fn. 35) and 1665. (fn. 36)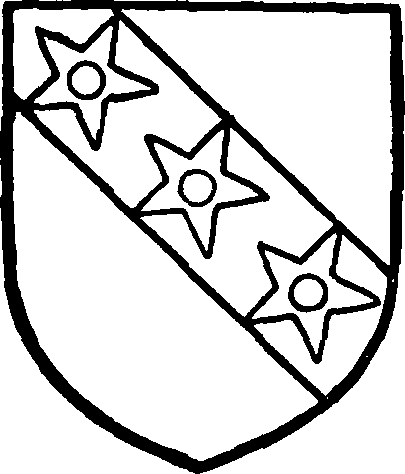 The Cliftons adhered to Roman Catholicism, (fn. 37) and in the Civil War to the king's side. (fn. 38) Thomas Clifton had his estates sequestered as a recusant and delinquent, (fn. 39) and at length they were sold by order of the Parliament. (fn. 40) His eldest son, Colonel Cuthbert Clifton, was taken prisoner at Liverpool in 1644, and died at Manchester, (fn. 41) and three other brothers are stated to have lost their lives in the king's service. (fn. 42) Thomas died in 1657, and his second son Thomas succeeded. (fn. 43) He was made a baronet in 1661 as a recognition of his family's loyalty, (fn. 44) and he was accused of treason after the Revolution. (fn. 45) He died in 1694, and his son having died before him the baronetcy expired, while the manors descended to his nephew Thomas Clifton of Fairsnape, who registered his estates in 1717 as a 'Papist,' the annual value being given as £1,548 17s. 2d. (fn. 46) He died in 1720, and the manors of Clifton and Westby descended regularly to his great-great-grandson, another Thomas Clifton, (fn. 47) who became a Protestant in 1831, (fn. 48) and was sheriff in 1835. He died in 1851, and his son John Talbot Clifton, who represented North Lancashire 1844–47 (fn. 49) and was sheriff in 1853, (fn. 50) died in 1882, having returned to the Roman Catholic religion. (fn. 51) He was succeeded by his grandson Mr. John Talbot Clifton, (fn. 52) born in 1868, the present lord of the manor. The principal residence of the family has been at Lytham since early in the 17th century. Mr. Clifton's possessions include the whole of the townships of Cliftonwith-Salwick, Westby-with-Plumptons, and Lytham (ancient); also Little Marton, part of Great Marton and much of Warton. Manor courts have long ceased to be held, but juries of the farmers in the several townships assemble yearly to make arrangements for the clearing of the watercourses, and officials named constables, byelaw-men, &c., are nominated as a matter of form. (fn. 53)
The Cliftons being the only landowners in the township, there is little to record besides. Richard Clitheroe of Clifton paid £10 on declining knighthood in 1631. (fn. 54) One Thomas Threlfall had twothirds of his house and land sequestered for recusancy in the Commonwealth time. (fn. 55) Several people of Clifton and Salwick registered estates as 'Papists' in 1717, (fn. 56) in addition to the squire.
Of Salwick there is little to record. (fn. 57) There were disputes between the lords of Lea and Clifton as to pasturage on Salwick Waste, Grimes Moss and Clifton Marsh. (fn. 58) William Duddell was a freeholder in 1600. (fn. 59)
Church
LUND was the site of an oratory in 1349, as above stated. The chapel is named again in the partition of the Clifton estates in 1515. (fn. 60) Nothing is known of its earlier history; it is not named among the chantries suppressed in 1547–8, and probably ceased to be used for service (fn. 61) till the time of the Commonwealth, when, the Cliftons' estates being under sequestration, Lund Chapel was rebuilt (fn. 62) and occupied by one Joseph Harrison, 'a godly, diligent and painful pastor,' who received £40 a year from the Committee of Plundered Ministers. (fn. 63) Afterwards it reverted to the Cliftons, but in 1687 was claimed by Mr. Clegg, vicar of Kirkham, (fn. 64) and this claim seems to have prevailed, probably owing to the Revolution, for in 1689 Thomas Ryley, 'conformable,' was minister there. (fn. 65) Bishop Gastrell about 1717 found that there was an income from recent endowments of £6 18s. 4d., and that the master of Kirkham School preached and read prayers there 'every Sunday, Sacrament days excepted.' (fn. 66) Curates were appointed regularly from 1732. The chapel became ruinous, (fn. 67) and was replaced by the present church of St. John the Evangelist in 1825. A district parish was attached to it in 1840, (fn. 68) and the vicarial tithes have been assigned to the incumbent, who is presented by the Dean and Canons of Christ Church, Oxford. (fn. 69) The following have had charge (fn. 70) :—
1717
Edward Manwaring
1726
Thomas Cockin
1749
Benjamin Wright
1774
Cuthbert Harrison
1790
Joshua Southward
1790
Charles Buck, M.A. (St. John's Coll., Camb.)
1808
Thomas Stephenson
1820
Richard Moore, M.A. (fn. 71) (Brasenose Col)., Oxf.)
1886
Charles Fullerton Smith, M.A. (Christ Ch., Oxf.)
Ward's House, near Salwick Hall, was formerly the seat of a younger branch of the Clifton family, of whom several became Jesuits, and mass was said in the chapel there in the 17th (fn. 72) and 18 th centuries, (fn. 73) until the chapel at Lea was built in 1801. (fn. 74)