Pages 176-178
A History of the County of Lancaster: Volume 7. Originally published by Victoria County History, London, 1912.
This free content was digitised by double rekeying. All rights reserved.
WEETON-WITH-PREESE
Widetun, Dom. Bk.; Whiteton, 1205; Wytheton, 1236; Wythinton, 1286; Wetheton, 1382.
Midehope, Dom. Bk.; Mithop, 1212; Methop, 1286.
Pres, Dom. Bk.; Prees, Preez, Peres, 1278; Prese, 1338.
Suartebrec, 1249; Swartebreke, 1286.
The area of this township is 2,972½ (fn. 1) acres, and its population in 1901 was 374. It is curious to note that Preese, which has recognition in the official name, has no separate measurement, while Mythop or Mythorp, the western corner, has its area recorded as 677 acres, though it is not recognized in the township name; it is divided from Weeton by moss land. Weeton proper occupies the southern half of the township, the northern half containing Preese on the west and Swarbrick on the east. Each of the four places named occupies a piece of rising ground, one piece being divided by depressions from the others; at Weeton 112 ft. above the ordnance datum is attained, at Swarbrick and Preese 100 ft. and at Mythop 50 ft.
A road from Kirkham goes west and north through Weeton and Swarbrick to Singleton; from Weeton a cross road goes west through Mythop to Blackpool and another east to Greenhalgh. The old Danes' Pad is traced in Mythop, running north-west. The railway from Preston to Fleetwood and Blackpool also runs north-west through the township, and a branch line to Blackpool crosses the south-west corner.
The Fylde Waterworks have large reservoirs at Weeton.
Charles Earl of Derby procured a charter for a weekly market at Weeton in 1670, (fn. 2) and a fair for cattle and small wares used to be held on the Tuesday after Trinity Sunday. (fn. 3)
The township has a parish council.
The soil is sandy, with subsoil of clay; wheat, oats beans and barley are grown, but more than half the land is devoted to pasture.
A 'hairy ghost' is associated with Weeton. (fn. 4) There is an ancient burial cairn.
William Barrow, (fn. 5) known better as Waring or Harcourt, was born in 1610, and educated at St. Omers. In 1632 he joined the Society of Jesus, and was sent on the English mission in 1644, labouring in the London district till the outbreak of the Oates Plot. He was arrested in May 1679, and executed the following month with several other victims.
Manors
In 1066 Weeton, Preese and Mythop, assessed as three, two and one ploughland respectively, formed part of the Amounderness lordship of Earl Tostig. (fn. 6) Afterwards the lordship was divided, Weeton becoming head of the fee of the Butler of Ireland in Amounderness, (fn. 7) and Preese and Mythop being added to the fee of Penwortham. (fn. 8)
WEETON contributed 21s. 8d. to the tallage in 1205–6, the heir of Theobald Walter being a minor in ward to the king. (fn. 9) In 1242 the heir held the third part of a knight's fee in demesne and the sixth part in service. (fn. 10) From extents of Theobald le Boteler's lands made in 1249 (fn. 11) and 1286 it appears that at Weeton was a well-built manor-house; half the land, 12 oxgangs, was in demesne, and the other half was held by free farmers at the will of the lord; there were three mills. (fn. 12) The manor continued in the Boteler family till about 1400 (fn. 13); it was then acquired by Sir John Stanley of Lathom, (fn. 14) who obtained a charter for free warren there, (fn. 15) and it has continued in his family to the present time, (fn. 16) the Earl of Derby being lord of the manor. The rental of 1522 (fn. 17) shows that Weeton was then the head of a lordship comprising also Treales, Wesham, Out Rawcliffe, Little Marton, Greenhalgh, Plumpton and other lands. A court had been held during the year. To the king were paid rents resolute of 13s. 4d. for the lordships of Weeton and Treales, 10s. for the fishery at Marton Mere and 4s. for the township of Wesham. (fn. 18)
PREESE was held, together with a portion of Newton-with-Scales, by a local family, having been given by Warine Bussel to Gillemichael son of Efward, who had married his daughter, as the fourth part of a knight's fee. (fn. 19) It descended in the Prees family, (fn. 20) of whom little is known, (fn. 21) until about 1360. In 1401, after the death of Margery de Prees, it was found that she had held the manor of the king as of the honour of Penwortham by knight's service and 12d. rent, and that the heir was her nephew, Edmund Skillicorne. (fn. 22) It descended to Nicholas Skillicorne, who heads the pedigree recorded in 1567, (fn. 23) and then to his grandson Nicholas, who held it in 1609. (fn. 24) Soon afterwards the manor was sold, and in 1634 was held by John Wolverton. (fn. 25) In 1756 John Parkes purchased a moiety of it from Thomas Gorst and Rachel his wife. (fn. 26) The hall (fn. 27) now belongs to Mr. Thomas Horrocks Miller of Singleton.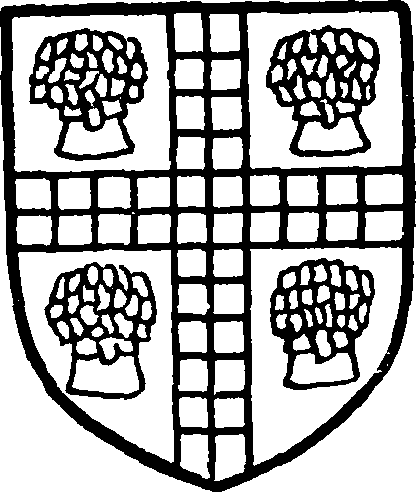 SWARBRICK in Preese seems always to have been a member of Weeton. (fn. 28) It gave a surname to a family or families of long standing in the district.
MYTHOP, though part of the fee of Penwortham, was held as the tenth part of a knight's fee by the lords of Weeton, (fn. 29) and has descended with it. A family surnamed Mythop occurs, but does not seem to have been of long continuance. (fn. 30)
Sir Gilbert Gerard was in 1593 stated to have held land in Preese of the inheritance of Richard Balderston. (fn. 31)
Some of the Earl of Derby's lands were sold by the Commonwealth authorities in 1653. (fn. 32) Three 'Papists' registered estates in 1717. (fn. 33)
For the Church of England St. Michael and All Angels' was erected at Weeton in 1843. A parish was assigned to it in 1846, (fn. 34) and the vicar of Kirkham has the patronage.
A Wesleyan Methodist chapel was built in 1827, (fn. 35) but has long since disappeared.