Pages 251-256
A History of the County of Lancaster: Volume 7. Originally published by Victoria County History, London, 1912.
This free content was digitised by double rekeying. All rights reserved.
PART OF LANCASTER
STALMINE WITH STAYNALL
Stalmine, Dom. Bk.; Stalmin, 1205; Stalemynne, 1278.
Stainole, 1277; Staynol, 1292; Staynolf, 1331.
This composite township, with Stalmine to the north and east and Staynall to the south-west, has a total area of 2,583½ acres, (fn. 1) the two hamlets having 1,771 and 812½ respectively, and the population in 1901 was 537. The River Wyre forms the western boundary, and upon it, at the south of Staynall, is the hamlet of Wardleys, where before the rise of Fleetwood there was a small port, with warehouses, from which the Kirkham spinners a century ago drew their supplies. (fn. 2)
The surface is comparatively level, but there is a ridge of higher land by the bank of the river, on which Staynall is placed; and inland, Stalmine, with its church, stands on another piece of higher ground. The greatest elevation is about 75 ft. above sea level. The principal road is that from Shard Bridge to Preesall, passing through Stalmine.
The soil is various, with subsoil of clay. Oats and potatoes are grown. There are 646½ acres of arable land, 1,472½ in permanent grass and 11 ot woods and plantations.
The township has a parish council.
The chapelry contributed as follows to the county lay of 1624, which was based on the older fifteenth: Stalmine with Staynall, £1 18s.; Preesall with Hackinsall, £2 3s. 8¼d., or a total of £4 1s. 8¼d. towards each £100 required from Amounderness. (fn. 3)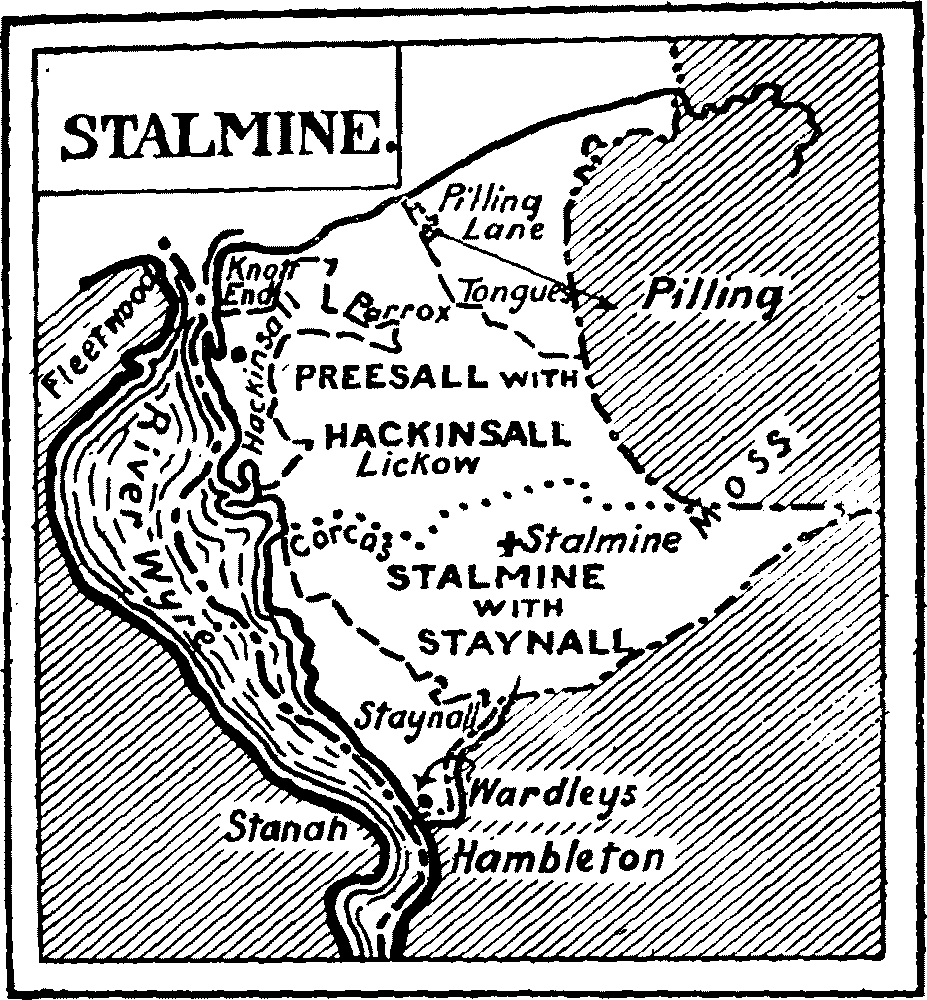 Manors
Earl Tostig held STALMINE in 1066 as part of his Preston fee; it was then assessed as four ploughlands, (fn. 4) but in 1212 as three. Later it was held in thegnage of the king or the lord of the honour of Lancaster by a rent of 10s. (fn. 5) The first recorded possessor is Robert de Stalmine, who with Peter his son granted one plough-land called Corcola at a rent of 8s. to the monks of Furness about 1165. (fn. 6) He also granted other parts of his land to younger children. (fn. 7) The Peter just named was lord in 1205. (fn. 8) He had a son William, (fn. 9) to whom a brother Robert succeeded in 1235–6. (fn. 10) Three years later Robert was followed by his son Adam, (fn. 11) and he by a son John, (fn. 12) lord of the manor in the time of Edward I. He was in 1292 summoned to prove his title, but replied by saying that he held part only. (fn. 13) Adam de Stalmine and other members of the family were benefactors of Cockersand and Furness Abbeys and Lancaster Priory. (fn. 14) Instead of Stalmine the surname Beaufront was used. (fn. 15)
John de Stalmine transferred the manor to William de Oxcliffe, (fn. 16) whose son Nicholas (fn. 17) held it in 1324, (fn. 18) and appears to have been succeeded by a brother William, who alienated it to Thomas de Goosnargh. (fn. 19) This last held the lordship and twothirds of the vill in 1346, and Nicholas Boteler of Rawcliffe held the other third. (fn. 20) Of the Goosnargh family next to nothing is known. (fn. 21) The manor descended to Alexander Goosnargh, who died in 1524 at Mansergh holding the manor of the king by a rent of 5s. His son Thomas having died before him, his heir was his grandson Alexander Waring (son of a daughter of Margaret), aged eight. (fn. 22) It appears, however, that there was another daughter Maud, afterwards wife of Robert Parker. (fn. 23) They sold the manor to the Butlers of Rawcliffe, (fn. 24) and the whole descended with Rawcliffe till the forfeiture in 1716. This estate seems to have been sold in parcels (fn. 25); the Bournes of Hackinsall became the principal proprietors, (fn. 26) but the manor has disappeared.
ST AYNALL, probably one plough-land (fn. 27) gave a surname to the lords of it, (fn. 28) but the family cannot be traced, and the lordship probably became merged in Stalmine. Sir Adam de Shevington and Emma his wife in 1344 claimed messuages, lands and mills in Great Marton and 'Staynolf,' but the defendants —John son of Richard le Boteler, Clemency his wife, Cecily wife of Richard le Boteler and others— protested that there was no such vill as 'Staynolf' absolutely; either Great Staynolf or Little Staynolf must be named, and the jury agreeing, the plaintiffs were defeated for the time. (fn. 29)
In addition to the families named those of Hambleton, (fn. 30) Shireburne (fn. 31) and Singleton (fn. 32) had lands in this township from an early time. Some later owners appear in the records. The estate of the Butlers of Warrington (fn. 33) seems to have passed with Layton to the Fleetwoods of Rossall. (fn. 34) Theobald le Boteler held an oxgang of land in Staynall in 1249. (fn. 35) John Braddyll in 1561 purchased messuages and fishery in Great Staynall and Stalmine from Wilfrid Banastre, (fn. 36) and at his death in 1578 was found to have held them of the queen in socage by 6d. rent, (fn. 37) but later the tenure was recorded as of Shireburne of Stonyhurst. (fn. 38) There were some other owners. (fn. 39)
Little can be said of the monastic estates. That of Furness, Stalmine Grange, (fn. 40) came in part at least to a family named Smith, who held it for some time. (fn. 41) That of Cockersand (fn. 42) seems to have been dispersed in parcels, while that of Lancaster Priory may have been treated similarly. (fn. 43) The Knights Hospitallers had lands in Staynall in 1292. (fn. 44)
John Clifton of Stalmine compounded for his recusancy in 1630 by an annual payment of £2. (fn. 45)
Christopher and Thomas Butler, who were sons of Richard Butler of Rawcliffe, and James Danson, as 'Papists,' registered estates in 1717. (fn. 46)
Church
The chapel of Stalmine is first named about 1200, when it was a dependency of Lancaster. (fn. 47) When a cemetery was consecrated in 1230 the lords of the 'parish'— Geoffrey the Arbalaster of Hackinsall and William de Stalmine—renounced all title to the advowson. (fn. 48) It seems probable that the townships of Stalmine and Preesall had been either an entirely independent parish reduced to a chapelry or else included in the parish of Poulton, and that in the latter case the monks of Lancaster, on receiving Poulton Church, had made a separate chapelry at Stalmine, attaching it to their own church at Lancaster. (fn. 49) The names of some of the earlier chaplains are on record, (fn. 50) and in 1430 the vicar of Lancaster was made responsible for the maintenance of a chaplain there. (fn. 51) Its history after the Reformation is doubtful, but as the small tithes— valued at £10 a year in 1650—appear to have been devoted to the chaplain's stipend, it is most probable that service was kept up with some regularity. (fn. 52) During the Commonwealth period £50 a year was given to the minister from Royalist sequestrations. (fn. 53) Later some private benefactions raised the certified income to £28 12s. 4d. before 1717, (fn. 54) and the vicarage is now returned as worth £320 a year. (fn. 55) The vicar of Lancaster is patron.
The chapel was rebuilt in 1806 and called St. James's. (fn. 56) The registers begin in 1593, but were not regularly kept before 1700. In the churchyard is a sundial dated 1690.
The following have been curates in charge and vicars (fn. 57) :—
c. 1593–1610
John Picke (fn. 58)
oc. 1622–42
Richard Leigh (fn. 59)
oc. 1646–51
Henry Jenny, M.A. (fn. 60)
oc. 1653
Henry Smith
1669
Christopher Hall (fn. 61) (T.C.D.)
1681
John Wells, B.A. (fn. 62)
oc. 1700
George Yates
1714
John Anyon (fn. 63)
1725
Robert Loxham, M.A. (fn. 64) (Trin. Coll., Oxf.)
1725
Thomas Holme (fn. 65)
1737
Thomas Knowles, M.A. (fn. 66)
1773
John Spicer
1778
Thomas Smith (fn. 67)
1782
James Fenton, M.A. (fn. 68) (St. Peter's Coll., Camb.)
1787
James Thomas, B.A. (fn. 69)
1799
Joseph Rowley, B.A. (fn. 70) (Queen's Coll., Oxf.)
1864
Joseph Kirby Turner, M.A. (Trin. Coll., Camb.)
1894
Henry Barnett, M.A. (fn. 71) (T.C.D.)
1901
William Poole, M.A. (Dur.)
1910
Daniel Schofield (fn. 72)
In 1689 a Presbyterian meeting was licensed at Thomas Dicconson's house at Stalmine, (fn. 73) and about 1717 Bishop Gastrell recorded that 'the presbyterian meeting house is very near the chapel.' (fn. 74) Nothing seems to be known of it now.
Charities
Apart from the school endowments for Preesall and small gifts for religion there is no charitable foundation (fn. 75) in the chapelry except 10s. a year from Robert Carter's benefaction, 1710. This sum is divided among about eight poor persons who are by custom selected from residents in the Pilling Lane portion of Preesall. Thomas Bell of the Ridge in Pilling had in 1723 left 5s. a year for the poor of Preesall, but this had been lost by 1826.