Pages 68-71
A History of the County of Lancaster: Volume 7. Originally published by Victoria County History, London, 1912.
This free content was digitised by double rekeying. All rights reserved.
Amounderness hundred
CONTAINING THE PARISHES OF
Preston; Kirkham; Lytham; Poulton-Le-Fylde; Bispham; St. Michael-On-Wyre; Garstang
The whole of the above parishes are contained within the hundred or wapentake of Amounderness, (fn. 1) which includes in addition the townships of Alston with Hothersall in Ribchester, Forton and Cleveley in Cockerham, and Fulwood, Myerscough, Bleasdale, Preesall and Stalmine in Lancaster. (fn. 2) A very large part of the area is the level district on the western side known as The Fylde, once 'the Wheatfield of Amounderness' (fn. 3); the eastern part is more hilly and Fairsnape Fell in Bleasdale attains a height of 1,674 ft. above the sea. The Ribble forms the southern boundary; the next important stream is the Wyre, which is joined by the Brock, watering the centre of the hundred, and flowing west and then north to enter the sea by the Wyre estuary. Leland writing about 1535 says that the hundred had formerly been full of wood, the moors being 'replenished with high fir trees,' but he found the seaward portion 'sore destitute of wood.' (fn. 4)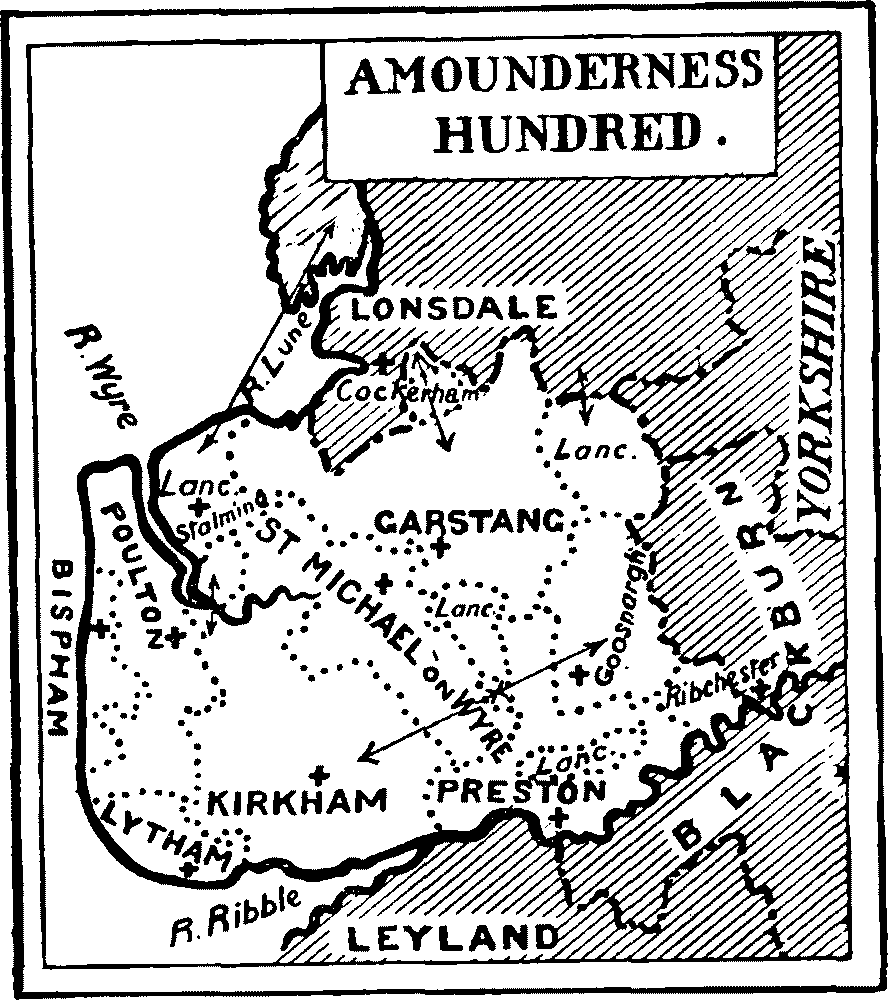 More than a century before the Conquest part of Amounderness was given by Athelstan to St. Peter's Church, York, (fn. 5) but it does not seem to have been retained. The district was then more extensive than at present. (fn. 6) In 1066 it was held by Earl Tostig, the younger brother of King Harold, slain at Stamford Bridge while taking part in the King of Norway's invasion. Preston was the head of the whole district, which was in 1086 surveyed as part of Yorkshire. (fn. 7) It is not called a hundred or wapentake in Domesday Book, the name Amounderness being descriptive, like Lonsdale or Furness.
Since the Conquest the lordship has descended in the same way as the honour of Lancaster, except for a few years at the end of the 12th and beginning of the 13th century. John while Count of Mortain, between 1190 and 1193, gave to Theobald Walter the whole of Amounderness, with the vill of Preston, the forest, all demesne lands, services of knights and free tenants, &c, with all pleas of wapentake and forest, excepting only the pleas pertaining to the Crown. For this Theobald was to render the service of three knights' fees. (fn. 8) The grant was confirmed or renewed by Richard I in 1194, (fn. 9) and, though forfeited on John's accession in 1199, was restored in 1202, perhaps for life only. (fn. 10) Very soon afterwards Amounderness was again in the possession of the Crown. (fn. 11)
Suit to the three weeks' wapentake court was a usual condition of tenure of lands. (fn. 12) The profits of the pleas were estimated at 20s. in 1297. (fn. 13) The Court Rolls of 1324–5, which have been printed, (fn. 14) show that the courts were usually held at Preston, but sometimes at Ashton, Garstang Church, Poulton and 'Yolrungegreve.' There are later rolls at the Record Office. (fn. 15)
The bailiwick of the hundred was granted to the ancestor of the Singleton family, (fn. 16) and descended regularly to Banastre (fn. 17) and Balderston (fn. 18) and to the heirs of the last-named. (fn. 19) On a division in 1564 it was assigned to the Earl of Derby. (fn. 20) The duties of the office as held by William Banastre were thus described in 1 323: 'Making executions of mandates of the king's courts by writs and summonses and by summons of the king's exchequer by precept of the sheriff; also of judgements of the county court of Lancaster and the wapentake court of Amounderness; making summonses, attachments and distraints by precept of the sheriff or keepers of the king's lands, and executions of the sheriffs tourns.' (fn. 21)
Complaints were made in 1334 as to the administration of Henry de Bickerstath, who held the office by grant from John Banastre and Nicholas his brother (grantees of Adam Banastre), paying them £20 a year. Henry was alleged to employ too many bailiffs in his circuit of the hundred, thus laying a needless burden on the tenants. It was stated that Alan de Singleton had performed his duties in person at his own charges. His son William did the same, taking nothing from the men of the wapentake except by their courtesy. His son Alan found it necessary to employ a bailiff, for many assarts had been made and men had multiplied. This system had continued, the number of officials gradually increasing. The acting bailiffs recouped the annual rent they paid to the Singletons by charges on the men of the wapentake for puture, &c. (fn. 22)
Several outlying members of the barony of Penwortham are found in this hundred. There are a few references to the hundred in the records (fn. 23); perhaps the most noteworthy is that, on the requisition of ship-money in 1640, it 'would neither assess nor pay.' (fn. 24)
The three weeks' wapentake court, which survived till recently, had jurisdiction in personal actions where the debt or damages did not amount to 40s. The chief officer was a steward, appointed by the Crown in right of the duchy. (fn. 25)
About 1580 inquiry was made as to the fisheries of the county, particularly as to the destruction of salmon and their fry in the Ribble and Wyre. Sir Richard Shireburne and the other commissioners reported that they had 'reformed' unlawful engines and nets, and had viewed all the weirs, calls and gorses standing on the rivers named. They objected to two, viz. one called Bessowe call on the Ribble and another recently erected on the Wyre by William Kirkby of Upper Rawcliffe. (fn. 26)
Amounderness gave name to a deanery in the archdeaconry of Richmond in the diocese of York. Adam Dean of Amounderness occurs in the Pipe Roll of 1177–8 as paying a mark for some breach of the forest laws (fn. 27); also in 1181–2 (fn. 28) and later. (fn. 29) He was Dean of Kirkham in 1104. (fn. 30) The deanery was smaller than it afterwards became, there being also a Dean of Lancaster, but it had attained its full jurisdiction before 1291, when it included the parishes of Kirkham, Preston, Ribchester, Chipping, Garstang, Cockerham, Lancaster, St. Michael's, Poulton (with Bispham) and Lytham. (fn. 31) The names of several of the deans have been preserved. (fn. 32)