Pages 328-338
A History of the County of Lancaster: Volume 8. Originally published by Victoria County History, London, 1914.
This free content was digitised by double rekeying. All rights reserved.
Ursewyk, 1160; Urswic, 1202; Hursewic, Ursewic, 1212.
Berretseige, Dom. Bk.; Berdeseia, 1157; Berdeshay, 1291; Berdesay, 1292.
Bodeltun, Dom. Bk.; Bolton, 1299; Boulton, 1304.
Steyntun, Dom. Bk.
Adgareslith, 1212.
The parish of Urswick bends round the north-west and north of Aldingham, having at Bardsea a frontage to Morecambe Bay of nearly 2 miles. The total area is 3,904½ acres, (fn. 2) and the parish has rights, in common with Aldingham, to Birkrigg, 276 acres. There are no townships, but certain customary divisions are well marked. In 1717 the churchwardens were chosen from four districts: (1) Stainton with Adgarley; (2) Little Urswick, Bolton, Bolton Heads and Beckside; (3) Great Urswick; (4) Bardsea. Stainton was then a 'village,' considered to belong to Leece in Aldingham. (fn. 3) The same division into four parts is still made. Sometimes the parts are arranged in two groups, thus: Great or Much Urswick and Bardsea in the north, with acreages of 1,232 and 828 respectively, and Little Urswick in the south-west, with 1,844½ acres. Little Urswick has three subdivisions: Little Urswick proper, 621 acres, in which are the ancient church and Redmayne Hall; Bolton with Adgarley, 688 acres, to the south; and Stainton, 535½ acres, to the west. The surface is undulating, rising generally from south to north and from east to west; the highest points reach 300 ft. above sea level in Much Urswick and 332 ft. in Stainton.
Each of the subdivisions named has its village or hamlet. That of Bardsea lies on the slope of the hill towards the sea, being well protected from the northerly winds, with Bardsea Park on its north side and Wellwood on the west. To the south are supposed Druidical remains. This part is pleasantly wooded, and West thus wrote of it about 1770. (fn. 4) :—
The site of Bardsea is romantic; the aspect good, and well sheltered by rocks and woods from every blast, having an easy descent to the south, on a bold shore and pleasant beach. The hall is an ancient building, seated on a rock, snug and well sheltered, though it be the highest site in Low Furness. The gardens have been made at vast expense on shelving rocks that rise above each other; the ascent is by steps cut out of the rock. A spacious gravel walk has also been made after the same manner. Vines planted in crevices and conducted along the face of the shelving rocks thrive well.
The village of Much Urswick, set in a sheltered valley, lies round the northern end of a large tarn, formed, according to local tradition, by a sudden subsidence of the earth, the ancient village being submerged at the same time. (fn. 5) The parish church stands alone, a little way from the southern end of the tarn, and the village of Little Urswick is half a mile or more to the south-west of the church.
Bolton has no surviving hamlet, being represented by the remains of an ancient chapel near its northern boundary, while Adgarley is joined to Stainton. Here there are important iron mines, (fn. 6) but they are not now worked; a mineral branch line connected them with the Furness railway. Stone quarries are worked. To the south of Adgarley is Harbarrow, 200 ft. above the sea. On Stainton Green are a number of huge blocks of stone, from which it has been supposed that the place took its name.
The population in 1901 was 1,186. Apart from mining, agriculture is the chief industry. The soil is loam and clay, the subsoil various; the agricultural land is now occupied thus (fn. 7);
Arable land ac.
Permanent grass ac.
Woods and plantations ac.
Urswick
853
2,099
14
Bardsea
173
418
60
Oats, barley and root crops are grown.
Administration is in the hands of a parish council of eight members.
One of the principal roads leads north-west from Barrow towards Ulverston, passing to the east of the village; it has a branch to Bardsea. Another road, through Stainton and Little and Much Urswick, goes north to join the main road from Dalton to Ulverston.
Though various ancient remains have been observed, (fn. 8) the history of the parish has been without any very noteworthy incident. The beacon is mentioned in 1619, the registers stating that Thomas Fell of Bardsea had taken the tar barrel away. According to the county lay of 1624 Urswick had to contribute £3 6s. towards each £100 levied upon the hundred. (fn. 9) Before the formation of the railway a passenger steamer used to ply between Bardsea and Fleetwood. (fn. 10)
Christopher Urswick, LL.D., one of the more prominent officials of the time of Henry VII, was born in Furness in 1448, being in 15 17 heir male of the Urswicks of Little Urswick. He was one of the fellows of Manchester Church, and held other church preferments. In 1502 he became rector of Hackney, and began the rebuilding of the church. He died in 1522. There was formerly a memorial brass at Hackney commemorating him. (fn. 11)
James Cranke, born at Urswick in 1707, became a successful portrait painter in London. He returned to his native place about 1750, and died there in 1780. (fn. 12) His second son James, born in London in 1746, was an artist of much greater fame; he died at Urswick in 1826. (fn. 13) The Cranke family still continue in the place.
John Bolton, a geologist of note and friend of Adam Sedgwick, was born in the village in 1791; he died in 1873. (fn. 14)
Manors
Although Urswick is not mentioned by name in Domesday Book, it is probable that all the land in it is accounted for in manors held in 1066 by Earl Tostig and Turulf of Ulverston. The former held Bardsea, four ploughlands, and Stainton, two plough-lands, while the latter held Bolton as six plough-lands. (fn. 15) The assessments became reduced by half. Bolton and Stainton were afterwards held with Aldingham by Michael le Fleming, (fn. 16) and by an exchange he acquired Bardsea from the monks of Furness, who had received it as part of their endowment in 1127. (fn. 17) Thus the whole parish came into the hands of the lord of Aldingham, and has since remained within the lordship of Muchland, (fn. 18) the courts of which are now held at Bardsea.
In 1212 it was found that five separate grants had been made by Michael le Fleming and his son William, these no doubt being the origin of the subordinate manors which come under notice in later times. The descent of these manors cannot be described completely, owing to the paucity of evidence.
BOLTON WITH ADGARLEY is traced to a grant of three plough-lands 'in Adgarley' made by Michael in marriage with his daughter Godith. (fn. 19) Soon afterwards it was held by the Copehnd family, which occurs at Whittington and elsewhere in Lonsdale, but the details of the acquisition are not known. The Copelands may have descended from Godith, but part of their estate was acquired by purchase. William son of Walter, whose father had received half a ploughland there in marriage, granted the same to Roger son of Roger de Heaton in free marriage with his sister Agnes, (fn. 20) and in 1235 Richard de Copeland acquired from Roger de Heaton and Agnes his wife 4 oxgangs of land in Bolton, for which he was to render yearly a pair of white gloves or 1d. (fn. 21)
Alan son of Sir Richard de Copeland in 1288 allowed the monks of Furness and their men right of way through his lands in Furness, Lonsdale and Copeland; if any road should be too miry for their wagons to use it they might drive them over dry land adjoining, except through inclosed corn-fields. (fn. 22) Soon afterwards he granted them hunting rights, (fn. 23) and probably he was the Sir Alan de Copeland who arranged for the gift of the manor to the monks. Mabel widow of Alan de Copeland in 1297 claimed dower in 100 acres of land in Urswick held by Richard, vicar of the church, and in the manor of Bolton. (fn. 24)
In 1299 the king's licence was sought to alienate the manor to Furness Abbey. In the consequent inquiry it was found that the manor of Bolton was held in moieties of William de Heaton and John de Kirkby, the former moiety by rendering a pair ot white gloves yearly and the latter by 6d. rent. (fn. 25) It would not be to the king's hurt to allow the alienation of the manor to the abbey, and so licence was given and the monks took possession. (fn. 26) The gift was duly confirmed by Richard son of Sir Alan, but brought great trouble on the new possessors. Sir John de Kirkby, baron of the Exchequer, having married his sister to Richard's son Alan, worried them with lawsuits and distraints to compel them to surrender, and at last the said Alan de Copeland obtained seisin. He was succeeded by his grandson Richard (son of John), from whom the abbot in 1364–82 attempted to recover the manor. (fn. 27) Richard died in 1393 or 1394, when he was succeeded by a son Alan, having made an agreement with the abbot that the manor should revert to the monks in case his own issue failed. Thus Alan the son obtained possession, and Margaret widow of Richard de Copeland received her dower. (fn. 28) The widow seems to be the Margery de Bolton whom Richard married about 1380. In 1392–3 Richard de Copeland made a settlement of tenements in Bolton-Adgarley, apparently on his son Alan's marriage with Kathcrine daughter of Sir John de Hudleston. (fn. 29) But little elsa is known of the Copeland family's connexion with Urswick. (fn. 30)
By Margaret, the daughter and co-heir of the lastnamed Alan, it came to John Broughtonof Broughton, (fn. 31) a settlement being made in 1432, when two-thirds was held by Katherine widow of Alan Copeland and the other third by the above Margaret widow of Richard. (fn. 32) On the forfeiture of Sir Thomas Broughton in 1487 this, like his other manors, was granted to the first Earl of Derby, (fn. 33) from whom, notwithstanding the confiscations of the Commonwealth period, (fn. 34) it has descended to the present earl. (fn. 35) Courts have been held occasionally until recently. (fn. 36)
MUCH URSWICK, or Westby's Lands, was a grant of half a plough-land in marriage made by Michael le Fleming to Ulf son of Eward; a rent of 5s. was to be paid. (fn. 37) The land was before 1187 transferred to Roger son of Augustine de Heaton, (fn. 38) and descended like Heaton in Lonsdale till the end of the 14th century. William son of Michael de Furness about 1260 released Roger de Heaton and his heirs from suit of his court of Aldingham, (fn. 39) and in 1262 Roger de Heaton was found to have held 3 oxgangs of land in demesne and 1 in service of William son of John son of Alexander de Hyton, rendering 6s. 4d. yearly. (fn. 40) In 1288 and later Christiana daughter of Roger son of William de Heaton claimed 4 oxgangs of land in Urswick against William son of William de Heaton, (fn. 41) and in 1292 she continued her claim to 3 oxgangs in 'Alton Urswick in Furness.' Her claim failed, as it was found that her grandfather, five days before his death, being of sound memory, gave this land to his son William and put him in seisin. (fn. 42) William son of William de Heaton and Anilla his wife held the oxgangs of land in 1323. (fn. 43) On the division of the Heaton estates this portion fell to the Westbys of Mowbreck, William Westby and Ellen his wife holding 6 oxgangs of land in Lancaster and Urswick in 1413. (fn. 44) William Westby of Mowbreck died in 1557 holding six messuages, &c., in Urswick of Sir Richard Hoghton in socage by the rent of a grain of pepper. (fn. 45) The tenure is similarly recorded later. (fn. 46) The manor was not noticed by West in 1774, but in 1842 it was described as a 'small tract, commonly called Westby's Lands, for which a customary court is occasionally held.' (fn. 47) The customs of the manor included a 'twenty-penny fine' at each change of tenancy, i.e. a fine of twenty times the lord's rent. The widow of a tenant was entitled to a moiety of the estate during widowhood. At one time the tenants were obliged to carry a load of fish to Mowbreck, but in course of time this service was commuted to a money rent. (fn. 48) The manor is now held in moieties by Mr. J. W. Bourne and the trustees of Mrs. Haigh. (fn. 49) The hall stood on the eastern side of the tarn.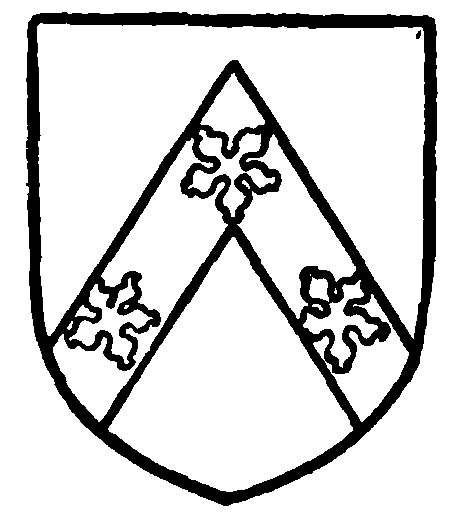 A grant of 2 oxgangs of land, to be held by a rent of 32d. yearly, was made by William son of Michael to Gilbert Fitz Reinfred. (fn. 50) This appears to be the tenement which John de Harrington had in Urswick in 1347, when he held it of the king as of the lands formerly William de Coucy's by a rent of 4s. (fn. 51) It no doubt became merged in the Harrington manor of Muchland.
LITTLE URSWICK, or Redmayne Hall, probably represents 2 oxgangs of land granted by Michael to Adam son of Bernulf, to be held by a rent of 32d. (fn. 52) It was afterwards held by a family named Urswick, the descent and ramifications of which are difficult to follow. (fn. 53) Stephen de Urswick was a juror c. 1160. (fn. 54) Simon de Urswick in 1299 proposed to confer his manor of Little Urswick on Furness Abbey, but changed his mind; Orm de Urswick was one of the jurors at the inquiry. (fn. 55) William son of Simon de Urswick was a plaintiff in 1314. (fn. 56)
It is shown in the account of Over Kellet that Adam son of Bernulf had a son Gilbert, who had a son Adam de Capernwray, identical, apparently, with an Adam de Urswick named in 1244. (fn. 57) Adam son of Gilbert granted land in Urswick to Furness Abbey, a gift confirmed by his daughter Elizabeth when widow of Sir Richard le Fleming. (fn. 58) The estates appear to have been divided, (fn. 59) yet lands in Urswick and Over Kellet afterwards came together. John Urswick and Agnes his wife obtained the Spital lands in 1447, (fn. 60) and Thomas grandson of John Urswick died in 1519 holding lands in Trinkeld, Much Urswick, Kirkflat in Little Urswick, Stainton, Ulverston and Over Kellet. His heirs general were his sister Isabel Urswick, James Redmayne and William Bentam. Thomas had sold part at least of his lands to a kinsman William Redmayne, (fn. 61) whose family must have been in possession of the manor of Little Urswick for more than a century (fn. 62); in 1436 the feoffees of John Redmayne and Joan his wife granted that manor to William son of John Redmayne and Cecily his wife, a daughter of Sir Thomas Strickland. (fn. 63)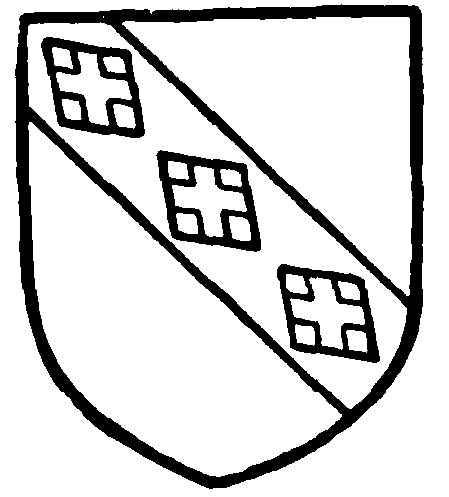 William Redmayne died in 1536 holding the manor of Little Urswick, with messuages, lands, &c., of the Earl of Derby by a rent of 3s. 4d. yearly. His heir was a kinsman, William, aged fourteen, in ward to Cuthbert Tunstall, Bishop of Durham. (fn. 64) The younger William Redmayne occurs in 1547–8, (fn. 65) and in 1562, as William Redmayne of Twisleton, he made an agreement with Thomas Stanley of London as to the manor of Redmayne's Hall with its appurtenances in Little Urswick. (fn. 66) He had a daughter Frances, who married Leonard Babthorpe, (fn. 67) a barrister and a steadfast Roman Catholic, afterwards ruined by the heavy fines imposed upon him for religion and by the stoppage of his professional practice during the Elizabethan persecution. (fn. 68) The Redmayne manor and estates were in 1571 the subject of a fine between Leonard Babthorpe, plaintiff, and Richard Wycliffe, citizen and goldsmith of London, and Frideswide, his wife, deforciants. (fn. 69)
Richard Greenacres of Worston near Clitheroe, who had married Christiana, one of the daughters of Leonard Babthorpe, in 1593 acquired from his father-in-law the manor of Little Urswick, with messuages and lands there and at Trinkeld in Ulverston. (fn. 70) Leonard had another daughter Edith; and in 1629 a moiety of the manor of Little Urswick was sold by Edith Robinson and Martin Robinson to Leonard Park, Thomas Fell and others. (fn. 71) The Greenacres appear to have before that dispersed their estate in parcels, (fn. 72) and in 1616 Thomas Fell died holding Redmayne's Hall of the Earl of Derby by 20d. rent-half of the old rent of the manor; Thomas, his son and heir, was thirty-six years of age. (fn. 73) From that time the manor disappears from view.
BARDSEA may represent the remaining alienation made by Michael le Fleming in granting one ploughland in Urswick to Gamel the Forester, who was to render 10s. yearly. (fn. 74) Adam son of Gamel gave 2 oxgangs of land in Bardsea to Conishead Priory. (fn. 75) One plough-land would be only half of the ancient manor of Bardsea; but it is possible that some free tenant was already in possession of the remainder when the monks of Furness, as formerly told, transferred it to Michael le Fleming, and that his descendants used the local surname.
Of the Bardsey family or families very little is known. (fn. 76) Randle de Bardsey attested a Copeland charter before 1130. (fn. 77) William son of Roger occurs in 1202. (fn. 78) Roger de Bardsey in 1246 accused two persons of being concerned in the death of his brother Robert. (fn. 79) Gilbert son of Randle son of one Roger de Bardsey about 1260 granted his lordship of Bardsea to his son Adam and male issue by a charter attested by William de Furness and confirmed in 1282 to Adam's son John by John de Cansfield, lord of Aldingham, and Susan his wife. A rent of 7s. 9d. was due to the lord of Aldingham. (fn. 80)
Another Gilbert de Bardsey, as Gilbert son of Margaret daughter of Robert de Boyvill, gave all his lands in Bardsea to Furness Abbey in 1278; a rent of 8d. was due for them to William son of Daniel son of William de Bardsey. (fn. 81) The senior William de Bardsey had had another son Roger (with a son William) and a daughter Agnes. (fn. 82) Adam son of Daniel de Bardsey was plaintiff in 1292, (fn. 83) and was perhaps the Adam who in 1304 claimed a tenement in Urswick as heir of his great-grandfather William de Bardsey. (fn. 84) Others of the name occur. (fn. 85)
In 1302 the Abbot of Furness granted to Adam son of John de Urswick the wardship of Hugh son of Adam de Bardsey, under age. (fn. 86) Hugh was probably of age in 1306 when he made a claim against the abbot in respect of waste in his lands at Urswick. (fn. 87) In 1348 William de Bardsey, perhaps as trustee, granted two plough-lands in Bardsea to Adam de Bardsey and Isabel his wife for life, John de Bardsey putting in his claim. (fn. 88) Two years later Alexander Abbot of Furness and some of his monks and servants were charged with breaking and entering the house of Adam de Bardsey at Bardsea, and abducting his son Thomas, whom they imprisoned at Dalton. (fn. 89) Thomas in 1353 complained of an assault by the abbot's sumpter man at Bardsea. (fn. 90)
Similar disconnected notices occur down to the time of Henry VIII, (fn. 91) when William Bardsey was in possession. He had an elder son John, (fn. 92) whose widow Anne is named in 1535 (fn. 93); and in 1536 a younger son Nicholas was contracted to marry Cecily Curwen of Grassgarth. (fn. 94) Nicholas, who made a feoffment of the manor of Bardsea in 1573, (fn. 95) proved to be the last of the male line. His elder daughter Dorothy married James Anderton of Clayton, and in 1582 a settlement of the manor and lands was made by Nicholas Bardsey, James Anderton and Dorothy his wife, Lawrence Salkeld and Elizabeth his wife. (fn. 96)
James Anderton obtained the stewardship of the royal manor of Muchland in 1591. (fn. 97) Land in Urswick was included in a feoffment made by him and Dorothy his wife in 1602. (fn. 98) In 1614 and later there was much disputing concerning the bounds of the manor and a right of way over Bardsea Moor. (fn. 99) The inquisition after the death of James Anderton in 1630 recites that Nicholas Bardsey had held the manor of Bardsea, a moiety of four messuages, &c., in Ulverston with Roshead, two messuages, &c., in Lindale, and a free fishery in Leven, and that after his death in 1588 the said James and his wife Dorothy entered. Dorothy died 5 May 1627. The manor was held of the king as of his manor of Muchland by knight's service. (fn. 100) The manor of Bardsea was named in later Anderton settlements, (fn. 101) and the family occasionally resided in the place, (fn. 102) which after the sale of Clayton in 1683 became their seat. Their religion probably made them offensive to their neighbours, one of whom at least was anxious that the persecuting laws should be put in force against them for his own ends. Miles Dodding of Conishead wrote thus in 1682 (fn. 103) :—'If Madam Anderton of Bardsea with her sons, Mr. Thomas Polwhele and Baskerville and the rest of their family be convicted [as recusants] it would not be amiss to humble them, for they are very ill neighbours and highly injurious to me. When you send any officers on this side let them call at my house and I will put them in a way how to get something, for though they have few goods, yet rather than go to gaol they will assign part of their estate to pay the king's due.' On the other hand 'Mr. Anderton of Bardsea' had the favour of James II, being placed on the commission of the peace in 1687. (fn. 104)
About 1705, or earlier, Bardsea was sold by the Andertons to Lord Molyneux (fn. 105) for a hunting seat. (fn. 106) It was again sold in 1732 to Christopher Wilson of London. (fn. 107) The lands were enfranchised by Molyneux and Wilson, and the manor ceased to exist, (fn. 108) though it nominally descended with Conishead till the sale of Colonel Braddyll's estates about 1850. The hall is the property of a kinsman, Mr. Henry Richmond Hoghton Gale. (fn. 109)
The church of Urswick probably had a manor or share of the manor. This would pass with the rectory to the Abbot of Furness, who in 1298 as rector claimed 3 oxgangs of land in Urswick against Richard de Barnard Castle, vicar. The vicar replied that it was his lay fee, but the abbot said that his predecessor, Abbot Alexander, in the time of Richard I had alienated it. (fn. 110) At Bardsea the Knights Hospitallers had land, William son of Roger de Bardsey being tenant in 1202 (fn. 111); he gave his right, (fn. 112) together with an oxgang of land, to Conishead Priory, which house received other lands in the same part of Urswick. (fn. 113) A close called the Spital, with lands adjacent, is mentioned in 1447 and 1520 (fn. 114) The possessions of Furness Abbey have been mentioned several times.
The Flemings of Coniston had an estate in Much and Little Urswick, probably by descent from Eliza beth wife of Richard le Fleming, in 1276–8. (fn. 115) The tenure is not recorded in the inquisition of 1522, but in 1561 the four messuages, &c., were stated to be held of the queen as of the late earldom of Wiltshire, i.e. the lordship of Muchland, in socage by a rent of 7d. (fn. 116) Part of the estate was in 1569 sold to William Sawrey, clerk. (fn. 117) After the death of William Fleming in 1649 his estate in Urswick appears to have been included in the portion of a sister who married Sir Jordan Crosland, for the husband complained of wrongful sequestration by the Parliamentary authorities. (fn. 118) Harrington (fn. 119) and others (fn. 120) are named.
The freeholders in 1600 were named as John Sawrey, Thomas Fell, Christopher Garner, John Garner and Walter Curwen. (fn. 121) John Marshall of Stainton in 1631 compounded for refusing knighthood by a fine of £10. (fn. 122) John Wilkinson of Stainton in Furness, whose lands were declared forfeit and placed in the Act for sale in 1652, was allowed to compound with the Parliament by a fine of £59 18s. (fn. 123)
The custom of tenant right 'time out of mind' used in the queen's lordship of Furness came into notice in a dispute between Roland Cockenscale and William Cockenscale in 1577. The plaintiff was son of Robert son of Thomas Cockenscale, and claimed by descent. The defendant, who claimed in right of William Sawrey, purchaser from William Fleming, denied that there was a single lordship called Furness, there being many manors in it. He submitted that though 'the supposed custom of tenant right' was used in the marches of Scotland, the people of Lancashire were 'chargeable to serve the queen as other parts of the realm.' (fn. 124)
Church
The church of ST. MARY (fn. 125) stands at the south end of Great Urswick village, and consists of a chancel 25 ft. 6 in. by 23 ft. 6 in. with north vestry, nave 62 ft. 3 in. by 22 ft. 6 in., south porch 8 ft. 6 in. by 8 ft. and west tower 16 ft. 3 in. by 13 ft., all these measurements being internal. Externally the chancel, nave and tower are all of equal width, the building forming a parallelogram 118 ft. by 30 ft. The church is of considerable antiquity, but the walls being covered with rough-cast outside and plaster within (fn. 126) it is difficult to arrive at any very definite conclusion regarding the date of the masonry, which is apparently much older than the windows with which it is pierced. These are either later insertions at different periods or modern, with perhaps the exception of the narrow window on the south side of the chancel, which may be of 13th-century date. This is probably the date of the greater part of the building, but in the course of taking down the north wall of the chancel in 1909 to provide space for the organ some fragments of old wrought stone were found, including a piece of the shaft of a pre-Conquest cross with interlaced ornament. The interior went through the changes usual in the 18th century, when the pulpit stood in the middle of the south side and a ceiling was erected; but in 1826–7 the pews were rearranged, the pulpit removed to the north-east corner and a west gallery, 16 ft. deep, erected. In 1845 the nave roof was slated, and in 1850 the chancel and vestry were partially rebuilt.
The chancel roof, which is slightly lower than that of the nave, is modern, boarded on the inside, and with overhanging eaves. The east wall has been rebuilt in rubble, without rough-cast, and the east window is a restoration of the old one taken out in 1850, the tracery of which was given back to the church in 1908. The window is a pointed one of three trefoiled lights with a transom at the springing and flowing tracery in the head, probably of late 14th or early 15th-century date. On the south side at the east end is a modern two-light pointed window, replacing an original one of similar design taken out in 1850, the tracery of which is now set up against the south wall of the churchyard, and further west is the lancet window already mentioned, restored on the outside and probably lengthened, its height being about 7 ft. The opening is 12 in. in width, splaying out inside to 3 ft. The interior wide splaying jambs of both these windows, as well as those of the window on the north side, were stripped of their plaster in 1908, and were found to be of red sandstone in large blocks. In the south wall is a piscina with circular floreated bowl projecting from the wall, and between the windows a pointed priest's door with plain chamfered jambs and head without label, and square-headed on the inside. On the north side at the east end is a restored two-light pointed window with perpendicular tracery, to the west of which a modern doorway leads to the vestry. The north vestry window appears to be the two-light squareheaded window formerly in the north chancel wall. The chancel arch is pointed and of a single plain square order springing from plain chamfered imposts 7 ft. 6 in. high, and is 11 ft. 4 in. wide. The arch and jambs, which are 3 ft. 6 in. in depth, the thickness of the wall between the chancel and nave, were stripped of plaster at the same time as the chancel windows, and on the inside of the jambs near the west angle two small canopied niches were discovered 12 in. high by 3 in. wide, with cable moulding along the angles. On the south side of the arch is a plain squint, 12 in. square, recently opened out.
The nave has four windows on the south side and three on the north, of different types and periods and irregularly spaced. On the south the first window from the east is a tall single light 12 in. wide, of yellow stone, going up to the eaves; the second a pointed window of two trefoiled lights with quatrefoil in the head, apparently of 14th-century date and of red sandstone; the third is a square-headed window of two plain lights, a later insertion perhaps of the 18th century; next to the porch is a modern twolight pointed window of red sandstone with quatrefoil in the head, while above the porch is a circular window inserted to light the gallery. On the north side the diversity is no less great, the easternmost window near the pulpit being till recently about 9 ft. high and 2 ft. 3 in. wide, without division; it was an old window lengthened both at top and bottom, probably, when the pulpit was put in its present position. It is now restored to its former size and a mullion added. The second window, which is close to it, is an original square-headed opening of two trefoiled lights of yellow stone, with an external label; while the third, which is at the west end, is a modern window, similar to that near the pulpit before its recent restoration, but of two lights and of slightly greater width and height, lighting both the gallery and the space below. In the south-east corner of the nave, in the angle of the chancel wall, 7 ft. 6 in. above the floor and carried by an iron pier, was a gallery pew, erected in 1759 by Christopher Wilson of Bardsea Hall, and generally known as the Bardsea Pew. It was approached by a wooden staircase from the chancel by a doorway pierced through the upper part of the chancel wall, and measured 10 ft. by 8 ft., being divided into two compartments, the smaller for the servants on the east side. It was taken down in 1910. The ceiling, which was probably put up in 1751, (fn. 127) has also been removed; it concealed an open timbered roof, now opened out, on one of the beams of which is cut the date 1598. On the east wall within the roof space over the chancel arch are the remains of various mural decorations. (fn. 128) The porch is old, but a later addition, the walls not being bonded into those of the nave. It has a roundarched outer doorway of red sandstone with plain chamfered jambs and head, (fn. 129) and a similar but higher inner doorway. There are stone seats on each side, and the roof has a plain gable without coping and overhanging eaves.
The west tower is of two stages and very massive in appearance, with low diagonal buttresses of three stages, a vice in the north-east angle and an embattled parapet moulded round the merlons and embrasures. Externally the walls, like those of the rest of the building, are rough-cast, and the dressings are of red sandstone. The west door has a segmental arch, without label, and with plain chamfered jambs and head, and above is a three-light pointed window of yellow stone with trefoiled lights and perpendicular tracery and hood mould. The belfry windows are square-headed of three lights with hood moulds, the lights on the west side being trefoiled and the others plain. Below the belfry windows the north, south and east sides are plain, but on the west, immediately above the string course, which divides the tower into two stages, are three niches, in the northernmost of which is a Pietà in red sandstone. The tower arch is built up.
The font now used is a modern Gothic one dating from 1827. The old octagonal font of red sandstone was then taken away, but was preserved and restored to the church about 1905. The sides are quite plain and curve inwards to the base, which is square and in a separate piece. The pulpit is an 18th-century 'three-decker,' but all the fittings of the chancel, including the reredos, altar rails, stalls and organ-case, were erected in 1909. They are of oak and in the Renaissance style, the whole of the lower part of the east wall below the window, being panelled, and harmonize well with the plain interior of the building. The old altar piece, a painting of the 'Last Supper,' by James Cranke the elder, has been reinstated.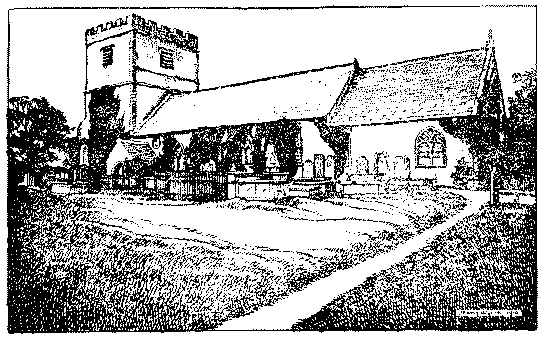 There is a 13th-century flat tombstone, found about 1850, with a floreated cross and pair of shears, inscribed 'Hic jac[e]t Amicia filia Johan[n]is Francissi,' and there are brasses to Dorothy Butler, who died in 1687, and to James Barwick, who died in 1695, with a rhyming inscription.
There is some ancient glass in the two south windows of the chancel, the lancet light being made up of about forty small fragments of glass probably of 14th-century date mixed up with modern. Two shields with the arms of Furness and Citeaux are for the greater part modern. (fn. 130) In the two-light modern window are five ancient shields with the arms of local familits, four of which, however, are imperfect and made up with modern glass. (fn. 131)
There are three bells. The oldest is probably of 15th-century date, and is inscribed 'maria + wilelmus de haryngton dominus de aldyngham et domina margareta uxor elus +' (fn. 132); the second is inscribed 'I. Fleming, R. Briggs, W. Tomlinson, Ch. Wardens, 1711,' and may have been cast at Kendal by A. Rudhall (fn. 133); and the third, by Luke Ashton of Wigan, is dated 1724, and inscribed with the names of ' Henry Houlme, vicar, James Shaw, John Conskell, Church Wardens.' It was recast by Taylor of Loughborough in 1907, the inscription being retained in facsimile.
The silver plate consists of a chalice and cover paten of 1571 with the maker's mark A K (linked), the knob of the cover inscribed with the initials W.S. and the date 1571; a plate of 1750–1, 10 in. in diameter, used as a paten, given by Christopher Wilson in 1751, and bearing his name, arms and date, and the maker's mark of Samuel Herbert & Co.; a silver-gilt paten of 1851, presented by Mr. George Rimington; and a flagon of 1877, given by Mrs. Rimington, and inscribed 'Presented to the parish church of St. Mary, Urswick, a.d. 1877.'
The registers begin in 1608. The first volume (1608–95) has been printed. (fn. 134)
Two yew trees were planted in the churchyard in 1855, one on each side of the principal entrance gate at the west end. The churchyard was extended on the south-west side in 1906.
Advowson
The church of Urswick appears to have been the mother church of Ulverston and Pennington, (fn. 135) and probably of Aldingham also. Its advowson must have belonged to the lords of Furness, for it came to the abbey without any special grant, so far as known (fn. 136); it was confirmed to them by the pope in 1194. (fn. 137) The church was appropriated to the abbey in 1228, (fn. 138) and a vicarage was ordained, a stipend of 12 marks being assigned by decree of the Archdeacon of Richmond in 1288. (fn. 139) After the suppression of the abbey the patronage was exercised for some time by the Crown, acting through the chancellor of the duchy, but was afterwards claimed and exercised by the freeholders, the tithes having been purchased by the landowners. (fn. 140) The 'resident landowners' are now the patrons.
In 1291 the value of the rectory was only £ 5 6s. 8d., and this was reduced to 40s. after the raid by the Scots in 1322. The vicarage, valued in 1291 at £5, was afterwards excused from taxation on account of its poverty. (fn. 141) The ninth of corn, wool, &c., in 1341 was estimated at 67s. 6d. (fn. 142) The rectory was valued at £20 a year in 1527 (fn. 143) and at £21 in 1535, (fn. 144) when the vicarage was worth £7 17s. 4d. clear. (fn. 145) In 1650 the rectory and vicarage were estimated as worth £60 and £20 a year respectively. (fn. 146) The vicar's income was certified as £20 5s. in 1717. (fn. 147) Every householder in the parish then paid 2d. to the vicar, once in three years, as a due for cera panis. (fn. 148) The net value of the vicarage is now £200. (fn. 149)
The following have been incumbents:—
Rector
Instituted
Name
Patron
Cause of Vacancy
c. 1160
Daniel le Fleming (fn. 150)
Abbot of Furness
—
Vicars
oc. 1230
William de Boyvill (fn. 151)
—
—
28 Oct. 1260
William de Melmerby (fn. 152)
Abbot of Furness
—
oc. 1297
Richard de Barnard Castle (fn. 153)
—
—
oc. 1351
John (fn. 154)
—
—
15 July 1361
Bro. John Fisher (fn. 155)
Abbot of Furness
—
3 Aug. 1380
William Normand (fn. 156)
"
—
—
William Walton
—
—
26 July 1445
John Woodhouse (fn. 157)
Abbot of Furness
d. W. Walton
oc. 1535
Thomas Harrison (fn. 158)
—
—
—
Thomas Hartley
—
—
11 Jan. 1546–7
William Sawrey (fn. 159)
Hugh and Walter Askew
d. T. Hartley
— June 1554
Henry Woodburn (fn. 160)
The Queen
—
30 Sept. 1557
Thomas Dobson (fn. 161)
King and Queen
[d. H. Woodburn]
oc. 1562
William Sawrey (fn. 162)
—
—
24 Nov. 1579
James Sayer (fn. 163)
The Queen
d. W. Sawrey
22 May 1585
William Lindow (fn. 164)
"
d. J. Sayer
29 Jan. 1620–1
Nicholas Marshall, M.A. (fn. 165)
Robert Curwen, &c.
d. W. Lindow
1 Oct. 1660
George Inman (fn. 166)
Sir Jordan Crosland
—
6 Oct. 1681
Thomas Inman, B.A. (fn. 167)
Ant. Turner, &c.
d. G. Inman
21 Sept. 1696
Richard Swainson (fn. 168)
The freeholders
res. T. Inman
6 June 1714
Henry Holme (fn. 169)
"
res. R. Swainson
21 Dec. 1747
John Addison, B.A. (fn. 170)
"
d. H. Holme
17 Sept. 1788
William Ashburner (fn. 171)
"
d. J. Addison
26 Apr. 1800
John Bailes
"
res. W. Ashburner
8 June 1805
William Ponsonby (fn. 172)
"
res. J. Bailes
30 Oct. 1841
Matthias Forrest, B.A. (fn. 173)
"
d. W. Ponsonby
1861
James Gale, B.A. (fn. 174)
"
d. M. Forrest
2 Apr. 1878
Robert Burland Billinge
"
res. J. Gale
21 Jan. 1903.
Thomas Norton Postlethwaite, B.A. (fn. 175)
"
res. R. B. Billinge
There were ancient chantry chapels (fn. 176) at Bolton (fn. 177) and Bardsea, (fn. 178) fragments of the former remaining to the present day, as already stated. Nothing much is known of them; if they were regularly served down to the Reformation a staff of three priests would be required for Urswick. This is the number shown by the visitation list of 1548; in that of 1554 there were four names, and in 1562 two. (fn. 179) Later there was probably only one resident minister in the parish, and he was sometimes master of the free school also. (fn. 180) Trinity Church, Bardsea, was built in 1843, and had a separate district assigned to it in 1854. There is a school-chapel at Stainton.
The only other place of worship is the Congregational church at Stainton; an iron chapel was opened in 1873 and the present building in 1902. (fn. 181)
The free grammar school was founded in 1580. William Marshall left an endowment for a school at Urswick or Much Hadham, at the discretion of his executors, and on the petition of the people the former place was chosen. (fn. 182) The 'cock penny' used to be paid to the master at Shrovetide. 'Adjoining the school, on the upper side of the green, the remains may yet be seen of the ancient cock-pit, in which on every Shrove Tuesday the vicar of the parish presided in his gown and bands, as master of the ceremonies.' (fn. 183)
Charities
Apart from the schools at Urswick and Bardsea (fn. 184) the only endowed charity is a charge of £10 a year granted in 1625 by John Preston of the Abbey for the maintenance of poor people who were unable to work or maintain themselves and their families. He intended his gift to relieve his estate from any poor rate. A like benefaction for Aldingham and Dalton became void in 1810 because the overseers found it was more profitable to charge the estates with poor rate than to take the sums due under the benefaction; and about 1894 Mr. Victor Cavendish, then in possession of the Preston estates, refused to pay the Urswick £10 because he paid rates. Later he withdrew his objection, and gave the official trustees securities to provide for the continuance of the charity. The money used to be distributed by the churchwardens and overseers in sums of 5s. to £1. (fn. 185)