Pages 380-382
A History of the County of Lancaster: Volume 8. Originally published by Victoria County History, London, 1914.
This free content was digitised by double rekeying. All rights reserved.
SATTERTHWAITE
Satterthwaite, 1336. Grizedale, 1336. Graythwayt, 1336.
Satterthwaite extends from Coniston Water to Windermere and is almost entirely copses. It occupies three hilly ridges attaining heights of 782 ft. to over 900 ft. above sea level, divided by valleys down which run southward Grizedale Beck and Dale Park Beck, eventually joining in Rusland Beck. The total area is 7,322 acres, (fn. 1) and in 1901 there was a population of 411. There are four customary divisions of the township. Satterthwaite proper, 2,051 acres, occupies the south-west corner, the hamlet so named standing on Grizedale Beck. Dale Park, 1,113 acres, is central; and Graythwaite, 1,648 acres, lies to the east, on the border of Windermere. Grizedale, 2,510 acres, lies in the north-west corner, its principal hamlet being a mile and a half north of Satterthwaite, and it is bounded on the west by Coniston Water.
Two principal roads go north through the township; one on the west by Force Mills, Satterthwaite, and Grizedale, to cross the hills and so reach Hawkshead, and the other on the east through Graythwaite to Esthwaite Water, having a branch to Windermere. Between these roads a minor road leads through the valley of Dale Park to Esthwaite Water.
Cunsey Beck, flowing from Esthwaite Water to Windermere, divides Graythwaite from Claife; on it is the old bobbin mill, now an electric works. Near it is the forge. There are sites of old bloomeries. (fn. 2) Force Mills, above named, are bobbin factories, the coppice wood supplying material; ironworks were started there before 1680. (fn. 3)
The soil is light and gravelly, with rock and gravel subsoil. The agricultural land is mostly in grass.
Manors
Of SATTERTHWAITE proper there is nothing to be said, though it afforded a surname to a widely spread family or families. A 'manor' of Satterthwaite, with lands in Grizedale and Dale Park, was included in the sale of Colton by the Crown in 1614. (fn. 4) Old Grizedale Hall was the residence of a Rawlinson family, noticed above among the worthies and benefactors of the parish. (fn. 5) A new building has recently been erected on the site, which commands a fine view of the Grizedale valley. The New Hall was last century the seat of the Ainslies, one of whom, William Ainslie, at one time represented the North Lonsdale division of the county in Parliament. (fn. 6) This is now owned by Mr. Harold Brocklebank. Dale Park is supposed to have been inclosed for deer by Abbot Banke of Furness about 1516. (fn. 7)
At GRATTHWAITE since 1530 there have been seated two families of note. That of Sandys, of the Upper Hall, has already come into view at Esthwaite. (fn. 8) William Sandys, (fn. 9) father of the archbishop, had a younger son Christopher, who was established at Graythwaite about 1555 and at his death in 1590 was followed by his son Adam Sandys, (fn. 10) to whom with others the Hawkshead market charter was granted in 1606. By Adam's will, dated in 1608, the Graythwaite estate was to go to his son William for life and then to William's son Myles. In 1615 the Crown sold the manor or bailiwick of Graythwaite to William Whitmore and others, with all appurtenances including rents from green wood (greenhew), viz. from each house having a fire 4d. (fn. 11) From these grantees it was probably purchased by William Sandys, who about 1620 was succeeded by his son Myles, a settlement being made by him in 1621.
Myles was convicted of felony in 1628 or 1629 and his estates were forfeited, for the time at least; they included the capital messuage called Graythwaite, another messuage called Cunsey, and various lands, held of the king as of his manor of Enfield in socage. (fn. 12) Christopher Sandys, probably the brother of Myles, obtained a grant of Graythwaite from the Crown in 1629, and no doubt restored it to the head of this family. (fn. 13) Myles died about 1650, and his son Samuel recorded a pedigree in 1665, being then thirty-one years of age. (fn. 14) His son Myles, high sheriff in 1708, (fn. 15) had several children, but only two daughters grew up and in 1713 he settled Graythwaite upon his daughter Anne, who had married Thomas Sandys of Esthwaite, so that the estate might descend in the same name. This Myles had a brother William, who seems to have joined the Jacobite rising in 1715; at least, he was imprisoned in Chester Castle. (fn. 16) Thomas Sandys had a son and successor Myles, high sheriff in 1725, (fn. 17) and from him the estate has descended (fn. 18) to the present owner Col. Thomas Myles Sandys, who was M.P. for the Bootle division of Lancashire 1885– 1910.
Graythwaite Hall, which stands in a low situation, is said to be the second house on the site, and may be originally of late 16th or early 17thcentury date, the plan of the older part of the present house following the usual type of central hall and end wings. The hall, however, has been cut down in size, and the building was refronted and otherwise altered about 1889, at which time also the stables were rebuilt and new outbuildings and lodges erected. (fn. 19) The hall contains some 17th-century panelling said to have come from Titeup Hall, near Dalton-in Furness, and in the dining-room is a series of family portraits. On the front elevation is a carved stone, removed from another part of the house and put in its present position in 1889, on which are the arms of Sandys with a crescent for difference and the initials C/E and S/C (which may be those of Christopher, Edwin and Cicely Sandys), (fn. 20) and the date 1178, the meaning of which has never been explained. (fn. 21)
The Low Hall at Graythwaite was owned by one of the Sawrey families in the 16th century, (fn. 22) and by marriage descended to the Rawlinsons. Thomas Rawlinson died in 1623 holding two messuages, &c, at Graythwaite and Cunsey and another in Rusland; his heir was his son William, aged twenty-two in 1630). (fn. 23) Captain William Rawlinson, son of Thomas, was a zealous adherent of the Parliament in the Civil War, raising a troop of seventy horse in 1643, and serving with them till 1648. He fought at Marston Moor and Ribble Bridge and in Furness. (fn. 24) In more peaceful times he opened up the Force Forge, and so led to a revival of the iron industry. (fn. 25) He died in 1680. (fn. 26) His second son Sir William, 1640–1703, has been noticed among the worthies of the parish. The eldest son Thomas was a Quaker. Graythwaite Low Hall remains in the possession of his descendants, (fn. 27) but most of the land has been purchased by Colonel Sandys. The house lies facing directly to the road from Hawkshead to Lakeside, and is a typical rough-cast house of the 16th or 17th century, which, though very much modernized and perfectly plain in appearance, retains something of its ancient character. The building is T-shaped, the cross piece, which is at the east end, being of three stories, and the stem, which now contains the kitchen and offices, only two stories in height. The front faces east, and has a spacious but low hall with narrow stairway and wide open hearth, in which there is a good cast-iron grate and fire-back, the latter dated 1714. (fn. 28) The windows are all barred sashes, the house having probably been remodelled in the 18th century. 'Although a perfectly plain almost factory-like block in appearance [the building] is yet very charming from its old-fashioned garden, its ivied walls, and its large barns built close to the house.' (fn. 29)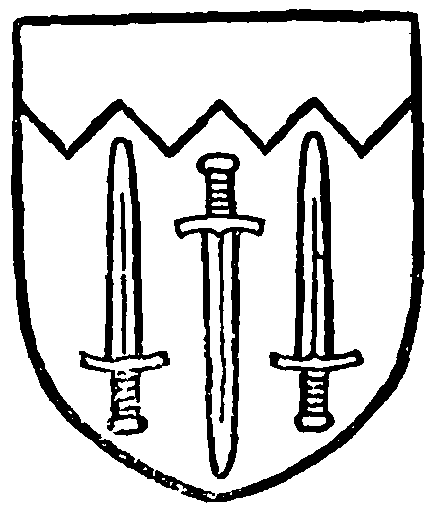 Church
Of the ancient chapel at Satterthwaite little can be said. In 1733 it was supposed to be still unconsecrated, though prayers and sermons were 'frequently used' there. (fn. 30) There was also a chapel at Graythwaite, but this had been disused long before 1722. (fn. 31) That at Satterthwaite was used in 1650, when Robert Johnson was the minister. (fn. 32) In 1717 Gastrell records that it had an endowment of £2 a year paid by the inhabitants, who nominated the curate, and that Lawson Park, worth £4 a year, had been given for the maintenance of'a preaching minister.' (fn. 33) A district chapelry was assigned in 1881. (fn. 34) The net value is now given as £190 a year, and the vicar of Hawkshead presents. (fn. 35)
The following have been curates or incumbents:—
? 1677
James Stubbs (fn. 36)
1704
Edward Braithwaite (fn. 37)
oc. 1715–21
William Cragg (fn. 38)
1751
Thomas Forrest (fn. 39)
1766
John Jackson
1781
Edward Ellerton (fn. 40)
1789
Thomas Clarke
1816
Richard Parker
1829
William Travis Sandys, M.A. (fn. 41) (Pembroke Coll., Camb.)
1830
Richard Martin, B.A.
1833
Haygarth Baines, M.A. (Queens' Coll., Camb.)
1881
Thomas Edge-Wright (fn. 42)
1885
William Purchas Dawe