Pages 72-74
A History of the County of Lancaster: Volume 8. Originally published by Victoria County History, London, 1914.
This free content was digitised by double rekeying. All rights reserved.
MIDDLETON
Middeltun, Dom. Bk.; Middelton, 1198; Midclton, 1212.
This retired district, on the shore of Morecambe Bay, perhaps owes its name to its position between Overton and Heysham. The surface is flat, and only in a few isolated spots does it attain 50 ft. above the ordnance datum. The village lies in the centre on the road between the two places named above; Trumley lies to the south and Whitley to the west. The area is 1,199½ acres. (fn. 1) There was in 1901 a population of 172.
Manor
Before the Conquest MIDDLETON, then assessed as four plough-lands, was a member of Earl Tostig's Halton fee. (fn. 2) Afterwards part was held by Count Roger of Poitou in demesne. (fn. 3) Later Middleton was assessed as three plough-lands, each being held by a different tenure in 1212. Adam de Middleton then held one plough-land by knight's service, and had given 1 oxgang of land there to Adam son of Orm (de Kellet), who rendered a pair of spurs yearly or 3d. (fn. 4) Adam son of Orm held another plough-land by the king's charter in thegnage, having also the bailiwick of the wapentake; he rendered 13s. 4d. a year. (fn. 5) The third plough-land was held in thegnage by the same rent by William de Hest. (fn. 6) The Middletons were succeeded by the Burghs, (fn. 7) and Henry son of Adam de Hest granted all his right in the plough-land in Middleton to William son of Roger de Heaton in marriage with his sister Christiana. (fn. 8) The immediate owners of this part were in 1297 Lady Joan de Dacre and Richard de Rigmaiden. (fn. 9) Not very long afterwards, in 1314, the Kellet third (fn. 10) was acquired by Sir Edmund de Nevill, (fn. 11) who obtained a grant of free warren for his demesne lands in Middleton in 1318. (fn. 12) Some time afterwards, in 1337, he gave a moiety to Cockersand Abbey on condition that an honest secular priest should be provided to sing daily in Middleton chapel for the souls named by the founder. (fn. 13)
In 1346 (1) William de Burgh of Middleton held one plough-land there by the service of the fifteenth part of a knight's fee, paying 8½d. for castle ward, doing suit to county and wapentake, providing puture, &c. (2) William son of Edmund de Nevill held 3½ oxgangs and 1 acre of land in socage, rendering 6s. 0½d.; and the Abbot of Cockersand held 4½ oxgangs, rendering 7s. 7½d.—13s. 8d. in all. (3) Thomas de Rigmaiden held 4 oxgangs of land, rendering 6s. 8d.; William son of William Robertson held 2 oxgangs, rendering 3s. 4d.; William Ellison held 1 oxgang, rendering 1s. 8d.; and John son of Roger held 9 acres, rendering 1s. 4d.—13s. in all. (fn. 14)
The manor being thus greatly subdivided, and the evidence failing, (fn. 15) the descent cannot be traced. It appears that the Lawrences of Ashton acquired the 'manor' of Middleton, but held it in socage by 1d. or 2d. rent instead of the old services. (fn. 16) Afterwards Robert Washington of Warton, (fn. 17) Lancelot Lawrence of Yealand (fn. 18) and Thomas Middleton held estates in this township. (fn. 19) Robert Middleton of Middleton in 1629 compounded for his recusancy by an annual fine of £4 10s. (fn. 20) The Rigmaidens appear to have been the chief resident family. (fn. 21) William Rigmaiden died in 1608 holding of the king as duke by knight's service and 2s. 7d. rent. (fn. 22) In 1650 and 1659 most or all the claimants to the manor seem to have sold to William West, (fn. 23) and in 1701 a settlement of the manors of Gressingham and Middleton was made by William West, Henry West and Martha his wife. (fn. 24) The family and the manor afterwards disappear, leaving no further record.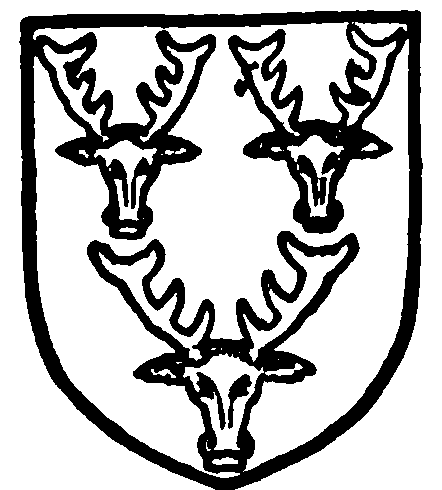 A few of the old landowners may be found in the fines and other records (fn. 25); Lancaster Church (fn. 26) and Cockersand Abbey (fn. 27) were among them.
Of the chapel which was to be maintained by the canons of Cockersand nothing further is known except that one of them ministered there down to the Reformation. (fn. 28) At present the only place of worship in the township belongs to the Primitive Methodists, and was built in 1867.