Pages 96-101
A History of the County of Lancaster: Volume 8. Originally published by Victoria County History, London, 1914.
This free content was digitised by double rekeying. All rights reserved.
ELLEL
Ellhale, Dom. Bk.; Elhal, 1202; Elhale, 1208; Ellale, 1212. Sometimes an h is prefixed, as Hellehale, 1276; Hilhale, 1301.
Ellel is divided into three parts by the parallel streams of the Conder and Cocker, flowing mainly south-west through the central part of the township, but turning north-west to form the boundaries of Thurnham and Holleth respectively. The old chapel lies on the south bank of the Conder near the great road south from Lancaster to Preston; Ward Houses is just to the north and Galgate, (fn. 1) a considerable village, to the south. Ellel Grange is more than a mile to the south of Galgate. The eastern boundary is formed by Damas Gill, going south to the Wyre. West of the Cocker the surface is undulating; east it rises gradually with some depression till over 500 ft. above sea level is attained. The township has an area of 5,813 acres, (fn. 2) and its population in 1901 numbered 1,812.
The principal road is that mentioned from Lancaster to Preston; it has older roads, now subsidiary, at each side. From Galgate one road goes west to Glasson, and a second south-east to Dolphinholme. This last is crossed by another, going north-east from Bay Horse station to Quernmore. The Preston and Lancaster Canal goes through the western side of the township, and near Galgate a branch canal goes to the dock at Glasson. The London and North-Western Railway's main line from Carlisle to London also runs through the western side, having stations at Galgate and Bay Horse; the latter serves Dolphinholme, Forton and Cockerham.
Dr. Kuerden about 1695 made a brief note of his journey through Forton and this township: After passing the Hollins 'about a mile forward you leave on the left Forton Green in the way to Cockerham. About a mile off you pass through a fair green lane, then come to a few houses and a little brook called Cocker, then over Ellel moor, where the way over it passeth towards Halton and Hornby Castle. But keeping the left hand road you pass another little brook and soon after enter a lane at a gate called Ellel Gate. So going through that narrow lane, you come to Ellel M . . . and leaving a cross way towards Thurnham and Ellel chapel on the right, you pass by the S . . . to Scotforth.' (fn. 3)
For modern local government purposes Ellel has been divided into two portions, North and South, each with its parish council.
The silk mill at Galgate was working in 1825 (fn. 4) and still employs many of the people, but agriculture is the chief industry. Dolphinholme is chiefly in Nether Wyresdale; a century ago it was a busy manufacturing village, but declined, the last factory closing in 1867. (fn. 5) Most of the land is in pasture, but some corn is grown; the soil is gravelly with clay subsoil.
A Roman road from Ribchester to Lancaster is thought to have joined that from Preston northwards at Galgate. (fn. 6)
Manor
In 1066 ELLEL was one of three adjacent manors held by Cliber, Machern and Ghilemichel; it was assessed as two plough-lands. (fn. 7) Roger of Poitou appears to have held it in 1086, (fn. 8) and less than a century later it was a member of the fee held by the Lancaster family. (fn. 9) The lordship descended to Thweng (fn. 10) and Rigmaiden. (fn. 11)
William de Lancaster I, who died about 1170, granted the two plough-lands to Grimbald de Ellel to be held by knight's service where twenty-four plough-lands made a knight's fee. (fn. 12) Grimbald had several children, (fn. 13) and was succeeded in the manor by a son Herbert, who was still living in 1208, when he ratified a grant by his father (fn. 14); he was a benefactor of Furness (fn. 15) and Cockersand Abbeys. (fn. 16) Grimbald de Ellel son of Herbert in 1204 agreed to pay 2s. a year for land which his grandfather Grimbald had given to Lancaster Priory (fn. 17); he was a benefactor of Cockersand also. (fn. 18) His descendants were benefactors of the same house (fn. 19) and of Furness. (fn. 20) He was followed by a son of the same name, whose son and successor was Walter. (fn. 21) Grimbald de Ellel was concerned in various pleadings in 1246 (fn. 22) and in 1269 his three daughters were his co-heirs, the guardianship being given to Adam de Holland of Euxton. (fn. 23) The eldest Aline married Adam's son Robert, (fn. 24) and her third part of the manor descended to Molyneux of Sefton (fn. 25) in the same way as Euxton. Another daughter Juliana was carried off and married by Roger de Slene or Slyne, (fn. 26) and her third about a century later passed to the family of Pleasington of Healaugh in Swaledale. (fn. 27) Part was purchased by James Lawrence of Ashton, as recorded later; but another part seems to have been acquired by the Harringtons of Hornby, (fn. 28) and if so was in 1587 sold by Lord Morley to Sir Richard Molyneux. (fn. 29) The other daughter Ladarena married William de Catherton, (fn. 30) and on the failure of this line about 1422 her third was assigned to Sir Richard Molyneux as next heir. (fn. 31) Thus before 1600 almost the whole manor was reunited in the Molyneux family. (fn. 32) A grant of free warren was obtained in 1615, (fn. 33) and the manor descended with Sefton until 1770, shortly after which it was sold. (fn. 34) James Longworth is said to have been the purchaser. (fn. 35) From this time the manor of Ellel disappears from view, but in 1809 John Fenton Cawthorne was said to hold a moiety of it. (fn. 36)
Sir James Lawrence, as stated above, purchased at least a part of the manor from Sir Henry Pleasington—it is called a 'moiety'—and at his death in 1490 held the 'manor' of Ellel with appurtenances, known as Crag House, of the king by ½d. rent. (fn. 37) His estate became divided among a number of families, (fn. 38) but through the Skillicornes (fn. 39) Evan Haughton seems to have been the responsible tenant in 1608. (fn. 40) The Shiersons afterwards had part at least of Crag House estate. (fn. 41)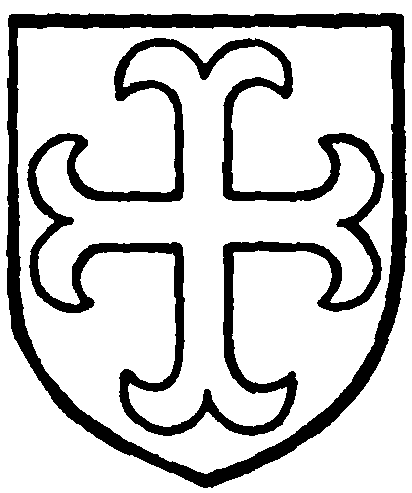 An Inclosure Act was passed in 1755–6. (fn. 42)
Five religious houses held lands in Ellel. Leicester Abbey, perhaps in right of the chapel, had land, common of pasture, &c., in Hazelrigg, Elmsthwaite and Hallstude. (fn. 43) Cockersand Abbey had the estate called the GRANGE, (fn. 44) which after the Suppression was granted to Thomas Holt. (fn. 45) Part of it had been held by Burscough Priory, through a number of benefactions in 1324 and later. (fn. 46) Furness Abbey, as already shown, also had land in Ellel, (fn. 47) and so had Conishead Priory. (fn. 48)
The local families were of little importance. (fn. 49) In earlier times there were those of Potter, (fn. 50) Scales (fn. 51) and Ward. (fn. 52) Shireburne of Stonyhurst, (fn. 53) Brockholes of Claughton (fn. 54) and other owners (fn. 55) are found in the records, but in the 17th century the principal resident family was that of Preston of Ellel Grange. (fn. 56) They were recusants and Royalists, suffered fines and confiscations in consequence, (fn. 57) and disappeared from view. The Grange estate has several times changed hands, but its present owners are also named Preston. (fn. 58) The estate known as Ellel Hall was from about 1740 owned by the Ford family (fn. 59); after the death of William Ford it was in 1898 acquired by Lord Ashton. (fn. 60)
Pasture ground called the Hey Carr was in dispute in the time of Elizabeth between tenants of the different lords. (fn. 61)
Two yeomen, Nicholas Holden and John Serjeant, in 1717 registered estates as 'Papists.' (fn. 62)
Church
The origin and dedication of the ancient chapel of Ellel are unknown. It existed before 1156, and was included by William de Lancaster in his gift to Leicester Abbey. (fn. 63) The lords of the manor in 1292 endeavoured to compel the abbot to maintain a chaplain there, (fn. 64) but, as no such obligation was imposed by the benefactor's charter, a formal acquittance was at length obtained. (fn. 65) John the chaplain of Ellel occurs in 1326, (fn. 66) and service was no doubt maintained by the inhabitants down to the Reformation, but no details occur. In 1554. Henry Lewes was nominally in charge, but he was at Cockerham. (fn. 67) What happened afterwards is unknown, (fn. 68) but in 1650 a stipend of £50 had been assigned to it out of Royalist sequestrations, and Peter Atkinson was the minister. (fn. 69) In 1717 the only fixed income was £1 a year, interest on money left by will, and the same curate served Ellel and Shireshead chapels, (fn. 70) an arrangement which continued the rule until 1832. (fn. 71) The chapel, now known as St. John's, was rebuilt in 1804, (fn. 72) and a new church was built on an adjacent site in 1907. The net value is £277 a year.
The incumbents are appointed by the vicar of Cockerham. A separate district was assigned in 1858. (fn. 73) The following have been curates and vicars (fn. 74) :—
1716
William Wilson
1727
John Marsden
1731
John Fisher
1733
Charles Epes (fn. 75)
1747
John Braithwaite (fn. 76)
1798
Richard Tunstal
1828
Henry Sharpe Pocklington, M.A. (fn. 77) (Christ's Coll., Camb.)
1829
Jonas Driver, M.A. (fn. 78) (Corpus Christi Coll., Camb.)
1832
William Dixon, B.A. (fn. 79) (Brasenose Coll., Oxf.)
1836
Robert Thompson, M.A.
1852
— Owmer
1856
James Lawrence, M.A. (fn. 80) (Brasenose Coll., Oxf.)
1864
Thomas Stedman Polehampton, M.A. (fn. 81) (Pembroke Coll., Oxf.)
1869
Fitzherbert Astley Cave-Browne-Cave, M.A. (fn. 82) (Brasenose Coll., Oxf.)
1874
Charles John Besley, M.A. (Edmund Hall, Oxf.)
1894
George Willes, M.A. (fn. 83) (Christ Ch., Oxf.)
1901
Frank Coleman
St. Mary's Chapel, Ellel Grange, was built by Alderman Preston and consecrated in 1873; Mrs. G. T. R. Preston is the patron. No district is assigned to it. St. Mark's, Dolphinholme, built in 1839 and consecrated in 1862, was rebuilt in 1897; Captain Charles Henry Garnett is patron. (fn. 84)
A school is mentioned in the visitation list of 1691, (fn. 85) but it probably failed, as Bishop Gastrell says nothing of it in 1717. Another school was established in 1753. (fn. 86)
Peter Atkinson, the minister of the Commonwealth period, was one of the more noteworthy Puritans, and by his admirers was named 'the Apostle of the North.' (fn. 87) He was at Ellel in 1646, a member of the Presbyterian Classis, and signed the 'Harmonious Consent' of 1648 as minister. In 1660 the endowment from Royalist sequestrations would cease, but he stayed on, and though he refused to conform in 1662 is said to have held the chapel till his death in 1677, being for some time assisted by his son and namesake. (fn. 88) His labours do not seem to have resulted in the formation of a permanent congregation, and after his death the chapel again came into the charge of the vicar of Cockerham. The Lancaster Independents began preaching at Galgate in 1797, but no continuous work was done till 1842. A small chapel was erected in 1844, but the cause did not prosper, and in 1867 meetings were discontinued. (fn. 89)
There is a Wesleyan chapel at Galgate, built about 1861, for a congregation formed many years previously. (fn. 90)