Pages 18-22
A History of the County of Middlesex: Volume 10, Hackney. Originally published by Victoria County History, London, 1995.
This free content was digitised by double rekeying. All rights reserved.
HACKNEY VILLAGE
originally lay along Church Street, whose course bent slightly where it crossed Hackney brook. Church Street since 1868 has formed the northernmost stretch of Mare Street from Hackney Grove, in front of the modern town hall, to the junction with Dalston Lane and Lower Clapton Road. (fn. 1) The change of name recognized that building had come to line the whole of Mare Street, leading some writers to include all of Mare Street in descriptions of the village. (fn. 2) The area treated below, however, is limited to Church Street and its offshoots, a separate administrative division in the 17th and 18th centuries. (fn. 3)
The medieval village, called the vill or township of Hackney from the 14th century, (fn. 4) included the church by the 13th century, (fn. 5) the vicar's house acquired c. 1345, (fn. 6) and cottages in Church Street near the rectory house in 1486; (fn. 7) a brotherhood of Church Street existed in 1428. (fn. 8) In 1991 only the church tower survived, perhaps rebuilt by the rector Christopher Urswick (d. 1522), who was also credited with building Church House immediately to the west, where parish meetings took place by 1547. (fn. 9) A gap in the street front thereafter remained on either side of Church House where the churchyard bordered the road. (fn. 10)
Other large buildings by the early 17th century included the so-called Templars' house opposite Dalston Lane, (fn. 11) marking the northern end of the village, and the Black and White House. In 1741, when used by the free school, Church House was of brick, tall chimneyed and much altered, with the stocks in front and lychgates to the north and south. The walled churchyard was overlooked on the north by the Vicarage and on the south by a range including the Black and White House and, nearer the road, a building rented for the charity school. (fn. 12) The Black and White House, said to date from 1578, contained the arms of an unknown merchant and, among others in stained glass, those of Frederick V, count palatine and king of Bohemia. It was bought with 18 a. of Church field by the lord mayor Sir Thomas Vyner (d. 1665), who apparently altered it and occupied the second largest house in Church Street in 1664. (fn. 13) House and land were divided in 1683 between the cousins Elizabeth Marchant, Edith Lambert, and Elizabeth Tombs, all living in Gloucestershire, whose heirs sold their portions to the Ryders. (fn. 14) The house held a school in 1765 and was sold in 1796, to make way for Bohemia Place. (fn. 15)
A few other seats were set back from the street front: Spurstowe's house to the west, (fn. 16) Robert Perwich's, unidentified but largest of all in 1664, (fn. 17) and that of the Marsh family, Cambridgeshire landowners who also held Darkes in South Mimms. (fn. 18) Sir Thomas Marsh (d. 1677), who was said to have owned the White House perhaps at the north-east end of Baxter's Court, (fn. 19) was in 1678 admitted in remainder to a chief house on the west side of Church Street, which had been held by Thomas Marsh (d. 1657). (fn. 20) Sir Thomas's chief house, with land stretching south behind Mare Street to Shoreditch Place, passed to his son Edward (d. 1701), who left it to his wife Grace and her son by an earlier marriage, William Parker. (fn. 21)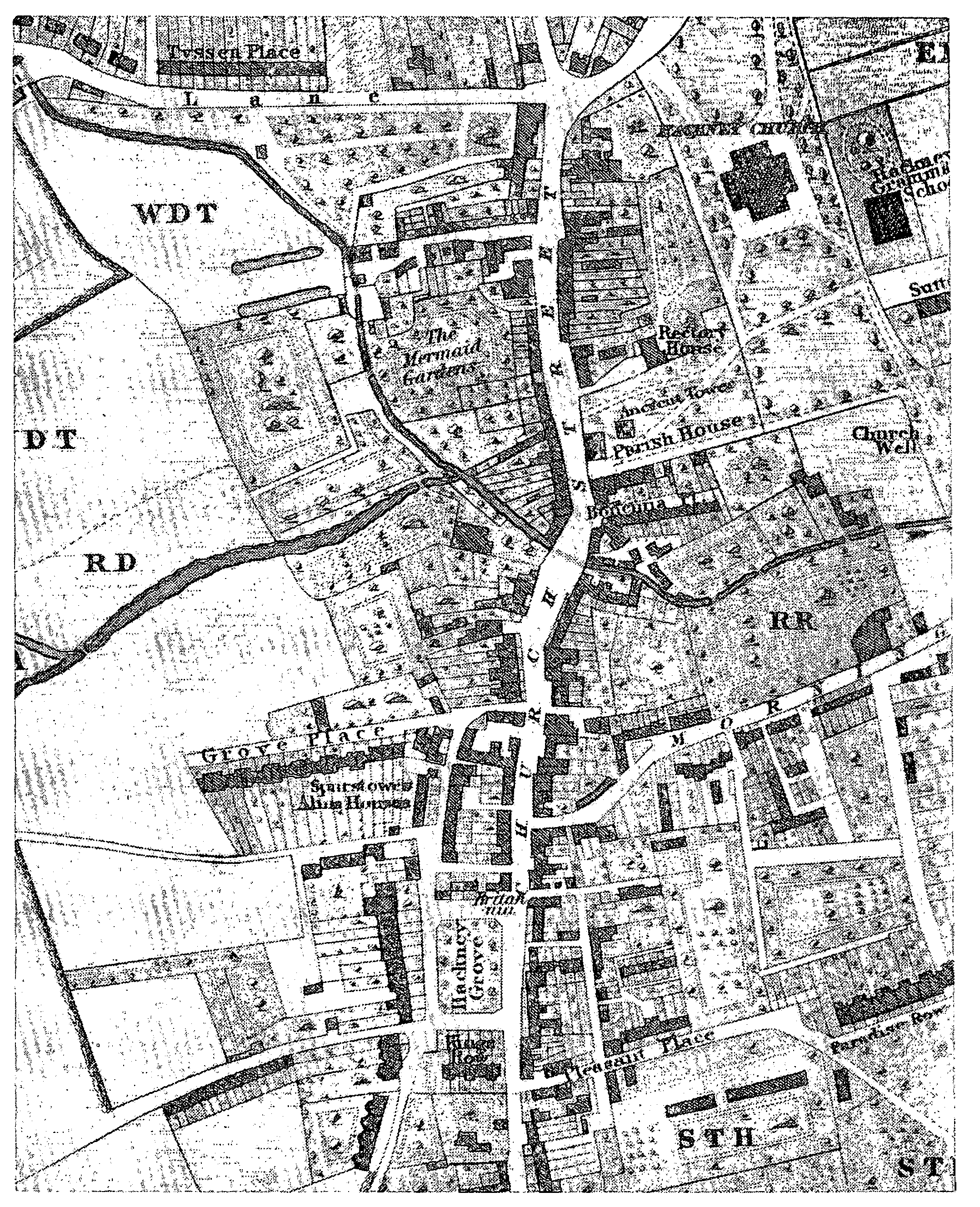 Most houses were much smaller, on fragmented copyholds, and were repeatedly rebuilt. Six tenements were held in 1653 by Ralph Macro, a saddler of London, presumably on land north of the Vicarage and held by his son and namesake, a physician, in the 1690s. (fn. 22) Church Street, although populous, paid less rates in 1605 than the five other divisions of the parish (fn. 23) and in 1735 barely half as much as Mare Street and less than Homerton or Clapton. (fn. 24) It contained only 4 of Hackney's 36 select vestrymen in 1729, one of them the vicar and another the bankrupt John Ward. (fn. 25) Its slower rise in population after 1735, with no increase between 1761 and 1779, indicated a shortage of space. (fn. 26)
A map of 1724 shows in stylized form unbroken lines of building on both sides of Church Street except by the churchyard, above and below the brook. (fn. 27) A site conveyed with the Black and White House in 1765 had been commercially developed, to include a collarmaker's shop, a carpenter's shop and yard, a cheesemonger's house on Church field, and an apothecary's in a recently divided house next to the churchyard. (fn. 28) Similarly a site on the west side conveyed in 1766 included the Mermaid inn, a path called Sweet Briar Walk and houses in Buck House or Buck Horse Lane to the north, and a space to the south between the inn and an apothecary's; by 1777 the walk had disappeared and the space to the south had been filled, when the Mermaid was leased with a cheesemonger's, a pastry cook's, a combmaker's, and a carpenter's. (fn. 29) An unusual later survival, with alterations, was the King's Head, gabled and perhaps of 16th-century origin, which was not rebuilt until 1878. (fn. 30)
At the northern end of the village John Ward (d. 1755) built himself a large house before his expulsion from the House of Commons in 1726 for forgery. (fn. 31) In 1711 he had taken a lease of copyholds of Grumbolds, later including a former bowling green. (fn. 32) The plain red-brick house had a central block flanked by two- and threestoreyed wings, of which one rose straight from the road at the corner of Dais ton Lane. It was divided among genteel tenants in the early 19th century and had made way for houses and shops by 1848, although the name Ward's Corner survived in 1870. (fn. 33)
In the 1740s Hackney village remained essentially a single street, with some large gardens behind: on the west side those of Ward's house stretched back to Hackney brook, (fn. 34) as did those of the Mermaid and the adjoining grounds of Spurstowe's house. The last were landscaped by Sir John Silvester, who from the 1760s began the village's westward expansion near Spurstowe's almshouses, which for a century had stood alone in a stretch of Church Path which was to become Grove Passage (in 1907 part of Hackney Grove and from 1937 Sylvester Path). Besides establishing a coffee house in the street, Silvester built five houses in Sylvester Row (later extended as Grove Place and from 1883 Sylvester Road). Richard Dann, who bought most of Silvester's estate, in 1792 leased to George Scott land on which a terrace of twelve houses projected into the fields north of the almshouses. (fn. 35)
Building soon spread farther south along the west side of Church Path, forming a line known as the Grove or Hackney Grove. (fn. 36) It followed the breakup of the estate which had passed from William Parker (d. 1728) to his son William (d. 1776) of Haling (Surr.) and then to his daughters Grace Parker (d. 1781) and Elizabeth Hamond (d. 1789). (fn. 37) An Act of 1796 authorized the sale of the Hackney property of Elizabeth's son William Parker Hamond (d. 1812), (fn. 38) who as early as 1791 had leased Gravel Pit and Pitwell fields, behind the Grove, to James Potts. (fn. 39) From 1798 local purchasers from W. P. Hamond's trustees included Potts, Arthur Windus, David Whitaker, and the elder Richard Dann. (fn. 40) Coach houses for the Grove were provided in Willow Walk as Potts Mews (later Grove Mews and finally part of Wilton Way). (fn. 41) Land between Church Path and Church Street was left partly as an open space, newly railed in by Potts in 1806 (fn. 42) and itself called Hackney Grove in 1831. King's Row was built along its southern side and extended westward by a humbler terrace called Grove Lane (previously Cut Throat Lane (fn. 43) and from 1913 Reading Lane). With a few houses farther south in Church Path (later the north end of Martello Street), they formed the south-western corner of the village in 1831.
The south-eastern corner had dense building along the street, in its offshoots Baxter's Court and Jerusalem Square, with small houses from c. 1700, (fn. 44) and Pleasant Place (from 1878 the west end of Paragon Road), and behind in Jerusalem Passage. (fn. 45) Some of it came to be part of the scattered property of John Musgrove (later lord mayor of London and a baronet), a local auctioneer's son whose purchases included in 1828 houses from David Whitaker's executors, besides 7 houses and shops mostly facing the Grove. (fn. 46) Farther east there were two new fourthrate houses in Morning Lane in 1807 (fn. 47) but south of the lane there was only scattered housing until a lease by St. Thomas's hospital in 1809 to Robert Collins led to the building of the Paragon (later Paragon Terrace and the east end of Paragon Road). (fn. 48) After Collins's bankruptcy his partner John Scott, an attorney, began to build on the west side of Chatham Place c. 1815 and was leased land on both sides in 1820. (fn. 49) By 1831 terraces also formed Paradise Row immediately west of the Paragon and stretched along the west side of Chatham Place to Morning Lane, which had building on its south side and near Church Street on both sides. Homerton Terrace, Retreat Place, and neighbouring streets east of Chatham Place, also on the hospital's land, were considered in 1821 to be an extension of Homerton. (fn. 50)
The northern half of the village remained more confined: on the west by the gardens of Ward's house, the Mermaid, and Spurstowe's house, on the east by grounds around the church after its rebuilding farther from the street in the 1790s, and on both sides by Hackney brook. (fn. 51) Improvements were secured by the Tyssens, as in 1800 when John Musgrove the elder, carpenter, was to replace stabling with houses on the north side of Buck House Lane. (fn. 52) In 1812 a watchmaker was permitted to continue in his house north of the Mermaid on a repairing lease and Musgrove was to build one or more third-rate houses at the south corner of Buck House Lane; shops at the north corner were conveyed on a repairing lease in 1828. (fn. 53)
Apart from yards, the only offshoots from Church Street north of Hackney brook in 1831 were Coldbath (formerly Buck House) Lane, which ended at the brook, the houses on the south side of the old churchyard, and Bohemia Place, (fn. 54) all in the 1820s inhabited by people in trades or crafts. Church Street itself was mainly commercial. So too, south of the brook, were Grove Lane, much of the Grove, Pleasant Place, Jerusalem Square and Place, and Morning Lane. Gentry, professional people, and prosperous merchants lived mainly in the newer houses, notably in Grove Place, the south end of the Grove and King's Row, and Chatham Place. (fn. 55)
Eastward development continued after 1836, when Samuel Fox bought houses in Pleasant Row and Paradise Place, with land stretching north to Morning Lane, where many cottages formed crowded courtyards such as Buck's Buildings, with 19 dwellings, or Jackson's Buildings. (fn. 56) The houses which he built, praised in the 1890s for their durability, (fn. 57) included a terrace called Albion (from 1877 Stockmar) Road, parallel with a private road known as Fox's Lane. (fn. 58)
From 1850, when the first railway station was opened, improved communications both changed the village and destroyed its surrounding countryside. (fn. 59) Overshadowed by an iron railway bridge, Church Street took on an urban appearance which was reinforced by the culverting of the brook in 1859-60 and by the opening of tramways in 1872 along what had become no more than one end of Mare Street. To benefit London as a whole, the M.B.W. paid for roadwidening between 1877 and 1879, when frontages of c. 250 ft. were set back from the west side north of the resited station. (fn. 60) An ornate town hall superseding the one at Church House was built on the former green called the Grove from 1866, a major junction was created by the construction of Amhurst Road East, and a tram depot was opened at the end of Bohemia Place in 1882. Part of the village was still thought to look old fashioned, although perhaps only in contrast to the avenues around, where many of the better off retreated as traffic along the main street increased. (fn. 61) Additions to the town hall (fn. 62) emphasized the urban character, along with the opening of the Hackney Empire music hall in 1901 and the L.C.C.'s long delayed widening of the road south of the railway, approved in 1899 and completed by 1906. (fn. 63) The crowded courts between Morning Lane and Paragon Road made way for a block backed by Valette Street. It replaced Jerusalem Passage and Square, where St. Thomas's hospital sold property in 1902. Some 500 people were resettled, mostly in Valette Buildings (1904), among the L.C.C.'s first flats in Hackney. (fn. 64)
Amhurst Road East by 1865 had semidetached villas along part of its northern side; (fn. 65) land on the south was being dug for bricks and by 1870 was covered by terraces in Manor Place, Spurstowe Road, and Aspland Grove. Coldbath Lane was extended west as Kenmure Road and the Mermaid's gardens made way for Brett Road, both named in 1874. South of the railway Grove Place, Grove Mews, and Grove Lane in 1865 still led to market gardens between them and the housing which was spreading from Dalston. Following the opening of the G.E.R.'s branch line in 1872, however, the land west of Mare Street was filled with terraces, as in Graham, Penpoll, and Casterton roads, the last two named in 1878 and 1879.
East of Mare Street, space around the church was preserved as public gardens. North of the railway, the only major changes were the resiting of the station and the building of the tram depot. (fn. 66) Between the railway and Morning Lane watercress beds survived the culverting of Hacney brook until replaced by cramped terraces in Chalgrove Road, named from 1875, and south of Morning Lane an orchard made way for Trelawney Road, named from 1871. Between 1900 and 1905 St. Thomas's hospital leased the gardens of superior houses in the Paragon and the west side of Chatham Place, with land behind, to Henry William Rowlandson and Hervey Rowlandson. Large factories, mainly for clothing or furniture, were soon built in Belsham Street, named from 1902, and in Chatham Place. (fn. 67)
Shops had spread along the east ends of Amhurst Road and the uncompleted Graham Road by 1880, when there were many more in Morning Lane. (fn. 68) Blocks of private flats included the Improved Industrial Dwellings Co.'s Quested Buildings (later Court), begun in Brett Road in 1878, and Graham Mansions, displacing shops east of Penpoll Road, by 1900. (fn. 69) Residents of Mare Street were in 1889 classified as well-todo, as were those of Amhurst, Spurstowe, and Graham roads and some of Sylvester Road and Chatham Place. Those of most other roads were moderately comfortable. The poor lived in Grove Mews and east of Mare Street in Bohemia Place and courts south of Morning Lane; chronic poverty was observed in Chalgrove Road, in a narrow lane which was the forerunner of Belsham Street, and around Jerusalem Passage. (fn. 70)
Development from c. 1900 consisted largely of the rebuilding of commercial premises. (fn. 71) Imposing additions to Mare Street included the central library (1908), the Salvation Army's offices (1911) and the Methodists' central hall (1925). (fn. 72) Sylvester House provided flats immediately south of Graham Mansions by 1913 and a large post office and telephone exchange had replaced a Brethren's chapel in Paragon Road by 1930. A new town hall (1934-6) was built on the west side of Hackney Grove, with Hillman Street behind, the old site becoming a public garden. (fn. 73) Houses overlooking the churchyard and a parallel range along the south side.of Bohemia Place were to be cleared in 1937 (fn. 74) and probably had gone before the site was bombed in 1941. The same air-raid destroyed Chalgrove Road, later used for prefabricated housing and afterwards for a car park, and necessitated the rebuilding of shops south of the old church tower. (fn. 75) The remaining slums off Morning Lane made way c. 1960 for the L.C.C.'s Trelawney estate, (fn. 76) on the site of Trelawney and Stockmar roads and Fox's Lane, while Aspland Grove and Spurstowe Road made way for the Aspland estate and Marcon Court. In Sylvester Path a warehouse replaced Spurstowe's almshouses. (fn. 77) Changes behind the town hall included rebuilding for the council's technical services department, the replacement of Casterton Road by a sports centre opened in 1979, (fn. 78) and the conversion of a factory next to Sylvester House into flats called the Colonnades.
Open space around the church stretches northward into Clapton Square, dividing the shops of Mare Street from those which continue northeast, with other buildings, along Lower Clapton Road. It lies within a conservation area which extends beyond Church Well Path, the east side of the space, to Sutton Place in Homerton and west to Mare Street, (fn. 79) where the first town hall, the refaced successor of Church House, stands alone, flanked by gardens and partly screening the old church tower and the churchyard with its established trees. (fn. 80)
The adjacent stretch of Mare Street, known locally as the 'Narrow Way', (fn. 81) has a slight curve despite its improvement in the 1870s. Many shops occupy the ground floors of three- or four-storeyed stock brick houses of the early 19th century. The curve, the irregular rooflines, and glimpses of the churchyard combine with iron posts and lamps installed c. 1990 to suggest the survival of a village street, an appearance strengthened by widening of the pavements and restriction to one-way traffic. Apart from the old town hall and the so-called Manor House, (fn. 82) the most notable buildings are those of the early to mid 19th century which replaced the 'Templars' house' at the corner of Lower Clapton Road. As nos. 406-22 (even) Mare Street, they form a three-storeyed convex crescent of brick, with stuccoed pilasters dividing the houses; part of the Crown inn (no. 418) and modern shops project from the ground floors. (fn. 83)
West of Mare Street between the railway and Dalston Lane are modest late 19th-century terraces in Kenmure Road and a small block of flats by E. D. Mills, praised in 1952 for its modernity. (fn. 84) In Brett Road the late 19th-century five-storeyed block of 40 flats at Quested Court has Tuscan pillared porticos. South-west of Amhurst Road the yellow-brick Aspland estate and Marcon Court have no building taller than seven storeys.
South of the railway a wider stretch of Mare Street carries more traffic. The only open space is where the civic garden with its low walls, lamp piers, and bronze lanterns, forms a group of the 1930s with the town hall. (fn. 85) The refurbished Hackney Empire and, opposite, a block mainly of public buildings centred on the former Methodist central hall, (fn. 86) contribute to a wholly urban scene.
Notable buildings survive off Mare Street only in isolation. No. 4 Sylvester Path, a small twostoreyed house of the 18th century but partly refaced in the early 19th, retains original panelling. (fn. 87) No. 33 Hackney Grove is half of a pair and early 19th-century, of stock brick with two storeys, attic, and basement, and has a wooden Doric porch. It stands at the corner of Reading Lane, whence the remains of Hackney Grove lead south as a back way past nos. 25 and 27, an early 19th-century pair of three storeys and basement, where no. 27 is boarded up. (fn. 88)
Nos. 71 to 83 (odd) Paragon Road were erected under the lease of 1809 to Robert Collins (fn. 89) in which an unusual reference to building specifications indicated that a high standard was required. A row of eight houses was occupied by 1813, when Collins's interest had passed to John Scott. Seven survivors were bought c. 1979 by Newlon housing trust, which restored them as three and a half linked pairs. The houses have three storeys and two bays, of stock brick stuccoed on the ground floor, and are linked by single-storeyed Doric colonnades enclosing the front doors. They are Hackney's earliest example of a type which became widespread, as in Chatham Place and Clapton Square, and older than the many examples on the Lloyd Baker estate in Finsbury, where the links are two-storeyed. Visually the row is all the more remarkable for lying in the shadow of the fifteenstoreyed towers of the Trelawney estate. (fn. 90)