Pages 23-28
A History of the County of Middlesex: Volume 10, Hackney. Originally published by Victoria County History, London, 1995.
This free content was digitised by double rekeying. All rights reserved.
MARE STREET AND LONDON FIELDS.
There may have been a settlement on the boundary at Cambridge Heath to give its name to Mare Street, the way to Hackney village from Bethnal Green. (fn. 1) Cambridge Heath was common pasture in 1275 and adjoined London Field, which was recorded from 1540, at first in the singular, and was perhaps named from its position at the London end of Hackney's busiest local road. (fn. 2) This section treats the modern Mare Street as far north as Hackney Grove, including the stretch south of the Triangle, which until 1868 was called Cambridge Heath. (fn. 3) It also includes London Fields, both the open space and the built-up land east and south of it.
Mare Street was a distinct settlement in 1593. (fn. 4) By that date it may have included the Flying Horse inn, said to have been a staging post perhaps because of its 18th-century name, the Nag's Head, and the Horse and Groom, since all three were timber built. The first two stood at the corners of Flying Horse Yard and London Lane, both leading from Mare Street to London Fields. (fn. 5) Farther south a way to the fields, the 19th-century Mutton Lane (later West, from 1911 Westgate, Street), was described in the 17th century as Sheep Lane, which name was later applied to a route south from Mutton Lane parallel with Mare Street. (fn. 6)
In 1605 Mare Street had 23 residents who contributed to repair of the church. The highest payers included Mr. Huggins, presumably Edmund Huggins recorded in 1602, William Bird, Thomas Catcher, recorded as a moneyer in 1602, and Mr. De Quester, probably James De Quester, a foreign merchant; all were citizens of London. (fn. 7) Another William Bird, a merchant with Spanish connexions, had a house in Mare Street in 1695. (fn. 8) Some property of George Clarke was occupied in 1657 by Robert Neighbours, a blacksmith, who was allowed to build on waste in Mare Street near the sign of the Magpie, adjoining St. Thomas's hospital's land. (fn. 9) Forty-nine houses owed hearth tax in 1664, the largest being those of Clarke and of the City chamberlain Sir Thomas Player at 14 hearths, and 6 stood empty; (fn. 10) 78 were assessed in 1672. (fn. 11)
The ownership and occupation of holdings between Mare Street and London Fields had already begun to be reorganized. Dr. William Parker and his wife Elizabeth were licensed to pull down an old building in 1667 and 1675, and occupied a new house in 1685, formed from two out of four tenements on ½ a. in the north angle of Sheep Lane (later Westgate Street). (fn. 12) The site abutted north and west on other land of Parker, who also held two tenements formed out of one in Mare Street, acquired in 1672 from James Debutt, and two houses in Sheep Lane, one of them the Shoulder of Mutton. (fn. 13) All passed to the son of William Parker and his heirs. (fn. 14)
James Debutt, presumably as heir to Giles Debutt who had been made a vestryman in 1627, (fn. 15) occupied part of a neighbouring copyhold of Kingshold in 1666 and settled it on his son-in-law Richard Bristow, grocer of London, in 1672. (fn. 16) Bristow acquired a Lordshold copyhold with 5 a. in London Fields in 1695 and bought the freeholds of five Kingshold houses in Mare Street, with three tenements behind them; they included Debutt's house, which had been assessed at 10 hearths, and Lady Player's late residence. (fn. 17) His widow Elizabeth Bristow, with William Parker and Joseph Thompson, was one of the chief landholders in London Fields in 1719. (fn. 18) By will dated 1722 she left her Lordshold copyhold, the former 'Black and White House, now called the madhouse', with land in Mare Street adjoining Sheep Lane, to her son John, of the Grove, in Ellesborough (Bucks.), (fn. 19) whose nephew Richard Bristow in 1769 left them for sale to Richard Heron. (fn. 20)
East of Mare Street building was carried out by Thomas Tryon, a merchant and from 1692 a copyholder, who bought more land in 1696. By will dated 1703 he left several houses to his daughter Elizabeth, wife of Richard Wilkinson, and five to his daughter Rebecca, wife of John Owen. (fn. 21) Thomas Tryon Owen and his brother John Owen in 1728 held ten houses, presumably where Tryon's Place marked the narrow end of a track leading to Shore Place. (fn. 22)
Near Hackney village, south of the modern corner of Darnley Road, stood a three-storeyed gable-ended house reputedly built c. 1590. (fn. 23) It was granted in 1658 with nearly 4 a. of pasture called Barber's Barn to John Jones, who held adjoining premises and presumably leased it to the regicide Col. John Okey (d. 1662). (fn. 24) The house, formerly Barber's Barn, was occupied with 1½ a. by Katharine Clarke, widow, in 1715, when John Bird mortgaged it to his fellow citizen of London, the grocer John Iveson. (fn. 25) It later passed to the nurseryman Conrad Loddiges, who replaced it with his own house and Loddiges Terrace. Residents in the terrace were to include the line engraver George Cooke (d. 1834), who worked for Loddiges, and his son Edward Cooke (d. 1880), the marine painter. (fn. 26)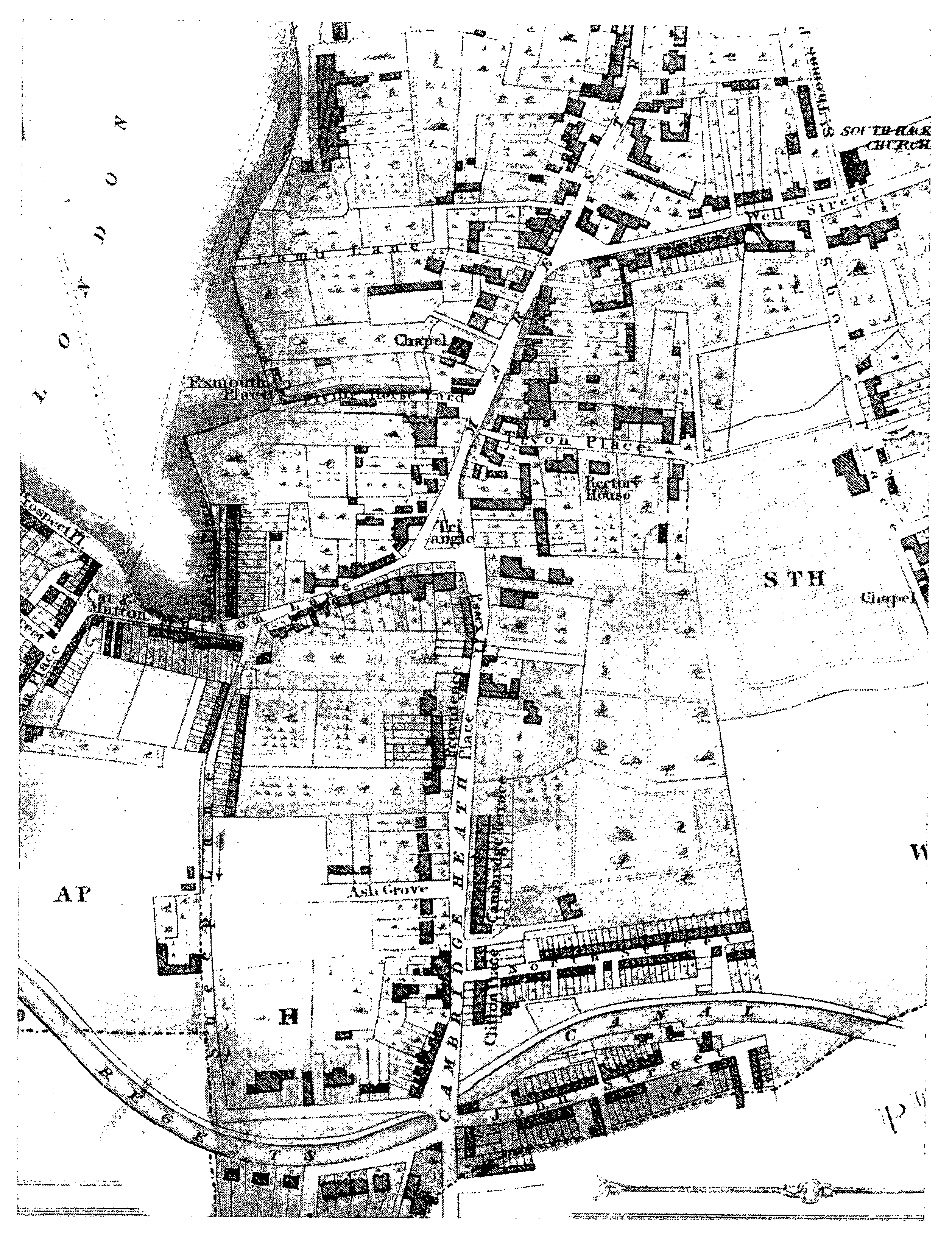 A Haggerston brickmaker, John Waxham, in 1713 mortgaged land in Tower Street fronting London Fields, where a house had been built and others were planned. (fn. 27) That Tower Street was probably not the later Tower (from 1938 Martello) Street, at the end of London Lane along part of the line of Church Path, but rather the later Lamb Lane, said to commemorate the owner of a large house of c. 1720 at the corner of Mare Street; (fn. 28) nearby pasture was bordered on the south-west by Sheep Lane. (fn. 29) Jacob Alvares had moved to the neighbourhood by 1717 and held 7 copyhold houses, some having been divided, by 1730. (fn. 30)
Mare Street was the most populous district of the parish in 1720, with 111 ratepayers, and contained 9 of the 36 select vestrymen in 1729. (fn. 31) More built-up than the high road through Kingsland, it had 19 licensed inns by 1723, including the Shoulder of Mutton where Church Path reached the south end of London Fields and the Red Lion at Cambridge Heath; three inns were called the Swan, two the Cock, and two the Ship. (fn. 32) Ratepayers numbered 140 in 1735 and 199 by 1761 but had barely increased by 1779, when Mare Street was overtaken in numbers by Homerton and rivalled by Clapton. (fn. 33) The traveller Celia Fiennes died at a house in Mare Street near Well Street in 1741. (fn. 34)
In 1745 buildings lined both sides of Mare Street between Mutton Lane and London Lane, leading respectively to the south and north ends of London Fields. They were probably densest at the junction with Well Street and did not extend far down that road or any side road except Mutton and London lanes, although at the end of London Lane they lined part of London Fields. Houses were not yet continuous along Mare Street: there were breaks between Bethnal Green and the houses at Cambridge Heath, between those houses and Mutton Lane, where the road widened beside a pond at what was later called the Triangle, and between London Lane and Church Street. (fn. 35)
The most impressive 18th-century development was on the east side of Mare Street. St. Thomas's hospital followed its decision to build on the site of Shore Place (fn. 36) with a lease in 1769 under which Robert Collins laid out St. Thomas's Square in 1771-2. A Congregational chapel was opened on the south side in 1772 and served by distinguished ministers. Richard Price (d. 1791), of the Old Gravel Pit meeting, moved to no. 2 in 1786. (fn. 37)
Farther north the hospital allowed small-scale development east of Mare Street under a lease of 1780 to Joseph Spackman, whose Spackman's Buildings until 1868 marked the beginning of Hackney village. (fn. 38) Building also began to spread along the north side of Well Street as far as Shore Place, with a short terrace of 1785 and a slightly earlier pair. The first terrace in St. Thomas's Place, a narrow way between the square and Well Street, was built by Thomas Pearson between 1805 and 1807. Denmark Place was built on the south side of Well Street in 1810. (fn. 39)
Farther south the village around the Triangle became linked with Cambridge Heath. In 1789 Benjamin Bond Hopkins leased land stretching east for c. 300 yd. to Giles Wells, a market gardener of Bethnal Green, and the Mare Street frontage was subleased to James Benson, who in the 1790s built a terrace called Cambridge Row (later part of the neighbouring Cambridge Terrace and from 1868 nos. 30 to 56 (even) Mare Street). (fn. 40) Close to the parish boundary John (from 1871 Vyner) Street ran eastward by 1811, (fn. 41) before the Regent's canal cut it off from land to the north, where similarly cramped houses were built on former Hopkins land in North (from 1938 Northiam) Street. (fn. 42)
South of London Fields the Cat and Mutton (formerly the Shoulder of Mutton) in 1790 marked the end of a row of building along the south side of Mutton Lane on land of William Parker Hamond, whose Shoulder of Mutton field lay to the west. (fn. 43) Garden ground south of the row, bounded east by Sheep Lane, was sold to Thomas Pearson in 1799, with 1 a. north of Mutton Lane. Neighbouring pieces included 11 houses newly built by George Plumridge, sold in 1798 to Peter Pearse, and adjoining land sold in 1800 to James Potts, a purchaser of Hamond's lands near the Grove, (fn. 44) who was bankrupt by 1817. (fn. 45) Duncan Place on the line of Church Path (from 1881 part of the Broadway, in 1937 renamed Broadway Market), had been named by 1811. So too had London Place (later part of London Fields East Side) leading north from Mutton Lane. (fn. 46) Isaac Alvares built a house for his mistress Mrs. Jenkins in Tower Street (soon renamed Lamb Lane) in 1810 and his own residence had made way for several buildings in Mare Street by 1812. (fn. 47) Flying Horse Yard (in 1821 called Exmouth Place) and Lamb Lane, although not wholly built up, housed tradesmen and workmen in 1821. (fn. 48)
In 1831 buildings formed almost a continuous ribbon from Cambridge Heath to Hackney village. Houses in Mare Street north of St. Thomas's Square were compared favourably with those farther south, many of which presumably were older, and with shops north of the Grove. (fn. 49) Towards Grove Street further growth waited on plans for the Cass and St. Thomas's hospital estates: behind Cambridge Row, Giles Wells's widow Mary held garden ground where Victoria Park Road could not be constructed until the lease expired in 1850. (fn. 50) Towards London Fields there was some cramped building in Sheep Lane and more on Shoulder of Mutton field in George and John streets (later Hamburg and Bremen, from 1918 Croston and Dericote, streets). South-west of the Fields a start made on Lansdowne Place in Lansdowne Road (from 1938 Lansdowne Drive) preceded the exploitation of adjoining land in Dalston. (fn. 51) The eastern edge of London Fields was built up only with London Place, a few houses in Exmouth Place (shown at the end of Flying Horse Yard), and near the ends of Lamb Lane and London Lane. Arnold House faced London Fields opposite the buildings south of London Lane; it had been leased in 1825 from William Thompson Corbett (d. 1832) of Elsham (Lines.) and probably in 1802 from Thomas Corbett (d. 1808), whose wife had inherited land of Joseph Thompson. (fn. 52) Between the Fields and Mare Street the land was mainly occupied by outbuildings and gardens; they included those of Dr. Warburton's house, once William Parker's, Pembroke House, and the Corbetts' London House in London Lane, all three being asylums. (fn. 53)
The junction at the Triangle was so busy in 1827 that all the verges were to be cut back to widen Mutton Lane and a footpath along Mare Street; the central plot was to be fenced as an ornamental space. (fn. 54) Infilling began towards London Fields, where dense building around Helmsley Street, reaching the Fields at Helmsley Terrace, by 1852 represented the development of the Alvares estate for George Jenkins. (fn. 55) Warburton Road, parallel with Flying Horse Yard, replaced Dr. Warburton's asylum and its long garden; William Frederick Tuck planned to build at least 20 houses in 1847 and Warburton Place along Mare Street in 1848. (fn. 56) More small houses formed Warburton Square, which was separated from London Fields by Pacifico's almshouses of c. 1851 and a chapel of c. 1863, both built on land sold by the Brandon family to William Bull in 1846. (fn. 57) Thomas George Corbett made a building lease for the west side of Tower (later Martello) Street in 1856. (fn. 58) St. Michael and All Angels' church was built in 1864 at the west end of Lamb Lane, while Pembroke House, with Melbourne House and West Lodge to the north, survived at the east end. (fn. 59)
New houses behind the east frontages of Mare Street were chiefly the work of builders active around Well Street. Marmaduke Matthews, of Cambridge Lodge south of the Triangle, in 1856 built a large pair called Cambridge Lodge Villas farther back, blocking plans by the St. Pancras land society to reach the main road. (fn. 60) Tryon's Place was extended to the east in the 1840s by H. D. Hacon as Tryon's Terrace, the whole length being named Tudor Road by 1865. (fn. 61) Avenues were planned north and east of St. Thomas's Square in 1853, in expectation of the closure of Loddiges's nursery. (fn. 62)
London Fields only narrowly escaped development. Agents of the landholders were denying access to all but Church Path in 1860 (fn. 63) and presumably united to advertise for builders in 1862. The offer did not include a square plot of nearly 4 a. in the north-west, formerly of Mrs. Hamond and later of William Rhodes and still nursery ground in 1862. Covered with the houses south of Wilman Grove by 1870, it was where a west London surveyor called George Clarkson was building quickly c. 1867, when his title was disputed by preservationists. (fn. 64) Supporters of building pointed to the neglected state of London Fields but were frustrated by concern to save a large space so close to the City. (fn. 65) The district's only other public spaces were the garden of St. Thomas's Square and disused graveyards south of the Congregational chapel and along the east side of St. Thomas's Place. (fn. 66)
South-west of the Triangle, towards the Regent's canal, conditions were cramped. A few private grounds survived between the Cambridge Heath houses and Sheep Lane in 1865 but most made way for the G.E.R.'s line opened in 1872. (fn. 67) The raised railway, whose arches were to attract workshops, cut north between Mare Street and London Fields, with a station in Grosvenor (from 1878 Mentmore) Terrace, and added to the industrial character of an area said in 1870 to be very poor. (fn. 68) The G.E.R.'s purchase of Pembroke House (fn. 69) led to infilling south of Lamb Lane, where Sidworth Street was named in 1872 and Bayford Street in 1873. Crowded housing also filled Fortescue Avenue and other roads to the north, where Grosvenor Terrace like Sidworth Street faced the railway and where Ellingfort Road was named in 1878 and Gransden Avenue in 1880. (fn. 70) Small businesses by 1872 were numerous in London Place and by 1888 had spread farther along the frontage to London Fields. (fn. 71)
The main street, with tramways from 1873, (fn. 72) attracted purpose-built institutions, including chapels, Morley hall at the Triangle in 1879, and Lady Holles's sch. midway between Well Street and St. Thomas's Square in 1882. (fn. 73) Other bodies, notably the Elizabeth Fry refuge and later, at Cambridge Lodge Villas, St. Joseph's hospice, took over existing houses. (fn. 74) The sanitary chemist Charles Meymott Tidy (d. 1892), a local doctor's son, lived in 1870 at Cambridge Heath. (fn. 75) Three schools were built around London Fields between 1873 and 1898. (fn. 76)
Well-to-do residents still lived along Mare Street in the 1880s, with some who were 'fairly comfortable' south of Well Street and with a few immediately south of Hackney Grove. Around London Fields the well-to-do along the north side were separated from the fairly comfortable in Lansdowne Road and the Broadway by mixed households along the east side and by the poor along the west side south of Wilman Grove. Many streets near the railway were also mixed including Lamb Lane and Helmsley Street; Exmouth Place, Warburton Road and Square, and Helmsley Place were poor. South of London Fields, Ash Grove was mixed but Ada Street and its parallels on the opposite side of Sheep Lane were poor, as were Hamburg and Bremen streets west of Lansdowne Road. Duncan Street, Road, and Square were very poor. (fn. 77)
Widening of Mare street was sought in 1885 but it was not until 1899 that the L.C.C. agreed to improve the whole length from the Triangle to Hackney village. (fn. 78) The forecourts of several large houses on both sides south of Hackney Grove, including Spackman's Buildings, were compulsorily purchased in 1902 for work that was finished by 1906. (fn. 79) Building was planned in the gardens of nos. 263-9 (odd), at the corner of Richmond Road, in 1903. (fn. 80) Many factories were built behind, on the east side notably off Tudor Road and Well Street, including a bus garage of 1911, and near the end of Darnley Road. On the west side they faced the street, displacing old houses over shops south of London Lane. Near the railway they included Silesia Buildings, named in 1906, off Gransden Avenue. Demolition had taken place south of Lady Holles's school by 1905 and more was awaited south of the Triangle c. 1912. (fn. 81) The L.C.C. in 1904 opened Darcy Buildings (later House), 40 dwellings and one of the first of its blocks in Hackney, on the site of Pacifico's almshouses. (fn. 82)
After the First World War the area grew more industrial. Conversions of houses into workshops were reported in 1928, notably in Tudor Road and Mentmore Terrace, as were new factories in Mare Street and around Tower Street and Ash Grove. (fn. 83) Large houses also made way for flats over shops, as at nos. 206 and 208 Mare Street, on the corner of Devonshire Road, in 1925 and at Richmond Court (no. 257) by 1937. (fn. 84) The timber-framed no. 149 Mare Street, once the Flying Horse, and two houses north of Tudor Road, probably the last remnants of Tryon's Place, were in poor condition by 1930. (fn. 85) The closure of Cambridge Heath Congregational church in 1936 later provided more space for St. Joseph's hospice. (fn. 86)
Slum clearance was chiefly around London Fields. In 1935 more than half of the inhabitants of 75 houses around Duncan Square had been rehoused by the L.C.C., presumably in part of its massive Duncan (from 1974 Alden) House. (fn. 87) Warburton Square had been newly cleared of 156 houses in 1935 and most of its inhabitants resettled, presumably in Warburton House next to Darcy House, by 1938. (fn. 88) Hackney M.B. planned to clear most of Essex Street, south of the Triangle, in 1936. (fn. 89)
Victims of bomb damage included churches, the north-west corner of St. Thomas's Square, Georgian houses (nos. 107-9) at the Triangle, and Mentmore Terrace. (fn. 90) The entire northern and eastern sides of St. Thomas's Square were compulsorily purchased in 1952 and later demolished, (fn. 91) the northern making way for Pitcairn House of 1961-3, designed by Eric Lyons as part of the L.C.C.'s Frampton Park estate. (fn. 92) The garden on the east side of St. Thomas's Place was incorporated into the estate, whereas the older houses on the west side were bought in 1963 by Hackney M.B. (fn. 93) In Mare Street piecemeal rebuilding was most obvious towards the south end, with extensions for the Cordwainers' college at the former Lady Holles's school and for St. Joseph's hospice. (fn. 94) The site around the bombed nos. 107-9 was taken for Netil House, partly occupied by Hackney technical college. (fn. 95)
South of London Fields large new buildings included flats at Broadway House from 1951 in Jackman (formerly Goring) Street and the 17storeyed Welshpool House from 1965 in Welshpool Street. (fn. 96) In 1975 Hackney L.B. approved the G.L.C.'s proposals to rehabilitate Broadway Market and the streets to the west; London Transport's depot in Ash Grove had been planned and smaller industries were to be regrouped. (fn. 97) In Ada Street a long eight-storeyed block in 1992 was being prepared for use as workshops.
In 1993 Mare Street was a nondescript mixture of low-rise factories, shops, and institutional buildings, the tallest being Pitcairn House. At the south end new factories around Ash Grove faced the junction of Northiam Street and Victoria Park road, whence new houses stretched eastward, with an empty site to the north. The last reminder of early 19th-century Cambridge Heath, a row listed in 1975 as nos. 12-20 (even) Mare Street, (fn. 98) had been acquired by the Spital fields trust from the Crown Estate and awaited restoration. (fn. 99) Nos. 24-28, dated 1811 and similarly listed as a terrace of three storeys over a basement, had already gone. So too had James Benson's nos. 30-56 and, at St. Thomas's Square, a pedimented archway which had probably been its carriage entrance. (fn. 100) At the south-east corner of London Fields, the Ann Tayler centre had been built on the site of London Place.
Shops in Mare Street were mainly around the Triangle, which was adorned by a single tree, and the junction with Well Street. Broadway Market, much of it still awaiting refurbishment, retained most of the 60-odd shops noted in 1975. (fn. 101) Near the railway the new Bayford industrial centre had replaced terraces east of Sidworth Street. London Fields industrial area around London Lane appeared run down: nearly all the railway arches had been blocked up, many Victorian houses stood derelict or had made way for yards, and much factory space was unused. Victorian terraces were mixed with more prosperous industry in Ellingfort and Richmond roads.
The sole representative of Mare Street's early 18th-century gentlemen's residences is no. 195 (the New Lansdowne club). (fn. 102) It has five bays, of three storeys over a basement, with steps to a Doric doorcase; brown and red brickwork has been renewed, in the original style, on the upper storeys at the front. (fn. 103) Of the 18th century with alterations, and of three storeys over a basement, are nos. 224-32 (even); the first, at the corner of Darnley Road, has a bow front and was no. 1 Spackman's Buildings, the residence from 1850 to 1863 of the local historian Benjamin Clarke. (fn. 104) The early 19th-century houses of Loddiges Terrace can be seen to the south, behind the projecting shop fronts of nos. 210-218. Immediately south of the Cordwainers' college, seven early 19th-century cottages survive unexpectedly in the cul-de-sac Pemberton Place. A three-storeyed terrace, mostly over basements, forms nos. 1-24 St. Thomas's Place, where the southernmost eight houses were built by Thomas Pearson in 1807. (fn. 105)
London Fields is a flat utilitarian open space, with some mature plane trees. The former Helmsley Terrace, two- and three-storeyed over basements, survives from the early 19th century as part of London Fields East Side. Broadway Market has two-storeyed early 19th-century houses, of which nos. 75-81 (odd) are at the north-west end; the group is in poor condition and no. 77, a 'perfectly preserved contemporary small shop' in 1975, stands empty. To the west, Dericote Street has refurbished early 19th-century linked pairs of two storeys over basements, nos. 4-18 and 5-23; they form a T-junction with the similar nos. 1-4 and 6-15 Croston Street, where others are being built in the same style.