Pages 28-33
A History of the County of Middlesex: Volume 10, Hackney. Originally published by Victoria County History, London, 1995.
This free content was digitised by double rekeying. All rights reserved.
DALSTON AND KINGSLAND ROAD.
Dalston, in 1294 Derleston, probably derived from Dedrlaf's tun or farm. (fn. 1) A small hamlet half way along Dalston Lane in the mid 18th century, (fn. 2) it came to denote the built-up area east of the high road. (fn. 3) The area under discussion extends west from London Fields and the edge of Hackney village to Kingsland Road and Kingsland green, where the parish boundary diverged from the road, (fn. 4) and north from the Shoreditch boundary across Dalston Lane to Downs Park Road. Dalston Lane, the only road from Kingsland to Hackney village until the 19th century, was not described as a street. The stretch nearest Kingsland Road was an easterly continuation of Ball's Pond Road and had strips of waste,.largely built upon by 1831, (fn. 5) which were later sometimes called Dalston green. (fn. 6) Dalston hamlet lay east of the dog-leg which the lane followed presumably to keep its distance from the broadening Pigwell brook before crossing Hackney brook at Dalston bridge. (fn. 7) For assessments in the 16th and 17th centuries the hamlet was normally included with Newington, Shacklewell, and Kingsland, all four of them together about as populous as Hackney village (Church Street) in 1605. (fn. 8) Dalston had 23 householders assessed for hearth tax and Kingsland 28 in 1672. (fn. 9)
A house at Kingsland belonged to Alderman John Brown (d. 1532), serjeant painter to Henry VIII. (fn. 10) Dalston's largest houses in 1664 were those of Sir Francis Bickley and Alderman Thomas Blackall. By 1672 Bickley had sold to Sir Stephen White (fn. 11) and a third seat was held by Jacob Willis. Kingsland had the leper hospital south of the green. (fn. 12) Five buildings on the east side of the road included an inn in 1660. (fn. 13)
The 18th century brought faster growth to the high road settlement than to Dalston. There were at least five inns at Kingsland by 1724 but only two at Dalston, (fn. 14) where in 1733 an applicant for a third licence was refused. (fn. 15) Kingsland's ratepayers numbered 8 in 1720, 11 in 1735, 47 in 1761, and c. 120 in 1779, while Dalston's numbered 17 in 1720 and 1735, 18 in 1761, and 26 in 1779. (fn. 16)
Dalston in 1745 was a group of buildings mostly on the north side of Dalston Lane, at the turning of a way towards Shacklewell called Love Lane in 1831 (later Norfolk and from 1938 Cecilia Road); a few stood opposite the junction, while the Red Cow was on the north side nearer the bridge. (fn. 17)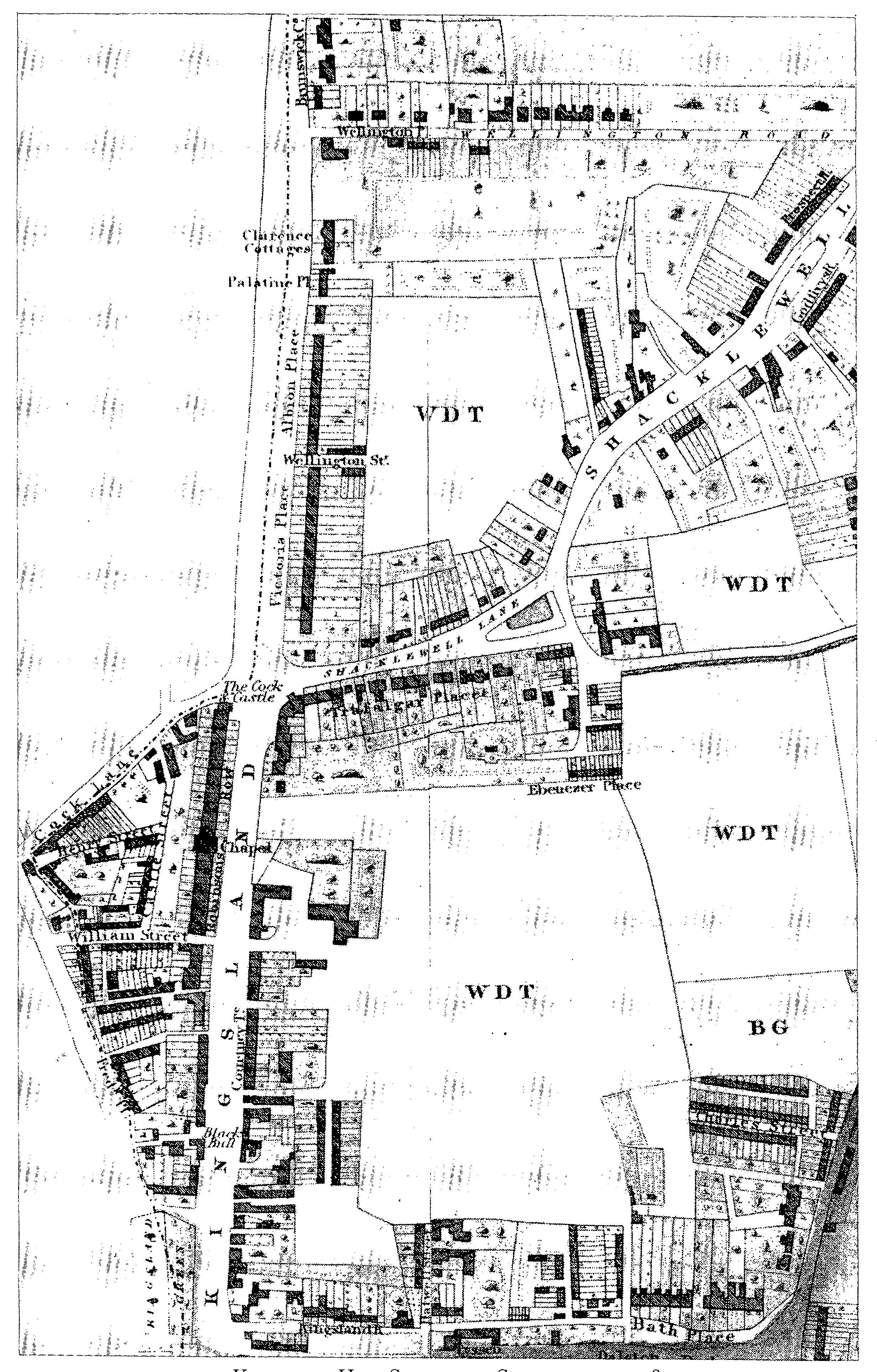 At Kingsland development in 1745 was confined to the high road, on the west side to Kingsland hospital and buildings west and north of the green and on the east to a short stretch north of the junction with Dalston Lane, which was to become the high street. The Three Tuns, forerunner of the Tyssen Arms, stood alone a short way along the lane and perhaps two houses bordered the high road towards Shoreditch. In 1765 the chief buildings apart from the hospital and the inns were the farmhouses of John Bartmaker and John Bellis. A strip of water on the east side of the rectangular green was presumably a channelled part of Pigwell brook; three new houses had been built to the north, beyond the Black Bull. (fn. 18) By c. 1785 houses had spread to include north of the green a row of 15 and a further row of 41, leased to William Robinson and ending in the Cock and Castle. The east side of the road was more open but included 11 houses, probably Conduit Terrace, built on a cow-layer. Towards Shoreditch 21 houses north of Haggerston Road were leased to Peter Upsdell and included the Swan. (fn. 19)
Dalston village had spread very little by 1796, when most of it belonged to the Grahams. To the north their holding stretched along Love Lane to a path which became Downs Park Road. Southward the Grahams' land reached Pigwell brook, with lands of the Tyssens, Spurstowe's charity, the Danhs, and the Actons to the east and south-east and of the Rhodes family's Lamb farm to the south and south-west. (fn. 20) Dalston c. 1800 was known for its nurseries, especially the Smiths' on the south side of Dalston Lane. (fn. 21)
Large-scale development began at the west end of Dalston Lane, along the high road, and in roads projected across Lamb farm. Robert Sheldrick of Warwick Place, Kingsland Road, was building on the Rhodeses' land on the south side of Dalston Lane in 1807; (fn. 22) Dalston Terrace had new houses by Sheldrick, then of Kingsland Place, in 1813 and 1816. (fn. 23) The terrace, like Kingsland Row and Bath Place on the north side, housed mainly merchants and professional people in 1821, when the poor lived in short side streets to the north, including Charles Street, the most crowded, and Hartwell Street, named after a resident cow-keeper. A start had also been made on Roseberry Place and Mayfield Street (from 1876 Mayfield Road and from 1948 Beechwood Road), to the south. In 1821 the population of Dalston, embracing Dalston Lane and its offshoots, was 1,366. (fn. 24)
By 1831 building lined Dalston Lane eastward to the hamlet, (fn. 25) itself extended almost to Hackney brook by Navarino Terrace on the south side and Dalston Rise (until 1875 also the name of a section of the lane) on the north. Parallel with Mayfield Street, where Sheldrick was a builder, (fn. 26) Woodland and Holly streets and Park Place (later Park and from 1877 Parkholme Road) had been started by 1825, as had Forest Road. (fn. 27) Farther south Richmond Road had been projected past Lansdowne Place (later Lansdowne Road and from 1939 Lansdowne Drive) as far as London Fields, through market gardens leased to Thomas and William Rhodes. There was no building between Dalston Lane and Shacklewell, except along the high road, and very little between Pigwell brook and the Shoreditch boundary, although offshoots of Church Street and Mare Street threatened encroachment from the east. (fn. 28)
In Kingsland Road Joseph Jackson had built three houses by 1802 and Joshua Jackson was building in 1815. (fn. 29) The green was to be reduced on its south side and to be given an ornamental railing in 1807 (fn. 30) and brickearth had been exploited by the Tyssens for building north of the junction with Dalston Lane by 1814. (fn. 31) Terraces in 1821 included Robinson's Row with several shops north of the Black Bull, the middle-class Kingsland Place a little south of Dalston Lane, and Kingsland Crescent from Haggerston Road to the boundary. The most crowded area was one of poor streets between the green and Cock and Castle Lane (later Castle Street, from 1913 Crossway), which helped to raise the population to 4,241. In Providence Row, behind Providence Place which adjoined Robinson's Row, a cramped terrace was leased in 1824. (fn. 32) By 1831, when part of De Beauvoir Town's frontage to Kingsland Road had yet to be built, houses lined all the east side of the road; they included Prospect Terrace, apparently containing Upsdell's Row on land belonging to Stoke Newington rectory. (fn. 33)
The roads planned for Lamb farm were extended and multiplied to form a rough grid which by 1870 covered all the land south of Pigwell brook. Many were more than ½ mile long, although London Fields and the N.L.R. and G.E.R. lines impeded direct links between Kingsland and Mare Street. (fn. 34) William and Thomas Rhodes from 1833 made many leases for c. 70 years of houses in Richmond Place, Queen's (from 1939 Queensbridge) Road, Forest Road, which included Forest Row, and Holly Street. (fn. 35) Leases for c. 90 years for more houses in Grange (from 1873 Lenthall) and Queen's roads, including Richmond Terrace and Richmond Villas, and in Shrubland Grove (later Mapledene Road) followed in 1839-40. Lessees included the builders John William Rowe of Ball's Pond, Richard Liscombe of Haggerston, and Louis England, (fn. 36) an Islington timber merchant who often subleased to smaller builders. (fn. 37) St. Philip's, the district's first church, was on land given by William Rhodes. (fn. 38) East of the high road, villas were to be built facing Stonebridge common in 1845 on the rector of Stoke Newington's land, which was also taken for Blomfield (from 1877 Welbury) Street. (fn. 39)
Meanwhile Sir William Middleton, heir to the Actons, was building in Shoreditch. (fn. 40) One of his fields extended into Hackney east of Stonebridge common and he may have bought land from William Rhodes farther north, where Shrubland Road was built; Queen's Road, partly through Rhodes's land, was apparently designed by Sir William's surveyor George Pownall as a carriage way from his property near the Regent's canal through more spacious streets, commemorating the Middleton family, around Albion Square. Exchanges of lands took place with Rhodes in 1843 and 1845.
Middleton's development in Hackney began under an agreement of 1840 with Islip Odell, from Upper Clapton, for the land immediately east of Stonebridge common. The Middleton Arms was followed by houses in Middleton Road, leased in 1842. (fn. 41) Odell, a brickmaker who promoted development by others, settled until 1862 at Shrubland Cottage in Queen's Road, where Hemblington Cottages had been built by 1843. (fn. 42) Presumably Pownall was responsible for the layout of Albion Square, where many of the houses had been built by 1844. (fn. 43)
The development of Middleton's outlying land north and east of London Fields involved his buying part of Pitwell field behind Hackney Grove from the Danns' estate in 1838 (fn. 44) and agreements with St. Thomas's hospital in 1843, for extending Richmond Road eastward to Mare Street, and with Spurstowe's charity. The land in Pitwell field was leased in 1847 to James Kent Vote (fn. 45) but remained open until most was taken for the G.E.R. line. Vote, who had built cheap housing for Middleton in Haggerston, in 1852 was to be leased further parcels near London Lane behind Mare Street. There was building on Spurstowe's charity land in Navarino Road in 1860 and in the new Graham Road 'at Pitwell' in 1861. (fn. 46) Nearby the Rhodes estate continued its development eastward: in St. Philip's Road, Forest Road East, Lavender Grove East, Lansdowne Road (later Drive), and Albert Road East (later part of Middleton Road) in 1861, (fn. 47) and also in Wilton, Salisbury, and Greenwood roads in 1863. (fn. 48) Houses linked Dalston with the south end of Hackney village, lining both sides of Richmond Road, by 1865. Wilton and Graham roads did not yet run for their full length to the north, where Wilmot (later Greenwood) and Alma (later part of Navarino) roads had been planned across market gardens stretching to the N.L.R. line. (fn. 49)
While building spread to the south, the middle section of Dalston Lane attracted charitable institutions: at the east end a school of industry in 1803 and among the houses along the middle section an orphans' asylum in 1832, succeeded by the German hospital in 1845, and a girls' refuge at Manor House in 1849. (fn. 50) The middle and eastern sections of the lane were largely cut off from the south by the N.L.R. branch line but were linked more directly with the high road by Ridley Road. The land at the western end came to be largely industrial after the opening of Dalston Junction and its diverging railway lines in 1865. (fn. 51)
Around the grounds of the German hospital, resited south of the railway, and of Dalston Refuge, building proceeded quickly for the Massies, heirs to the Graham estate. In 1853 they had planned the lines of Graham Road from its western end and of Albion Grove (from 1877 Stannard Road), Alma (from 1877 Ritson) and Massie roads, and the western half of Fassett Square, although none had yet been named (fn. 52) and the last two were not finished until the late 1860s. (fn. 53) Houses were leased in Dalston Lane by 1855 and in Graham and Massie roads by 1860. (fn. 54) Farther north land on both sides of Love Lane was to be leased in 1862. (fn. 55) Much of it was taken by William Hodson, a builder resident at Graham House and responsible for part of Fassett Square. He and the Massies subleased to Cornelius Margetts, Silas Honeywill, and other builders who were active in Norfolk Road in 1863 and also in Church (from 1865 Sandringham) Road by 1864. (fn. 56)
Dalston in 1849 was described as a recently increased suburban village, with some handsome old houses. (fn. 57) Dalston Lane had a few shops near the Compasses at the corner of Love Lane but most were at the west end, where they had spread from the high road. (fn. 58) By 1859 both Dalston and Shacklewell were as populous as Kingsland, although more respectable. (fn. 59) East of the Graham estate building continued in the 1850s and 1860s between Graham Road and Dalston Lane over the Middleton, Spurstowe's charity, and Tyssen estates. (fn. 60) By 1870 houses along Dalston Lane and Amhurst Road East joined Dalston to Hackney village, although similar links farther south along Wilton and Graham roads, including a tramway, awaited the completion of the G.E.R. line. Amhurst Road, whose Dalston end in 1845 had been only a projection south of Downs Park Road, was built up; so too were Pembury Road, from its junction with Amhurst Road at Dalston Lane, and Pembury Grove. (fn. 61) In Downs Park Road land had still to be taken by the Grocers' Co. for the later Hackney Downs school, opened in 1878. (fn. 62) Only a few short roads remained for building: Cottrill Road, Spurstowe Terrace, and Sigdon and Bodney roads in the east, and Alvington Crescent and parts of Colvestone Crescent in the northwest. All those sites had been filled by 1891. (fn. 63)
Kingsland Road by 1865 denoted the high road as far north as Dalston Lane, while High Street (from 1869 Kingsland High Street) was the stretch between Dalston and Shacklewell lanes. (fn. 64) High Street, except where a few houses on the west side overlooked the green, was wholly commercial by 1849. (fn. 65) Premises there were sold by the Tyssens before and after the arrival of trams in 1872. Sales began with those of 8 houses and 2 shops on the east side and of the Black Bull and 5 shops on the west side in 1869; (fn. 66) they continued in the 1870s and 1880s, (fn. 67) when more sporadic sales took place in nearby residential roads, including Ridley Road in 1872 and Sandringham Road in 1877. (fn. 68) The remains of Kingsland green were about to be built on, despite local protests, in 1882. (fn. 69)
Most of the streets c. 1890 contained a mixture of people who were well-to-do or fairly comfortable. The most solidly prosperous areas were Queen's Road, Parkholme Road, parts of Richmond, Forest, and Graham roads and Kingsland High Street, the east end of Dalston Lane, and Downs Park and Amhurst roads. Poor streets formed a small block south of Wilman Grove in an angle of London Fields and also existed behind both High Street frontages and by the railway at the west end of Dalston Lane, where Tyssen Street, soon to be lined by factories, housed the very poor. Frederick Terrace (from 1938 Place), between Kingsland Terrace and the N.L.R. branch line, also held the very poor. (fn. 70) An outward movement from London by the better off was said to have been partially checked at Dalston, which possessed few public houses and to which some families had returned after finding working-class newcomers in remoter suburbs. St. Philip's church catered for the middle class but Holy Trinity, in Woodland Street and nearer Dalston junction, was in a poorer district. (fn. 71) St. Mark's parish was claimed in 1894 to be growing rapidly poorer, with few houses still occupied by a single family. (fn. 72)
The 20th century brought little change until the Second World War. Houses at the corner of Dalston Lane and Navarino Road made way for Navarino Mansions, 300 flats completed in 1905 by the Four Per Cent Industrial Dwellings Co. for Jews from London's east end. (fn. 73) Dalston Lane lost its last spaces with the replacement of the girls' refuge by the five-storeyed Samuel Lewis Trust Dwellings in 1924 (fn. 74) and further building for the German hospital. (fn. 75) Kingsland High Street underwent such normal commercial changes as the provision of cinemas (fn. 76) and the refronting of shops. (fn. 77) The slums of Frederick Place were planned for clearance in 1937. (fn. 78) On the border with Lower Clapton the L.C.C. compulsorily purchased c. 20 a. for its Pembury estate, a small part of which was opened in 1938. (fn. 79)
Bombing made room for Hackney M.B.'s first estates in Dalston. Mayfield Close was opened off Forest Road in 1948 (fn. 80) and followed by Holly Street estate to the south before 1961, and Rhodes to the north. (fn. 81) Buildings were of five storeys or less, until Cedar Court and three other twenty-storeyed towers were built by 1975 along Queensbridge Road south of Richmond Road. Almost half of south Dalston's grid of Victorian streets, from Middleton Road along the west side of Queensbridge Road to Dalston Lane, was removed including Woodland Street, the north end of Holly Street, and the west ends of Lenthall and Mapledene roads. Farther east Hackney's Mapledene and Wilton estates had been built by 1961, followed by the L.C.C.'s Morland and Fields estates, by Wayman Court with a sixteen-storeyed tower by 1975, and Blackstone estate. The avenues immediately east of Queensbridge Road were relatively unaffected, as was the neighbourhood of Albion Square, designated a conservation area in 1975. (fn. 82) In north Dalston the terraces south of Downs Park Road between Abersham and Ferncliff roads made way for the low-rise Mountford estate. Pembury estate was extended southward by the G.L.C. to Dalston Lane, where building continued in 1987.
Parts of Dalston Lane and the high road looked neglected after the replacement of 19th-century buildings and the closures of cinemas, some factories, and, in the 1980s, of the German hospital and Dalston Junction station. (fn. 83) In particular the northern end of Kingsland Road, backed by a disused railway cutting, suffered the destruction after 1975 of Kingsland Place and neighbouring houses; (fn. 84) the shops which had occupied their ground floors were replaced by single-storeyed buildings southward to Forest Road. The cramped streets west of Kingsland High Street and south of Crossway contained some derelict property and sites cleared for car parks in 1991. The opening of Dalston Cross shopping centre on the east side, (fn. 85) on the site of Abbott Street and railway sidings, was intended to regenerate the district.
Dalston, like much of Hackney, is a patchwork of Victorian housing and council estates. It lacks impressive public buildings and open spaces, although it adjoins London Fields, and its busiest roads are the peripheral high road and Dalston Lane, around whose junction is the commercial centre. Nonetheless Kingsland High Street has a variety of shops to rival Mare Street and supplemented by a market in Ridley Road.
Dalston Lane, in addition to the listed buildings of the German hospital, has a few reminders of the roadside village, mostly of stock brick. (fn. 86) On the north side no. 57 is a three-storeyed L-planned house, built c. 1800 like the former Graham House at no. 113. (fn. 87) On the south nos. 128-46, called Dalston Place in 1831, form a refurbished row of plain houses, of three storeys over basements and with the ground storeys rendered. (fn. 88) No. 160, Marlow House, has three storeys, attic, and basement, and is early 18thcentury, with a late 18th-century doorcase in an extension. Nos. 162-8 (even) form a group: no. 164, with its original red brick, is one of an 18th-century pair with three storeys, attics, and basements, and no. 166 is a two-storeyed stuccoed villa of the early 19th century. Nos. 212-226, refurbished and with grass in front, are four early or mid 19th-century pairs; the middle two have Ionic porticos and are of two storeys, attics, and basements, the others are of three storeys and basements. Navarino Mansions, boldly planned and detailed in the Arts and Crafts style, is the culminating work of the Four Per Cent Co.'s architect Nathan Joseph. (fn. 89)
The east side of Kingsland Road retains nothing noteworthy north of Haggerston Road, where nos. 358 and 360 may have formed the end of Kingsland Crescent before the demolition of intervening houses. Nos. 318-46 (even) survive to the south as a mistreated relic of most of the long shallow crescent depicted in 1852. (fn. 90) Each house has three bays and is of three storeys, attic in a mansard roof, and basement. Conversions for use as workshops, often clothiers', or offices have involved changes to most features, although former elegance is recalled by the refurbishment of no. 338.
South Dalston is rich in housing from the 1840s and 1850s, built sometimes in terraces but usually as semidetached villas, 'simple brick boxes with mass produced embellishments'. (fn. 91) The best known examples are the pairs and short terrace, each of two or three storeys and basement, around the rectangular garden at Albion Square, where only the narrow west side is empty after the demolition of the former Albion hall. The 30 houses were once ascribed to J. C. Loudon as an example of his transition from late Classical to Italianate; (fn. 92) their architect is not known, (fn. 93) although George Pownall presumably controlled the plans. The houses on the south side form a group with nos. 8-16 Albion Drive (until 1939 Albion Road), where nos. 15-21 (odd), 25, and 27 make a further group.
Queensbridge Road's east side contains no. 200, incorporating no. 202, an altered Italianate villa, next to Hope Cottages at nos. 204-6, dated 1844, both 'especially pretty' (fn. 94) and forming a group with no. 212. Terraces farther north include nos. 276-302 and 304-14 (even), with friezes and mansard roofs with dormers, forming a group with no. 332, and nos. 364-72, forming a neglected group with two pairs beyond. Lansdowne Drive's west side contains a long uniform early or mid 19th-century terrace at nos. 178-86. At the north corner of Croston (formerly George) Street no. 170, perhaps with an 18th-century core, was derelict in 1992. Mapledene Road's north side has a terrace at nos. 53-59 which forms a group with early or mid 19th-century pairs at nos. 61-71. Of similar date are linked pairs at nos. 131-41 (odd) Richmond Road and villas at nos. 1, 3, and 7-13 (odd) Parkholme Road.
Many unlisted terraces around Colvestone Crescent are notable for their embellishments, some taken from pattern books but others showing that in north Dalston 'builders reached a climax of ingenuity' in the early 1860s. (fn. 95)