Pages 135-147
A History of the County of Middlesex: Volume 11, Stepney, Bethnal Green. Originally published by Victoria County History, London, 1998.
This free content was digitised by double rekeying. All rights reserved.
BUILDING AND SOCIAL CONDITIONS AFTER 1945.
The immediate problem after the war was to house those whose homes had been bombed. Longer-term objectives were to complete and extend earlier clearance programmes in order to reduce the population density and separate industry from residential areas, as reaffirmed in the County of London Plan of 1943. (fn. 1) Some 5,000 people lived in temporary housing, including requisitioned properties and hutments or mobile homes, 'prefabs', of which the L.C.C.'s first in East London were in Florida and Squirries streets. (fn. 2) All but 15 of its 190 'prefabs' were in use in 1955, together with 309 requisitioned properties; (fn. 3) at least 48 mobile homes were still in use in 1966. (fn. 4) War damage had been repaired by 1953 and attention shifted to slum clearance; flats were to be allotted to those in cleared areas rather than by a waiting list. The L.C.C. and M.B. co-operated in drawing up five-year plans: (fn. 5) by 1954 there were 16,852 permanent homes of which 2,434 were unfit, 1,711 in the L.C.C.'s clearance areas and 675 in the M.B.'s, together with 48 individual houses. (fn. 6) The L.C.C. demolished 510 and the M.B. 550 between 1956 and 1960 (fn. 7) and the M.B. demolished another 151 unfit and 46 other houses in 1961-2. (fn. 8) Most were replaced by municipal estates, although both councils also acquired sites scheduled for industry, business, or open space. (fn. 9) It was estimated that to find a site and build an estate took six years. (fn. 10)
The first estates were on sites scheduled for redevelopment before the war. Bethnal Green No. 1 Redevelopment Area was part of the L.C.C.'s 46-a. clearance area of 1936. (fn. 11) It was a 7¼-a. site (fn. 12) north of Old Bethnal Green Road consisting of 277 dwellings, mostly small twostoreyed houses accommodating c. 1,400 people, a few workshops, and shops. The L.C.C. had compulsorily purchased most of it and closed four streets in 1938. After bomb damage the L.C.C. in 1945 announced the scheme for the estate, named Minerva after the central street and consisting of 8 three- or four-storeyed blocks in pairs, named after characters in the Trojan war. It was based on plans by the former L.C.C. architect T. H. Forshaw, using one of the pre-war block types but experimenting with monolithic concrete to save materials and labour. Built by Holland & Hannen and Cubitts, the blocks were faced with concrete made from Portland stone salvaged from bombed buildings and had playgrounds on the roof. Begun in 1946 and officially opened in 1948, Minerva estate contained 261 flats for 950 people. (fn. 13)
A still larger scheme was revived for the so called Turin Street or Squirries Street site north of Bethnal Green Road. (fn. 14) Compulsory purchase had begun by 1939 and building began in 1945 on Avebury estate, which opened with 208 dwellings in 1948. (fn. 15) On 5½ a. to the east private architects, Howes & Jackman, designed red-brick four-storeyed blocks of 99 flats which opened as Teesdale estate in 1949. (fn. 16)
Between 1945 and 1951 the L.C.C. built 830 dwellings in Bethnal Green, (fn. 17) the others being added to existing estates: Collingwood, with 178 new flats in Grindall, Redmill, and Collingwood houses on the Darling Row site, and Dinmont, with 92 in Beechwood and Sebright houses to the west and Croft House to the north. (fn. 18)
The first post-war L.C.C. estate east of Cambridge Heath Road was Park View, opened in 1951 with 207 flats (fn. 19) on 7 a. bordered northeast by the canal and Victoria Park, west by St. James's Avenue, and south by Old Ford Road. Bandon Road disappeared as brick blocks replaced Victorian terraces; Mark House, with 60 flats, completed the estate of three 6-storeyed blocks by 1955. (fn. 20) During the mid 1950s 128 flats went up in blocks of 3-5 storeys west of the pre-war Wellington (formerly Waterloo) estate. (fn. 21)
From the mid 1950s the councils built increasingly tall blocks, encouraged by government grants and by the architects', though not the tenants', preference for a jagged skyline over the monotony of Victorian terraces and lower blocks. (fn. 22)
In 1957 the L.C.C. opened Hereford estate, 237 dwellings in blocks of up to 10 storeys on 6½ a. east of Hereford Street. It also began the compulsory purchase of 8½ a. east and north of Collingwood estate containing nearly 300 houses, 7 factories, and a cinema, (fn. 23) where by 1962 25 flats had been completed. Lysander House (60 flats) was added to Minerva estate, which had grown to 9½ a. and 354 flats. Other extensions by 1962 included 56 flats in Turin Street, 136 in Satchwell Road, and 340 in Squirries Street, mostly built in the late 1950s, (fn. 24) all part of Avebury estate which then covered 20 a., and another 130 flats completed on Teesdale estate. By the end of 1962 the L.C.C. had built 2,317 flats in Bethnal Green since 1945 and controlled a total of 4,213 flats on estates covering 80 a.
The post-war M.B. built to designs by four private firms which worked with its officers, while construction was divided between contractors and the surveyor's department. (fn. 25) The resulting flats possessed 'more sympathetic detailing' than contemporary L.C.C. estates. (fn. 26) Many were named after left-wing political personalities. Like the L.C.C., the M.B. (fn. 27) began with sites scheduled for clearance before the war or built individual blocks on bombed sites.
A site east of Sutton Dwellings, between Globe Road and James Street (renamed Sceptre Road in 1938), was scheduled in 1936. (fn. 28) Bombs demolished some of the 93 houses, a church, and several factories and in 1947 the foundation stone was laid of Rogers estate, named after Sgt. Maurice Rogers, a local winner of the V.C.; it opened as two 5-storeyed blocks containing 120 flats in 1949. (fn. 29)
In 1950 work began on two blocks off Grove Road, the 5-storeyed brick Bunsen House in Bunsen Street, designed by Donald Hamilton, Wakeford & Partners, with 20 flats, and Hooke House (fn. 30) in Thoydon Road, with 48; both blocks opened in 1951. Margaret Bondfield and Beatrice Webb houses, with 9 and 15 flats, opened nearby in Chisenhale Road in 1952 and 1953 respectively.
In 1953 Clarion House with 6 flats was opened in Roman Road, with larger blocks to the north and south: Reynolds House, (fn. 31) a 6-storeyed reinforced concrete block of 60 flats designed by Hamilton, Wakeford & Partners at the corner of Bishop's Way and Approach Road, and Stafford Cripps House, with 51 flats on the east side of Globe Road opposite Rogers estate, a site scheduled in 1937 for clearance by the L.C.C. as Lansdell Place. (fn. 32) Also in 1953 James Middleton House opened with 45 flats on the south side of Middleton Street, the first post-war municipal estate west of Cambridge Heath Road. Susan Lawrence House opened with 9 flats in Zealand Road near Chisenhale Road in 1954. The M.B. had provided 728 dwellings in the 10 years since 1945. (fn. 33)
In 1955 Pepys House opened with 38 flats in two blocks in Kirkwall Place off Globe Road, opposite the pre-war Mendip Houses, and William Fenn House with 16 flats in Shipton Street, near the Nag's Head estate. (fn. 34) Work began on the more ambitious Dorset estate, called after the Tolpuddle martyrs, on 3 a. around Arline Street, between Diss and Ravenscroft streets off Hackney Road. The original scheme included land to the north fronting Hackney Road, which proved too expensive. Designed by Skinner, Bailey & Lubetkin, the estate was the first to feature high-level blocks, with two 11storeyed Y-shaped buildings (George Loveless and James Hammett houses) on the north, four 4-storeyed houses (James Brine House) to the south and two more (Robert Owen and Arthur Wade houses) on the south side of Baroness Road. The estate, completed by 1957 and officially opened with 266 flats in 1958, (fn. 35) marked a change in municipal housing, with the emphasis on height and reinforced concrete. (fn. 36)
Skinner, Bailey & Lubetkin also designed Lakeview estate on a narrow site east of Grove Road, between Old Ford Road and the former Hertford Union canal, where bombing had left only one villa. An 11-storeyed twin tower block of 60 flats was flanked by two 2-storeyed blocks, all the blocks being placed to avoid a northern fafade. Built by direct council labour, the estate opened in 1958. (fn. 37)
Although Greenways estate (fn. 38) on the south side of Roman Road, north and west of Meath Gardens, was started in 1949, (fn. 39) it was not officially opened until 1959 and not listed among projects completed by 1955. (fn. 40) The original scheme by Yorke, Rosenberg & Mardall was for 341 flats in 5-storeyed blocks, two facing in Warley Street (the Usk Street site) and five north of Meath Gardens (Braemar and Moss Street sites). The eastern Warley Street block (Mary Macarthur House with 60 flats), the two Braemar Street blocks (Chater House with 37 flats and Ellen Wilkinson House with 70), and the westernmost Moss Street block (George Belt House) had been built c. 1950. (fn. 41) The second part of the scheme, designed in concrete by Fry, Drew, Drake & Lasdun, was begun in 1952 on 2½ a. to the west and north, partly on the abandoned site of the western Usk Street block. It consisted of the 8-storeyed Sulkin and Trevelyan houses with 24 maisonettes each and the 4-storeyed Jenkinson and Wedgwood houses with 20 maisonettes each. The 8-storeyed cluster blocks by Sir Denys Lasdun were innovative and intended to create a vertical street. (fn. 42) Extensions to Greenways were built on the site of St. Simon Zelotes (Jowitt House with 8 flats) and fronting Roman Road: Bevin (with 32 flats) in 1957 and Windsor (28 flats), Clynes (18 flats), Thorne (16 flats), and Sleigh (12 flats) houses by 1959, when the completed Greenways estate had 515 flats. Sylvia Pankhurst House (12 flats) opened in Bullard's Place in 1962, although not originally considered part of the estate.
Lasdun and his partners designed another cluster block scheme for Claredale estate in 1957. Keeling House, 16-storeyed with 56 stacked maisonettes separated by bands of concrete and 8 bed-sitting rooms on the fifth floor, contrasted with the 6-storeyed Bradley and Connett houses (with 54 and 42 flats) in dark brick. The estate, opened in 1960 in a clearance area, stretched from the pre-war Claredale House to Old Bethnal Green Road, where Peachey Edwards House contained 20 flats for old people. (fn. 43)
The Approach Road scheme, opened in 1963, consisted of the 12-storeyed Thomas Hollywood House with 47 flats and the smaller James Campbell and Allen McAuliffe houses with 25 and 6 flats respectively. (fn. 44) By 1963 the M.B. had built 1,546 dwellings since the war. (fn. 45)
Council building, mainly of high-rise blocks and large estates, continued after the changes from L.C.C. to G.L.C. and from metropolitan to London borough in 1965. The whole of western Bethnal Green was scheduled for redevelopment under a 5-year plan for 1962-7, the southern part for industry, relieved by an open space called Weavers' Fields around Mapes Street, the northern part to be dominated by housing estates. (fn. 46)
A new L.C.C. estate, between Boundary and Avebury and called Newling after the street south of Gosset Street, opened in 1963 with 193 flats in blocks of 2-6 storeys. (fn. 47) It included Columbia Market on the north side of Columbia Road, which had belonged to the L.C.C. since 1915, had always been a white elephant, and after bombing had been used as a depot. Its Gothic architecture, making it probably the most striking building in Bethnal Green, might have been preserved by a proposal for a county college, but in the early 1960s such preservation was considered 'Quixotic'. (fn. 48)
Avebury estate was extended in 1963 by four small blocks west of the Turin Street site near Gibraltar Walk (fn. 49) and by Rapley Place, also west of Turin Street, between Lorden Walk and Dence House, where a 6-storeyed block of 18 flats and a 4-storeyed one of 15 were designed in brick by T. P. Bennett & Son of Bloomsbury Square. (fn. 50) Another extension was planned in 1967 to house 78 people on the site of St. James the Great's Vicarage in Bethnal Green Road. (fn. 51)
In 1965 the L.C.C. began modernizing its oldest estate, Boundary Street, reducing the number of flats by adding new bathrooms and kitchens. (fn. 52) An adjoining area to the north had been scheduled for redevelopment before the war as Cooper's Gardens. (fn. 53) It served as an open space in the late 1950s, (fn. 54) was scheduled for an L.C.C. housing estate in 1962, (fn. 55) and opened in 1966 as Virginia estate, Casket Street, with 71 dwellings in blocks of 4 and 14 storeys on 1½ a. (fn. 56) In 1965 the G.L.C. acquired over 5 a. which it called the Virginia Road site, for 260 dwellings as an extension to Newling estate. (fn. 57) New housing was planned in 1968 in Cuff Place, west of Columbia Market, and Nelson Gardens, north of Cobden House on Avebury estate off Old Bethnal Green Road. (fn. 58)
Extensions were made to other L.C.C. estates. The Eastman Street area west of Brady Street, south of the pre-war Scott Street development, was cleared in 1958 (fn. 59) and in 1965 the L.C.C. approved plans by Booth, Ledeboer & Pinckheard for a 5-storeyed block of 20 flats set at a right angle to a 6-storeyed block of 25 maisonettes. (fn. 60) The scheme, called Heathpool Court, opened in 1968/9 as part of Collingwood estate. (fn. 61) In the extension to the east six out of nine blocks had been completed in 1966, and two more, each of two storeys, for another 63 dwellings, had been proposed. In the same year the G.L.C. approved a 1-a. extension north of Headlam Street, between Buckhurst Street and Cambridge Heath Road, of 56 dwellings in 4- and 7-storeyed blocks. (fn. 62) In 1969 it also approved a scheme by Noel Moffett and Associates for 45 flats and maisonettes on 1 a. between Barnsley, Collingwood, and Tapp streets and decided to modernize, thereby reducing in number, some pre-war Collingwood flats. (fn. 63) Fronting Cambridge Heath Road, Sovereign House was built c. 1967 and Donegal House by 1970. Orion House, in Barnsley Street by 1974, may have existed by 1971 as Ashington House. (fn. 64)
In 1966 the G.L.C. approved a scheme by T. P. Bennett & Son for the 5-storeyed Argos House of 18 flats for the elderly in the south-west corner of Minerva estate (fn. 65) and in 1967 another by Pearlman Moiret Associates for a 4-storeyed block of 43 dwellings on i a. at Gale's Gardens between the railway and the pre-war Horwood estate. (fn. 66) In 1969 the G.L.C. decided to acquire a factory in Hollybush Gardens, initially for firms displaced by redevelopment, (fn. 67) where by 1974 58 flats in 4-storeyed blocks had been added to the pre-war estate.
By 1974 the L.C.C. and G.L.C. had built 3,260 dwellings since 1945 on 108 a. in Bethnal Green, housing nearly 14,000 people.
The M.B. had cleared 14 a. between Old Ford and Roman roads, east of Bonner Street, by 1959 for its most ambitious estate, called Cranbrook after the central street. Terraced houses, workshops, and one large factory were replaced by a figure of eight called Mace Street, which echoed the diagonals of the street pattern to the north. (fn. 68) Large and small buildings, of concrete faced with grey brick, were to have an overall density of 136 persons to an acre and to house 600 families. (fn. 69) The first blocks opened at the southern end in 1963: the 5-storeyed Holman House, with 48 flats and 12 shops, and the low-rise Stubbs and Tate houses, with 16 and 14 dwellings for old people. (fn. 70) Cranbrook estate officially opened in 1964 with 530 dwellings contained in those blocks, in six more of 11-15 storeys named after towns twinned with Bethnal Green, (fn. 71) and five of 4 storeys named after demolished streets. (fn. 72) The estate, designed by Skinner, Bailey & Lubetkin and constructed by Wates (London), won an award from the Civic Trust. Elizabeth Frink's statue of the Blind Beggar of Bethnal Green was set in a garden in Market Square, surrounded by single-storeyed blocks for the elderly, (fn. 73) but was not widely appreciated and was damaged soon after its unveiling in 1959. (fn. 74)
In the 1960s the M.B. began to acquire property for refurbishment rather than demolition. In 1963 it purchased 20 of the 120 terraced blocks of Waterlow estate, which were modernized into 234 dwellings. (fn. 75) By the beginning of 1964 it owned c. 150 houses, including a threestoreyed Victorian terrace east of Lakeview estate in Old Ford Road, which it converted into flats. (fn. 76) The six-storeyed Mayfield House opened with 54 flats in 1964 on the east side of Cambridge Heath Road, south of the town hall. (fn. 77)
The new Tower Hamlets L.B. in 1965 announced a 10-year housing programme, initially to complete the schemes of the metropolitan boroughs. (fn. 78) In 1965 Tower Hamlets acquired the 19th-century Leopold Buildings (79 flats) in Columbia Road and opened five dwellings in Shipton Street and 7 in Cadell Close off Hackney Road; 25 dwellings opened on the east side of Ravenscroft Street as part of the same development in 1966, when the high-rise Sivill House opened with 76 flats in Columbia Road.
Bethnal Green M.B.'s slum clearance programme, intended to end in 1965, included an area between Hackney and Old Bethnal Green roads, bounded west and east by Warner Place and Mansford Road. It covered the pre-war Hadrian estate and the L.C.C. agreed to develop the southern part, which adjoined its Avebury estate, (fn. 79) leaving 3½ a. to the M.B., which planned 6-storeyed blocks with 176 dwellings. (fn. 80) Mary Janes and Sheppard houses, with 16 and 46 flats, opened in Warner Place in 1966 and Wyndham Deedes House, (fn. 81) with 38 flats in Hackney Road, and Blythenhale and George Vale (fn. 82) houses, with 54 and 22 flats in Mansford Street, in 1967. The estate was called St. Peter's after the church which alone had survived clearance.
In 1966 Keats House (22 flats) in Roman Road was added to Bethnal Green estate and, to the east, the 14-storeyed Bacton Tower (52 flats) opened at the junction of Roman and Globe roads. Designed by Yorke, Rosenberg & Mardall and built by Wates, Bacton Tower was the first fully industrialized block built for Tower Hamlets and featured ceramic tiles cast on the site. (fn. 83)
Council flats built by the L.B. in 1967 included 12 in Walter Street, 23 in Morpeth Street, 4 in Knottisford Street, 25 in Portman Place, all south of Roman Road in Globe Town, and 7 in Bonner Street and 8 in Mace Street, north of Roman Road on Cranbrook estate. In 1968 Tuscan House opened with 48 flats in Knottisford Street and 24 flats in Robinson Road and 40 in Russia Lane were added to Approach estate, replacing the notorious Quinn Square. (fn. 84)
The enthusiasm for high-rise building, at its height in 1966 when the L.B.'s architects were 'now working on tall blocks', (fn. 85) culminated in Bethnal Green in 1969 when the 22-storeyed Charles Dickens House opened with 130 flats in Mansford Street. The collapse of Ronan Point flats (West Ham, Essex) in 1968, however, proved to be a turning point, as both the G.L.C. and the L.B. switched to low-rise building or refurbishment. (fn. 86)
In 1969 Tower Hamlets approved schemes by its architect's department for two estates of compact cluster blocks, mostly four-storeyed with lower wings, which could be linked or grouped to give an informal appearance. They were built of brick with timber windows and had gardens, the emphasis being on privacy. (fn. 87)
Rowley Bros. of Tottenham, who had built some of the Roman Road flats, agreed to build 4-storeyed flats on 7½ a. around Lanfranc Road, between Roman, Arbery, Grove, and Medway roads. The site included Clarion and Hooke houses of the 1950s and a public house, everything else to make way for an estate to be completed in 1971. Twelve blocks with 269 dwellings were grouped amid landscaping and named after naval destroyers. (fn. 88) After Rowley Bros. went bankrupt in 1971 the estate was completed by F. G. Minter and J. & R. Rooff and opened between 1972 and 1975. (fn. 89)
The second scheme was for six blocks containing 66 dwellings on 2 a. west of Mansford Street, which included the nearly completed Charles Dickens House and was part of a clearance area where Mansford Buildings had been compulsorily purchased in 1965. (fn. 90) Whyatt (Builders), recently responsible for extensions to Greenways estate in Walter Street and Roman Road, agreed to complete the estate in 1971; (fn. 91) Southwood House opened with 21 flats in Florida Street in 1971 and Jeremy Bentham House with 30 in Pollard Street in 1972. A third stage, (fn. 92) announced in 1972, was for 97 dwellings in nine 4-storeyed blocks (fn. 93) on 2½ a. stretching east from Mansford Street to Canrobert Street. Teesdale, Blythe, and Wear streets were accordingly closed. (fn. 94) The nine blocks opened between 1975 and 1976. John Nettlefold House, with 14 dwellings, opened at no. 375 Bethnal Green Road in 1981.
In 1972 Tower Hamlets designated the area between Patriot Square, Bethnal Green hospital, and Cambridge Heath Road for redevelopment, where demolition and the closure of Peel Grove were to make room for 106 dwellings. Problems were feared from the existence of a 'plague pit', in reality the 19th-century Peel Grove cemetery. (fn. 95) The four 3-storeyed blocks, named after prominent inhabitants, (fn. 96) opened in 1977 and included houses for the elderly. (fn. 97) Another 3-storeyed estate opened in 1977 was Brierley Gardens, 96 dwellings on the site of Brierley and Royston streets. (fn. 98) Although Tower Hamlets had more than 1,000 houses planned, its building was ended by government restrictions in 1980. (fn. 99)
G.L.C. building continued in the late 1970s in western Bethnal Green, north of Bethnal Green Road, between Boundary and Newling estates and south of Bethnal Green Road on a new estate around Granby Street. In 1971 Boundary Street estate's Streatley Buildings, on the east side of Swanfield Street, was demolished (fn. 100) and 1 a. to the south called Boreham Street, containing 49 houses, 19 workshops, a warehouse, and 10 shops, was about to be cleared. (fn. 101) It was scheduled for 30 dwellings in 1974, part of Virginia estate. (fn. 102) In 1976 the G.L.C. planned 181 dwellings for the estate, on 7 a. in 2- and 3-storeyed terraces with two 4-storeyed blocks of maisonettes fronting Chambord Street. The north-west corner, adjoining the existing Virginia estate at Casket Street, was to be temporarily retained for businesses and later replaced by housing. (fn. 103) By 1982 there were 252 dwellings on the estate.
In 1966 the G.L.C. was acquiring property, much of it industrial, around Granby Street under the Housing Act of 1957. (fn. 104) It was probably the Ronan Point disaster which brought a new sensitivity to the G.L.C.'s architectural department, which in 1971 was planning a lowrise estate and consulting local inhabitants. (fn. 105) Granby estate, between Chilton Street and St. Matthew's Row and incorporating Bentworth Court and Goldman Close in place of the old street pattern, opened in 1977 with 280 dwellings. (fn. 106)
By the early 1980s (fn. 107) the G.L.C. owned 5,865 flats in the former M.B., 4,439 of them built since the war. Tower Hamlets L.B. owned 4,785 dwellings, of which 4,166 had been built or acquired since the war. The G.L.C.'s flats were contained in 15 relatively compact estates of 1½ a.-23 a. in extent. The L.B.'s dwellings comprised 77 sites, some large and compact estates, some individual blocks on bombed sites, and some terraced houses bought by the council.
Consolidation by 1986 (fn. 108) had produced 15 estates for the G.L.C. and 11 for the L.B. The G.L.C.'s were Boundary, Collingwood, Dinmont, Hollybush Gardens, Horwood, Waterloo, Pritchard, Minerva, Avebury, Teesdale, Park View, Hereford (which included Granby), Newling, Virginia, and Charlwood. Tower Hamlets' were Rogers, (fn. 109) Approach, (fn. 110), Weaver House, Dorset, (fn. 111) St. Peter's or Claredale, (fn. 112) Digby, (fn. 113) Lakeview or Lanfranc, (fn. 114) Mansford, Greenways, (fn. 115) Waterlow, and Cranbrook. (fn. 116)
The history of Bethnal Green since 1945 has been determined by the importance of the public sector. By the mid 1950s nearly one third of all housing stock, in 1961 over 40 per cent, was owned by the L.C.C. or M.B. (fn. 117) and by the late 1970s their successors owned more than threequarters. (fn. 118) There was little private building for domestic purposes. The last block of Nag's Head estate, Shipton House, was built in 1947 and the estate was sold to the Peabody Trust in 1956. (fn. 119)
Slum clearance affected not only the housing rented out for private profit, still 55 per cent in 1961, (fn. 120) but the earlier blocks of flats erected on a semi-charitable basis by the trusts. All the property of the Improved Industrial Dwellings Co. was disposed of, having by the early 1960s become 'malodorous litter dens'. (fn. 121) The Waterlow estate had been taken over by Greencoat Properties and in 1963 by the M.B., which later also bought Leopold Buildings. Huntingdon Buildings were owned by the G.L.C. when closed in 1969; one block was demolished in the early 1970s and another in 1980, (fn. 122) the rest being improved to accommodate, by 1988, Huntingdon Industrial Units. The last of the Improved Industrial Dwellings Co.'s estates was Jesus Hospital charity estate. The G.L.C. bought a small piece in the south-west corner in 1970 and the central triangle, which became a public open space, in 1979. The rest of the estate was conveyed in 1980 to Structadene, a Hackney firm which refurbished the Victorian terraces. (fn. 123)
Of the East End Dwelling Co.'s properties, Meadows Dwellings closed in 1962 and were demolished by 1971 to make way for Mansford estate, while Ravenscroft was emptied in 1970 and demolished partly in 1982 and, after featuring as a home for fallen women in the film 'The Missionary', finally in 1984. Of the group between Victoria Park Square and Globe Road, the war-damaged Merceron Houses were replaced in 1949 while Westbrook House was built to the south c. 1950. Two blocks of Merceron and Gretton houses were demolished in 1982 and the rest, Merceron, Gretton, Evesham, Montford, Mulberry, and Westbrook houses, were taken over by the G.L.C. as Victoria Park Square or Charlwood estate. (fn. 124)
The first of the model dwellings, Columbia Square flats, in 1957 were very damp. The M.B. bought them in 1961, demolished them in 1962, (fn. 125) and built Sivill House on the site. Other model dwellings which made way for council flats included Brady's Buildings in Barnet Grove (for Avebury estate), Queen's Buildings in Gosset Street (for Virginia estate), Barnsley and Somerford houses (for Collingwood estate), and Mansford and Toye's Buildings (for Mansford estate). Craven Buildings, a 'grim five-storey tenement block' of the late 19th century in Poyser Street near the railway, was in 1967 about to make way for a building for handicapped children. (fn. 126) Demolition proposed in 1963 for Linden Buildings in Shacklewell Street (fn. 127) had provided a public open space by 1973. (fn. 128)
The G.L.C. began to retreat from its leading role in local housing when Conservatives took over in 1967. Until stopped by the Labour government in 1968, it offered to sell its council houses to tenants and planned to transfer estates to the London boroughs, although it continued with a reduced building programme. (fn. 129) Meanwhile it began to turn to conservation, declaring in 1967 10 conservation areas in Tower Hamlets, one of which, Bethnal Green Gardens, was in the former Bethnal Green M.B. (fn. 130)
The Labour-dominated L.B. was slower to relinquish housing and refused to take over G.L.C. estates in 1969 largely for financial reasons. (fn. 131) From 1970 successive governments favoured modernizing the existing stock. (fn. 132) In 1977 when the G.L.C. reiterated its policy of encouraging home ownership and transferring estates to the boroughs, (fn. 133) Tower Hamlets devoted only 17 per cent of its total expenditure to housing. Its largest expense, 35 per cent, was on social services, (fn. 134) partly necessitated by its own earlier policies.
By the end of the 1970s the post-war objectives had been attained, population had been reduced by 44 per cent and railway land by 37 per cent, only to produce a 'dying inner city' with acute financial problems. A shrunken population, industry, and commerce had lowered income while capital expenditure on clearance and estate building was enormous. Much of the open space was derelict land and the need was for investment in attracting business and in refurbishment rather than demolition. (fn. 135) In 1977 the G.L.C. possessed 39 per cent of all vacant land in Tower Hamlets, which it had acquired under clearance schemes but had no plans to redevelop; Tower Hamlets owned another 26 per cent. (fn. 136) By 1984 Tower Hamlets acknowledged its prime problem, exacerbated by the national recession, to be the lack of employment created by displacing firms for housing estates. In future it would prevent the conversion of industrial premises, create industrial improvement areas, as at the northern end of Brick Lane, and allow office developments, especially near Underground stations. (fn. 137) A Borough Plan, published in 1986 when unemployment in Tower Hamlets was the highest in London, listed sites scheduled for light industry: several fronting Hackney Road and others in Pritchard's Road, Shacklewell, Bacon, and Cheshire streets in the west and Coborn Road in the east. (fn. 138) When the plan was slightly modified in 1988 unemployment, at 18 per cent, was the second highest in London. (fn. 139)
Refurbishment applied both to council housing and to the few remaining old houses. General Improvement Areas were declared where all property was to be modernized, for example Driffield Road in 1975 (fn. 140) and the Barnet Jesus Hospital estate in 1986. (fn. 141) From the mid 1970s Tower Hamlets assumed some of the G.L.C.'s responsibilities, taking over the western Bethnal Green comprehensive area in 1976. (fn. 142) In 1979, after discussions with the G.L.C. begun in 1977, a joint housing management committee was set up but in 1982 the L.B. withdrew, setting up its own housing directorate and management districts. (fn. 143)
The council's greatest challenge by the 1970s came from its own estates, in 1986 'cramped, unlovely and unloved'. (fn. 144) Not only did the older ones need refurbishment but the newer were plagued by vandalism, reported in tower blocks in 1974, or by defects as on the recently built Donegal and Sovereign houses on Collingwood estate in 1970 and in 69 per cent of flats on Lanfranc estate in 1978. (fn. 145) Among the most dilapidated in 1981 were Greenways and Claredale. (fn. 146) Rogers estate was rife with crime, its passages and walkways providing rat-runs for criminals which recalled the 19th-century Nichol. In 1990 the author of the critical report of c. 1978 was invited to modify its design, add bungalows and gardens, reorientate entrances, and block passageways. (fn. 147) Disillusion with high-rise building culminated in 1993 with a demand for the demolition of Lasdun's Keeling House, a 'symbol of everything that was wrong with doctrinaire post-war planning'. (fn. 148) Although it became the country's only listed tower block in 1993, it was empty and again threatened with demolition in 1995. (fn. 149)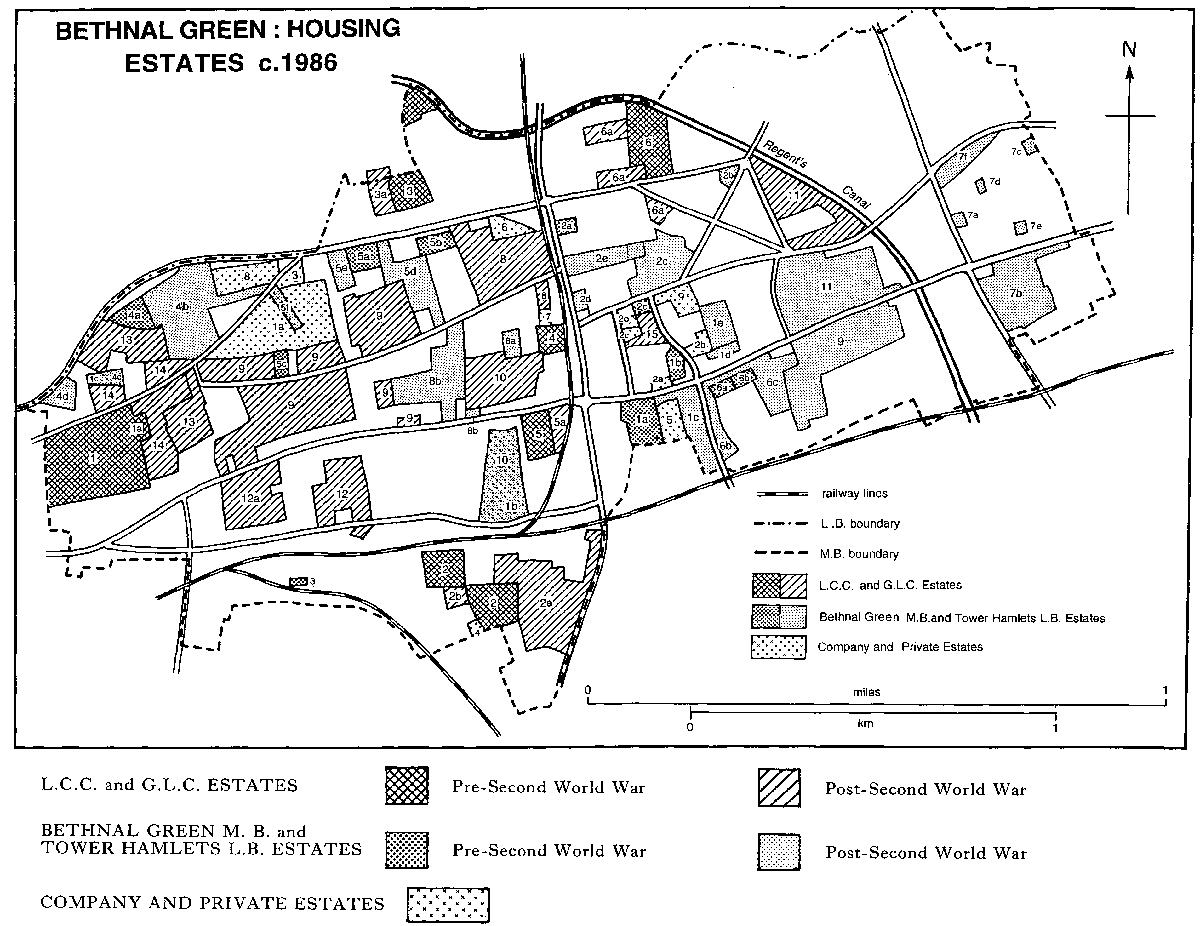 Modernization was attempted: Tower Hamlets announced plans for Butler estate in 1980 and renovated one block of Burnham in 1985 before funds ran out. Recourse was had to the private sector, especially after the G.L.C.'s abolition in 1986 when its estates passed to Tower Hamlets and were broken up by the Alliance into seven neighbourhoods with responsibility for housing. Three, Bethnal Green, Globe Town, and Bow, covered parts of the old M.B., although all contained districts outside it. Among further adjustments Lakeview, which fell within Bow neighbourhood, by 1993 was classified as part of Ranwell West estate. (fn. 150)
The new council policy, emphasizing local responsibility and reinforced by financial constraints, was to offer council housing to tenants for sale or in self-help schemes or encourage housing associations and trusts. At the end of the 1980s nearly 2,000 council tenants in Bethnal Green and Globe Town neighbourhoods were said to be buying their homes; (fn. 151) tenants on Burnham estate agreed in 1989 to renovate their own flats in a privately financed scheme. (fn. 152) Proposals in 1986 to privatize whole estates, including Bethnal Green, Boundary, Bacton Towers, Hadrian, and Waterlow, provoked tenants to form the Tower Hamlets Campaign Against Estates Sales. (fn. 153) At the end of 1986 Bethnal Green neighbourhood decided to sell Hadrian estate to five property developers. (fn. 154) In 1987 it agreed that Barretts should refurbish Waterlow estate, return 125 flats to the council to rent, and sell 105 cheaply to local people and 70 on the open market. Such projects and Structadene Ltd.'s refurbishment of 19th-century terraces on the Jesus Hospital estate led to attacks on gentrification. Protestors pointed to the many empty properties and the long official waiting list but offered no solution to the expense of renovation. (fn. 155)
In 1988 Tower Hamlets hoped for 'greater flexibility in the management of housing stock' (fn. 156) and adopted the proposal of the government, which had intervened through rate-capping, to involve Housing Action Trusts, despite opposition by both council employees and many tenants. Boundary Street estate was one suggested by the government (fn. 157) but one of the first was Hadrian estate, which was handed over to Samuel Lewis Housing Trust and demolished in 1990. (fn. 158) The trust, (fn. 159) founded in 1901 by will of the eponymous London financier to provide rented accommodation, became in 1991 part of the Southern Housing Group with an office for the East Region in Bethnal Green Road. It absorbed earlier associations like the Elizabeth Bates Housing Society, which had been founded in 1955 to provide housing on the Elizabeth Bates Trust estate in Bethnal Green. The society refurbished the Victorian houses in Cyprus Street and built four mainly seven-storeyed blocks of flats (Kingswood, Malmesbury, Tytherton, and Brockweir) at the western end of the estate in the late 1960s. The society possessed approximately 315 units in Tower Hamlets when financial and staffing difficulties led to its merger with the Samuel Lewis Housing Trust in 1993. For Hadrian estate the Samuel Lewis Housing Trust contracted Laing Homes to complete by 1992 43 flats, maisonettes, and houses for homeless tenants, 65 per cent white and 35 per cent Bengali. Laing also worked from 1992 in Selby Street, on council and railway land on the southern borders of Bethnal Green and Spitalfields, where 116 houses and flats, designed by Feilden & Manson, were planned by a consortium of Samuel Lewis Housing Trust and three other housing associations, Toynbee, Spitalfields, and Newlon.
Housing associations assumed an increasing importance. At the end of the 1960s the G.L.C. had recognized their role in the improvement of older houses and had offered them loans. (fn. 160) Associations, however, owned under 4 per cent of Tower Hamlets' housing in 1974. (fn. 161) With more official encouragement their activities expanded, most still converting old property but others building their own estates. Among the chief was Circle Thirty Three, which had 460 properties in Tower Hamlets by 1992. (fn. 162) They included acquisitions in Driffield Road in 1979 and Baxendale Street in 1985, and new developments at Coll Sharp Court in the junction of Austin Street and Virginia Road in 1990 and Royston estate, west of Cranbrook, in 1992. (fn. 163) Bethnal Green and East London Housing Association, active in Bethnal Green since the 1920s, was registered as a charity in 1961 (fn. 164) and amalgamated in 1993 with Victoria Park Housing Association. In 1988 redevelopment of the site of Bethnal Green hospital was discussed (fn. 165) and in 1990 Victoria Park Housing Association bought the eastern part, bounded north by Parmiter Street and east by Russia Lane. Its mixed development, opened in 1993, included Ted Roberts House, named after the association's founder and vicar of St. James the Less (1961- 78), with 30 flats for the elderly, Roger Dowley Court, comprising a day hospital on the ground floor and 32 shared flats, and, grouped around a new road, Huddleston Close with 40 houses, 12 shared flats, and two houses offering 'care in the community', for people with learning difficulties or mental illness. The architects were Baily Garner and the builders Willmott Dixon. Other properties of the association included Approach Road, opened in 1992 for people with mental health problems, and small developments in Bishop's Way and, for the elderly, in Globe Road. (fn. 166)
The western part of the hospital site was sold to Structadene, which built flats in a 3-storeyed yellow-brick block called Heritage Place, a supermarket, office units, and a doctor's clinic in 1993. The firm was also working in Old Ford Road. (fn. 167) Other private developments in the 1990s included 4-storeyed flats in a vaguely classical style, The Academy Court at the corner of Globe Road and Kirkwall Place, Jameson Court in Russia Lane, and City Walk, flats around a courtyard in St. Matthew's Row. (fn. 168) Other projects to attract middle-class buyers included the conversion of churches, like St. James the Great in Bethnal Green Road and the Methodist chapel in Hackney Road. In 1991 Tower Hamlets Environment Trust, which had been set up in 1979, was engaged in a 'Green Homes in Bethnal Green project', building 34 houses to new environmental specifications. (fn. 169) From c. 1990 Globe Town neighbourhood disposed of Cambridge Heath, Digby, and Bacton Tower estates, in addition to the portion of Burnham estate relinquished earlier. (fn. 170)
The appearance of Bethnal Green was transformed between 1945 and 1995. Endless streets of two-storeyed cottages of c. 1840-60 (fn. 171) where the typical home was a 4-roomed house with a yard full of boxes of geraniums, rabbit hutches, pigeon lofts, 'dilapidated but cosy, damp but friendly', (fn. 172) made way for equally monotonous rows of 5-storeyed blocks or high- and low-rise estates whose intended landscaped grounds more often became empty or waste-strewn spaces. In 1945 poverty was such that 89 per cent of families were said to be without bathrooms. (fn. 173) By 1951 79 per cent were still without or sharing a bathroom; 37 per cent lacked a W.C., 35 per cent piped water, 27 per cent a kitchen sink, and 4 per cent a cooking stove. By 1961 those lacking the first three facilities had fallen to 58, 29, and 7.6 per cent. (fn. 174) Overcrowding also lessened: where there had been 1.35 families for each dwelling in 1931, there were 1.24 in 1951 and 1.15 in 1961. Families becoming smaller, the density for each room averaged 1.35 in 1931, 0.92 in 1951, and 0.84 in 1961. (fn. 175) By the 1980s there were 'probably as many homes in the borough as there are households'. (fn. 176)
Bethnal Green could be presented in the early 1950s as 'some sort of Utopia.' (fn. 177) The streets, though crowded with stalls, were bearable because 'no one in Bethnal Green owns a motorcar'. Strong local loyalties and a respectable working class, which engaged in fanatical doorstep-scrubbing in areas like Mace Street and Gibraltar Walk, (fn. 178) made for a stable society described in 1951 as orderly and safe. (fn. 179) Most people had been born in the borough, like their parents and probably grandparents, and lived near their relatives, the wife's mother in particular being the centre of family life. Most had private landlords and obtained tenancies through the mother's connexions and her influence with the rent collector. The unemployment and grinding labour of earlier periods were over, small workshops in the many buildings left empty by bombing and slum clearance offering a variety of jobs for men and part-time work for women. Both birth and death rates had fallen, leaving fewer widows and orphans, while television was beginning to weaken the power of the public house over the men. It was a homogeneous society, working-class and English although with some who still cherished their Huguenot ancestry. (fn. 180) Many Jews had dispersed during the war. In 1948 it was estimated that c. 10 per cent (6,000) of the population was Jewish, mostly in the west and south, but there too the numbers were decreasing. By c. 1955 the proportion was c. 8 per cent and the remaining Jews were indistinguishable from other East Enders. Immigration from the Commonwealth had not started. In 1954 it could be said that there was little colour prejudice because the non-European population was minute. There was little political or criminal violence. (fn. 181)
The 'changing face' of Bethnal Green excited comment by the end of the 1950s as the deeply conservative East Ender was deprived of his familiar streets. The growth of traffic led the council in 1959 to divert street trading to a new market off Roman Road, when it met the same kind of resistance as the earlier attempt to promote Columbia Market. (fn. 182) The number of dwellings declined from 15,854 in 1951 to 14,649 in 1961, when they were contained in 5,729 buildings, 230 of them blocks of more than 10 dwellings. (fn. 183)
In accordance with council policy, slum clearance was accompanied by a fall in population and a contraction in industry. Between 1931 and 1955 nearly 11,000 families, more than 40,000 people, from Bethnal Green were rehoused on L.C.C. estates, many of them outside the borough, mainly in Essex. Those rehoused within Bethnal Green, whether by the L.C.C. or the M.B., were relocated without regard to family connexions. (fn. 184)
The break-up of the old social order and contraction of privately rented housing, coupled with the abolition of council housing waiting lists in the mid 1950s, increased the number of homeless. Their plight contributed to exploitation in a climate of commercialism and criminality, (fn. 185) culminating in the reign of the Kray brothers with their headquarters in Vallance Road and a celebrated murder in the Blind Beggar in Whitechapel Road in 1966. (fn. 186) Rent protests were common in the early 1960s. In 1960 Quiltotex Ltd. offered the tenants of Mansford Buildings a choice of eviction or tenancies at double the rent. The M.B., alleging neglect, threatened to compulsorily purchase the flats, which after a temporary compromise were replaced by Mansford estate. (fn. 187) Greencoat Properties took similar action on Waterlow estate in 1962. It was generally agreed that the estate was in disrepair and the controversy led directly to the purchase of part by the council in 1963. (fn. 188) In 1964, after touring Bethnal Green, the Liberal leader Joseph Grimond called for an open register of landlords and for the G.L.C. to assume direct responsibility for all housing. (fn. 189) By 1968-9 the G.L.C.'s tenants were withholding rent. (fn. 190)
Immigration further undermined the homogeneity of the early 1950s. Pakistanis (after 1974 Bangladeshis), like the Huguenots and Jews earlier, moved into Bethnal Green from the south, (fn. 191) settling around Cable Street and, after its clearance in 1963, around Brick Lane in privately rented, multi-occupied dwellings. As single men were joined by their families, their overcrowded living and working conditions in sweated labour in the clothing industry aroused the same hostility as their predecessors'. Fascism revived in Bethnal Green in 1958 and grew throughout the 1960s. 'Skinheads', themselves the product of weakened family ties, attacked Asians at the London Chest hospital and in Brick Lane in 1970. (fn. 192) Increasing activity by the National Front led to the formation of the Spitalfields Community and the Spitalfields Bengali action groups in 1974, the Spitalfields Project in 1975, (fn. 193) and an Anti-Racist Committee of Asians in East London in 1976, when a new police station opened in Brick Lane. (fn. 194) More than 3,000 people marched in protest through the Front's strongholds in Bethnal Green in 1977 and the murder of a Bengali in Whitechapel provoked demonstrations which included a march of 7,000 from Brick Lane to Downing Street in 1978 when the Front moved its headquarters from Bethnal Green to Shoreditch. In 1981 the Spitalfields Local Committee, a grant-making body funded by the council, was set up to defuse Bengali anger. (fn. 195)
Much racial violence was youthful vandalism, exploited for political ends. Another element was the Asians' claim to be offered only the oldest council housing; an analysis based on the 1971 census showed that, of a selected group of G.L.C. estates, the highest concentration of Asians was in Boundary Street and Collingwood and the lowest in Newling and Park View. (fn. 196) The G.L.C.'s plan to set aside certain blocks for Bengalis was attacked by both sides. Many flats were too small for the immigrants' families but in 1982 the Spitalfields Housing and Planning Rights Service showed that Collingwood and Boundary Street still had the most Asians while Wellington and Avebury had least. English-born East Enders, however, complained of new houses in Columbia Road that 'the whole row is Indian'. In the late 1980s the L.B. was accused of discrimination when it refused to continue paying for recently arrived Bangladeshi families on the grounds that they were voluntarily homeless. (fn. 197)
Ethnic minorities formed about a fifth of Tower Hamlets' population by 1981, mostly Bangladeshis and Pakistanis. (fn. 198) The immigrants moved into all parts although in 1988 they were mostly still in the west, in Bethnal Green neighbourhood where they formed 30 per cent of the population. Bangladeshis increased by over 200 per cent between 1981 and 1988 in Globe Town neighbourhood, where in 1986 they formed 10 per cent of the population with Pakistanis and New Commonwealth minorities forming another 7 per cent. The same categories comprised 12.6 per cent of the population in Bow neighbourhood in 1988. (fn. 199) Other immigrants included refugee Vietnamese and Somalis, for whom an association was set up in 1983. (fn. 200)
By 1993 Bethnal Green was thoroughly cosmopolitan. The self-governing neighbourhoods and numerous associations tended to involve the whole community. Although partly funded by local and central government, they represented a movement away from paternalism, whether of largely middle-class bodies like the Church and the philanthropic companies or of the providers of municipal housing. Care was taken by housing associations constantly to consult local groups.
Housing associations and private firms were still building on relatively small sites. Much older property, including whole terraces, had been refurbished, although there were still run-down areas like Cambridge Heath Road and parts of Hackney Road. Road improvements included ramps to slow down traffic and there were many more open spaces. Industry, in old workshops or new industrial units, was mostly small-scale and confined to certain areas, notably in the north on either side of Cambridge Heath Road or in the south around Brick Lane. Bethnal Green was still predominantly working-class but recent gentrification was manifest in specialist shops in Columbia Road or a Buddhist vegetarian restaurant in Globe Road. A special feature was the art galleries and studios which were attracted by low rent and often opened in former industrial premises. (fn. 201)
The population, 22,310 in 1801, doubled to 45,676 by 1821 and again to 90,193 by 1851, reaching 120,104 by 1871 and its highest point, 129,727, in 1901. Thereafter it declined, to 108,194 in 1931, 58,353 in 1951, and 47,078 in 1961. After a further fall it started to rise again, by natural increase and immigration, from the 1980s. (fn. 202)