Pages 147-155
A History of the County of Middlesex: Volume 11, Stepney, Bethnal Green. Originally published by Victoria County History, London, 1998.
This free content was digitised by double rekeying. All rights reserved.
SOCIAL AND CULTURAL ACTIVITIES
There were four alehouses in 1552, (fn. 1) 74 in 1716, (fn. 2) 99 in 1730, (fn. 3) 84 in 1785, (fn. 4) and 105 in 1825. (fn. 5) There were 117 public houses and 100 beershops in 1834, (fn. 6) an average of one for 285 people. Although the numbers rose to 136 public houses and 121 beershops by 1905, (fn. 7) the increase in population gave an average of one licensed premise for 504 people. By the mid 1930s, with 94 public houses and 64 beershops, (fn. 8) the average was one for 684.
Between 1613 and 1616 indictments were brought against three victuallers or tipplers, one for taking in inmates and another (a spinster) for unlicensed tippling, against a brewer for overpricing, (fn. 9) and against another spinster for entertaining unknown men and musicians in the evening. (fn. 10) One of the oldest alehouses was probably the Cock, from which Cock Lane, recorded in 1538, took its name. (fn. 11) An alehouse stood at Bishop's Hall in 1642, (fn. 12) two (the Dun Cow and the White Bear) in Dog Row in 1652, (fn. 13) and one (the Half Moon) in Collier's Row in 1653. (fn. 14) Most early public houses were presumably around the green, including the Black Bull tavern, near Gerbier's house in 1642 (fn. 15) and possibly identifiable with a timber victualling house on the west side of the green in 1652. (fn. 16) On the east side, fronting what was to become Victoria Park Square, were the Wheatsheaf before 1662 and possibly since 1621, on the site of nos. 21-3, (fn. 17) and the Blind Beggar at the southern end by 1654, (fn. 18) with the Sugar Loaf, from which the walk took its name, by 1687. (fn. 19) On the west side the Salmon and Ball, on the southern corner of Cambridge Road and Bethnal Green Road, mentioned from 1733, (fn. 20) assumed its central importance after the building of Bethnal Green Road in 1756. (fn. 21) It was outside the Salmon and Ball that rioters were hanged in 1771. (fn. 22) The Green Man, where manorial courts were sometimes held, (fn. 23) existed to the south by 1750. (fn. 24) Other houses which probably served travellers were the Nag's Head in Hackney Road by 1703 (fn. 25) and the George, fronting Old Bethnal Green Road, then part of the west-east route through Bethnal Green, by 1722. (fn. 26)
Of the 82 alehouses in 1722, (fn. 27) 37 were in the south-west, south of Bethnal Green Road, including 7 in Brick Lane, 6 in Anchor and 6 in Hare Street, and 27 in the north-west, between Bethnal Green Road and Crabtree Lane, including 7 in Cock Lane and 6 in Castle Street. The King's Head at the northern end of Wheeler Street was mentioned in 1689. (fn. 28) Many alehouses were not recorded before 1722, although names such as Anchor Street in 1682, (fn. 29) Ram Alley in 1687, (fn. 30) and Virginia Row in 1694 (fn. 31) indicate that they were built in the late 17th century, at the same time as the surrounding weavers' houses. There were Huguenot names among the licensees of 1722 and alehouses were often called by their equivalent French names. (fn. 32) In 1726 more than 40 weavers sold 'geneva and other strong waters by retail'; by 1736 the number had risen to 90. (fn. 33) The 99 licensed victuallers of 1730 included 11 brandy sellers, all in the western part of Bethnal Green. (fn. 34) In 1834 much poor relief was said to be spent on gin. (fn. 35)
Public houses provided recreation and were meeting places for all kinds of societies, the earliest of them for Huguenots. (fn. 36) The society of Parisians, founded in 1687 for Parisian exiles living within 3 miles of Christ Church, Spitalfields, with rules dating from 1720, met once a month, and paid 1s. a month for sickness benefits of 8s. a week and £5 for funerals. Reconstituted as the Huguenot friendly benefit society, it met in 1882 at the Norfolk Arms in William Street and survived c. 1900. (fn. 37) The Bachelors benefit society was founded in 1697, met monthly at the King's Arms in Abbey Street in 1832, and survived until 1878. (fn. 38) The Norman society, founded in 1703, met fortnightly, paid 1s. a week towards beer and tobacco but forbade gambling and offered sick benefit of 7s. a week. It met at an alehouse in Spitalfields in 1800 but the Pitt's Head, Tyssen Street, was its headquarters at least from 1809 to 1843; it had 60 members c. 1900. (fn. 39) Also surviving c. 1900 was the society of Lintot (a Norman village), which was founded in Spitalfields in 1708, met at the Flower Pot in Brick Lane in 1800 and the Pitt's Head in 1831, and revised its rules in 1886. (fn. 40) The Friendly society was founded in 1720 for Huguenots aged between 21 and 31. The society of Protestant Refugees from High and Low Normandy, dating from 1764, had 20-30 members in 1826 who met at the Gibraltar in Gibraltar Walk, moving in the 1830s in turn to the Dolphin in Boundary Street (formerly Cock Lane), the Pitt's Head, and the Hope in Pollard Row. In 1857 it moved to the Norfolk Arms in Ivimey Street, which remained its headquarters, as of several other Huguenot societies, c. 1900. It survived at the end of the 1950s. (fn. 41) Other friendly societies probably of Huguenot origin were the Piccards and Wallons (sic), which met at the Panther in Hope Town in 1832, (fn. 42) and the Gift Fund of the Grand Council of the Knights of Burgundy, which met at the Knave of Clubs in Club Row in 1845. (fn. 43) Although founded for refugees from specific localities, most societies changed their rules to admit all of French descent, provided they were Protestants.
Huguenot culture, with its mathematical, history, recitation, musical, entomological, floricultural, and columbarian societies, survived into the 19th century. (fn. 44) As the middle classes moved away, there was a decline in the more intellectual interests but gardening and birds remained popular well into the 20th century. Two birdcages were among possessions listed in 1764, (fn. 45) shortly after the appearance of the Birdcage alehouse (probably formerly the King's Head), (fn. 46) from which Birdcage Walk took its name. The heyday of the weavers' societies was 1800-26, when bird fancying and breeding canaries were widespread. (fn. 47) Visitors mentioned aviaries c. 1841 and the matches between singing birds in the taverns around Hare Street c. 1874. (fn. 48) Wooden structures were built on roofs to house racing pigeons. (fn. 49) Bird-singing and racing were among the activities centred on public houses around Hague Street in 1884, usually held on Sundays. (fn. 50) The pigeon lofts survived, together with poultry and rabbits in back yards, into the 1950s. (fn. 51) One of the best poultry clubs in the country was said to have met at Bethnal Green men's institute in the 1930s. (fn. 52)
The one area of continuing intellectual interest to weavers and other craftsmen, especially shoemakers, (fn. 53) was that of radical politics and religion. Alehouses, headquarters in the 1760s of rioting weavers, organized along club lines as the Bold Defiance, (fn. 54) were 'the pivotal institution in plebeian social life' in the late 18th century. The Seven Stars in Fleet Street housed radical debating clubs from the late 1790s (fn. 55) and the Spencean society probably had a branch in Bethnal Green long before it was recorded in 1817. (fn. 56) The government's attempts at suppression largely depended on the tavern-keepers and licensing magistrates. Debating clubs enforced solidarity by recreation and fraternal rituals like linking hands and singing, (fn. 57) and the rector's complaint in 1816 (fn. 58) against the alehouses associated with Joseph Merceron may well have been based upon their subversive politics. He singled out the Seven Stars, leased by Merceron since 1788, and the Three Sugar Loaves in St. John Street as haunts of suspicious characters. Other alehouses which he wanted suppressed included the Sun in Sclater Street, where boys and girls at a 'cock and hen club . . . get drunk and debauch each other'. Merceron was also accused of collusion with dissenters; there were links between Dissent and radical politics, the spy Shegog, for example, being involved in both. (fn. 59) Independents met in 1808 at property in Mount Street belonging to the Lazarus Society. (fn. 60)
Merceron's alehouses (fn. 61) survived to become meeting places of many friendly societies, to which c. 3,000 people in Bethnal Green belonged by 1813-15. (fn. 62) Between 1831 and 1857 40 public houses were the meeting places of at least 41 friendly and 21 loan societies, (fn. 63) including the Sons of Prudence at the Red Cross in Hare Street in 1831, the Amicable Society of Master Tradesmen at the Hope in Pollard Row, the Friendly Artizans at the White Horse in Hare Street in 1831, and the Hackney Road Philanthropic at the Roebuck there in 1843. The Knave of Clubs in Club Row was the headquarters of five friendly and two loan societies. Only four friendly societies and 11 loan societies avoided public houses. Three of them, including the Honorable Sons of True Temperance and the Hand-in-Hand Teetotal Provident loan society, met in coffee houses in Bethnal Green Road in 1843 and 1848. Schoolrooms, too, accommodated the few benefit building societies which did not meet in public houses. Fifteen societies were registered between 1850 and 1863, (fn. 64) 11 of which met in public houses. At the end of the 1880s 5,445 people belonged to friendly societies in Bethnal Green, 3,280 of them to the Loyal United Friends, 841 to the Ancient Order of Foresters, and 802 to the Hearts of Oak. Only 27 were Sons of Temperance. (fn. 65)
There were several coffee houses, mostly in Bethnal Green Road and its western end, then called Church Street, in the late 1830s and 1840s (fn. 66) and in Bethnal Green and Hackney roads in the 1870s. (fn. 67) Although normally associated with evangelical Christianity, teetotalism had a branch belonging to the radical, often atheist, movement. (fn. 68) In 1848 freethinkers, who usually met outdoors in Bonner's Fields, leased a large house at no. 1 Warner Place, off Hackney Road, and built a temperance hall at the back, where Charles Bradlaugh (d. 1891) lived and developed his ideas. (fn. 69)
An early mechanics' institute, the Eastern Literary and Scientific institution, opened in 1825 in the Bethnal Green part of Hackney Road. It survived until c. 1847 (fn. 70) and was the headquarters of a benefit society in 1845 (fn. 71) and a building society in 1846. (fn. 72) The Christian Soc. of Silkweavers existed in Thorold Square by 1851 (fn. 73) and was recorded among charitable organizations in 1870. (fn. 74) Bethnal Green Working Men's Benevolent society, founded in 1859 to pay for medical aid, survived in 1901. (fn. 75)
Most workers' societies remained primarily concerned with radical politics and closely associated with alehouses. The British Association for Promoting Co-operative Knowledge, founded in 1829, which developed into the National Union of Working Classes, often met at the Blind Beggar. (fn. 76) Several Bethnal Green names appear among those of political radicals in the 1830s, including three members of the Radical club in 1838. (fn. 77) The prevalence of irreligion and the circulation of the Poor Man's Guardian was noted of Twig Folly district in 1833. (fn. 78) A group of the Prestonian society met in 1836 in Club Row, (fn. 79) probably at the Knave of Clubs. From 1837-41 groups like the East London Democratic Association operated from 'old alehouse haunts' and from chapels like Bowling Square chapel, (fn. 80) possibly Wilmot Square where Merceron's ally the Revd. Francis Platt lived. (fn. 81) The Association also met at the Trades' hall in Abbey Street, where in 1840 arms were found at a meeting of 600 people amid rumours of an uprising. (fn. 82) The probably small membership of the clubs acted as a leaven in the mob. About 5,000 people from Bethnal Green and its neighbourhood attended a demonstration demanding political rights in 1834. (fn. 83) Preston, founder of the Prestonian society, led a group from Bethnal Green in a plan to attack the Tower and Bank of England. (fn. 84) The parish was at the forefront of Chartist agitation in 1848, with 'monster meetings' cheering the French Republic in Bonner's Fields, Nova Scotia Gardens, and Cambridge Heath Road. (fn. 85) Socialists met in Trinity chapel in Peel Grove in 1851. (fn. 86) Throughout the 1850s, 1860s, and 1870s crowds from Bethnal Green flocked to radical speeches on Sundays in Bonner's Fields and to meetings held by a 'demagogue' and 'noted sceptic', probably Bradlaugh, in Shoreditch and at the Hall of Science in Old Street. There was an 'infidel lecture hall' in the eastern part of Bethnal Green. (fn. 87)
Working men's clubs were opening in the 1860s: at Peel Grove in 1863, in St. Matthias's schoolroom in 1864, (fn. 88) and in New Nichol Street in 1865. (fn. 89) Bradlaugh was a major influence on the New Commonwealth club in Bethnal Green Road, a radical 'proprietary' club which existed by the 1870s. It was joined by Stewart Headlam, the curate of St. Matthew's, whose lecture on music halls in 1877 shocked conventional clerical opinion. (fn. 90) By 1934 the club had moved to nos. 272-6 Hackney Road, (fn. 91) formerly the Gladstone Working Men's club. Other radical clubs followed: the United Radical in Kay Street in 1884 (fn. 92) and Bethnal Green radical at no. 143 Green Street in 1887. (fn. 93) The Borough of Bethnal Green club, in Abbey Street by 1889, (fn. 94) built a new working men's club at no. 44 Pollard Row in 1895. (fn. 95) Officially the Borough of Bethnal Green Liberal and Radical club and the chief Liberal club in the M.B., it was usually called the Borough of Bethnal Green Working Men's club (fn. 96) and was on the same site in the 1990s. (fn. 97) By 1889 other clubs included the Gladstone Radical in Baroness Road (which was housed at nos. 272-6 Hackney Road in 1912 and 1918 but had apparently closed by 1927), (fn. 98) the New Labour in Victoria Park Square, the Conservative Working Men's at no. 343 Bethnal Green Road, and three 'proprietary' clubs, the National Standard in Bethnal Green Road, the Cambridge in Cambridge Road, and the Oxford and Cambridge in Swan Street. (fn. 99) The British Brothers' League, founded in 1901 in reaction to Jewish immigration, (fn. 100) had a large, though short lived, membership in Bethnal Green.
Charitable, as distinct from self-help, societies, were mostly run by middle-class people from outside the parish. (fn. 101) Bethnal Green Philanthropic Pension society, founded in 1822, met at the Salmon and Ball in 1841 (fn. 102) and at the Green Man in 1870. The East London General Pension Society was founded in 1824 and based in Bethnal Green Road in 1870, when it distributed weekly pensions of 2s. 6d. for men and 2s. for women. The Royal Adelaide Provident institution originated in a charity ball 'under very high patronage' held in 1837 to relieve the silkweavers. It was registered as a loan society in 1839, the intention being to persuade them to pay a subscription to insure against unemployment, but the weavers were hostile and the institution was overwhelmed by demand. (fn. 103) Other societies which were united into Bethnal Green Charity Organisation society in 1869 (fn. 104) included such enterprises of Baroness BurdettCoutts as the provision of district nurses and training girls for service and boys as shoeblacks, missions like Ashley's, organized as sewing classes by two ladies from Cambridge Heath or by the East End Mission, free dinners provided by Old Castle Street Mission, and services provided by Sisters of Charity working from Thomas Street.
The churches by the 1850s were running provident societies, lectures, classes, libraries, and clothing clubs. Their involvement in recreational pursuits provided an alternative to the radical and often atheistic culture of the public houses and secular working men's clubs. St. Philip's had a young men's association by 1861 but the fastest expansion came with the incumbency of Septimus Hansard, rector 1864-95, and Stewart Headlam, curate 1873-8, of St. Matthew's, who debated in the secular clubs and founded the Guild of St. Matthew's in 1877. Nonconformist activities, including men's clubs, were especially associated from the 1870s with the Baptist Shoreditch tabernacle, the Congregational Union and Victoria Park chapels, the Christian Memorial hall, and, from the late 1880s, the Unitarian Mansford Street chapel. Anglican activity increased from the 1880s. In 1888 St. Francis of Assisi mission opened with a clubroom. In 1889 Holy Trinity opened in the Nichol with a clubroom, gymnasium, and large hall and soon supported a vigorous social life, including a men's club with 500 members. (fn. 105) Six philanthropic and religious clubs listed in 1889 (fn. 106) were associated with Anglicans. One, St. Bartholomew's club in Brady Street, was by c. 1891 among many activities run by that church, including tobacco sociables for men and meals, besides clubs and classes for boys, mothers, and young women. (fn. 107) St. Jude's institute, built in 1896, housed clubs, a choral society, a band of hope, and, from 1899, literary, cricket, and athletic clubs. St. Paul's institute was built in 1896 in Gosset Street, about the time that All Saints' mission opened in Vyner Street with a clubroom and gymnasium. Parochial buildings for St. James the Less, opened in Sewardstone Road in 1901, included a gymnasium, girls' and mens' clubs, billiard, reading, and drawing rooms, and a tennis court, bowling green, quoit beds, and bandstand. (fn. 108) By 1903 St. James was running cricket, football, rambling, and chess clubs and, by 1914, a women's hockey club. (fn. 109)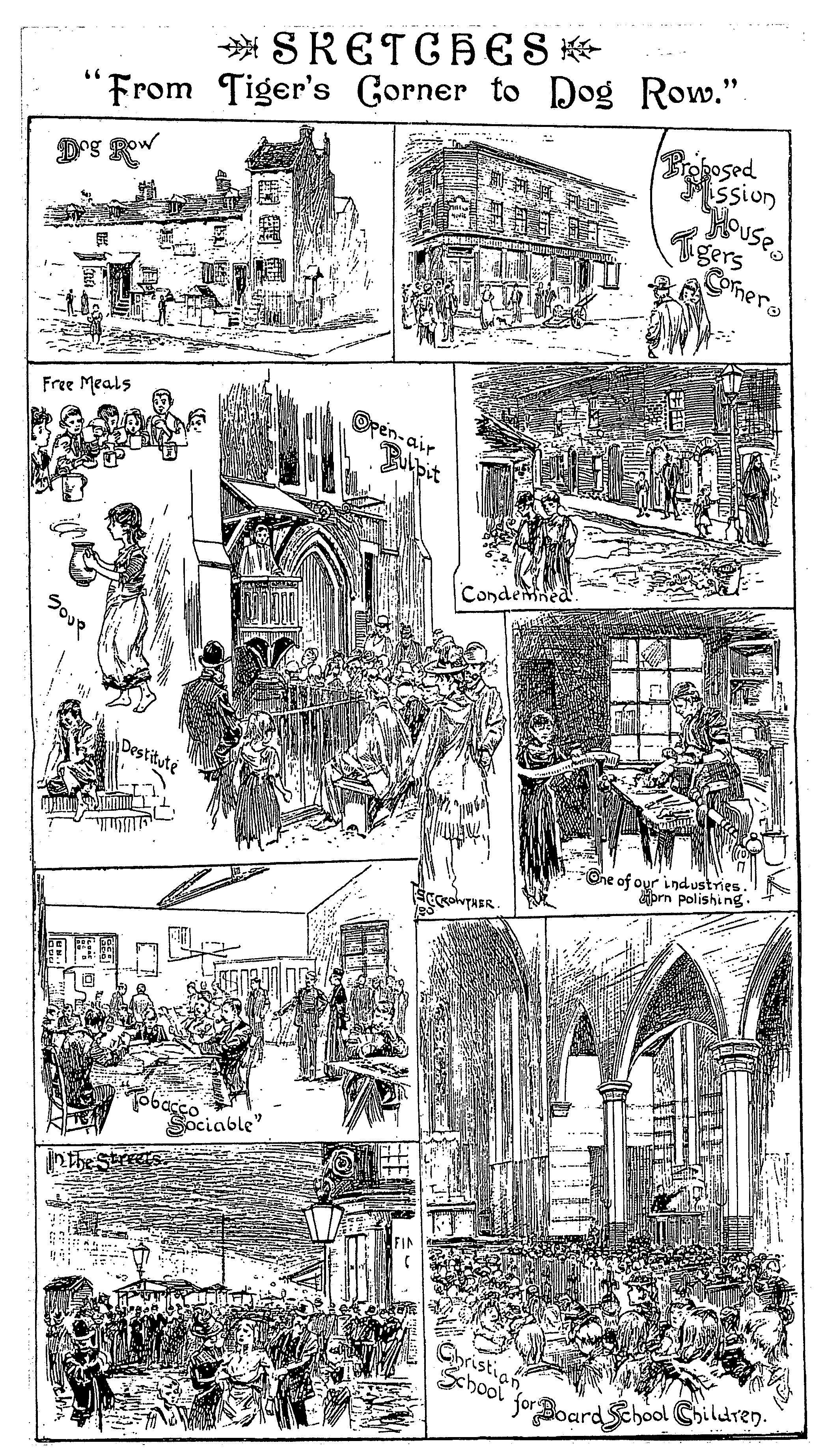 The most important religious institution was Oxford House, (fn. 110) which from its foundation in 1884 began organizing a boys' club and 'smoke and talk' facilities for men, together with a library and lectures. In 1886 it founded the Federation of Working Men's Clubs, to have no political aims but to promote clubs providing recreation, education, and 'non-intoxicant refreshment'. Oxford House itself founded several clubs. It housed a working men's club when in the former St. Andrew's National school until in 1894 it moved with the club into new buildings in Derbyshire Street. University club opened in Cambridge Road and moved to nos. 16 and 17 Victoria Park Square, where in 1887 it built Oxford hall in the rear. (fn. 111) By 1890 it had 1,000 members and housed a cafe, reading room, billiard room, hall, and three co-operative societies. It added a rifle range in 1910, when it was largely self-managed, (fn. 112) becoming formally independent of Oxford House in 1942. The Webbe institute for working boys opened in 1888 at no. 457 Bethnal Green Road and moved in 1889 to new buildings at the corner of Hare (later Cheshire) and Hereford streets, where it had more than 400 members by 1890. Financed by friends of H. B. Webbe, a New College man with cricketing connexions, it was run by Oxford House and provided a gymnasium, games, and a band. Repton club for a 'lower class of boy' opened in 1895 with 80 boys in Bethnal Green Road and was supported by Repton school. St. Anthony's opened in 1902 and changed its name in 1906 to Eastbourne club after the school which adopted it. Oxford House was leased the Excelsior baths, (fn. 113) which could be floored over for concerts given by its musical and dramatic association, in 1898 and published the monthly Excelsior from 1912.
St. Margaret's House from 1889 and St. Hilda's East from 1898 were the counterparts for women of Oxford House. (fn. 114) By 1902 St. John's girls' club had its own premises at no. 1 The Terrace, Old Ford Road. (fn. 115)
In the late 1880s missioners were complaining of the 'many evils' which the rapidly increasing working men's clubs seemed to foster. (fn. 116) Most clubs were for drinking and gambling and favoured a 'vague, unorganised Socialism'. (fn. 117) Two beer retailers applied in 1886 to build club rooms. (fn. 118) By the 1900s Oxford House was described as famous for its clubs and varied activities. (fn. 119)
Although contracted during both world wars, Oxford House's clubs flourished in the 1920s. By 1929 Oxford House had 200 members, University club 250, Repton club 150, and Webbe institute, partly supported by Berkhamsted and Chigwell schools, 275. Repton club had acquired premises in Devonshire Street just outside Bethnal Green and Repton Old Boys maintained a club at no. 16 Victoria Park Square, which also housed Eastbourne boys' club. Although the Excelsior had become a weekday cinema in 1921, the 150-member Oxford House Musical and Dramatic association continued to perform there on Sundays. A book and picture club, started in 1924 in co-operation with Bethnal Green public library, had 150 members. In 1924 a group of Cambridge graduates founded the Cambridge and Bethnal Green Jewish boys' club, which met in the former Blue Anchor in Chance Street. (fn. 120)
Bethnal Green men's institute was one of several established by the L.C.C. in 1920. Opened in Wolverley Street, by 1925 it had more than 900 members attending 50 classes for low fees in subjects ranging from art and photography to carpentry and metal work, a choir, an orchestra, a gymnastic club, and a dramatic society. (fn. 121) New premises opened at no. 229 Bethnal Green Road in 1928 (fn. 122) and there were 3,500 members by 1939. (fn. 123)
By 1912 Bethnal Green Progressive club was at nos. 137-41 Globe Road and the Metropolitan Working Men's club was at no. 265 Cambridge Road, where it remained until 1939. (fn. 124) New Century Working Men's club existed in Mansford Street by 1918 but had gone by 1927, when Cambridge Temperance club existed at nos. 461-3 Hackney Road. (fn. 125)
During the 1920s Oxford House increasingly turned to politics and social questions, opening a day nursery in 1921 and providing sports facilities for the unemployed. By the mid 1930s Oxford House was an important centre of social work and there were said to be only 15 clubs of any kind in Bethnal Green, (fn. 126) although 16 were listed in 1934. (fn. 127) Five were associated with Oxford House, three were established political clubs (the New Commonwealth, the Borough of Bethnal Green Working Men's, and Bethnal Green Progressive), two others established clubs (the Metropolitan Working Men's and the Cambridge and Bethnal Green Jewish boys'), and the rest new: the Cambridge and Bethnal Green Old Boys' in Chance Street, the Bethnal Green Trade and Labour at no. 291 Cambridge Road, the London Unemployed Association in Green Street, the United Workers' club and institute in Austin Street, and Dew Drop Inn for Education and Joy in Vallance Road. The Labour club at no. 18 Victoria Park Square had become a British Legion club. Shortly afterwards the British Union of Fascists opened a branch, (fn. 128) which claimed 4,000 members, (fn. 129) and there were also Young Communists. The attraction of the extremists led to a fall in membership of other clubs. (fn. 130) In 1938 the Cambridge and Bethnal Green Jewish boys' club, renamed the Cambridge and Bethnal Green boys' club, was reorganized to be interdenominational and played a part in dampening anti-Semitism. (fn. 131)
Most clubs contracted or closed during the Second World War and some, like Repton club, were bombed. The Webbe club moved into Oxford House which offered the vacated premises to the Cambridge and Bethnal Green boys' club. (fn. 132) Sir Oswald Mosley tried to revive Fascism in the late 1940s as the Union Movement, concentrating in the East End and holding meetings in Kerbela Street. In 1958 the East End branch of the National Labour party formed at a public house in Cheshire Street. It merged into the British National Party in 1960 with Cheshire Street and Brick Lane among its regular meeting places. When the National Front was formed by a further amalgamation in 1966, attention had shifted from Jews to more recent immigrants and during the 1970s, when a para-military group called Column 88 emerged, and again in the 1990s, there was active and often violent racism in Bethnal Green. (fn. 133)
Of the pre-war clubs, the North-East Labour Party opened at no. 349 Cambridge Heath Road and the Borough of Bethnal Green Working Men's club at its old premises. Several of Oxford House's clubs reopened, though with more emphasis on mixed clubs, local control, and community projects, including many for Asians. (fn. 134) Repton club, offering several sports besides dressmaking and art, (fn. 135) was voted in 1969 the top amateur boxing club in London. (fn. 136) The Cambridge and Bethnal Green club moved to Virginia Road school in 1945 where in 1955 it was renamed the New Cambridge boys' club as the trustees supported an existing club which became the Cambridge and Hackney Associated clubs. (fn. 137) New clubs included Pavilion Social in Vallance Road and Mann, Crossman & Paulin's in Cambridge Heath Road by 1959. (fn. 138) Bethnal Green institute survived as a major source for adult education for Bengalis. (fn. 139) By the 1980s and 1990s there were clubs associated with housing estates, for example Wellington and Hollybush, with the Bengali community, especially in the south-west, (fn. 140) and community centres for Globe Town in the former Oxford House club, Eastbourne House, St. Hilda's East in Club Row, St. Matthew's in Wood Close, and Wessex in Wessex Street. (fn. 141) The Bethnal Green Society was registered as a charity in 1961 to provide centres with recreational facilities. (fn. 142) In 1971 the clubs were evicted from University House, which itself closed in 1988. (fn. 143) Praxis, a movement mainly concerned with refugees and immigrants, opened in 1985 as a project of Robert Kemble Christian Institute in Pott Street. (fn. 144) The New Cambridge boys' club closed in 1989 as the school premises were needed for the expanding Bengali population, although it continued as a grant-making body for youth clubs. (fn. 145)
In 1292 London citizens defended their traditional right to hunt within the woods of the bishop in Stepney, in practice near Bishop's Hall, (fn. 146) and in 1561 their right to shoot with bows in the common fields of Stepney and Bethnal Green was reaffirmed. (fn. 147) There was a bowling alley at Kirby's Castle in the 1590s (fn. 148) and a bowling green in Wilmot Square by 1787. (fn. 149) Most sport was much rougher: whipping a cock on Shrove Tuesday in 1656, (fn. 150) dog-fighting, hunting ducks, for which the weavers bred a special small spaniel called a splasher, (fn. 151) and chasing bullocks. A subscription was raised to pay drovers on their way to Smithfield for a bullock which was maddened with prods and peas in its ears and driven through the most populated part of the parish. In 1816 the rector saved two bullocks which had taken refuge in the churchyard but Joseph Merceron, as magistrate, refused to stop the practice and declared that in his youth (c. 1780) he was first in the chase. (fn. 152) The chief amusements in 1861 were said to be dog fights, rat matches, and 'drawing the badger', (fn. 153) although few badgers could be found in the parish. Dog- and cockfighting in 1896 had been a recent feature of the bird fair. (fn. 154)
Gambling with cards and shuffleboard, especially on Sundays, were included in charges against disorderly alehouses in 1818. (fn. 155) Gambling at cards and skittles in beershops were the principal recreations around Virginia Row in 1875. (fn. 156) Among public houses which acquired skittle grounds were the Three Compasses in Sclater Street in 1870 (fn. 157) and the Black Bull in Thomas Street in 1877. (fn. 158)
Daniel Mendoza (d. 1836) the pugilist patronized by the Prince Regent, wrote his Art of Boxing (1789) from his home in Paradise Row (fn. 159) and later another boxer, Jim Smith, lived in Old Nichol and attended Nichol Street board school. (fn. 160) Boxing remained one of the most popular sports, disapproved of by evangelicals. In 1898 the letting of Mansford Street baths for boxing, footracing, and 'balls of a very low order' was the 'curse of the district'. (fn. 161) It was the High Church and Christian Socialist Anglicans like Jay of Holy Trinity and the heads of Oxford House that recognized the value of boxing facilities. (fn. 162)
Apart from a cricket club established in Victoria Park in 1846, and other groups associated with the park, (fn. 163) there were no sports clubs other than those connected with the church and university clubs until recent times. Victoria Park provided artificial lakes for swimming, replaced in 1936 by an open-air swimming pool. (fn. 164) A private company applied in 1899 to build swimming baths, called the Excelsior, at the corner of Mansford and Florida streets. (fn. 165) There was an application to build swimming baths in Columbia Market in 1895, (fn. 166) Russian vapour baths existed in Brick Lane during the First World War, (fn. 167) and a municipal swimming bath opened in York hall in 1929. (fn. 168) Bethnal Green swimming club was formed in 1962 with support from the M.B. (fn. 169) There was a roller-skating rink in Victoria Park in 1951. (fn. 170)
The parish was required to raise 12 men for the navy in 1795 and men for the militia in 1796. (fn. 171) The Bethnal Green volunteers were portrayed by Rowlandson in 1798 (fn. 172) and the parish joined with its neighbours in seeking relief from the burden of the militia in 1799. (fn. 173) A rate of 18d. in the £ to pay the volunteers was imposed in 1803 and details of the militia men were recorded in 1807. (fn. 174) In the late 1820s and early 1830s several Bethnal Green men served in the 1st and 2nd Royal Regiments of Tower Hamlets militia in place of people in Whitechapel. (fn. 175) In 1853 Henry Merceron leased no. 21 Victoria Park Square as a depot for the Queen's Own Light Infantry Regiment of Tower Hamlets militia. (fn. 176) Barracks had been built behind nos. 10-12 by 1870 (fn. 177) and were occupied by 1879 by the 2nd Tower Hamlets Engineer Volunteers, who in 1895 built a drill hall to the south, adjoining University House. (fn. 178) The Volunteers, called the East London Royal Engineers by 1902 and the 1st Division London Division Royal Engineers by 1912, occupied the premises until 1939. (fn. 179)
In 1834 penny plays exhibited opposite Hart's Lane tended to 'demoralize the lower order'. (fn. 180) Inhabitants in 1851 included a theatrical performer (Frederick Middleton, in Old Castle Street) and a comedian (William Jones, in Willow Walk). (fn. 181) One of the earliest alehouses licensed for music and dancing was the Falcon in Victoria Park Square which in 1839, under the direction of T. Wilson of the Pavilion theatre in Whitechapel Road, announced the opening of a concert room with a succession of singers and a weekly change of varieties. (fn. 182) The Salmon and Ball received its licence in 1840 (fn. 183) and seven other alehouses in 1841. (fn. 184) In 1861 concerts, mostly of street 'nigger' singing, held in rooms over the bars, were among the chief amusements. (fn. 185) By 1870 31 public houses were licensed for music and dancing. (fn. 186) They included the Northampton Arms in Northampton Street (1849-89), with a hall for 100 people on the ground floor, the Red Cross at no. 25 Hare Street (1849-71), which opened the Apollo music hall accommodating 600, the Duke of Wellington at no. 52 Cyprus Street (1854-91), the Victoria at no. 21 Morpeth Road (1854-90), and the Black Dog at no. 101 Bethnal Green Road (1856-90), each with a concert room on the first floor. The Hare at no. 505 Cambridge Road (1858-89) contained a hall for 120 which was used as a music hall twice a week and at other times for billiards. Plays were performed at the Peacock at no. 325 Cambridge Road (1859-83) and weekly concerts on the first floor of the Earl of Ellesmere at no. 19 Chisenhale Road (1866-90). The Royal Victor at no. 234 Old Ford Road (1867-87 and 1891- 1903) had a hall, reconstructed in 1890 for 300, which served as a music hall. The 18th-century Artichoke in Cambridge Road was licensed from 1856 and altered by 1875 into the Foresters' (or Royal Foresters') music hall. In 1893 it was reconstructed to hold 3,000 and had a stage said to be one of the finest in London, (fn. 187) where such artists as Dan Leno and Little Tich played before boisterous audiences on Monday, the costermongers' day-off. (fn. 188) The Sebright Arms north of Hackney Road was licensed from 1865, reconstructed for 704 in 1885, (fn. 189) and altered in 1918. (fn. 190) Called variously Sebright's Palace of Varieties, Belmont music hall, and Regent's theatre, (fn. 191) it opened twice nightly as a music hall and hosted one of Marie Lloyd's earliest appearances. (fn. 192)
The cinema made a sudden impact shortly before the First World War, with conversions of buildings, including music halls, and purpose-built 'picture theatres' or 'palaces'. The Foresters' music hall at no. 93 Cambridge Road became a cinema in 1910, was renamed the New Lyric in 1916, closed in 1917, reopened as the Foresters in 1925, closed in 1949, and reopened in 1949. It seated 1,000 when finally closed in 1960, whereupon the site was redeveloped. (fn. 193) Applications were made in 1910 and 1911 to convert Adelphi chapel at no. 354 Hackney Road into a cinema, which was named Hackney Grand Central (fn. 194) and lasted into the 1930s. (fn. 195)
An application to build a cinema in Cambridge Road was made in 1910 (fn. 196) and again, by Bethnal Green Cinema Co., in 1913. (fn. 197) Called the Museum cinema after the nearby Bethnal Green Museum, (fn. 198) it was reconstructed for 802 people by Leslie H. Kemp in 1931, renamed the Odeon in 1950, closed in 1956, and replaced by Mayfield House. (fn. 199) A building belonging to Charles Spencer & Co. at no. 186 Grove Road was adapted in 1912 as cinema. (fn. 200) When enlarged in 1913 it belonged to Victoria Park Picture Theatre Co., (fn. 201) which ran it in 1934, together with a cinema at nos. 62-6 Green Street (Roman Road). (fn. 202) It closed during the war. (fn. 203) The Green Street cinema, the Empire Picturedrome, had also opened in 1912, (fn. 204) was altered in 1926 (fn. 205) and seated 650. It closed in 1959 when the site was redeveloped. (fn. 206)
Smart's Picture Palace was built at nos. 281-5 Bethnal Green Road in 1912 (fn. 207) and altered in 1920. (fn. 208) It was run in 1927 by Attractive Cinema (Bethnal Green) (fn. 209) and reconstructed by George Coles as the Rex, seating 865, after 1934. It was renamed the Essoldo in 1949 and closed in 1964, becoming a bingo club and later a warehouse. (fn. 210) Sebright's music hall at no. 28 Coate Street had been converted to a cinema by 1914. (fn. 211) It closed between 1927 and 1934 and flats were built on the site. (fn. 212) The Excelsior hall in Mansford Street was converted by Emden & Egan to a cinema in 1921. (fn. 213) After minor changes by Frank Matcham & Co. in 1926, it accommodated 800 people for weekday 'trade performances' in 1929. It was remodelled by Maple of London in 1939 and seated 661 when it closed in 1961. Asian films were shown there until it was demolished for a housing estate in 1969. (fn. 214)
Newspapers (fn. 215) printed just outside the borough were the East London Advertiser, the East London Handbook and Diary, and the Eastern Post in Mile End Road and the East London Observer in Whitechapel Road. Two were published in Bethnal Green. The Bethnal Green Times was founded in 1860 and renamed the Eastern Argus in 1882. It was a weekly owned in the 1900s by Seth Carlo, who printed it at no. 519 Cambridge Road. Vaguely Conservative and largely financed by advertising publicans, (fn. 216) it ceased publication between 1913 and 1917. (fn. 217) The North Eastern Leader was owned and edited by J. Forsaith, another local printer, member of the board of guardians and friend of the Liberal M.P., G. Howell. (fn. 218) The East London Advertiser moved from Mile End Road to no. 3 Paradise Row in 1978/9 and was still there in 1990.
A Yiddish paper connected to the Association of Jewish Socialists based in Whitechapel, Arbeter Fraint, was printed in Chance Street, Bethnal Green, in the 1890s and again for a few years after a gap in 1900-2. (fn. 219) Baruch Weinburg, a local printer, founded a Yiddish daily paper, The Jewish Times, printed first at his business in Bethnal Green Road and from 1915 at no. 175 and from 1937 at no. 73 Brick Lane. (fn. 220)