Pages 155-168
A History of the County of Middlesex: Volume 11, Stepney, Bethnal Green. Originally published by Victoria County History, London, 1998.
This free content was digitised by double rekeying. All rights reserved.
ESTATES
DEMESNE ESTATES.
Bethnal Green lay wholly within Stepney manor. (fn. 1) In 1652 a parliamentary survey was made of the demesne lands, mostly within Bethnal Green, sequestrated from the royalist earl of Cleveland. (fn. 2) Trustees appointed by Act for the sale of forfeited estates, who included William Robinson, conveyed in 1653 the former manor house, Bishop's or Bonner's Hall, and 93 a. surrounding it between the Hackney border and Old Ford Lane, (fn. 3) to Mary, widow of Gen. or Adm. Richard Deane. (fn. 4) In 1654 she sold the estate to Robinson, a parliamentary major and former colleague of her husband. (fn. 5) Cleveland's daughter-in-law Philadelphia, Lady Wentworth, and her trustees later plausibly maintained that the conveyance of 1653 was only in trust for Robinson, who had induced Sir William Smyth and other mortgagees to assign the mortgage under threat. (fn. 6) In 1660 Robinson conveyed the estate to Samuel and Ellis Crisp, relatives of his wife, whose father Sir Nicholas Crisp had fought as a royalist under Cleveland. (fn. 7) The Wentworth estates were heavily encumbered and attempts by the earl and Lady Wentworth to recover them were accordingly inhibited. Mary Deane and Robinson contracted to pay off the debt on their portion and Lady Wentworth settled with Robinson's widow in 1672. (fn. 8) An attempt by a 'great creditor' of the earl of Cleveland on the Robinson title in 1677 (fn. 9) failed and Bishop's Hall remained with Robinson's descendants.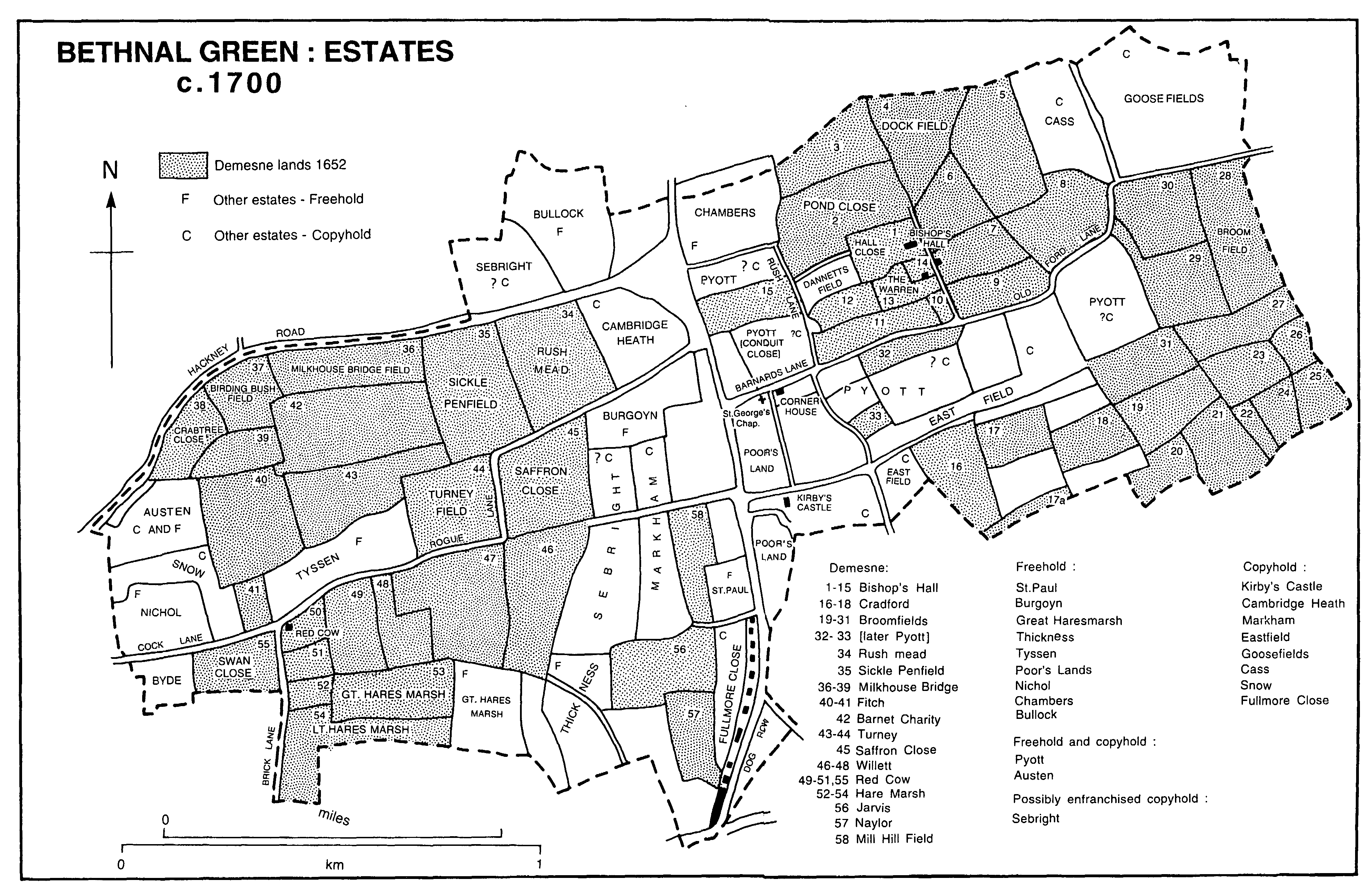 By will proved 1667 Robinson left all his estates to his widow with remainder to their daughter Ann, except Bishop's Hall and 17 a. adjoining to the south, then leased to John Bumpstead for £30 a year, which were to be settled in trust for 'poor godly persons for ever'. (fn. 10) The trustees of what Robinson's widow described as a private charity allowed her to distribute the money, (fn. 11) as may have been done by her successors, who seem to have treated the site of the house as their own until well into the 18th century. (fn. 12) Trustees for Robinson's charity were appointed in 1711, however (fn. 13) and in 1842 they conveyed Bonner's Hall and Fields, 17 a., to the Commissioners of Woods to form part of Victoria Park. (fn. 14)
William Robinson's widow Ann married Francis Howell (d. 1680) c. 1670 and died in 1700. (fn. 15) In 1674 her daughter Ann (d. 1727) married James Sotheby (d. 1720), son of James Sotheby (d. 1685) of Hackney. In 1686 the younger James bought Dannetts field, 6 a. west of the former mansion house. Dannetts had been conveyed to trustees by Lord Wentworth in the 1630s, possibly in another mortgage, and sold to John Byde in 1642 and to Thomas Hodgkins by Sir Thomas Byde in 1668. James and Ann Sotheby succeeded to Bishop's Hall in 1700 and the estate descended in the Sothebys of Sewardstone (Essex) through Ann's sons James (d.s.p. 1742) and William (d. 1766), to William's son and namesake (d. 1833), the younger William's son Adm. Charles (d. 1854), and his sons Charles William Hamilton (d.s.p. 1887) and Frederick Edward (d.s.p. 1909). (fn. 16) The eastern 10 a. portion of Pyotts were added in 1753. (fn. 17) Parts were sold for canals in 1814 and c. 1830 (fn. 18) and more was sold to form the bulk of Victoria Park. (fn. 19) A branch of the Sothebys, descended from the second son of William (d. 1766), retained some freehold in 1925. (fn. 20)
Most of the remaining demesne lands were sold in parcels between 1653 and 1660. The Wentworths later confirmed the sale of their right to the freehold and most sales were finally settled in 1669-72. (fn. 21)
Some 16 a. between Mile End and what became Green Street (Roman Road) and 4½ a. next to Old Ford Lane and Back Lane (fn. 22) were sold to 'Lady Windham'. (fn. 23) The sale, not recorded among those made in the 1650s, was most probably to Barbara, wife of Sir Wadham Wyndham (d. 1668), justice of the King's Bench. (fn. 24) There seem to have been field boundary changes, probably as part of the final inclosure of Eastfield and involving exchanges with Pyotts and Eastfields estates. (fn. 25) By 1703 c. 22 a. south of what became Green Street were called Cradfords (fn. 26) and later Kings Field and Barwells after the occupiers of 1703. (fn. 27) The estate was apparently owned by John Gretton and his wife Sarah in 1768 when they granted a rent charge from it to Thomas W. Morgan and his daughter Elizabeth Mary. (fn. 28) The annuity was included in Elizabeth Mary's grant in 1813 (fn. 29) and remained with her trust until it was sold to the L.C.C. c. 1900. (fn. 30) The Gretton family retained the freehold and during the 1830s William Walter Gretton was associated with John Butler of Grove House in developing the western part of the estate. (fn. 31) In 1840 Butler's son Charles Salisbury Butler of Upper Clapton (Hackney) apparently purchased the whole estate. (fn. 32) As the building plans collapsed, a private company sought to buy the undeveloped eastern portion in 1845 for a cemetery, although Butler resumed the freehold in 1853 when the company defaulted. In 1891 his son the Revd. John Banks Meek Butler of Sussex conveyed 11½ a. (Victoria Park cemetery) for the Metropolitan Public Gardens Association. (fn. 33)
BROOMFIELDS, (fn. 34) in the south-east corner of Bethnal Green, possibly incorporated closes known in the 14th century as Combfield and Newland but was mentioned by name c. 1439. (fn. 35) Described in 1538 as three closes containing 92 a. of arable and pasture, (fn. 36) it was mortgaged with the rest of Stepney manor for 99 years in 1632. In 1669 Philadelphia, Lady Wentworth, Sir William Smyth, and other trustees assigned the residue of the lease and sold the fee simple of Broomfields, then 82 a., to Arnold Browne, a Stepney mariner, who assigned it in 1676 to trustees for Sir Nathaniel Herne, alderman of London. (fn. 37) By will proved 1679 Sir Nathaniel left the estate to his eldest son Frederick, (fn. 38) who by will proved 1695 left it to his son Nathaniel, a minor. (fn. 39) Frederick's executors leased out Broomfields, by then 79 a. in 12 closes, in 1701 (fn. 40) although Lady Herne, presumably Sir Nathaniel's widow, was considered the owner in 1694 and 1703. (fn. 41) The younger Nathaniel apparently died young and the estate passed, on the marriage in 1705 of his sister Judith to William Villiers, to the earls of Jersey. (fn. 42) In 1789 Judith's grandson George Bussy Villiers, earl of Jersey (d. 1805), sold the estate, then 78 a., to Thomas, later Sir Thomas, Coxhead, (fn. 43) who by will proved 1811 left all his estates, consisting of 17 houses and c. 100 a. in Bethnal Green and Mile End Old Town, to Thomas Coxhead Marsh, natural son of Sarah Marsh (and presumably of Coxhead). The estate passed in 1847 to T.C. Marsh's brother William Coxhead Marsh and William's son Thomas Coxhead Chisenhale Marsh. (fn. 44) In 1851 William had 55 a., after surrenders for the canals and Victoria Park in the 1830s and 1840s. (fn. 45) From 1857 William and Thomas sold building land to the Revd. George Driffield and others (fn. 46) and in 1874 Thomas was considering selling land for a gasworks. (fn. 47)
RUSH MEAD, 15 a. between Hackney Road and Old Bethnal Green Road, (fn. 48) formed part of demesne lands sold by Lord Cleveland to James Ravenscroft in 1640 (fn. 49) and which Sir William Smyth claimed had been sold to him by Ravenscroft in 1643. In 1652 Smyth sold the 99-year mortgage term and the reversion he acquired in 1651 to Florentine Tainturier of Blackfriars, a tailor, and his daughter Mary, who also acquired the equity of redemption in 1654. (fn. 50) By 1703 it was called Cuthberd's and owned by Ossery, (fn. 51) who had been assessed for 'Cuthberds' in 1694 (fn. 52) and was probably John Ossery, oilman of Holborn, a freeholder in 1697. (fn. 53) By will proved 1732 Elizabeth Sheldon left Rush Mead to her son Cuthbert Sheldon, whose daughter Elizabeth married James Durham, guardsman, in 1779. They granted building leases from 1792 (fn. 54) and Col. Durham was apparently the owner in 1831, (fn. 55) although the Sheffield family possessed at least part of the estate in 1876. (fn. 56)
One of the earl of Cleveland's creditors, Edmund Denton, William Smyth's brother-in-law, was assigned the equity of SICKLE PENFIELD and Six Acre Close, (fn. 57) together 13 a. west of Rush Mead, by the parliamentary trustees in 1653. (fn. 58) He conveyed it to John Smyth, William's brother, who sold it to Richard Knight of St. Giles without Cripplegate, armourer, in 1654. (fn. 59) The field was marked as Willett's land in 1679 (fn. 60) but as Knight's land in 1703. Richard Knight's grandson Peter Knight, of Essex, took out several mortgages between 1711 and 1717 with Samuel Payne, gentleman, of Shoreditch, and Edward Carnell, sadler of London. Carnell's father occupied the estate, (fn. 61) from c. 1751 to c. 1794 called Carnell's land, (fn. 62) and Samuel Carnell was making leases there in 1795. (fn. 63)
MILKHOUSE BRIDGE and Birding Bush fields and Crabtree and Three Acre closes formed a 27-a. estate in the north-west. (fn. 64) A 99-year lease was assigned in 1651 by Thomas Dunstervile, haberdasher, to Edward Trussell and in 1654 by Trussell to Humphrey Blake. (fn. 65) In 1680 Blake's children Robert and Ann, wife of Christopher Todd, sold the lease to James Smithsby, woollen draper of Westminster, who bought the freehold from the Wentworths in 1681. Smithsby was soon succeeded by his daughters Margaret, wife of Sir Francis Head, and Ann, wife of Sir Hans Hamilton, Bt., whose portion, the easternmost, was in 1703 'Hambletons land'. (fn. 66) Ann's daughter Ann (d. 1771), wife of James Campbell, left her moiety to Margaret's descendants. Margaret (d. 1732) was succeeded by her son Sir John Head (d. 1769), whose moiety passed to his widow Jane and then to the daughters of his sister Ann Egerton, Charlotte (d. 1770), wife of William Hammond, and Jemima, wife of Edward Brydges, who inherited Ann Campbell's portion. Some 6½ a. were sold to John Allport in 1789 but most of the estate was still held in fractions by members of the Hammond and Brydges families in 1848, when they gave the site for St. Thomas's church in Nova Scotia Gardens. (fn. 67)
Some 15-16 a. on the Shoreditch borders, (fn. 68) later divided by Virginia Row, were among lands sold by Cleveland to Ravenscroft in 1640 and by him to Sir William Smyth in 1643. (fn. 69) They were sold with other lands to Thomas Willett in 1653 (fn. 70) and were still Willett's in 1669 (fn. 71) but probably lost after 1672 when his widow had to raise portions for his children. (fn. 72) By 1694 Ann, widow of Sir Thomas Fytche, Bt., held at least part, (fn. 73) presumably the fields south of Virginia Row described as 'Lady FITCH'S land' in 1703. (fn. 74) Her son Sir Comport Fytche, Bt. (d. 1720), was listed as a freeholder in Bethnal Green from 1709 to 1719. (fn. 75) From 1723 to 1734 building leases, mostly for Virginia Row, were made by Richard Ordway, draper of London, and Thomas Coates, farmer of Bethnal Green. (fn. 76) William Gascoigne (or Gascoyne), probably son of the mapmaker, was the owner by 1780. (fn. 77) He left all his freeholds in Bethnal Green by will proved 1793 to provide for the education of his children and pass after his wife's death to his son William. (fn. 78) Harriet, née Gascoigne, wife of Thomas Smith Child was the owner in 1852. (fn. 79)
Among the lands bought by Ravenscroft in 1640 was a 14-a. field south of Milkhouse Bridge field, (fn. 80) which he conveyed to two charities in his native Chipping or High Barnet (Herts.) in 1679, when himself living in High Holborn. (fn. 81) Subsequently known as BARNET CHARITY estates, most of the field, 10¾ a. south-east of Birdcage Walk, was given to support Jesus Hospital, while the other 3¼ a. were to maintain the church and the tombs of Ravenscroft's parents (the Chancel charity). The charities retained the estates until the 20th century. Part of the portion belonging to Jesus Hospital was compulsorily purchased by the L.C.C. and the rest was sold in 1980. (fn. 82)
TURNEY or Comonfield was one of two closes, (fn. 83) 21 a. in all, south-east of Ravenscroft's, which by 1679 was held by Patient Ward (fn. 84) and in 1687 by John Ward, merchant of London. (fn. 85) Called Wards land in 1703, (fn. 86) it remained with the Warde family of Squerryes Court, Westerham (Kent), until 1920 when John Roberts O'Brien Warde sold it to William Parrish (d. 1925). (fn. 87)
To the east lay SAFFRON CLOSE, 12 a. bounded on two sides by Rogue Lane, (fn. 88) which William Smyth and others sold in 1655 to Isaac Joyce (d. 1676), clothworker of London. (fn. 89) In 1694 and 1703 it was owned by Mr. Bailey (presumably Arthur Bailey of Mile End Green, a Virginia merchant) and occupied by Hemmons or Hemonds. (fn. 90) It descended to Arthur's daughter Katharine (d. 1727) who in 1713 married Thomas Heath (d. 1741), East India merchant, and to her eldest son Bailey Heath (d. 1760). All the Heath estates were sold under a lunacy order in 1772. Philip James May purchased Saffron Close on behalf of David Wilmot, who sold parts for building. (fn. 91) Most of the estate was held in 1843 by Samuel Mills and on the death of John Remington Mills in 1865 was divided between his daughters, Florence Sophia and Marion Jane, later wife of Maj. George Malcolm Fox (d. 1918). The Fox family retained the freehold in 1955. (fn. 92)
A block of c. 36 a. south and west of Saffron Close (fn. 93) was among land sold by Smyth to Thomas Willett of London in 1653. (fn. 94) After Willett's death c. 1672 the estate, by 1703 called Willett's (fn. 95) land, passed to his widow Martha (d. 1713) and to their surviving child Martha (d. c. 1716), widow of Richard Wightwick, merchant of London. (fn. 96) Martha's son Thomas Wightwick (fn. 97) was succeeded in 1722 by his sister Martha and her husband Charles White of the Inner Temple, who paid off a mortgage of 1713. (fn. 98) By Charles's will, proved 1754, the estate was left to his brother William, with remainder in tail male. A younger Charles, son of the testator's younger brother Thomas, bought out his cousins' interests in 1771 and his grandson John was in possession in 1823. (fn. 99) Some building had taken place by 1703 (fn. 100) and Charles White negotiated 99-year building leases in 1789. (fn. 101)
Some 18½ a. south of Bethnal Green Road, on either side of Brick Lane and centred on the RED COW or Milkhouse, (fn. 102) were described by 1703 as Slaughter's Land. (fn. 103) Thomas Sclater or Slaughter of Gray's Inn and later of Catley (Cambs.) in 1711 offered Harefield or Crossfield, the land east of Brick Lane, as a site for a church (fn. 104) and in 1716 leased a plot next to Club Row, part of Swanfield, the land west of Brick Lane. (fn. 105) Negotiations for the church site collapsed because of 'some defect' in the title, (fn. 106) but Thomas (d. 1736), who adopted his wife's surname Bacon, continued in possession. He left his estates to Sarah (d. c. 1738), wife of his coachman Edward King and his putative mistress, with remainder to her sons Robert (d. 1749) and Thomas Sclater King (d. 1777). (fn. 107) In 1770 the estate was settled in trust on the marriage of T.S. King's daughter Elizabeth (d. 1778) to Henry Busby of Hanover Square, (fn. 108) the profits to provide an annuity for Martha King and the rest to be divided between T. S. King and Busby. (fn. 109) Busby (d. 1792) having left one third of the estate to his son Edward Sclater Busby and the rest to his four daughters as tenants in common, an Act of 1809 divided the estate into five. (fn. 110) It was further fragmented when the portion of one daughter, Margaret, wife of Edward Augustus Butcher, was divided among their six children in accordance with his will, proved 1838. (fn. 111)
Most of HARE MARSH in the south-west, in 1652 19 a. in three closes east of Brick Lane, (fn. 112) was acquired by Sir William Smyth in 1643. (fn. 113) In 1653 he sold it to Ansell Carter (d. 1661), (fn. 114) a London grocer, who left it to his sons George, who died shortly after his father, (fn. 115) and John, also grocers. John (d. 1687) administered one moiety for his brother's children and left the united estate to George's surviving son George, gentleman of Hackney, the holder in 1704. (fn. 116) Elizabeth Carter of Hackney, presumably George's daughter, made building leases from 1721 to 1745 (fn. 117) and in 1740 sold the southernmost portion, south of Carter's Rents, to Joseph Cooper, glazier of London. (fn. 118) The rest, 18½ a. south of Hare Street, passed c. 1752 under her will to Charles Petley of Kent. (fn. 119) Charles Robert Carter Petley still owned what was called the Petley estate in 1887. (fn. 120)
Some 9 a. in two closes (fn. 121) abutting Markhams and Colemans copyhold were sold by Smyth and others to David Murray of St. Clement's, Middlesex, and his daughter Temperance in 1653 (fn. 122) and in 1657 by Temperance, wife of Edmund Phillips, and her siblings to trustees for Mary Brett with remainder to William Lowe. (fn. 123) William died in or before 1681 (fn. 124) and in 1703 the estate was called JARVIS'S land. (fn. 125) It passed to Lydia Jarvis (d.s.p. 1751), who married Peter Mews in 1719 and left property in Hampshire to Jarvis Clerke, son of her sister Agnes, whence it passed in 1778 to George Ivison Tapps, descendant of her sister Elizabeth. (fn. 126) The Bethnal Green property, however, may have been left to Elizabeth's family in 1751, when it was described as 'Tapp's land'. (fn. 127) It was owned in 1812 by George Ivison Tapps of Hinton House (Hants), created a baronet in 1791, (fn. 128) whose son Sir George William Tapps Gervis, Bt., leased it to developers in the 1840s. (fn. 129)
A 4-a. close on the borders with Mile End, occupied in 1652 by Jeremy Chalker, (fn. 130) and 2 a. of Mill Hill field farther north, fronting the Cambridge Road, (fn. 131) were both sold in 1654 to Laurence Chalker, a local cowkeeper. (fn. 132) Chalker sold Mill Hill field in 1654 to Thomas Coling (Coleing), (fn. 133) tenant in 1652 of a house in Dog Row, (fn. 134) and it later became Penn's nursery. (fn. 135) Chalker was in possession of the southern close in 1672 (fn. 136) but by 1694 it was held by Thomas Blackett (d. 1701) who left it to his widow until his son Thomas was of age. Joshua NAYLOR, a London cheesmonger, whom Blackett's widow married within the year, gave his name to the estate which was occupied by Henry Collier in 1703. The younger Thomas Blackett and his sister, still minors, accused Naylor of defrauding them in 1704 (fn. 137) but Blackett had apparently regained the estate by 1727. (fn. 138) For most of the 18th century it formed the core of the farm held by the Farmer family, possibly as lessees. (fn. 139)
OTHER ESTATES.
The estate belonging to the dean and chapter of ST. PAUL'S, (fn. 140) deriving from the fee of Brice of Shadwell, consisted in 1649 (fn. 141) of a close of 4½ a. west of the green, abutting south on a common way from the green to meadow, which was leased in 1638 to the dean's sister. Earlier the southern abutment was described as a lane from the green to Conduit close. (fn. 142) Another 5-a. close, occupied by Thomas Hart, lay to the west of demesne land in 1641. (fn. 143) One close was 'Bowes land', in 1703 west of Cambridge Road and north of what became Three Colts Lane. (fn. 144) Paul Bowes of the Middle Temple was among those interested in preserving the green in 1678. (fn. 145) In 1707 Martin Bowes conveyed copyhold land (also called Bowes Land in 1703) (fn. 146) in Old Ford Road to Charles Boon, which descended in the Boon family until 1765 or later. (fn. 147) The dean leased the close in Cambridge Road to Stephen Boon for life in 1775 and to Stephen's son Thomas, surgeon of Sunbury, in 1803. (fn. 148) Building began soon afterwards, since by 1809 the estate abutted on Parliament and Abingdon streets. It was apparently auctioned c. 1822. (fn. 149) The second close probably lay to the north, adjoining the first or beyond, next to Stainers land, (fn. 150) but it may have been east of the green, in the area south of Old Ford Lane.
The 8½ a. west of Cambridge Road and south of Old Bethnal Green Road, part of the lands of St. Mary without Bishopsgate, was granted after the Dissolution to Sir Ralph Warren as part of BURGOYNS (Burganes), (fn. 151) a freehold estate centred in Shoreditch and named after Thomas Burgoyn, who held most of it, although not the Bethnal Green part, in 1472. Sir John Lee held it by 1652 and Thomas Lee and his son Baptist by 1717. (fn. 152) Baptist Lee (d. 1768) of Suffolk leased the Bethnal Green portion in 1758 (fn. 153) and left the estate in trust for his niece's widower Nathaniel Acton (d. 1795) with remainder to Nathaniel's son Nathaniel Lee Acton (d. 1836). N. L. Acton was succeeded by his sisters Caroline (d.s.p. by 1838) and Harriot, wife of Sir William Middleton, Bt. In 1838 Harriot and her son Sir William Fowle Fowle Middleton, Bt., broke the entail and in 1842 sold 3½ a. to the bishop of London and William Cotton for the site of St. Jude's church. (fn. 154) In 1845 and 1858 Sir William (d. 1860) leased out the rest of the estate, previously a nursery, for building. (fn. 155)
The 12-a. portion of Haresmarsh east of that belonging to the demesne, sometimes called GREAT HARESMARSH, had belonged to St. Helen's Bishopsgate and was granted in 1545 to John Pope, whose successor was said to hold it of the Crown in free socage. (fn. 156) Following litigation in 1646, it was held in 1652 by John and Susan Godowne, (fn. 157) who initiated further litigation to eject the other party, the Richardsons, who still held the deeds. Sir John Clarke of Twickenham acquired the estate from Humphrey Turkey and Walter Carnaby and his wife Mary, possibly trustees, in 1664. (fn. 158) Sir John Clarke was in possession in 1694 (fn. 159) of what by 1703 was 'Clarks Land', divided into a western garden and an eastern field. (fn. 160) Clarke (d. 1712) left the estate to his niece Judith, wife of Arthur Foresight, a London apothecary. (fn. 161) By 1745 it was in the hands of Sir Philip Hall, (fn. 162) who sold it in 1761 to Peter Bigot of Essex. (fn. 163) James Goden Bigot sold it in 1794 to Michael Pope of Finsbury Square, (fn. 164) whose descendants held it in 1842. (fn. 165)
Some 6 a., part of 30 a. of mainly demesne land south of Rogue Lane, was from the mid 17th century and possibly earlier held by the THICKNESS family, which had held property in Whitechapel since the 1580s. (fn. 166) The Bethnal Green estate was freehold (fn. 167) and in 1703 formed 9½ a. in two fields, (fn. 168) later described as 'near the ducking pond'. Ralph Thickness (d. 1718) was succeeded by five daughters (fn. 169) and between 1755 and 1775 the estate passed to Samuel Scott, a brick merchant who leased other land nearby. (fn. 170) A Samuel Scott was listed as the holder in 1821- 2 and 1835 (fn. 171) and A. J. Scott in the 1880s. (fn. 172)
In 1652 John Stint (d. 1660) possessed an estate bounded south by the later Church Street or Bethnal Green Road and on the other sides by demesne land, later Fitches and Turneys. (fn. 173) It derived from a 12-a. freehold close in the Hyde which Thomas Wyndham's wife Elizabeth inherited from her cousin Robert Weston, a London mercer, and which the Wyndhams sold in 1529 to Thomas Armorer, (fn. 174) who held it in 1550. (fn. 175) By 1657 it had been divided into two fields with different lessees, one of them Robert Satchwell. (fn. 176) In 1709 the whole estate, presumably freehold, was in the hands of the TYSSEN family (fn. 177) from whom the Satchwells leased part in the 1760s. (fn. 178) The family was an offshoot of the Tyssens of Hackney, the Bethnal Green estate (fn. 179) passing from Francis Tyssen of Shacklewell (d. 1710) (fn. 180) to his fifth son Samuel (d. 1748) and to Samuel's widow Sarah (d. 1778) and their son William (d. 1788), then to William's widow Mary and their daughter Sarah and her husband John Tyrell (from 1809 Sir John Tyrell, Bt.). (fn. 181) From their son Sir John Tyssen Tyrell (d. 1877) it passed to trustees for John Lionel Tufnell, son of their daughter Eliza Isabella, who assumed the name Tyrell. (fn. 182)
In 1678 Thomas Rider and others bought 11½ a. of waste, later called the POOR'S LANDS, (fn. 183) mostly east of Cambridge Road, to prevent building and relieve the poor. The waste was inclosed into three closes, treated as freehold, which were leased out and the rents applied in charity. Trustees were appointed in 1689 but because of delay in enrolling the deed the process was repeated in 1690, usually quoted as the foundation date. They sold plots for St. John's church in 1825 (fn. 184) and Vicarage in 1849, and for Bethnal Green Museum in 1868. Plans in the 1880s to erect municipal buildings on the Poor's Land were defeated. (fn. 185) Under a Scheme of 1891, 2½ a. north of St. John's and 6½ a. south of Roman Road were conveyed to the L.C.C. for public gardens, which were opened in 1895. (fn. 186) In 1892 a small strip was sold to the Warburton trustees who ran the asylum bordering the Poor's Land, of which they had long been lessees.
The freehold NICHOL (Nicoll or Nicholl) estate, a compact 5 a. bounded west and south by Cock Lane (later Boundary Street and Bethnal Green Road respectively), was possibly the barn, garden, and 3 a. held by the hospital of St. Mary without Bishopsgate in 1538. (fn. 187) It took its name from John Nichol of Gray's Inn who leased, or possibly mortgaged, it for 180 years to Jon Richardson in 1680. (fn. 188) In 1725 his son John Nichol of Hendon sold the estate, which he called Nichol Street, to his wealthy cousin (fn. 189) John Nichol the elder (d. 1731) (fn. 190) of Colney Hatch. It passed through that John's son and namesake (d. 1747) (fn. 191) to the younger John's only child Margaret, who in 1753 married James Brydges, later duke of Chandos (d. 1789). (fn. 192) The estate descended with the rest of the Chandos lands (fn. 193) until 1827 when, crowded with 237 houses, it was put up for sale. (fn. 194) The Chandos estate still owned c. 50 houses in 1836 (fn. 195) and Mary, Baroness Kinloss, who succeeded in 1889, was still one of the principal landowners when the whole area was purchased by the L.C.C. for the Boundary Street scheme of 1900. (fn. 196)
Two freehold estates at the northern end of Bethnal Green, east and west respectively of Cambridge Heath, may have derived from Cobhams (Rumbolds) manor. (fn. 197) In 1688 George Hockenhill paid 2s. 8d. rent for a freehold estate 'sometime Jones's', which by 1689 was held by Mr. Chambers, a scrivener in Lombard Street. (fn. 198) Chambers was the owner in 1694 and in 1703 when CHAMBERS'S land, occupied by William Hawkins, was 8 a. in two closes between Cambridge Heath and Bishop's Hall estate. (fn. 199) From John Chambers, a London draper, the estate descended by c. 1711 to his daughter Mary and her husband John Dorrill and to their son John Chambers Dorrill, who conveyed it in trust in 1795 for Michael Pope of Finsbury Square (d. by 1808). (fn. 200) Ownership was fragmented after the death of Pope's son Michael before 1848 but had been reunited in the hands of Maria Pope of Kensington Gardens by 1896. (fn. 201)
In 1694 Thomas Ivery was assessed for BULLOCK'S land, identifiable in 1703 as 12½ a. in two closes west of Cambridge Heath. (fn. 202) From 1747 to 1835 the estate was said to be freehold, held for 10s. by Thomas Plumer Byde. (fn. 203) The Pritchard family, rated for nearby property from the mid 18th century (fn. 204) and for Bullock's land, then called Clay Pitfield, in 1794 (fn. 205) and probably in 1778, (fn. 206) may have originally been lessees but were presumably the owners for most of the 19th century. Successive Andrew Pritchards held the land, (fn. 207) and issued 99-year leases from the 1850s, until Clive Fleetwood Pritchard, eldest son of Andrew (fl. 1889) sold part or all of the estate to Bethnal Green M.B. in 1902-4. (fn. 208)
An estate, (fn. 209) mostly treated as copyhold but sometimes as freehold, (fn. 210) may have been a mixture of both; (fn. 211) from c. 1643 to 1775 it was held for £1 4s. or £1 4s. 1d. quitrent. (fn. 212) Part at least originated in a customary estate held in 1404 by John Reyson (d. 1421). (fn. 213) In 1538 the royal favourite Anthony Denny (d. 1549) of the Privy Chamber held a house and lands which he conveyed in 1544 to Sir Ralph Warren (d. 1553), (fn. 214) lord mayor of London, who acquired Burgoyns and was leased St. George's chapel for 99 years from 1547. (fn. 215) Successive holders were Sir Ralph's widow, his son Sir Richard (d. 1597) from 1572, and his grandsons, sons of his daughter Joan (d. 1586), wife of Sir Henry Cromwell. In 1601 they sold the estate, first described in full, to Richard Pyott (d. 1620), a London grocer and alderman. Thereafter commonly called PYOTTS, it consisted of a house at Bethnal green, 6 a. in two parcels nearby, 4½ a. at Cambridge Heath, Conduit close (7 a.), ¾ a. and 10 a. in parcels next Old Ford Lane, and 4 a. 'towards the spitle'. (fn. 216) Richard left the estate to his younger son William (d. 1643), (fn. 217) who by will proved 1645 left his copyholds in Bethnal Green to his wife Jane, with remainder to his brother John, (fn. 218) but in 1648-9 they were disputed between Jane and her second husband, John Christmas, and William's elder brother Richard, who claimed the remainder for his son William. (fn. 219) John Pyott (d. 1689), probably the son of the elder William's brother John, paid the quitrent in 1688 (fn. 220) and in 1703 'Piots land' consisted of 38 a. east of Cambridge Road in blocks near Cambridge Heath and south of Old Ford Lane. (fn. 221)
The estate presumably descended to the second John's sons John and then Robert (both d.s.p.), to be divided in 1734 between the children of his daughters Ann and Susan. Ann, wife of John Gubbs, had a daughter Jane (d. 1739) who married Henry Winteringham and had a daughter Martha, who died aged 16. Jane having left her moiety to Martha with remainder to her nearest relative of the name Pyott, her executors conveyed it to Richard Pyott (d.s.p. 1747), heir in the direct male line of the first Richard Pyott (d. 1620). He left his estates in trust for his wife Pyarea, but his father's siblings claimed as the nearest Pyotts. (fn. 222) John Pyott's other daughter Susan married William Cockram and had a son Sigismund, who left his moiety in 1741 to his wife Rebecca, with remainder to Henry Smith of St. Clement Danes. In 1746 Rebecca conveyed her interest to Smith in return for an annuity. The rights of all the Pyott siblings, Charles and his sisters Ann Righton, Blanch Hinckley, and Caroline Malie, were upheld in 1749, when a partition apparently assigned the estates in Bethnal Green to the Pyott heirs, with instructions for their sale. The Bethnal Green property consisted of a capital house, three new houses, two stables, and 30½ a.
The Pyott family drew rents from the estate until its sale in 1753. The 10 a. adjoining Broomfields in the east, being separate, were sold to William Sotheby and thereafter descended with Bishop's Hall. (fn. 223) Old buildings on 1 a. in the south-west corner of Conduit field were sold to Anthony Natt. (fn. 224) The rest, c. 21 a. which included the mansion, three other houses, and the rest of Conduit field, was sold to Ebenezer Mussell (d. 1764), lessee of the mansion. (fn. 225) Mussell paid the full quitrent in 1755 (fn. 226) and left his portion to his second wife Sarah, as guardian for his infant son. (fn. 227) Both the son and Elizabeth, Mussell's daughter by his first wife, were apparently dead by 1768, when Sarah and her second husband John Gretton conveyed the land but not the house to Thomas Wilkins Morgan, with remainder to Elizabeth Mary Morgan, respectively Mussell's son-in-law and granddaughter. (fn. 228) Elizabeth Mary (d. 1835), who had married Ely Bates in 1788, was a widow by 1813 when she settled the estate on the Moravian Church. Thereafter the estate was administered as the Elizabeth Mary Bates Trust. Sales of land, mostly in Conduit field and including the site of Globe board school, took place between 1815 and 1906. Much was sold to the East End Dwellings Co. in 1934 and most of the rest to the Elizabeth Mary Bates Housing Association before 1974 and to individual lessees from the 1970s. (fn. 229)
A house recorded in 1538 and 1601 was by 1622 'the great house called the Corner House'. (fn. 230) Leased in 1599 to Lady Katharine St. John (fn. 231) and occupied in 1622 by Richard Pyott's son-in-law Humfry Robinson, of the East India Co., (fn. 232) it stood opposite St. George's chapel, in the angle between Old Ford Lane and what was later called Victoria Park Square. (fn. 233) The house had been 'newly built' in 1643 (fn. 234) and was occupied in 1683 by Sir John Goldsborough, (fn. 235) a wealthy sea captain in the service of the East India Co., who died in India in 1693. (fn. 236) In 1694 the house, which was sublet, contained a great and little parlour, withdrawing room, hall, piazza, and numerous chambers with painted wainscots, tapestry, Indian chintz hangings and Dutch painted tiles. (fn. 237) The three-gabled building depicted in 1703 was perhaps a different house, (fn. 238) since the Corner House in the mid 18th century, when leased to 'Justice Mussell', had three storeys and two wings. (fn. 239) Mussell, an antiquarian, purchased the reliefs from the façade of Aldgate on its demolition in 1760 and rebuilt them into an addition to the house, which then became Aldgate House. (fn. 240) He also incorporated bricks from a wharf at Richborough Castle (Kent) into the paving of a courtyard. (fn. 241) The house was occupied by prominent Jews in 1765 and 1769, (fn. 242) pulled down in 1806, and replaced by Ebenezer chapel and some small tenements in 1811. (fn. 243)
William SEBRIGHT, town clerk of London in 1574, accumulated an estate around the City, which he left by will proved 1620 for the foundation of a grammar school in Wolverley (Worcs.), his birthplace. (fn. 244) The endowment included 12 a. in Markhams field in the centre of Bethnal Green and 8 a. on the northern borders. Although the will described the estate as held in free socage by deed of Lord Wentworth at 13s. 4d. a year, (fn. 245) rentals from 1688 to 1835 listed it as copyhold, albeit at the same rent; possibly it was early enfranchised copyhold. (fn. 246) In 1813 the trustees obtained an Act to grant 99-year building leases, (fn. 247) at whose expiry Wolverley Grammar school was said to have become the richest in the county. (fn. 248) A strip of land on the northern borders was sold to Bethnal Green and Shoreditch M.B.s in 1909 and sales to the L.C.C. were made in the 1930s under housing Acts: blocks between Pritchard's Road, Gillman Street, and Spencer Passage in 1930, between Teale, Kay, and Gillman streets and Garner Passage in 1934, and between Canrobert and Wolverley streets and Minto Place in 1939. The trustees retained many rents in 1952 (fn. 249) but the remaining freehold, except for a few sites sold privately, was compulsorily purchased by the L.C.C. in the late 1950s and early 1960s. (fn. 250)
The copyhold estate called KIRBY'S CASTLE was built up by John Kirby or Kirkby (d. 1578). Its core was a house and 3½ a. held by Sir John Gresham, the most highly assessed person in Bethnal Green in 1545-6. (fn. 251) He conveyed the estate in 1553 to James Alton, whence it passed to John Cheyney, in 1556/7 to Robert Offley, in 1557/8 to Sir Thomas Offley, in 1559/60 to Cuthbert Tunstall, and in 1561 to Sir Thomas Grey, on whose death in 1570 (fn. 252) the house and the lease of the adjoining farmhouse were sold to John Walsh (d. 1572), justice of the Common Pleas. Walsh's executors sold them to Kirby, (fn. 253) who acquired 2¾ a. called Stonerock (fn. 254) in 1575 and the farmhouse, by then a cottage, and 3 a. which he probably already held on lease, in 1577. The combined estate passed to his three daughters Ann, wife of Michael Lenton, Margaret, wife of William Thompson, and Elizabeth, wife of John Watson. Between 1589 and 1600 the Watsons acquired the other portions and in 1609 they sold the whole estate to William Palmer, whose sons Robert and William sold it in 1630 to William Dormer. (fn. 255) Dormer, a man of 'great fortune', died in 1652, (fn. 256) having recently settled it in remainder for three years on his two daughters, then on his son Barnard for 60 years, with remainder equally divided between his daughters and their heirs. The daughters, Ann Gill and Mary Deccombe, were admitted in 1652. Barnard, admitted in 1655, had conveyed his interest to Thomas Marsh by 1656 and, after controversy over the deeds, all the Dormer family interests were conveyed to Marsh by 1661. (fn. 257) Marsh conveyed the estate in 1661 to Sir William Rider (d. 1669), a hemp merchant, who left all his property to his wife Priscilla, with remainder to his eldest son Thomas. (fn. 258) In 1685 Thomas Rider surrendered the estate to James Alpha, who surrendered it to Col. Joseph Jorey (or Jorye) in 1698. (fn. 259) Jorey's niece Frances Foche, later wife of Martin Bladen, succeeded in 1726 (fn. 260) and was followed in 1748 by her cousin and heir George Hodges. A dispute between Hodges and Mary Helden, named as devisee in Frances's will, was resolved in 1750 when Hodges took Jorey's other estate (Goosefields, below) and Mary Helden was admitted to Kirby's Castle. By will dated 1752 she left the estate to her daughter Mary, wife of Thomas Foster, with remainder to a kinsman John Notcutt, an Ipswich linen draper, who was admitted in 1770. (fn. 261) Under his will, proved 1778, the estate, with adjoining property in Mile End, was to be sold to provide for his children. (fn. 262) Trustees, admitted in 1779, (fn. 263) conveyed it to James Stratten in 1780. (fn. 264) The southern part was sold in 1787 to William and John Kilbinton (fn. 265) and Stony Rockfield had been split up for building by 1835. (fn. 266) Kirby's Castle was sold by Stratten's executors in 1800 to Thomas Warburton, who sold part to Samuel Preston Child in 1817. The rest descended to Thomas's son Dr. John Warburton (d. 1845) and then to John Abernethy Warburton (d. 1850), whose trustees obtained its enfranchisement in 1866. (fn. 267)
A house existed by 1547, when Sir John Gresham was granted waste to the west of it. (fn. 268) The 'mansion house' was inhabited by Sir Thomas Grey, who died there, (fn. 269) and by John Walsh. (fn. 270) It was rebuilt and in 1578 William Fleetwood, Recorder of London, referred to 'John Kirby that builded the fair house upon Bethnal Green'. (fn. 271) It was known as Kirby's Castle by 1592 when leased to Noel de Caron, who was accused by John Watson of destroying the garden, orchard, and 'fair walk' made of boards and plaster of Paris; de Caron was more interested in vegetables. Watson referred to a castle-like house, its turrets falling into decay. (fn. 272) The garden was presumably restored by Sir Hugh Platt (d. 1608), the horticulturalist, described in his son's epitaph of 1637 as 'of Kirby's Castle'. (fn. 273) Platt, previously at Bishop's Hall, was a lessee but the owner Sir William Rider was resident in 1663, when Pepys found 'a fine place', which he considered 'the very house . . . built by the blind beggar of Bednall Green'. (fn. 274) Pepys was among those who stored valuables there during the Great Fire in 1666. (fn. 275) The house was assessed at 16 hearths, the largest in Bethnal Green, in 1664, (fn. 276) was known as Bethnal Green or Bethnal House by 1698, (fn. 277) and depicted in 1703 as having a tower and several gables. (fn. 278) It had been used as an asylum for many years in 1795, when two turrets at the end of the court wall were where the blind beggar was said to have deposited his gains. (fn. 279) A ramshackle building, it was characterized c. 1800 by numerous gables, tiled roofs, and some weatherboarding, although most was stuccoed, and was by then known as the White House. (fn. 280) Recent repairs in 1816 had uncovered painted panels and carved chimney pieces. (fn. 281) The Red House was added to the asylum before 1831 and another block in 1896. In 1920 the patients were moved to Salisbury and in 1921 the site was sold to the M.B., which demolished all the old buildings, only the 1896 block being converted into Bethnal Green library. (fn. 282)
John Hunt was admitted in 1621 to a copyhold estate which included a house at Bethnal Green and 10 a. of pasture near CAMBRIDGE HEATH, (fn. 283) probably the 10 a. in Rush croft surrendered by Roger Bramston to William Rider, haberdasher of London, in 1581. (fn. 284) Hunt's sons John and Nathaniel succeeded in 1662 (fn. 285) and soon sold the estate to John Stonier (or Stonyer). (fn. 286) Ruth, wife of William Assiter (Ossiter) succeeded under Stonier's will in 1684 (fn. 287) and her son John Assiter under her will in 1705. (fn. 288) The house, which in 1662 had become a tenement and two cottages, formerly one called the Wheatsheaf, was sold to Samuel Holland in 1707 and the 10 a. were sold to George Leeds in 1711. (fn. 289) Leeds was a cowkeeper at Dog Row and from at least 1694 leased other land in Bethnal Green. (fn. 290) He or his son in 1749 left a son George, a minor who succeeded in 1755 and obtained enfranchisement in 1774. By will dated 1785 George left all his estates to his widow Elizabeth, with remainder to his nephew Richard, who had succeeded by 1798 (fn. 291) and concluded a a 99-year building lease with Joseph Brown of Durham Place, Hackney Road, in 1807. After Richard Leeds's death without issue in 1831, trustees sold most of the estate to John Joseph Tanner (d. 1873), who sold part to the Great Eastern Railway in 1871. The rest was put up for sale in 14 lots by Tanner's trustees in 1887. (fn. 292)
MARKHAMS, originally an open field west of the green, consisted of several closes before 1620, when the western part belonged to William Sebright. (fn. 293) The 12 a. to the east, together with the 'Blind Beggar', formed a copyhold estate, of which Patrick Roberts held a quarter from 1653, (fn. 294) Waldrof Lodowick and his wife Elizabeth half on the surrender of Matthew Kenrick, Elizabeth's father, from 1654, (fn. 295) and the daughters of Christopher Bowman a quarter from 1663. (fn. 296) Roberts surrendered his portion in 1658 to William Haynes, whence it passed in 1659 to William's son Joseph, (fn. 297) in 1669 to Bridget Haynes, and in 1672 to Joseph Blissett and his wife Sarah. (fn. 298) Bowman's daughters conveyed their quarter in 1675 to Thomas Coling and his wife Bridget, with remainder to Bridget's daughter Sarah and her husband Joseph Blissett. (fn. 299) Blissett's executors succeeded in 1708 and held on behalf of his descendants, successively named Joseph. (fn. 300) Lodowick, who probably died c. 1684, left his share to his wife, with remainder to his sons Charles and Thomas. Elizabeth Lodowick had apparently remarried by 1685 when she and David Clarkson were admitted for life. (fn. 301) David Clarkson's sons David, Matthew, and Robert were admitted in 1688 (fn. 302) but by 1692 had surrendered their interests to Charles and Thomas Lodowick. (fn. 303) Thomas Lodowick conveyed part of his lands to Joseph Blissett in 1693 (fn. 304) and Charles Lodowick and Elizabeth Clarkson, presumably his mother, surrendered part in 1700. (fn. 305) The rest, a moiety of Markhams, was left by Charles Lodowick by will dated 1723 to his son Charles, who conveyed it to his sister Elizabeth and her husband George Streatfield in 1734. (fn. 306) George, a London merchant tailor, conveyed it to Joseph Blissett in 1748. (fn. 307) The united estate remained with the Blisset(t) family until it was sold in lots after the death of the Revd. George Blisset of Hereford in 1889. (fn. 308) Development started with a building lease of 9 a. to David Wilmot in 1766. (fn. 309)
FULLMORE CLOSE, a long field next to Dog Row, originated in Foulmere, where strips of customary land were held in the 14th and 15th centuries. (fn. 310) By 1652, when called Mrs. Coleman's land, (fn. 311) it was an 8-a. copyhold. In 1656 it was divided between John and Robert (I) Coleman. John left his moiety to his widow Elizabeth, who was admitted in 1662. Elizabeth Dallock, probably their daughter, succeeded in 1690 (fn. 312) and in 1694, when wife of Robert Allan, she conveyed it to Robert Coleman. (fn. 313) The other moiety was divided on Robert Coleman (I)'s death in 1665 between his sons Robert (II) and Stephen. Robert (II)'s son Robert (III) succeeded in 1672 to his father's 2 a. (fn. 314) which he settled in 1699 on himself and his wife Anne, with remainder to his son Robert (IV). (fn. 315) The whole estate was reunited by 1712, Robert (III) having purchased the first 4 a. in 1694 and Stephen Coleman's 2 a. in 1712. (fn. 316) Robert (IV), who had apparently succeeded by 1735 when he made a marriage settlement for his son John, died in 1745. Robert (IV)'s son Henry inherited his moiety (4 a.) and 2 a. of John's moiety as heir to his childless brother. The other 2 a., under the settlement of 1735, passed to John's widow Martha. (fn. 317) In 1755 Martha, by then Martha Banfield, conveyed her 2 a., at the northern end of the estate, to William Fortescue during her life (fn. 318) and between 1775 and 1821 they passed to Brown, the holder in 1835. (fn. 319) In 1750 Henry Coleman's widow Catherine was admitted to John's other 2 a. and in 1755 she and her husband Harry Drake conveyed them to Isaac Coxe, (fn. 320) who sold them in 1759 to Anthony Malpas (d. 1777). (fn. 321) His son Anthony conveyed them in 1778 to Edward Barnard, (fn. 322) who already held the southern 4 a. which had passed from Henry Coleman to John Nickleson in 1749, (fn. 323) from Nickleson's widow Sarah to Joshua Thomas in 1764, (fn. 324) and to Edward Barnard in 1767. (fn. 325) The combined 6 a. were sold in 1818 to William Green, builder, of Brick Lane, (fn. 326) and owned by Elizabeth Green in 1841. (fn. 327)
A copyhold estate of c. 24 a., mainly inclosed pieces of EASTFIELD, (fn. 328) was held in 1655 by William Pyott, who surrendered it to his father Richard Pyott of Streethay (Staffs.). (fn. 329) In 1658 Richard surrendered it to Francis Andrews and his wife Susanna, (fn. 330) whose daughter Susanna, wife of James Grunwin, succeeded under her mother's will in 1683. (fn. 331) Under Susanna Grunwin's will, James Grunwin was admitted in 1690 with remainder to Francis Grunwin, (fn. 332) who sold the estate in 1715 to John Walker, who sold it in 1718 to Sir Edward Gould and his wife Frances. (fn. 333) Under Sir Edward's will of 1724, the estate passed to his widow for life, with remainder in tail male. His great-nephew Edward Thorston Gould, who succeeded in 1769, sold the estate in 1771 to Charles Digby, father and son, of Mile End. They sought enfranchisement in 1772 and sold the land in parcels for building in 1790. (fn. 334)
In 1668 Ursula Cock or Cox acquired 24 a. of copyhold in four closes (GOOSEFIELDS and Burton field) on the north-eastern borders of Bethnal Green from Sir Thomas Byde of Ware Park (Herts.). All but 6 a. had been recently purchased by Byde from Robert and Ann Sweet; the 6 a. had been bought from John Meure or Meare. (fn. 335) Robert Haughton or Horton of Shoreditch, Ursula's nephew, succeeded under her will in 1687 (fn. 336) and conveyed the estate in 1700 to Col. Joseph Jorey. (fn. 337) In 1703 the estate formed a single field called Hortons field. (fn. 338) It descended to Frances Foche and in 1748 to George Hodges. (fn. 339) In the settlement of 1750 Hodges secured Goosefields in return for surrendering his interest in Kirby's Castle. (fn. 340) In 1753 he conveyed Goosefields to Alexander Mackrabie and John Nightingale (fn. 341) who conveyed it in 1754 to Stephen Leach of Bread Street (Lond.). (fn. 342) In 1772, as two fields, it passed to Stephen's sons Thomas and Samuel, both linen drapers, (fn. 343) who obtained enfranchisement. (fn. 344) The estate was occupied by Richard Monksfield and probably owned by Robert Withers in 1780 and occupied by Thomas Hollingshead in 1794 and by Samuel Ridge in 1800, when the owner may have been Hobson. (fn. 345) William Hobson was the owner in 1831. (fn. 346) William Bradshaw had 15 a. c. 1840, when 7 a. in the north formed part of an estate mostly in Hackney, owned by the Polish and Portugese Jews. Both estates were absorbed into Victoria Park. (fn. 347)
Between Bishop's Hall and Goosefields lay some 10 a., part of the Cass estate in Hackney. (fn. 348)
Two small copyhold estates bordering Shoreditch were important in the building history of Bethnal Green. The AUSTEN estate existed by 1550 when John Austen's lands near Collier's Lane abutted the demesne. (fn. 349) In 1582 Richard Austen, monier of Hoxton, was licensed to lease land abutting south on Crabtree Lane. (fn. 350) Thomas Austen's land abutted demesne land in the area in 1652. (fn. 351) On Thomas's death in 1658 his copyholds, then a house, two cottages, and 4 a. of garden and pasture, were divided between his sons Thomas and Robert, both minors. (fn. 352) He left money to St. Leonard's, Shoreditch, which was used in 1671 and 1674 to purchase ½ a. next to the churchyard from the two sons. (fn. 353) In 1674 Robert surrendered the rest of his moiety to Thomas (fn. 354), who was licensed in 1675 to lease 3 a. bounded east and south by the estates of Thomas Willett (Fitches) and Snow (below) respectively. (fn. 355) Thomas Austen moved to South Mimms and by will proved 1701 left the copyhold estate to his eldest son (later Sir John Austen, Bt.) (d. 1742) and other lands to his younger son Thomas. (fn. 356) Austen's name was not recorded in 1703, probably because the land was either garden ground, leased since 1683 to John Sharp and Daniel Brown, (fn. 357) or built-up. In 1740 Sir John Austen settled the estate on himself for life, then successively on Mary Wright and Peter Storer. (fn. 358) Storer held it in 1751 and by will proved 1759 left it to his sister Martha, wife of William Baker. (fn. 359) Martha was succeeded in 1775 by her son Peter William Baker, (fn. 360) who paid a quitrent of 1s. 10d. for the copyholds in Castle and Austin streets and 4s. 10d. for 2 a. enfranchised, part of 6 a. (recte 4 a.). (fn. 361) In 1788 Baker conveyed the whole estate, including 112 houses in Austin and Castle streets, bounded by Shoreditch churchyard, Cock Lane and Kemp (Snow) and Gascoigne (Fitches) estates, to Benjamin Godfrey of Bishopsgate Street, (fn. 362) who had leased it since the death in 1758 of his uncle Dr. Benjamin Godfrey, the lessee since 1736. (fn. 363) Edward William Windus (d. 1832), admitted to the copyhold estate under Godfrey's will in 1813, (fn. 364) sold part for the enlargement of Shoreditch burial ground in 1824 (fn. 365) and left the rest to his son Benjamin Godfrey Windus. (fn. 366) It was split up in 1863 among 6 or 7 people, of whom the chief were Edward Bird Wearing, Henry Frederick Wearing, and George Trist. Most of the Wearings' portion was enfranchised from 1873. (fn. 367) James Bishop, who acquired part of Trist's portion in 1880 and Edward Wearing's in 1883, enfranchised them in 1935 and 1931 respectively. (fn. 368)
The SNOW copyhold estate, south of Austens, was held in 1652 by Mrs. Joan Noble (fn. 369) and possibly in 1640 by Thomas Noble, then headborough for Bethnal Green. (fn. 370) In 1664 she conveyed two tenements, 1 a. 1 r. adjoining their gardens, 1 a. (le Homestall), and a parcel of land (Pickfield) to Thomas and Elizabeth Snow. (fn. 371) On Thomas's death in 1665 Elizabeth inherited two tenements and 1 a. 1 r. 'lately made into a garden' near Halliwell Street and 3 a. 'in Stepney' converted to a garden and two tenements. (fn. 372) She conveyed the two tenements and 2 a. 1 r. near Halliwell Street in 1666 to Richard Turville and on her death in 1686 the 3 a. and three tenements were divided into three portions among her descendants. (fn. 373) The tenements had disappeared by 1693 when Turville was succeeded by his son George, (fn. 374) who was in turn succeeded in 1730 by his sons George (d. 1735), Lytrott (d. 1731), and William. (fn. 375) By 1735 when the Turville estate was reunited, it consisted of 9 tenements and 2 a. in Cock Lane. (fn. 376) William Turville conveyed it in 1741 (fn. 377) to Ellen Turville (d. 1769), whose nephews William Halhead and John Caswell succeeded as tenants in common. In 1789 Nathaniel Brassey Halhead, Robert William Halhead, and John Halhead were admitted in trust under the will of William Halhead. (fn. 378) Part of the land, bounded west by Cock Lane, south by Nichol Street and north by the rest of Snow's estate (fn. 379), was represented by New Turville Street; part to the east was represented by Turville Street. (fn. 380)
The rest of Elizabeth Snow's estate was divided in 1686, one third each to her daughters Anne Harford and Elizabeth West, and one third between her grandsons Edward, John, and Thomas Kemp. (fn. 381) Anne sold her share in 1687 to Thomas Dawbane, (fn. 382) who was succeeded in 1720 by his son Thomas, (fn. 383) and Elizabeth left hers to James Dawbane in 1723. (fn. 384) The Kemp brothers' third was united in the hands of John Kemp in 1693, (fn. 385) whose sons Thomas and Matthew succeeded in 1754. (fn. 386) A quitrent of 2s. 4d. for a copyhold 'garden behind Shoreditch church' was paid in 1747 by Mrs. Kemp and in 1755 and 1775 by Kemp and Hill. (fn. 387) The estate, north of Turville's portion and south of Austens, (fn. 388) was presumably that depicted in 1703 as Kemp's garden. (fn. 389) Thomas Kemp ran it as a garden in 1789 (fn. 390) and 1800 (fn. 391) but 73 houses had been built there by 1810. (fn. 392) In 1814 Thomas and John Kemp sold the 3 a. to George Woolley of Hollywell Street (fn. 393) but the estate had presumably split up by 1821 when the quitrent was divided among George Woolley, who paid 1s. 4d., and Samuel Martin, William Atkinson, and John C. Hodgson, who each paid 4d. (fn. 394) G. J. Woolley owned the largest section in 1891, when the estate was included in the Boundary Street scheme. (fn. 395)