Pages 176-179
A History of the County of Middlesex: Volume 12, Chelsea. Originally published by Victoria County History, London, 2004.
This free content was digitised by double rekeying. All rights reserved.
EDUCATION
In 1583, when Thomas Browne was rector, his assistant John James was described as curate and schoolmaster (ludimagister). (fn. 1) A house for the parish clerk and a schoolhouse were built by Richard Ward, rector 1585-1615, at his own expense and with a donation by Richard Fletcher, bishop of London (d. 1596), who lived nearby. (fn. 2) 'Our poor schoolmaster' was buried in 1608 and a schoolmaster was also recorded in 1656. (fn. 3) The churchwardens provided clothing and schooling for a boy from 1686 until 1688 and similarly for a girl in 1691-2; presumably both pupils were orphans, paid for separately as extra charges on the parish school. (fn. 4) 'Bell, the schoolmaster' paid poor rates in 1695. (fn. 5) The writer Edward Chamberlaine (d. 1703) was said to have paid £5 a year to apprentice one Chelsea boy to a waterman and to have intended to settle that sum. His son John accordingly settled a £10 rent charge on a house in Church Lane, half to the master of the charity school to teach five boys and half to apprentice one every year. (fn. 6) The same schoolhouse presumably remained in use until replaced by one built by William Petyt, keeper of records in the Tower, in 1706. (fn. 7)
Petyt's or the boys' charity school offered parishioners the only free education until the foundation of a girls' charity school by the rector Sloane Elsmere in 1740, (fn. 8) although a school for the daughters of in-pensioners at the Royal Hospital was founded in 1729 by the authoress Mary Astell (d. 1731) and others. (fn. 9) Both the boys' charity school and the Hospital school benefited from church collections until Elsmere, seeing the pensioners as a national responsibility, decided that their share should go to the girls' charity school. (fn. 10) Many bequests were made to the boys' and girls' schools, although often without effect. Voluntary contributions provided most of the funds in 1786, augmented by Chamberlaine's rent charge and the income from stock worth £455 8s. 4d. representing seven charities; £200 had come from Stephen Fox in 1772 and £115 8s. 4d. from Sloane Elsmere. (fn. 11)
A charity school adjoining Knightsbridge's Holy Trinity chapel from c. 1785 may have taken some Chelsea children, since the hamlet of Knightsbridge lay partly in Chelsea and was included with it in returns of 1819. (fn. 12) Sunday schools were established in 1787 and later consolidated with a 'knitting school' opened in the same year. (fn. 13) Schoolrooms were added to the workhouse, for boys in 1792 and for girls in 1822. (fn. 14) The Royal Military Asylum school, opened in 1803 and included in many returns, was not parochial. A day school, later known as Ranelagh Lancasterian or British, existed from 1802, a Roman Catholic charity school probably from 1811, and a new British school from c. 1812. The first National school, Park chapel, originated in a Sunday school of 1814. (fn. 15) The poor of Chelsea and Knightsbridge were said not to be without the means of education in 1819, when Petyt's school had 105 pupils, two National schools (presumably Park chapel boys' and girls') together had 150-200, and numerous unspecified dissenting schools over 400; small day and evening schools were 'numberless'. (fn. 16)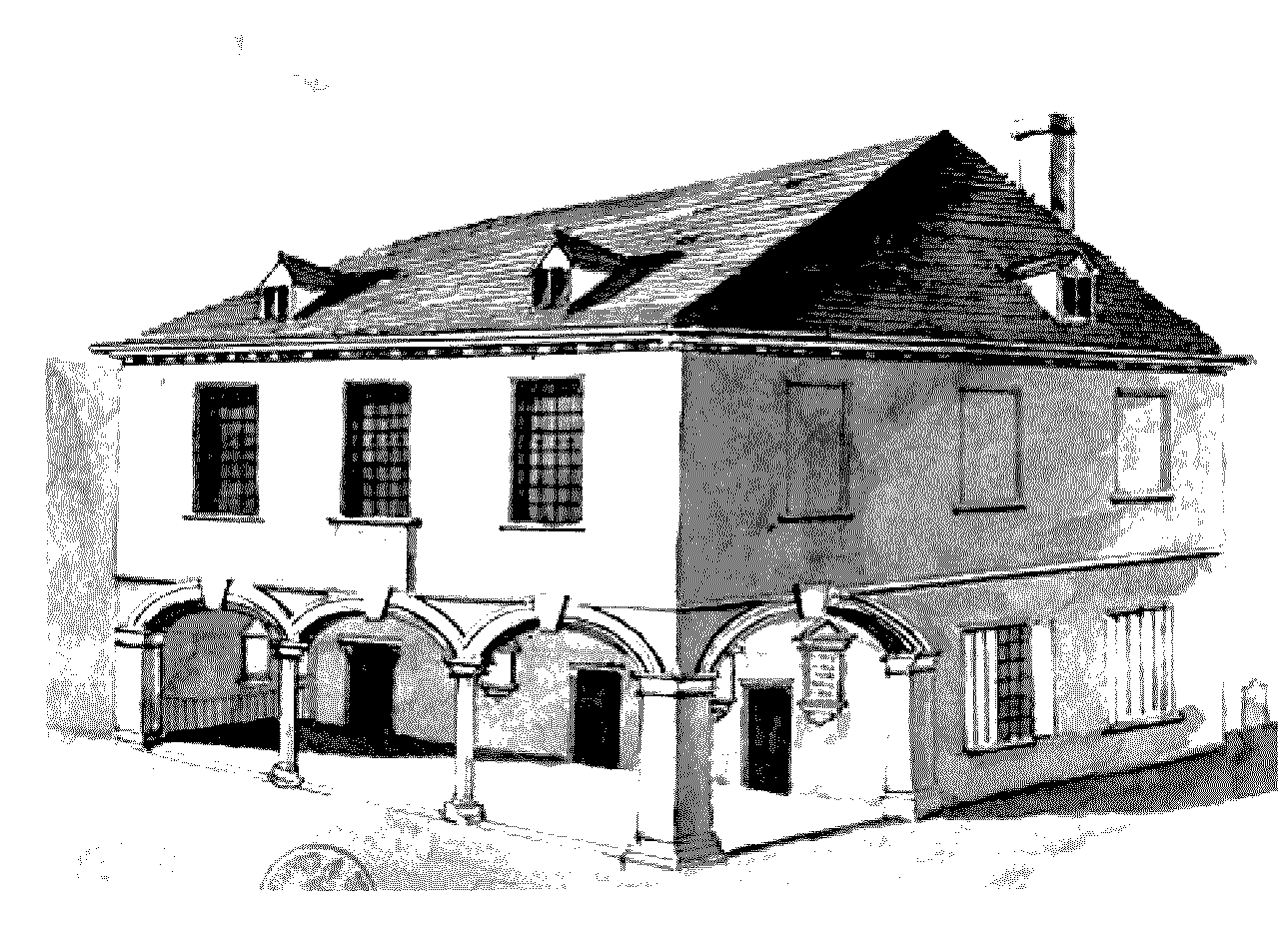 By 1833 Chelsea had ten day schools that were free or partly free, (fn. 17) including a School of Discipline (fn. 18) founded in 1825 and the Hospital's, the Asylum's, the workhouses', and industrial schools. Thirty-one day schools charged fees; at least 15 had been founded in or since 1820 and probably none had more than 30 pupils. (fn. 19) Another 12 private schools were partly boarding and included seven which had been founded in or since 1825. In addition, St Luke's parochial schools had been opened in 1824 superseding Petyt's and the girls' charity schools. Together with another Anglican (Holy Trinity) and two Roman Catholic schools, they were classified separately as being both day and Sunday schools. There were also eight Sunday schools, two of them Anglican, and 19 private schools, presumably small, whose owners refused to answer 'inquisitorial' questions.
Schools were founded for the new Anglican churches: (fn. 20) for St Jude's in 1837, Christ Church in 1843, St Saviour's in 1847, and St Simon's in 1852. The first two were among those by 1847 in union with the National Society, which also noted a girls' and infants' school in the Rectory garden and stressed the need to serve the poorest boys in the neighbourhood. (fn. 21) The opening in 1841 of St Mark's and Whitelands teacher training colleges was followed by that of their practising schools, which, too, were National. Both a day and an evening ragged school existed by 1849. Chelsea poor law union was annexed to North Surrey school district in 1849 and pauper children were sent to Anerley in Upper Norwood from 1850 until Chelsea joined Kensington in 1876 in a new district, for which cottage homes were built at Banstead (Surrey). (fn. 22) Roman Catholic expansion included the foundation of Brompton Oratory school, in Chelsea from 1856, and was cited as a danger by Anglican clergy in 1845 and 1863. (fn. 23) In 1861 Chelsea union was said to have 46 public day schools with 6,215 pupils, and 91 private day schools with 2,224, besides an unknown number of Roman Catholic schools. Ten evening schools had a total of 515 pupils and 37 Sunday schools had 5,361. (fn. 24)
Parliamentary grants were paid to Holy Trinity, St Jude's, and Christ Church schools by 1846 and to St Luke's parochial and St Mark's practising schools by 1850. In 1859-60 grants were also paid to St Saviour's, to the School of Discipline, to a female home, and to three Roman Catholic Schools. (fn. 25) By 1868 the most recent National school, St Simon's, had been added to the list, although Roman Catholics had removed St Joseph's from inspection. (fn. 26) In 1871 the four wards of Chelsea together had 11,530 school places, 9,110 pupils enrolled, and an average attendance of 6,919; in addition night schools had 561 enrolled and an average attendance of 275. The total of 26 public schools receiving government grants was reached by counting separate departments (fn. 27) and by including St John's, Kensal Green, in Chelsea detached, besides three non-parochial military schools (those of the Royal Military Asylum and, at Chelsea barracks, for the Coldstream and Scots Fusilier Guards). (fn. 28) A further 13 schools ranked as private, including industrial and ragged schools offering a free education, and 30 as small (private) adventure schools. (fn. 29)
Under the Education Act, 1870, the London school board's Chelsea division included the detached part of the parish besides Kensington, Hammersmith, and Fulham. The division, with offices in Kensington and later in Hammersmith, (fn. 30) returned four members of the board until 1882 and five thereafter. (fn. 31) In 1872 it was suggested that Chelsea needed 4,900 new places, partly because general use could not be made of the unfilled accommodation at the military schools. (fn. 32) The divisional board had hired nine temporary premises and closed eight of them by 1885, six of them being in the recently developed Chelsea detached. (fn. 33) The main part of the parish, already comparatively well supplied, was given only four permanent board schools. (fn. 34) Chelsea detached by c. 1890 had three new board schools, Kensington ten, chiefly in the northern part, Hammersmith 11, and Fulham 20. (fn. 35) Some children from the workhouse, presumably temporary inmates, were educated locally: in 1884 the board threatened to exclude them from Park Walk school unless the guardians paid the fees. (fn. 36) A Scheme of 1888 allowed the apprenticing part of Chamberlaine's charity to be spent on the technical education in Westminster of boys from Chelsea's elementary schools. (fn. 37)
By 1903, when the school population of Chelsea MB was 12,716, the board schools had accommodation for 6,077 and a total average attendance of 4,719. Three of the permanent schools had separate departments for boys, girls, and infants. A fourth school, the more recently founded Ashburnham, had two departments and was higher grade. In addition there was a temporary single department school in Walton Street. Although most of the small private establishments had closed, denominational education still flourished. St Saviour's had made way for Walton Street board school, but there remained 15 Anglican or Roman Catholic schools, four of them being branches of the Oratory. Together the non-provided schools could accommodate 4,631 and had an average attendance of 3,499. (fn. 38)
The LCC's education committee, which succeeded the school board in 1904, (fn. 39) opened a temporary school in Hortensia Road in 1907, replaced by one in Tadema Road in 1913. (fn. 40) The borough council vainly protested at the choice of Hortensia Road, claiming that many children from Fulham and Kensington were already accommodated in Chelsea, notably at the nearby Ashburnham. (fn. 41) Also in Hortensia Road were secondary schools for girls and boys respectively (later Carlyle and Sloane schools), originating in a day school at the South-West London (later Chelsea) polytechnic but transferred to the LCC. Although the LCC had opened 17 secondary schools by 1908, its Hortensia Road girls' school was the first to be built for the purpose. (fn. 42)
Apart from Carlyle and Sloane, which were often listed separately, there were by 1919 six county schools, including Tadema Road and counting the Ashburnham as separate all-age and central schools; six schools were Roman Catholic, including the Oratory's four (two of them central), and four were Anglican. All, except Tadema Road, survived in 1938, (fn. 43) although provision was reduced in line with the population. The council's elementary schools had accommodation for 5,525 in 1920 and 4,913 in 1937, non-provided schools for 3,342 in 1920 and 2,936 in 1937. For secondary education the number of places was raised slightly to 830 (536 of them free) by the enlargement of Carlyle school in 1937. (fn. 44)
The Second World War brought the closure of St Luke's parochial schools. (fn. 45) In 1947 there were six county and eight voluntary schools, including the Servites' which shared LCC premises and was soon to move to the Kensington side of Fulham Road. (fn. 46) The assets of the former Anglican schools of St Jude, St Luke, and St Simon were vested in the London Diocesan Board of Education in 1948 for disposal, as in 1968 were those of St Saviour's, which had been retained for educational purposes after its closure. (fn. 47) Public primary education was provided by three county and five voluntary schools in 1952 and 1958, while secondary education was provided by four of each class in 1952 and three in 1958. The Oratory's continuance as four separate establishments perhaps exaggerated the role of the Roman Catholics, although the departure of St Mark's practising school for Fulham left them with all three of the voluntary schools. (fn. 48)
The London Government Act, 1963, united Kensington and Chelsea with Hammersmith (later Hammersmith and Fulham) to form division 1 of the new ILEA. (fn. 49) Reorganization on comprehensive lines with the availability of larger sites outside the old parish further reduced the number of Chelsea's schools. Primary education was still provided by three county and four voluntary schools, the Oratory junior and infants' schools having united, but by 1975 amalgamations had left only one ILEA secondary school, Chelsea, and the departure of the Oratory senior schools had left one voluntary secondary, St Thomas More. (fn. 50)
Under the Education Reform Act, 1988, the ILEA was superseded by Kensington and Chelsea LB. In 1991 the new education authority's Chelsea district, corresponding with the old parish, contained 1,307 of the borough's 6,531 primary pupils. (fn. 51) In 1995 it still had three county and four voluntary primary schools, two being Roman Catholic and two Church of England. There was an open-air nursery school in Glebe Place, in addition to nursery classes at all the county and one of the Roman Catholic schools. St Thomas More remained the sole secondary school. (fn. 52)