Pages 179-187
A History of the County of Middlesex: Volume 12, Chelsea. Originally published by Victoria County History, London, 2004.
This free content was digitised by double rekeying. All rights reserved.
PUBLICLY FUNDED SCHOOLS
Except where otherwise stated, basic historical information and figures of accommodation and average attendance have been taken from: files on Church of England schools at the National Society; PRO, ED 7/74, 80; Mins of Educ. Cttee of Council, 1846 (Parl. Papers, 1847 [787], XLV); 1850-1 (Parl. Papers, 1850-1 [1357], XLIV(1)); 1859-60 (Parl. Papers, 1860 [2681], LIV); Rep. of Educ. Cttee Of Council, 1865-6 (Parl. Papers, 1866 [3666], XXVIII); 1868-9 (Parl. Papers, 1868-9 [4139], XX); 1869-70 (Parl. Papers, 1870 [C.165], XXII); 1870-1 (Parl. Papers, 1871 [C.406], XXII); 1880-1 (Parl. Papers, 1881 [C.2948-I], XXXII); 1888-9 (Parl. Papers, 1889 [C.5804], XXIX); 1890-1 (Parl. Papers, 1890-1 [C.6438-I], XXVII); Return of Elem. Schs 1893 (Parl. Papers, 1894 [C.7529], LXV); 1899 (Parl. Papers, 1900 [Cd.315], LXV(2)); Return of Non-Provided Schs (Parl. Papers, 1906 (178-XXXIII), LXXXVIII); Pub. Elem. Schs 1906 (Parl. Papers, 1907 [Cd.3510], LXIII); LCC, London Statistics; Bd of Educ., List 21, 1919-38 (HMSO); LCC (ILEA from 1965), Educ. Svce Inf. (1951 and later edns). Inf. on Church of England schs 1846 is from National Society, Inquiry, 1846-7, Middx. Roll and attendance figures for 1871 are from LMA, SBL 1518, for 1872 from SBL 1329, and for 1903 from SBL 1527. School rolls for 1989 are from RBKC Schs Statistics Rep. 1990-1, and for 1995 have been supplied by the principal schools officer, RBKC directorate of education and libraries.
The following abbreviations are used in addition to those in the index: a.a., average attendance; accn, accommodation; amalg., amalgamated; asst, assistant; B, boy, boys; bd, board; C, County; CE, Church of England; Cong., Congregationalist; demol., demolished; dept, department; G, girl, girls; I, infant, infants; J, JB, JG, JM, junior, junior boys, girls, mixed; M, mixed; Meth., Methodist; Nat., National; parl., parliamentary; perm., permanent; RC, Roman Catholic; reorg., reorganized; roll, numbers on roll; S, SB, SG, SM, senior, senior boys, girls, mixed; SBL, School Board for London; sec., secondary; Sun., Sunday; temp., temporary; vol., voluntary; Wes., Wesleyan. The word 'school' is to be understood after each named entry. Separate departments are indicated by commas: B, G, I; JM, I.
Arthur Street Nat. See St Luke, Arthur Street.
Ashburnham, The, Upcerne Rd. Opened 1885 as the Ashburnham bd for 1,197 MI. Accn 1899: 1,474; a.a. 1,342. Higher grade dept opened 1903. Accn 1906: 300 SM, 821 M, 533 I. S dept called the Ashburnham central (q.v.) by 1919. Other depts accn 1919: 821 M, 453 I; reorg. between 1927 and 1932 for 521 JM, 363 I. As Ashburnham primary (below), moved from Upcerne Rd when threatened by proposed West Cross route 1972. Premises let by ILEA for community use 1974 and housed Heatherley Sch. of Fine Art from 1979. (fn. 1)
Ashburnham Central, The, Upcerne Rd. (fn. 2) Opened 1903 as higher grade dept of the Ashburnham (q.v.). Accn 1919, 1927: 370 SM; 1932, 1938: 480 SM. Called Chelsea central 1946, when about to move to Townmead Rd, Fulham. B moved 1968 to join Kingsley (formerly Cook's Ground qq.v.) as Chelsea sch. (q.v.) and G to Hurlingham Rd, Fulham.
Ashburnham Primary, Blantyre St. Moved 1972 from Upcerne Rd. to single-storeyed brown brick bldgs designed by Eric Lyons for 280 JMI in new World's End est. (fn. 3) Roll 1989: 149; 1995: 186.
Brompton Oratory. See London Oratory.
Cale Street Nat. See St Luke, Cale Street.
Camera Street Ragged. Recorded only 1849 in Camera (later Beaufort) St, with thrice weekly evg classes for 48 B, 38 G, under 13 vol. teachers. (fn. 4)
Carlyle, Hortensia Rd. Opened 1908 for G from South-West London Polytechnic sch. (q.v.) as LCC sec. sch. in 4-storeyed bldg designed by T.J. Bailey. Accn 1908 said to be for 510 SG (fn. 5) but 1937, before enlargement, for only 256. Accn 1937: 320, inc. 226 free places. (fn. 6) Adjoined Sloane sch. (q.v.) from 1919 but given separate governing body 1961. (fn. 7) Moved with Sloane to new Pimlico sch., Westm., 1970. (fn. 8) Premises occupied briefly by Harwood primary sch., from Fulham, and then Chelsea sec. sch. 1971. (fn. 9)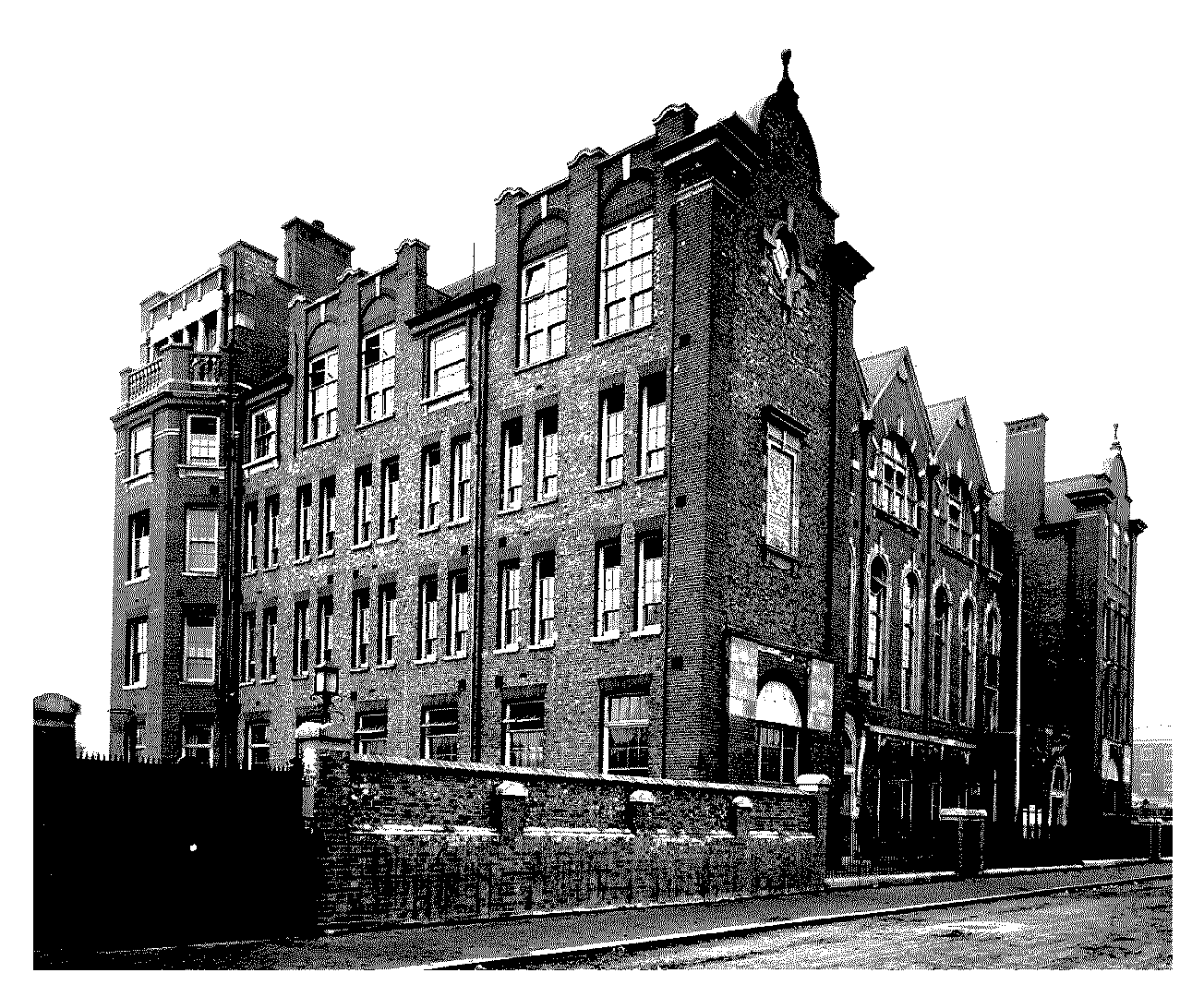 Chelsea Baptist Chapel, Lower Sloane St. Opened by 1869 as day sch. for GI in room where Sun. sch. held beneath chapel built 1865. (fn. 10) Accn 1871: 511; roll: 90; a.a. 90. Day sch. probably soon closed.
Chelsea British, King's Rd. Opened for G by 1814. (fn. 11) Chelsea and Borough Rd, Southwark, schs the only ones wholly maintained by Brit. and Foreign Sch. Soc. According to its treasurer 1816. (fn. 12) Not recorded later unless identifiable with Chelsea Wes. sch. (q.v.).
Chelsea Central. See Ashburnham central.
Chelsea Charity. See Petyt's.
Chelsea Secondary, Hortensia Rd. Opened 1968 as SB comprehensive in Glebe Place on amalg. of Chelsea central with Kingsley (formerly Cook's Ground, q.v.) sch. Moved to premises of former Carlyle and Sloane schs 1971. (fn. 13) Accn 1973: 550 SB, soon to be raised to 750. 'Non-authoritarian' (fn. 14) and praised by ILEA inspectors. (fn. 15) Closed 1980. Premises used by Kensington and Chelsea College from 1990. (fn. 16)
Chelsea Wes., Sloane Terr. Associated with Sloane Terr. Wes. chapel by 1844 until c.1856. Always listed as for B, although mistress employed with master from 1850. (fn. 17)
Cheyne Walk RC. Inc. in list of schs which had received parl. grant between 1833 and 1859. Not listed in dir. of 1858 or 1863.
Christ Church CE Primary, Robinson St. Opened 1839 at ch. as Sun. sch. for B, 1840 for G. Day sch. opened 1840 for B at 2d. a week in Flood St. (fn. 18) BG sch. opened 1843 at S corner of Christchurch and Robinson streets, where site given by Earl Cadogan, whereupon I sch. opened in former B sch. (fn. 19) 122 B, 79 G on weekdays and Sun. by 1846 in partitioned schoolroom under mistress and 23 vol. teachers; 85 I in 2 schoolrooms under master and mistress; both depts with £150 grant from Nat. Soc. Parl. grants from 1843; income from subscriptions, collections, and sch. pence 1848; £200 left by Ann Hill 1881. (fn. 20) Site for I sch. on N corner of Robinson St given by Earl Cadogan 1851; additional land for playground given 1869. (fn. 21) Rolls 1871: 152 B, 143 G, 188 I; a.a. 121 B, 110 G, 144 I. G sch. enlarged 1872. (fn. 22) a.a. 1906: 331 BG, 124 I. Accn reduced 1907. Falling roll led to reorg. as M sch. 1925. Roll 1927: 230 M, 130 I; a.a. 196 M, 107 I. I sch. amalg. with M 1937. (fn. 23) Roll 1938: 360 MI; a.a. 165 MI. Two-storeyed Tudor style bldgs in use 1995. Roll 1995: 181 JMI.
Church Street Ragged. See Old Church Ragged.
Cook's Ground, Glebe Place. Opened 1874 as bd sch. for B,G,I. Accn 1880: 840; 1890: 1,345; 1919: 1,122 but a.a. only 729. Reorg. between 1927 and 1932 for 360 SG, 360 JM, 312 I. Reorg. by 1936 for 360 SG, 416 JM & I. SG by 1948, when amalg. with SB from Marlborough sch. (q.v.) in Cook's Ground bldgs, renamed Kingsley sch. 1949. (fn. 24) Kingsley absorbed SB from Parsons Green sec. (Fulham) 1963 (fn. 25) and amalg. with former Chelsea central sch. to form Chelsea sec. (q.v.) 1968, moving to former Carlyle and Sloane premises 1971. (fn. 26) Cook's Ground site bought by Libyan govt for Jamahariya sch. 1979. (fn. 27)
Denyer Street Temp. Bd. Opened 1878 in rented schoolroom for GI. Closed 1878. Pupils transferred to Marlborough sch. (q.v.).
Discipline. See Reformatory Sch. of Discipline.
Exeter Buildings Ragged, Exeter St (later Hans Crescent). Founded by Lady Charlotte Gordon in support of London City Mission by 1845, with attendance of 70 besides Sun. sch. and adults' classes. (fn. 28) Attendance 1849: 56 B, 55 G, 45 I, also Sun. sch. and evg classes for 30 B, with 4 paid and 7 vol. teachers. (fn. 29) Industrial classes daily for 50 G and twice weekly for 8 B by 1851. Small sum raised from sale of articles 1862, when many refused admission to night sch. (fn. 30) Rolls 1871: 74 B, 73 G, 72 I, 45 night sch.; a.a. 45 B, 47 G, 64 I. Closed as day sch. 1876, when children transferred to Queen's Gdns (q.v.). (fn. 31)
Fulham Road Servite. See Servite RC.
Gunter Grove Temp. Bd. Opened in 1878 in rented schoolroom for B, as feeder for projected perm. sch. (possibly Ashburnham). Closed by 1880.
Hans Town School of Industry, Sloane St. (fn. 32) Opened c. 1804 when ladies took lease of ho. near Hans PL where 6 G were trained for domestic svce. 50 G given elem. educ. and training by 1833, financed by subscriptions, needlework, and 1 guinea a quarter from parents. (fn. 33) No. 103 Sloane St leased to new cttee 1849 and bought 1850, when subscribers of £50 a year could keep one G at sch. for additional £7 10s. Matron, asst, and mistress employed for 57 G aged 8-16 in 1851. (fn. 34) Accn 1871: 64; roll: 52. Closed 1886 under Order for proceeds of sale to finance inmates' instruction elsewhere and to endow cot at Nat. Orphan Home, Ham Common (Surrey). Chelsea vestry's request for endowment of scholarships at polytechnic rejected by Char. Com. 1894, as trust had not been exclusively intended for or financed by parishioners.
Holy Trinity CE Primary, Sedding (formerly Upper George) St. Opened 1831 as Trinity I sch.; 160 I, paying sch. pence, under master and mistress 1833. G sch. at E. end of ch., B sch. along S. side of ch. (fn. 35) Site for Upper Chelsea Nat. sch. on E. side of Sloane St S. of ch. given by Earl Cadogan 1835. (fn. 36) 222 B, 116 G on weekdays, with smaller Sun. attendance, by 1846 in 2 schoolrooms under master, mistress, 2 assts, and 47 vol. teachers shared with I; 210 I in one schoolroom under master and 2 asst mistresses. Parl. grants from 1837. 'Excellent' BG sch. supplied many pupil teachers for other schs. 1846. Site on W. side of Upper George St given by Ch. Bldg Commrs 1847; site with new bldgs on E. side given by Earl Cadogan 1889. (fn. 37) Rolls 1871: 245 B, 135 G, 148 I; a.a. 221 B, 108 G, 107 I. BG in Sloane St, I in Upper George St in 1871; BG in Upper George St, I in Cadogan Gdns (formerly Draycott St) at corner of Pavilion Rd 1903. a.a. 1906: 405 B, 130 G. Accn reduced 1907. Roll 1919: 278 B, 138 G, 140 I; a.a. 211 B, 225 G & I. JMI in 3-storeyed Sedding St bldg dated 1888 and in 19th-cent. bldg in Cadogan Gdns by 1958. Roll 1995: 145 JMI.
Home for Destitute and Friendless Girls, Cheyne Walk. One schoolroom at no. 46 for 33 G. Roll 1872; 40. Bldg later taken for Cheyne Hosp. for Sick Children. (fn. 38)
Hortensia Road Girls' Sec. See Carlyle.
Hortensia Road Temp. C. Opened 1907 in 3 iron bldgs for 240 JM, 120 I on closure of Park Chapel (q.v.). (fn. 39) Closed 1913 on opening of Tadema Rd sch. (q.v.).
Industrial School for Girls, Sloane St. Opened by 1858 at no. 125 as Industrial Home for G. (fn. 40) Cert. as industrial sch. by educ. cttee of Council 1859. (fn. 41) Accn 1871: 74; roll: 50. Closed after 1895. (fn. 42)
Industry, schs of. See Hans Town; Industrial Sch. for Girls; St Jude.
Ives Street Ragged. See Shaftesbury.
Ives Street Temp. Bd. Opened 1877 in rented schoolroom and classroom for BGI. Closed 1878; reopened for 6 months in 1879. Accn 1880 recorded as 462. Pupils on both occasions transferred to Marlborough sch. (q.v.).
Kingsley. See Cook's Ground.
London Oratory, Stewart's Grove. (fn. 43) Opened 1852 for B by Fathers of London Oratory on acquisition of site which inc. former Blemell Ho. sch., Brompton Rd, Kensington. (fn. 44) Moved 1856, (fn. 45) as Brompton Oratory RC Free sch., to leased ho. in Marlborough Sq. with 3 schoolrooms, classroom, and master's residence, financed by vol. contributions and sch. pence (1d. from 40 B). GI Free sch., opened 1857, in new bldg of 1860 in Bond (later Cale) St between Bury St (later Bury Walk) and Sydney St; similarly financed. New B sch. built 1863- (fn. 46) immediately to E. GI sch. in Stewart's Grove, next to St Wilfrid's convent and staffed by Daughters of the Cross, opened 1870. B 1871: roll 132, a.a. no; GI 1871: roll 198, a.a. 218. Often listed as Brompton Oratory schs. (fn. 47) Brompton and Chelsea Middle sch. for B opened 1881 in part of B Bury St premises. Middle sch. for GI by 1904. Classified by LCC as 2 schs (B and GI) until managers secured recognition as 4 separate institutions named Oratory B Free, Oratory B Middle, Oratory G and I, and Oratory G and I Middle 1905. (fn. 48) Accn 1904-5: B Free 188, B Middle 188, GI Free 350, GI Middle 330.
Middle schs renamed Oratory B and Oratory G central schs 1921, when fee paying ceased. Free schs renamed Oratory B and Oratory G and I RC schs by 1927. Accn 1932: 300 SB, 320 SG, 170 B, 314 GI. Central schs renamed London Oratory RC sec. schs. for B and for G 1949, when Oratory B and Oratory G and I were reorg. as Oratory JM and I and renamed Oratory primary (q.v.). (fn. 49) London Oratory sec. schs, in Stewart's Grove, vol. aided from 1951. (fn. 50) Rolls 1958: 355 B; 335 G. (fn. 51) Sec. schs amalg. 1959, when residents began successful opposition to plans for expansion in Sydney St. (fn. 52) G phased out, Daughters of the Cross being withdrawn 1962 and sch. classified as B grammar 1963. Moved to Seagrave Rd, Fulham, as B comprehensive with G in sixth form, 1970, when Chelsea site passed to Royal Marsden hosp. Grant maintained from 1989. Roll 1996: 1,280.
Manor Street Temp. Bd. Opened 1872 in rented assembly rooms in Manor (later Chelsea Manor) St. Closed 1874. Pupils transferred to Cook's Ground (q.v.).
Markham Street Nat. See St Luke Parochial.
Marlborough Primary, Draycott Ave. Opened 1878 as Marlborough Rd bd sch. for BGI. Accn 1880: 762; 1890: 1,215; 1907: 512 SM, 510 JM, 551 I. Called Marlborough sch. after name of rd changed to Draycott Ave. Reorg. 1917 for 494 B, 494 G, 521 I. Accn 1936: 400 B, 393 G, 320 I. Primary and sec. schs 1952, when St Thos More sch. (q.v.) also occupied premises. Primary alone by 1955. JM, I by 1958. Roll 1989: 132; 1995: 163.
Old Church Ragged, Church St. Former Petyt's sch. (q.v.) repaired with help from Ragged Sch. Union to make 3 classrooms by 1869. (fn. 53) Roll 1871: 202; a.a. 93 B, 78 G. Transferred 1871 to SBL, (fn. 54) which used premises rent free until opening of Cook's Ground (q.v.). (fn. 55)
Onslow Dwellings Nat. See St Luke, Onslow Dwellings.
Oratory Central. See London Oratory.
Oratory Free. See London Oratory.
Oratory RC Primary, Bury Walk, Cale St. Renamed from Oratory JM and I schs 1949. JM in Bury Walk and I in Stewart's Grove by 1952 until 1964 or later. I presumably moved 1970 when London Oratory (q.v.) left Stewart's Grove for Fulham. Single vol. aided primary sch. in Bury Walk by 1975. Roll 1995: 208 JMI.
Paradise Chapel Ragged, Queen's Rd West. Sch. held in chapel 1869 by cong. which had moved to Chelsea Bapt. chapel, Lower Sloane St. (fn. 56)
Park Chapel Nat., Park Walk and Millman Row (later Milman's St). Originated in 1814 as Sun. sch. for B in Robinson's Lane (later Flood St). Moved to Church St, where day sch. for BG opened 1816 in hired rooms, with rector as patron. Allotted seats in Park chapel, Park Walk, then in Ebury chapel and finally in old sch. Moved to rear of Millman Row 1817 and behind Park chapel 1820, where new schoolrooms for B and for G were built 1827. Associated with chapel and sometimes called Chelsea Nat. schs. because the first in neighbourhood to adopt system. 120 B and 75 G, inc. 24 clothed, in 1829, when supported by vol. contributions, sermons, fees of 3d. a week, and annual subscribers whose nominees were taught free. (fn. 57) The 'Clockhouse sch.', established 1831 and with 55 Band 55 Gin 1833, was presumably in former stabling at N. end of Moravians' burial ground off Millman Row; leased by them for Park chapel B. (fn. 58) 92 B, 71 G on weekdays and Sun. by 1846 in 2 schoolrooms under master and mistress; 113 I weekdays in schoolroom under mistress, 100 on Sun. when aided by 25 vol. teachers. B at Clockhouse and in former Moravian chapel by 1869, when GI in Park Walk. (fn. 59) Rolls 1871: 242 B, 109 G, 158 I. Rolls 1903, at same sites: 210 B, (fn. 60) 329 GI. Bldgs condemned by LCC 1905; (fn. 61) closed 1906.
Park Walk Primary. Opened 1881 for BGI as special bd sch. Accn 1899: 1,204 BGI, inc. defectives' class; a.a. 1,042. Accn 1927: 350 B, 350 G, 347 I. Reorg. by 1932 for 350 SB, 350 JM, 368 I. Primary by 1952; JM, I by 1958. Roll 1989: 98; 1995: 154.
Petyt's or Chelsea Charity, Church (later Old Church) St. (fn. 62) Parochial sch., recorded in 1583, held in part of clerk's ho. built on N. side of churchyard by Ric. Ward, rector 1585-1615. Replaced 1706 at expense of antiquary Wm Petyt (d. 1707), (fn. 63) a resident of Church St, who built vestry room and schoolroom, with upper rooms for master, on same site slightly enlarged by parish. Vestry, which paid for some fittings, (fn. 64) undertook to make repairs and pay master; also to appoint master after deaths of Petyt and John Chamberlaine. B to be taught free, apart from five supported by Chamberlaine's gift (above). Inclosure of commons sought to provide funds for clothing and teaching 1707, but apparently without success. Called 'the Grey Coat sch.' in will of Thos Bromwich, proved 1710, whose rent charge of 20s. a year was in arrears by 1749. (fn. 65) Trustees, inc. rector and churchwardens, were chosen yearly by vestry, which formally approved appointments of master, (fn. 66) inc. John Bellas 1746 and his son Rob. Bellas 1771. (fn. 67) G char. sch., Lordship Place, founded 1740 by rector Sloane Elsmere, with same trustees. B additionally supported by one third of collections at Sacrament 1740, when G to receive another third besides proceeds from sermon previously for daughters of pensioners at Royal Hosp. and from volume of sermons left by Elsmere (d. 1766). Gift of stationery for B in 1754. (fn. 68) Rector subscribed 2 gns a year and 33 other trustees, inc. ladies, 1 gn. 1792. (fn. 69) 70 pupils, inc. 50 clothed, in 1816; 120, all clothed, by 1823, after treasurer Luke Flood had increased vol. contributions, improved salaries, and secured partial introduction of Dr Bell's system. B transferred to new St Luke's Parochial sch. (q.v.) 1826, G to Petyt's bldg before joining B. Petyt's bldg, brick, of three bays and two storeys beneath a dentil cornice and dormers and with a ground floor arcade, (fn. 70) was used for fire engines, then repaired by incumbent of old ch. with grants from vestry 1867 and Ragged Sch. Union by 1869 and later served as mission hall and Sun. sch. until found unsafe 1887. Vested in Char. Com. and leased for 80 years from 1890 to incumbent, who rebuilt it in facsimile as Sun. sch. (fn. 71)
Queen's Gardens Bd. Opened 1876 for M on Kensington side of boundary S. of Brompton Rd. Fees reduced to 1d. for sake of children from Exeter Bldgs (q.v.) 1877. (fn. 72) Enlargement to take 180 B, 60 G approved 1879. Amalg. 1886 to form Queen's Gdns and Walton St sch., with G and I at Queen's Gdns and B at Walton St. (fn. 73) Queen's Gdns premises bought by Harrods 1897 and closed on reorg. of Walton St and Marlborough Rd (q.v.) 1902. (fn. 74)
Ragged schs. See Camera St; Exeter Bldgs; Old Church; Paradise chapel; St Jude; Shaftesbury.
Ranelagh Lancasterian, Lower George St. Opened c. 1802 for poor children in room in Ranelagh Ho. Schoolrooms for nearly 300 attached to new Ranelagh chapel 1818. (fn. 75) 160 B, 140 G under master and mistress in 1833, when connected with Calvinistic Meths. and supported by vol. contributions. (fn. 76) 'Subterraneous' accn for 300 in 1845, when a.a. said by CE curate to be 90 B, 60 G. (fn. 77) Survived as Ranelagh British sch. 1855 and listed among Brit, schs until 1863 or later, although renamed Chelsea Commercial sch. by 1857, when probably taken over as private sch. by Alf. Bonifacio. (fn. 78)
Rectory Garden Nat., Church (later Old Church) St. Opened by 1846 in 2 schoolrooms at S. end of Rectory garden presumably by Revd Chas Kingsley or his wife, who was an active supporter. (fn. 79) 200 G on weekdays and Sun. by 1846 under mistress and asst; 55 I under mistress and 27 vol. teachers. Replaced by G of St Luke's Parochial schs (q.v.) in 1861. (fn. 80) Bequest of £200 from Laetitia Rawlings transferred to St Luke's schs. (fn. 81)
Reformatory Sch. of Discipline, Queen's Rd West. (fn. 82) Opened 1825 by Eliz. Fry as first reformatory for G in London. Known also as Ho. of Discipline or Sch. of Reform. Soon moved to larger Ormonde Ho., Paradise Row (no. 2 Queen's Rd W., from 1902 Royal Hospital Rd). 33 G taught in 1833, financed by subscribers and parents. Cert, as reformatory sch. by Home Office 1856 but as industrial sch. by educ. cttee of Council 1859, (fn. 83) when G under detention were discharged or transferred. (fn. 84) Parl. grant 1859 but not thereafter. Received G at risk, committed by magistrates and some paid for by Home Office. Roll 1871: 42. Closed after c.1890, when bldg taken over by Middx Cyclist Volunteer Corps. (fn. 85)
St Anne's Home RC, Stewart's Grove. Orphanage built 1857 for Servite Sisters taken over by Daughters of the Cross (St Wilfrid's Convent) 1869. (fn. 86) Recorded as sch. with 2 rooms 1871-2: accn 133 G; a.a. 37.
St Joseph RC Primary, Cadogan St (formerly Cadogan Terr.). Opened 1844 for B in schoolroom and 2 classrooms and 1845 for GI in 2 schoolrooms paid for by Jos. Knight and on part of site given by him in 1842 for St Joseph's convent. (fn. 87) Managed by clergy of RC (St Mary's) mission and financed by vol. contributions. Parl. grant by 1859 but removed from inspection by 1867. Irish Christian Brothers taught B until replaced by laymen 1880. (fn. 88) Rolls 1871: 180 B, 156 GI; a.a. 145 B, 92 GI. Accn 1880: 303 BGI; 1890: 633; 1893: 712. Reduced by 1919 to 418 and by 1932 to 234. Vol. aided from 1951; primary by 1952. Roll 1995: 204 JMI.
St Jude Industrial, Franklin's Row. 'Knitting sch.' opened 1787 under Mrs Keyt in Lawrence St as sequel to opening of Sun. schs. 3 6 G clothed by Lord and Lady Cremorne 1788. (fn. 89) As sch. of industry, it had been 'long consolidated' with Sun. schs by 1811, when Lord Cremorne helped to clothe 30 G paid for by vol. contributions. (fn. 90) 50 G by 1819. Listed separately as St Jude's industrial sch., Franklin's Row, 1871: roll and a.a. 50 G. Probably closed with home c. 1880. (fn. 91)
St Jude Nat., Turk's Row. Opened 1846 with Nat. Soc. and parl. grants on site N. of new ch. given by Ch. Bldg Commrs 1845. (fn. 92) 88 B, no G on weekdays, fewer on Sun., in partitioned schoolroom (fn. 93) under master, mistress, and 14 vol. teachers shared with I; 102 I under mistress. Financed by vol. contributions and sch. pence 1852. Roll 1871: 77 B, 99 G or GI. Nearby bldg taken on lease for additional St Jude's Lower I sch. 1872, replaced by new rooms over sch. 1873. Accn 1880: 507 BGI, a.a. 294. Pence (1d.-2d.) paid 1881, when sch. in debt to vicar. I sch. only by 1883, Sun. sch. only by 1894. (fn. 94)
St Jude Ragged, Turk's Row. Opened 1837. Said to be in union with Nat. Soc. as Turk's Row dist. sch., in one overcrowded schoolroom for 80 BG, 1845. (fn. 95) New schoolroom for BG 1863, owned by adjoining Industrial Home (above, St Jude industrial) in Franklin's Row but with its own entrance from Turk's Row. Roll 1871: 211 in two schoolrooms. Financed by parl. grant, vol. contributions, and sch. pence (1d.) 1875. Probably closed by 1880, when no parl. grant recorded, but listed until 1887. (fn. 96)
St Luke, Arthur Street, Nat. (fn. 97) Opened in Arthur (later Dovehouse) St by 1869, when a.a. 73. Accn 1872, when at nos 55 and 57: 126; a.a. 56 B, 78 G. Accn 1890: 162; a.a. 156. Probably closed by 1893.
St Luke, Cale Street, Nat. Opened 1874 for I in new bldg at corner of Robert (later Sydney) St leased to rector, with schoolroom, classroom, and ho. for mistress. Accn 1880: 151; a.a. 150. Same accn but no a.a. recorded 1890, when presumably closed.
St Luke, Onslow Dwellings, Nat., off Pond Place. Opened 1864 by asst curate in brick hall of 1862 leased by C.J. Freake, with 2 schoolrooms and 2 classrooms for GI. Intended for poor moving into Freake's model dwellings. (fn. 98) Parl. grant by 1865, when a.a. 136. Roll 1871: 200 M; a.a. 51 B, 116 G. Open in 1880, probably closed by 1881; (fn. 99) used as Sun. sch. 1894. (fn. 100)
St Luke Parochial, King (later St Luke's) St. (fn. 101) Opened 1826 as Nat. sch. for B formerly at Petyt's sch. (q.v.) on site acquired 1824 E. of new par. ch. I sch. built 1827-8 on E side of Markham St. G probably moved to King St by 1846 but again at Petyt's sch. in 1861, when moved to former Rectory Garden (q.v.). 164 B, 70 G on weekdays and Sun. by 1846 in 2 schoolrooms under master, mistress, and asst master, with £100 grant from Nat. Soc.; 110 I in one schoolroom under mistress and asst. Parl. grant by 1859. Bequests, in addition to those to charity schs (above), inc. £2 2s. a year from Eliz. Smith's charity by will proved 1828, £100 from William Gibbs by will proved 1833, (fn. 102) stock bought by Earl Cadogan to clothe and educate 10 B and 10 G 1835, three-fifths of income from £2,500 left by Luke Flood for apprenticing 1 B and 1 G or clothing 2 B and 2 G and for prizes for catechism 1849, income from £200 given by Laetitia Rawlings for prizes 1867, and £200 left by Ann Hill 1881. (fn. 103) Elizabeth Smith's Educational foundation established under Bd of Educ. Act, 1899, by Char. Com. Order 1906. (fn. 104) Parochial schs regarded as separate from St Luke, Onslow Dwellings, sch. (q.v.), established in 1864. Rolls 1871: 508 B, 188 G, 272 I; a.a. 400 B, 164 G, 217 I. New lease of improved Markham St premises secured 1890; I had moved to King St and G to Markham St by 1896, leaving Rectory Garden as boys' institute. a.a. 1906: 334 BI, 206 G. Rebuilt G sch., LCC having threatened closure, opened 1909. (fn. 105) Rolls 1919: 271 B, 233 G; a.a. 256 B, 225 G. Rolls 1938: 235 B & I, 223 G & I; a.a. 144, 121. Closed after evacuation 1939. (fn. 106) Bldg on W side of King St by Jas Savage 1824-6: Gothic style, matching that of St Luke's ch., with 'original plan' or single-storeyed battlemented wings N and S of centre containing tall gateway between accn for master and mistress. Survived 1952 and later replaced by neo-Georgian nos 23-9 St Luke's St and church hall. (fn. 107)
St Luke Sun. schs. (fn. 108) 2 each for 25 B and 1 for 25 G, opened 1787 under cttee which inc. rector and Revd Mr Butler, (fn. 109) with Lord and Lady Cremorne among many prominent subscribers. Classes for 51 B and 71 G held in 1788 at schs of Mrs Fryer, Mrs Liddel, Mrs Winterbottom, Mr Keyt, and Mr Lomax. B sch., diminished by employment at paper factory, temp. suspended by 1799. Same benefactors in 1787 had opened 'knitting sch.' under Mrs Keyt, with which Sun. sch. had been 'long consolidated' by 1811. (fn. 110)
St Mark's College Nat., Fulham Rd. Normal and model sch. for B planned in 1842 as part of St Mark's training college for teachers (fn. 111) established in Stanley Grove (fn. 112) by Nat. Soc. 1841. New octagonal bldg, paid for by parl. grant, (fn. 113) used by junior pupils 1843. Cottage acquired for upper sch. 1845; second storey added to octagon 1848; 6 rooms added 1865. (fn. 114) a.a. 1865: 185; 1867: 395. Mat. Arnold arranged visit by Leo Tolstoy 1861. (fn. 115) Usually described as St Mark's Practising schs. Lower sch. 1871: accn 205, roll 168; Middle sch. 1871: accn 333, roll 212. Middle sch. alone by 1890: accn 488. Reduced to 260 B in 1907 after opening of JM dept 1905. JM closed by 1919. Accn 1922: 300 B; 1932: 328 B. Vol. aided from 1949. Renamed St Mark's CE 1951, when about to move to Bishop's Ave, Fulham. Two-storeyed octagon of stock brick in Byzantine style, with 4 main teaching areas and central position for supervisor, by E. Blore 1843, 1848, converted into lib. for college by Seely & Paget 1953 after removal of extensions. (fn. 116) Bldg housed Octagon sch. 1995. (fn. 117)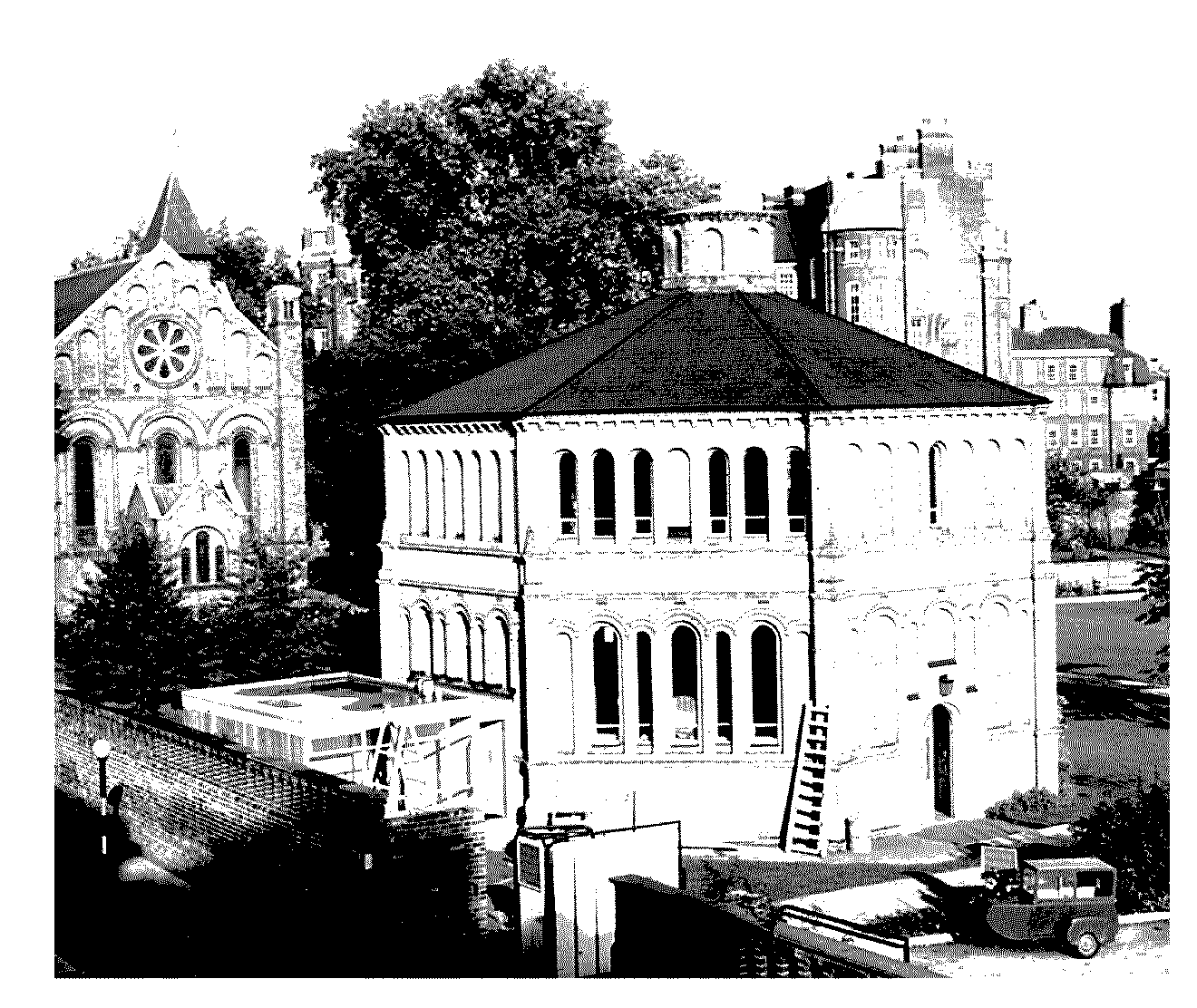 St Mary RC Charity, Cadogan Terr. Opened probably with St Mary's chapel of 1811, perhaps at first only for G, in Symons St. Increase from 80 pupils by 1824 (fn. 118) to 150 BG, of whom 60 B and 40 G were clothed, by 1829, (fn. 119) presumably following bldg of two schoolhos by Abbe Voyaux de Franous under lease of 1825 from Lady Charlotte Denys, (fn. 120) who had leased site for chapel. Described as two schs, clothing 75 B and 60 G, in 1833, when vol. contributions needed supplementation by chaplain. c. 250 BG by 1838. (fn. 121) Superseded by St Joseph's schs (q.v.), although Sisters of Mercy at St Joseph's convent conducted a poor sch. for G until 1865 or later. (fn. 122) St Mary's I sch. opened in 1857 in accn rented annually. Managed by missionary rector of St Mary's and supported in 1858 by vol. contributions and sch. pence. Parl. grant from 1859. Last listed 1870, when a.a. 92.
St Philip, Charlotte Street, RC, Pavilion Rd. Opened by 1868 for GI in rented schoolroom over stable connected to landlord's ho. in Exeter St. Managed by Fathers of London Oratory, to whose schs most pupils proceeded, and financed in 1868 by vol. contributions and sch. pence (1d.). Accn 1871: 61; roll 106; a.a. 79. One schoolroom and one classroom 1872, when enlargement planned. Accn 1888: 219; a.a. 91. Not in receipt of parl. grant but survived until after 1895, when G were at no. 45 Pavilion Rd and I nearby in Charlotte St.
St Saviour Nat., Walton St. Opened 1846 with Nat. Soc. grant in temp. bldg in Exeter Place. 110 B, 117G on weekdays and Sun. 1846 in 2 schoolrooms under master, mistress, and 16 vol. teachers shared with I; 65 I in one schoolroom under asst mistress. Parl. grants from 1847. Site on S side of Walton St E of Stanley (later Ovington) St acquired from trustees of Hen. Smith's char. 1862. (fn. 123) Rolls 1871: 213 B, 180 G in Walton St, 155 I in Exeter Place; a.a. 160 B, 143 G, 118 I. Freehold, with reservations on use by trustees, conveyed to SBL 1879, when taken for Walton St temp. bd sch. (q.v.).
St Simon Nat., Moore St. Opened 1852 as I sch. by incumbent of St Simon's. In one schoolroom in iron bldg next to ch. 1861. (fn. 124) Financed by vol. contributions and sch. pence (2d.). Parl. grant by 1868, when a.a. 122. New Nat. sch. built 1871 with schoolroom and classroom for B and schoolroom and classroom for I. Rolls 1871: 37 B, 172 I. (fn. 125) B sch. closed before schoolroom and classroom for G added 1877. (fn. 126) Accn 1893: 258 MI; a.a. 136. GI by 1899. Premises declared unsuitable and closed 1905. (fn. 127)
St Thomas More RC Sec., Cadogan St. (fn. 128) Opened 1948 as SM sch. Vol. aided from 1951. Occupied 4 classrooms and specialist accn in Marlborough primary sch., Draycott Ave, and from 1952 9 classrooms in St Joseph's convent, Cadogan St. (fn. 129) Classrooms and from 1954 rest of convent adapted with help from LCC. Retained annexe at Draycott Ave 1958. New assembly hall block, reputedly first bldg in London designed in metric dimensions, 1970. Sch. oversubscribed in 1984, when cramped site gave rise to Westm. diocese schs cttee's controversial proposal for amalg. with St Edmund's, Fulham. Further controversy over need for repairs at Cadogan St and proposed move to adult educ. centre (formerly Carlyle and Sloane schs) in Hortensia Rd 1991. (fn. 130) Sole maintained sec. sch. in Chelsea 1995, when part of sch. in Hortensia Rd and rebuilding under way in Cadogan St. Roll 1995: 600 SM.
Servite RC Primary, Fulham Rd. Opened 1868 for GI as Mount Senario or Senaris Gardens (fn. 131) sch., no. 379 Fulham Rd, leased to and managed by Revd Phil. Bosio. Started with 2 unpaid lay teachers, succeeded by Sisters of the Precious Blood. (fn. 132) New bldg on same site, with 2 classrooms, 1869. Managed by Bosio and financed by £50 p.a. from Archbishop Manning, vol. contributions, and sch. pence 1872, when mistress uncertificated and a.a. 25 G, 68 I. Reorg. for BGI 1872. New site in Winterton Pl., W side of Park Walk off Fulham Rd, leased from 1874. (fn. 133) Parl. grant by 1880. Accn 1880: 395 BGI; a.a. 195. Taken over by Servite Sisters 1882. (fn. 134) Accn 1903: 357; a.a. 422. Accn 407 by 1905, reduced to 380 in 1907 and to 250 between 1927 and 1932. Primary sch. from 1946, vol. aided c. 1948. Moved from Park Walk to no. 252 Fulham Rd, on Kensington side, 1950. (fn. 135) Roll 1995: 194 JMI.
Shaftesbury Ragged, Ives St. Opened 1859. In rented schoolroom for BGI 1871, with certificated master and mistress and 4 paid monitors. (fn. 136) Roll 1871: 190; a.a. 67 B, 93 G. Transferred to SBL by 1877 (fn. 137) and reopened as Ives Street temp. (q.v.).
Sloane, Hortensia Rd. SB at South-West London Polytechnic sch. (q.v.) renamed Sloane sch. by 1914, when LCC planned move. Opened 1919 in new bldg N. of Carlyle sch. (q.v.). (fn. 138) Accn 1919, 1937: 510 SB. (fn. 139) 310 free places by 1937. Given joint governing body with Kingsley (formerly Cook's Ground) sch. 1961. (fn. 140) Moved with Carlyle to Pimlico sch., Westm., 1970. Premises occupied by Chelsea sec. sch. (q.v.) 1971. (fn. 141)
South-West London (later South-Western) Polytechnic Day, Manresa Rd. (fn. 142) Opened 1895 by polytechnic for BG from age c. 13 who had passed 5th standard of elem. code or gained entrance scholarship from elem. sch. Roll 1902-3, when higher classes charged for scientific and commercial courses: 260-70 BG; 1908: c.400 BG. Staff from polytechnic's Chelsea pupil teachers' centre. (fn. 143) G moved to Carlyle sch. (q.v.) 1908 and B, after delay caused by war, to Sloane sch. (q.v.) 1919.
Tadema Road Temp. C. Opened 1913 for MI on closure of Hortensia Rd sch. (q.v.). M dept closed 1915. Accn 1919: 144 I. Closed 1921.
Walton Street Temp. Bd. Opened 1879 in former St Saviour Nat. sch. (q.v.). Amalg. with Queen's Gdns (q.v.) 1886. Accn 1890: 1,019 BM; a.a. 631. Reorg. as single dept for MI 1902. (fn. 144) Accn 1906: 224 JM, 220 I. Sch. for physically defective from 1909. (fn. 145)
Whitelands College Nat., King's Rd. (fn. 146) Sch. for G opened 1842 in part of college established at Whitelands Lodge (fn. 147) to train women teachers 1841 and taken over by Nat. Soc. 1849. (fn. 148) Bldg at E. corner of Walpole St extended and partly rebuilt by Nat. Soc. with parl. grant 1851. (fn. 149) Three Whitelands schs 1846: Middle, 72 G; Practising, 128 G; Infants, 134 BG; all taught free by students at college, apart from paid mistress for I. Rooms designed for National, Practising, and I schs in same bldg 1850, 1855. (fn. 150) Three schs 1871: Practising Mixed, accn 156, roll 115; Practising (Girls'), accn 262, roll 142; Model (Infants'), accn 152, roll 104. Pupils, who shared chapel with college students, mainly daughters of local professional men or shopkeepers c. 1900. Closed when college extended premises 1917.
Special Schools
Cook's Ground. (fn. 151) Classroom on ground floor of I dept in use for partially blind 1922, when accn 20. (fn. 152) Second classroom increased accn to 45 from 1924. Sometimes called Cook's Ground Myope sch., pupils spending half or two-thirds of time there and rest at elem. sch. Closed 1933 on transfer of 34 children to enlarged Kingwood Rd sch., Fulham.
Park Walk Bd. From 1887 had deaf and dumb centre, where spare room was opened 1893 for mentally defective. (fn. 153) Accn 1903: 24; roll: 45. (fn. 154) More places for mentally defective 1904, when rest of deaf and dumb centre was adapted as laundry centre. (fn. 155) Certified under Elem. Educ. (Defective and Epileptic Children) Act, 1899, in 1906, (fn. 156) when accn 100; roll: 82; a.a. 71. Accn 1926-7: 100; a.a. 32. (fn. 157) Not listed after 1927-8.
Walton Street. (fn. 158) Temp. bd sch. opened 1903 for mentally defective and certified under Act of 1899 in 1906. (fn. 159) Children transferred to Park Walk 1907. (fn. 160) Ground-floor rooms recognized as temp. sch. for physically defective M 1909; first-floor rooms, in exception to general rule, recognized 1914. Accn 1911-12: 60; 1918-19: 112. (fn. 161) Overcrowded and unsuitable 1922; improved by LCC, in absence of alternative site, 1923-4. Accn 1925-6: 132; a.a. 85; (fn. 162) children stayed until aged 16. Closed 1937 on opening of Gideon Rd sch., Battersea. Later a probation svce centre and juvenile court. (fn. 163)
The borough maintained a few pupils with emotional difficulties at Oak Hall school, Heathfield (East Sussex) in 1990-1, and a few with learning difficulties at Parkwood Hall school, Swanley (Kent) then and in 1995. (fn. 163)