Pages 238-250
A History of the County of Middlesex: Volume 12, Chelsea. Originally published by Victoria County History, London, 2004.
This free content was digitised by double rekeying. All rights reserved.
THE PARISH CHURCH
The parish church of Chelsea was known originally as All Saints, (fn. 1) but from the late 17th century more commonly as St Luke's, (fn. 2) though not, apparently, because of a formal rededication despite the Evangelist's name being inscribed on a bell of 1673. (fn. 3) Although also served by institutional or proprietary chapels, the parish remained undivided when the rectory was transferred under an Act of 1819 to a more central church, (fn. 4) dedicated to St Luke and opened in 1824. The older building was then left as the 'Parish Chapel', for which the name All Saints was later revived but which has more generally been known as Chelsea Old Church. It was not until 1831 that a division of the ancient parish took place, when the perpetual curacy of a third church, Holy Trinity, was designated a rectory. No district was allotted to the Old Church in 1819, although in 1855 its new incumbent, officially designated the assistant minister of the Parish Chapel, voluntarily took care of certain streets. (fn. 5) The Old Church remained a chapel of ease until it was finally assigned a parish called All Saints (Chelsea Old Church) out of St Luke's in 1951. (fn. 6) The account below treats church life before 1824 for the parish as a whole, and after 1824 for St Luke's and for the Old Church; it concludes with architectural accounts of both buildings.
PATRONAGE, INCOME AND PROPERTY
Presentations to the rectory were made by the abbot of Westminster, (fn. 7) or by the Crown sede vacante, (fn. 8) until the exchange of the manor together with the advowson in 1536. (fn. 9) Thereafter presentations were made by the Crown and then by successive lay lords of the manor or those to whom they had temporarily granted it, (fn. 10) Earl Cadogan being patron in 1999. (fn. 11) Under the Act of 1819 the rector of the new St Luke's became patron of the Old Church. (fn. 12) Under an agreement of 1950 the rector and the patron of St Luke's were to be joint patrons of All Saints (Chelsea Old Church). (fn. 13)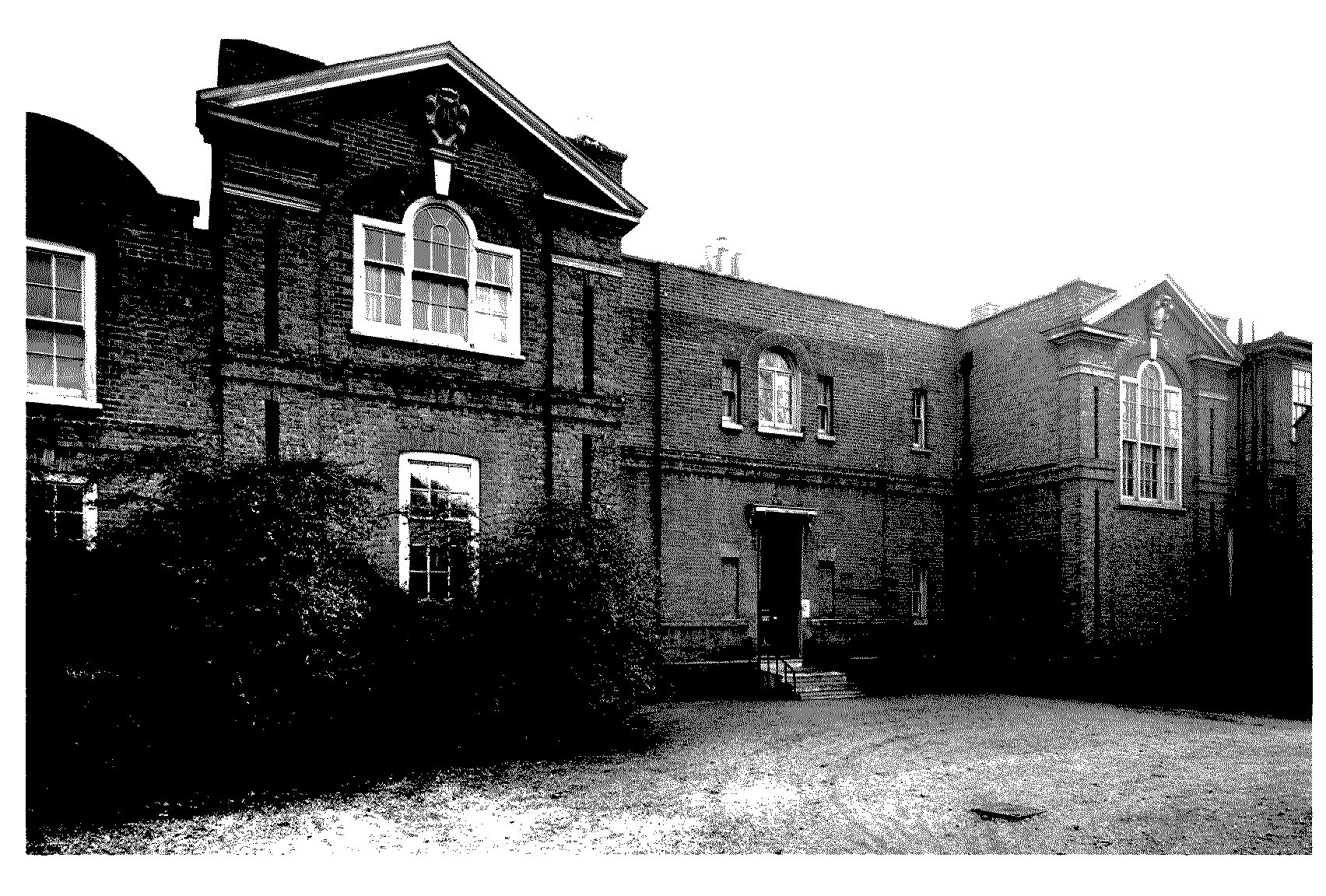 The value of the rectory was a modest £8 13s. 4d. (13 marks) in 1291 and 1319 (fn. 14) and the same in 1535. (fn. 15) In 1340 the rector's tithes of corn, wool, and lambs produced within the parish was valued at £6 13s. 4d.: 40s. had been deducted because 30 a. arable and 2 a. meadow belonged to the rectory. (fn. 16) The incumbent Robert Richardson, incorrectly recorded as vicar, received £13 6s. 8d. a year in 1548, when Chelsea had 75 communicants, Kensington had 100, and Fulham 444. (fn. 17) The living was valued at £120 a year in 1650, of which £60 represented the tithes. (fn. 18) The rector took tithes, chiefly on garden ground, in kind, as did his successor Adam Littleton before compounding with his tenants for 3 years at 6s. an acre. In 1694 the new incumbent John King found that Littleton had recently received £182 12s., made up of £7 for seats in the chancel, £15 4s. for house tithes, £51 19s. for glebe tithes, and £103 9s. for fields (garden) tithes. (fn. 19) King improved the finances: in 1703, 'tired with the backwardness of the gardeners', he farmed most of the fields tithes. An Exchequer suit against the widowed duchess of Beaufort ensured that tithes, withheld by the duke, would be paid for Beaufort House, and it was agreed with the vestry that the rector should receive at Easter 4d. for every person aged 16 or more, his predecessors having simply appropriated the Communion money. Above all, the value of the glebe was increased by building leases. (fn. 20) In 1717 tithes yielded £115 4s. 6d. and glebe rents £157 7s. 6d. out of a total income of over £380. (fn. 21)
The living was valued at £390 in the mid 18th century (fn. 22) and again slightly later. (fn. 23) After his transfer to the new St Luke's the average net income of Chelsea's rector 1828-31 was £1,003, a little less than that of the vicar of Fulham or St Mary Abbots, Kensington. (fn. 24) Compositions for tithes in the 1830s were found not to represent their full value. Almost half of the parish, c.377 a., was covered by building, roads or waste and so not subject to tithes in 1845, when they were owed on 382 a. and also on c. 12 a. of glebe not built on. Commutation, after an adjustment in 1846 awarding £3 13s. to the incumbent of Holy Trinity, gave the rector of Chelsea £210 7s. for lands other than the glebe, for which he received a further £7 8s. (fn. 25) St Luke's was still Chelsea's richest living in 1866, as it was with £1,400 in 1881; (fn. 26) a gross rental of £1,600 was produced by 22 acres of glebe in 1887 (fn. 27) when the rector still received £217 15s. for commuted tithes. (fn. 28) The net income of £1,600 (£2,100 gross) in 1907 was equalled by that of Holy Trinity. (fn. 29) About 1¼ acres of glebe on the west side of the Royal Military Asylum was sold to the Crown in 1814 to enlarge the Asylum's grounds, (fn. 30) and land at Merton (Surrey) bought for the rectory with the proceeds; (fn. 31) the land was sold in the 1860s and the proceeds then used for the expenses of the Chelsea Rectory Act, 1870. (fn. 32) That Act and its predecessor of 1825 (fn. 33) were obtained to facilitate building on the glebe.
The Old Church, left with no entitlement to the glebe, was supported by pew rents and a share in the church rates. Its minister's stipend was to be decided by the trustees of the new St Luke's but was to be not less than £250. (fn. 34) Its net income 1828-31 was £300, (fn. 35) a figure still given in 1842; for most of the 19th century it was only £250, the gross amount in 1907. (fn. 36)
The parsonage house and part of the glebe of Chelsea apparently lay between the later King's Road and the Thames, bounded on the east by land later belonging to Beaufort House and on the west by Hob Lane. The house's location is unknown but probably fronted the road by the Thames near the later Milman's Street. (fn. 37) The house, 2 closes adjoining containing 14 a. 22 p., half a rood of meadow, and 3 a. of arable in Eastfield, (fn. 38) were conveyed by the rector in 1566 to William Paulet, marquess of Winchester. (fn. 39) Paulet in turn conveyed a newly-built house, presumably on the site of the 18th-century Rectory in Church Street, with 18 a. adjoining. (fn. 40) There was also another 9 acres in Eastfield. House and glebe were thought to be worth £60 a year, half of the total value of the living, in 1650. (fn. 41) John King, who claimed to have started his improvements in 1704, has been credited with first augmenting the living by granting building leases. (fn. 42) The 18 acres of 1566 had been divided, subleased, and partly built upon by 1724, when the rector had compounded for his tithes at 6s. an acre with tenants who had turned farmland into commercial gardens. (fn. 43) Fines for houses on the glebe accounted for £50 of the mid 18th-century income of £390. (fn. 44)
The Rectory house, which was owned by the Church until 1980, was a much altered replacement of the parsonage acquired in 1566, which in 1913 was represented, if at all, only by some outhouses and garden walling with possibly 17th-century brickwork. (fn. 45) Its dilapidation induced John King to live elsewhere in Church Street in 1694; he took up residence in 1703 but his successor Sloane Elsmere did not immediately do so in 1732 because of the disrepair. (fn. 46) In 1724 the parsonage house, new fronted, was two-storeyed and of brick, with 8 rooms to a floor. (fn. 47) Perhaps Elsmere's absence was due to work connected with the Rectory's rebuilding, normally attributed to the slightly earlier date of 1727. (fn. 48) The wealthy Dr Reginald Heber was said to have carried out partial rebuilding in the 1760s. (fn. 49) Later additions, most notably the two early 20th-century Georgian style western wings, obscured the original plan. (fn. 50) In 1913 the rectory house included the main part of a substantial early Georgian building, and two large rooms with a passage room between them on the ground floor retained their doors and to certain extent their chimneypieces, dated to c.1725. Two large semi-circular bay windows in brick work were added on the eastern side later in the 18th century, and considerable additions made since 1860 harmonised with the late 18th-century character which house had acquired. In 1913 the house still stood in more than 2 acres of gardens surrounded by a high wall. (fn. 51) The two-acre gardens were planted with mature trees and claimed in 1965 as London's largest private garden after that of Buckingham Palace. (fn. 52) the Rectory's sale was foreseen in 1979 but proposals to convert the house into offices and build on a portion of the garden proved controversial, in part because they involved the closure of a playground for handicapped children. The property was sold as a residence in 1982 to a Kuwaiti, Sabah Al-Rayes, whose ambitious plans provoked further opposition. After repossession by 1989 by the Banque Arabe et International d'Investissement, it was bought in 1990 by the Japanese Toyoko Metropolitan Company, whose additions included sporting facilities and two wings each larger than the original house. In 1995 it was sold for c. £25 million to Gianna Angelopoulos, the owner in 1999. No. 29 Burnsall Street was bought as a smaller Rectory in 1980, (fn. 53) and replaced by no. 64A Flood Street c. 1990. (fn. 54)
No residence was reserved in 1819 for the first minister of the Old Church, John Rush 1824-55, who held other livings but by 1847 was at no. 6 South Parade. (fn. 55) R.H. Davies, his successor, lived for c. 50 years at no. 86 (renumbered 78, then 106) Oakley Street. (fn. 56) The incumbent in 1926 lived in Beaufort Mansions, Beaufort Street; in 1935 and 1940 at no. 4 Glebe Place; and in 1947 and 1955-6 at no. 18 Margaretta Terrace. (fn. 57) In 1960 a mortgage raised money for supplying the vicar of the newly created parish with a parsonage. (fn. 58) Presumably it was no. 4 Old Church Street, the parsonage in 1970 and 1995. (fn. 59) In 2001 no. 21 Oakley Gardens served as a temporary Vicarage, while a new house and hall were being built immediately north of the church to replace Petyt House, whose name was to be preserved. (fn. 60)
CLERGY AND PARISH OFFICERS
A rector was in dispute with the abbey in 1230. (fn. 61) Pre-Reformation rectors, from 1290 until the resignation of the last one in 1530, often held the living only briefly. (fn. 62) Three of 41 named are thought to have died at Chelsea: possibly in 1433 and in 1451 and 1470. (fn. 63) Reginald of St Albans, rector 1290-9, held a prebend of St Paul's with other preferments and later became archdeacon of London. (fn. 64) Richard Martin, 1319-39, held Chelsea as a pluralist without papal dispensation before it was given at Cardinal Gaucelin's request to Nicholas Hosebound, a minor canon of St Paul's. (fn. 65) Alexander Brown, 1435-42, was permitted to hold Chelsea with any other living worth not more than 26 marks. (fn. 66) William Walesby, who resigned in 1450, was a prebendary of Sarum and former archdeacon of Chichester; a royal chaplain, he went on to further preferments, including the deanery of St Stephen's, Westminster. (fn. 67)
In 1530 Sir Thomas More, then Lord Chancellor, nominated his protégé John Larke as rector. Larke, a pluralist, was accused of neglect by the churchwardens in 1540 and plotting against the royal supremacy with the bishop of Winchester's nephew Germain Gardiner and others in 1544. (fn. 68) More's son John was pardoned for treasonable words with them after their execution. (fn. 69) Robert Richardson, Larke's successor and a royal chaplain, was deprived in 1554 reputedly as a married priest but restored in 1566. (fn. 70)
Scholarship, or at least a concern for education, characterized many later rectors. Thomas Browne, 1574-85, who also held an Essex living, had been headmaster of Westminster school and wrote occasional poems. (fn. 71) Richard Ward, 1585-1615, was founder of the parochial charity school. (fn. 72) George Hampden, 1615-32, was probably the Oxonian of that name who celebrated James I's visit to the university in 1605 with Latin verses. (fn. 73) Samuel Wilkinson, 1632-69, declared by parliamentary commissioners to be 'of scandalous report' in 1650, but not apparently deprived, became a canon of Chichester and of St Paul's in the 1660s. (fn. 74) The lexicographer Adam Littleton, 1670-94, had been expelled by Parliament from Oxford and had opened a school in Chelsea; he was also a royal chaplain and canon of Westminster. (fn. 75) The miscellaneous writer John King, 1694-1732, left a much quoted manuscript account of Chelsea; (fn. 76) from 1697 to 1710 he also held the living of Harrold (Beds.) and from 1710 he was a canon of York. (fn. 77) Sloane Elsmere, 1732-66, was a benefactor of the girls' charity school. (fn. 78)
Later rectors were often well connected. Reginald Heber, 1766-70, who inherited a Shropshire estate, (fn. 79) was father and namesake of the bishop of Calcutta (d. 1826). (fn. 80) Thomas Drake, 1770-5, held Chelsea together with his family's living of Amersham (Bucks.). (fn. 81) The Hon. William Bromley Cadogan, 1775-97, likewise held the vicarage of St Giles in Reading, where he normally lived: the second son of Charles Sloane, created Earl Cadogan (d. 1807), he received both benefices at the age of 24. (fn. 82) Charles Sturgess, 1797-1805, who had promoted education when vicar of Ealing, was a canon of St Paul's and chaplain to Earl Cadogan. (fn. 83) Gerald Valerian Wellesley, 1805-32, a prime mover in the building of the new St Luke's and fourth son of the earl of Mornington (d. 1781), was younger brother of the first duke of Wellington and married to a daughter of Earl Cadogan (d. 1807); he was a canon of St Paul's, and later of Durham, and a royal chaplain. (fn. 84) Charles Kingsley, 1836-60, domestic chaplain to Earl Cadogan and a canon of Windsor, was father of the authors Charles, George, and Henry, (fn. 85) the last of whom described the Old Church in a novel of 1865. (fn. 86) Among his successors H.E.J. Bevan, 1902-30, W.G. Arrowsmith, 1930-52, and E.H. Loasby, 1961-82, were all canons of St Paul's; the second was also a royal chaplain. R.S. Hook, 1952-61, became bishop suffragan of Grantham, (fn. 87) and Derek Watson, 1982-96, dean of Salisbury. (fn. 88)
At the Parish Chapel or Old Church John Rush, 1824-55, was also rector of Hartwell with Little Hampden (Bucks.). (fn. 89) W.H. Stewart, 1916-26, was later archdeacon of Jerusalem, (fn. 90) and Leighton Thomson, 1950-92, from 1986 was a canon of St Paul's. (fn. 91)
An assistant curate was mentioned in 1554, (fn. 92) possibly in 1561, (fn. 93) and in 1574, 1628, c. 1630, 1637, and 1664. (fn. 94) William King, son of the rector, was curate in 1724 (fn. 95) and a defeated candidate for the lectureship in 1735. (fn. 96) William Gardener, curate in 1758, was controversially appointed by the rector as the first parish clerk in holy orders; he retained the clerkship, with a deputy, but apparently ceased to be curate on securing the disputed lectureship in 1759. (fn. 97) Later curates often attended parish meetings in the rector's place, as in 1765, 1769, (fn. 98) 1780, 1782, (fn. 99) and the 1790s. (fn. 100) The author Erasmus Middleton (d. 1805), (fn. 101) licensed as a curate at £50 a year in 1786, was unsuccessfully proposed by the rector for the lectureship. (fn. 102) John Rush, curate in 1803 and 1806 with a stipend of £70, (fn. 103) probably later became the first incumbent of the demoted Old Church. (fn. 104) Henry Blunt, licensed as curate in 1825 at £200 a year, to reside in the parish but not at the Rectory, (fn. 105) became the first rector of Holy Trinity. (fn. 106) The new St Luke's normally had at least two curates until the late 20th century, with 3 in 1859, 7 in 1915, and 4 in 1940; from the 1960s there was usually one curate. (fn. 107)
The Old Church normally had no curate, although one was recorded in 1892, presumably after Earl Cadogan, the rector of St Luke's, and a collection from the congregation had each contributed £50 to pay for an assistant to the elderly incumbent. (fn. 108) A curate was also recorded in 1961 and 1980. (fn. 109)
A lecturer, the Revd Mr Standish, was recorded in 1700. (fn. 110) Presumably he was the first to fill an office that in 1786 was claimed to be in the gift of the vestry, having for long been supported by voluntary contributions and filled by ballot. (fn. 111) Standish's successor Hugh Shorthouse was chosen in 1708 by 89 votes to 46. Larger votes in 1735 favoured William Rothery, who kept a local school, over William King and in 1759 William Gardener over Dr Martyn, the nominee of Rothery's pupil Thomas Martyn. (fn. 112) The 352 voters in 1759, unusually, included several women, (fn. 113) as in 1775 when the choice lay between 5 candidates. (fn. 114) The winner William Williams in 1786 ascribed his non-attendance to ill health, declaring that the rector W.B. Cadogan had agreed to provide for the afternoon lectureship and collection, whereupon the vestry claimed the exclusive right to make such arrangements. After protests to the absentee rector, in Reading, and lecturer, in Wales, and to the archdeacon, the vestry secured Williams's resignation. (fn. 115) A successor John Hutchins was chosen by 319 votes to 217 but was refused a licence by Cadogan, who put forward the curate as his own nominee, and by the bishop, until a compromise led to recognition both of the rector's right to approve and of the successful candidate to preach. (fn. 116) Hutchins continued until 1823, when his son and namesake succeeded him. (fn. 117)
The clerkship was another, though less important, cause of friction. A parish clerk existed by 1375 and was mentioned in wills in the late 14th century. (fn. 118) The rector Richard Ward (d. 1615) built a clerk's house with funds given by Bishop Richard Fletcher (d. 1596), and it was repaired by the parish in 1671. Wages were paid in 1665 to the clerk; from 1674 to 1681 he was paid for 'wages and washing and mending linen', and in 1681 also for burials. (fn. 119) A table of all fees, including the clerk's, was to be displayed in 1699. (fn. 120) Fees were payable in 1738 to one individual as clerk and sexton, (fn. 121) but in 1758 the offices were separated by the vestry. The clerk was elected unanimously and the sexton by 95 votes to 25 but the rector claimed the right to make both appointments until he conceded over the sexton and it was agreed that the churchwardens rather than the vestry should appoint the clerk. In 1758 the rector appointed his curate as clerk in orders, presumably with few duties since the sexton became deputy parish clerk. The rector's son-in-law Moses Dodd (fn. 122) was appointed clerk in orders in 1802 and remained so in 1834; the young Charles Kingsley later filled the office under his father until he resigned it, as a sinecure, in 1849. (fn. 123) The office of deputy clerk and sexton was divided in 1828. It was the clerk in orders who appointed the deputy clerk in 1832, whereas the vestry elected the sexton in 1835. Under the Act of 1819 a separate clerk was to be appointed for the Old Church, while the sexton was to be responsible for both churches. (fn. 124)
CHURCH LIFE
Chapels flanking the chancel of the Old Church, later known as the Lawrence and More chapels, seem from some stonework to date from the 14th century. (fn. 125) John Shoreditch, lord of the manor by 1383, by will proved 1407 was to be buried in 'my chapel' annexed to the north side of the chancel where his wife Helen was buried, leaving money for its fabric and for obits. (fn. 126) Gifts in money or kind were made to the priest or church of Chelsea in 1375, 1382, and later, (fn. 127) and to the lights of the Holy Cross in 1393, 1394, 1412, and 1441, and of St Katharine in 1394. (fn. 128) Margery Lynde in 1484 left money to the high altar, besides two torches, a light before Our Lady, and obits to be sung for 20 years by three priests. (fn. 129) A 'batchelors' light' was mentioned in 1518. (fn. 130) The church had no chantry lands in 1548. (fn. 131) Plate, vestments, and furnishings of the church listed in 1549 suggest a rather poor church. They included two silver chalices and patens, a third having been destroyed by fire, a cross of copper and gilt, two basins and 14 bowl candlesticks of pewter, five candlesticks, a censor, and three lamps all of latten, as well as altar cloths, vestments and cushions, and the altar cloth from 'Lady More's chapel'. Many vestments, the copper-gilt cross, and the latten and pewter were sold, mainly to parishioners, by 1552. (fn. 132)
Preaching but not catechizing took place in 1664. (fn. 133) Reforms ordered in 1685 included the purchase of a secure chest, a register of strangers who had preached, a table of degrees of marriage, and books of homilies and canons. (fn. 134) In the late 18th century services were held twice on Sunday and the sacrament was administered twice monthly and on great festivals to c.200 communicants; children were catechized in Lent. (fn. 135) There were two Sunday sermons in 1778. (fn. 136) Erasmus Middleton, the curate to whom W.B. Cadogan increasingly left the conduct of the parish, was presumably Evangelical, having in his youth been one of six expelled from Oxford for attending or forming conventicles. (fn. 137) He may have represented an established tradition: when the next presentation to the new St Luke's was to be put up for sale in 1851, the vestry wished to raise money for trustees to appoint to the next vacancy, 'it being highly important to secure an evangelical ministry'. (fn. 138) Candles and fully choral services were nonetheless introduced under G.F. Blunt, rector 1860-1902. (fn. 139) By 1881 St Luke's had a paid and surpliced choir; services were thrice on Sunday and once on Wednesday, Friday, and saints' days, with Holy Communion thrice a month. (fn. 140) In 1903 worshippers were mainly middle-class, although c.200 lower middle-class men attended a so-called Bible class 'stamped with a much wider interest'. In 1999 the church claimed that its services were 'broadly traditional' or 'liberal catholic'. (fn. 141)
At the Old Church marriages were forbidden by the Act of 1819 and christenings allowed only by special leave of the rector, for whom the burial fees were also reserved. Other services were those normally provided: on Sunday morning and evening and on great festivals, all with sermons, and Holy Communion at least once a month and on three festivals. By 1881 services were partly choral and held twice on Sunday, with Holy Communion twice a month. (fn. 142) In 1903 it was seen as a backwater, of little interest to newcomers. (fn. 143)
The strong musical tradition of St Luke's is associated with the new church, perhaps because the fabric of the old building, and its bells and clock, had taken up so much of the vestry's time. (fn. 144) In 1745 subscriptions enabled an organ to be placed in the west gallery, only to be taken down as unauthorized in 1746. Subscribers sought a faculty in 1752 and obtained it in 1754, after a suit in the Court of Arches, despite opponents claiming lack of space and perpetual expense, (fn. 145) but nothing more seems to have been done until 1818. An organ committee was then formed, with Luke Flood as treasurer, and money was raised for an 8-year-old organ. (fn. 146) A larger instrument was played by Thomas Attwood (d. 1838) in 1824 at the consecration of the new church, where the composer John (later Sir John) Goss (d. 1880) was elected organist in 1825. (fn. 147) A distinguished successor was the composer John Ireland (d. 1962), previously at Holy Trinity, who was organist and choirmaster 1908-30. (fn. 148) Maintaining its musical tradition, the church in 1986 offered choral bursaries and in the 1990s was used for recitals and broadcasts. (fn. 149)
Charitable bequests from the 17th century onward sometimes benefited the church in addition to the poor. Eventually the six Ecclesiastical charities of Chelsea were established by a Scheme of 1936, (fn. 150) with the rector and 4 other trustees appointed by the parochial church council of St Luke's. Richard Gilford's charity, under his will proved 1680, consisted of £58 stock set aside to provide 1s. 6d. to the minister for a sermon on 5 December, 5s. to the ringers, and 2s. 6d. to the parish clerk. Elizabeth Smith by will proved 1828, in addition to bequests to the charity schools and the poor, left 2 guineas to the preacher of an anniversary sermon on 8 August, with one guinea to the officiating clerk. Those sums were payable as part of her Ecclesiastical and Eleemosynary charity under an Order of 1906, which established her Educational foundation. In 1936 her charity (item 14) was divided, £126 stock becoming part of the Ecclesiastical charities to pay for the annual sermon. An endowment of 1856 for Thomas Flood's charity (item 19) was also divided, £8 6s. 8d. being set aside to maintain his memorial tablet in the church. The same Scheme confirmed a fund of £300 established by a deed of 1926 as the Dacre Tomb Maintenance fund. All four charities shared a founder with a Non-Ecclesiastical charity. (fn. 151)
In addition Thomas Stewart by will proved 1722 gave £100 for an altarpiece and the interest on £50 for an annual sermon on 15 January on the text of the 50th Psalm, verses 14 and 15; if no sermon was preached, the income was to benefit the boys' charity school. The gift of £50 was said not to have been laid out until Thomas Martin, on whom responsibility for executing the will had devolved, in 1810 reported the purchase of £100 stock. (fn. 152) In 1936 the gift (item 5) was still represented by £100 stock to pay for a sermon. Emily Ann Mills by will proved 1911 left stock worth £80 8s. 4d. annually for distribution by the rector and churchwardens every January equally between 10 men and 10 women aged over 60, to be communicants or other members of the Church of England. In 1936 the gift (item 29) was represented by £2,297 16s. 7d. Chelsea's share of Sarah Campbell's gift, excluded from the Scheme of 1936 at the instance of the Church Commissioners, came to be treated as an ecclesiastical charity, spent on such items as payments to the choir. (fn. 153)
Chelsea Old Church trust was registered in 1987 for a new fund to maintain buildings or otherwise advance Christian educational or charitable work in the diocese. Its assets in 1995 exceeded £27,000, of which £10,000 was on loan to the Old Church. (fn. 154)
ALL SAINTS OR CHELSEA OLD CHURCH
The church of All Saints or Chelsea Old Church, at the south-eastern end of Old Church Street, has been a riverside landmark at least since its partial rebuilding in the 17th century. (fn. 155) The three restored medieval parts, the chancel flanked north and south by the so-called Lawrence and More chapels respectively, were for long in different ownership. The Lawrence chapel apparently was built for occupants of the nearby medieval manor house, acquired c. 1590 by the Lawrence family. Sir John Lawrence, resenting intrusion by Sir Edward Cecil, in 1621 claimed exclusive rights for those 'out of my house' to repair or be buried in the chapel: 'the parson hath nothing to do there'. (fn. 156) Also called the lord's chapel, (fn. 157) its freehold passed from Lawrence's 18th-century heirs through a succession of owners until sold by the representatives of Henry Lewer to R.H. Davies, incumbent of the Old Church, in 1894. More's chapel went to the Crown, then to the marquess of Winchester and through successive holders to Sir Arthur Gorges, who sold his main house but retained the chapel with a smaller house, both of which passed to the heirs of Sir William Milman. From the Milmans the freehold was acquired by builders, the Flight family and in 1827 Richard Mann, whose son sold it in 1855 to Thomas Francis Crew, from whose mortgagee it was bought by the incumbent in 1874. (fn. 158)
A relaxation of penance in 1290 for pilgrims to Chelsea church ('Thelchuche') may have been granted to raise funds for a rebuilding. (fn. 159) In 1705 remains indicated that the medieval church had been of flint and rough stone, 'confusedly heaped together'. (fn. 160) Its appearance can be guessed only from the chancel and the Lawrence chapel, both rebuilt after war damage, and the More chapel. The medieval nave would have been shorter than its 17th-century successor if the east wall of the later tower incorporated part of the west wall of an older tower. (fn. 161) Bequests had been made to a bell tower (campanilis) in 1389, 1390, and 1393. (fn. 162) Encased in brick when the nave was replaced, the chancel in the 1920s was ascribed to the 13th century and the chapels to the 14th, More's perhaps being the earlier. Stonework suggested that the chancel had been lit by 3 lancets, replaced by a larger window itself removed in 1816, and that the chancel roof had been lowered to accord with that of the new brick nave. A surviving arch on the south side of the chancel opening into the More chapel, with its capitals carved with Renaissance motifs and More's arms, is 14th-century and attests that Sir Thomas remodelled rather than built the chapel named after him. (fn. 163)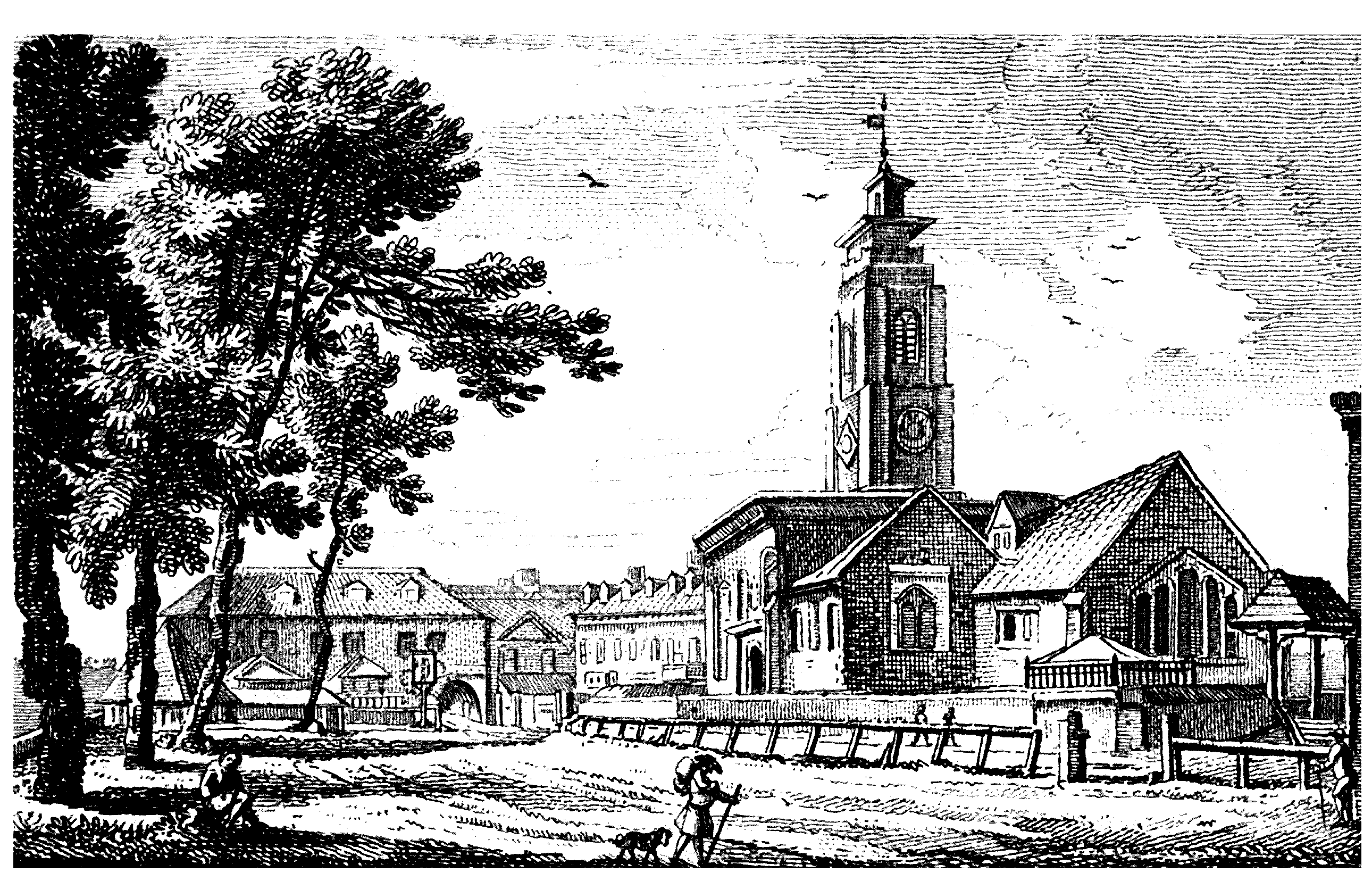 Extensive repairs and alterations were contemplated in 1631, when contributions were to be sought, but apparently to no effect. (fn. 164) Subscriptions in 1669-70, presumably including £100 given by George Morley, bishop of Winchester (d. 1684), permitted rebuilding of the nave and the provision of a west tower. Work may not have started until after the funeral in 1669 of Lady Jane Cheyne, who paid the whole cost of a new roof, but it had been finished by early 1672 except on the tower, which had been built by 1674 and, though medieval in silhouette was Gothic only in the details of its openings. It may have received its cupola for a bell given in 1679 and was adorned with a sundial in 1692; a weather vane was added in 1704, removed in 1815. (fn. 165) The new classical nave was almost square, as wide as the previous nave and aisles and had a shallow hipped roof on a deep coved cornice. It had north and south doorways, though the south front was more elaborate in acknowledgment of its position on the street. Although chiefly of red brick, the building had 'no exterior appearance of uniformity'. (fn. 166)
No major rebuilding took place after the 1670s. An unsightly gallery built by Mr Woodcock for his pupils across the chancel c.1703 survived until 1832. (fn. 167) Presumably it was the same as, or an enlargement of, a gallery approved in 1698, where pews were allocated in 1702 and whose darkening of the interior had led to the insertion of dormer windows in both the north and south roofs of the chancel. (fn. 168) A recently erected west gallery for the charity school boys was approved in 1747, when another was to be built for the girls. (fn. 169) Already Chelsea had petitioned parliament for one of the promised 50 new churches in 1718, without success. (fn. 170) Cracks in the steeple were reported in 1748, when the cupola was strengthened, and a high estimate for repairs in 1751 led to suggestions for complete rebuilding, which were shelved. (fn. 171) A new clock was installed in 1761, (fn. 172) the walls were whitewashed in 1777, general repairs ordered in 1784, and the pews rearranged in 1784, (fn. 173) when the arch between the Lawrence chapel and the chancel was rebuilt. The bells (below) caused increasing anxiety, both for their own condition and, as in 1761 and 1787, for their effect on the cupola and the tower. (fn. 174)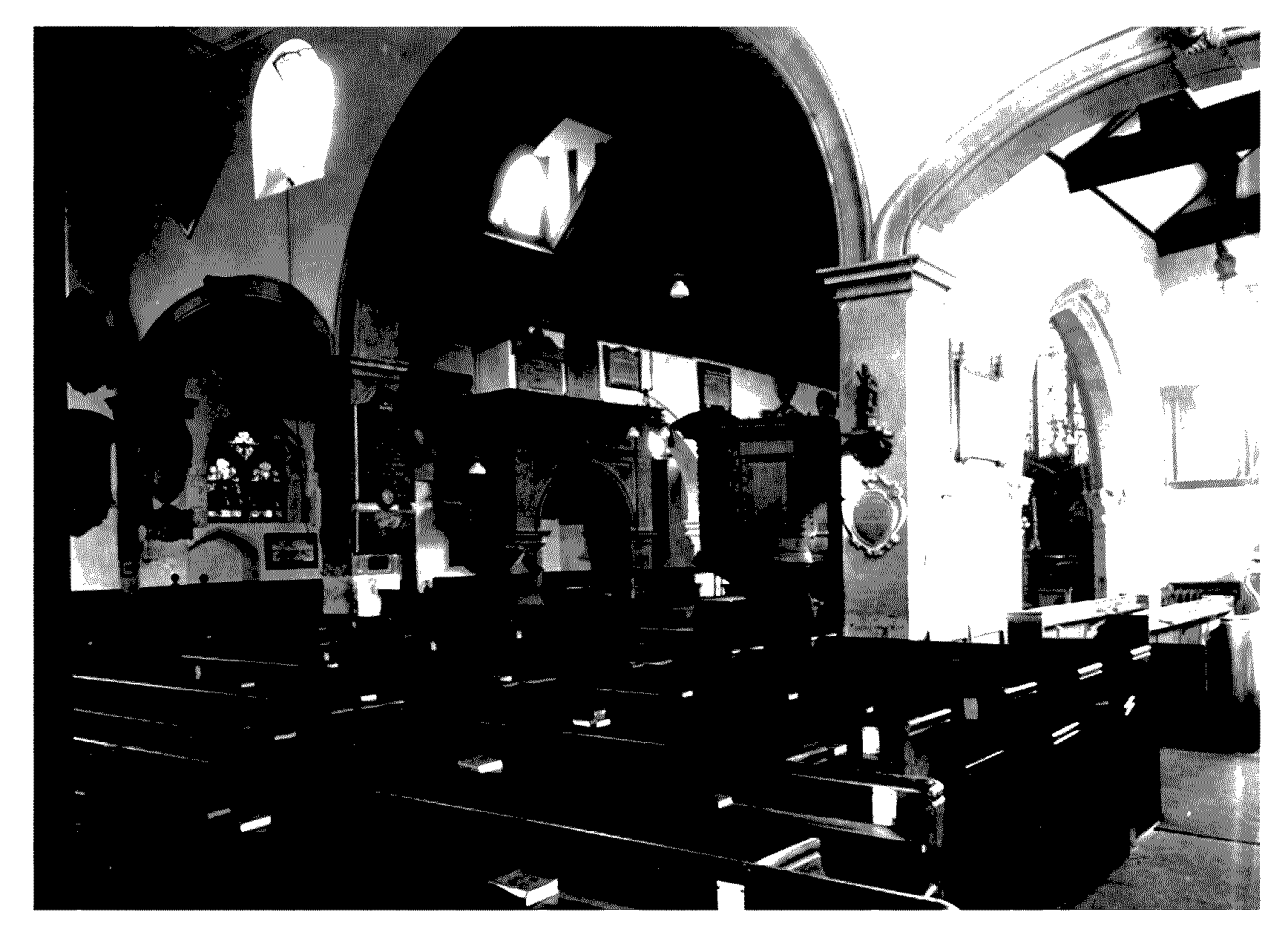 Disrepair forced the closure of the church for a month in 1789. (fn. 175) Surveyors proposed partial rebuilding, on grounds of safety, in 1802, when peals of bells were banned and the alternative of building a more central church was discussed. (fn. 176) A committee's recommendation for an entirely new church was rejected in 1806 and the question was put off in 1807 'until the time of peace'. (fn. 177) By 1815 the tower was 'cracked in every direction' and a surveyor warned that drastic but essential repairs might prove to be a waste of money. (fn. 178) Minimal repairs were nonetheless ordered, including the removal of the cupola, (fn. 179) and it was not until 1818 that a memorial was drawn up to the Church Building Commissioners, (fn. 180) preparing the way for the construction of St Luke's.
The Old Church, although cherished for its monuments (below), owed its preservation to the fact that its site did not make rebuilding worthwhile. (fn. 181) Workmanship of the 1670s was condemned in 1815 as having been carried out with poor quality bricks laid indiscriminately among rough stone; the walls were too weak for the lead-covered oak roof, and the tower for its cupola. (fn. 182) The repairs of 1815 were followed by internal reconstruction in 1832 and conservative restoration by H.H. Burnell, who added a small north-east clergy vestry, in 1857-8. (fn. 183) Apart from the rebuilding of the clergy vestry and the provision of a choir vestry in 1908-10, when the floor was relaid and the chancel's timber roof was exposed, the church was unaltered until an air raid in 1941 left only the More chapel standing. (fn. 184)
Services were held for c.9 years at the Cheyne hospital, although later in 1941 the More chapel was given a temporary roof. (fn. 185) The chapel's escape and the salvaging of many memorials proved powerful arguments for the complete rebuilding, despite diocesan misgivings; a new church was approved in principle in 1946 and a temporary extension to the chancel was authorized in 1947. (fn. 186) The renovated More chapel was opened in 1950, the rebuilt chancel and Lawrence chapel were rededicated in 1954, and the whole church was reconsecrated in the presence of the Queen Mother in 1958, (fn. 187) concluding a painstaking and much praised reconstruction by W.H. Godfrey. (fn. 188) In 1999 it preserved 'the atmosphere of the pre-Victorian village church crammed full of worthwhile monuments - the most evocative of such interiors in inner London'. (fn. 189)
Monuments
The monuments impressed Henry Kingsley as creating a timeless and funereal air. (fn. 190) Often they have been seen as more remarkable than the church itself, (fn. 191) with the result that the prominent intruders whose numbers made it so inadequate helped to ensure its survival. John Weever in 1631 was the first antiquary to comment on tombs, those of More and the Brays (below), (fn. 192) but was soon followed by John Stow, who noted six more, (fn. 193) and in 1705 more comprehensively by John Bowack, (fn. 194) who considered them, for 'number, structure, and dignity, scarce to be parallelled by any church of its bigness in England'. Fuller lists, also covering the churchyard, included those of Lysons in 1795, (fn. 195) of Faulkner in 1810 and 1829, (fn. 196) and those in more recent surveys. (fn. 197) In 1945 the Diocesan Reorganisation Committee proposed the restoration of only the More chapel, which worshippers feared would be left as a mere museum of ancient monuments. The need to accommodate properly those 'of outstanding merit' was decisive in ensuring a more ambitious rebuilding. (fn. 198)
Some rearrangement was made necessary by 17th-century rebuilding: in 1672-3 a churchwarden paid for 'taking down and setting up the Lord Dacre's tomb in part'. (fn. 199) Monuments normally were described according to their location in the church until the removal of all that could be salvaged in 1941 for storage in the crypt of St Luke's. The locations given below are those resulting from a further rearrangement on their reinstalment by W.H. Godfrey. Of the ten estimated major monuments, seven are 16th-century. (fn. 200)
Among the monuments may be considered the carved hexagonal responds on the two capitals of the chancel arch leading to the chapel which Sir Thomas More remodelled in 1528. (fn. 201) Often called the Holbein capitals, (fn. 202) since Holbein visited the Mores at Chelsea c. 1527, (fn. 203) they are amongst England's 'earliest and best examples of the new Italian style', although probably the work of masons from France rather than Italy. (fn. 204) Against the south wall of the chancel is the oldest tomb, which More prepared for himself, beneath a long Latin epitaph and verses composed by him and inscribed in 1532 as an autobiography and vindication. (fn. 205) The unique link with More in itself makes the chapel a national monument. (fn. 206)
The chancel contains against the north wall the second oldest monument, (fn. 207) the tomb chest of Edmund, Lord Bray (d. 1539), (fn. 208) where his son John, Lord Bray, was laid after a lavish funeral in 1557. (fn. 209) Also on the north wall is the tablet to Thomas Hungerford (d. 1581). On the south side of the More chapel is the tomb of Jane Guilford, duchess of Northumberland (d. 1555), its figures badly damaged. In the Lawrence chapel are the arched tomb of Richard Jervoise (d. 1563), tablets to Sir Thomas Lawrence (d. 1593) and to Sarah Colvile (d. 1631), 'perhaps the most interesting' where her effigy rises in a shroud, (fn. 210) the tomb of Sir Robert Stanley (d. 1632), his bust probably by Edward Marshall, and, over the door to the vestry, a tablet to Sir John Lawrence (d. 1638). In the nave memorials include the ambitious marble wall monuments of Gregory Fiennes, Lord Dacre of the South (d. 1594) and his wife Anne Sackville (d. 1595), ascribed to Nicholas Johnson, which the parish was bound to maintain in order to share in Lady Dacre's charity. (fn. 211) It is balanced on the opposite, north, wall by that of the building's benefactress Lady Jane Cheyne (d. 1669) and her husband Charles Cheyne, Viscount Newhaven (d. 1698), said to have been designed by Gian Lorenzo Bernini (fn. 212) but later attributed to his son or his nephew, Paolo or Pietro; (fn. 213) the figure is by Antonio Raggi. A brass panel from the tomb of Sir Arthur Gorges (d. 1625) shows him in armour, with his children. Among later memorials is the wall tablet in the chancel to the sisters Lucy Smith and Anne Wilton (d. 1781, 1787), by Joseph Wilton. Wall plaques commemorate, among others, Henry James (d. 1916) and William de Morgan (d. 1917).
In the churchyard many monuments were recorded in 1795, by which date it had been largely superseded by the King's Road cemetery given by Sir Hans Sloane in 1733. (fn. 214) Memorials against the walls of the church itself include those to the Chamberlaine family, Dr Edward Chamberlaine having been allowed to make a vault in consideration of his apprenticing charity. (fn. 215) Close to the east wall of the church are an obelisk to Philip Miller (d. 1771) and a stone to William Anderson (d. 1846), both of them curators of the Physic Garden. (fn. 216) In the south-east corner of the ground is Joseph Wilton's canopied urn commemorating Sir Hans Sloane (d. 1753); conspicuous from its white Portland stone, its construction was approved in 1764. (fn. 217) A controversial seated figure of Sir Thomas More by L. Cubitt Bevis, unveiled in 1969, is outside the railings but so sited for its proximity to the More chapel. (fn. 218)
Fittings
Fittings (fn. 219) include the baluster font of 1673, with a new cover, late 17th-century communion rails, and 17th-century Flemish glass in the north aisle and chapel. An oak bookcase of 1832 in the south aisle contains London's only surviving chained books, given by Sir Hans Sloane. (fn. 220) In the porch has been hung the Ashburnham bell, given in 1679 to celebrate William Ashburnham's escape from drowning; formerly in the cupola, it was rung on winter evenings until c. 1825, when no more funds could be found. (fn. 221)
Three great bells and a little service bell, listed in 1549, (fn. 222) may have survived at the church's rebuilding. (fn. 223) A fourth great bell was then given in 1673. The physician Baldwin Hamey the younger (d. 1676) (fn. 224) gave a bell inscribed to St Luke in 1673 and his nephew Ralph Palmer paid for another bell in 1674. Six bells were recorded in 1705. (fn. 225) Recasting of the six old bells into a peal of eight was suggested in 1756 and carried out in 1762 by Thomas Janaway, who was charged with neglecting their wheels and rollers. (fn. 226) The bells were to be sold in 1824 towards a peal for the new church but the 4th was retained in order to summon worshippers to the Parish Chapel. (fn. 227) The survivor was recast in 1957 and served as the 3rd bell in a peal of eight in 1977, when seven new bells were installed. (fn. 228)
The 17th-century plate was transferred to the new church, together with the registers. An electro-plated early 19th-century set of 2 flagons, cups, patens, and almsdishes was in use in 1895. (fn. 229) Communion vessels used in 1932 had been given by the father of S.P.T. Prideaux, incumbent 1908-12. (fn. 230) All were destroyed in 1941. (fn. 231)
CHURCH OF ST LUKE
In 1818 the vestry at last decided to raise money for a large and more central church, (fn. 232) to which the rectory was to be transferred under the Act of 1819. It was to be built in the middle of 4 acres east of Robert (later Sydney) Street which had been acquired as an additional burial ground in 1810. (fn. 233) Commissioners under the first Church Building Act, 1818, agreed to pay up to one third of the cost; the vestry reduced its total estimate from £30,000 to £20,000 but the architect's estimate of £25,000, in addition to a parliamentary grant of £8,333, was so far exceeded that the final figure came to c. £40,000, (fn. 234) a tribute to the wealth of local subscribers. The foundation stone was laid in 1820 and the new parish church, dedicated to St Luke, was consecrated in 1824. (fn. 235) 'The first stone vaulted church of the Gothic Revival', (fn. 236) St Luke's impresses by its height, which is enhanced by spacious surroundings. (fn. 237) Its nave, rising to 60 ft, is taller than that of any church in London except St Paul's and Westminster abbey. Designed in patriotic English Perpendicular style by James Savage to seat c.2,000, (fn. 238) the building of Bath stone was planned as a long rectangle comprising a shallow straight ended chancel, a nave with galleried aisles and triforium and clerestory, and a 142-ft tower springing from the central bay of a porch which spans the west front. Burial vaults strengthened the foundations and a vestry projected beneath the east end. The tower, for which a spire was intended, was crowned by battlements and by pinnacles on its octagonal corner buttresses, echoed by octagonal turrets at the east end. Alterations have been slight: the chancel was decorated by George Goldie and Child in 1874, (fn. 239) and its floor raised and extended westward in 1893; a memorial chapel for the Punjab Frontier Force ('the Piffers') in the south aisle was dedicated in 1951. During repairs to the stonework between 1983 and 1991 the vestry was refurbished and converted into parish offices, (fn. 240) the expenditure having been made possible by the sale of the Rectory. (fn. 241)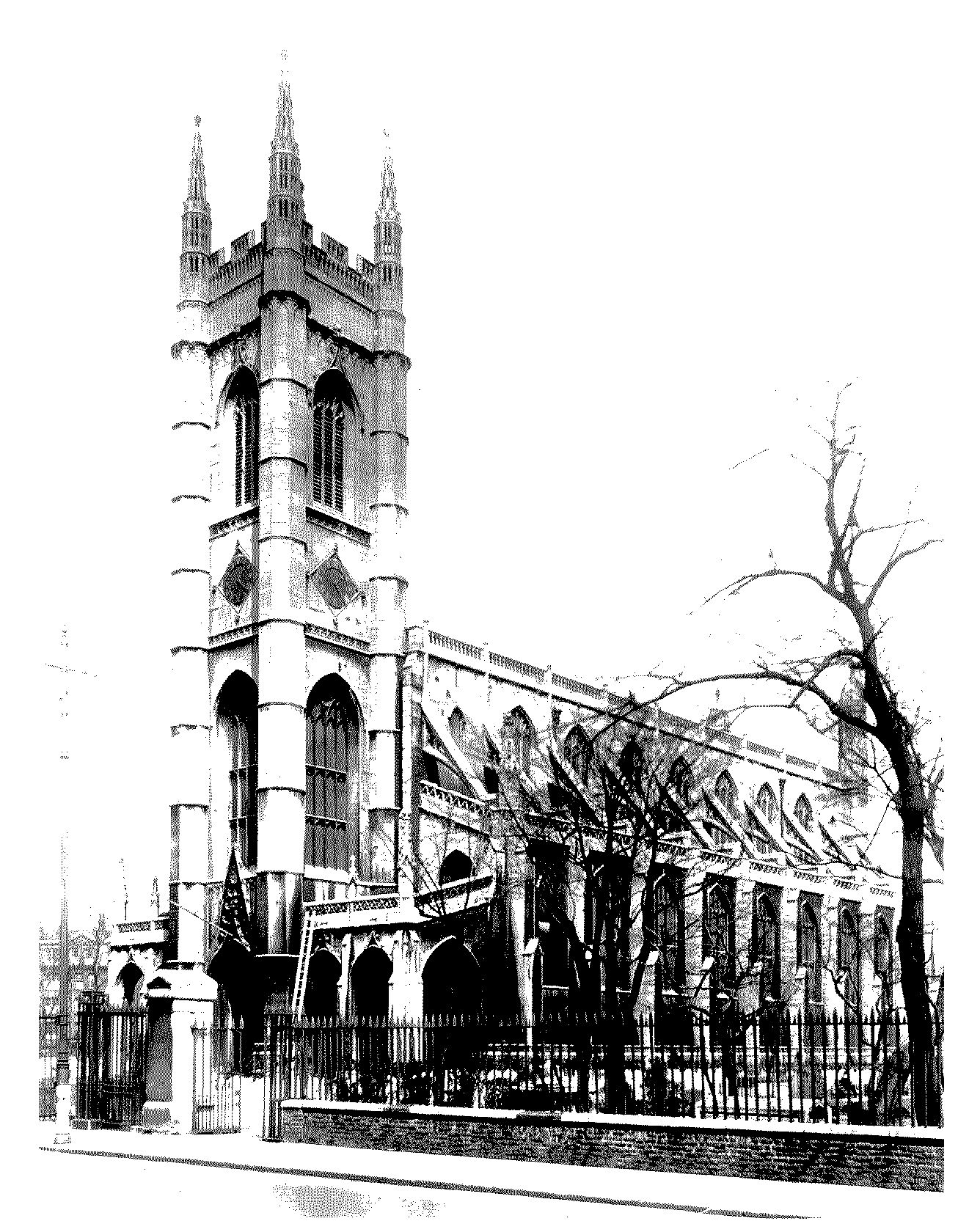 Such an ambitious church has always provoked debate. Savage's plans were criticized by the Crown Architects and realized only because the parish bore so much of the cost. (fn. 242) The result was welcomed as a departure from the Grecian style and an example of grandeur, tastefulness, and a correctness of elaborate detail that 'would do honour to a cathedral'. (fn. 243) By 1872, however, C.L. Eastlake, while acknowledging the architect's earnestness, found it 'uninteresting in its general effect', with lanky proportions, mechanical decoration, and an overstrained balance in its plan. (fn. 244) He was outdone in 1966 when the building, 'one of the most loveless in London', was said to have long got away with fraud on the grounds that it had once been a novelty and cost a fortune. (fn. 245) St Luke's has perhaps attracted harsh scrutiny precisely because exact medieval precedents had been followed, (fn. 246) and more recently it has received kinder treatment. In 1995 it was recognized as Savage's most important Gothic church, and in 1997 was poetically described as a Gothic Revival ship, sailing parallel to King's Road. (fn. 247) Its open site, rare for a London church, gives its soaring height full effect.
Monuments and Fittings
Monuments in the church include one by Chantrey to Lt-Col. Henry Cadogan (d. 1813), formerly in the Old Church, and one considered the best work of W. Pepper the younger, to Luke Thomas Flood (d. 1857). (fn. 248) The fittings in Gothic style were designed by Savage, except for the pulpit, replaced in 1893, and the lectern, 1889. (fn. 249) His reredos incorporates a painting of the Descent from the Cross by James Northcote (d. 1831), Steven Cox's stone figures of Adam and Eve, installed 1997 in niches on either side. The organ case at the west end echoes the design of the church tower; pipes were added to Nichol's original organ and a new organ by John Compton was installed in 1932. Northcote also designed the glass in the east window, made by T. Willement, for which a subscription was launched in 1823; (fn. 250) it was destroyed in the Second World War, and more than 500 square feet of glass, designed by Hugh Easton, replaced it in 1959. A peal of ten bells was cast by Thomas Mears at Whitechapel in 1823 (fn. 251) and rehung in 1893 and again in 1936.
The plate from the Old Church at St Luke's in 1895 included a paten datemarked 1624, a paten of 1676, and a spoon of 1698, all silver-gilt, two silver flagons of 1680 and two silver cups of 1778, and 18th-century pewter dishes, besides later pieces. (fn. 252) In 2003 only the spoon, a funnel wine strainer of 1837, and two churchwarden's staves of 1797 and 1829 were still in the parish's possession. (fn. 253) The registers were likewise transferred: those of baptisms and marriages date from 1559 and are irregular for 1644-52; those of burials date from 1559 but are missing for 1564-91. (fn. 254) Burials by 1795 had for long exceeded baptisms, owing to the number of nursed children and strangers. Separate registers were kept by the Royal Hospital. (fn. 255)
Churchyard
The churchyard since 1887 has served as a public garden, with some gravestones realigned. (fn. 256) Burials included that of James Savage (d. 1851), (fn. 257) though his tomb is no longer visible. Among those married in the church were the authors Charles Dickins in 1836 and Jerome K. Jerome in 1888. (fn. 258) A church at Chelsea, Massachusetts (USA), founded in 1906, was presented with a block of stone from the Old Church and dedicated to St Luke. (fn. 259)