Pages 250-258
A History of the County of Middlesex: Volume 12, Chelsea. Originally published by Victoria County History, London, 2004.
This free content was digitised by double rekeying. All rights reserved.
CHURCH EXTENSION
Shortage of space in Chelsea's parish church (later the Old Church) was implied by a carefully recorded exchange of pews in 1626 between the countess of Nottingham and Sir John Danvers. (fn. 1) In 1631 enlargement was needed because of recent building and 'the resort and residence of divers great personages', which had deprived many ancient inhabitants of their seats. (fn. 2) Similar words were used in 1698, when the church could not hold half of the parishioners after most of it had been rebuilt. (fn. 3)
Accommodation eventually was supplemented by the proprietary Park chapel, a little to the north-west, possibly from 1718: the chapel's construction was ascribed to the cessation of services which had been held at Beaufort House. (fn. 4) Anglicans in the early 19th century were slower than Roman Catholics or protestant nonconformists to respond to the growth of Hans Town. (fn. 5) In 1815 the antiquary Richard Yates, chaplain to the Royal Hospital, was worried particularly by the lack of free places in undivided parishes around London; Chelsea, on the general county average, was populous enough to need 28 churches. (fn. 6)
Further provision was made by the more central St Luke's, whose incumbent superseded that of the Old Church as rector of Chelsea in 1824, and by Holy Trinity chapel to the north-east from 1830. St Luke's and Holy Trinity were a response to the Church Building Commissioners' findings in 1821 that Chelsea had places of worship for only 3,200 out of its population of over 26,000. (fn. 7)
Both the Old Church and Holy Trinity were intended as chapels of ease to the new parish church, but while the first continued as a perpetual curacy the second in 1831 was given its own parish, sometimes called Upper Chelsea. The rector's conveyance of a site for Trinity chapel and the building commissioners' leasing of pew rents were resented by many vestrymen. (fn. 8) Forced to admit the legality of the chapel's construction, in 1834 they appointed a committee to prosecute their grievances over the division of the parish and vainly sought to reverse that 'arbitrary' act. (fn. 9)
An additional but modest increase in accommodation was provided by institutional chapels which outsiders could attend: at the Royal Hospital and at the Royal Military Asylum. The sentence of consecration for the first in 1691 confirmed all the rights of Chelsea rectory and that the chapel would remain subject, like the parish as a whole, to the jurisdictions of the bishop of London and the archdeacon of Middlesex. (fn. 10)
Mid 19th-century church building was mainly in eastern Chelsea. It started with that of Christ Church, a chapel of ease to St Luke's from 1839 and a separate parish from 1860. The church was the first in Chelsea to benefit from Catherine Elizabeth Hyndman's Bounty to the Church of England, established by her brother in 1836 and largely derived from sugar plantations. (fn. 11) In 1838 there were estimated to be 7,350 seats for Anglicans and 3,760 for all other worshippers in the old parish, a total of 11,110 for a population of 46,495. Christ Church was included among the 7 Anglican places of worship, as were the chapels of the Royal Hospital and the Military Asylum which seated 500 and 600 respectively. (fn. 12)
There followed the opening of the parish churches of St Saviour, Walton Street, in 1840, St Jude, Turk's Row, in 1844, and St Simon Zelotes, Milner Street, another beneficiary of the Hyndman trust, in 1859. (fn. 13) Holy Trinity, claiming to share with St Luke's in the distribution of parochial charities for the poor, was at length allotted a third of the income in 1866, when a further twentieth went to Christ Church. (fn. 14) Harriett Burrard by will proved 1867, in addition to a bequest to St Luke's parochial school, left £1,000 stock to be divided between the incumbents of Christ Church and St Jude's, which stock was transferred to the commissioners for Queen Anne's Bounty. (fn. 15) In contrast, the less developed western end of Chelsea saw only the opening of the chapel of St Mark's training college in 1843 until the nearby St John's, Tadema Road, serving the new but modest streets of World's End, was opened in 1876. (fn. 16) Provision may have been found to be over-generous in Eastern or Upper Chelsea, where St Matthew's briefly existed as a temporary church c. 1878 and where St Jude's was made a chapel of ease to Holy Trinity in 1892.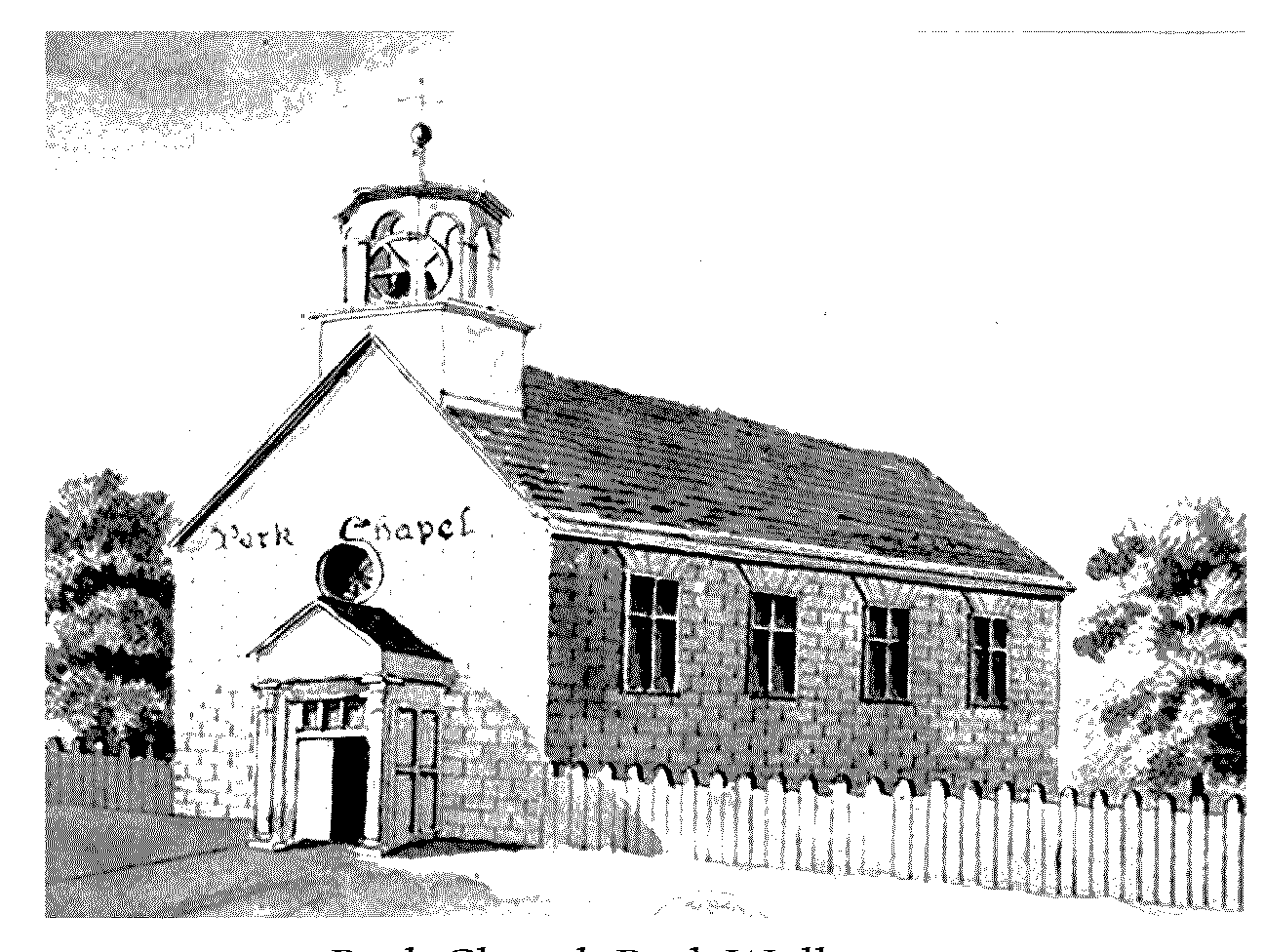 Chelsea and St Marylebone were distinguished among London's richer parishes for their comparatively modest fall in church attendance, of 9.3 and 9.7 per cent, between 1886 and 1903. Probably a declining population, especially working-class emigration, allowed Chelsea to contrast with Kensington, where the fall was 41.6 per cent. (fn. 17) Good relations with protestant nonconformists were claimed in 1900 for St Luke's, St John's, and, with Roman Catholics also, Holy Trinity. (fn. 18) At St Simon's, however, there were felt to be too many Roman Catholics, while the vicar of St Saviour's resented the charitable work of the Church of Scotland, which left him ignorant as to who deserved relief. All churches supported social and benevolent societies, St John's in particular sponsoring a wide range of activities which was making the Church popular. (fn. 19) Morality was generally seen as good, the worst complaints being of apathy or drunkenness among the poor. Some prosperous eastern districts had their own problems: at Christ Church the wealthy residents lacked interest and at Holy Trinity, where 'educated' parishioners found fault with the preaching, difficulties arose from weekend absences during the Season.
In 1903 Chelsea had 12 Anglican churches or chapels, including those of the Royal Hospital, the Duke of York's schools (formerly the Asylum), and St Mark's college. (fn. 20) They were attended on census Sunday by 8,414 worshippers, to whom could be added 1,309 at six Anglican missions to give a total of 9,723, outnumbering that of all other denominations. (fn. 21) As only 21.6 per cent of its adult population attended any kind of church, Chelsea ranked 31st on a list of 51 London districts headed by Baling with an attendance of 47.4 per cent. On a similar list of people attending Anglican services, Chelsea ranked 21st. (fn. 24)
Six Chelsea churches had at least one assistant curate in 1896 and 1907, when in both years there were 14 curates in addition to the incumbents. The richest livings in 1896 were those of St Luke's and Holy Trinity, with £1,547 and £1,500 respectively, whereas St John's and St Simon's were each worth only £200. (fn. 25) In 1903 the average income of an incumbent in Chelsea was high: £693, compared with £577 in Kensington and £300 or less in most East End parishes. (fn. 26)
The rebuilt Park chapel was opened as St Andrew's in 1913. The first closure was that of St Jude's in 1934. After war damage it was proposed in 1947 that the shell of the Old Church be preserved, pending proper restoration, and that a mission hall should serve St John's. Six church buildings were to be retained: those of St Luke, Christ Church, St Andrew, Holy Trinity, St Saviour, and St Simon Zelotes. Together with the Old Church and St John's, they made up Chelsea's 8 parish churches, until in 1973 St John's parish was united with St Andrew's, as had been suggested in 1947, later served by St John's community church at World's End. The 7 parishes were further reduced to 6 when Christ Church was united with St Luke's in 1986.
Expansion at World's End, where St John's clergy worked closely with the Salvation Army and other bodies, was counterbalanced by dwindling congregations farther east. Both of the threatened churches of Holy Trinity and St Saviour served areas whose wealth did not make up for the fact that many residents were transitory, foreign, or part-time; a defender of St Saviour's in 1986, elaborating the complaints of the incumbents in 1900, went so far as to claim that 'most of the residents have country houses to which they repair at weekends'. (fn. 27) St Luke's in 1999 drew an 'eclectic congregation' from a 'highly mobile community'. (fn. 28) An additional threat to the buildings' survival lay in the value of their sites for redevelopment.
The 6 parishes, with a further 5 in South Kensington, in 1995 formed the deanery of Chelsea. There were also 4 hospital chaplaincies: that of the Royal Hospital, (fn. 29) and those of interdenominational chapels for staff and patients at the Brompton, Royal Marsden, and Chelsea and Westminster hospitals. (fn. 30) In 2000 an assistant curate was attached only to St Luke's, with responsibility for Christ Church, while St Saviour's was temporarily served from St Simon's. A total of 6 stipendiary clergy, apart from the hospital chaplains, was left to minister to the entire ancient parish. (fn. 31)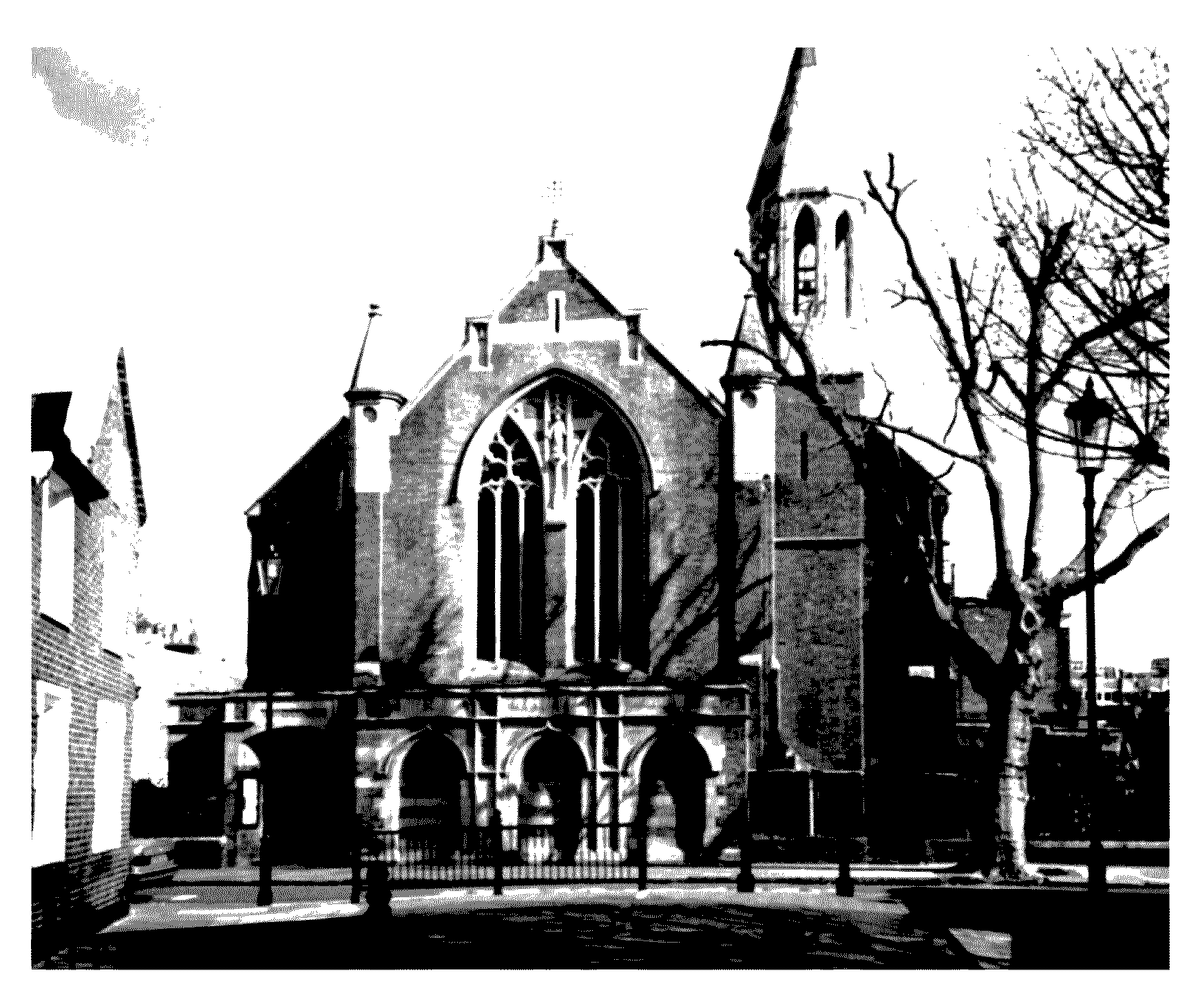 DAUGHTER CHURCHES AND PROPRIETARY CHAPEL
Below are brief details, in alphabetical order, about all the Anglican places of worship in Chelsea apart from the parish churches (above). Following the district churches is a section for institutional chapels which allowed the public to attend services.
Inf. about 19th- and 20th-century patrons and clergy is from Clergy List, Crockford, and London Diocesan Year Bk (various edns). Svces, seating, and attendance figs. 1867, 1871, 1881, 1884 are from Mudie-Smith, Rel. Life, 113. Liturgical directions are used in all architectural descriptions. The following additional abbreviations are used: a.a., average attendance; aft., afternoon; asst, assistant; consecr., consecrated; Dec., Decorated; dedic., dedicated, dedication; demol., demolished; EE, Early English; Eccl. Com., Ecclesiastical Commission; evg, evening; H.C., Holy Communion; mem., memorial; min., minister; mtg, meeting; R, rector; regs, registers; svce, service; temp., temporarily; V, vicar. Most regs are at LMA.
Christ Church, Paradise (from 1879 Christchurch) Street. (fn. 32) Hyndman's trustees decided to build chapel of ease for St Luke's 1837. (fn. 33) Listed among chs with seating overestimated at 1,200 in 1838 (fn. 34) but not consecr. until 1839. Separate par. 1860 with boundaries extended 1861. Patron Hyndman's trustees. Serving poor area and with small endowment and few pew rents, V sought help from Eccl. Com. 1841. (fn. 35) Par. more populous and more prosperous from redevelopment by 1890s. Anti-Ritualist under 2nd V 1845–65. Svces twice Sun., with unsurpliced choir, 1867; also Wed. evg, and H.C. 2 or 3 times a month, 1881. Attendance 1903: 257 a.m., 293 evg. Normally one asst curate from 1870s to 1940; 1 in 1961–2. Retained parochial status but shared clergy after formation of combined par. called Chelsea, St Luke and Christ Ch., 1986.
Bldg of yellow stock brick with stone dressings by Edw. Blore 1838–9, seating 800 inc. 250 free in 1881, in EE Gothic style and with an innovative asymmetrical composition with SW. stair tower with bell turret. (fn. 36) Shallow chancel, aisled nave with iron pillars and galleries on 3 sides. Built to hold maximum no. of mainly working-class parishioners at minimal cost, ch. was dominated by pulpit and resembled nonconf. chapel in lack of adornment. Extended E. and W. by J. Art. Reeve 1989, when nave roof rebuilt, pillars encased in plaster, and 2 SE. vestries replaced smaller vestry; chancel extended and new W. front in Dec. style by W.D. Caröe 1900–1; (fn. 37) NW. porch by G. Woodward 1933. 17th-cent. pulpit from St Jas Garlickhithe (London) and organ of 1789 from demol. St Mic. Queenhithe (London) acquired 1876. (fn. 38) Vicarage, previously at various hos, built on site at no. 27 Tite St given by Earl Cadogan 1888. (fn. 39) Regs from 1839. (fn. 40)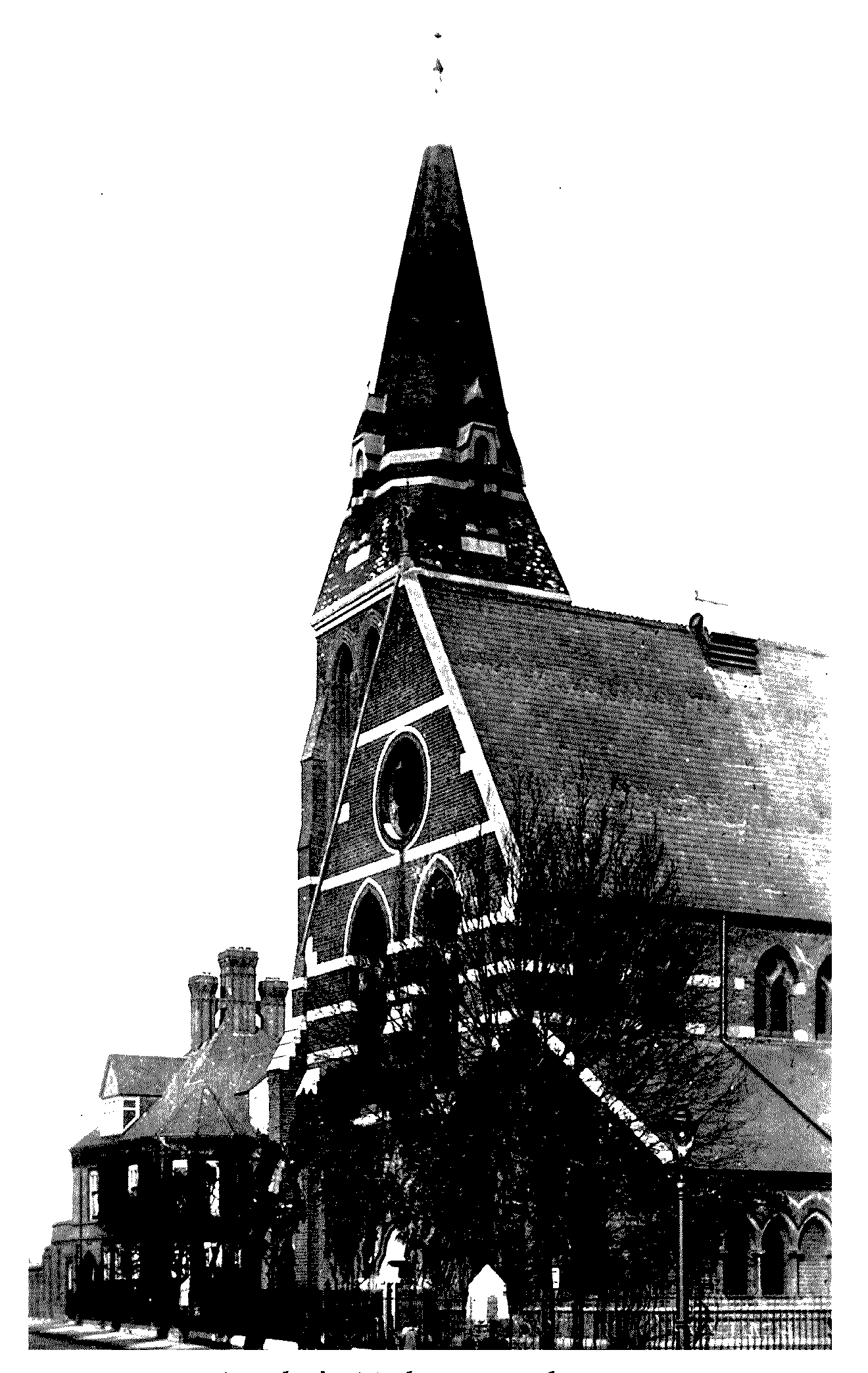 Emmanuel. See Park chapel
Holy Trinity, Sloane Street. (fn. 41) Inhabitants petitioned for a church in 1819 but disagreed with ch. bldg commrs about cost and plans by Geo. Godwin. Site from E. side of Sloane St to Upper George (later Sedding) St found by par. 1827, and conveyed to commrs by Hen. Blunt, later first incumbent, 1828, (fn. 42) where chapel of ease to St Luke's consecr. 1830. Stipend allotted and dist assigned from Chelsea (St Luke's) par. 1831. (fn. 43) Blunt formerly asst curate at St Luke's. Bldg financed by large parl. grant (£6,729) (fn. 44) but Chelsea vestry's resentment at loss of pew rents (fn. 45) and other expenses led to separation as par. with R. to serve Upper Chelsea 1832. Invalidity of division, arising from signature on behalf of Earl Cadogan, a lunatic, led to second order 1832. One twentieth of tithes of St Luke's, besides shares of other fees, assigned to Holy Trinity. (fn. 46) Patron Earl Cadogan. Richest ch. in Chelsea after St Luke's, normally with one or two asst curates. Rectory, at hos in Cadogan Pl. 1855, 1863, designed by A.W. Blomfield at no. 141 Sloane St 1874 and there until 1970s. (fn. 47)
Svces thrice on Sun., twice on Wed. 1867; fully choral, thrice on Sun. besides H.C., once on Wed., Fri., and saints' days 1881. Attendance 1903: 1,443 a.m., highest at any rel. svce, 808 evg. R. was patron of St Jude's (q.v.) until that par. joined Holy Trinity, its V. moving to Holy Trinity Rectory 1892. (fn. 48) Successive rectors Ric. Burgess 1836–70, Rob. Eyton 1884–95, H.E.G. Bevan 1895–1902, H.R. Gamble 1902–16, and Chris. Cheshire 1924–45, were also prebendaries of St Paul's. Bevan became R. of St Luke's and Gamble dean of Exeter. Musical tradition strengthened by appointment of young John Ireland as asst organist and choirmaster 1896–1904. (fn. 49) As 'cathedral of the Arts and Crafts movement', (fn. 50) ch. survived moves to develop cramped but valuable site. (fn. 51) Finances 'desperate' by 1969; R. and many parishioners favoured smaller bldg with rooms for pastoral work 1971; Victorian Soc. alarmed 1972; Sir John Betjeman inspired to address poem to mayor and other worthies as part of campaign to prevent demol. 1974. Living suspended 1997, when electoral roll only 35 and two Sun. svces thinly attended, but bldg given 5 years' reprieve with appointment of Mic. Marshall, who reopened it as base for work as asst bp of Lond. Friends of Holy Trinity formed to seek funds from publicizing relationship between faith and arts 1998. Regs from 1832. (fn. 52)
First bldg of brick with stone dressings by Jas Savage 1828–30, seating 1,450 in 1838 (fn. 53) and 1,600 in 1881, in 'debased' Gothic denounced as 'best example of evils of mixing styles'. (fn. 54) Shallow windowless chancel, aisleless nave with square beneath pointed windows and galleries on 3 sides, flat ceiling imitating stone, W. entrance front flanked N. and S. by pinnacled octagonal turrets with spirelets. (fn. 55) Closed and demol. as too small 1888. Iron ch. seating 800 erected in Symons St by Lord Cadogan in temp. use 1888–90.
Second church, on same site, built of red brick 1889–90, seating 1,800 in 1907. (fn. 56) Fabric cost £20,000 given by Earl Cadogan, while R. sought £7,000 for fittings. Holy Trinity is 'the outstanding London example of the Arts and Crafts movement in ecclesiastical terms'. (fn. 57) In plan J.D. Sedding's church is a free rendering of cathedral at Gerona (Spain), but without an apse. It has chancel, NE. chapel with W. baptistery, high wide clerestoreyed nave beneath 5-bay rigged vault, S. aisle narrower than N. but W. entrance front made symmetrical by projection of S. porch; NW. and SW. turrets. (fn. 58) Its style is a mixture of English and Continental late Gothic, 'an attempt to take up the threads of the Gothic tradition and weave them into the weft of modern need and thought'. (fn. 59) Richness is concentrated on W. front and on eclectic liturgical furnishings by leading designers and craftsmen. Sedding's scheme was continued after his death in 1891 by his partner, Henry Wilson (d. 1934), though not completed quite as intended, (fn. 60) and its Anglo-Catholic programme has been obscured by changes, e.g. to the high altar, and by church's later conventional Anglican life. Original fittings include ironwork designed by Sedding and Wilson; main altar by Harry Bates; chancel stalls and screen by F.W. Pomeroy; partial decoration of nave by Edw. Burne-Jones. E. window by Messrs Powell 1894–5, with 48 figures by Burne-Jones, foliage and surroundings by Wm Morris. Chapel windows by Jas Powell ɢ Sons to design of W.B. Richmond 1904, 1910; S. aisle and other windows by C. Whall from 1900. Main altar reredos by John Tweedsmuir 1912. S. chapel furnished as war memorial by F.C. Eden, glass by Powell, 1921. Lady chapel damaged 1940, but used for svces after nave bombed 1941; blast damage 1944. Temp. roof kept ch. open until repaired with lower roof by V.O. Rees 1950–1, (fn. 61) replaced with plaster vault on metal frame by Mic. Farey 1959. Repainting, ascribed to influence of Percy Dearmer (d. 1936), divine, who was hon. curate 1924–9, said in 1960 to have made walls blend too closely with decoration. (fn. 62)
Park chapel, Park Walk. (fn. 63) Proprietary chapel on E. side of rd originally called Twopenny Walk, at edge of Chelsea Park, built to serve Little Chelsea by accoucheur Sir Ric. Manningham (d. 1759): (fn. 64) possibly in 1718, (fn. 65) but more likely c. 1724 when he took lease of pk from Wm Sloane. (fn. 66) Lease of chapel made by Manningham to Revd Wm Lacy of Battersea 1730; (fn. 67) later held by Sloane Elsmere, R of Chelsea, and by successive, mainly clerical, purchasers for terms of 61 to 81 years, all of them soon assigned. (fn. 68) Holders inc. John Owen (d. 1822), R of Paglesham (Essex) and sec. of Brit. and Foreign Bible Soc., (fn. 69) from 1812, whose widow Charlotte was sole proprietor 1829. His son Hen. John Owen was min. at Park chapel 1822–34 before resigning to found Cath. Apostolic ch. in College St. (fn. 70) Hen. John and Miss Charlotte Owen conveyed lease 1844–5 to banker John Dean Paul (later Bt). (fn. 71) On Paul's bankruptcy 1855 it was bought by cong. and vested in trustees, who remained patrons until demol. of chapel, renamed in 1906 or 1907 Emmanuel ch., in 1912. (fn. 72)
Noted Evangelical tradition by early 19th cent., with royal attendance at bp's sermon for lying-in hosp. 1810. Large schs for poor built on ground E. of chapel conveyed 1827. (fn. 73) John Harding (d. 1874), min. 1834, was later bp of Bombay. (fn. 74) Wm Cadman, min. 1846–52, was later a prebendary of St Paul's. (fn. 75) Svces thrice on Sun. and Thurs. evg, with H.C. twice monthly, 1867; 'singing entirely congregational'. Under J.G. Gregory, min. 1868–79, ch. had good attendance at 'simplest svce possible in C. of E.'. Gradually came to resemble neighbouring par. chs, surplice being sanctioned c.1900. One asst curate 1866, 1881, and, alone with Old Ch., none 1896, 1907; min.'s chief handicap said to be lack of assistance 1900. (fn. 76) New mission hall in Ann's Pl. 1899 used for ch. activities and by London City Mission. (fn. 77)
First chapel, marked 1745 and mistakenly identified with Huguenots, (fn. 78) shown as narrow and tall roofed, with bellcote and small Gothic window over gabled or steeply pedimented W. porch. (fn. 79) Previously described as chapel or tabernacle, (fn. 80) greatly enlarged or rebuilt by leaseholder Revd John G. Smyth 1810. Plain rectangular bldg lit by 2 rows of round-headed windows, perhaps little altered by early 20th cent. when rendered W. front had central pediment surmounted by bellcote. Bare interior, with deep galleries on 3 sides. (fn. 81) Seating for 1,000 in 1838, (fn. 82) 1,300 inc. 300 free 1881. Dilapidated by 1897, when freeholder Sloane Stanley conditionally offered site. Smaller ch. on corner of Elm Park Rd planned 1900, (fn. 83) but freeholder's offer withdrawn after dispute over patronage. Fund for bldg new ch. spent on necessary repairs and renovations of Park chapel 1906–7, when renamed Emmanuel. (fn. 84) Land again offered, if £10,000 could be raised for bldg, securing of which sum led to demol. of chapel and its replacement by St And.'s (q.v.). Regs from 1879. (fn. 85)
St Andrew, Park Walk. Freehold of site of Emmanuel ch. (formerly Park chapel) given by R.C.H. Sloane Stanley 1912, 4 neighbouring hos in Park Walk (nos 37–43 odd) given by Miss Birch, and money given by Chas Alb. Bannister, (fn. 86) for ch. of St And. consecr. 1913. Patron trustees, inc. R of Chelsea, Earl Cadogan, Bannister, Sloane Stanley, and bp. (fn. 87) Normally one asst curate between World Wars, but Alf. Abigail, V 1919–44, lived outside par.; his curate S. Newson continued in charge but was not made V until 1962. Plans to absorb part of bombed St John's par. made 1947 but union not effected until 1973, when V of St John's took over combined par. of St John with St And. (fn. 88) Patron was Church Pastoral Aid Soc. in 2001, when V assisted by part-time non-stipendiary min. and svces, as stipulated by C.A. Bannister, were evangelical. (fn. 89)
Bldg of red brick with stone dressings by Sir A. Blomfield & Son 1912–13 in Dec. style. Chancel, NE. vestry, aisled and clerestoreyed nave, SW. tower with pinnacles and stone spire; plain, spacious interior. (fn. 90)
Glebe of both St John's and St And.'s surrendered 1973, when no. 43 Park Walk, given by Miss Birch, became vicarage for combined par. (fn. 91) Regs from 1879. (fn. 92)
St John, Tadema Rd. (fn. 93) Open-air svces held 1873 by John Shaw, later first V, who opened iron ch. 1873 at N. apex of triangular site between Tadema and Ashburnham rds conveyed 1875. Ch. of St John, often described as in Ashburnham Rd and in 1896 as dedic. to St John the Evangelist, (fn. 94) consecr. 1876. Dist. chapelry assigned from St Luke's 1877. (fn. 95) Patron 5 trustees, (fn. 96) appointed with consent of St Luke's and later same as trustees of St And.'s. Min. granted £200 a year from Common Fund 1877. (fn. 97) Svces twice on Sun.; also Wed., with H.C. twice a month, 1881. Attendance 1903: 304 a.m., 380 evg. Evangelical in 1883. (fn. 98) Normally one or more asst curates, 4 in 1896, necessitated by much missionary and philanthropic work inc. 3 mission halls (fn. 99) and 'huge' sun. schs 1902. (fn. 100) After bombing amalg. of par. with St And.'s was planned 1947 but mission hall in Blantyre St was fitted up as temp. ch. and used until union was effected 1973. (fn. 101)
Bldg of red brick with stone dressings by Newman & Billing 1875–6, seating 777 inc. 400 free 1881, in 'French Gothic' style. Apsidal sanctuary, N. organ transept, aisled and clerestoreyed nave; 140–ft NW. tower with spire by T.R. Pryce dedic. 1888. Interior showed 'mistaken notions of manly vigour' 1883. (fn. 102) All save tower bombed 1940. Tower demol. 1949 and site left derelict for 20 yrs. Vicarage ho., 80 on site of iron ch., paid for by grants 1878–80, and in use until c. 1940. (fn. 103) Regs from 1874. (fn. 104)
St John's Community church, World's End Pl. (fn. 105) Mission of St John, Tadema Rd, at junction of Blantyre St with Dartry Rd built 1880. Sun. evg worship planned c.1888 and svces held 1889. Attendance 1903: 183 a.m., 379 evg. Also evg lantern svce. by 1913. (fn. 106) Served as temp. par. ch. after bombing of St John's 1940 until union with St And. 1973 and continued in use until 1976. Bldg with steep roof and vaguely Tudor windows, last to be demol. in World's End redevelopment.
Hall replaced by St John's Centre above launderette in World's End Pl.: St John's Community ch., formerly World's End Community ch. founded by members of Holy Trinity, Brompton (Kens.) and opened in disused studios c.1996, had recently moved there in 2000. Brown-brick ch., designed by H.T. Cadbury-Brown & Partners and capable of seating c.300, served by clergy of St John with St And. 2000. (fn. 107)
St Jude, Turk's Row. (fn. 108) Site on N. side of rd bounded N. and E. by grounds of Royal Mil. Asylum, where ch. built with grants from Metropolitan Ch. Fund, bldg commrs, Royal Hosp., and others. Consecr. 1844; dist assigned from Upper Chelsea (Holy Trinity) 1844.30 Patron R of Holy Trinity. Supported 2 city missionaries and 'many other parochial agencies' 1867. (fn. 109) Svces twice on Sun. with unsurpliced choir, also Thurs. evg, with H.C. monthly and evg quarterly, 1867; H.C. weekly by 1881. No asst curate 1859, 2 in 1866, one in 1867, 1881. Benefice vacant 1892, when united with Holy Trinity, although svces continued under priest-in-charge until licence withdrawn 1932. (fn. 110) Attendance 1903: 216 a.m., 145 evg. John Ireland was official organist while employed at Holy Trinity.
Bldg of stock brick with stone dressings by Geo. Basevi 1843–4, seating 900 free in 1881, in mixed Gothic style. Very shallow chancel continuing aisled and clerestoreyed nave with galleries on 3 sides; 3-stage battlemented SW. tower. (fn. 111) Closed 1932 and demol. for York Ho. flats 1934. (fn. 112) Proceeds from bldg lease of 1933 given towards construction of St Alban's, N. Harrow. (fn. 113) Vicarage hos inc. no. 40 Cadogan Pl. (fn. 114) and Stanley Ho., Milner St. (fn. 115) Regs from 1844. (fn. 116)
St Matthew, Walton Street. (fn. 117) Temp. ch. on N. side at corner of Marlborough Rd (later Draycott Ave) opened 1874. Min. attached to London Diocesan Home Mission 1874–81. (fn. 118) Served conventional dist within St Saviour's par. 1878, when Metropolitan Dist Rly Co. conveyed nearby freehold plot in Walton St for ch. hall or residence in sole management of clergyman of St Matthew's. (fn. 119) Svces twice on Sun., with monthly children's svce, and Wed. evg, with H.C. monthly and at festivals, 1881, when 250 seated free. Despite its own dedic., ch. did not acquire separate par. Serviced by clergy of St Saviour's 1884, 1889, and of St Paul's, Onslow Sq. (Kens.) 1902. (fn. 120) 'Very complete premises' but working-class cong. largely outsiders, inc. emigrants to Battersea who wished to maintain Chelsea links. (fn. 121) Perhaps identifiable with Church Army Mission, Marlborough Rd, attendance 1903: 42 a.m., 51 evg. Last listed, as St Matthew's mission hall, 1930. (fn. 122)
St Saviour, Walton Pl. (fn. 123) Part of Quailfield at NE. end of Walton St conveyed by trustees of Hen. Smith's char. to ch. bldg commrs 1838. (fn. 124) Commrs made modest grant towards ch. consecr. 1840. (fn. 125) Dist chapelry assigned from Upper Chelsea (Holy Trinity) 1842. (fn. 126) Patron R of Holy Trinity. Min. assigned £600 a year from pew rents 1843. (fn. 127) Svces thrice on Sun. 1867; also twice on Wed., with H.C. monthly and on festivals 1881; paid choir 1884. One or 2 asst curates. Attendance 1903: 429 a.m., 226 evg. St Saviour's had responsibility for mission hall in Marlborough Rd (later Draycott Ave) conveyed by Metropolitan Dist Rly Co. 1878 (fn. 128) and connected with St Matthew's (q.v.); it may have been the Ch. Army's Marlborough Rd mission, attendance 1903: 42 a.m., 51 evg. Earl Cadogan declined to provide site for vicarage, as ch. was not on his land, but offered £50 a year towards parish work 1881. (fn. 129) H.J.R. Osborne, V 1930–52, was prebendary of St Paul's. Redundancy on next vacancy of living proposed 1983 and again, by archdeacon, 1986, when ch. retained svces of 1662. (fn. 130) No full-time V by 1992. Ch. temp. closed 1995, when London Diocesan Fund proposed retention of chancel with 2 bays of nave for worship and conversion of rest, inc. ch. hall, for housing. Plan submitted 1996 and work completed by 2003 on ch. to seat c.80 designed by Ben Krauze; pars to be served by V of St Simon Zelotes but patronage of united benefices not yet decided in 2001. (fn. 131)
Bldg of yellow stock brick with stone dressings by Geo. Basevi 1839–40, (fn. 132) seating 1,200 inc. 600 free in 1867, 1881, in EE style. Not oriented. Aisled nave, mostly hidden by external additions, with timbered roof; outer N. aisle and porch by E.P. Loftus Brock 1878; chancel, N. chapel, and S. vestry by Anglo-Cath. Revd Ern. Geldart 1890, presents a main facade of diapered brick with flamboyant tracery to Walton Pl. Fittings inc. altar and probably pulpit by Geldart, glass by Taylor & Clifton in E. window, and by Wm Morris & Co. In the conversion a floor was inserted to accommodate a worship area, meeting room, and flat above a larger foyer and exhibition hall, all part of a Christian Arts Centre. Most furnishings moved to worship area, though NE. chancel chapel retained. Ground abutting liturgical S., conveyed 1888 but never consecr., taken for par. hall 1936 (fn. 133) and inc. with W. half of ch. in Raven Group's conversion to residential use as St Saviour's Ho. (fn. 134) Vicarage ho., for which funds were sought 1843, (fn. 135) was at no. 5 Walton Pl. 1847, 1879 and later at various addresses, inc. no. 5 Hans Pl. 1926, 1955. (fn. 136) Regs from 1840. (fn. 137)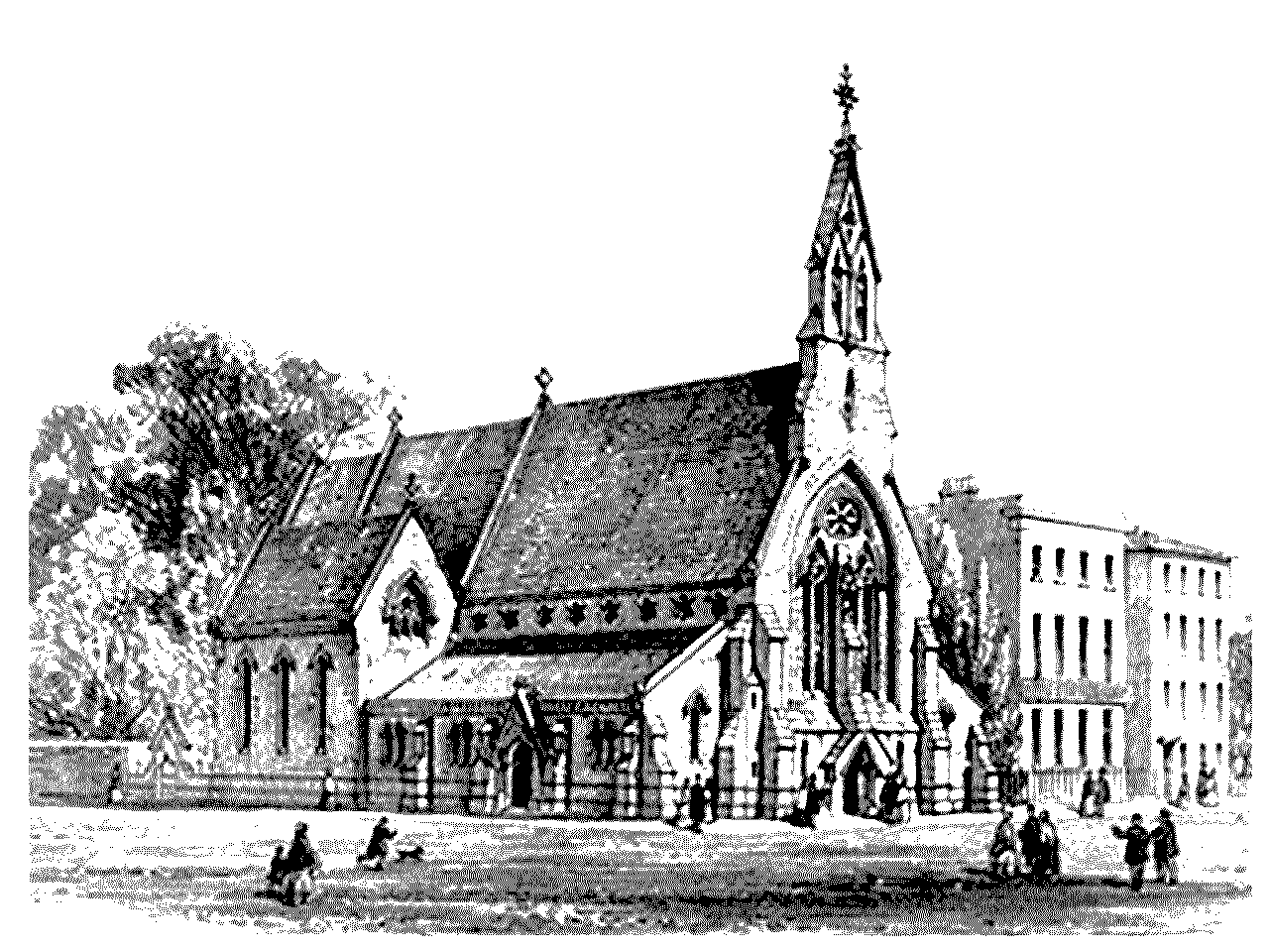 St Simon Zelotes, Milner Street. Site at E. corner of Moore St conveyed to 5 trustees 1858 as means of appropriating legacy of Wm Coles. Ch. of St Simon consecr. 1859, (fn. 138) called St Simon Zelotes by 1881. (fn. 139) Dist chapelry assigned from Upper Chelsea (Holy Trinity) 1860. (fn. 140) Patron trustees, renewed by cooptation. (fn. 141) Svces twice on Sun 1867; also twice on Wed., with H.C. twice a month 1881; surpliced choir 1884. Usually one asst curate 1880s–1910s. Attendance 1903: 166 a.m., 94 evg. Among poorest pars in late 19th cent. but benefited later from Hyndman's char. (fn. 142) Mic. McGowan (d. 2001), V from 1996 and prebendary of St Paul's was also priest-in-charge of St Saviour's, as was his designated successor. (fn. 143)
Bldg of Kentish ragstone with Bath stone dressings designed by Jos. Peacock 1858–9, built by White of Pimlico, in idiosyncratic Dec. style. Shallow sanctuary, aisled and clerestoreyed nave, with higher E. bays of aisles forming transepts galleried until 1896, W. bell turret. Polychrome interior with much naturalistic carving by J.L. Jacquet, and rich E. end with glass by Lavers & Barraud and furnishings by Hailand & Fisher. Organ by Walker. (fn. 144) Vicarage ho. built at same time as ch. at no. 5 Milner Terr. (later no. 34 Milner St). (fn. 145) Regs from 1860. (fn. 146)
Oakley Mission, Manor Street. Earlier, probably undenominational, mission at no. 87, (fn. 147) by 1889 was CE and served from St Paul's, Onslow Sq. (Kens.). Svces twice on Sun. with children's svce, also Thurs. evg, with seating for 300 free 1889. (fn. 148) Mission room next to St Paul's ch. institute 1902. (fn. 149) Attendance 1903: 59 a.m., 125 evg. Listed in 1914, not in 1927. (fn. 150)
INSTITUTIONAL CHAPELS
Royal Hospital chapel, Royal Hospital Rd. (fn. 151) Begun 1683, 'quite covered' in 1685, fitted out 1687. (fn. 152) Consecr. 1691 under royal warrant reserving tithes and all rights of Chelsea par. ch. and providing £100 for chaplain and £80 for curate. No. of chaplains reduced to one in 1833, although an asst still employed until 1892 or later. (fn. 153) Patron given as governors of Hosp. 1829, PaymasterGen. 1880s, and War Office 1892. Value rarely stated; £300 in 1892. (fn. 154) Accn for chaplain in Hosp. Warrant enjoined prayers a.m. and evg, Sun. and feast day sermons, H.C. at least thrice a year; no ref. to baptisms, marriages, or burials, but all performed, weddings only by special licence after 1753. Often inc. in lists of CE chs in 19th cent. (fn. 155) Svces partly choral by 1881, twice on Sun., weekday a.m.; H.C. twice a month and on great feasts. Attendance 1903: 225 a.m., 42 evg. Chaplains inc. Chas Ashton (d. 1752), scholar, 1699–1701, Fras Hare (d. 1740), later bp of Chichester, 1703–7, Wm Barnard (d. 1768), later bp of Derry, 1728, Phil. Francis (d. 1773), miscellaneous writer, 1764–8, and Geo. R. Gleig (d. 1888), later chaplain-gen, of the forces, 1834–46. (fn. 156) J.H.S. Moxly in 1900 relied mainly on sermons to combat 'very bad' moral condition arising from drink. (fn. 157)
Bldg of brown brick with red-brick and Portland stone dressings, an integral part of Hosp. and with almost the same proportions as hall to W., by Wren. Seating 500 in 1838 (fn. 158) and c.350 in 1880s. (fn. 159) Apse with half dome, barrel vaulted plaster ceiling over rectangular chapel lit by 7 tall round-headed windows on N. and S.; oak panelling below windows and at E. end; W. organ gallery and organ case, original organ by Renatus Harris, given by Captain Ingram, first major of Hospital c.1692–3. Joinery by Chas Hopson and Ric. Ryley; woodcarving by Wm Emmett and Wm Morgan; plasterwork by Hen. Margetts; fresco of Resurrection in the apse vault by Mario Ricci. Benches rearranged to face E. 1818; rearranged and choir stall added c.1920. Pulpit and lectern made from original 3-decker. (fn. 160) Plate, silver or silver-gilt hallmarked 1687–8, (fn. 161) bought by Hosp. although once believed to have been given by Jas II. (fn. 162) Door in apse to pine-panelled vestry, connecting with former chaplain's rooms. (fn. 163)
Royal Military Asylum chapel, King's Rd. (fn. 164) Svces first held by chaplain in schoolroom at Asylum (from 1892 Duke of York's Royal Mil. Sch.). R of Chelsea conveyed 2 acres of adjacent glebe to governors 1815, (fn. 165) where chapel at corner of Cheltenham Terr. was consecr. 1824. (fn. 166) Resident chaplain appointed by Sec. of State for War and paid according to rank; duties inc. supervision of educ., first chaplain also being headmaster of sch. All staff required to attend chapel. (fn. 167) Svces twice on Sun., with H.C. monthly, unsurpliced choir 1867; H.C. twice monthly 1881. Attendance 1903: 408 a.m., 385 evg. Last svce held 1909, when chapel deconsecr. and fittings moved with sch. to Dover (Kent).
Bldg of yellow brick with stone dressings in plain classical style of Asylum and presumably by its architect John Sanders 1823–4. Rectangular plan, small E. side entrances, Doric W. porch; altar slightly recessed beneath rounded arch, galleries on 3 sides, 2 rows of windows with lower ones in arched recesses. (fn. 168) Seating for 600 in 1838; (fn. 169) for 500 boys, 60 students and officers, and c.150 public in galleries 1867; for 700, inc. 200 in galleries, 1881, 1889. Renovation in progress 2000, when bldg and adjoining Queripel Ho. of 1934 were planned by Cadogan Estates for commercial or gallery use. (fn. 170)
St Mark's College chapel, Fulham Rd. (fn. 171) Site E. of training college's practising sch. (fn. 172) taken for chapel built at same time. Opening accompanied by adoption of St Mark's name for college. Fully choral svces twice on Sun. and feast days, H.C. twice monthly and at greater festivals, choir of students with paid boys and probationers 1867, when all seats free but some appropriated to regular attenders. Surpliced choir and surplice in pulpit 1881. Visitors' attendance 1910: c.40 a.m., c.80 evg. (fn. 173) Total attendance 1903: 180 a.m., 185 evg.
Bldg of stock brick with stone dressings, seating 180 in 1881, in neo-Norman style by Edw. Blore 1841–3. (fn. 174) Cruciform plan, E. apse, 2 tiers of windows, bell turrets in angles of shallow transepts; reroofed with round-arched trusses and central lantern after fire 1859. (fn. 175) Passed on removal of training college to GLC 1975 and then to Chelsea College and to King's College, London. (fn. 176) Bldg, converted into film studio 1990s, externally intact 2001. (fn. 176)