Pages 259-263
A History of the County of Middlesex: Volume 12, Chelsea. Originally published by Victoria County History, London, 2004.
This free content was digitised by double rekeying. All rights reserved.
ROMAN CATHOLICISM
George Stanley, his wife, and William Holborne, gentleman, were indicted as recusants in 1583. (fn. 1) Holborne was indicted again in 1586, as were Mary, wife of John Lytton, yeoman, in 1610 and Margaret, wife of Francis Kipping, chandler, in 1630 and 1636. (fn. 2) It was rumoured in 1627 that Jesuits at court were about to move to the duke of Buckingham's house at Chelsea. (fn. 3) Among those presented in 1664 for not attending church, only one, Mr Cooper, was described as papist. (fn. 4) There were said to be no papists in 1676. (fn. 5) The rector in 1706 listed 22, among them Philip Kemp, a lunatic, with his servant's family, Thomas Humphreys, whose wife kept a small school, and the housekeeper to the dowager duchess of Beaufort; some unknown soldiers at the Royal Hospital were also reputed papists. (fn. 6) Seven households and one lodger were listed in 1714 (fn. 7) and 21 persons, including Thomas Bragg, gentleman, Lady Weston, Kemp, and Humphreys, in 1715. (fn. 8) There were said to be 11 (fn. 9) or 12 papists in 1767, three of them servants and four of them resident for no more than a year. (fn. 10) None were known in 1790. (fn. 11)
Roman Catholicism owed its later strength in Chelsea to clergy who fled the French Revolution and who presumably found fellow émigrés there. A chapel in Exeter Street was certified in 1798 (fn. 12) and perhaps short lived, like a house in Wilderness Row which had been 'late a Roman Catholic chapel' in 1802, when it was licensed for protestant dissenters. (fn. 13) Local worshippers were served probably by the abbés Tribou, Abraham, and Crespelle from 1798 until 1804 and the abbé Gilles François Thébault from 1804 until 1807. Jean-Nicolas Voyaux de Franous, traditionally seen as the father of Roman Catholicism in Chelsea, had been appointed apostolic missionary there in 1796 but later returned briefly to France and signed acts as missionary only from 1808. Thébault, who also practised medicine, in 1803 lived at no. 12 Lower George Street (later the site of Sloane Gardens). Crespelle lived at Queen's Elm, (fn. 14) where by 1799 a house was occupied by Visitandine nuns of the order of St Francis de Sales, (fn. 15) to whom Tribou in 1803 acted as chaplain. Services were probably held in Lower George Street. (fn. 16)
Funds for a permanent chapel nearby were sought in 1811, after Voyaux de Franous had been leased a site at the east end of Cadogan Street (later Cadogan Gardens) by Lady Charlotte Denys. The abbé himself contributed two-thirds of the cost and was additionally helped by prominent English Catholics and the French nobility. Opened in 1812, St Mary's was seen as a chapel for the French rather than as a mission, although it also served soldiers from the barracks, veterans from the Royal Hospital, and, increasingly, Irish labourers. (fn. 17) Chelsea's estimated number of 500 Catholic worshippers in 1814 was double that for any other Middlesex parish outside central London. (fn. 18) A charity school was supported from the first, (fn. 19) although Voyaux de Franous (d. 1840), who declined a bishopric after the Bourbons' restoration, had no assistant until 1821 and there was no neighbouring religious order to offer help. (fn. 20)
Parochial activities increased under Thomas Sisk, Franous's assistant from 1832 and his eventual successor, who doubled the numbers at the school. Benefactions were attracted from, among others, Joseph Knight, a retired nurseryman of King's Road, who bought land for a cemetery and other purposes along the south side of Cadogan Street, which he settled in trust in 1842. St Joseph's convent was opened there in 1845 for Irish Sisters of Mercy from their Bermondsey convent of 1839 and flanked by boys' and girls' schools, the first being staffed by Christian Brothers. Almshouses to the west were built in 1850 and a new church, replacing the chapel of 1812, was opened to the east in 1879. (fn. 21) St Mary's, previously still a Mission, was designated a rectory from 1861. (fn. 22) The buildings in Cadogan Street, with additions that included St Thomas More's school, thereafter formed a centre of Roman Catholicism in Chelsea.
St Mary's was left to serve a smaller area after the establishment of St Thomas of Canterbury's church at Fulham in 1848 and of the London Oratory at Brompton in 1854. (fn. 23) The Servites, about to open a temporary chapel and school in Fulham Road, were given part of the Oratorians' parish in Kensington and western Chelsea in 1867; (fn. 24) they continued to serve that area after opening the church of Our Lady of Dolours, on the Kensington side of the road, in 1875. (fn. 25) The creation of a more central parish for Chelsea itself was foreshadowed by the purchase of a site in Beaufort Street in 1886, eventually taken by Sisters of the Adoration Réparatrice, and effected by the opening of the church later dedicated to Our Most Holy Redeemer and St Thomas More in Cheyne Row in 1895. (fn. 26) A total of 1,961 Roman Catholic church attendances on census Sunday 1903 comprised only those at St Mary's, Our Most Holy Redeemer, and the convent chapel in Beaufort Street; it took no account of those who swelled the large congregations at Our Lady of Dolours. St Mary's morning attendance was higher than that of any other place of worship in Chelsea except the Anglicans' Holy Trinity, Sloane Street. (fn. 27)
The Sunday behaviour of many 'low' Irish families around Exeter Street attracted censure c.1850, (fn. 28) when a public meeting denounced the proposed establishment of the see of Westminster. (fn. 29) Roman Catholicism perhaps owed its prominence more to individuals and the presence of institutions than to the number of its local adherents. (fn. 30) Voyaux de Franous was well connected; he and his successors won widespread support, for much of which Joseph Knight and his wife were commemorated in the names of the convent and its adjoining schools and almshouses. The Sisters of Mercy at St Joseph's, the Sisters at St Wilfrid's (later Servites) by 1861, where they were followed by Daughters of the Cross in 1869, and the Servite Fathers in Fulham Road all came to be responsible for schools, public or private. The Servite Fathers also used social organizations to foster loyalty and even the Sisters of the Adoration, an exclusive order, opened their chapel and offered private retreats. The Sisters' former convent was a seminary in 1999, when St Wilfrid's ran a residential home and when the Church was responsible for St Joseph's Cottages and, through the Servite Housing Association, for flats owned by the Methodists. (fn. 31) The Servites were also associated with six other places of worship in western Chelsea, of various denominations. (fn. 32)
ROMAN CATHOLIC CHURCHES
The abbreviation reg. denotes registration for worship. Attendance figures 1903 are from Mudie-Smith, Rel. Life, 111, 114.
Our Lady of Dolours ch. (fn. 33) Originated as first English Mission of Servants of Mary, commonly called Servites, 1864 when Frs Bosio and Morini occupied ho. in Guthrie St (also described as no. 4 Stewart's Grove) adjoining St Wilfrid's convent in Bond (later Cale) St. Served nuns as chaplains and undertook missions, with 2 more Italian priests 1865, until given par. 1867. Moved to no. 78 Park Walk, where 2 rooms were adapted as chapel for 30 reg. 1867 (fn. 34) and then to Victoria (later Netherton) Grove, Fulham Rd. Temp. ch. of Our Lady of Seven Dolours, for 300, at no. 349A Fulham Rd reg. 1868. (fn. 35) Ch., sch., and presbytery called Mount Senario Gdns after order's home near Florence. Site acquired by guardians of St Geo. Hanover Sq. after lawsuit, whereupon Servites moved to Heckfield Lodge, no. 264 on N. side of rd, where new ch. opened 1875, followed by St Mary's convent. (fn. 36) Although in Kensington, ch. served much of poorer W. end of Chelsea, supporting many social organizations. (fn. 37) Attendance 1903: 1,138 a.m., 345 p.m.
Our Most Holy Redeemer and St Thomas More ch. Originated in purchase of site in Beaufort Street for intended religious community 1886. New parish for central Chelsea formed 1892. (fn. 38) Chapel of our Most Holy Redeemer reg. at no. 28 Beaufort Street 1893. Replaced by ch. of same dedication at S. corner of Cheyne Row and Upper Cheyne Row, site of Wm de Morgan's house and pottery, 1895. (fn. 39) Marquess of Ripon, statesman (d. 1909), at no. 9 Chelsea Embankment, among benefactors who maintained 2 priests. (fn. 40) Bldg of red brick with Bath stone dressings in Renaissance style by Edw. Goldie 1894-5: ornate W. portico with Ionic columns and pilasters and broken pediment flanked by oval windows; Venetian window and triangular pediment above. Aisles and crossing omitted in revised plan because of street widening. No structural division between 2-bay chancel, 4-bay nave, and porch and narthex, bays forming recesses for shrines or altars beneath round-headed windows which break into coved ceiling. (fn. 41) Attendance 1903: 488 a.m., 177 p.m. Dedicated additionally to St Thos More after his canonization in 1935. (fn. 42) Parish centre beneath ch. renovated 1972. (fn. 43)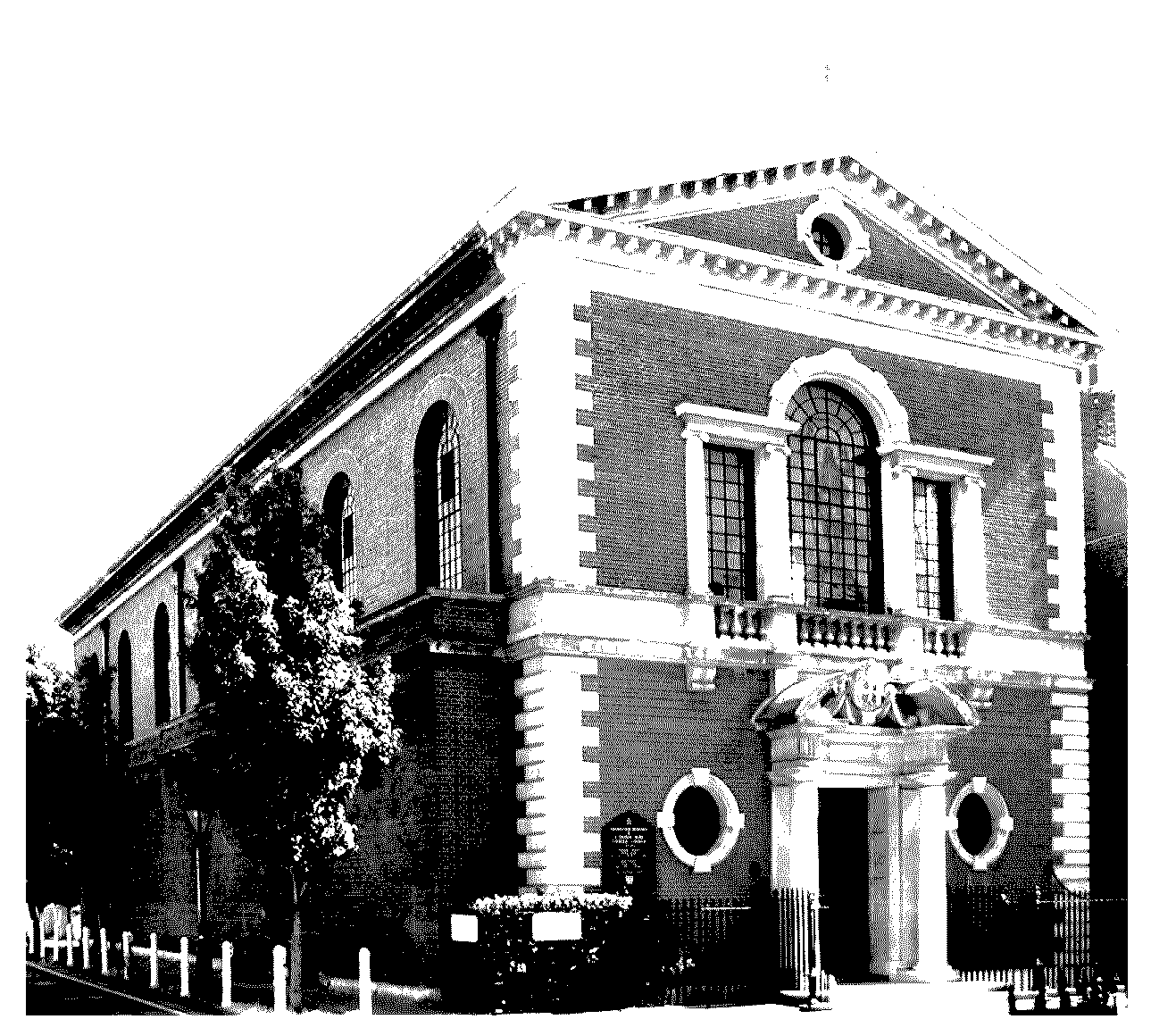 St Mary's ch. Originated in appointment of Voyaux de Franous as missionary to local Caths and hosp. veterans 1796. Abbés Abraham, Tribou, and Crespelle served from 1798. Franous, after brief return to France apparently in sole charge from 1808. (fn. 44) Chapel in Exeter St reg. 1798. (fn. 45) Ho. in Wilderness Row, 'late a Roman Catholic chapel', reg. by prot. dissenters 1802. (fn. 46) Svces probably held in Lower George St, between Lt. George St and Chelsea Market, c.1803. (fn. 47) Funds sought for new chapel 1811 in Cadogan St on part of Pavilion Ho. estate leased for 90 yrs from Lady Charlotte (d. 1835), wife of Peter Denys. Franous paid two-thirds of cost; other subscribers including old Catholic families of Clifford and Jerningham and Franous's former pupil Sir Rob. Peel; foundation stone laid by duchess of Angoûlème, dau. of Louis XVI. (fn. 48) Chapel opened and reg. as in Pavilion field, Sloane St, 1812. (fn. 49) Plain classical bldg with round-headed windows, shallow curved ceiling by G.J. Wigley, side chapel added 1824-5, much later restoration, sanctuary by J.J. Scoles added 1850, chapel of Blessed Sacrament by E.W. Pugin added 1860, (fn. 50) new high altar and pulpit by J.F. Bentley, 1864. Closed on opening of new ch. 1879 (fn. 51) and replaced by flats, no. 105 Cadogan Gdns. (fn. 52) Attenders inc. French ambassador 1820s and comte de Chambord, Bourbon claimant, 1840s. (fn. 53) Seating said to be for 500 in 1814 and for 600 in 1838 and 1851; attendance 1851: 770 a.m. (fn. 54) Franous received £300 a year from French govt until 1830 and was sole missioner until joined 1821-4 by Thos, later Cardinal, Weld (d. 1837). (fn. 55)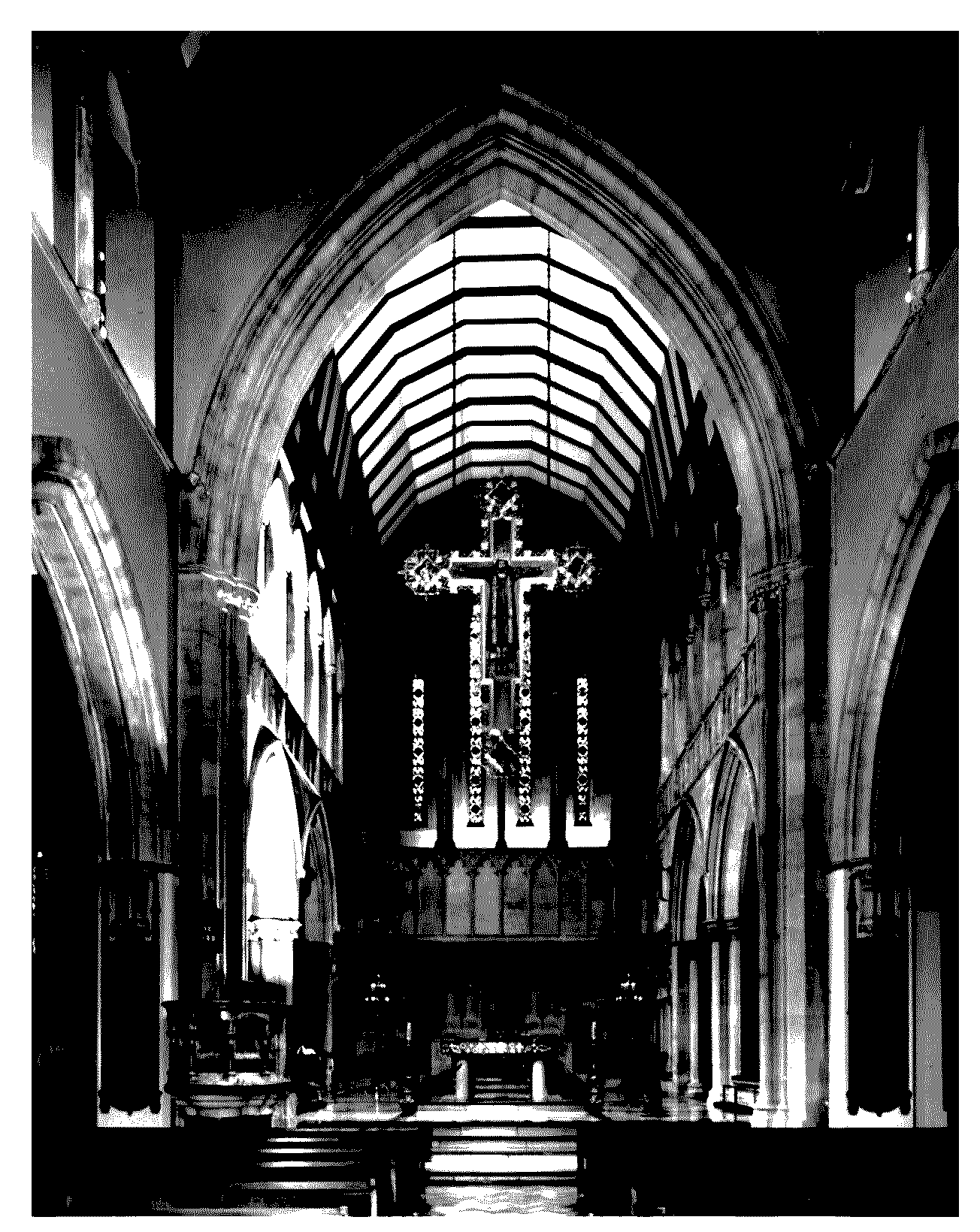 Former Wellington cricket ground, 2½ a. on S. side of Cadogan St bought by Jos. Knight for Cath. cemetery; part reserved for chapel, convent, and schs, all opened 1845. (fn. 56) Chapel seating c.100, with altar by A.W.N. Pugin, used for funerals until cemetery superseded by purchase at Kensal Green 1858. (fn. 57) Plans for new ch. perhaps delayed by expansion in Fulham and Brompton and by additions to chapel of 1812 (above). (fn. 58) Bldg of stock brick with Bath stone dressings in early Eng. style by J.F. Bentley, seating 500, c. 1877-9. High and finely detailed interior with 2-bay clerestoreyed chancel, 4-bay aisled and clerestoreyed nave, chapel of Blessed Sacrament built out from S. aisle, W. narthex with porch and baptistery, turret intended to have pinnacle beside N. door. Much of the internal sculpture was left uncarved. Chapel of St Jos. at E. end of N. aisle with altar from old ch.; A.W.N. Pugin's cemetery chapel incorporated as chapel of St John, later St Thos More, with organ of 1864 and over entrance to vaults, at end of S. aisle; Blessed Sacrament chapel off S. aisle a rebldg of E.W. Pugin's chapel from old ch. and inc. his altar. High altar and pulpit by Bentley. E. window glass by Clayton & Bell. (fn. 59) Tablets from former cemetery chapel inc. one to Marie Tussaud (d. 1850), founder of waxwork exhib. (fn. 60) Font probably from old chapel. (fn. 61) Parish stretched beyond Chelsea to cover dists called Cadogan Sq., Belgravia, Pimlico, and Royal Hosp. 1938. Rectors inc. J.L. Patterson (1881-1902), bp of Emmaus, M.J. Bidwell (1913-30), bp of Miletopolis, and E. Myers, bp auxiliary of Westm. 1932 and coadjutor abp 1951. (fn. 62) Attendance 1903: 1,037 a.m., 188 p.m.
Franous in 1838 gave c. £6,000 in trust to provide payments of £20 sufficient to raise priests' yearly salaries to £100, besides £12 a year to clothe altar servers, the residue for Rom. Cath. educ. Jean Voyaux de Franous trust, under governing instrument of 1841, was reg. as char. 1966, when gross income was £894 and total expenditure, inc. £38 for clergy and c.£22 for servers, was £121. In 1997, after reinvestment, assets totalled £73,332; dividends and interest yielded £2,839, of which only £254 was spent. (fn. 63)
RELIGIOUS HOUSES
Sisters of the order of St Francis de Sales. Alternatively described as Visitandines or nuns of the Visitation, in 1799 occupied Salesian Ho., South Row, Queen's Elm. Apparently unconnected with Acton convent opened by 1805, they had probably returned to France by 1808. (fn. 64)
Sisters of Mercy. Occupied new St Joseph's convent of Our Lady of Mercy, Cadogan St, opened with adjoining schs 1845 on part of site given by Jos. Knight. (fn. 65) First nuns came from Bermondsey (Surrey) convent founded 1839 from Ireland and shared part of bldg with Christian Brothers employed as teachers until 1880. Sisters, who also ran private St Mary's sch., occupied most of original sch. bldgs 1938 (fn. 66) and presumably left when sch. closed 1954. (fn. 67)
St Joseph's almshos. Partly occupied by 1849, stood immediately W. of convent on part of land given by Knight 1842. Bldg funds raised by pub. subscription and by Benevolent Soc. (London's oldest RC char. established 1761). Planned for 24 women but opened for only 18 in 1855; funds for completion still sought 1865. First inmates chosen by subscribers, but management shared by archdiocese and parish 1938. (fn. 68) Reg. as char. called St Jos.'s Almshos and Endowment Fund 1965, after Scheme of 1964 vested property in Westm. Rom. Cath. Diocese trustee and management in rector of St Mary's and 2 trustees apptd by abp. Classified as national char., almspeople to be poor Rom. Caths who might be required to contribute up to £1 10s. a week. Trustees to pay at least £20 a year into new Extraordinary Repair fund. Schemes of 1988 assigned at least £1,000 a year to Extraordinary Repair fund and £1,800 a year to new Cyclical Maintenance fund. Char. reg. as housing assoc. 1983, receiving grant and loans from Housing Corp. At end of 1996 char. had current assets in form of investments with market value of £54,549 and fixed assets in form of endowment fund worth £1,268, grant of £269,265, mortgage loan of £26,893, and its own unspecified resources of £13,093. Reserves, inc. repair funds, totalled £62,097. (fn. 69)
Architect, who may have built adjacent St Jos.'s sch., probably not A.W.N. Pugin. Courtyard with 4 archways planned, although lack of space and ho. barred egress on 2 sides; only 2 blocks and one archway built. Archway later blocked, reopened 1985-6 when dwellings enlarged but reduced to 10: 2 bed-sitting rooms and 8 one-bedroom flats, all in single occupation in 2000. Two-storeyed range of red brick with stone dressings in Tudor style had frontage of 78 ft to Cadogan St; yellow brick in 3-sided courtyard; plaques commemorated gift of site 1850, reconstruction 1958-65, and renovation 1985-6. (fn. 70)
Sisters of the Compassion. Founded in France, built ho. at W. end of Bond (from 1871 Cale) St, on site of no. 4 Stewart's Grove, as convent and orphanage 1857. Bldg work in progress 1859. Our Lady of Dolours was patroness of order and also of Servites, with whom Sisters affiliated in 1864. Remained there, as Servite Sisters, until 1869. (fn. 71)
Daughters of the Cross. (fn. 72) Founded 1833 in Liège (Belgium), took over Servites' convent and, when growth of fostering reduced demand for orphanages, opened boarding sch. which survived at St Wilfrid's convent until Second World War. (fn. 73) Later used as hostel, having 47 elderly women in 1968 when Min. of Health required Cale St site for post-graduate medical centre. (fn. 74) Sisters had been offered former Victoria Hosp. for Sick Children in Tite St, (fn. 75) but at first were refused planning permission by LB, which hoped to force govt to clarify proposals. New convent for 15 nuns, with admin. centre for order's 'English' province, (fn. 76) training centre, and hostel with 45 bed-sitting rooms, opened on E. side of Tite St 1978: grey-brick bldgs by P.H.F. Stiles of W.J. Gregory and Partners, inc. block of 4 storeys over basement and octagonal chapel with shallow roof and small lantern.
Sisters of the Precious Blood. Came to teach at Servites' first sch.; were at St Joseph's convent, no. 23 Victoria Grove, next to Servites' premises, in 1878-9. (fn. 77)
Brotherhood of Expiation. Installed at no. 28 Beaufort St by Fr Kenelm Vaughan, bro. of Cardinal Vaughan, who bought site from Earl Cadogan 1886. Studio was converted into chapel but order proved short lived and was replaced by Sisters of the Adoration (below) 1898. (fn. 78)
Sisters of Adoration Réparatrice. Brought from France by Cardinal Vaughan and installed at no. 28 Beaufort St 1898. (fn. 79) Convent chapel, of Immaculate Conception, served by priests from ch. of Our Most Holy Redeemer. (fn. 80) Attendance 1903: 44 a.m., 27 evg. New chapel of brick with stone dressings in Romanesque style by C.G. Keogh 1912: apse, tall choir enclosed for community, plain nave for public, round-headed windows. Dedicated to Most Holy Sacrament and Blessed Thos More by 1926. (fn. 81) Served by Salesians at Battersea (Surrey) 1931, 1969. (fn. 82) Bombed 1940. E. end survived while W. end served as garden 1957. Replaced by chapel reg. 1958: tall austere modern bldg, by Corfiato Thompson and Partners, with yellow-brick N. and S. walls, shallow roof, and W. window formed by honeycombed concrete wall facing rd; (fn. 83) nave divided, E. part reserved for Sisters, who prayed for conversion of England and numbered 34 in 1926. (fn. 84) Order left for London Colney (Herts.) in 1975, when convent and chapel were taken over as Westminster Diocesan Seminary, previously at Old Hall Green (Herts.). (fn. 85) Renamed Allen Hall, premises contained 16 candidates for priesthood and inc. study centre for clergy and laity in 1998. (fn. 86)
Dawliffe Hall. No. 2 Chelsea Embankment was acquired by Dawliffe Hall Educational Foundation in 1967. Serving as residence for woman university students, under pastoral care of Opus Dei, it was enlarged by acquisition of no. 1 Chelsea Embankment in 1976 and had c.34 places in 1999. (fn. 87)
Servite Houses. As housing assoc., took 99-year lease from Meth. Ch. of site in Chelsea Manor St. Edith Pope Ho., 21 flats designed in contemporary style by Bernard Lamb, completed 1983. Tenants, aged over 55 and usually with local connections, chosen by assoc.; RBKC entitled to nominate half of new residents in 1999. (fn. 88)
OLD ROMAN CATHOLICS
'Old Catholic otherwise Old Roman Catholic Ch.' reg. Sanctuary at no. 23 Basil Street 1927-34, (fn. 89) having had several W. London addresses since first reg. at no. 47 Albemarle St (Westm.) in 1917. (fn. 90) Ch. of the Good Shepherd was described as Catholic Apostolic when reg. in basement of bombed Chelsea Bapt chapel, Lower Sloane St, 1948, (fn. 91) but was recertified as' Christian Free' ch. 1949 and as 'Ancient Catholic' cathedral ch. 1951-6; (fn. 92) later demolished. (fn. 93)