Pages 263-272
A History of the County of Middlesex: Volume 12, Chelsea. Originally published by Victoria County History, London, 2004.
This free content was digitised by double rekeying. All rights reserved.
PROTESTANT NONCONFORMITY
An assault on the 'minister' of Chelsea during his sermon in 1617 may have indicated some local dissent. (fn. 1) So too may a visit to Chelsea by the Puritan William Bradshaw, who died there in 1618. (fn. 2) Dr Thomas Harrison (d. 1682), who had lived in Cromwell's family, was described as 'late preacher at Chelsea' in 1663. (fn. 3) Two ejected ministers, Gabriel Sangar (d. 1678) and Thomas Pakemen (d. 1691), lived at Brompton, perhaps outside the parish, in the 1660s. The Independent Philip Nye died at Brompton, in Kensington, in 1672. (fn. 4) Ten nonconformists, and 590 conformists, were reported in 1676. (fn. 5) The Congregational writer Samuel Clarke, a great-nephew of the ejected Samuel Clarke (1599-1682), was born at Chelsea in 1684. (fn. 6) Zachary Merrill, later a trustee of Dr Daniel Williams's will, was listed as a minister with no fixed congregation, in attendance there on Lady Cheeke as chaplain and tutor in 1690. (fn. 7) A house belonging to Sarah Gully was used for meetings by protestant dissenters in 1707. (fn. 8)
More prominent in the early years was the role of foreign immigrants. Huguenots met for worship from the 1680s and probably had two chapels in 1718, although neither congregation survived beyond the mid 18th century. (fn. 9) Moravians formed a settlement at Lindsey House from 1750 until 1770 and, after its sale, continued to use their chapel until the early 19th century; they retained its burial ground and worshipped in an adjoining hall in 2000. (fn. 10)
John Wesley preached at Chelsea in 1741, when he was sharply questioned by a dissenting teacher, and in 1742, when incendiarists failed to smoke him out of the meeting room. He returned in 1748 to commend the Physic Garden as a source for scientific study rather than a mere curiosity. (fn. 11) Selina, countess of Huntingdon (d. 1791), in 1748 invited George Whitefield to Chelsea Farm, where within a few months he was preaching 'continuously'. Whitefield, who was thereby able to reach an aristocratic audience including the earl of Chesterfield (d. 1773) and Viscount Bolingbroke (d. 1751), wrote that God's providence had placed the countess at Chelsea. She soon moved away, however, and none of the foundations which came to form her 'Connexion' took place there. (fn. 12) Sir Hans Sloane's steward Edmund Howard was a prominent Quaker, but no Friends' meeting house was recorded. (fn. 13)
Wesley too had no regular meeting place, although Independents may have had one by 1760, the date of the death of the Revd Benjamin Rogers, 'preacher at the chapel in the Five Fields'. (fn. 14) The late rector was said in 1797 to have defended a curate of Methodist sympathies, presumably Erasmus Middleton, expelled from Oxford in 1768. (fn. 15) Independents and a dwindling group of Moravians were the only dissenters recorded in 1778; the Independents formed a single meeting (fn. 16) and presumably used the surviving former Huguenot chapel which their pastor had taken over in 1773. (fn. 17)
In 1790 both Independents and Wesleyans had meeting houses, the latter having been leased a room belonging to Ranelagh House, where John Wesley preached in 1791 shortly before his death. (fn. 18) Between 1793 and 1802 seven places of worship were registered: three, in 1793, 1799, and 1801, were for Independents, (fn. 19) one in 1798 was for the 'Universal Millennium Church', one in 1802 for Baptists, (fn. 20) and two, in 1800 and 1802, were for unspecified dissenters, the first probably being for Methodists. (fn. 21) In 1810 Methodists were said to have much increased recently and six meeting houses for them and other dissenters were estimated to hold c.2,500, whereas the Church of England's parish church and Park chapel could together accommodate only c.1,100. (fn. 22)
No new places of worship were registered between 1802 and 1812 but more than 30 were listed between 1812 and 1852. Some were capacious and purpose-built, including the Methodists' Sloane Terrace chapel and the Independents' New Road (Union) and Ranelagh chapels; others were in rooms or converted buildings and often short lived. (fn. 23) In 1838 protestant nonconformists had six chapels providing 3,160 places, three Independent (including Ranelagh, described as Countess of Huntingdon's Connexion), 2 Baptist, and one Wesleyan. (fn. 24) The undenominational London City Mission was active in much of the parish. (fn. 25)
In 1851 15 of the estimated 28 places of worship were nonconformist, of which Wesleyan Methodists had 4, the Wesleyan Association had one, Baptists had 3, Independents (or Congregationalists) 2, Latter-day Saints 2, and Presbyterians, the Catholic Apostolic Church, and an undefined group one each. The most numerous nonconformist worshippers were Wesleyans, with combined attendances of 1,355 in the morning, 300 in the afternoon, and 1,433 in the evening. They were followed by the English Presbyterians, with 550 in the morning and 400 in the evening, and by the Baptists, with combined attendances of 275 in the morning, 85 in the afternoon, and 319 in the evening. (fn. 26)
Newcomers in the late 19th century included Welsh Congregationalists from 1860, Brethren from 1869, the Salvation Army from 1881, and the Church of Scotland, against Anglican opposition, from 1884. (fn. 27) In 1882 Chelsea, excluding Chelsea detached, was reckoned to have 4 places of worship for Methodists, 6 for Independents or Congregationalists, one of them the Welsh chapel, and one for Baptists, one for the recently arrived Salvation Army, and 3 for undesignated groups. (fn. 28) On census Sunday 1903 nonconformists accounted for almost a third of the worshippers, 5,377 out of a total church attendance of 17,061. No single sect rivalled the Roman Catholics' attendance: Congregationalists totalled 1,366, Baptists 935, Presbyterians 592, and Methodists 491. (fn. 29)
Methodism's early strength had brought the formation in 1812 of a Chelsea circuit, from which Westminster separated in 1872. Thereafter the circuit consisted of two chapels in Chelsea, one in Battersea (Surrey), and one in Walham Green (Fulham). Weakened by unspecified social changes, presumably the redevelopment which displaced much of the working class, Methodists by 1902 were said to form a smaller percentage of the population than in any other district in England. (fn. 30)
The 20th century saw the arrival of Christian Scientists in 1903, and of Jehovah's Witnesses in 1977. By 1928 Baptists had declined to such an extent that it was asked why Camberwell should be so responsive but Chelsea so hostile. (fn. 31) The Second World War led to closures and amalgamations, as elsewhere, and left the Baptists unrepresented in a church of their own. (fn. 32) In 1998 Chelsea had 7 certified places of worship for protestant nonconformists: the United Reformed Church, Welsh Congregationalists, Methodists, Christian Scientists, and Jehovah's Witnesses had one each, and the Salvation Army two. (fn. 33) Pentecostalists, increasing in many parts of London, had only just opened a centre. (fn. 34)
NONCONFORMIST CHAPELS AND CONGREGATIONS
The following abbreviations are used: Bapt, Baptist; cong., congregation; Cong., Congregationalist; Dec., Decorated; dedic., dedicated; demol., demolished; denom., denomination; evg, evening; Ind., Independent; Meth., Methodist; mtg, meeting; min., minister; perm., permanent; prot., protestant; reg., registered, registration; temp., temporarily, temporary; Utd Ref., United Reformed; Wes., Wesleyan. Attendance figs 1851 are from Religious Census, 1851; figs 1903 are from Mudie-Smith, Rel. Life, 115. Liturgical directions are used in architectural descriptions.
Baptists School ho., in Little North Street. Belonging to Thos Birks reg. by John Chesney, min., and others 1802. (fn. 35) Possibly connected with mtg begun 1800 which acquired Ind. chapel in North (later Basil) St 1812 under min. John Middleton, who was not recorded after 1827. Probably closed c. 1831. (fn. 36)
Lower Sloane Street, Chelsea Baptist Church. Opened 1816 (fn. 37) on E. side of White Lion (from 1884 southern end of Lower Sloane) St. New plain white-brick bldg by Jas Cubitt (fn. 38) reg. as Chelsea chapel 1865 by undesignated worshippers, later styled Bapts. (fn. 39) Bldg seated 900 in 1875, when ch. with 389 members and 290 Sun. scholars was in London Assoc. of Bapt Union. Membership fell to 274 in 1893, reached peak of 440 in 1903, and fell to 162 in 1938. (fn. 40) Attendance 1903, when sole Bapt chapel: 237 a.m., 698 evg, largest at any prot. nonconf. ch. Damaged in Second World War. (fn. 41) Membership, 54, last recorded in 1948, when ch. of Good Shepherd occupied site. (fn. 42)
Paradise Walk, Paradise Chapel. Bldg on E. side of rd running SE. from Paradise Row (later Queen's Road W.) reg. for Inds by And. Scott, min., and others 1793. (fn. 43) Reported to be Bapt by 1829, when chapel occupied a former schoolroom and managed a Sun. sch. for nearly 100. (fn. 44) Seated 500 in 1838. (fn. 45) Listed as Bapt until 1863 but apparently closed soon afterwards. (fn. 46)
College Street. Rob. Upton from Carmel ch., Westbourne St (Westm.) said to have moved to Chelsea 1824 and with others from Carmel to have founded College St 1830, (fn. 47) although no reg. was recorded. Bldg presumably that at SE. end of st 1836. (fn. 48) John Nichols, min. from 1838, moved to new Zion chapel, Queen St (q.v.), claiming 1824 as foundation date. Part of cong. presumably left in College St, where Ebenezer Bapt chapel, Oriel Pl., claiming no date, was reg. 1854, existed 1863, and had closed by 1868. (fn. 49) Unnamed Bapt chapel on E. side of College St listed as Bapt 1879, 1881, but as Ch. of Christ by 1890. (fn. 50)
Eden Place. Chapel in rd E. off Pond Pl. reg. for Bapts by John Shiriston Turner 1838, when it seated 160. (fn. 51)
Perhaps identifiable with Beulah chapel, said to date from 1836. Probably closed by 1878. (fn. 52)
Queen Street, Zion Chapel. Reg. for Bapts by John Nichols as continuation of College St (q.v.) 1842. (fn. 53) Nichols recorded as min. to 1851. Wes. Meth. by 1855. (fn. 54)
King's Road. Bldg in garden of Mr Brandon's ho. reg. for Bapts by Benj. Barker 1846. Presumably in grounds of china wareho. of Alf. Brandon at no. 4 Beaufort Terr., King's Rd. (fn. 55) Perhaps superseded by nearby Grove chapel (q.v.).
Marlborough Road. No. 6 Sydney Terr., SW. side of Marlborough Rd (later Draycott Ave), reg. for Bapts 1852. Bldg occupied by Eden Wilson, carpenter, 1857-8. Reg. cancelled 1866. (fn. 56)
Fulham Road, Grove Chapel. Bapt mtg reg. as at Mason's Grove, W. Brompton, 1853; chapel between nos 311 and 313 Fulham Rd. (fn. 57) Foundation later dated to 1852, when Alf. Brandon became min. 36 members and 65 Sun. Scholars 1871; seating not recorded. (fn. 58) In Fulham Rd 1982 but reg. cancelled 1895. (fn. 59) Moved with same name to Drayton Gdns (Kens.), where Brandon was still min. in 1902. Replaced by Grove Ct flats. (fn. 60)
King's Road, Cook's Ground. Former Huguenot and then Ind. chapel listed as Bapt 1855. Taken by John Nichols, who moved from Zion chapel (q.v.). Described as both Bapt and Cong. 1863, when ministry vacant. Closed by 1868. (fn. 61)
Chelsea Market, Lower Sloane St. 'Subordinate station', est. 1884 and seating 50, presumably in former commercial premises, recorded only in 1886. (fn. 62)
Brethren
Victoria hall, Little College St. Reg. by Christian Brethren 1869-76. (fn. 63) Former Ind. then Meth. chapel in Radnor St listed as Brethren's Chelsea hall with 2 Sun. and 2 weekday svces 1879 before acquisition by Welsh Congs. (fn. 64) Glebe hall, Glebe Pl., King's Rd, reg. by Brethren 1885-90. Gospel hall, no. 108 Church St, reg. 1888-97. (fn. 65)
Manresa mission hall. On E. side of Trafalgar Sq., Manresa Rd, leased to Edwin Cook and others for 19¾ years 1889 and reg. by Brethren 1890. (fn. 66) Attendance 1903: 73 a.m., 87 evg. Premises included stables, yard, and kiln 1904, when sale was planned to follow expiry of lease. Hall survived 1927 but not as place of worship: nearest Brethren hall was then in Ebury St (Westm.). (fn. 67)
Catholic Apostolic Church
Revd Hen. John Owen, recently deprived as min. of CE Park chapel (fn. 68) for belief in 'manifestation of tongues', preached probably at Clock Ho. sch. during building of ch. in College St, (fn. 69) reg. by him for Prot. dissenters 1833. Owen (d. 1872) reg. bldg while at no. 16 Cheyne Walk, (fn. 70) where room perhaps for his use had been reg. 6 weeks earlier by father-in-law John Bayford. (fn. 71) Ch. presumably accounted for Cath. Apostolic 200 free sittings 1851, when attendance 150 a.m., 130 p.m., 100 evg. (fn. 72) Listed as Cath. Apostolic by 1855. (fn. 73) Rebuilding or alterations said in 1870s to have been completed 1861: plain Early Eng. style, no galleries, seating c.200 with nearly half the space reserved for ceremonial. (fn. 74) Attendance 1903: 188 a.m., 104 evg. One of 7 Cath. Apostolic chs. in London 1913, with 3 Sun. and daily weekday svces. (fn. 75) Bldg, on E. side at no. 32 College (later Elystan) St, bombed in Second World War; site sold 1949. (fn. 76) Good Shepherd ch. reg. in Lower Sloane St 1949 as Cath. Apostolic but later recorded as Old Cath. (fn. 77)
Christian Scientists
Christian Scientists reached London 1891 and reg. branch of First Ch. of Christ, Scientist, Boston (USA), 1899. (fn. 78) Former Sloane Terr. chapel reg. as at Wilbraham Pl., Sloane St, 1903-11. (fn. 79) Adjoining reading room also opened. (fn. 80) Attendance 1903: 342 a.m., 211 evg. Replaced by Christian Scientists' first purpose-built ch. in London, (fn. 81) in Sloane Terr., begun 1904; first svce in W. half of bldg 1905, in completed bldg 1907; dedic. 1909 (fn. 82) and reg. 1911. (fn. 83) Romanesque elements and tall tower of R. Chisholm's design faintly echo original mother church in Boston. (fn. 84) Entrance arcade along Sloane Terr. supports cantilevered gallery of 1st-floor auditorium, with raked seats for 1,300, no columns, and shallow barrel vault with roof lights. Spacious offices in semi-basement. (fn. 85) Cong. had fallen to c.150 by 1990, when it was planned to reduce seating and convert rest of interior for offices or flats. Further fall by 1996, when svces ceased and premises bought by Mohammed Al Fayed, whose Harrods (UK) company sought permission for conversion into single residence 1999 but had sold bldg to Cadogan Estates by 2000. (fn. 86) Reading room in Sloane Terr. closed 1966, reopened at no. 109 King's Rd 1967. Move planned 1981 to no. 156 Fulham Rd (Kens.), where it remained in 2000. (fn. 87)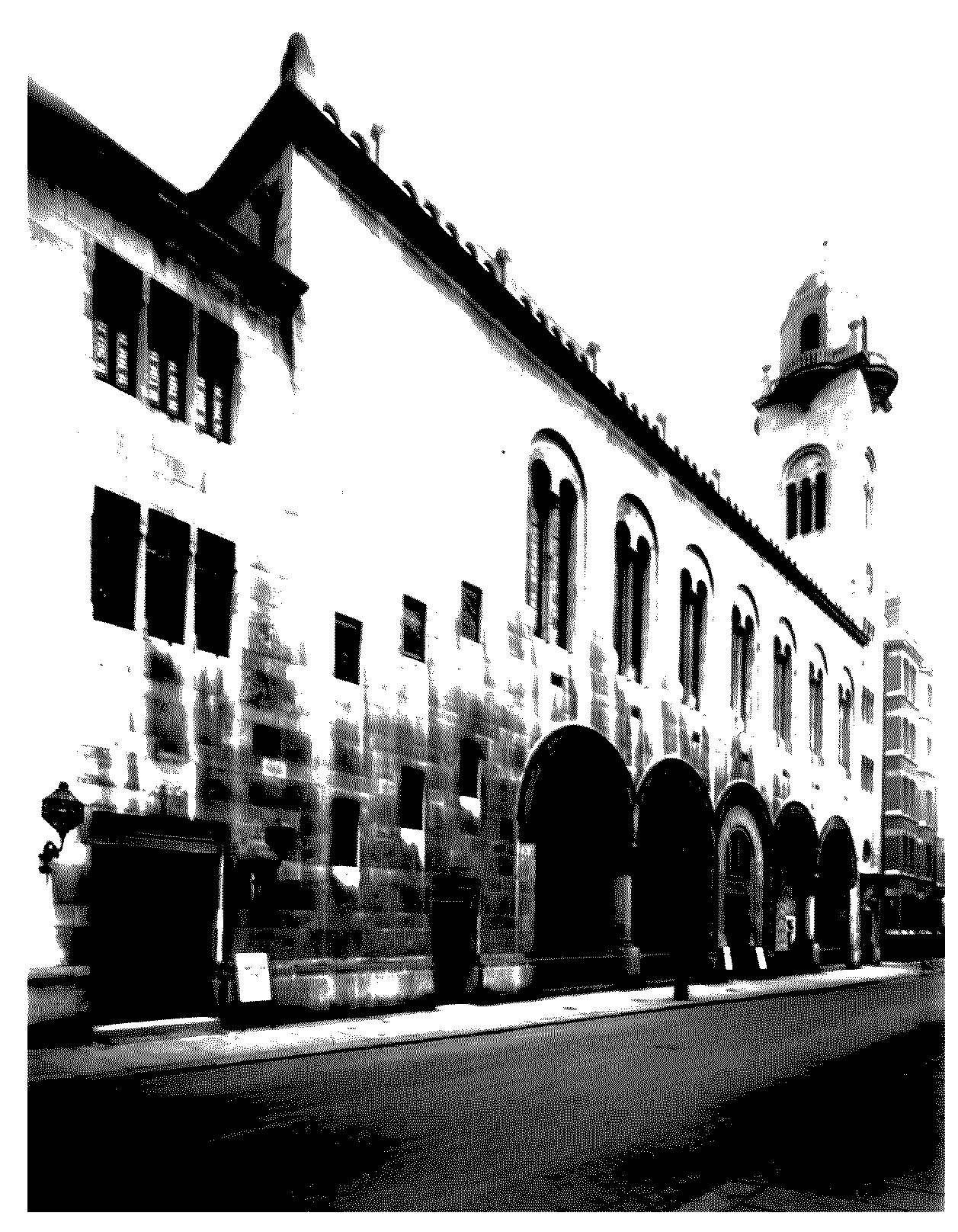 Congregationalists (Independents)
Cook's Ground Chapel. Formerly Huguenot, (fn. 88) had Ind. min. before 1773, when Revd Mr Traill succeeded by Benj. Fielder. (fn. 89) Presumably was mtg ho. of Inds recorded 1778 and 1790. (fn. 90) John Bunce min. from 1804, and in 1829. (fn. 91) Seated 200 in 1838. (fn. 92) Last listed 1853. Replaced by Radnor St (q.v.). (fn. 93) Cook's Ground bldg perhaps later reg. as Providence chapel. (fn. 94)
Paradise Walk, Paradise Chapel. Reg. for Inds 1793 by And. Scott and others. (fn. 95) Bapt by 1829. (fn. 96)
Danvers Street. No. 5, ho. of Jas Whitear, reg. for Inds 1799 by Thos Higginbottom, min. at Spa Fields chapel (Clerkenwell), and others. Not recorded later. (fn. 97)
Church Lane. Room in ho. occupied by Sarah Dytche reg. for Inds 1801 by group inc. John Bunce, later pastor of Cook's Ground chapel (q.v.). (fn. 98)
New Road, Union Chapel. Bldg in New (later Pavilion) Rd, Sloane St, reg. for Prots 1812 by group inc. John Surry, also associated with Meths. (fn. 99) Styled Ind. 1829, when bldg 64 ft long and date of erection given as 1813. (fn. 100) Seated 500 in 1838. (fn. 101) Between nos 29 and 31 New Rd 1857, when svces Sun. a.m. and evg and lectures Wed. evg. (fn. 102) Last listed with min. 1872. (fn. 103) Taken over by Welsh Congs, who reg. Union chapel 1874 before moving to Cadogan St and then to Radnor St (later Radnor Walk, q.v.). (fn. 104)
Lower George Street, Ranelagh Chapel. Built and reg. for Inds 1818 by R.H. Shepherd, who had served cong. from 1813, (fn. 105) and to include sch. established 1802. (fn. 106) Shepherd, a Calvinist Meth., used CE liturgy in accordance with Ctss of Huntingdon's Connexion a.m. and evg but not afternoons. Commodious, 'best place of worship' in par. 1829. (fn. 107) Galleried interior, 6 bays with tall round-headed windows; pedimented street front, 5 bays, projecting Doric porch. Side entrances to B and G schs, lit by windows in basement. (fn. 108) Seated 1,000 in 1838. (fn. 109) Sold to Eng. Presbs 1845. (fn. 110)
Captain Cook's Hall, Chelsea Common. Bldg reg. for Prots 1818 by group inc. Noah Stone of Capt. Cook's Hall and John Sharman. (fn. 111) No known connexion with Cook's Ground (q.v.). Presumably Ind., as Sharman later reg. ho. in Turk's Row (q.v.).
Turk's Row. Room in ho. at no. 4 Castle Yard reg. for Inds by John Sharman and others 1831. (fn. 112) Not recorded later.
Marlborough Road. 'Lecturing room' at no. 36 Caroline Pl. reg. as preaching ho. for Inds by occupier John Norton 1836. (fn. 113) Not recorded later.
White Lion Street. Shop and parlour of John Bosbury at no. 12 to be opened for Inds, cert. by Wm Giles and others 1837. (fn. 114) Not recorded later.
Radnor Street, Radnor Congregational Chapel. Mtg served by Fred. Webb, formerly min. at Cook's Ground (q.v.), 1854. (fn. 115) Freehold of commercial hall at corner of Radnor St and King's Rd bought by London Cong. Chapel Bldg Soc. 1855, (fn. 116) reg. as Radnor Cong. chapel for Inds 1856. (fn. 117) J. Clifford Hooper min. 1857, when svces Sun. a.m. and evg and lectures Thurs. evg. Moved to Markham Sq. (q.v.) 1860. (fn. 118) Radnor St later served Meths., then Brethren, and finally Welsh Congs. (fn. 119)
Gunter Grove, West Brompton Chapel. Reg. for Inds 1859, (fn. 120) when mtg formed at Gunter hall, E. side of Gunter Grove. Bldg of white brick with stone dressings, seating 300, by J. Figg of Brentford. Replaced by ch. in Edith Grove (q.v.), although Gunter hall was first mtg place of Uverdale Rd's Ashburnham ch. (q.v.) 1879, remained with Congs as mission rooms 1882, 1887, (fn. 121) and was used by St John's CE ch. 1902. (fn. 122)
Markham Square, Chelsea Congregational Church. Reg. for Inds 1860 (fn. 123) in succession to Radnor chapel. Lease for 999 years of site on N. side of sq. bought with help from London Cong. Chapel Bldg Soc. 1858; settled in trust, with 2 hos behind ch. in College Pl., 1859. Third min. was And. Mearns, sec. of London Cong. Union and author of Guide. Svces 1882: Sun. a.m. and p.m., Wed. evg. (fn. 124) Cited as example of Congs' local rise and decline in late 19th cent., with 890 evg worshippers 1886. (fn. 125) Burdened with debt from bldg costs; reports of dissension 1916 and of members joining Wes. 1923. Attendance 1903: 307 a.m., 501 evg, largest at any prot. nonconf. ch. except Chelsea Bapt chapel. 467 ch. members and 333 Sun. scholars 1902; 86 members 180 scholars 1930. Served by father and son J. Lawson Forster from 1882 and W. Lawson Forster from 1918; by G. Doreen Hopewell from 1935; ministry vacant from 1941. (fn. 126) Bldg faced in Kentish rag with Bath stone dressings in 'second period of Gothic' by J. Tarring 1858-60, cost £5,006. It had shallow transepts, tower with c. 130-ft spire on W. side of S. transept; crocketted and pinnacled buttresses; galleried interior with open timber roof seating 1,120; schoolrooms for B and G beneath. Organ and organ front by Bishop & Co. (fn. 127) Renovated, with lobby added, by Searle & Hayes c.1884. (fn. 128) Substitution of smaller ch. debated 1939; open during war but only one Sun. svce, poorly attended, by 1948. (fn. 129) Last recorded 1952; demol. for housing, reg. cancelled 1953. (fn. 130) Name of Chelsea Cong. ch. adopted by Edith Grove ch. (q.v.) 1960. Additional Sun. evg and Tues., later Wed., svces were held by Markham Sq. ch. at mission hall in College St seating 100 in 1888, (fn. 131) at sch. in College St seating 400 in 1891-2, and at Chelsea town hall seating 850 in 1893-4. (fn. 132)
New Road, Ebenezer Chapel. Reg. at no. 22½ New Rd (from 1870 Pavilion Rd), Sloane St, 1867 for Inds. (fn. 133) Mtg was Welsh Cong., previously at Belgrave hall, Pimlico (Westm.), in New Rd by 1863, later at Union chapel in Pavilion Rd (q.v.), in Cadogan St, and in Radnor St (q.v.). (fn. 134)
Edith Grove, West Brompton Church. London Cong. Chapel Bldg Soc. approached about new W. Brompton chapel 1864; opened 1866, reg. as Cong. ch. 1868 for Inds, replacing temp. ch. in Gunter Grove. (fn. 135) Burdened with debt from bldg costs, John Morgan, min. from 1877, refused resignation requested by London Cong. Union; ch. temp. left Union after controversial appointment of Geo. Sadler 1902. 98 ch. members and 210 Sun. scholars 1902. Attendance 1903: 127 a.m., 248 evg. Bldg in Dec. style, seating 1,100, on E. side of rd 1865-6. (fn. 136) Bombed in Second World War and temp. closed 1950, but had 18 members and 80 Sun. scholars 1956, mtg in community centre and being joined by worshippers from London City Mission in Lacland Pl. (fn. 137) Replaced by plain brown-brick bldg with tall rectangular windows, datestone 1959, reopened as Chelsea Cong ch. 1960; some funds for furnishing from former Markham Sq. ch. Utd Ref. ch. from 1972 until 1988, when Bapts joined and name changed to Edith Grove Christian Centre. (fn. 138) 35 members on roll 1997, when min. was Bapt. (fn. 139)
Radnor Walk, Welsh Chapel. Reg. for Inds 1880 by Welsh Congs previously in New Rd, (fn. 140) who had moved to Presb. Sun. sch. at no. 1 Halsey Terr. (later a continuation of Cadogan St) by 1879. Freehold of chapel in Radnor St (from 1937 Radnor Walk), reputedly once a music hall, originally Cong. and later Meth., bought by Welsh; cellars leased to adjoining pub. ho. until c.1910, thereafter ch. hall and kitchen. (fn. 141) Svces 1882: Sun. a.m., p.m., Thurs. evg. Attendance 1903: 59 a.m., 124 evg. 187 ch. members and 101 Sun. scholars 1907. (fn. 142) Nos increased by Welsh immigration, to peak of 260 members 1931. (fn. 143) Bldg on W. side of rd seating 300 in 1882, 400 in 1894, remodelled 1924 by T.J. Evans, who moved pulpit to opposite end. (fn. 144) Styled Eglwys Annibynnol Gymraeg with 60 members and Sun. evg svces in 2000, when stuccoed bldg with shallow cornice and pilasters seated 240 after back part had been made into hall and kitchen, and basement let to clinic. (fn. 145)
Uverdale Road, Ashburnham Church. Mtg formed at Gunter hall, Gunter Grove (formerly W. Brompton chapel, q.v.) 1879. Moved 1881 to bldg seating 500 in new Uverdale Rd, W. of Ashburnham Rd. Svces 1882: Sun. a.m. and evg, Wed. evg. Demol. 1885, members moving to Dawes Rd, Fulham, 1887. (fn. 146)
Jehovah's Witnesses
Sydney hall, Pond Pl., previously hall of Chelsea Temperance Soc., (fn. 147) used continuously by Jehovah's Witnesses during and after Second World War. (fn. 148) Reg. as Kingdom hall 1977. (fn. 149) Freehold acquired from UK Temperance Soc. 1999. Main hall seating 150 and rear hall seating 50 used for weekday and 3 Sun. svces rotated between 4 congs named Chelsea, Fulham, Walham Green, and Sign Language in 2000.
Methodists
One of the dancing rooms at Ranelagh converted into chapel 1790, Meths having met previously in upper room of ho. in Royal Hosp. Row. Moved to former levee room 1798. (fn. 150)
Lower George Street (later Sloane Gdns), (Ranelagh Chapel). Mtg ho. near market reg. by John Surry and others 1800 as 'new chapel lately built', (fn. 151) but may have been converted slaughterho. Gallery added with loan from law bookseller Jos. Butterworth (d. 1826). Superseded chapel at Ranelagh and itself replaced by Sloane Terr. chapel (q.v.). (fn. 152)
Sloane Terrace. Reg. for chapel sought by Prots 1811, on leasehold site secured with help from Butterworth. One of Chelsea's 2 Wes. chapels, with Justice Walk (q.v.), by 1858. Plain brick bldg, designed by Revd Wm Jenkins 1812, (fn. 153) seating 800 in 1838: (fn. 154) 2 storeys over basement, entrance front with 5 bays of round-headed windows, central 3 projecting beneath shallow pediment, and Doric portico; galleries around 3 sides. (fn. 155) Served by mins of Wes. Meth. Soc. in rotation 1829. (fn. 156) Falling pew rents had impoverished ch. by 1902, when sold and about to be replaced by King's Rd. (fn. 157) Site later taken by Christian Scientists. (fn. 158)
Mason's Grove, Little Chelsea. Ground floor room in corner bldg occupied by Mary Collins reg. for Meths 1812. (fn. 159)
Symons Street. Bldg in st W. of Sloane Sq. belonging to John Surry reg. for Meths April 1812. (fn. 160) Perhaps temp. mtg place for increased numbers before opening of nearby Union chapel, New Rd, by Surry and others for prots later Inds Dec. 1812. (fn. 161)
College Place (later Elystan Rd). Chapel blt. 1838 by John Wm Stacey on ground on S. side of College Pl. belonging to Geo. Downing, a trustee of Ranelagh chapel. (fn. 162) Chapel reg. for Wes. by Edw. Ellard 1839. (fn. 163) Listed as Dissenting Wes., with King's RdW. (q.v.) 1858, and as one of 2 Chelsea chapels of Utd Meth. Free Ch. with Marlborough St (q.v.), 1863. (fn. 164) Bldg reg. for Utd Meth. Free Ch. 1861 and 1872. Attendance 1903: 16 a.m., 41 p.m. First reg. cancelled 1897 and second, presumably after closure, 1908. (fn. 165) Chapel taken by Salvation Army 1909. (fn. 166)
Justice Walk. Mission chapel said to have been established c.1840. One of 2 Wes. chapels, with Sloane Terr. (q.v.), 1858. Said to have been used as a chapel and Sun. sch. 1843-1903. (fn. 167) About to be sold 1902 on amalgamation with King's Rd ch. (fn. 168)
Marlborough Street. Chapel on N side, often recorded as in Marlborough Sq., listed as Wes. 1858 and as one of 2 chapels of Utd Meth. Free Ch., with College Pl. (q.v.), 1863. (fn. 169) Reg. for Ch. as 'Marlborough chapel' 1872. Attendance 1903: 32 a.m., 54 p.m. Reg. cancelled 1907, when chapel presumably closed. Marlborough hall, nearby in Leader St (later Ixworth Pl.), reg. 1908-13. (fn. 170)
Queen (later Flood) Street. Former Bapt chapel (fn. 171) at King's Rd end, W. side, listed as Wes. 1855, with Sloane Terr. and Justice Walk 1858, and as Dissenting Wes., with College Pl. and Gunter Grove, 1863. Inc. in Primitive Meths' 9th London circuit 1879, 1881. Probably replaced by undesignated Chelsea mission rooms by 1890. (fn. 172)
King's Road West. Chapel or mtg place on S side in Gingell's Terr. listed as Dissenting Wes., with College Pl. (q.v.) 1858. (fn. 173) Not listed 1863.
Gunter Grove. Wes. Reform chapel listed, also as Dissenting Wes. with College Pl. and Queen St (qq.v.), 1863. (fn. 174) Probably at former Cong. Gunter hall on E. side near N. end, where marked as Cong. chapel 1865 and, after serving as first mtg place of Ashburnham ch., as hall 1894. (fn. 175)
Radnor Street. Reg. as 'Radnor chapel' by Meths of New Connexion 1860, (fn. 176) presumably former Cong. chapel on W side. Again Cong., as Welsh chapel, from 1880. (fn. 177)
King's Road, Chelsea Methodist Church. Ch. on E. corner of Manor (later Chelsea Manor) St reg. by Wes. 1903, (fn. 178) after sale of Sloane Terr. Red-brick bldg seating 715, entered from Manor St and inc. 4 shops providing income, at no. 155a King's Rd. (fn. 179) Attendance 1903, at 'Chelsea ch., Town Hall', perhaps at new ch.: 131 a.m., 165 evg. Bombed 1940, (fn. 180) whereupon svces held in upper room, the adjoining Sun. sch. of 1903, in Chelsea Manor St until reopening 1968. (fn. 181) Upper room retained as hall when new ground-floor ch. opened by Cardinal Hume as part of complex inc. shops, pastoral centre for all denoms., and 21 flats for old people 1984. Ch., called sanctuary, by Bernard Lamb in contemporary style, seating c.250. Also small chapel originally intended to be open all night but in 1999 reached only through main area. Tenants of flats, managed by Servite Housing Assoc., and shops paid rent to Meth. Ch. 1999. (fn. 182)
English Presbyterians (later Presb. Ch. of Eng.)
Ranelagh chapel, Lower George St. Sold by Inds to Presbs 1845. (fn. 183) Seated 1,060 in 1851, inc. 60 free; attendance 550 a.m., 400 p.m. One of Eng. Presbs' 8 London chs. 1858. Cong. moved to former Ch. of Scotland ch., Halkin St (Westm.), 1866 (fn. 184) and, as Belgrave ch., opened Sun. schs at no. 67 Cadogan St, reg. 1883-1934. (fn. 185)
Salvation Army
Denyer Street. Reg. as 'Salvation Temple' at corner of Marlborough Rd 1881. (fn. 186) Mission hall, attendance 1903: 34 a.m., 56 evg. Replaced by College Pl. (q.v.) 1909.
Cheyne Row. Salvation Army training depot recorded at no. 15 in 1890. Closed by 1902. (fn. 187)
Riley Street. Reg. as barracks 1900. Attendance 1903: 47 a.m., 58 evg. Closed by 1912. (fn. 188)
College Place. Hall reg. 1909 as successor to Denyer St in former Utd Meth. Free Ch.; head lease expired 1918 and Wm Bramwell Booth took 5-yr lease from freeholder. (fn. 189) Replaced by Flood St (q.v.) 1923. (fn. 190)
Flood Street. Hall at rear of no. 23 reg. 1923 as successor to College Pl. Replaced by King's Rd (q.v.) 1931. (fn. 191)
King's Road. Hall at no. 461 reg. 1931 as successor to Flood St. (fn. 192) Single-storeyed bldg W. of World's End pub. ho.; site later part of open space at World's End Pl. (fn. 193)
Blantyre Street. Chelsea Goodwill Centre to serve new World's End estate opened and reg. 1973, renamed Chelsea Corps 1999. Single-storeyed plain brown-brick bldg on E side of rd, with dual-purpose hall seating c.75 and used for worship Sun. a.m. and as community centre in 2000. Two-storeyed detached ho., no. 13 Blantyre St, built to N as officer's residence. (fn. 194)
United Reformed Church, see Congregationalists, Edith Grove
Other Denominations and Unspecified Missions (fn. 195)
'Ho. numbered 4 in Paradise Row' reg. by dissenters called 'Universal Mallienum [sic] Ch.' 1798. (fn. 196)
Dwellings of Thos Pye, no. 16 Manor Row, Queen St, of Sarah Campleman, no. 1 Cottage Pl., Little Chelsea, of John Abraham, no. 4 Little George St, and of Joshua Rhodes, no. 1 Robinson's Bldgs, Flask Lane, all with premises adjoining, reg. by prots 1816. (fn. 197)
Dwellings of John Bowen, no. 9 Seymour Pl., 'Kensington', reg. 1818 (fn. 198) and of Chas. Eatley, no. 16 New Manor St, reg. 1819. No. 11 Prince's Row, King St, reg. by J. Currie 1820. Dwelling of Wm Pickett, no. 27 Cumberland St, reg. 1824. (fn. 199) Sun. sch. room of Wm Edwell of Leader St in Eden Pl., Pond Pl., reg. 1824. Ho. of Rob. Hall, no. 1 Exeter St, reg. 1829. (fn. 200) Room in York St, Hans Pl., reg. by Joshua Nettleton of Sloane Sq. 1836. (fn. 201) Detached room in York Mews behind York Terr., Queen's Elm Gate, reg. by David Walker of Holles Pl., Brompton, 1844. Room on ground floor of no. 1 Jubilee Ct, Turk's Row, reg. by Ric. Smith, ironmonger, 1848. (fn. 202)
'Lloyds', no. 1 Lower George St, reg. by Latter-day Saints 1854-66. Presumably premises of Wm Lloyd, builder, next to Ranelagh chapel. (fn. 203)
Oakley Rooms, E. side of Manor St, reg. by 'Ind. Religious Reformers' 1859-66. Oakley mission room at no. 87, perhaps undenom. 1878 but CE for St Paul's, Onslow Sq. (Kens.), by 1889. (fn. 204)
Providence chapel, Cook's Ground, reg. by 'Testamentary Cong. Ch. or the Ch. at Chelsea' 1861-95. Listed 1882. Perhaps former Huguenot, then Ind., chapel. (fn. 205)
Royal Amphitheatre, Ashburnham Pk, reg. by undesignated worshippers 1869-95. Listed 1882. (fn. 206)
College St chapel reg. by undesignated worshippers 1869-1906. Listed 1882. (fn. 207)
Denyer hall, Denyer St, reg. by evangelical mission 1880-97. Perhaps Salvation Army temple 1881. (fn. 208)
Mission hall, no. 2A Flood St, reg. by Chelsea Gospel Mission 1885-95. (fn. 209)
Christian Mission chapel, no. 56 Queen's (later Royal Hospital) Rd, recorded 1878-9. (fn. 210)
North (later Basil) St mission hall between nos 60 and 64 in 1878 may have been Sloane chapel recorded 1881. (fn. 211)
College St chapel, between nos 50 and 52 (formerly Bapt) listed as Church of Christ 1890-1 and as chapel, with no denom., 1902. (fn. 212)
Marlborough Rd mission hall used by Church Army 1902. (fn. 213)
The Sanctuary, no. 23 Basil St, presumably a Spiritualist ch., recorded 1934-47. (fn. 214)
No. 50 Uverdale Rd, room in basement reg. by undesignated Christians, later altered to 'Slavic Pentecostal Ch.', 1959-70. (fn. 215)
Nos 8-10 World's End Pl. served as World's End Community ch. 1998, with Sun. svces and daily activities for neighbouring estate. Listed as one of two Christian centres, together with Edith Grove. (fn. 216)
Chelsea Christian Centre, (fn. 217) on 1st floor of Kensington and Chelsea coll. in Hortensia Rd, opened as an Elim Pentecostal ch. 1998 by Kensington temple, established since 1930s by Elim Foursquare Gospel Alliance in Kensington Park Rd (Kens.). Sun. a.m. svces and children's programme provided in 2000. (fn. 218)
London City Mission
London City Mission, established 1835 and often associated with existing chs, (fn. 219) was active by 1847 in W. part of par. and in SE. and NE. corners. (fn. 220) District of Kinnerton St (St Geo. Hanover Sq.), stretching into Chelsea and Brompton, described as spiritually destitute in 1844-5: included Exeter Bldgs, with many poor Irish, where missioner helped to establish ragged sch. (fn. 221)
Mission at no. 33 Hasker St, off Milner St, 1878-79. (fn. 222)
Rooms at no. 19 College St used by London City Mission 1879. Perhaps replaced by Stewart Memorial mission hall at no. 19A, recorded 1902, 1912. (fn. 223)
Bedford hall, Upper Manor St, recorded 1878 and used by London City Mission 1902. (fn. 224) Attendance 1903: 47 evg.
Ann Pl., off Milman's St, hall reg. as unsectarian 1899-1925 was Park chapel mission hall used by London City Mission 1902. (fn. 225) Attendance 1903: 49 evg.
Lacland hall, Lacland Terr. (later Pl.), King's Rd, used by London City Mission, 1902, 1913. (fn. 226) Site on west side of Lacland Terrace conveyed to the London City Mission Trust in 1905 by H.J. Veitch. (fn. 227) Attendance 1903: 35 a.m., 389 evg. Hall in Lacland Pl. reg. for mission 1930-54. (fn. 228) Hall sold to Chelsea MB in 1953; (fn. 229) after closure to make way for Cremorne estate, worshippers joined Cong. ch. in Edith Grove. (fn. 230)