Pages 51-60
A History of the County of Middlesex: Volume 12, Chelsea. Originally published by Victoria County History, London, 2004.
This free content was digitised by double rekeying. All rights reserved.
CHELSEA PARK TO BLACKLANDS
The area between Fulham and King's roads, stretching from Park Walk in the west to the edge of Hans Town in the east was still mostly fields in the 1680s. On the western side lay Chelsea Park, enclosed from Westfield in the 16th century and bounded on the east by the upper end of Church Lane. On the east side of the lane were the open strips and closes of Eastfield stretching to Chelsea common, and then, on the east side of Blacklands Lane (Draycott Avenue), lay the closes of Blacklands. The growth in this period is treated below under three headings: Chelsea Park, land between Upper Church Street and Blacklands Lane, and land between Blacklands Lane and Hans Town.
CHELSEA PARK
In the 1680s the 40-acre Chelsea Park was made up of pieces of pasture or arable enclosed overall with a brick wall and leased to John Thorley, victualler. (fn. 1) By 1724 land had been taken along the western boundary of the park to create a road between King's Road and Little Chelsea at Fulham Road, lined with elms and called Twopenny Walk; (fn. 2) it was later renamed Park Walk. The park was still apparently without buildings in 1717, (fn. 3) but the following year it was leased to patentees for silk production who intended growing mulberry trees there. (fn. 4) A large house had been built 'for nursing silkworms' by 1724 when it was leased to Sir Richard Manningham, MD, famous man-midwife, who was permitted build as he thought fit and take gravel, but had to replace any elms he took down in Twopenny Walk. His lease was subject to the lease of the silk producers' house and ground during the term of their patent, but if their lease was not renewed, Manningham was permitted to sell the mulberry trees growing there. (fn. 5) The proprietary Park Chapel, halfway along Park Walk, was said to have been built by Manningham in 1718, (fn. 6) which if true would indicate that he had acquired some interest from the silk undertakers that year. Although he died and was buried in Chelsea, he apparently never had a house there. (fn. 7)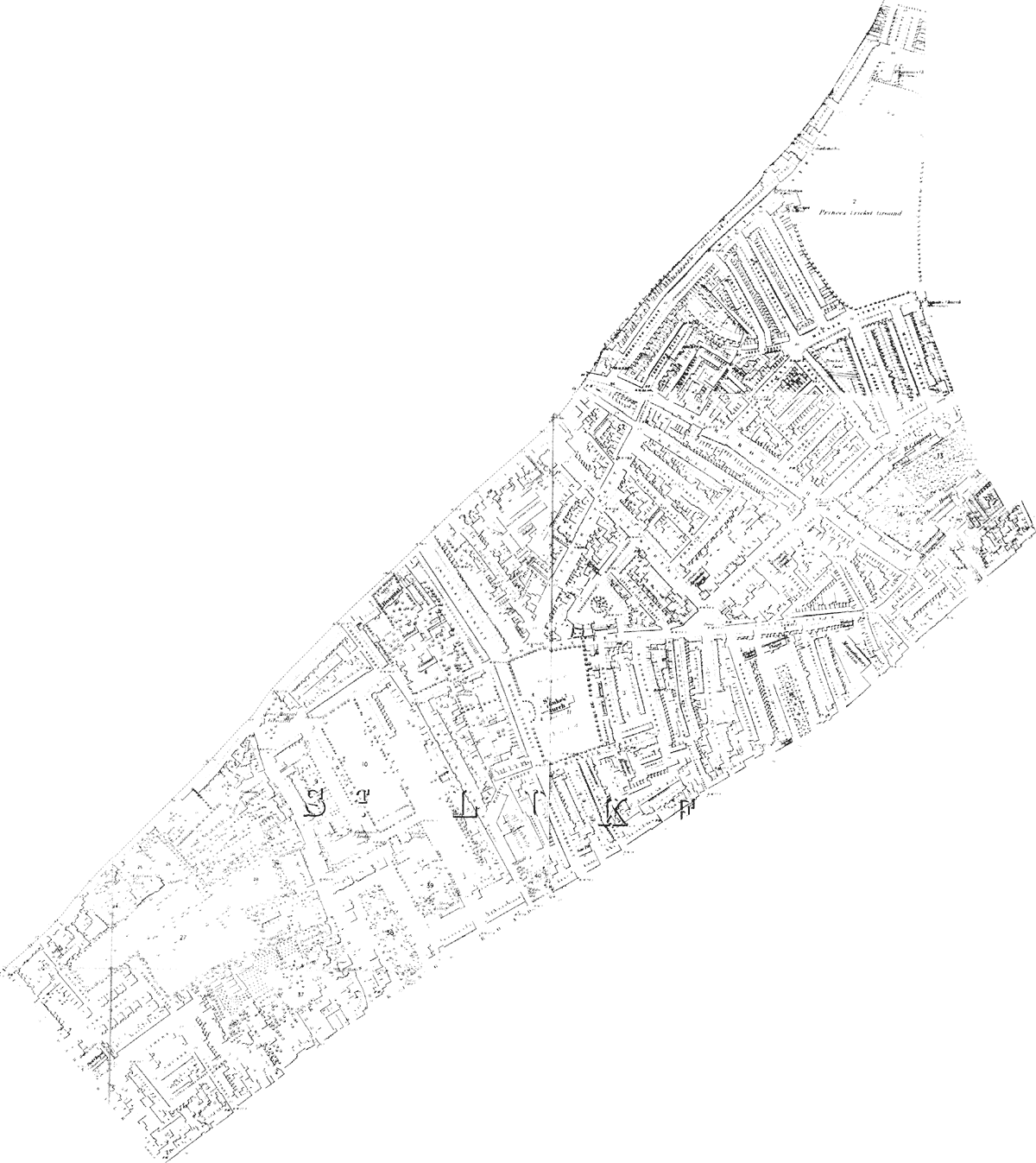 Manningham leased land on the east side of the park for building in 1724 to Thomas Scott of Walham Green, brickmaker, for 52 years; by 1733 one or more houses had been built there on plots assigned to Robert Cook. (fn. 8) A short row of houses was built at north end of Park Walk on the east side soon after 1725 and occupied by 1729, (fn. 9) and the row continued with a few houses on the north side fronting Fulham Road. (fn. 10) On the east side of the park a parcel 55 ft wide fronting Church Lane and 200 ft deep with a house built on it was leased in 1725 by Manningham, (fn. 11) probably one of several similar plots laid out for building at the same time. The silk undertaking failed in the 1720s; workshops to weave tapestries were set up in 1732 near the south-west corner of the park, but also soon closed, (fn. 12) and a house was built on the adjoining plot at the south-west corner c.1733, (fn. 13) known as the Man in the Moon alehouse in 1769. (fn. 14) In 1737 at least two houses, one of them the Coach and Horses public house, had been built fronting Fulham Road, next to a passage that ran south behind the houses in Twopenny Walk and gave access to their stables and coachhouses. (fn. 15) By 1745, in addition to the inclosures with houses at the south-west corner of the park fronting the King's Road, there were inclosures, mainly for garden ground, all down the east side fronting Church Street. (fn. 16)
In 1750 John Hutchins of Chelsea received a building lease for 61 years of the parcel of land on the south side of Fulham Road that he had inclosed out of the park with all buildings to be built there, one of a number of parcels there, (fn. 17) and by 1769 there were a handful of houses along the Fulham Road side. (fn. 18) Later in the 18th century William Bromfield (d. 1792), surgeon to the queen's household, (fn. 19) built a mansion called Chelsea Park at the north end of the park, (fn. 20) with access to Fulham Road, occupied by Sir Henry Wright Wilson in 1829. (fn. 21) Park Chapel was repaired and enlarged in 1810, (fn. 22) and building was underway on the north side of Camera Square in 1821, continuing there and in Little Camera Street in 1826. (fn. 23) The houses on the north side of Camera Square were a terraced row of 2 storeys and basements with strikingly long gardens in front and small yards behind. (fn. 24) By 1829 the square was linked to King's Road by Camera Street, which one observer thought ought to have been continued to Fulham Road and Kensington to give better access to the old town, but that access had to wait until the 1870s. At the south side of the park The Vale, a cul-de-sac with a narrow entrance from King's Road, had several small villas and cottages 'in the Italian style'. (fn. 25)
By 1836 there was building all round the periphery of Chelsea Park but still much open ground in the interior. (fn. 26) The housing built varied greatly in style and occupant, from 2-storeyed terraced rows to Chelsea Park mansion with 11 acres of grounds and meadow to the south of it; in 1847 it was occupied by Mrs Henniker Wilson. (fn. 27) On the west in Park Walk north of Park Chapel were terraced rows of 3-storeyed houses; south of the chapel, the National school, and the entrance to Camera Square were a few pairs of villas. Behind the northern end of Park Walk was a market garden of 2 acres occupied by William Salmon in 1847. Behind the southern end of Park Walk were terraces in Camera Square and Little Camera Street, and Park Terrace fronting King's Road, but the east side of Camera Street was still not completely built up. Further east The Vale had about 4 houses, while the southern half of it was bordered by the deep plots fronting King's Road with a variety of houses and terraces. At the north end of The Vale lay over an acre of orchard or garden ground, which continued in existence until 1912. On the east side of the park fronting Upper Church Street were one or two large detached houses and their grounds, large houses in twos or threes, and a terraced row. At the north end Laburnam Cottage or House had nearly an acre of garden ground attached to it and the five houses to the south of it also had grounds running back a long way. Bolton Place, a terraced row, had gardens curtailed by part of Chelsea Park meadow, but between that and Park Place was a cul-de-sac later also called Park Place which had a small terraced row at its western end. South of that two large houses and grounds stood fronting Upper Church Street, Park House and Vale Grove, the latter standing back with a lodge at the street. (fn. 28)
In 1851 the social and economic mix was as great as the mix of houses: from the landed proprietor in Chelsea Park with 11 servants, City merchants and professionals in the detached houses and large terraces in Upper Church Street, to the small craftsmen and tradesmen in the terraces around Camera Square. Hortulan House in King's Road was occupied by Henry Warren, watercolour painter. (fn. 29) On the 2-acre market garden west of Chelsea Park house, Park Road and Park Road East were laid out with pairs of villas and Park Road West with terraced housing between 1854 and 1862, and the ground was all built over by 1865; a couple of houses were demolished in Camera Square to allow Camera Street to run into Park Road East. (fn. 30)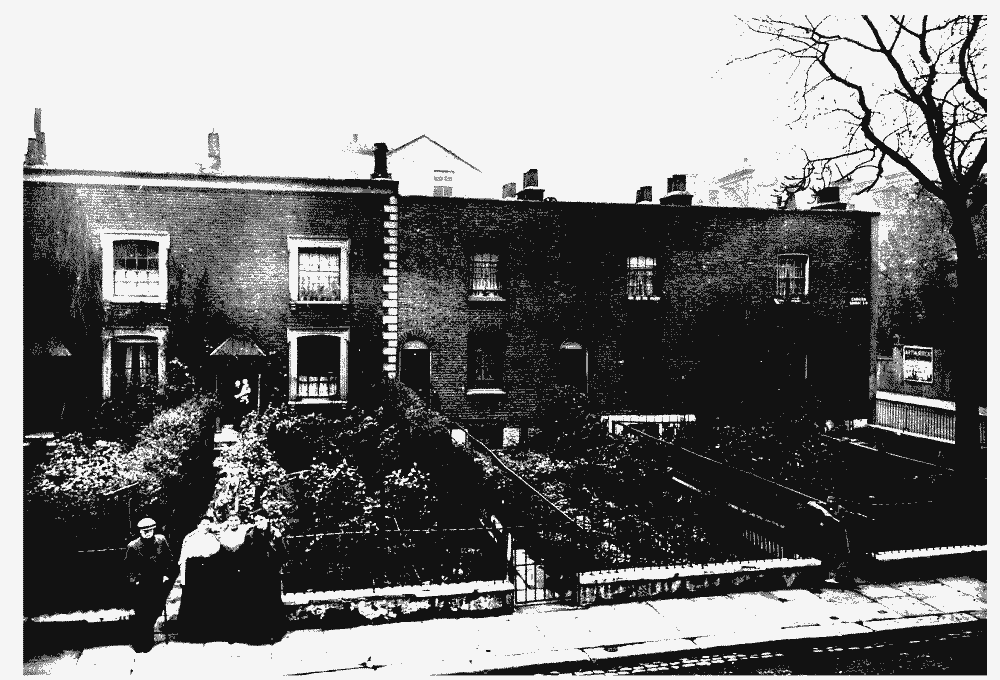 UPPER CHURCH STREET TO BLACKLANDSLANE
In the late 17th century most of the area from Upper Church Street eastwards was unbuilt ground, mainly in agricultural use. Chelsea common occupied 37 acres in the north and east of the area, bounded by Fulham Road on the north and Blacklands Lane on the east; the later Cale Street ran along its southern boundary and Pond Place along the western. The common had a pond and gravel pits in the north-west corner, and possibly some poor-houses in the south-west; (fn. 31) a pond in the south-east corner by the late 18th century was probably also the result of gravel-digging. (fn. 32) Apart from the common the area was part of Eastfield, divided into portions according to ownership but apparently mostly still uninclosed. The curve of the boundaries of the portions between the common and King's Road was later reflected in the street pattern, for example Jubilee Place. An inclosure in the south-west corner contained Mr Mart's detached house and a house or houses at the corner of King's Road and Church Lane. (fn. 33) Also in existence presumably was a 17th-century building called Box Farm, which had a datestone of 1686, and stood on part of the Greene estate at the corner of the later Markham Street. (fn. 34) In 1733 land on the north side of King's Road was given for a new parish burial ground, consecrated in 1736, (fn. 35) and, on the north side of the burial ground, a new parish workhouse opened in 1735. (fn. 36) The site was later bounded by Arthur (later Dovehouse) and Britten streets. In 1769 Fulham Road had a couple of isolated houses and a small group by the common. The King's Road side had a sprinkling of detached houses in addition to the new burial ground and workhouse. On the east side of the latter stood a detached house. Further east, on land south of the common, stood two more detached houses, one of them Box Farm with another west of it. (fn. 37)
In 1792 a 3½-acre close called Queen's Elm Field at the corner of Upper Church Lane and Fulham Road, formerly part of the Warton estate and occupied as garden ground, was sold to Charles Owen of Westminster, who granted building leases of part; several houses had been built by 1794. (fn. 38) Owen had let part in 1793 to John Williams, builder, who in 1794 sold a plot which later became the site of Upper York Place, on the east side of Charles Street, with four partly-built houses to a carpenter, James Clarke. By that date York Place to the west was being built, Owen had built some houses in Charles Street, and 8 houses had been built by Thomas Powell. (fn. 39) Six houses had been built by Thomas Deacon by 1794 at the adjoining Queen's Elm. (fn. 40) Owen's land and houses were auctioned in 1815 in 10 lots, including the houses in Upper York Place, fronting Fulham Road, on the east side of Charles Street, and the north side of South Parade; the occupier in 1815 was Henry Holland. One of the lots, at the western end of the field adjoining Upper Church Lane, was sold to form a Jewish burial ground for subscribers from the Westminster synagogue, and a building for the keeper was built by 1816 when it opened. (fn. 41)
Building on Chelsea Common
In 1794 most of the common was still open ground, (fn. 42) but on the fifth which then belonged to the manorial estate a lease had been granted to run from 1790 and two others from 1795, probably for property fronting Fulham Road or the top of Blacklands Lane. (fn. 43) The common was still undivided at the beginning of the 19th century and generally let for grazing by the commoners; it was also used for public meetings and other gatherings. In 1802 a complaint was made to the magistrate about the great assembly which gathered on a Sunday to watch two pitched battles on the common, and constables were sent to break up the meeting and arrest the principals. (fn. 44) The pressure to build soon became irresistible, however, and most of the common was subject to building leases from 1808. While in 1794 there was apparently no building on the east side of the common, (fn. 45) a network of roads had been proposed for the site by 1813: the later Keppel Street and Whitehead's Grove are shown on the line that was built, and possibly also College Street; other streets shown were not built. Houses are shown on each side of Whitehead's Grove, probably the detached houses and pairs of villas in spacious grounds which were standing there in 1836, and a terrace of four houses at the extreme southern end of College Street, which was named. Another couple of houses stood further north along Keppel Street and fronting Blacklands Lane near the junction with the later Leader Street. (fn. 46)
The rector of Chelsea and the trustee for another Chelsea freeholder, who were both entitled to shares of Chelsea common, made an agreement with William Whitehead, James Bonnin, William Smith, and Nathaniel Fulcher, carpenters, bricklayers, and builders of Chelsea, for building on their shares, and granted 99-year building leases for 32 a. of the 37-acre common, running from 1808-10; they obtained an Act to confirm the leases in 1813. (fn. 47) On the share belonging to the manor 13 leases ran from the period 1808-11, with another 7, granted later, from 1820-3. (fn. 48) One of the leases was to William Blizard in 1808, for land adjoining Fulham Road on which a house was being built in 1814, (fn. 49) probably the land which had a terrace of about ten modest houses fronting Fulham Road by 1833 known as Blizards Place; two other similar terraces, Amelia Place and Kimbolton Place, also fronted Fulham Road nearby by that date. (fn. 50) Many of the same builders were involved in both estates and also elsewhere in Chelsea, and in addition to those named above included Peter Denys, Joseph Couzens, John Morbey, John Bennet, James Potter, and Thomas Charlton.
Building leases were granted in 1821-2 for plots for 3 or 4 houses, each 16 ft wide, to front Pond Place, stretching 100 ft back towards the pond, on what was called Little Common, part of Chelsea common, (fn. 51) and by 1836 not only the frontages to the roads around the pond were built up but also the land between those houses and the pond was filled with alleys of small houses. In 1836 the whole common had been laid out and nearly all built over apart from the pond and a triangular garden at the junction of College Place and Keppel Street in the south-east. (fn. 52) William Whitehead's lease was presumably for the land which included Whitehead's Grove, the only area of the common with houses in large grounds in 1836, and it had some space for infilling. In that year Henry Whitehead leased ground in the Grove to George Todd, builder, who had built 2 houses on it. (fn. 53) By 1847 the north side of the Grove was filling up; the south side and its villa-type houses remained, apart from one plot which in 1865 contained the Brompton County Court, and behind it a cul-de-sac called Bucks Place with small terraced houses. By 1865 the open triangle of land opposite Bucks Place had been ringed with small houses with commercial premises in the centre. In the north-west, the pond may have gone by 1847, though its area had still not been built over then. (fn. 54) By 1865, however, it was the site of Onslow Model Dwellings, built c.1862 by C.J. Freake for working-class residents, two rows of 12 small cottages facing each other and another row of 12 built at the east end of the gardens of houses in Pond Place and facing east, with a small garden; they seem to have been on the 'associated' model, with WCs grouped for several houses. A hall also built by Freake housed St Luke's National school, opened in 1864 to take children from the Dwellings. (fn. 55)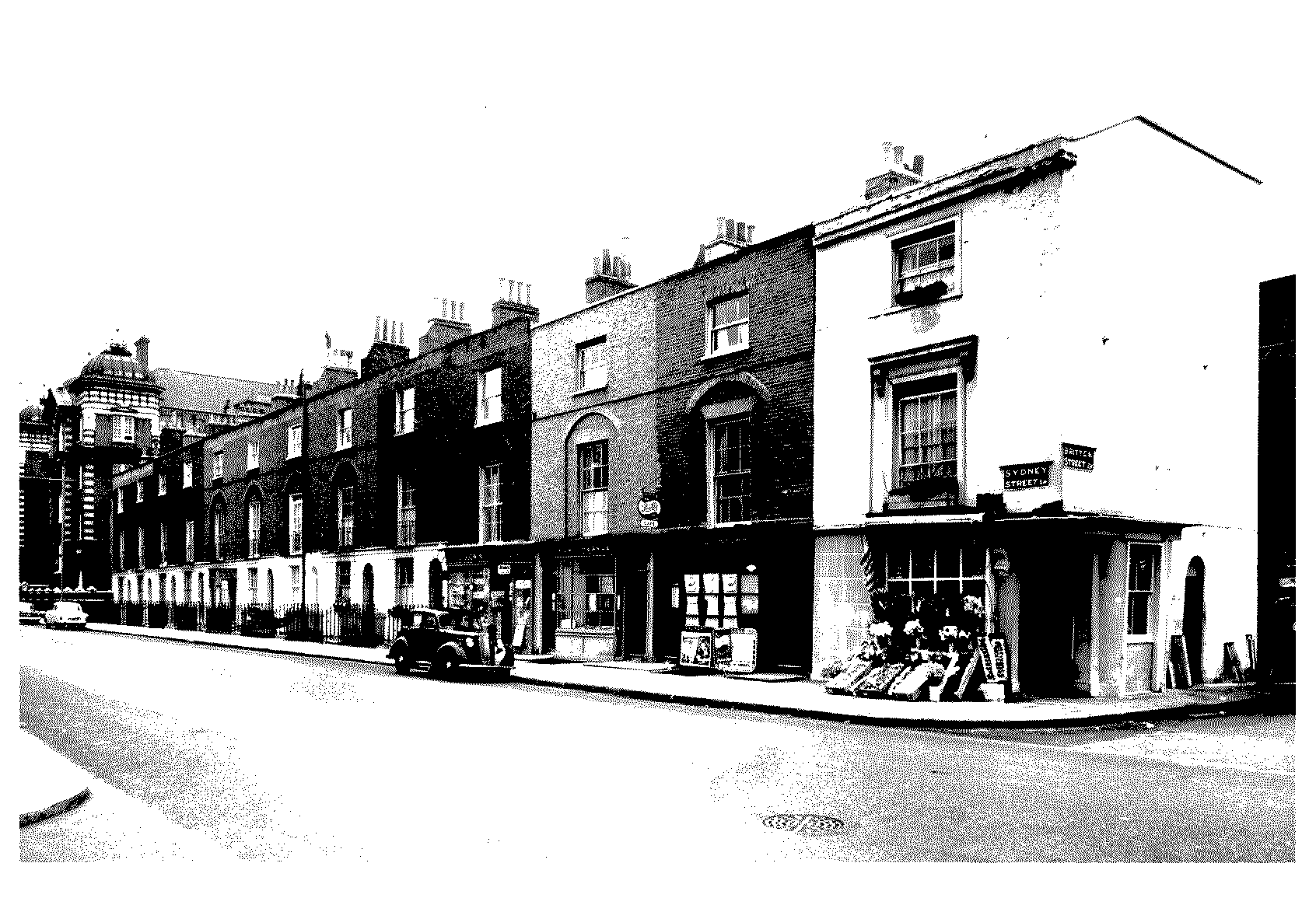 South and West of Chelsea Common
Widespread building on the open field also began around 1808. Jubilee Place, which ran from the King's Road north-east to the common, was begun about 1809, (fn. 56) and building was continuing on the east side in 1811; (fn. 57) it was almost completely filled by 1813, when there was a short row of houses on the west side as well. (fn. 58) To the west of the common the Nineteen Acres, lying between South Parade and King's Road and bounded on the west by Church Lane (Upper Church Street) and the Field House plot (below), was leased in 1809 by the holders of the manor to John Fielder. By 1813, when another lease was made to Fielder, the ground had been divided into eight allotments and two of the lots bordering Upper Church Street had a house on each. In 1813 Fielder covenanted to build within three years one or more substantial brick houses on two of the lots bordering the street; within four years to build two houses on the lot which later became Trafalgar Square; and within five years to build houses on the parcel to the east which became Arthur Street, and the remaining two to the south. There were restraints on carrying on offensive trades, but Fielder was granted a licence to build a forge behind the houses in Arthur Street. (fn. 59) In 1814 building had started on the west side of Arthur Street. (fn. 60) Trafalgar Square was laid out by 1836, with nearly 2½ a. of garden in the centre, but little building had taken place by 1847.
To the east of Arthur Street, Robert Street (later part of Sydney Street) was also laid out in the 1810s, (fn. 61) and Upper Manor Street was completed in 1824. (fn. 62) The land, 4½ a., which later formed the site of Oakley Square and bordered Church Lane and King's Road, had a miscellany of buildings in 1835, possibly by 1826: a large house called Field House set back from King's Road with a garden in front stretching to the road and a large paddock behind, and along the Church Lane side Kelly House and garden near the corner with various outbuildings, a row of 6 cottages called Regent Row, and 2 more houses further north along Church Lane. The Rose and Crown public house stood at the corner itself but was not part of this land. The name Regent Row suggests an earlier date for some of the building. The land was sold in 1835, (fn. 63) to Lord Cadogan, (fn. 64) and was quickly cleared and laid out with Oakley Square in 1836; (fn. 65) some building had started at the southern end by 1837. (fn. 66)
In 1836 almost all the area south and west of the common had been laid out for building, and most of it built over. A new street, in 1836 called Bond Street at the west end and College Place at the east (later all renamed Cale Street), followed the boundary of the former common and joined a street from King's Road called Robert Street which ended at that junction, leading into a large square called The George Field. At the corner of Robert Street and Bond Street the new parish church of St Luke, built in 1824, stood in the burial ground with the parochial school at the east end fronting King Street. Most of the area was filled with streets with small terraced houses, and several small courts and alleys of houses led back from King's Road. In Russell Street stood a large brewery with some unbuilt land east and south of it, and Blenheim and Godfrey streets were only partially built. Jubilee Place was erratically built up with some terraces of houses, a pair called Jubilee Cottages and some other slightly larger houses. Markham Street was also only partially built, but incorporated at its northern end the infant school built 1827-8; the land on the east had not yet been built over. Though some houses fronted College Place, the land behind to King's Road was still occupied by a nursery garden and its buildings, and there was open land around the neighbouring floorcloth factory. Another small terrace separated the factory from Colvill's large nursery garden and buildings. (fn. 67)
In 1841 houses were being built on the west side of Blenheim Street at the lower end on land belonging to the Archer brewery, (fn. 68) next to which a new little street called Brewer Street was laid out, with houses on the south side built in 1842, (fn. 69) and on the north side in 1849. (fn. 70) In addition to Markham Street, the small Markham estate let plots on building leases in 1846 which were later on the west side of Markham Square, (fn. 71) and in 1847 the estate had some building on the east side of Markham Street and the south side of College Place. Markham Square had been laid out and built up by 1852 when the 3-acre site was divided among the heirs of Matthew Markham; (fn. 72) most houses in the square were occupied in 1851. (fn. 73)
By 1851 Robert Street, called Robert Terrace for the stretch opposite St Luke's, had been continued northwards to Fulham Road as Sydney Street. In 1851 the area had a mixture of residents. Sydney Street, with its Spartan 2- and 3-storeyed terraces, housed a range of professionals and tradesmen, including a cowkeeper, schoolmasters, and artists. The smaller streets had correspondingly more craftsmen, labourers, and laundresses; Britten Street included many Chelsea pensioners and some paupers. Upper Church Street had a middle-class population, with professionals, teachers, annuitants, and merchants: the street was not fully built up especially the southern end towards King's Road. Trafalgar and Oakley (later renamed Carlyle) squares still had few houses; in 1851 Catharine Lodge at the south-west corner of Trafalgar Square, which it pre-dated, was a girls' school. Other inhabitants of the square included several professional men. York Place on Fulham Road again was largely middle-class including 2 curates and a schoolmaster. Charles Street included more tradesmen, especially shopkeepers and craftsmen. (fn. 74)
BLACKLANDS LANE TO HANS TOWN
Blacklands Lane ran from King's Road to Fulham Road with a small settlement, known as Blacklands by the later 17th century, by the dog-leg at its southern end. Some houses stood along the east side by c. 1700. At the northern end where the land joined the Fulham to Brompton road, was a close with a house or barn by the lane, probably that with 4 hearths occupied by widow Buckmaster in 1666. (fn. 75) This seems to be the freehold messuage, barn, stable and 8 acres of land belonging to Thomas Child (d. 1686) of Inner Temple, and his son William (d. 1698) of London, surgeon. In 1700 the property, which then had two houses in addition to the land, had three tenants and the major part, the barn and land, was held by Jeremiah Wiltshire. (fn. 76) About halfway along the lane Lady Matthews, who has not been identified, had a house fronting the lane, (fn. 77) the history of which is obscure. It may be the two houses, barn, and 1½ a. of garden belonging to the manorial estate which was leased to William Francis by 1696 together with a 5-acre close, probably that along the lane between the house and Green Lane; Francis still leased it in 1724. Further south fronting the lane by the dog-leg stood a house occupied by John Tovey c. 1700, (fn. 78) and by 1710 Thomas Franklin leased from the manor three houses and gardens covering c. 1 acre, and 6 acres of arable and garden ground in the adjoining part of Eastfield: in 1717 the property was described as a messuage called the Longhouse and the old farmyard, and may have been a much older property; it may have stood at the northern end of the short part of the lane near King's Road. Standing back from the lane by the outer corner of the dogleg was Blacklands House, another building whose early history is unknown. It seems to be the house and garden occupied by Count Montefeltro in 1684 and his countess in 1696. By 1702 the house was occupied by Mrs Judith Nezerauw, who ran a French boarding school for young ladies there until the late 1720s. (fn. 79) A few other cottages also stood in this group.
In 1724 Sir Hans Sloane was leasing land for building fronting King's Road and close to the east side of Blacklands Lane, some plots running back 200 feet to the property in the lane, others only 100 feet. (fn. 80) By 1769 there were about half a dozen houses fronting King's Road near the junction with Blacklands Lane with long gardens running northwards, and another building halfway towards the Westbourne, and the part of Eastfield north of King's Road had all been converted to garden ground. The house once occupied by John Tovey had probably been enlarged and was called Whitelands, and the garden ground on the north side along the lane seems to have been laid out as private gardens by 1745. Blacklands House continued to be used as a boarding school. (fn. 81)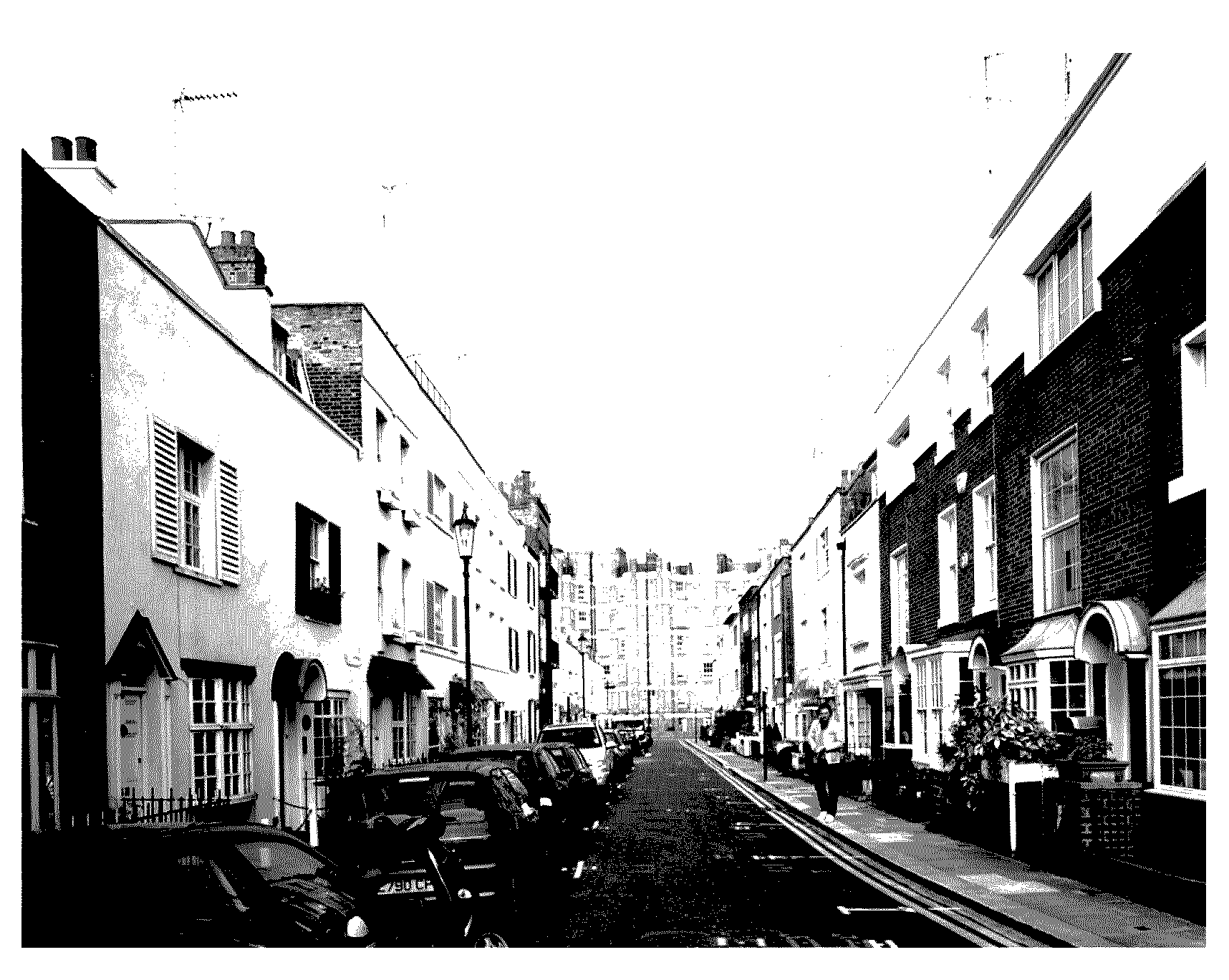 In 1794 the northern end of Blacklands Lane, north of Green Lettuce Lane, still consisted of open land, mainly nursery gardens; by 1813 the nursery included some large outbuildings, while at the top of the lane the beginning of Cumberland Street was laid out on part of the former Child property and a terrace of houses fronted Blacklands Lane. (fn. 82) The house halfway down Blacklands Lane was known as the Marlborough Tavern in 1794, with pleasure grounds laid out behind it, and the close between the house and Green Lettuce Lane had become a cricket ground in association with the tavern. By 1828 most of Blacklands Lane was called Marlborough Road, (fn. 83) the old name being retained for the part south of the junction with Cadogan Street. (fn. 84)
In 1829 Blacklands House was used as an asylum for the insane, and Whitelands, described as a large and spacious old mansion, was being used as a stained-paper factory, established in 1786. (fn. 85) Thomas Birks of Marlborough Road, tallow chandler, in 1828 let ground formerly part of the Warton estate with 2 brick houses, stables, and workshops on the east side of Marlborough Road and the north side of Green Lettuce Lane, on which Smith (later Ives) Street was built; further leases were made 1829-30, (fn. 86) and 12 houses in Smith Street were let in 1836. (fn. 87) In 1836 a wide band along the east side of Marlborough Road was completely built up as far east as Bull's Gardens and Princes Street, with the exception of the grounds of Blacklands House, and most of the streets were filled with small terraced houses, built of brick with stucco trim, some of it in neo-Grecian style. Whitelands, still a paper factory, had extra buildings behind it, and further north a candle factory stood on the north side of Green Lettuce Lane fronting Marlborough Road, with other commercial buildings; a national school stood at the corner of Marlborough Road and James Street. (fn. 88)
In 1851 residents of the streets between the parish boundary and James Street had a great range of trades, crafts and labouring occupations; Marlborough Road had a wide range of shops of all kinds and had become a major retail street serving the needs of local residents. From James Street southwards some of the occupants of Marlborough Road and Cadogan Street were professionals, especially teachers, or substantial men such as George Todd, builder of many houses in the area, who employed 60 men. (fn. 89)
East of that band of housing and other buildings up to the boundary of the Hans Town district lay 32 acres which until the mid 19th century remained arable and meadow land, with the greater part converted to market gardens. On the north side of Green Lettuce Lane 4 acres of Blacklands Field had been converted to a market garden, possibly by the lessee William Powell. His widow Mary sublet the premises to John Bull, gardener, by 1817 and Bull was granted a new lease for 52 years from 1825 at £20 a year by the holders of the manorial estate. By 1836 he had built 22 small houses in a curving terrace following the line of a small stream or ditch bounding the property on the west, known as Bull's Gardens, and a dwelling house by 1839. (fn. 90)
In 1836 Green Lettuce Lane, later Green Street, continued as a private road after the junction with Princes Street, giving access to the grounds of the Pavilion and Hans Town, and to the south Cadogan Street had been laid across the area from Sloane Street to Marlborough Road, but no building had taken place. In 1839 William Davies or Davis, market gardener, had taken over the remainder of Bull's lease of the market garden, known as Green Lettuce Gardens, together with the business and Bull's Gardens. In 1845 Lord Cadogan leased to Davis just under an acre of the land within Green Lettuce Gardens for 99 years for building: Davis was to spend at least £800 in building 40 houses with at least six rooms each. (fn. 91) Davis's market garden also included 2 acres on the south side leased from another freeholder. (fn. 92) Between 1845 and 1848 Davis issued building leases for First Street for the remainder of his 99-year term, nine of which were for individual houses, the rest for two or four houses; the total ground rents reserved on these leases was £133 6s. They were mainly granted to local residents but included two leases to Edward Davis, gardener, of Buckinghamshire, one to two ironmongers of Birmingham, and one to a spinster of Cheltenham; he took the lease of no. 47 First Street himself. The terraced houses were modest, just 15½ ft wide with small front basement areas and yards behind. (fn. 93) Davis also made leases of Richards Place in 1847-8, mostly for small cottages which were built on land held under the 1825 lease. (fn. 94) In 1851 Davis assigned a small sliver of land at the south end of First Street to James Miles, the owner of houses in Richards Place, to form gardens or forecourts to Miles's houses. Miles issued a building lease for land abutting the backyard of no. 1 Richards Place on which no. 31 First Street was built. (fn. 95) First Street and some adjoining streets survived in 2003.
The 14-acre Qualifield belonging to the Henry Smith charity estate between the parish boundary and Hans Town was nursery ground in 1836, but in 1837 the trustees granted the site for St Saviour's church at the north-eastern corner. The church designed by George Basevi was built by 1840, (fn. 96) and Basevi also laid out Walton Place next to the church, with two facing terraces each consisting of nine 4-storeyed houses with stuccoed façades, pilastered porches, and continuous iron-railed balconies at first floor, built 1843-4. In 1841 William Pocock applied to the trustees to build a row of houses facing south-eastwards towards the church, and built 16, presumably the stuccoed group with linked Ionic porches now nos 2-32 Walton Street. The corners of Beauchamp Place are marked by taller pavilions. Walton Street itself was laid out beside the parish boundary in 1847 by the vestry under the Chelsea Improvement Act of 1846 to link Sloane Street and Fulham Road, lying about half on Lord Cadogan's land, the remainder on Smith's estate, and opening up access to both estates. (fn. 97) Towards the west the houses became progressively smaller, those nearest to Fulham Road being no more than a single bay wide and without basements. By 1848 land on the east side of Hasker Street, which in 2003 still had 2-bayed houses like those in First Street, had been leased to George Todd, builder, who sub-let part to another builder, John Perrin. (fn. 98)
Building over much of the remaining open ground proceeded quickly in the late 1840s and early 1850s. The 2½ a. north of Green Lettuce Gardens was let to George Todd by 1847, who presumably was responsible for building there after Walton Street was laid through it. To the south of the nursery gardens the land belonged to the heirs of Benjamin Tate, apart from c.2½ a. on the south side of Cadogan Street sold to trustees for Roman Catholics. (fn. 99) The land was settled for a Roman Catholic cemetery and other purposes in 1842, and in 1845 St Joseph's convent was opened there with boys' and girls' schools. Almshouses were built in 1850 on the west side of the convent, and a new church was opened on the east in 1879. (fn. 100) The buildings in Cadogan Street, with additions that included St Thomas More's school, thereafter remained a centre of Roman Catholicism in Chelsea.
In 1851, although Cadogan, Princes, Halsey, and Moore streets were partially occupied, houses, slightly larger and more Italianate, were still being built in Moore and Halsey streets; the residents were a mix of professional and tradesmen, and Halsey Street included a stableyard. (fn. 101) Further building leases were granted for Moore and Halsey streets in the early 1850s, several by Luke Trapp Flood, who sublet to the builders. (fn. 102) To the north First Street, Richards Place, and Bull's Gardens were complete, Hasker Street was finished but some houses were not yet inhabited, while Stanley Street was only half built. The north side of Walton Street was built up, but Walton Villas (possibly on the south side of Walton Street) were still being built. The residents of the northern part were again a mix, though rather more trades and crafts were in evidence, with some labourers. Bull's Gardens included a pig merchant and a watercress seller, perhaps a residue of the gardens' former use. The open ditch bounding Bull's Gardens had been covered by 1871 as the lane called Bull's Gardens. (fn. 103) In 1862 Smith's trustees conveyed to St Saviour's a site for a school on the south side of Walton Street. (fn. 104) The site took a small plot at the western side of Prince's cricket ground, the only ground still open and unbuilt in 1871.