Pages 61-66
A History of the County of Middlesex: Volume 12, Chelsea. Originally published by Victoria County History, London, 2004.
This free content was digitised by double rekeying. All rights reserved.
LITTLE CHELSEA, SANDY END, AND WORLD'S END
LITTLE CHELSEA AND STANLEY HOUSE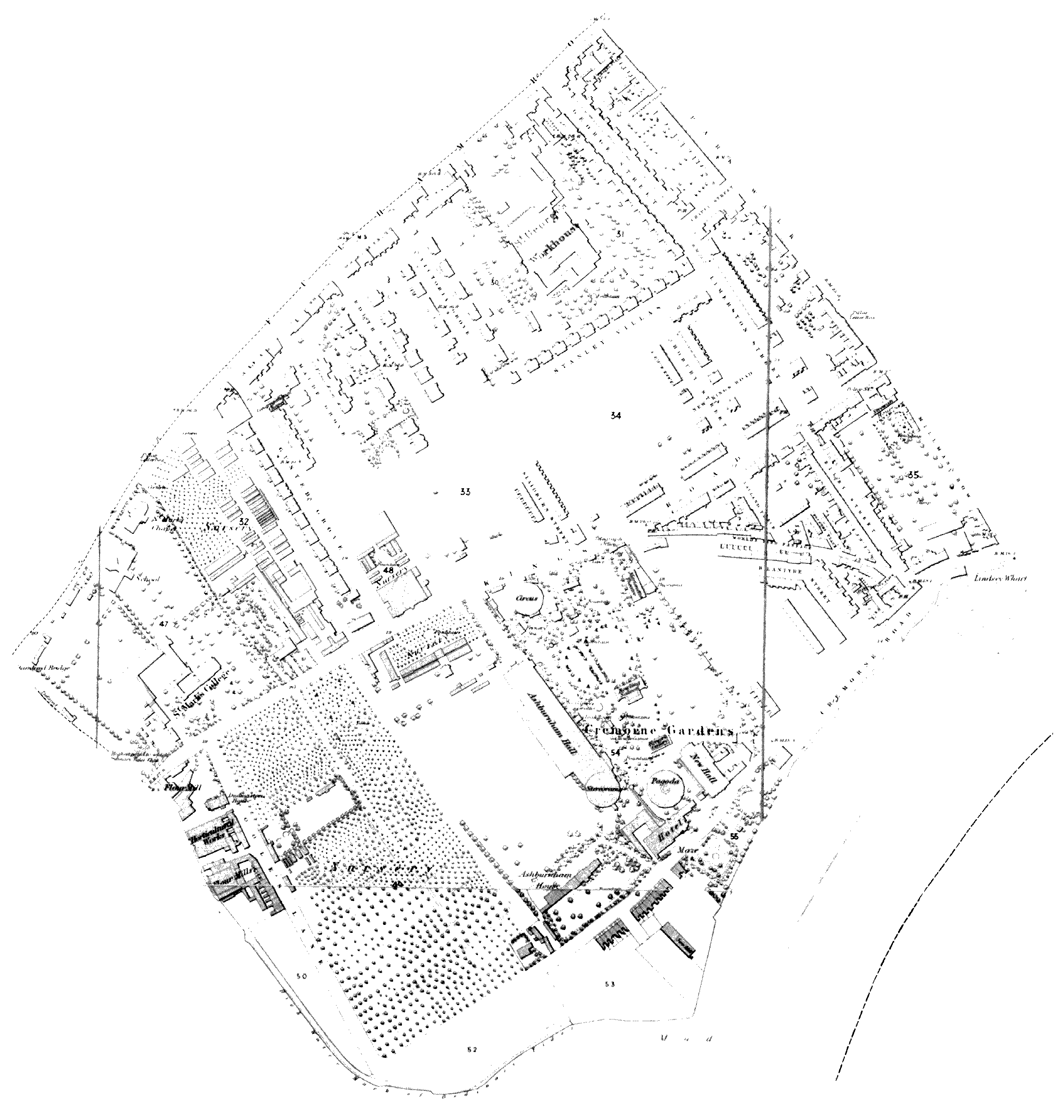 The western end of Chelsea, from Fulham Road to the Thames and from Park Walk and Milman's Street west to the parish boundary, was still largely fields in the late 17th century, with the small settlement at Little Chelsea rather cut off from the main settlements in Chelsea and Kensington. The isolation of the hamlet was mentioned in 1680 by John Verney, who lived there for a while and found difficulty in travelling to his merchant's office in the City: the road was unsafe because of rogues, while travel by water was cold and involved a dirty, dark, and often wet walk home to Little Chelsea from the riverside at Great Chelsea. In 1712 the residents seem to have succeeded in obtaining an order from the magistrates in petty sessions for a watch or policing service at Little Chelsea independent of the watch provided by the two parishes, on both sides remote. (fn. 1)
Despite its remoteness, Little Chelsea had some distinguished residents. By 1682 Sir James Smith had sold his 18-hearth mansion and land there to Charles Morgan (d. 1682), grocer, (fn. 2) and by 1700 it was the residence of Anthony Ashley Cooper, 3rd earl of Shaftesbury, who remained there until c. 1706. Just to the east was the house built by William Mart, which c. 1700 was the residence of Sir John Cope, Bt. One family had a long association with Little Chelsea. Dr Baldwin Hamey, a Huguenot emigrant from the Low Countries, after the plague in 1666 moved from London to Little Chelsea to a house on the Chelsea side, rated for 13 hearths; his nephew Ralph Palmer already lived in the hamlet, having a house on the Kensington side. (fn. 3) Palmer's daughter Elizabeth married John Verney in 1680, and their son Ralph was born there in 1683. Ralph Verney succeeded his father as 2nd Viscount Fermanagh in 1717, and was created Earl Verney in 1743. (fn. 4) In 1720 Ralph and his wife Catherine leased a house at Little Chelsea from William Burchett so that Ralph could attend Parliament more readily. They developed an increasing attachment to the area, finding it a centre of much good society and convenient for the education of their children, and they eventually spent much of the year there; both died in Little Chelsea, Catherine in 1748 and Ralph in 1752. (fn. 5) The hamlet had a number of other well-known residents in the late 17th and early 18th centuries, though it is not always clear whether they lived on the Chelsea or the Kensington side. (fn. 6)
Kip's drawing of Beaufort House c. 1700 shows the houses at Little Chelsea in the background, all lying west of the junction with the later Park Walk; one of them, probably Shaftesbury House, was a substantial mansion with gardens laid out on the south side. (fn. 7) Maps of 1745 and 1769 showed a grouping of about a dozen houses stretching along the south side of Fulham Road from Park Walk westward, and some building nearer the bridge. To the south near King's Road Stanley House, rebuilt in the early 1680s, but left unfinished until the 1690s, (fn. 8) stood virtually alone, with only a turnpike house and another near World's End on the King's Road side. In 1745 the rest of the area remained open ground, forming the gardens and grounds around Stanley House and stretching south of the houses at Little Chelsea, with some market gardens laid out along King's Road near Park Walk. (fn. 9)
Little additional building took place until the 19th century, though some changes in use occurred, chiefly when the parish of St George Hanover Square purchased Shaftesbury House in 1787 as an additional workhouse for their poor. (fn. 10) The use of the area for market and nursery gardening also intensified. In 1808 Joseph Knight opened his Exotic Nursery on 2 acres stretching between Fulham and King's roads, with buildings including hothouses; by 1836 the buildings covered the southern half of the nursery. (fn. 11)
By 1836, though building had taken place fronting the main roads, most of the land was still open and apart from a ten-acre pasture close to Park Walk, that not used for the grounds of houses was used for market and nursery gardens. Between Stanley House and Knight's nursery a house or houses called Stanley Place had been built fronting King's Road, with gardens behind. Along Fulham Road west of Little Chelsea, an area had been divided off for building by Robert Gunter, who created an 8-foot pathway and leased adjoining land to George Godwin, who built nos 1-2 Hollywood Place in 1828, and took adjoining land in 1836. (fn. 12) By 1836 six houses had been built and a space left for a street running southward. Some larger houses at Little Chelsea were replaced by the mid 19th century, and Fulham Road either side of the workhouse was filled with irregular building, including Sycamore Cottage on the west, and a rope walk, Odell's Place, which had replaced Cope's houses, the start of George Street, and Albion Place to the east. The west side of Park Walk was also completely built up, with Devonshire Place, the alley of Winterton Place, Winchester Terrace, and, in the southern half, the pairs of villas of Park Place. At the southern end Britannia Place fronted King's Road for the length of the gardens of Park Place. (fn. 13)
With much new building to the east in Chelsea Park and on the Kensington side, Little Chelsea was beginning to lose its separateness and becoming just part of the development of Fulham Road. The mixed nature of its housing was evident: for much of its history sizeable private houses occupied by distinguished residents were mingled with cottage terraces, lodging-houses, private mad-houses, and private schools, the latter noted by travellers in 1840s as the 'unceasing work of education' with a sequence of schools finally ending near the later Redcliffe Gardens (Kens.). Despite the mixed social character of the houses strung out along Fulham Road by 1811, there was no rapid decline and people of some standing still lived there as late as the 1870s. (fn. 14)
Development on the Gunter estate in Chelsea, west of the workhouse, after a desultory beginning with Hollywood Place in 1828 proceeded rapidly in the 1840s with short terraced rows along Fulham Road, (fn. 15) and by 1851 some pairs of villas had been built in Gunter Grove, laid out between Fulham Road and King's Road, when like the villas of Park Walk they were occupied by solid middle-class residents, (fn. 16) and continued in 1853, (fn. 17) again with pairs of villas on the west side. Development on the pasture south of St George's workhouse, belonging to the Sloane Stanley estate, was also taking place at this time, again with short terraces fronting King's Road: there the houses were in terraced rows, fronting King's Road (1845-7), and in Hobury Street (1846, 1848), and the southern end of Limerston Street, occupied by 1851. (fn. 18) Stanley Villas, later Gertrude Street, was laid out in the 1850s south of the workhouse grounds with 12 pairs of villas built on the north side with the Victoria Tavern at the western end. (fn. 19) Pairs of linked villas were built on both sides of Limerston Street (originally called Chelsea Villas, then George Street) in the late 1850s. (fn. 20) St George's workhouse itself was rebuilt in 1856. (fn. 21) By 1865 the area between the workhouse and Gunter Grove had been laid out with streets of large semi-detached and detached villas stretching south from Fulham Road as far as Stanley Villas, though some nurseries remained. More building had also taken place in the streets between Stanley Villas and King's Road, with building on the south side of Stanley Villas in 1859. (fn. 22)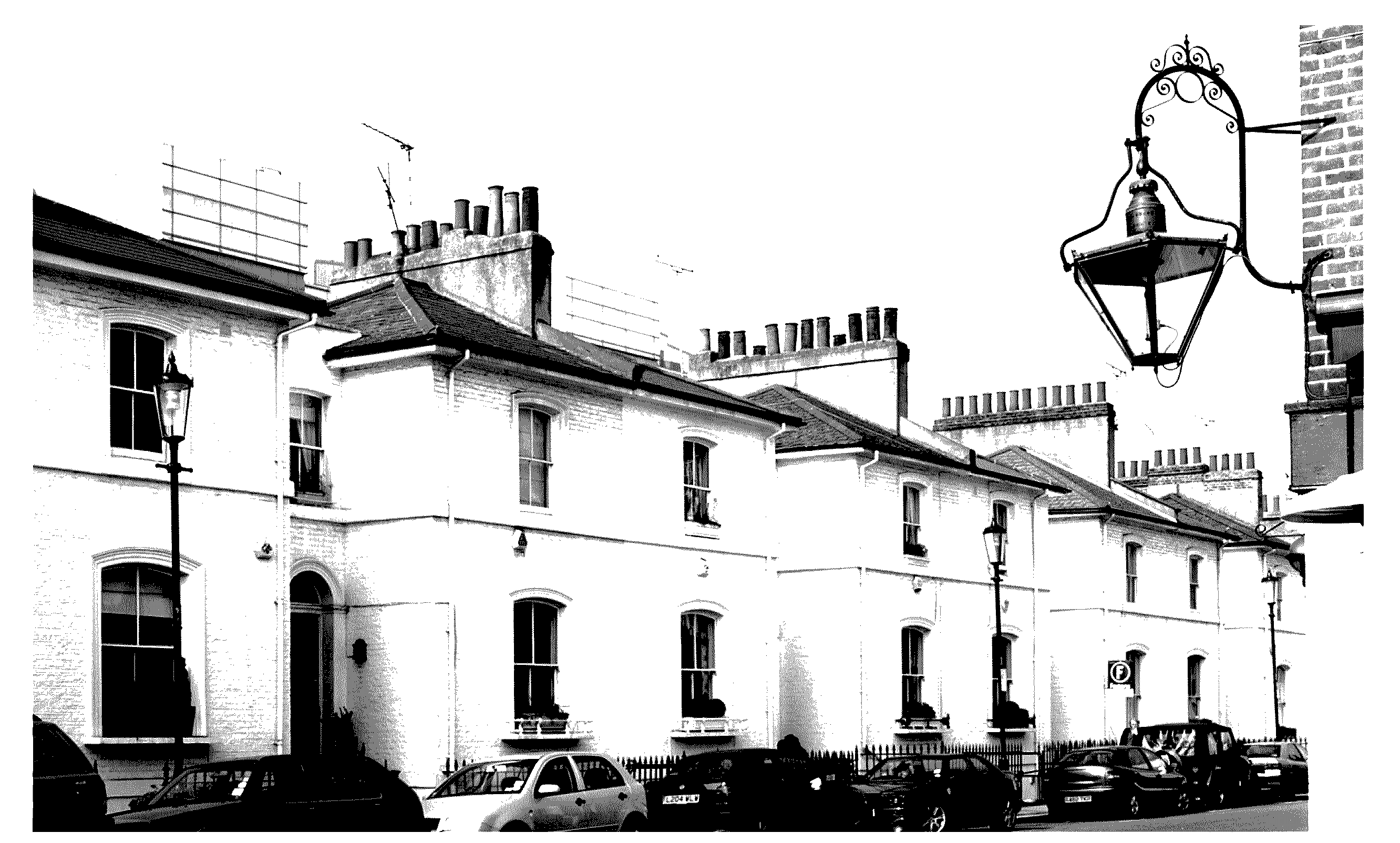 SANDY END AND CREMORNE
On the south side of King's Road just before it crossed Chelsea Creek at Stanley Bridge, an industrial and residential enclave grew up alongside the creek. A farmhouse and 8 acres, which belonged to the Greene family of Westminster, was in the tenure of John Burchett by 1712, and Jane Burchett, widow, in 1729, and was reached by a lane which ran south from King's Road. (fn. 23) North of the farmhouse and adjoining King's Road, a small parcel of meadow belonging to the manorial estate and known as the Pingle was leased in 1729 to William Green of Fulham, brewer, for 61 years, on which he had built a house, brewery, and outhouses. (fn. 24) In 1747 Green sold the lease with the brewery and its equipment to John Poole, of the Strand (Westm.), staymaker, (fn. 25) in whose family it remained and whose name was given to the lane. Samuel Gower Poole, brewer, also had a storehouse at World's End in 1785. (fn. 26)
Although most of this area was still fields, by the early 18th century a few individual houses had also been built in connection with the more intensive agriculture of market gardening. In 1712 26 acres out of 34 of arable in Westfield belonging to the manorial estate were garden ground, 14 acres of it 'lately' converted, and another 6 acres of arable were occupied by gardeners. The 34 acres were held by six tenants and included five houses on the land. (fn. 27) All the manorial holdings abutted on King's Road, but at least two of the houses had access through Lots Lane, which ran from Hobgate at the bottom of Hob Lane westward to Lots meadow. In the 1740s two small country-house estates had been created from the manorial holdings, Chelsea Farm and Ashburnham House. Chelsea Farm was built for Theophilus, earl of Huntingdon, in 1745 at southern end of the demesne he leased, with access via Hob Lane and Lots Lane; in 1781 the grounds covered nearly 10 acres from King's Road to the river, with Hob Lane forming its eastern boundary. It remained a suburban country house until the 1820s, acquiring the name Cremorne House from Thomas Dawson, Lord Dartrey and Viscount Cremorne, its owner from 1778 to 1812. (fn. 28) West of Chelsea Farm a mansion later known as Ashburnham House, also reached via Lots Lane, was traditionally said to have been built c. 1750 by Dr Benjamin Hoadley on former garden ground leased to him in 1747. It was bought in 1767 by John Ashburnham, 2nd earl of Ashburnham, and it also remained a suburban country house until added to Cremorne Gardens in 1859. (fn. 29) At the western end of Lots Lane in the 1740s was a house and 3 acres belonging to the Greene estate and later known as Ashburnham Cottage. Apart from those three houses the land around was used for garden ground, osier beds, or meadow.
Major changes to the far western end of Chelsea began in the 1830s, when difficulties in finding private occupants for the large houses such as Cremorne led to a change of use. Cremorne House was sold with some difficulty and in 1831 was opened as a sports club, but Thomas Bartlett Simpson, who bought it in 1845, turned the grounds into the successful Cremorne Gardens pleasure grounds. The gardens were enormously popular, but as time went on were blamed for vice and disorder in the neighbourhood and generally lowered the attraction of the area as a residential one. (fn. 30) Apart from the 18th-century houses, Cremorne Gardens, and the industrial enclave by Stanley Bridge, the area between Hob Lane and the creek remained in use as market and nursery gardens until the second half of the 19th century. The industrial buildings by Stanley Bridge included a house and wharf by 1835, when the Cadogan Estate leased the buildings by King's Road and behind to Thomas Ferguson; by 1866 it included a row of cottages. In 1837 Thomas Christie took a lease of the mill, cottage, and stable on the south side of Ferguson's buildings, and in the same year a piece of ground between the cottage and the canal. In 1856 the Cadogan Estate leased to William Christie a piece of ground on the south side of Thomas Christie's property for 99 years, and added another smaller piece in 1859. (fn. 31) In 1862 Poole's Lane gave access to Christie's mill, Dudmaston House and some workmen's cottages, and the Cadogan Iron Foundry. At some point, apparently after 1851, Cremorne Road was laid along the Thames linking Davies Place and Cheyne Walk to Lots Lane (at Hobgate). By 1862 Poole's Lane had been extended south to the Lots meadow to give access to land along the canal, (fn. 32) and between 1851 and 1863 Lots Lane, now all renamed Cremorne Road, had been extended to meet it. Also by 1863 the Cremorne Arms public house had been built on the south side of Cremorne (Lots) Road at the junction with Hob Lane. (fn. 33)
WORLD'S END
East of Hob Lane lay the nine-acre Parsonage Close, which adjoined Gorges House on the east and stretched from King's Road to the Thames; a footpath ran diagonally between pales from the river by Lindsey Wharf on the south-east to the World's End tavern on King's Road c. 1700, and was known in the 19th century as World's End Passage. There may also have been a pathway along the river bank from the southern end of the World's End footpath to the southern end of Hob Lane: this was shown in 1700 and may have been a way to Fulham, but no public way was indicated on later maps making it unlikely to have been more than a footpath. (fn. 34) The creation of Millman Row may have made it superfluous.
Millman Row, later Milman's Street, was being built over the site and grounds of Gorges House by 1726: this lane, running from the river to King's Road, probably originated as an access road to Gorges House and Beaufort stables, though it is uncertain when it was created. It appears on Kip's View of c. 1700, and is called the footpath to Little Chelsea by Dr King, (fn. 35) and the way from the ferry to Little Chelsea in 1720. (fn. 36) In 1726 an agreement was made with Charles Killmaster and Thomas Norris to build a new row of houses on the site of Gorges House and its grounds, to be called Millman Row. (fn. 37) Individual plots were 18 ft wide and 100 to 140 ft long, (fn. 38) and a tablet formerly attached to the north end of the houses was inscribed 'Millman Row 1726'. Nos 21-33 Milman's Street were part of this row. (fn. 39) In 1727 Killmaster and Norris assigned to Charles Carne, glazier, the lease of the corner piece of garden formerly belonging to the mansion at the southern end abutting south on Bertie (Lindsey) House and east on the garden of Beaufort House. (fn. 40)
Parsonage Close included a bowling green c. 1700 which was held in conjunction with a tavern, later called the King's Arms, facing the river; there was a small group of houses where World's End path joined the riverside, and a few more on the western side of the lower end of the later Milman's Street. (fn. 41) By 1750 several more houses had been built and the area was developing as a pleasure resort by the river. The eastern half of the close, sold to Richard Davis (or Davies) of Chelsea, shoemaker, had in all 23 houses: on the north side of the World's End footpath in addition to the World's End tavern and the bowling alley held with the King's Arms, there were eight houses with sheds and a former smith's shop. The King's Arms tavern lay on the south side of the footpath with a garden and 13 other houses. (fn. 42) East of Davis's property the Hole in the Wall had been built on former garden ground at the western corner of the later Milman's Street and Cheyne Walk, with more garden ground north of it. (fn. 43) Opposite the Hole in the Wall was a wharf by the Thames which was sold with a covenant not to build on it nor obstruct the open view of the Thames from the ground which lay on the north side of the wharf. (fn. 44) On the western half of Parsonage Close there were another four houses. (fn. 45)
By 1776 Davis's ground included a shed used as a foundry by Thomas Janaway, and a house which had been divided into two. (fn. 46) By 1805 nine of the houses on the south side of the footpath were part of Davis's Place (nos 5-13), (fn. 47) and were leased to two carpenters to demolish and rebuild; by 1808 three had been demolished and being replaced by four new houses. (fn. 48) Davis's Place, later simplified as Davis Place, also apparently referred to the road facing the Thames (now part of Cheyne Walk): at the extreme west end lay the later no. 119 Cheyne Walk, a small two-storeyed cottage built in late 18th century, which became famous as the residence and death-place of J.M.W. Turner. (fn. 49)
Davis's estate had passed to Stephen Riley, who laid out Riley Street between King's Road and the southern end of World's End Passage and made an agreement in 1792 with John Moore of Chelsea, carpenter, and William Kent of Surrey, bricklayer, to build there: houses had been built on the west side by 1793, (fn. 50) in King's Road in 1794, (fn. 51) on the east side of Riley Street and on the west side of his house and garden in Davis's Place. In 1807 Riley leased a plot on the west side of the King's Arms with a 60-ft frontage to the river to the directors of the Friendly Pipe Manufactory for 61 years, and by 1815 it had six cottages on it. (fn. 52) By 1829 there was a tobacco-pipe factory in or near Riley Street and adjoining the Rising Sun Brewery. Bowling Green Row, facing the river, probably took its name from the bowling green belonging to the tavern once called the Cumberland Arms, converted into a private house by 1829. (fn. 53)
In 1829 it was commented that the fine open space belonging to the Norris family between Davis's Place and Hob Lane had 'long been considered very eligible for building a crescent or square, since it would have such a fine prospect over the river'. (fn. 54) However, the trend was against elegant middle-class housing in this area, with its industrial premises, taverns, and alleys of small houses. By the 1820s any control over the type of housing was lost when in 1823 the Riley estate, including the site of Janaway's foundry, was auctioned in lots, (fn. 55) and building proceeded on a piecemeal basis thereafter. On the north side of the former Riley estate, adjoining King's Road, a terraced row called York Buildings was built by 1824 at the corner of Riley Street, (fn. 56) and by 1829 the site of the foundry was occupied by small newly-built tenements. (fn. 57) Charles Jackson built five small cottages on the north side of World's End Passage, known in 1824 as Jackson's Buildings, and further houses in Riley Street by 1851; (fn. 58) two additional houses were built on the north side of World's End Passage in 1833, (fn. 59) and the Lord Clyde beershop, no. 10 Davis Place (later no. 39 World's End Passage), was built before 1844. (fn. 60)
By 1836 the part of the former Riley estate fronting the river was heavily built up with Davis's Place, Little Davis's Place, and the courts behind, and Riley Street was built up on the west side and partially on the east, where Riley's own former house and garden lay. (fn. 61) Lacland Place had been laid out and some buildings erected on the west side by 1836, as was the north-east side of World End Passage, largely filling the triangular site they made with King's Road. Along King's Road were several terraces and one or two villas between Lacland Place and Milman's Street: Albion Terrace, Rose Cottage, Maynard Place, York Buildings. The land between Riley Street and Milman's Street was still open, however, apart from a small amount of building at the north-east corner. (fn. 62) The ground east of Riley's former house was still open in 1847, by which time it had been acquired by the Cadogan Estate, and was described as a botanic garden. (fn. 63) Strewan House was built at the northern end by 1862. (fn. 64) In 1836 Milman's Street was built up on the east side with rows of terraced houses and a police station, and smaller cottages in a cul-de-sac behind called Ann Place, though the small nursery garden at the junction with King's Road was still open land. Infilling continued east of World's End Passage. In 1849 John Johnson of Brompton, corn dealer, granted a 99-year building lease to Charles Greaves of Chelsea, builder, for four houses on the east side of Lacland Place, abutting onto the back gardens of houses in Riley Street. (fn. 65)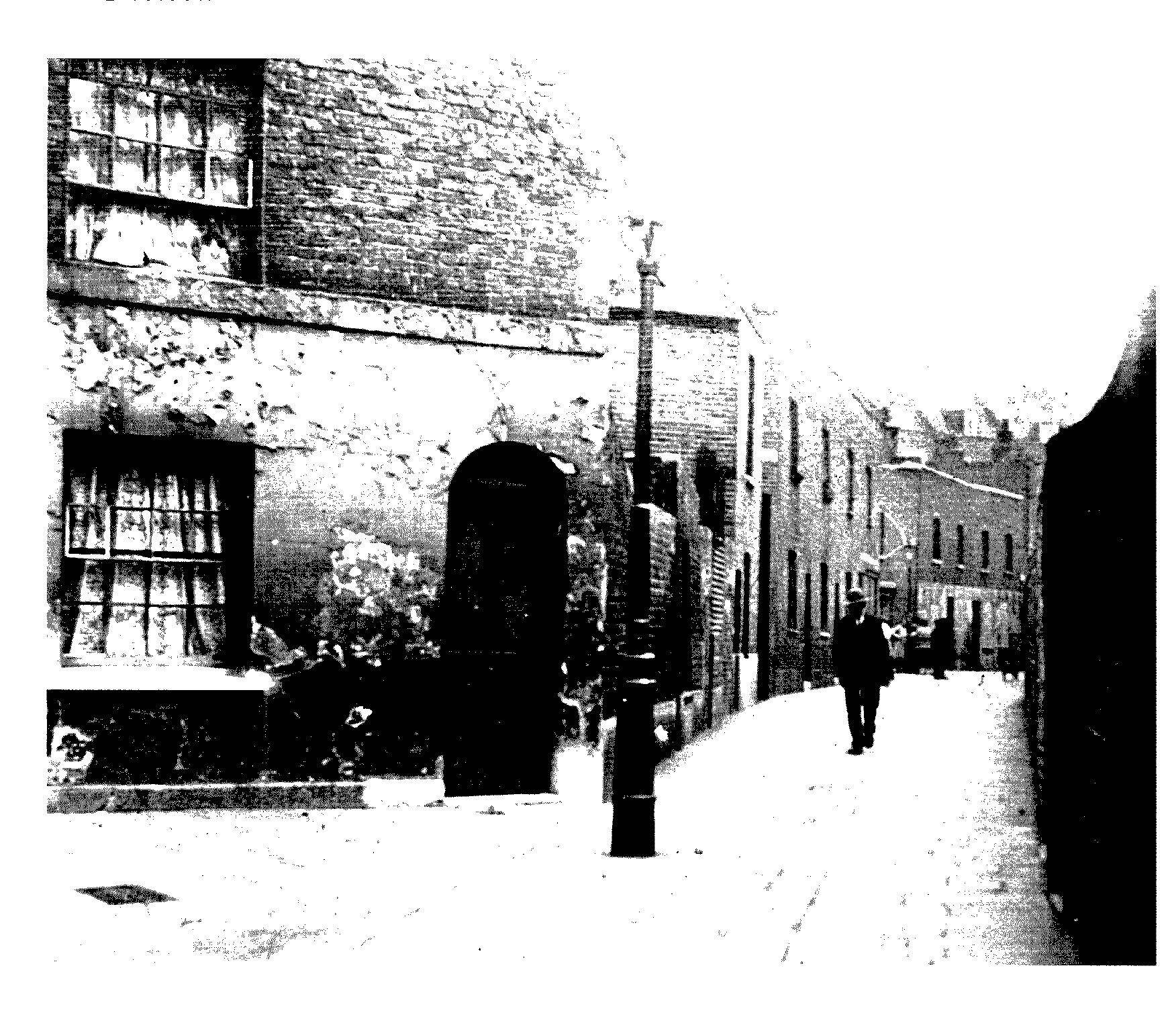 Between World's End Passage and Hob Lane George Norris junior had a house where he lived and three new cottages in 1827, replacing three former houses on a different site, near the river and adjoining Davis Place. Most of the land, however, was still used as garden ground, with some cottages, garden ground, and sheds, covering c. 5 acres between the Thames and World's End Passage and Hob Lane on the west. (fn. 66)
In 1851 occupants of Davis Place included a boatbuilder and several other craftsmen and labourers. There was a similar social mix in Jackson's Place and Lacland Place, which also however included a fundholder and an annuitant as well as James Trigg, a cowkeeper and farmer, and some other tradesmen. Bettsworth Cottages, Jackson's Buildings, and Baker's Buildings were occupied mainly by gardeners, labourers, and coalporters. (fn. 67)
In the late 1850s building leases were granted for houses at nos 353-7 (odd) King's Road, and nos 439-57 (odd) King's Road, known as Cambridge Terrace, and for houses at the northern end of World's End Passage, originally known as Heathfield Terrace. (fn. 68) By 1862 Jackson's Buildings and Foundry Place ran off World's End Passage as narrow alleys. (fn. 69)