Pages 198-203
A History of the County of Middlesex: Volume 4, Harmondsworth, Hayes, Norwood With Southall, Hillingdon With Uxbridge, Ickenham, Northolt, Perivale, Ruislip, Edgware, Harrow With Pinner. Originally published by Victoria County History, London, 1971.
This free content was digitised by double rekeying. All rights reserved.
Suburban Development
The Paddington branch of the Grand Junction Canal, opened in 1801, crossed the south-west corner of Harrow parish. (fn. 1) It particularly affected Alperton where brick- and tile-making flourished, especially after the Brent Reservoir, which supplied the canal, was enlarged in 1851. The canal was also used to transport hay to London and bring back horse dung. It carried passenger traffic, mostly Londoners on pleasure trips: Greenford Green, where it was accessible from Pinner, (fn. 2) was one of the main stages, but passengers also stopped at Alperton, for refreshment at the 'Pleasure Boat'. (fn. 3)
The Grand Junction Canal Co. joined with local landowners in opposing the Birmingham and Manchester Railway Bill in 1831. (fn. 4) The London & Birmingham (later the London & North Western) (fn. 5) Railway was opened in 1837 from Euston Square to Boxmoor (Herts.), passing northward through the middle of the parish. Harrow (later Harrow & Wealdstone) station was opened in 1837, Pinner (later Hatch End) station in 1844, and Sudbury (later Wembley Central) station in 1845. Stations at Kenton and North Wembley were opened in 1912 and at Headstone a year later. South Kenton station was opened c. 1933. In 1890 a branch line from Harrow station to Stanmore was opened by a local company which in 1899 was absorbed by the L. & N.W.R. In 1917 the London Electric Railway (fn. 6) operated services (the Bakerloo line) on the L. & N.W.R. line as far as Watford.
The second line to be opened was the Metropolitan (fn. 7) which crossed the parish from east to west. A line opened from Willesden Green to Harrow in 1880, with a station at Harrow-on-the-Hill, (fn. 8) was extended to Pinner in 1885 and to Rickmansworth in 1887. A station was opened in the centre of Pinner Town in 1886 (fn. 9) and one at Wembley Park in 1894. A branch line from a point near Roxborough Lane to Uxbridge was opened in 1904 by the Harrow and Uxbridge Railway Co., (fn. 10) which was absorbed by the Metropolitan in 1906. The whole system was electrified in 1905. Other stations opened on the main line were North Harrow in 1927, Northwick Park by 1929, and Preston, which had been a halt since 1910, by 1933. On the Uxbridge branch line West Harrow station was opened c. 1929. A branch of the Metropolitan Railway was opened in 1932 between Wembley Park and Stanmore. It became part of the Bakerloo line in 1939. (fn. 11)
The Metropolitan District line, (fn. 12) which skirted the west of the parish, opened an electric service between Park Royal and Roxeth, where a station, called South Harrow, was opened in 1903. The line was extended to Uxbridge in 1904 and a halt at Rayners Lane, later shared with the Metropolitan Uxbridge branch line, was in use by c. 1906-8. Other stations were opened in 1906 at Alperton (originally called Alperton & Perivale) and at Sudbury Town, and in 1910 at Sudbury Hill. The London Electric Co. inaugurated a service (the Piccadilly line) over the line as far as South Harrow in 1932 and beyond it in 1933. The Metropolitan District Railway ceased operation after the Second World War and the line became confined to the Piccadilly line. The Great Central Railway (later part of the L.N.E.R.) (fn. 13) opened a line from Greenford to Neasden in 1906. It crossed the southern part of the parish with stations at Sudbury and Harrow Road and at Wembley Hill. Another station, South Harrow (later Sudbury Hill) was opened in 1910. The line never became part of the underground system.
As the Harrow farmers had predicted, the London & Birmingham railway was chiefly a link with the Midlands and the north, not a commuters' line. Typical of its passengers was Thomas Port, a hatmanufacturer of Burton-upon-Trent (Staffs.) who in 1838 died after his legs had been severed by the train. In Harrow churchyard his epitaph reads:
Bright rose the morn, and vigorous rose poor Port, Gay on the train he used his wonted sport; Ere noon arrived his mangled form they bore With pain distorted and o'erwhelmed with gore. When evening came to close the fatal day A mutilated corpse the sufferer lay. (fn. 14)
In 1845, when there were three stations in the parish, there were only three down and five up local trains each week-day, and three each way on Sundays. Only one train a day took third-class passengers. Since that was ideal for those who did not need to spend every day in the City or who wanted a country home for week-ends, the railway first produced large residences in existing villages. Nevertheless it inaugurated and helped to shape the third phase of settlement-the development of former farm-land. The London Clay offered a formidable challenge, which could be met properly only by local authorities or large companies who could pay for roads, drains, and sewers, as well as build houses on whole estates at a time. That partly explains why development increased after 1884, when the Colne Valley Water Co. undertook to supply piped water, and after 1894 when the new local authorities tackled the problems of sewerage.
The three L. & N.W.R. stations formed nuclei for new settlements. Pinner station was situated north of Hatch End, where the railway crossed the Uxbridge road. Woodridings estate grew up west of it, south of the Uxbridge road, opposite Woodridings Farm. The first houses, mainly substantial villas, were ready in 1855, when the prospectus stressed that the station was three minutes' walk away. (fn. 15) By 1865 Woodridings was served by a temporary church and railway tavern. (fn. 16) The station that was opened on the Metropolitan line in 1886 was linked with the older one by a two-horse bus service. (fn. 17) Settlement spread westward from Woodridings, where several large houses were built, (fn. 18) and northward across the Uxbridge road, where there were new estates at Westfield Park and Royston Park by 1908. (fn. 19)
Harrow station was situated where the railway crossed the road from Harrow Weald to Harrow Town, north of Greenhill. By 1852 (fn. 20) there were also a house and several cottages owned by the L. & N.W.R., some other cottages, and an inn. They formed the nucleus of Wealdstone, where brickearth deposits east of Headstone Farm (fn. 21) gave rise to a small brick-making industry. (fn. 22) By 1865 settlement at Wealdstone was well advanced, with new roads on both sides of the road from Harrow Weald to Harrow Town, which became Wealdstone High Street and Station Road. In 1881 Wealdstone was a compact hamlet of 211 houses around the station, with further development stretching towards Headstone on the west. (fn. 23) The factory of Kodak Ltd. expanded during the 20 years after its establishment at Wealdstone in 1890, (fn. 24) and a number of other firms opened factories, especially on the western side of the railway line. By 1912 six factories employed 1,418 people, most of whom lived in the locality. (fn. 25) There were 481 houses in 1891, (fn. 26) 991 in 1899, and 2,563 by 1911, while the rateable value rose from £18,808 in 1895 (fn. 27) to £83,000 in 1912. There were 1,240 people in 1881, (fn. 28) 2,504 in 1891, 5,901 in 1901 (fn. 29) and 11,923 in 1911, but the ratio of persons per house over the same period dropped from 5.8 to 4.6. (fn. 30) The decline in density resulted partly from the movement of people towards Harrow Weald as Wealdstone itself became overcrowded. Growth slackened and in 1921 the population had reached only 13,433. By 1916 building was continuous from Harrow Weald to Harrow Town, where it coalesced with development in the northern part of Harrow-on-the-Hill and Greenhill. (fn. 31) The Roxborough and Northwick estates in north Harrow-on-the-Hill were started in the 1880s. (fn. 32) Houses stretched westward along Pinner Road, especially after the electrification of the Metropolitan line and the building of the Uxbridge extension line; they followed both lines and by 1920 reached as far as West Harrow station. (fn. 33)
The last area developed before the First World War was around Sudbury station, where the railway crossed the Harrow road just west of Wembley. The Copland sisters contributed by building a church, vicarage, and school on their estate, just west of the station. By 1852 there were nine buildings on the Harrow road between the 'Swan' and Sudbury station. (fn. 34) Although as early as 1866 land in Alperton was offered to builders as being near Sudbury station, (fn. 35) it was not until the end of the century that the area around the station was sold for building. After the death of General Copland Crawford in 1895, the Copland estate, then called Harrowdene estate, was open to development, mainly by the Conservative Land Co., (fn. 36) and by 1897 many roads had been laid out on both sides of the Harrow road. (fn. 37)
Between 1899 and 1901 Wembley Hill estate, the triangle enclosed by High Road, Wembley Hill Road, and Park Lane, was developed for houses and shops. (fn. 38) The G.C.R. was built across it and a station opened at Wembley Hill in 1906, which encouraged building south of Wembley High Road. In 1909 the Wembley House estate was developed opposite Wembley Hill estate and in 1910 the Wembley Dairy Farm estate was divided into 505 lots and offered for sale. (fn. 39) A network of roads between the Harrow road and the L. & N.W.R. line had been already laid out. (fn. 40) At the same time building spread southward along Ealing Road until it joined up with Alperton hamlet. (fn. 41) By 1920 (fn. 42) there was a continuous builtup area (fn. 43) from the canal, across Alperton station, up Ealing road and Wembley High Road from Wembley Central station to Wembley Hill station. Besides the railways there was an electric tram service along the Harrow road to Wembley by 1908 and to Sudbury by 1910. (fn. 44)
Wembley Park estate, north-east of the original hamlet, was sold in 1881. Part was acquired by the Metropolitan Railway Co. and in 1889 Sir Edward Watkin, chairman of the board, acquired 280 a. in association with the company. The Metropolitan Tower Construction Co. was formed to give effect to Watkin's vision of London's greatest pleasure ground, dominated by a tower which was to surpass the Eiffel Tower. The Metropolitan Railway opened a station at Wembley Park on the line from Baker Street in 1894 and the pleasure grounds were opened in 1896, but drainage proved difficult and the tower had reached only 200 feet when funds ran out. Within two years the Tower company went into liquidation and the property was taken over by the Wembley Park Estate Co. Ltd. The first stage of the tower survived as 'Watkin's Folly' until it was dismantled in 1907. (fn. 45)
The pleasure grounds of Wembley Park continued to be used for various exhibitions, but it was not until 1924-5 that the British Empire Exhibition was held there. The site was chosen in spite of opposition from Wembley U.D.C., and most of the important buildings were designed in 1923 by J. M. Simpson and M. Ayrton. (fn. 46) Visitors poured into Wembley and permanent changes were effected. Roads were widened to accommodate the traffic, Forty Lane was transformed from a country lane to a main highway, and drainage of the site opened up the whole of eastern Wembley for development. Some of the exhibition buildings, including Wembley Stadium, were retained for sport while others were leased for light industry. The Empire Pool and Arena, designed by Sir Owen Williams, was built in 1934. Most of the wealthier inhabitants left the district, which developed as a mixed residential and industrial area. (fn. 47)
The large-scale development of farm-land elsewhere started when most of the big estates were sold in the 1920s and early 1930s. The electrification of the L. & N.W.R. line in 1917 and the running of Piccadilly trains over the Metropolitan District line from 1932 made commuting possible from most areas. By 1933 there were 21 stations in Harrow. (fn. 48) By 1926 roads had been laid out on the Northwick estates, although a substantial area, roughly co-extensive with Sheepcote Farm, was retained as Northwick Park open space. (fn. 49) Christ Church sold its estates in Preston, Kenton, the Weald, and Roxeth between 1921 and 1933, (fn. 50) and the vicarage and Harrow School estates in Preston were sold about the same time. (fn. 51) New College had begun to sell its land by 1926 (fn. 52) and St. Thomas's Hospital sold its Pinner Park estate in 1931. (fn. 53) The Hemings estate had been sold by 1926 (fn. 54) and Brookshill, Wealdstone Farm, Harrow Weald House, and land in Kenton Lane by 1926. (fn. 55)
Building was continuous from 1925 until 1939. Industry was attracted not only to the Wembley Park area but to the Wembley part of East Lane, where the British Oxygen Co. opened a factory as early as 1918 and other firms followed in the 1920s. (fn. 56) Most development, however, was residential, with local authorities for the first time building their own housing estates and drawing up overall schemes. Wembley's early plans for a high-class garden suburb (fn. 57) had been disrupted by the British Empire Exhibition. Hendon R.D. in 1925 and Harrow-on-the-Hill in 1933 produced residential schemes with densities of 12 houses an acre and less. (fn. 58) Both schemes included main roads, some of which, like Alexandra Avenue, Imperial Drive, and George V Avenue, were built. The necessity for large-scale planning was one reason why the four local authorities were reduced to two in 1934. Two new schemes were published by the enlarged Harrow U.D.C. in 1939, and in 1945 the local authorities of Harrow, Wembley, Hendon, and Willesden formed a joint planning committee. (fn. 59)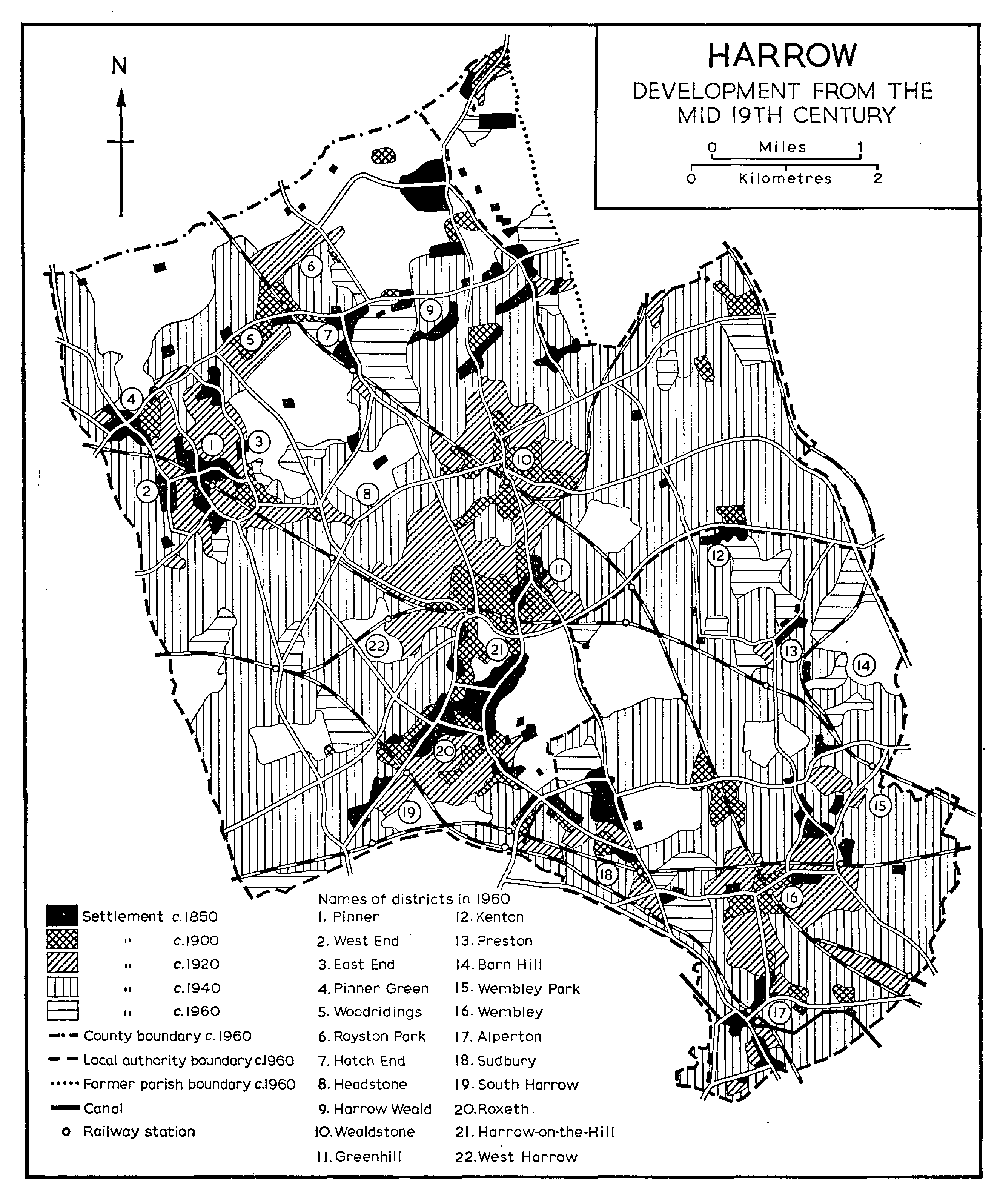 To remedy the shortage of working-class houses, (fn. 60) councils, under the Acts of 1919-25 built estates (fn. 61) at Pinner Hill (285 houses), in Eastcote Lane (272 houses) (fn. 62) in Roxeth, at North Harrow (53 houses) and Honeybun (202 houses and bungalows) between Roxeth and Harrow Town, at Elmgrove (169 houses) in Greenhill, in Canning Road (7 bungalows) and Weald Village (351 houses) in Wealdstone, and in Kenton Lane (22 houses) in Harrow Weald. Wembley built about 500 houses on the Christ Church estate and 200 houses on the Manor Farm estate in south-west Alperton in the late 1920s and early 1930s. (fn. 63)
Private building also flourished, with infilling in Harrow Weald, (fn. 64) Kenton, west Preston, Greenhill, (fn. 65) Headstone, and Wembley during the late 1920s. By 1931-2 building was continuous along the two main railway lines, the London & North Western (later the London, Midland & Scottish) Railway and the Metropolitan, except in the north and at Northwick Park, and along the main road from Pinner through North Harrow to Kenton and the Edgware road. (fn. 66) There was some development in Sudbury, especially on the Sudbury Court estate where 1,700 houses were built in 1928-34, (fn. 67) while building along Rayners Lane linked up with development westward from Roxeth. Most of the former open-field land between Pinner and Roxeth was built up during the 1930s, giving rise to entirely new districts, West, South, and North Harrow, by 1938. (fn. 68) Development also started along the eastern borders of Harrow, especially the former open-field area of Kenton and Preston, (fn. 69) but some of it was incomplete when the Second World War brought work to a halt. (fn. 70) At Wembley infilling produced 1,130 houses in 1933 alone. (fn. 71) After the amalgamation of Wembley with Kingsbury in 1934 Forty Lane was chosen for a new town hall, which was opened in 1939. (fn. 72)
Of 35,000 houses in Wembley Borough, half were damaged in the Second World War. (fn. 73) Temporary houses were erected by both Harrow and Wembley boroughs, and in 1951 the population reached a peak. (fn. 74) The density for the whole area (fn. 75) was 19.8 persons an acre, varying from 8.0 an acre in Pinner North ward to 39.3 in Queensbury ward. Since only small areas were available for building, many old farm-houses and large Victorian residences were destroyed. Housing estates built by Wembley council since the war included Sudbury Farm (140 houses and old people's accommodation) in 1947, (fn. 76) Gauntlett Court (about 100 flats) in the 1950s, (fn. 77) and Sudbury Heights (65 flats) in 1964 in Sudbury, (fn. 78) and King's Drive (114 flats) in 1952-3 near Wembley Town Hall. (fn. 79) Estates built by Harrow council included Rayners Lane (252 houses and flats), Whittington Way (81 houses and flats), Chigwell Hurst (fn. 80) (36 flats), Latimer Close (fn. 81) (31 houses), Headstone Lane (24 flats), Towers (fn. 82) (40 flats), and Oxhey Lane (48 houses), all in Pinner, Alexandra Avenue (132 flats), Brookside (77 flats and houses), Northolt Road (46 flats and maisonettes), all in South Harrow, Wealdstone House (56 flats and houses), Kenton Road (24 flats), Kenton Lane (96 flats and houses), Woodlands (271 flats and houses) in Harrow Weald, (fn. 83) and Cullington Close (80 houses) in Greenhill. (fn. 84) The largest estate in Harrow since the war was built by the L.C.C. at Headstone, where 153 a. south of the Uxbridge road housed 5,000 people from London. (fn. 85) There was another large site (181 a.) in the area of Barn Hill and Chalkhill, where Brent council proposed to replace the few large houses with high-density dwellings, primarily to rehouse people from Willesden. Planning permission was refused by the Greater London Council, but the old authorites had already built some flats by 1964. (fn. 86)
Although houses and flats continued to be built after 1951, the population has steadily declined. (fn. 87) In 1961 the overall density was 18.9 an acre, after attempts to spread the burden more evenly (fn. 88) and after some migration, including the rehousing of families in new towns. Office, industrial, and civic buildings also helped to reduce congestion, as overhead costs forced many businesses to move out from London. In 1956-60 more than 250 applications for offices, covering 57 a., were granted within the present London Borough of Brent; about 38 a. lay in Wembley, (fn. 89) where some 53,000 people were employed by 1964. (fn. 90) There was similar office development in Harrow, whose population was also affected by plans for a civic centre to replace the houses and shops around Station Road and Marlborough Hill. (fn. 91) In central Wembley, south of the High Road, buildings of about the same date as those around Marlborough Hill were in 1968 being demolished to make way for a shopping precinct. (fn. 92)
One of the first actions of Harrow Local Board of Health, established in 1850, was to investigate possible recreation grounds. (fn. 93) By 1910 a special committee of the Harrow-on-the-Hill U.D.C. was administering Harrow and Roxeth recreation grounds. (fn. 94) Wembley U.D.C. opened the King Edward VII Park in Wembley in 1914 and One Tree Hill in Alperton soon afterwards. (fn. 95) Wealdstone preserved Byron Recreation Ground from the encroaching building. (fn. 96) E. B. Montesole, a member of the Hendon R.D.C., who lived in East House, Pinner, campaigned for a green belt in Middlesex and was responsible for some major acquisitions in Pinner and Harrow Weald, including Headstone in 1925 and Pinner Park in 1930. (fn. 97) By 1934, on the eve of the creation of Harrow U.D., (fn. 98) the three local authorities administered 563 a. of open space within Harrow's boundaries. (fn. 99) More land was bought, especially in the north, and in 1938 Harrow decided to reserve 962 a. for the green belt. (fn. 100) By 1938 Wembley had acquired most of its open spaces. (fn. 101) After the opening of Mogden Sewage Works in 1936, the Harrow sewage farms were turned into Kenton recreation ground and Newton, Roxbourne, and Queensbury parks. (fn. 102) Apart from Harrow School's playing fields, land was also sold in the 1920s and 1930s to a number of schools, London stores, and other organizations for use as sports grounds. (fn. 103) During the Second World War much of the land was given over to allotments, but in 1968 there were over 2,000 a. of open space out of a total of nearly 14,000 a. (fn. 104)