Pages 22-26
A History of the County of Middlesex: Volume 4, Harmondsworth, Hayes, Norwood With Southall, Hillingdon With Uxbridge, Ickenham, Northolt, Perivale, Ruislip, Edgware, Harrow With Pinner. Originally published by Victoria County History, London, 1971.
This free content was digitised by double rekeying. All rights reserved.
HAYES
The Ancient parish of Hayes, which in 1961 formed part of the urban district of Hayes and Harlington (fn. 1) and now forms part of the London Borough of Hillingdon, (fn. 2) lay between Hanwell and Hillingdon on the south-east and north-west, Greenford and Northolt to the north-east, and Heston and Harlington on the south-west. Although it was not until 1859 that two civil parishes of Hayes and Norwood with Southall were formed out of this area, ecclesiastically it had been divided since the Middle Ages. The boundary between Hayes and its dependent chapelry of Norwood ran through the open fields and continued in a more or less straight line down the Yeading Brook. After 1801 the Paddington Canal replaced the undefined open-field line as the northern part of this boundary. Since the history of Norwood with Southall is treated in a separate account, (fn. 3) all references in this article to Hayes and its parish apply to that part of Hayes which lies to the west and north-west of the Yeading Brook and the Paddington Canal. This area covers approximately 3¼ miles from north-west to south-east, and about 2¾ miles from north-east to south-west. In 1754 the boundary of Hayes ran south and southeast along a road from Ickenham to Bulls Bridge, where it turned sharply north-east up the Yeading Brook, and continued in the same direction through the open fields towards Northolt and Greenford. Turning north-west it continued across the open fields until it turned north and finally due west again just north of Charville Lane. (fn. 4) By 1814 there was no road along the west until the boundary, running through the open fields, met and followed Dawley Lane. (fn. 5) In 1863 Hayes parish contained 3,311 a. (fn. 6) and since that date its boundaries have not altered. The parish is predominantly flat, lying at about 50 feet, and nowhere exceeding 100 feet. The soil, described in 1876 as 'clay, loam, and gravel', (fn. 7) consists of brickearth to the south and east of Hayes village, of London Clay to the north, along the Yeading Brook, and of Boyn Hill Gravel along the road to Hillingdon and Uxbridge. (fn. 8) The parish is watered by a single stream, the Yeading Brook, which forms part of the eastern boundary and also runs through the north-eastern part of the parish.
Early settlement in the Hayes area is suggested by palaeolithic implements found at Botwell (fn. 9) in the southern part of the parish. In 757 an area called 'Geddinges', usually identified as Yeading in the north of the parish, was given by Æthelbald, King of Mercia, to Withred and his wife, (fn. 10) and in 793 Offa, King of Mercia, gave 60 tributarii to Archbishop Æthelheard in 'Linga Haese' and 'Geddingas'. (fn. 11) In 831 Archbishop Wulfred received a further grant of 5 cassatae of land in 'Botewaelle' (Botwell) from the Mercian king, Wiglaf. This grant again mentions Hayes. (fn. 12) Anglo-Saxon settlement in Hayes, Yeading, and Botwell, three of the five later hamlets of the parish, therefore seems probable. Hayes church is situated nearly in the centre of the parish, a quarter of a mile south of the medieval highway known as Uxbridge Road, but there is no evidence to show that settlement first grew up around it. Botwell lay almost a mile to the south, and Yeading about a mile to the north-east. The other two hamlets in the parish, Hayes End and Wood End, although not mentioned until the early 16th century, (fn. 13) were probably settled earlier. Hayes End lay on Uxbridge Road about 1¼ mile west and slightly north of the church, while Wood End lay between Hayes and Hayes End, and about half a mile from the former. Thus only one of the five hamlets actually lay on the main road. The village of Hayes itself was at this date called Cotman's Town, and this name survived as late as the early 20th century. Cotman's Town is almost certainly identifiable with Hayes village itself, or that part of Hayes grouped round the church. The other hamlets can all be identified and there is no evidence to suggest early settlement elsewhere in the parish. The vill of Hayes was called Cotman's Town in 1598, (fn. 14) and Cotman's Town appears regularly in the land tax assessments. (fn. 15) It is mentioned in 1814, (fn. 16) although Hayes Town occurs three years later. (fn. 17) In 1874 Cotman's Town was said to be the group of dwellings to the east of the church. (fn. 18) In 1929 there is a reference in a court book to Hayes Town formerly called Cotman's Town. (fn. 19)
During the Middle Ages manor and parish seem to have been conterminous, but with the appearance in the 15th century of the sub-manor of Yeading, the boundaries of Hayes manor probably retreated from the north-eastern part of the parish. By the early 19th century the manorial property was confined to the north-westerly end of the parish. Many field names survive from the late 14th century, (fn. 20) and in 1573 Bag Lane (widened in the 20th century and called Park Lane) and Heath Lane are mentioned. (fn. 21) The first detailed description of Hayes is contained in an incomplete survey of 1596-8 made for Roger, Lord North. (fn. 22) At this date the largest hamlet was Wood End which consisted of 25 dwellings, 16 of them cottages. All were surrounded by inclosed land, amounting in all to nearly 129 a. Hayes End, with 22 dwellings of which only 7 were cottages, was surrounded by more than 203 a. of inclosed land. Cotman's Town had 12 dwellings and 23 inclosed a., while there was only a tenement, a cottage, and 7 a. of inclosed land at Botwell. Yeading was not mentioned. Three of the large open fields, Broadmead Field (270 a.), Greathedge Field (226 a.), and Crouch Field (224 a.), lay around Hayes End, Wood End, and Cotman's Town, presumably to the north-east where they were at inclosure. There were three other small fields amounting in all to approximately 45 a. Botwell had further inclosures of 33 a. and 3 large open fields: South Field (199 a.), West Field (161 a.), and North or East Field (119 a.). The exact location of these fields is not known although their names are partly explanatory. (fn. 23) The demesne was wholly inclosed. The main area of inclosure probably lay north-west of Botwell and to the south-west of Hayes End. Few roads or lanes are mentioned: Smetlane and Fotes Lane in Cotman's Town; Foot Lane in Wood End; Bag Lane in Hayes End. London Way, presumably identifiable with Uxbridge Road, the Shireway, and Batford Bridge are also mentioned. About a century later the largest hamlet was still apparently Wood End with 29 householders, followed closely by Hayes with 27. Hayes Town had 18 householders, Botwell and the Town both had 17, and Yeading was the smallest with only 13. (fn. 24) The precise areas of settlement denoted by Hayes, Hayes Town, and the Town are uncertain.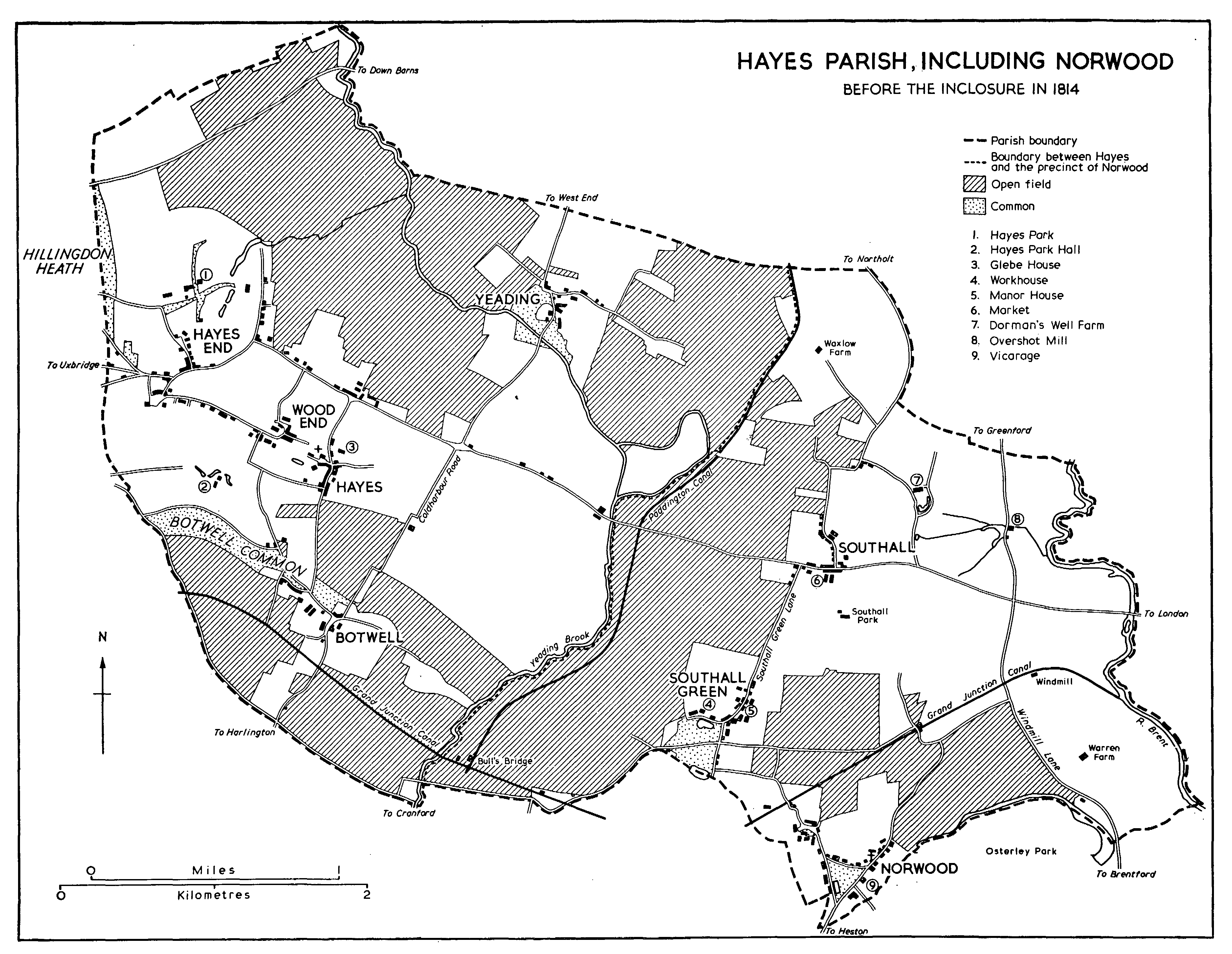 The first detailed map showing the parish is that made by Rocque in 1754. Settlement at that date was almost entirely confined to the south-western side of the main road to Uxbridge which, running northeast in an almost straight line, divided the parish in half. Hayes End, Wood End, and Hayes itself formed a continuous area of houses. Hayes End was built on Park Lane (formerly Bag Lane) and Hayes End Road; Wood End ran round Angel and Morgan's Lanes, down Wood End Green Road, and along Church Walk and Grange Road. Hayes itself was said to be a small area of houses down Botwell Lane, but was separated from Botwell by the Heath. From Wood End, Hemmen Lane and Hesa Road led to Coldharbour Lane, which itself led to Botwell. Although Hayes End lay north-east of the main road, practically all the eastern half of the parish was covered by open fields, those named being Greathedge, Broadmead, Barnhill, Crouch, Rolls Ditch, and Dunstable fields. A small group of houses was clustered on the main road, where a lane leading to Yeading left it opposite Church Road, which then curved east through the open fields to Yeading. The only open fields shown south-west of the main road were Botwell Heath and Dawley Field. (fn. 25) In 1796 the Grand Junction Canal was cut through the southwestern corner of the parish to the south of Botwell and in 1814 open fields of over 1,000 a. were inclosed. These lay on the northern and southern edges of the parish, the central area surrounding the main road and the lanes of Hayes End and Wood End being practically all inclosed previously. All the open fields had been reduced in area since 1754 and the course of some of the roads had been altered. Botwell Lane (then Wood End Green and Botwell Road) and Church Road (then Hayes and Botwell Road) both led to Botwell, while Yeading Lane, or Highway, led straight to Uxbridge Road and continued south to Botwell and over the canal. Pump Lane in Botwell and Barnhill Lane in Yeading were both field lanes, while West End Lane led to Northolt, and Dawley Lane and the later-named Station Road led to Harlington. There were 12 farms at this date, also mainly in the eastern half of the parish. (fn. 26) By 1827 brick-fields, cottages, and docks on the canal had been laid out near Botwell, and brickfields and brick-makers' cottages had also appeared at Yeading, (fn. 27) although in 1834 the parish was described as being purely agricultural. At that time there were about 200 houses or cottages, owned mainly by tradesmen. (fn. 28) In 1838 the G.W.R. line was driven across the southern edge of the parish, and, although Hayes station at Botwell was not opened until 1864, (fn. 29) the G.W.R. Co. owned warehouses and shops in Botwell by 1842. (fn. 30)
Although the number of commercial premises increased during the later 19th century, (fn. 31) the appearance of the parish altered little before 1900. A few factories in Dawley Road and a small terrace of houses along North Hyde Road were built. (fn. 32) After 1850 an increasing number of private estates was advertised and sold for building purposes. (fn. 33) By 1874 there were 597 houses in the parish, and a large proportion of the population lived in Hayes End, Wood End, Botwell, and Yeading rather than in Hayes, which was described as an 'irregular, commonplace collection of houses'. There were 'many farms, few good residences, fewer resident gentry', and while a few years previously it had been observed that at Yeading 'dirt, ignorance, and darkness reign supreme', in 1874 the inhabitants of Yeading were 'always found civil'. (fn. 34) Following representations by the parish council in 1902 about the unsatisfactory and infrequent train services, (fn. 35) the G.W.R. services were improved, (fn. 36) and between 1901 and 1903 the London United Tramways Co. extended its line from Southall to Uxbridge along the main road. (fn. 37) Some building occurred before the First World War. In Wood End the north ends of Tudor, Cromwell, and North roads were built up; some houses were erected around Hemmen Lane and Church Road, and in Botwell a line of factories appeared between the canal and the railway, with housing along Printing House Lane (then Workhouse Lane). (fn. 38)
In the years between the wars the bulk of house and factory building took place, a large part of the former being a result of the industrial development. By 1924 Botwell was described as the modern shopping and residential area of Hayes, and between 1919 and 1924 the council erected 766 'working-class houses' at Botwell. (fn. 39) By 1938 the number had risen to 1,213 dwellings around Botwell, with 116 on the Park Farm estate between Cromwell Road and York Avenue, and 20 houses in Yeading. (fn. 40) Other large private estates laid out before 1935 were the Townfield estate built around Central Avenue on the west side of Coldharbour Lane; the Minet estate erected between Birchway and Mount Road on the west side of Coldharbour Lane; and a large estate that extended north-east from Uxbridge Road up Lansbury Drive, Woodrow Avenue, and Fairholme Crescent. The area between Carlyon Road and Uxbridge Road was also built up, as was the land between Brookside Road and the Yeading Brook. (fn. 41) The cottage hospital in Grange Road, opened in 1898, was enlarged in 1932. (fn. 42) The railway bridge at Botwell was rebuilt and enlarged in 1937 (fn. 43) and a bus service to Ruislip was instituted in 1938. (fn. 44) Building continued on a large scale between 1935 and 1940, and the area between Woodrow Avenue, Kingshill Avenue, and Charville Lane was built up. Balmoral Drive was extended; Warley Road and the Shakespeare Avenue area were built up; and there was further development in and around Yeading. There was also some further building south-west of Judge Heath Lane and north of Botwell. (fn. 45) By 1944 Hayes was described as an area consisting entirely of working-class housing and mainly serving the industrial area of Botwell. Industry was increasing and housing was in short supply. The layout of the area was 'crude and monotonous' and the parish was considered deficient in open spaces. (fn. 46) Post-war housing development was mainly limited to the area north and east of Yeading where the land between Green Way and Attlee and Owen roads was built over. By May 1961 the council had erected 2,426 houses and flats in Hayes. (fn. 47)
The area lying between Wood End and the parish church at Hayes, however, remained in the 1960s almost unaffected by the spread of building elsewhere. The extensive graveyard and, adjacent to it, the grounds of former private houses with established trees gave the church a surprisingly peaceful setting. South-west of the church is Hayes Court, a farm-house owned by the Minet family from 1766 until 1967 (fn. 48); an octagonal 18th-century dovecote stands near the main residence, which was rebuilt c. 1800. The house stood derelict in 1968, when there were plans to build on the site. (fn. 49) A small green south-east of the church is faced by a range of four yellow brick cottages dated 1867. Until after 1914 these cottages overlooked a pond, as did others, demolished by 1935, which stood next to the lychgate. (fn. 50) Church Road contains the former Rectory, now called Manor House, (fn. 51) and several 19th-century buildings, including the refaced Wistowe House, and there are some weather-boarded cottages in Freeman's Lane. Angel Lane, Morgan's Lane and other roads off both sides of Woodend Green Road contain many brown brick houses and cottages of the early 19th century and later. In contrast to Hayes village, now served mainly by shops in Uxbridge Road, Botwell has developed as a shopping and industrial centre. Botwell House, Whitehall, and Bell House, (fn. 52) early 19th-century residences in their own grounds survive in Botwell Lane.
Although a victualler, Mary Hill, is mentioned c. 1636, (fn. 53) the earliest recorded inn was the 'Adam and Eve' in 1665. (fn. 54) In 1748, as well as the 'Adam and Eve', there were four further inns in Hayes: the 'White Hart', the 'Angel', the 'Turnpike', and the 'Queen's Head'. (fn. 55) In 1751 there was at least one unlicensed alehouse at the 'Cock'. (fn. 56) In the early 19th century only four inns are found at Hayes, the 'Queen's Head' and the 'Turnpike' disappearing and being replaced by the 'Waggon and Horses'. (fn. 57) The 'Adam and Eve' included a brewery in 1827, (fn. 58) and a new inn at Yeading, the 'Union', was opened in the same year. (fn. 59) Thereafter public houses proliferated and by 1864 there were at least eighteen. (fn. 60)
At Domesday 108 people were recorded on the manor of Hayes. Of these one was a priest, 3 were knights, and 74 were villeins; there were also 16 bordars, 12 cottars, and 2 serfs. (fn. 61) These figures, however, presumably include the precinct of Norwood. In 1547 there were 270 communicants in the parish of Hayes. (fn. 62) In 1642 in Hayes parish 178 adult males took the protestation oath. (fn. 63) Hearth tax was assessed on 76 houses in 1664 and a further 45 were exempt. (fn. 64) The same number, 121 houses, occurs later in the century. (fn. 65) In 1801 the population was 1,026. This figure had increased to 2,076 by 1851. A large increase in 1861 is accounted for by the opening of the St. Marylebone parochial schools and by the erection of large numbers of cottages for brick-workers. A slow increase until 1881 was followed by a slight decline, so that in 1901 there were only 2,594 people in the parish. The population had nearly doubled by 1911 and ten years later numbered over 6,303 people. Since that date the population has risen steeply to over 19,000 in 1931 and to 49,650 in 1951. The total population of Hayes and Harlington was 67,915 in 1961. (fn. 66) This large increase, unlike that in many Middlesex parishes, can be related more to the opening of communications and the coming of large industry than to the expansion of a mainly dormitory population.
Few well-known people have resided in the parish, but a number of the rectors have been distinguished men. (fn. 67) In the early 16th century Thomas Howard, Duke of Norfolk (d. 1554), lived at Hayes, but he had left the parish by 1531. (fn. 68) John Heath, a judge of the Common Pleas from 1780 to 1816, had a house in Hayes, of which a view survives. (fn. 69) He is commemorated in the parish by Judge Heath Lane.