Pages 130-133
A History of the County of Middlesex: Volume 5, Hendon, Kingsbury, Great Stanmore, Little Stanmore, Edmonton Enfield, Monken Hadley, South Mimms, Tottenham. Originally published by Victoria County History, London, 1976.
This free content was digitised by double rekeying. All rights reserved.
EDMONTON
Edmonton, (fn. 1) noted for its witch and devil, for John Gilpin and its 18th-century fairs, lay about 7 miles from London on the main road to Ware and the north. Southgate, known for its elegant mansions and the cricketing Walker brothers, lay some 2¼ miles west of Edmonton village. Edmonton parish was a compact rectangle in shape, approximately 5 miles long and 2¼ miles from north to south until the Act for inclosing Enfield Chase in 1777 (fn. 2) added 1,231 a. jutting into Enfield from the north-west corner. About 1860 part of the Chase allotment, which was owned by the lord of the manor and the tithe owners of Enfield, was assigned to Enfield parish, leaving Edmonton with a very irregular boundary and a small isolated piece of land at World's End, which was transferred to Enfield in 1926. Southgate, a separate local government unit from 1881, received a strip of land from Enfield in the north-west between 1931 and 1951 and there were minor boundary changes with Wood Green in 1892 and with Friern Barnet by 1951. The total acreage varied little, rising from 7,480 a. in 1831 to 7,491 a. in 1901 and 7,660 a. in 1951. (fn. 3) Edmonton and Southgate united with Enfield to form the London Borough of Enfield in 1965. (fn. 4)
The eastern boundary followed the river Lea, whose tributaries formed part of the boundary with Enfield. (fn. 5) Tottenham mark, mentioned many times in the 13th century, (fn. 6) was a ditch or hedge between Tottenham and Edmonton. (fn. 7) Bounds Green and Waterfall Road formed part of the boundaries in the south-west with Tottenham and Friern Barnet but the rest of the western boundary with East Barnet (Herts.) and the northern one with Enfield ran through woodland containing only estate boundaries and the gates of the Chase. (fn. 8) The portion of Enfield Chase allotted to Edmonton after 1777 was marked by straight lines bearing no relation to natural features.
Apart from the alluvium forming Edmonton marsh along the eastern border the eastern half of the parish is mainly valley brickearth. Flood plain gravel covers the north-east and pushes tongues southward along Fore Street and westward along the river valleys. In the west London Clay is predominant with large outcrops of plateau gravel in the west and north. (fn. 9) Most of Edmonton is flat with a gentle rise from 36 ft. in the marshy Lea valley to 304 ft. in the north-west. Streams drain from the west to the river Lea. (fn. 10)
In 894 the Danes sailed 20 miles up the Lea (fn. 11) but during the Middle Ages the marshy river banks restricted navigation. Edmonton marsh formed a band about ½ mile wide, bordered and crossed by innumerable watercourses. (fn. 12) An Act of 1571 (fn. 13) authorized the City of London to make the Lea navigable as far as Ware (Herts.). The New Cut, as it was called, was used for barges, mostly transporting grain from Hertfordshire to London (fn. 14) and there is little evidence that it benefited Edmonton until the late 18th century and the nineteenth. A new straight canal was begun a little to the west of the meandering river in 1770. (fn. 15) The Lee Conservancy Board, (fn. 16) which was established in 1868, was taken over by the Metropolitan Water Board in 1904. The course of the river was obliterated by the construction of Banbury reservoir in southern Edmonton and Tottenham in 1903 (fn. 17) and by the much larger William Girling reservoir in Edmonton and Enfield in 1951. (fn. 18)
The two main tributaries of the Lea which run eastward through Edmonton are Pymme's and Salmon's brooks. Pymme's brook, which throughout the Middle Ages was called the Medesenge (fn. 19) and afterwards sometimes Millicents brook (1675) (fn. 20) and Bell brook (1765) (fn. 21) enters Southgate at Arnos Park, where in 1567 it was known as Hawland brook, (fn. 22) and flows to meet the network of watercourses along Edmonton marshes. Bounds (1659) (fn. 23) or Bounds Green brook, which enters New Southgate with the North Circular Road, joins Pymme's brook at the eastern end of Arnos Park. Salmon's brook, (fn. 24) in the 13th century called Stebbing, (fn. 25) enters Edmonton at Bush Hill (fn. 26) and flows to Edmonton Green, where it turns south and then east at approximately the site of the former town hall. In the 16th century it was joined by a tributary near the later junction of Brettenham and Brookfield roads and thence flowed southward along John a Marsh Green to join Pymme's brook at Watery Lane (later Angel Road). (fn. 27) The tributary (which is treated below) had largely disappeared by 1801 and most of the portion between Edmonton Green and Pymme's brook was culverted between 1897 and 1920. Thereafter Salmon's brook ran due eastward from Edmonton Green to the edge of the marsh, whence it flowed south to join Pymme's brook by a drainage channel near the border with Tottenham. (fn. 28)
Merryhills brook in the north and Hounsden gutter at the south of Edmonton's portion of Enfield Chase both ran eastward across Southgate and Winchmore Hill to join Salmon's brook in Enfield. In the 16th century a stream, probably Bridgewater, which was described in 1322 as south of the Hyde, (fn. 29) flowed south-eastward from a point near Fords Green to Fore Street, where it turned northward for a short distance before striking east to join Salmon's brook near the later Brettenham Road. (fn. 30) By 1801 most of it apparently had disappeared in the lakes and streams of Pymmes Park (fn. 31) and by 1895 it terminated at Morees pond west of Fore Street. (fn. 32) In the 16th century a stream, possibly the medieval Hakebrook (fn. 33) and called in 1605 Hobb Hale (fn. 34) and in 1826 Bury Street stream, (fn. 35) formed the boundary with Enfield from Bush Hill to a point almost due north of Bury Farm. Thence it ran southward to cross Bury Street, form the mill stream of Sadlers mill, and flow eastward close to the later Nightingale Hall farm, whence it followed the road south to John a Marsh Green before turning east again towards Edmonton marsh. (fn. 36) In the 19th century it became a tributary of Salmon's brook after the changes to the latter's southern section. (fn. 37) Unidentified watercourses include Melflet in the 13th century, (fn. 38) Church brook in the 14th century, (fn. 39) and Rowes brook in 1616. (fn. 40)
Almost all the streams have been straightened and often diverted into underground sewers. Pymme's and Salmon's brooks were widened and deepened in 1766 and 1772. (fn. 41) After severe flooding in 1881 Salmon's brook, which had formed a pond at Edmonton Green, and Pymme's brook at Montagu Road were confined between concrete walls. In 1921 Pymme's brook was culverted and its western course straightened. (fn. 42)
The New River, which was constructed in 1608-13 to bring drinking water from Chadwell and Amwell (Herts.) to Islington, crossed Edmonton parish from Bush Hill to Bowes. At Bush Hill a wooden aqueduct carried the river across a stream, presumably Salmon's brook. The Gordon rioters threatened to destroy the aqueduct in 1780 (fn. 43) and in 1784 it was removed and the landscape remodelled. (fn. 44) The New River was dependent on the contours and in the southern portion of Southgate and Bowes Park it followed a very meandering course until 1857-8, when an embankment was constructed to carry it across the valley of Pymme's brook. (fn. 45)
Edmonton was noted in Jacobean literature. Elizabeth Sawyer, married to a local labourer, was suspected of felony in 1615 (fn. 46) and apparently hanged for killing by witchcraft. Her story, told to a minister who visited her in prison, was published in a tract in 1621, which immediately became the basis for the play, the Witch of Edmonton, by Ford, Dekker, and William Rowley. Another popular play, the Merry Devil of Edmonton, was probably written by Michael Drayton and first performed c. 1606. According to the play's preface the protagonist Peter Fabell was commemorated on a monument in Edmonton church. (fn. 47) Presumably he was Peter Favelore (d. 1360). (fn. 48)
During its heyday, in the 18th and early 19th centuries, several literary and artistic people lived in Edmonton, where there were good communications and wealthy patrons. Charles Lamb (d. 1834), who moved there from Enfield in 1833, remarked on the frequency and cheapness of coaches to London. (fn. 49) Alexander Cruden (1701-70), author of the biblical concordance, was in his youth the tutor of a gentleman at Elm Hall, Southgate. (fn. 50) John T. Smith, the artist and author, came to live in Edmonton in 1788 at the invitation of Sir James Winter Lake of the Firs. (fn. 51) The duke of Chandos was the patron of Isaac Hunt, whose son James Henry Leigh Hunt (d. 1859) was born in Southgate in 1784. John Keats (d. 1821) lived in Church Street from 1805 and from 1810 until 1815 was apprenticed to the local doctor, Thomas Hammond. (fn. 52) Henry Crabb Robinson (d. 1867), diarist, lived at Southgate in 1812 (fn. 53) and Thomas Hood (d. 1845), poet, at Winchmore Hill from 1829 to 1832. Among painters John Clayton (1728-1800) came from a Bush Hill family and Abraham Cooper (1787-1868) was a child at Edmonton, where his father was an innkeeper. (fn. 54)
Sir John Moore (d. 1702), Lord Mayor of London in 1681, lived in Southgate c. 1674 (fn. 55) and Reuben Bourne (d. 1695), author of a play set in Edmonton, had property there and probably came of an Edmonton family. (fn. 56) Natives (fn. 57) included Brook Taylor (1685-1731), mathematician; Robert Taylor (1784- 1844), deistical writer; J. D. G. Pike (1784-1854), Baptist author; Sir William Maule (1788-1858), the judge; H. W. Woolrych (1795-1871), biographer and legal writer; J. A. Dorin (1802-72), Indian administrator; and Frances Broderip (1830-78), daughter of Thomas Hood and herself an author. The father (d. 1760) of Nathaniel Bentley (1735?- 1809), the beau known as 'Dirty Dick', had a country house at Edmonton. Charles Molloy (d. 1767), journalist and dramatist, may have spent his last years at Edmonton, where he was buried, (fn. 58) and Isaac Taylor (1730-1807), the engraver, retired there in 1780.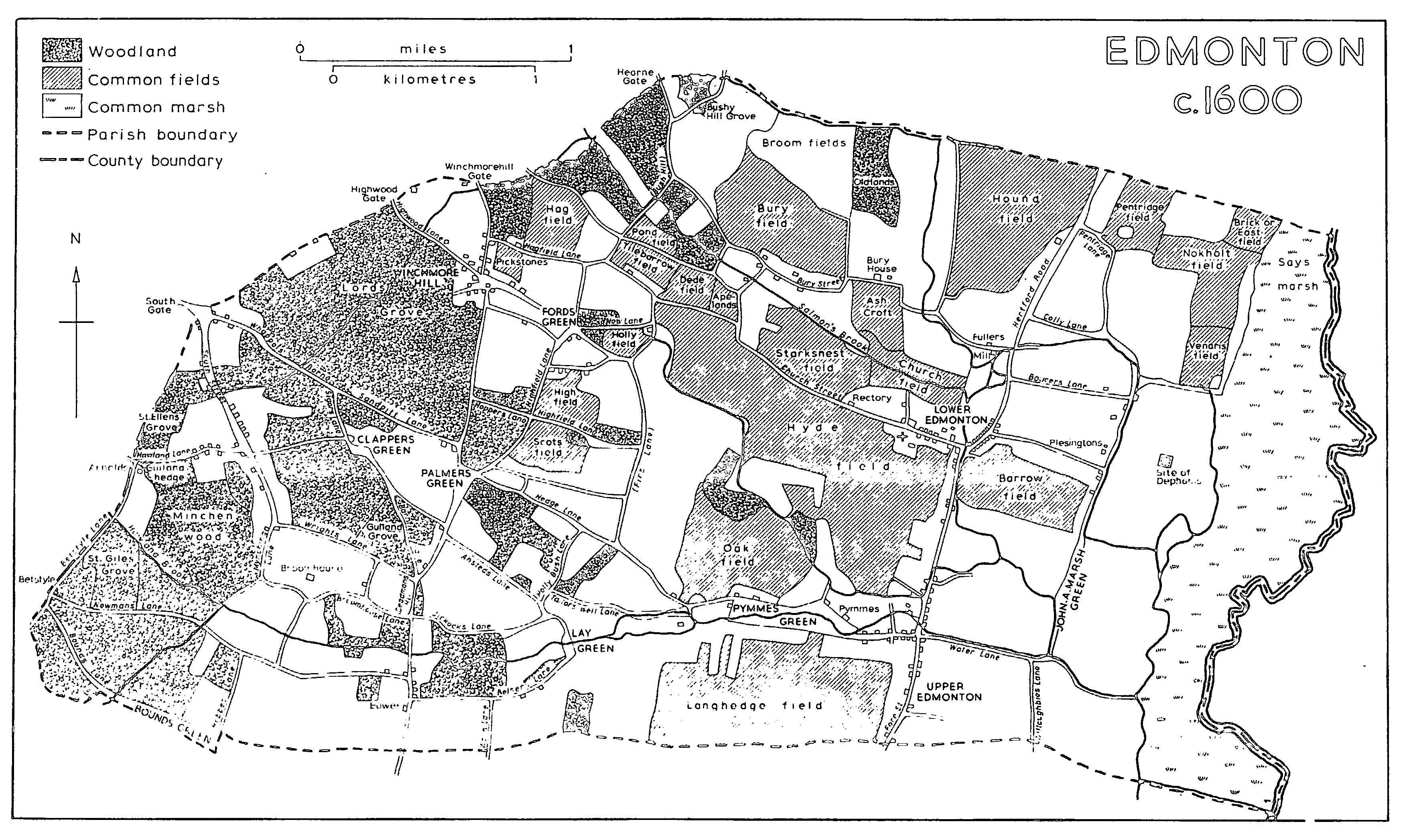 Most of the prominent people associated with the parish since the mid 19th century are treated below. The painter George Patten died in 1865 at his house at Winchmore Hill. (fn. 59) The Hebraist C. D. Ginsburg (1831-1914), the authority on Old English language and literature, Professor R. W. Chambers (1874-1942), and Benjamin Waugh (1839-1908), the philanthropist and a founder of the National Society for the Prevention of Cruelty to Children, lived in the area. (fn. 60)