Pages 2-5
A History of the County of Middlesex: Volume 5, Hendon, Kingsbury, Great Stanmore, Little Stanmore, Edmonton Enfield, Monken Hadley, South Mimms, Tottenham. Originally published by Victoria County History, London, 1976.
This free content was digitised by double rekeying. All rights reserved.
Communications.
The Roman Watling Street, part of it later known as Edgware Road, passed over the Brent and Silk stream, and, at the northernmost extremity, crossed Edgware brook at Edgware bridge. (fn. 1) There was a grant of pavage in 1389 to six persons, including John atte Hegge of Hendon, to repair the road. (fn. 2) In 1621 Brent and Silk bridges were so decayed as to form a serious danger to wayfarers (fn. 3) but the first was rebuilt in 1770, 1788, and 1818, (fn. 4) and the second, then very old and ruinous, in 1821. (fn. 5) Brent bridge was known as Harp bridge in 1826 (fn. 6) because of its proximity to the Welsh Harp inn, but later it reverted to its original name. Both bridges were rebuilt with the construction of Brent reservoir and they effectively disappeared in the 1920s, when the rivers were made to pass under the road in culverts. The Hendon section of Edgware Road was turnpiked in 1711. (fn. 7) Part of another Roman road was discovered in Copthall Fields in 1967 (fn. 8) but its significance is uncertain.
The second important route, from London via Hampstead, entered the parish at Golders Hill and joined Edgware Road north of the Hyde, after passing through Golders Green and Brent Street to the Burroughs, whence it bore north-west along Colindeep Lane. The route, part of it called Hendon path ('wante'), was said in 1593 to be an 'ancient highway now unaccustomed', (fn. 9) suggesting that it had formerly been preferred to Edgware Road; part of Colindeep Lane was known as late as 1863 as Ancient Street. (fn. 10) The road crossed the river Brent by Brent Street bridge at the foot of Brent Street; parishioners were indicted for failing to repair the bridge in 1623 (fn. 11) but a new one of brick and stone with three arches was built by subscription in 1782. (fn. 12) At Colin Deep there was a ford across Silk stream and, in 1826, a footbridge. (fn. 13) A permanent bridge for vehicles was built later.
A network of minor roads included Parson Street, the northward continuation of Brent Street, which by 1321 (fn. 14) was presumably part of the main route to the north of the parish. The road led via Holders Hill to Bittacy Hill, at the top of which it became the Ridgeway, so called by 1471. (fn. 15) The Ridgeway followed the high ground north-westward to Highwood Hill, where it met a road which ran north-eastward across the parish from a point south of Edgware bridge to Totteridge, passing through the Hale and known in its western portion as Deans Lane, in the centre as Selvage Lane, and in the east as Marsh Lane. Farther east Hendon Wood Lane left Highwood Hill to run north to the county boundary at Barnet Gate. (fn. 16) A second northerly route in 1594 (fn. 17) left Parson Street and followed Ashley Lane, Dole Street, and Milespit Hill, to join the Ridgeway at Mill Hill. A third ran from the parish church along the present Hall Lane, Page Street, Featherstone Hill, and Wise Lane, to join the Ridgeway by the Three Hammers. (fn. 18) Bunns Lane left Page Street by Copt Hall and led in a northwesterly direction along Hale Lane to the Hale and thence to Edgware. The northern hamlets and farms were linked by several minor roads, including Lawrence (or Gladwin) Street, which in the early 18th century joined Bunns Lane with Holcombe Hill. (fn. 19)
Several routes in the less populous southern part were no more than winding tracks. In 1754 they included Burroughs Lane (later Station Road), from the Burroughs to Edgware Road south of Silk bridge, Finchley Lane, from Church End to Finchley, Cowhouse Green (later Cricklewood Lane), which linked Cricklewood with Childs Hill and continued along a road later known as Childs Hill Lane and Hermitage Lane to West Heath, Hampstead, and Bell Lane, which ran south-east from Brent Street to Temple Fortune, crossing the Brent at Mutton bridge. (fn. 20) In 1826 the bridge was of brick, with one arch over the river and another three arches over an adjoining decoy; (fn. 21) it was frequently drawn by artists, including Constable, (fn. 22) but was rebuilt in 1931. (fn. 23) West of Edgware Road, Kingsbury Road and Cool Oak Lane linked Hendon with Kingsbury. (fn. 24)
The first major addition to the old road structure was Finchley Road, running from Childs Hill through Golders Green to Finchley, and, like other additions, intended to improve access to the west end of London. (fn. 25) It was established by an Act of 1826 under the control of the Marylebone and Finchley turnpike trust, with toll-gates at Childs Hill and Golders Green, and was opened to traffic in 1830. (fn. 26) It later came, like Edgware Road, under the control of the commissioners for the metropolitan turnpike roads. No further significant alterations were made until 1924, when a large scheme began with the construction of the North Circular Road along the Brent valley from a point south of Brent bridge to one adjacent to Mutton bridge. (fn. 27) In the same year work began on Hendon Way, which leaves Finchley Road at Childs Hill and runs north to Hendon Central Underground station. The northern section of the road, called Watford Way, continues to Northway Circus at the end of Selvage Lane, where Barnet Way heads north to the Hertfordshire border at Stirling Corner and Edgware Way takes a westerly course across Dean's brook into Edgware. The North Circular Road and Watford Way were finished in 1927 and connected by Great North Way, which was built in 1926. No more new roads were built until 1967, when the M1 motorway was extended south through the parish to a junction with Watford Way near its bridge over Bunns Lane; a short extension to Five Ways Corner at the northern end of Great North Way, where a fly-over was built, was opened in 1970. A stretch of the motorway farther south to the North Circular Road was near completion in 1974. Access to the motorway was improved by a large 3-tier fly-over built in 1965 at Brent Cross, where Hendon Way crosses the North Circular Road. (fn. 28)
Coaches travelled from Hendon to the Old Bell, Holborn, via Hampstead at the end of the 17th century. (fn. 29) In 1839 there was a daily coach to London from the Bell, while one carrier operated from Hendon and another from Mill Hill; (fn. 30) a coach for Hendon and Mill Hill left the Blue Post, Tottenham Court Road, every afternoon. (fn. 31) The centre of the parish remained relatively inaccessible until an omnibus began to run from Church End to Hendon station after the building of the Midland Railway in 1868. Infrequent omnibus services, some of them short-lived, were later introduced to Swiss Cottage Metropolitan Railway station and Marble Arch. (fn. 32) By 1904, when a tramway was built along Edgware Road from Cricklewood to Edgware, road transport in most parts of Hendon was still poor, although omnibuses ran along Finchley Road to Finchley through Golders Green and from Cricklewood to Oxford Circus. (fn. 33) Eight trams an hour in each direction ran between Cricklewood and Edgware but London-bound passengers had to change at Cricklewood. (fn. 34) Another tramway was opened in 1909 by the Metropolitan Electric Tramways Co., from Finchley along Finchley Road to Hampstead, and a link was opened from the Castle inn, Childs Hill, to Cricklewood along Cricklewood Lane; all routes were converted for trolley-buses in 1936 but in 1970 they were being served by motor-buses. (fn. 35) By 1903 an omnibus service, at 15-minute intervals, had started between Hendon and Oxford Circus along Finchley Road (fn. 36) and by 1912 another service, between the Bell and London Bridge, had been introduced. In the north motorbuses did not run regularly until after the First World War; they linked Golders Green station with Harrow via Mill Hill by 1923 (fn. 37) and the building of the Underground railway to Edgware had given rise to a network of connecting routes in all parts by the early 1930s. (fn. 38)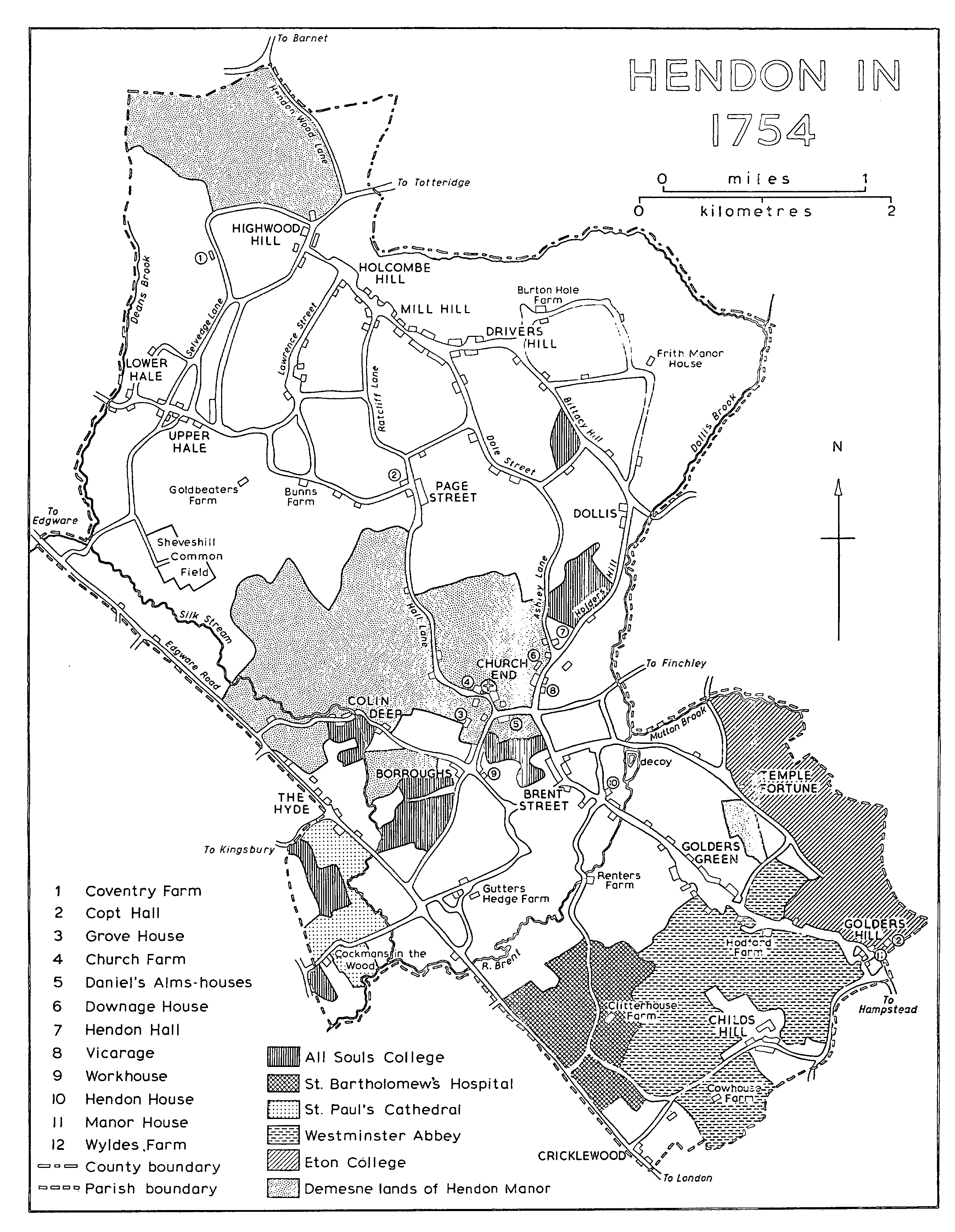 The first railway was the G.N.R.'s branch line from Finsbury Park to Edgware, which was opened in 1867 and entered the parish by an impressive 13-arched viaduct over Dollis brook; Mill Hill East station was opened, as Mill Hill, in the same year. From 1868 trains ran from Edgware to Ludgate Hill and Loughborough Junction (Surr.) but in 1869 they were diverted to Moorgate; in 1872, with the building of the branch from Finchley to High Barnet, through services were withdrawn from the Edgware line and a shuttle service was instituted from Edgware to Finchley. A station was opened near the Hale, in Bunns Lane, in 1906 (fn. 39) but the line later suffered from road competition and was closed to passenger traffic in 1939. A proposal under the 1935-40 New Works Programme to link it to London Transport's Underground system was not carried out in full; the eastern end of the branch, from Finchley Central to Mill Hill East, was electrified in 1941 to serve the near-by barracks, while frequent Underground trains began running to the west end of London, the City, and Morden (Surr.) over the Northern line. (fn. 40) In 1970 the rest of the railway lay derelict.
The main line of the Midland Railway from Bedford to London was opened for goods traffic in 1867 and for passengers in 1868; (fn. 41) it ran south through Hendon, crossing the Brent by a viaduct west of Edgware Road. Passenger stations were opened in 1868 in Bunns Lane (later Mill Hill Broadway), at the foot of Burroughs Lane, and in Cricklewood Lane; another station called Welsh Harp was opened near the inn of that name to cater for excursion traffic in 1870 (fn. 42) but was closed in 1903. (fn. 43) Stopping trains were infrequent and there were several complaints about the slowness of journeys to St. Pancras or Moorgate. (fn. 44) A through service from Hendon to Victoria via Moorgate, Ludgate Hill, and Loughborough Junction was instituted in 1875 (fn. 45) but was discontinued in 1908. (fn. 46) Services from Mill Hill, Hendon, and Cricklewood to St. Pancras and Moorgate remained poor until 1960, when steam trains were replaced by a diesel service, running hourly throughout the day and more frequently at rush hours. An important feature of the Midland Railway's installations in Hendon was the Brent sidings and marshalling yard for goods and coal traffic, which covered a large area north of Childs Hill (later Cricklewood) station. (fn. 47) To connect the yard with the G.W.R. and the L.S.W.R., the Midland & South Western Junction Railway opened a line to Acton in 1875. A passenger service was later provided by the Midland, from 1878 to 1880 forming part of its 'Super Outer Circle' from St. Pancras to Earl's Court, but Childs Hill never became an important passenger junction. The line carried only an intermittent shuttle service to Gunnersbury from 1894 and was closed to passengers in 1902, (fn. 48) although the 'Dudding Hill Loop', as it was known, was still open to goods traffic in 1970. Short-lived services were also provided from Childs Hill to Richmond in 1875 and to Dudding Hill and Stonebridge Park in 1880. (fn. 49)
The inadequacy of the services provided by the G.N.R. and the Midland led to several fruitless proposals for new railways, including a plan put forward by the Metropolitan Railway for a line from Wembley, which was thwarted by the price asked by the Ecclesiastical Commissioners for their land. (fn. 50) In 1902, however, the Underground Electric Railway Co. obtained powers to extend to Golders Green its proposed line from Charing Cross to Hampstead tube, and in the same year the Edgware & Hampstead Railway Co., promoted by the Underground Group, was empowered to extend the line across Hendon to Edgware. (fn. 51) The line was opened in 1907 as far as Golders Green, where a surface station was built; after delays caused by the First World War the extension to Hendon Central was opened in 1923, although trains did not run through to Edgware until 1924. (fn. 52) From Golders Green the railway ran above the surface, apart from a tunnel at the Burroughs north of Hendon Central station, and a viaduct was built over the river Brent; four intermediate stations, Brent, Hendon Central, Colindale, and Burnt Oak, were opened. The underground railway, providing Hendon for the first time with a fast and frequent train service to London, greatly stimulated suburban development. (fn. 53) In 1924 rushhour trains ran as often as every 8 minutes from Edgware to Moorgate and every 4 minutes from Golders Green to Charing Cross; (fn. 54) in 1970 intervals were nominally similar but many trains ran south to Morden, either via the Bank or via Charing Cross. Since 1937, four years after its acquisition by the London Passenger Transport Board and after several changes of name, the railway has formed part of the Northern line. (fn. 55)