Pages 218-224
A History of the County of Middlesex: Volume 5, Hendon, Kingsbury, Great Stanmore, Little Stanmore, Edmonton Enfield, Monken Hadley, South Mimms, Tottenham. Originally published by Victoria County History, London, 1976.
This free content was digitised by double rekeying. All rights reserved.
GROWTH AFTER 1850.
The opening of the branch line to Enfield Town in 1849 led to several proposals for new housing. Residents, however, proved hard to attract and in the 1850s the population of the old parish, excluding Forty Hill and Enfield Highway, declined from 6,990 to 6,543, although the number of houses rose. (fn. 1) Slow progress was made by the National Freehold Land Co., the first to draw up a plan, which bought market gardens west of London Road in 1852 and offered free season tickets to London to the purchasers of 'first and second rate' houses. (fn. 2) Four streets were laid out and named Essex, Cecil, Raleigh, and Sydney roads, to advertise the Elizabethan associations of the area. The land was divided into 462 plots and in 1854 proposed prices ranged from £400 for detached houses in London Road to £100 for terraced cottages in Raleigh Road. (fn. 3) The estate was called Enfield New Town in 1859, (fn. 4) when two rows of cottages were built in Raleigh Road, (fn. 5) but in Sydney Road plots remained available in 1865 (fn. 6) and houses were still under construction in 1874. (fn. 7) When completed, the estate consisted mainly of detached houses in London Road, semi-detached villas in Cecil, Essex, and Sydney Roads, and terraces farther west in Raleigh Road.
Other new building near Enfield Town was similarly delayed. The Conservative Land Society bought a small estate on the south side of Southbury Road by Oldbury Moat c. 1854 and laid out Burleigh, Queen's, and Stanley roads. An offer of free season tickets was fruitless, by 1868 only two houses had been built, (fn. 8) and in 1897 the streets had still to be completed. (fn. 9) Meanwhile the North London Society bought Gordon House, demolished it, and laid out roads. Nothing had been built by 1858 (fn. 10) but there were houses in Halifax and Gordon roads by 1868. (fn. 11) An extension of the estate was planned in the 1880s (fn. 12) and houses were being built in Gordon Hill, on the site of Gordon House itself, in 1894. (fn. 13) On the Bridgen Hall estate, at the foot of Forty Hill, Ridler, Bridgenhall, Morley, and St. George's roads had been laid out by 1866, (fn. 14) when 63 plots were offered for sale, (fn. 15) but the roads were not fully built up until after the First World War. (fn. 16)
Growth in the eastern part of the parish in the 1850s was stimulated both by factories and by the opening in 1840 of a station in South Street to serve Ponders End. The Royal Small Arms factory was enlarged in 1854 while in South Street Baylis's crape works employed nearly 200 people by 1858. (fn. 17) The population of the ecclesiastical district of St. James, Enfield Highway, which included Ponders End and Enfield Wash, trebled from 1,534 in 1851 to 4,954 in 1861, the increase being attributed to expansion at the small arms factory. By 1871, when the factory's work-force had again increased and a jute factory had opened at Ponders End, the population had risen to 8,027. (fn. 18)
An estate attached to Ponders End mill (later Wright's flour mill) was put up for sale in 1853 and some land west of Ponders End station divided into building lots. (fn. 19) Alma, Napier, and New roads were laid out there and by 1868 terraced housing stretched down one side of New Road. Farther north more people settled at Enfield Highway and Enfield Wash, both along Hertford Road and new branch roads. The houses included cottages built in East Road in 1859 and Amelia and Alpha cottages, dated 1859, and Rose Cottages, dated 1867, in Hertford Road. By 1868 there were houses in Jasper, St. James's, and Grove roads. (fn. 20)
East of Enfield Wash, between the railway and the Lea, builders catered largely for employees at the Royal Small Arms factory. A terrace called Government Row was constructed on the east bank of the Lea Navigation in the shadow of the factory, while farther west in Ordnance Road officers were accommodated in large, semi-detached stuccoed houses. (fn. 21) Near by both Medcalf Road, laid out in 1861, (fn. 22) and Warwick Road were lined with terraces by 1865. (fn. 23) The area near the factory acquired a character and life of its own, isolated from the rest of the parish and with its own church, school, (fn. 24) and two public houses, the Greyhound and the Royal Small Arms.
North of Enfield Wash the 33-acre Putney Lodge estate was conveyed by James Bennett to the British Land Co. in 1867. Mandeville, Totteridge, and Putney roads had been laid out by 1867, when 296 building plots were for sale, (fn. 25) and 6-roomed houses were offered in 1869, when the proximity of the Royal Small Arms factory was stressed. (fn. 26) Plots were still available in 1893 (fn. 27) but the estate was almost completely built up by 1897. (fn. 28) In 1887 the Standard Freehold Land Co. of Woolwich (Kent) sold plots in Standard Road, near Enfield Lock (formerly Ordnance Factory) station; they were bought by a builder from Kilburn (fn. 29) and the street had been built up by 1897. (fn. 30) A large tract south of Ordnance Road was acquired for building after the sale of Woodham Connop's lands in eastern Enfield in 1869 but little building took place until the 20th century. (fn. 31)
Building began to spread rapidly northward from Enfield Town in the 1870s. Houses were under construction around Lancaster (formerly New) Road in 1869, when Woodham Connop's land near by was offered for sale. (fn. 32) The popularity of the area was enhanced by the opening of the G.N.R.'s branch to Enfield in 1871, the shortening of the G.E.R.'s route from Enfield Town to London in 1872, and the introduction of cheap fares. In St. Andrew's parish, excluding the new parishes of St. John, Clay Hill, and Christ Church, Cockfosters, the population rose from 5,087 in 1871 to 11,033 in 1891. (fn. 33) The Birkbeck Freehold Land Society bought some of the Connops' land north of Lancaster Road and by 1887 had laid out ten streets, including Birkbeck Road and Morley Hill, with kerbed footpaths and full drainage. The estate, initially called 'New Enfield', was about a mile from each of the railway stations in Enfield Town but in 1897 many of the plots remained empty, despite the society's earlier claim that there was a demand for cottage property. (fn. 34) More houses were built near the Birkbeck estate at the end of the 19th century, also for the working or lower middle class. By 1896 Rosemary and Primrose avenues had been laid out to the east, and Gloucester, Brodie, and Burlington roads to the west. More streets, with similar terraces, were built on both sides of Lancaster Road between 1896 and 1913. (fn. 35) Park farm, stretching north from Phipps Hatch Lane to Clay Hill, was advertised for building in 1909, when Gordon Hill station on the G.N.R.'s Hertford extension was shortly to be opened. (fn. 36) The estate, however, was acquired by Enfield U.D.C. and opened as a public park in 1911. (fn. 37)
Bush Hill Park, south of Enfield Town, was offered for sale in 1871. (fn. 38) The land, advertised as suited for small houses and close to railway stations, (fn. 39) was bought by the Bush Hill Park Co., whose fortunes were said in 1911 to have fluctuated. (fn. 40) When the estate eventually was built, it was not socially homogeneous; west of the Enfield Town railway line there were detached houses, many of them gabled and tile-hung, in large gardens along tree-lined streets, while to the east terraces in straight lines followed the pattern set by the land societies' estates elsewhere in Enfield. Housing spread rapidly after the opening of the G.E.R.'s Bush Hill Park station in 1880. (fn. 41) Main Avenue east of the station, and the streets leading off it to the north, had been built up by 1897, (fn. 42) Millais Road in 1899, Poynter Road in 1901-3, and Landseer Road in 1903. (fn. 43) West of the railway houses stood in Wellington, Village, and Private roads by 1897; (fn. 44) no. 8 Private Road, designed by Arthur H. Mackmurdo c. 1883, is notable for its flat roof and other advanced architectural features. (fn. 45)
Building on former Chase land near Windmill Hill and the Ridgeway was also encouraged by the opening of the G.N.R. station in Enfield in 1871. As in the western part of Bush Hill Park, the houses were mainly for middle-class commuters. The most ambitious plan was that begun in 1879 by A. Culloden Rowan, who constructed Bycullah, Rowantree, and Culloden roads on the 54-acre estate of Bycullah Park, a house north of Windmill Hill built in the mid 19th century by J. R. Riddell, a retired Indian Army officer. (fn. 46) Detached and semi-detached houses of two types were proposed, one with Gothic porches and the other with tile-hanging and mock timber framing; prospective buyers were told that care had been taken to preserve trees, that the views were good, and the drainage was thorough. (fn. 47) Despite the provision of social facilities centred round an 'Athenaeum', progress was so slow that simpler houses were eventually built. (fn. 48) By 1897 the estate was complete (fn. 49) and in 1972 it preserved a distinct 'garden suburb' appearance, although blocks of flats had replaced many of the original houses. Chase Green Avenue, built in 1880, (fn. 50) joined the Bycullah estate to Chase Side.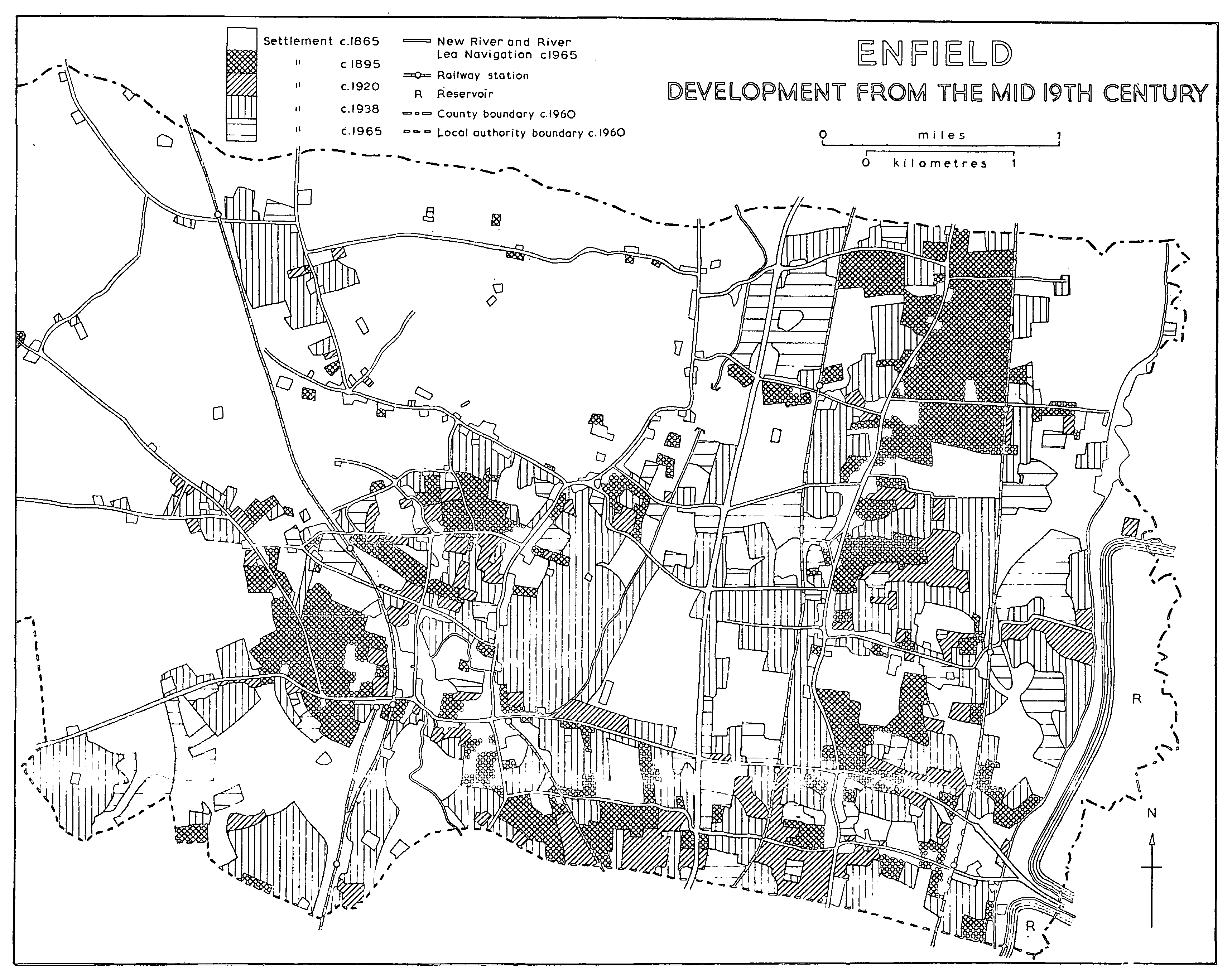 In the Ridgeway some houses were built in 1882 (fn. 51) and farther west, in Slades Hill, building land had been advertised in 1879. (fn. 52) By 1897 some of the largest houses in the parish, with fine views westward over farm-land, lined the Ridgeway as far as the junction with Holtwhite's Hill. (fn. 53) Claypatch, illustrated in 1899, (fn. 54) was built to the designs of Sydney W. Cranfield and Ridgemount to those of A. N. Hart, (fn. 55) who also designed ornate, tile-hung houses at the top of Windmill Hill in partnership with P. L. Waterhouse. (fn. 56) At the southern end of the Ridgeway Uplands Park Road had been built on part of the glebe land by 1896 (fn. 57) and there were also houses in the adjacent Chase Ridings by 1897. Drapers Road, leading from the Ridgeway to Holtwhite's Hill, had been laid out by 1897, when plots were advertised, (fn. 58) although little building took place until c. 1922-5. (fn. 59) The demand for villas was said to be unlimited and two short streets at the foot of Holtwhite's Hill, Holtwhite's Avenue and Trinity Street, the second on land owned by Trinity College, Cambridge, were soon filled with terraced houses. (fn. 60)
At Hadley Wood, in the extreme west of the parish, growth was linked with the opening of a station on the G.N.R.'s main line in 1885. Charles Jack, tenant of the Beech Hill estate, leased some land north of Camlet Way in 1884 and laid out Crescent East, which had 15 large semi-detached houses by 1888, and Crescent West. Lancaster Avenue had been laid out by 1901 and in 1914 there were about 100 houses in the area, including some along Camlet Way itself. (fn. 61) An abortive plan to build on the grounds of Beech Hill Park was put forward in 1899. (fn. 62) Hadley Wood thereafter remained an isolated upper-middle-class neighbourhood, separated by open country from more populous suburbs.
The estate of Chase Park, near Enfield Town, was offered as good building land in 1879, the vendors emphasizing its potential for building. Shirley and Station roads, adjoining the G.N.R. (later Enfield Chase) station, had been divided into lots for building by 1880 (fn. 63) and were soon lined with terraces but most of the estate was still open in 1897. (fn. 64) Along Old Park Avenue, leading southward across the former Enfield Old Park, detached and semidetached houses with gables and mock timber framing were being built c. 1900. (fn. 65) At its southern end similar houses were built in the Chine, the Grangeway, and Old Park Ridings after the opening of the G.N.R.'s Grange Park station in 1910. (fn. 66) The area was described as a nascent suburb in 1911. (fn. 67)
The centre of Enfield Town began to assume its modern, urban appearance at the end of the 19th century. A row of shops at the corner of London Road, designed by J. S. Moye, was said in 1878 to have greatly enhanced the southern entrance to the town. (fn. 68) The Nags Head inn (later demolished) was built shortly before 1883 to designs by Ernest Shum of Bedford as part of a scheme for improving the approach to the station. (fn. 69) Lloyds Bank had moved into larger premises in the market-place, designed by Alexander Stenning, by 1893 (fn. 70) and a new London and Provincial (later Barclays) Bank, of red brick and profusely adorned in the Jacobean manner, was built on the site of the Greyhound in 1897. (fn. 71) The King's Head was replaced by a gabled, tile-hung building in 1899 (fn. 72) and the George had been rebuilt, to incorporate some of the original materials, by 1911. (fn. 73) Most of the older shops were also rebuilt c. 1900 and new ones built included Town Parade in Silver Street, dated 1906. The western side of the market-place remained comparatively unchanged until the sale of Burleigh House, 'the finest undeveloped area . . . in the district', in 1913 (fn. 74) and the south side until the construction of Pearson's department store on the site of the manor-house (Enfield Palace) in 1928. (fn. 75) In Church Street the former frontage of Burleigh House was covered with shops, with a cinema to the rear. Farther west Little Park Gardens was laid out after Little Park had been sold to Enfield local board in 1888 (fn. 76) and newly built houses there were for sale in 1899. (fn. 77) Chaseside House, on the opposite side of Church Street, was sold in 1901, after a plan for building on the northern part of the grounds had already been produced. (fn. 78) Houses were later built along a western continuation of Cecil Road and shops along Church Street. This southern part of the estate became Enfield Town park, opened in 1903 as the first of several public parks proposed by the U.D.C. (fn. 79)
With the exception of the new Bush Hill Park estate, the land on the east side of Enfield Town station was still largely devoted to farming and market gardening in 1897. (fn. 80) There was extensive building on both sides of Southbury Road, however, immediately before the First World War, while south of Southbury Road a recreation ground was opened on former market gardens. Housing here preceded the extension of tram services to Enfield Town along Southbury Road in 1911; terraces were being built in Cecil Avenue and Halstead Road in 1901, in Clive Road in 1904, and in Sketty Road from 1903 to 1910. (fn. 81) By 1920 the built-up area had reached its easternmost limit at Clive Road. (fn. 82)
Growth in the eastern part of the parish before the First World War was less residential than around Enfield Town. Market gardens and other old sources of local employment continued to flourish, while large new industries began to attract a working-class population. Ponders End, which in 1876 retained something of its old gentility, (fn. 83) grew rapidly after the opening of the Ediswan electric light factory in 1886. There were some houses in Aden and Suez roads, near the factory, in 1896 (fn. 84) but few others were built on the marshes east of the G.E.R. line and in 1972 the area was almost entirely industrial.
Most of the new housing at Ponders End was west of the main railway line, to take advantage of the opening of the G.E.R.'s line from Lower Edmonton to Cheshunt in 1891 and the extension of trams along Hertford Road in 1907. New shops, chapels, and halls replaced the weatherboarded and mansardroofed cottages which had formerly lined Hertford Road, both at Ponders End and farther north at Enfield Highway and Enfield Wash. The first houses in Nags Head Road, on land formerly owned by the Connop family, were built c. 1891 and terraces were also constructed in 1897 and 1907. (fn. 85) New houses in Garfield Road were advertised in 1892 as near to Churchbury station, with its excellent service for workmen. (fn. 86) Houses were built in Lincoln Road in 1893 (fn. 87) and Allens, Orchard, and Church roads on the former Allen's farm at the corner of South Street and Hertford Road were planned in 1897, after an earlier scheme had failed. (fn. 88) Some houses were built c. 1900 but most of the sites remained vacant until c. 1930. (fn. 89) Plots at the eastern end of Nags Head Road were advertised in 1904, when there was said to be a great demand for artisans' houses in the area. (fn. 90) By 1914 building had spread north from Nags Head Road to Durants Road, on the former Durants manor house estate, with building plots in King Edward's and Alexandra roads being offered by the Enfield and District Freehold Land Society. (fn. 91) In 1906 the Enfield, Waltham and Cheshunt Building Society planned Southfield, Clarence, and Northfield roads, south of Lincoln Road; some of the land was bought by the General Freehold Land Co. and the streets had largely been built up by 1910. (fn. 92) Farther west houses appeared in Norfolk, Suffolk, and Oxford roads c. 1907-8. (fn. 93) In 1914 nurseries and market gardens still separated Ponders End from both Enfield Town and Enfield Highway. (fn. 94) Larger estates were built in the north-east of the parish at Enfield Wash and Enfield Lock, near the small arms factory.
The General Freehold Land Co. was selling plots formerly owned by the Connop family in Chesterfield Road, south of Ordnance Road, in 1898 and houses were built there and in Beaconsfield, Catisfield, and neighbouring roads from c. 1899 until the First World War. (fn. 95) North of Ordnance Road the Rosary estate was mentioned in 1891 (fn. 96) and there were some houses in Catherine Road in 1897. Forest, Ashton, and Park Roads had been laid out by 1897 (fn. 97) and two years later the Canning Town, Silvertown and Victoria Dock Freehold Land and Building Co. was selling plots in Forest Road, although none of the roads was fully built up until the period between the World Wars. (fn. 98) The United Counties Land, Building and Investment Society acquired an estate near the former Freezy Water farm, west of Hertford Road, in 1881, and laid out Holly, Oakhurst, and Holmwood Roads; several houses had appeared by 1897 (fn. 99) but there, too, plots remained empty until the 1930s.
Brimsdown station, on the G.E.R. main line, was opened in 1884. There was a scattering of new houses in Green Street and the newly-laid-out Brimsdown Avenue, Osborne Road, and Mayfield Road by 1897, (fn. 100) although the roads were not completely built up until after the First World War. Farther west the British Land Co. acquired a small estate east of Hertford Road and was selling plots in Elmore and Riley roads in 1892. (fn. 101) Land was also being sold in Connop Road in 1891 and in Albany Road in 1897 and 1901. (fn. 102) When houses were planned in Albany and St. Stephen's roads in 1901 Enfield Highway was described as a rapidly increasing district, with a keen demand for artisans' houses and a good service of workmens' trains from Enfield Lock station. (fn. 103) To cater for the increased population the U.D.C. opened Albany park in 1902 and Durants park in 1903.
Between 1921 and 1931 the rate of building slackened and the total population rose by only 11.9 per cent, after increases of 20-30 per cent in the twenty years before the First World War. (fn. 104) The rate again increased in the 1930s, especially at Enfield Highway, where extensive council housing was undertaken. The two largest estates were south of Carterhatch Lane, around Central Avenue, and north of Brimsdown railway station over an area bounded by Bell Lane, Brimsdown Avenue, Croft Road, and Redlands Road. In Hertford Road itself shopping parades replaced earlier, smaller, houses and shops near St. James's church. Residential building on the market gardens was encouraged by the growth of heavy industry along the Lea in Brimsdown, which had been foreshadowed by the opening of the power station there in 1907. (fn. 105)
The opening of Great Cambridge Road through the parish in 1923-4 stimulated much private building. East of the road 21 estates, for 2,500 houses, were approved between 1931 and 1937 (fn. 106) and building continued until 1939. (fn. 107) Most of it was carried out by firms from outside Enfield like Newman Eyre of Romford (Essex), who built the 286 houses on the Aylands estate (Ayland, Larmans, Balmoral, and Windsor roads) at Enfield Wash after 1933, and Thomas Blade of Romford, who built the Longfield estate at Enfield Highway (Longfield, Winnington, and Dell roads and the Loning), with 284 houses and 4 shops after 1934. Local builders included Enfield Highway Co-Operative Society, whose Unity estate consisted of 104 houses in Meadway and Crossway after 1934, and Oatlands Estates of Carterhatch Lane, who planned 136 houses in Carterhatch Road, Leyland Avenue, and Sharon Road in 1932. An Enfield architect, Frank Lee, designed the Westmoor estate at Brimsdown in 1937. Private and municipal building radically changed eastern Enfield in the period between the World Wars; by 1939 market gardening had been considerably reduced and the formerly distinct settlements of Ponders End, Enfield Highway, and Enfield Wash had coalesced. (fn. 108)
By contrast the old division between Enfield Town and the eastern part of the parish was maintained, since on much of the land along Great Cambridge Road market gardens gave way to industry, playing fields, and schools. Few council houses were built around Enfield Town, where the main area of growth was between Baker Street and the New River. Newman Eyre was allowed to put up 594 houses on 50 a. east of Churchbury Lane in 1934 and another 286 houses to the north in 1935, while E. N. Stephens of Willesden obtained permission for 279 houses on former vicarage glebe land to the south. The grounds of the Rectory, on the other side of Baker Street, had been sold in 1926 and Monastery Gardens built on the site. To the southwest, near Grange Park station, 472 houses and seven new roads comprising the Uplands estate were built by Marshall Estates after 1933. (fn. 109)
The south-western corner of the parish changed after the extension of the Piccadilly line in 1933. Cockfosters, in 1911 still described as a charming little village, (fn. 110) appeared more suburban with the building of a shopping parade near its new station. Near Oakwood station the South Lodge estate was developed by John Laing & Co. after 1935 (fn. 111) and housing covered much of the neighbourhood by 1939. (fn. 112) Farther north growth was limited to the Hadley Wood area. By 1929 there were houses, mainly detached, in Wagon Road, as well as along Cockfosters Road on the edge of the Beech Hill estate. Although most of Beech Hill Park became a golf course in 1920 the Greenwood estate, to the west, was sold in 1925 and by 1939 had been covered with about 300 houses. Building spread after the Second World War. Greenbrook Avenue was laid out in 1948 and Covert Way in 1958; Duchy and Kingwell roads were laid out in 1954-5 and Broadgates Avenue was built in 1957. (fn. 113)
The loss of the rural character of the former Chase was predicted in 1911, on the building of the G.N.R.'s Hertford extension, (fn. 114) and again in 1934, after the Piccadilly line reached Cockfosters. (fn. 115) Such fears proved unfounded, largely because of the absence of fast roads and Underground railways from most of the hilly western half of the parish. Suburban building in the former Chase during the 1930s was limited to its southern fringe, to Hadley Wood, and a small estate of 102 houses at Crews Hill built after 1931, (fn. 116) while elsewhere farm-land survived. Moreover large areas were acquired as golf courses after the First World War, including those at Crews Hill, bought from Trinity College, Cambridge, after 1915, and others at Bush Hill Park and on the Old Park estate. Crews Hill course, with the Trent Park and Beech Hill estates and a large tract of farm-land south-west of the Ridgeway, by 1934 had been included in a North Middlesex 'green girdle' proposed by the county council. (fn. 117) Later they became part of the wider Green Belt, with other portions of the former Chase, and in 1937 Middlesex also bought the bulk of the duchy of Lancaster's estates in the parish, covering 2,000 a., to add to the Belt. (fn. 118) Other rural areas, notably the White Webbs and Forty Hall estates, were acquired by the U.D.C. as parks after the Second World War, as was Trent Park.
Growth since the Second World War, restricted by Green Belt legislation, has largely been confined to rebuilding by the council and infilling by private firms. Private builders were particularly active on former nursery-land in the east part of the parish, near Enfield Wash and Ponders End. Prefabricated bungalows were built west of Bull's Cross by the U.D.C. after 1945 (fn. 119) and later replaced by permanent houses, forming a large estate on both sides of Great Cambridge Road, with a small shopping centre in Kempe Road. Another council estate was built east of Hertford Road at Enfield Highway, around Addison Road, in the 1950s and a later one was built north of Hoe Lane, around Meyer Gardens and Pentrich Avenue. Tower-blocks of flats were erected by Enfield L.B. in the late 1960s on the sites of older terraces west of Ponders End station, at the corner of Hertford and Ordnance roads, in Holbrook Close off Goat Lane, and at the western end of Bell Lane, Enfield Highway. Another large estate of flats was built on the Hundred Acres, a piece of land belonging to the parish in Lavender Hill, in the late 1960s. (fn. 120) Another council estate, at Bush Hill Park, was begun after the demolition of Fifth, Sixth, and Seventh avenues in 1974, and many expensive private flats replaced older houses along the Ridgeway. (fn. 121)
The sky-line of Enfield Town was greatly changed by the construction of Tower Point, an elevenstoreyed office block covering most of the eastern side of Sydney Road, in the late 1960s and by a tower which was being added to the new civic centre in Silver Street in 1974. Despite such changes and heavy traffic along Church Street, the centre of Enfield retains a remarkable number of old buildings, walled gardens, and leafy walks. Beyond the church and grammar school on the north side of the market-place playing fields, bordered by the New River, form an open space in the heart of the town. From the cross-roads a few yards east of the market-place Silver Street leads northward past a few dignified houses, including the Vicarage amid ancient trees, while Southbury Road heads eastward beside gardens along the New River. At the western end of the main shopping area Church Street crosses the New River by the foot of Windmill Hill. South of the bridge the river separates Town park from Bush Hill Park golf course, a green tract stretching to Bush Hill on the old Edmonton boundary. North of the bridge it passes between Gentleman's Row and Chase Green gardens, where houses, cottages, and foot-paths recall Enfield as it was in the late 18th and early 19th centuries.
The population of the parish rose from 9,453 in 1851 to 12,424 in 1861, 16,054 in 1871, and 19,104 in 1881, and then more rapidly to 31,803 in 1891, 42,738 in 1901, and 56,338 in 1911. It had reached 60,738 in 1921, 67,874 in 1931, and a peak of 110,465 in 1951, but was only 109,542 in 1961. (fn. 122)