Pages 309-313
A History of the County of Middlesex: Volume 5, Hendon, Kingsbury, Great Stanmore, Little Stanmore, Edmonton Enfield, Monken Hadley, South Mimms, Tottenham. Originally published by Victoria County History, London, 1976.
This free content was digitised by double rekeying. All rights reserved.
Communications.
From medieval times the parish has been crossed by main thoroughfares from London, themselves connected by roads leading from the high ground in the west towards the Lea. (fn. 1) Ermine Street, from London to Lincoln, skirted the Lea valley, although early local historians followed Camden in believing that the Romans had branched off at Kingsland and taken a more westerly route along Green Lanes; according to that view, it was not until John's reign that the men of Ware (Herts.) diverted the road to lower ground, on a course parallel to the Lea. (fn. 2) It was later established that Ermine Street for the most part kept to the line of High Road northward from Stamford Hill as far as Bruce Grove; thence the Roman route headed due north close to the line of Pembury Road and across the Moselle to Snells Park (Edmonton), while the later High Road diverged slightly eastward, to avoid flooding, before rejoining the old route at Snells Park.
Much of the modern road pattern had been established by 1619. (fn. 3) High Road ran northward in the east and Green Lanes, dividing at the later junction of Wood Green High Road and Bounds Green Road, in the west; between them routes corresponding to the later White Hart and Lordship lanes and West Green and St. Ann's roads crossed the middle of the parish. The western part of White Hart Lane was then called Apeland Street as far as the parsonage house, whence a lane later marked by Devonshire Hill Lane led to the Edmonton border at Clay Hill. Most of Lordship Lane, from Chapmans Green to High Road, was called Berry Lane, although its modern name was recorded in 1526. (fn. 4) West Green Road had no name between Ducketts Common and West Green, whence it continued to High Road as Blackhope or Blackup Lane, with Philip or High Cross Lane as a north-easterly branch. St. Ann's Road was marked by Chisley Lane, called Hanger Lane from the 18th century. Wolves Lane, recorded in 1397, (fn. 5) headed north across the boundary from Apeland Street, a lane (later Snakes Lane) linked Apeland Street with Berry Lane at Chapmans Green, and a forerunner of Black Boy Lane linked West Green with Hanger Lane. Eastward from High Road branched Marsh (later Park) Lane, recorded in 1467, High Cross Lane, leading to the Hale, and Broad Lane. (fn. 6) From the Hale one lane headed north-east into the marshes and another, slightly south of the modern Ferry Lane, led to Tottenham mills. There was also a way from Broad Lane to the Lea, along the line of Markfield Road.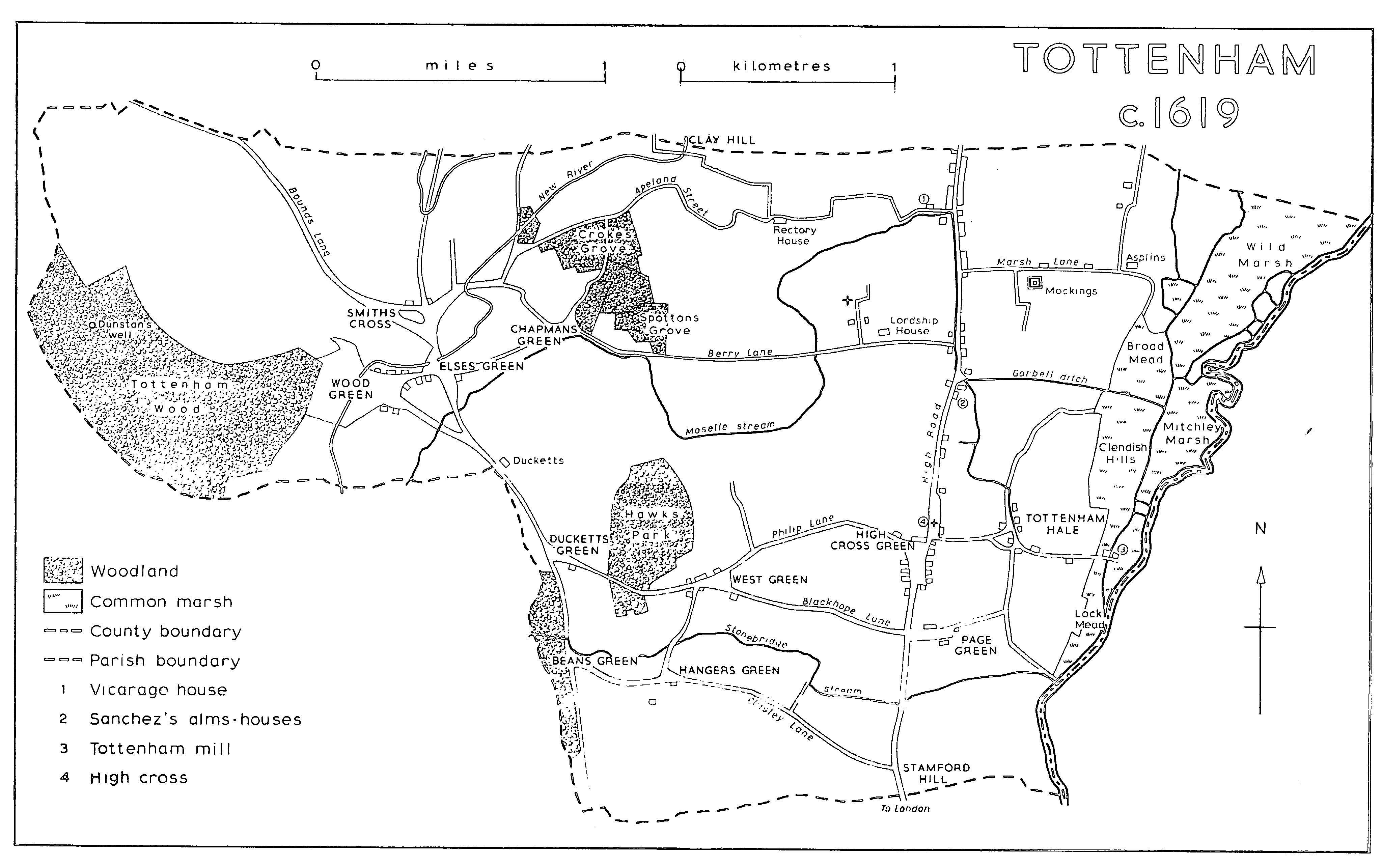 The network of roads changed little in the next 200 years, save around Bruce Castle and the neighbouring stretch of High Road. Church Lane, which had merely connected Lordship Lane with the parish church in 1619, was extended north and east, as Church Road, to meet High Road in 1810 and was crossed at right angles by Love Lane in 1818, (fn. 7) while Bruce Grove had been constructed north-west from High Road to the entrance to Bruce Castle in the 1790s. (fn. 8) High Road itself was said to be part of the worst road near London in 1713, when it was placed under the new Stamford Hill turnpike trust. (fn. 9) A toll-house was built on Stamford Hill and was still used for meetings of the trustees after a new gate had been erected to the north, in order to prevent traffic from evading payment by using Hanger Lane. (fn. 10) The trustees, as they had been empowered to do in 1713, also set up a subsidiary gate where Hornsey (later Turnpike) Lane joined Green Lanes, although they did not become responsible for maintaining Green Lanes until 1789. The commissioners for the metropolitan turnpike roads superseded the trustees in 1826. (fn. 11)
Seven Sisters Road, to improve access from Islington and so from the west end of London, was driven north-eastward across open country to reach Tottenham High Road in 1833. (fn. 12) Thereafter, for nearly a century, roads were built as a result of the spread of housing rather than to ease the flow of traffic. Northumberland Park in the 1860s was the forerunner of scores of residential avenues, to which were later added roads serving local factories. It was not until the 1920s that a major north-south route was driven through the centre of the parish. Lordship Lane was then linked with West Green and Belmont roads by Downhills Way and with White Hart Lane by Roundway. From Roundway, Great Cambridge Road headed north across Edmonton. (fn. 13)
In 1619 High Road crossed the Moselle by Lordship bridge, where the stream turned eastward as Garbell ditch. It also crossed Stonebridge stream at the foot of Stamford Hill by Mark or Stone bridge, (fn. 14) presumably the bridge in the king's highway which had been ruinous in 1555. (fn. 15) William Bedwell stated that both bridges were of stone and that the only similar one was Blackup bridge at Page Green. (fn. 16) In 1826 Lordship bridge comprised a single-arched culvert of brick, close to a dam with flood-gates which the turnpike trustees had built. At that time High Road also crossed a single-arched brick bridge to the north, opposite Marsh Lane, which was maintained by the parish. (fn. 17) Stone bridge, enlarged by the metropolitan roads commissioners, was described as the only proper bridge bearing High Road in 1840, the others being mere sewers or culverts. (fn. 18) It gave its name to the 19th-century Stonebridge House, which by the 1890s had given way to Stonebridge Road. (fn. 19)
A bridge in Berry (later Lordship) Lane was held to be the joint responsibility of the lords of the four Tottenham manors in 1397. (fn. 20) In 1619 the Moselle was bridged where it passed under Lordship Lane, west of the church, and under Green Lanes near Wood Green; there was also at least one bridge over the New River at Wood Green and one carrying Black Boy Lane over Stonebridge stream in the south. By the early 19th century there were six bridges over the meandering New River, all of them maintained by the New River Co. Tottenham mills were reached by a bridge over the mill stream in 1619, when King's bridge, beyond them, led across the old Lea to Walthamstow. East, West, and Centre bridges were built there after the digging of the Lea Navigation cut; in 1826 tolls were collected at the eastern and western bridges, which, like the central one, were maintained by the proprietors. (fn. 21) Presumably there was also a ferry in the mid 19th century, giving rise to the Ferry Boat inn and the name Ferry Lane. (fn. 22) Under an Act of 1869 tolls at the mills were abolished and the roads made public. (fn. 23) In 1915 the bridges were replaced by a new one, leading eastward to Forest Road, Walthamstow. (fn. 24)
Several bridges crossed the ditches which intersected the marsh-land. In 1619 one bridge led from Broad mead to Wild marsh and another to Clendish Hills, while a third linked Clendish Hills with Mitchley marsh. (fn. 25) The first was of stone, which had needed repair in 1523, and was still so marked in Bedwell's time, although not singled out by him. Mitchley bridge, recorded from 1519, was of timber; every freeholder and copyholder had to pay towards its upkeep in 1572, when the lord was to supply materials. (fn. 26)
Tottenham High Road afforded relatively good communications with London. Coaches started from the Swan, the Red Lion, the Ship, and other inns throughout the day in 1832-4 (fn. 27) and omnibuses both to the City and to Oxford Street had been licensed by 1839. (fn. 28) The first railway, reaching London by a circuitous route that was twice as long as the road journey, offered little competition to the coaches, (fn. 29) which left every 15 minutes in 1845. (fn. 30) When later on railways became the main passenger carriers, omnibuses connected the stations with various points along High Road. In 1860 there was a service from Park station to the junction of Northumberland Park with High Road and thence to the Angel, Edmonton, (fn. 31) and in 1871 omnibuses began to ply to the Angel from the new South Tottenham station. (fn. 32)
A single tram-line from Stamford Hill to Edmonton, with 8 passing places in Tottenham, was opened by the North London Tramways Co. in 1881. (fn. 33) A south-westerly extension along Seven Sisters Road and through Manor House to join the North Metropolitan at Finsbury Park was added in 1885 and followed by a branch from Manor House to Wood Green two years later. (fn. 34) Merryweather steam trams, unpopular for their dirt and noise, (fn. 35) were introduced by the North London Co. under a seven-year licence in 1885; they were also ordered for the Wood Green line, (fn. 36) running every ten minutes from Wood Green High Road to Finsbury Park station. (fn. 37) In 1891 control passed to the North Metropolitan Co., which reverted to horse-power (fn. 38) and in 1892 laid double lines along Tottenham High Road. (fn. 39)
The Metropolitan Electric Tramways Co. introduced a service from Finsbury Park to the corner of Seven Sisters and High roads in 1904; electric trams were taken along High Road to Lordship Lane later in the same year and connected Stamford Hill with Silver Street, Edmonton, in 1905. (fn. 40) Wood Green became the northern terminus of one of the company's radial routes, through Finsbury Park, (fn. 41) when a depot at Jolly Butchers Hill was opened in 1904, on a site previously leased to the North London Tramways Co. (fn. 42) M.E.T. trams linked Wood Green with Bruce Grove, Tottenham, from 1904, Hornsey and Alexandra Park from 1905, and Bounds Green from 1906, before the route from Finsbury Park was extended towards Enfield. They also ran between Tottenham Hale and Walthamstow from 1906. (fn. 43)
Trolley-buses arrived in 1936, passing through Tottenham Hale to link Walthamstow with the Underground railway at Manor House station. Many trams, including those running along High Road from Stamford Hill to Enfield, were replaced by trolley-buses in 1938, (fn. 44) when the depot at Wood Green was converted. (fn. 45) Tottenham garage, near the High Cross, was opened in 1913 to hold motor-buses of the Tramways (M.E.T.) Omnibus Co., a subsidiary of Metropolitan Electric Tramways, which itself was associated with the London General Omnibus Co. (fn. 46) Between 1911 and 1914 motor-bus services were introduced to link both Tottenham and Wood Green with the west end and southern suburbs of London. (fn. 47) Trolley-buses were superseded by six new motor-bus routes in 1961, (fn. 48) when the Wood Green garage was again converted. (fn. 49)
In 1840 the Northern and Eastern Railway Co. opened its line from Stratford (Essex) to Broxbourne (Herts.), (fn. 50) running through the east of the parish with a station called Tottenham (later Tottenham Hale) and, from 1842, another called Marsh Lane (later Park, later Northumberland Park). Trains were allowed to run beyond Stratford to the Bishopsgate terminus of the Eastern Counties Railway Co., which leased the whole line from 1844 and itself became part of the Great Eastern Co. in 1862, although the Northern and Eastern Co. retained its separate identity for another 40 years. The line was not well situated for residents, being nearer the river than High Road and providing an expensive journey to the City. Tottenham station, in open country north of Ferry Lane, was used by Queen Victoria and Prince Albert when they visited Cambridge in state in 1847. Before the building of the Tottenham and Hampstead Junction Railway a large cattle-dock adjoined Tottenham station, where livestock was taken off the trains and herded over High Road towards the Metropolitan Cattle Market at Holloway.
The Tottenham and Hampstead Junction Railway, authorized in 1862, opened in 1868. It was linked to the G.E.R. line by North Junction, and later also by South and West junctions, south of Tottenham station, and crossed the south of the parish towards Crouch Hill. Although destined to be an important link between the systems of the L.N.E.R. and the L.M.S.R., the line at first served no stations within Tottenham itself. South Tottenham station, at the foot of Stamford Hill, was opened in 1871, Harringay Park (later Harringay Stadium) in 1880, and St. Ann's Road, between the two, in 1882. The line was taken over by the Tottenham and Hampstead Joint Committee, representing the Midland and the Great Eastern companies, in 1902.
In 1872 a better London service was provided by the opening of the Great Eastern's line from Bethnal Green to Edmonton, which soon ran from a new terminus at Liverpool Street. The line was raised to cross the Tottenham and Hampstead railway at right-angles and passed through three new stations close to High Road: Seven Sisters, Bruce Grove, and White Hart Lane.
Meanwhile, in the north-west, the Great Northern Railway had opened its line from Maiden Lane (afterwards from King's Cross) to Hatfield in 1850 and provided a station at Wood Green in 1859. (fn. 51) A branch line from Wood Green through Southgate to Enfield was opened in 1871, with a station near the boundary at Bowes Park in 1880. (fn. 52) Another G.N.R. branch, from the Finsbury Park to High Barnet line through Hornsey, was opened between Highgate and Alexandra Palace in 1873. That part of the line which crossed Alexandra Park was paid for by the owners of the palace and was not acquired by the G.N.R. until 1911. (fn. 53)
A direct rail link between east and west was achieved only in 1878, when the G.E.R. opened a line from South Tottenham to Palace Gates, a little north-west of Wood Green station. Intermediate stations, also opened in 1878, were at West Green and at Green Lanes (renamed Green Lanes and Noel Park in 1884, Noel Park and Wood Green in 1902). Palace Gates was linked to Bowes Park, on the Enfield line, in 1930.
The railway companies opened no new stations after 1882, although from 1894 the Tottenham and Forest Gate line led from South Tottenham across the Lea to south-east Essex. In 1945 South Tottenham had an exceptionally long goods yard, mainly for coal, and there were other goods yards at Tottenham Hale, White Hart Lane, and West Green; extensive marshalling yards stretched from Northumberland Park almost half way to Tottenham Hale and rolling stock was kept at Palace Gates. All the 19th-century stations remained open save St. Ann's Road, which was closed in 1942. The Alexandra Palace line survived until 1954 (fn. 54) and the Palace Gates line until 1963. (fn. 55)
Underground stations at Turnpike Lane, Wood Green, and Bounds Green, designed in an advanced style by Charles Holden, (fn. 56) were opened by the London Electric Railway on an extension of the Piccadilly line in 1932. The line reached Cockfosters in 1933, when it was taken over by the London Passenger Transport Board. (fn. 57) Tottenham itself remained without an underground service until the opening in 1968 of the first section of the London Transport Board's Victoria line, from Walthamstow to Highbury and Islington, with stations at Seven Sisters and Tottenham Hale. (fn. 58)