Pages 80-82
A History of the County of Middlesex: Volume 5, Hendon, Kingsbury, Great Stanmore, Little Stanmore, Edmonton Enfield, Monken Hadley, South Mimms, Tottenham. Originally published by Victoria County History, London, 1976.
This free content was digitised by double rekeying. All rights reserved.
LOCAL GOVERNMENT.
Most land in Kingsbury was held from Edgware manor, and its holders owed suit at the court held at the George inn, Edgware. (fn. 1) Courts, view of frankpledge, assizes of bread and ale, infangthief, and outfangthief were part of the appurtenances of Kingsbury manor by 1325. (fn. 2) There are court rolls from 1339 to 1486, with gaps. (fn. 3)
Freeholders and copyholders owed suit at Kingsbury manor court twice a year. (fn. 4) A view of frankpledge and court leet were usually held at the beginning of May, often followed by a second court in November. More rarely other courts were held, as in 1349-50, when, presumably because of the Black Death, courts in December and March dealt with the exceptional number of presentments of deaths and the subsequent transfers of land. (fn. 5) After Kingsbury and Edgware manors were united in the possession of All Souls College, confusion between the two grew until separate courts for Kingsbury lapsed altogether. After the last recorded view of frankpledge in 1470, (fn. 6) annual courts were held in May until 1486. (fn. 7) Homagers were not recorded in the early court rolls but there was normally a jury of 13 in the 1420s, (fn. 8) although the number had dwindled to 3 by 1486. (fn. 9) There were probably about 20 suitors in the 15th century but they had been reduced by amalgamation and escheat to 15 in 1521. (fn. 10)
Richard, the reeve of Kingsbury mentioned c. 1274, (fn. 11) may have belonged to Edgware manor. The homage elected the reeve of Kingsbury manor at the May view and in 1350 the lord chose him from two people elected by the homage. (fn. 12) There was a reeve of the meadow in the 1420s and 1430s and a beadle from the 1460s. (fn. 13) Headboroughs and aletasters, first mentioned in 1339, (fn. 14) were usually elected at the view. There were four headboroughs in 1428. (fn. 15)
Throughout the period 1339-1486 Kingsbury manor court was mainly concerned with land transactions, and with trespass, strays, and obstruction, for which last offence the lord himself was fined in 1428 and 1434. (fn. 16) Breaking the assize of ale was common in the 14th century but only one instance, in 1468, was recorded during the 15th century. (fn. 17) There are only two recorded cases of the hue having been raised, in 1350 and 1379, (fn. 18) and two involving fighting, in 1350 and 1435. (fn. 19) Failure to perform customary works was a feature of the 14th century (fn. 20) and in 1393 tenants of Edgware manor, including John Chalkhill, were refusing suit of court. (fn. 21)
There are two extant court rolls of Freren manor, for 1510-12, (fn. 22) dealing almost entirely with encroachments and the destruction of wood, although the second roll refers to a view of frankpledge. There was a jury of four at one court and of five at the other. A court was apparently still held by the lords of Freren in 1622 but it lapsed soon afterwards. (fn. 23) There may have been a court on Geoffrey le Scrope's estate in 1325 (fn. 24) but there is no evidence of a court on Coffers manor.
Officials continued to be elected at the court of Edgware manor until 1914. (fn. 25) Two constables were elected for Kingsbury in 1543 (fn. 26) but thereafter there was only one. The election of a headborough is not recorded from 1780 to 1831. (fn. 27) Women were elected as a beadle in 1466, (fn. 28) as a reeve in 1543, (fn. 29) and as a constable in 1726. (fn. 30)
In the absence of records very little is known of early parish government. (fn. 31) The vestry minutes date from 1802, (fn. 32) and there is a book of examinations of paupers for settlement certificates from 1822 until 1826. (fn. 33) Accounts were drawn up by the churchwardens and surveyors of the highway but the parish chest was kept in private houses and many records have been lost. The vestry met monthly in the church or at one of the inns, usually the Plough and sometimes the Upper King's Arms. Meetings were attended by between four and eleven people, presided over by the curate until 1820 when a chairman was elected. A salaried vestry clerk was appointed in 1802.
There were normally two churchwardens from the late 15th century, (fn. 34) although in 1802 there was only one. From 1802, and possibly from 1776, (fn. 35) there were two overseers of the poor, usually farmers who held office for several years; there was a surveyor of the highways by 1803. The parish constable and headborough were nominated by the vestry and presumably formally elected at the manor court. As a result of a lawsuit over the constable's expenses in 1804, it was decided that no money except poor-relief was to be paid by parish officers without the approval of five parishioners in vestry. The parish clerk, who received expenses in 1805, enjoyed a salary in 1808 after he had sued the churchwarden for not paying him. A salaried doctor for the poor was appointed in 1805, midwifery and venereal cases being excluded from his duties. In 1832, after the sexton had been dismissed for being drunk on duty, the posts of sexton and parish clerk were combined in one salaried official.
The parish was revalued for rating in 1802 and 1825. The church-rate, which varied between 1½d. and 6d. in the £, was levied for specific purposes, like repairs to the church. The poor-rate, always 6d. in the £, was usually levied once a year. Between 1776 and 1824 it raised between £12 and £174, the proceeds rising to £212 in 1831 and £339 in 1835. Expenditure on poor-relief averaged £171 a year from 1831 to 1834. (fn. 36) Relief in money and kind was given for specific purposes, such as funeral expenses, and the rents of paupers were paid until 1821, when the vestry forbade the practice. Weekly allowances of money and clothing were also made, usually to widows or bastards. Seven persons received regular relief in 1833. From 1822 until 1826 between two and four people were examined for settlement certificates each year, although in 1824 there were as many as 14. (fn. 37)
A poorhouse, inhabited by four widows in 1786, (fn. 38) may have originated in the charity of Robert Kitchingman. (fn. 39) The building, which was at the Hyde, was very dilapidated by 1802 but it was not until 1823 that it was replaced by two small cottages. They were occupied in 1834 by two large families and were sold in 1838 to help pay for the new union workhouse. (fn. 40)
The able-bodied poor could be employed on the roads or in digging gravel. In 1826 a single man was paid 5s., and a man with a wife and child 7s. 6d., with 1s. for each extra child up to 10s. In winter when there was no work the able-bodied received relief. A workhouse was proposed in 1802 but Kingsbury, being small, preferred to rely on workhouses in neighbouring parishes. In 1815 Kingsbury paid for a pauper at Stanmore and later it used the new workhouse which, although called Redhill, was situated in Hendon.
By the Poor Law Amendment Act of 1834, Kingsbury became part of Hendon union. (fn. 41) The parish became part of Edgware highway district under the Highway Act of 1863. (fn. 42) Thereafter roads as well as sanitation became the responsibility of Hendon rural sanitary authority, (fn. 43) of whose district Kingsbury became a part under the Public Health Act of 1872. (fn. 44)
From 1881 the population decreased, leading to a slight fall in the rateable value between 1889 (fn. 45) and 1893. (fn. 46) Poor and backward, the parish was not welcomed by any of its neighbours when urban districts were formed in 1894, especially since sewerage had already caused friction with Hendon. (fn. 47) After Kingsbury became a ward of Wembley U.D., Wembley's 9 councillors resented paying for sewerage schemes for Kingsbury, while Kingsbury's 3 councillors were frustrated through being in a permanent minority. Personal jealousies exacerbated the situation, money was wasted in litigation, and in 1899 the inquirer from Middlesex C.C. considered Wembley U.D.C. 'an object lesson in misgovernment'. (fn. 48)
In 1900 Kingsbury became a separate urban district with 6 councillors, (fn. 49) a clerk who also acted as surveyor, inspector of nuisances and collector of rents, and a medical officer of health. After more turbulence, however, another inquiry was held in 1906, (fn. 50) when the district council was described as having furnished an example of maladministration. The trouble was partly inherent in Kingsbury's situation. As a sparsely populated district the rateable value was insufficient to provide essential services except by high rates, which discouraged people from settling there. More important, however, was the struggle among the councillors, the reds and blues, for control of the chair. The two most notorious members were Dr. Arthur Calcutta White of Kenton Grove Farm and José Diaz, a Spaniard who lived at Fern Dene until his death in 1915. (fn. 51) White, who had been largely responsible for the trouble with Wembley, owned Gore farm and caused offence with his piggeries and rubbish dumps in Honeypot Lane. Attempted improvements by the medical officer of health or the inspector of nuisances were blocked by White, who in 1904 responded to a summons by dismissing the clerk. Diaz, after his enforced resignation from the chair as an alien in 1904, continued to instruct his faction from the floor. Government collapsed altogether in 1906, when minutes were rescinded, a rate was cancelled, and bills were left unpaid. Ratepayers petitioned for an inquiry, as a result of which the number of councillors was increased to nine. A works and finance committee and an outdoor committee were formed and salaried officials, a medical officer of health, a sanitary inspector, a clerk, and one man to serve as surveyor, assistant clerk and rate-collector, were appointed. (fn. 52) Diaz, now naturalized, was elected chairman, however, and in 1909 White began to interrupt meetings, which became so stormy that the police were called. (fn. 53) Two opponents of both Diaz and White ceased to attend in 1910 and Diaz retained control until his death in 1915.
Diaz's death coincided with the building of factories and the beginning of Kingsbury's longawaited development, which increased the rateable value eightfold between 1922 and 1933. (fn. 54) By 1926 the council had committees for allotments, highways and works, finance, housing, and special amalgamation. (fn. 55) It employed a clerk, a medical officer, a ratecollector and a joint engineer, surveyor and sanitary inspector. (fn. 56) The offices were at Kingsbury Green. (fn. 57)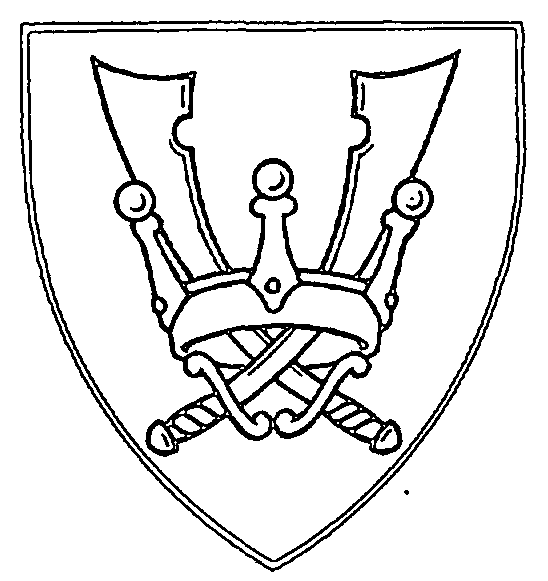 In 1934 Kingsbury was amalgamated with Wembley in a new Wembley U.D., which was incorporated in 1937. It was divided into wards, of which four, Roe Green, Fryent, Chalkhill, and Hyde, were formed out of old Kingsbury parish. In 1965, under the London Government Act, 1963, Wembley joined with Willesden in the London Borough of Brent. Three of Brent's 26 wards, Kingsbury, Queensbury, and Chalkhill, were formed from Kingsbury parish. In 1968, however, the new wards of Kingsbury, Queensbury, Roe Green, and Fryent were created, which completely ignored former parish boundaries. (fn. 58)