Pages 38-55
A History of the County of Middlesex: Volume 6, Friern Barnet, Finchley, Hornsey With Highgate. Originally published by Victoria County History, London, 1980.
This free content was digitised by double rekeying. All rights reserved.
FINCHLEY
Finchley, (fn. 1) whose shape has been compared to a leg of mutton (fn. 2) with its narrow end to the north at Whetstone, lay between Hertfordshire on the north and north-west, Hendon on the west, Hendon and Hampstead on the south, and Hornsey and Friern Barnet on the east. It contained 3,384 a. in 1871 and 3,475 a. from 1933, when boundary changes accompanying the creation of Finchley M.B. transferred 29 a. to Friern Barnet U.D., 9 a. to Hendon M.B., and 37 a. to Hornsey M.B. but added 18 a., 107 a., and 41 a. from those administrative areas respectively. (fn. 3) The boundary with Hertfordshire was narrow and remained fixed. Until 1933 the western boundary followed Dollis brook to its junction with Mutton brook, which formed the south-west boundary from the point where it left the bishop of London's demesne lands. Elsewhere field boundaries delimited the parish. (fn. 4) The southern boundary through the bishop's demesne lands in Finchley and Hornsey was fixed by 1738 (fn. 5) but the eastern one was not finally settled until the inclosure of Finchley common in 1816. The road which came to be known as the Great North Road, bisecting the parish, passes the 6-, 7-, and 8-mile stones from London in its course through Finchley. The civil parish corresponded to Finchley U.D., created in 1895, and, after the boundary changes mentioned above, to Finchley M.B. in 1933. In 1965 it became part of Barnet L.B. (fn. 6)
Most of the area is covered by glacial deposits: boulder clay fringed by glacial gravel overlying London Clay, which has been exposed by the action of streams. There is a narrow band of alluvium along Dollis brook. At the southern end of the parish are Claygate Beds, Bagshot Sands, and a little pebble gravel at the Spaniards inn. (fn. 7) The resulting soil is a strong marly clay or gravel. (fn. 8) In 1871 Finchley became briefly remarkable when excavations for the railway at Church End revealed glacial fossil shells in the boulder clay. (fn. 9) Most of the land over 200 ft. corresponds with the boulder clay. At Whetstone, at East End, and in the south part the land rises to over 300 ft., reaching 401 ft. at the Spaniards inn on the edge of Hampstead Heath. (fn. 10)
The parish lies on a watershed separating Dollis or Brent brook (called Tateburn between 1216 and 1272) (fn. 11) and its tributaries on the west from the eastward-flowing tributaries of Pymme's brook, of which the most important was Strawberry Vale brook. Mutton brook flows westward from its source in Dirthouse (Cherry Tree) wood to join Dollis brook at the south-western corner of the parish, many southward-flowing tributaries joining it from the glacial gravel south of East End Road. (fn. 12)
Finchley, probably denoting Finch's clearing, is a late Anglo-Saxon name but was recorded only from the early 13th century. (fn. 13) The common along the parish's eastern side was a remnant of the woodland which once covered most of northern Middlesex and southern Hertfordshire; (fn. 14) known as Finchley wood until the 17th century (fn. 15) and later notorious for its highwaymen, it still contained more than a quarter of the parish in 1816. (fn. 16) The earliest settlement was probably in the south-west quarter of the parish at Church End, where people were living by the 13th century. East End and Parkgate, mentioned respectively in 1365 and 1375, (fn. 17) together formed a scattered hamlet where the later East End Road met the Great North Road at the exit from Hornsey park. The Great North Road also accounted for the growth in the north part of the parish of Whetstone, called 'le Weston' in 1398, 'Wheston' in 1417, and 'Whetestonestret' in 1439. (fn. 18) Its name, too early to have been connected with a large whetstone allegedly used before the battle of Barnet, (fn. 19) probably meant western settlement, in relation to Friern Barnet. North End, first recorded in 1462 to distinguish one of the many branches of the Shepherd family, (fn. 20) was another hamlet on the edge of the common, lying north in relation to Church End and East End.
Whetstone and North End together were more populous than Church End in the 17th century, as was East End. Whetstone, however, existed largely to serve travellers and had few wealthy residents either then or in the 18th and early 19th centuries. Most building took place around the old centres until transport began to improve with the coming of the railway in 1867, whereupon North End was transformed into the suburb of North Finchley. By 1920 Church End had been joined to both North End and East End by building, although the eastern edge of the parish was largely kept open by the establishment of cemeteries. The southern part was built up mainly after the First World War, forming an extension of Hampstead Garden Suburb and a wealthy area, cut off from the rest of Finchley by the North Circular Road. West Finchley dated only from the 1930s, when elsewhere in the parish large houses were giving way to smaller ones and flats, and when offices began to be opened in Whetstone.
Most of Finchley's distinguished residents are named elsewhere in the article. (fn. 21) Natives included Vice-Admiral Sir William Johnstone Hope (1766- 1831), the judge Sir William Shee (1804-68), the opera director Frederick Gye (1810-78), Sir John Bridge (1824-1900), police magistrate, Osbert Salvin (1835-98), naturalist and son of the architect Anthony Salvin, Philip Stanhope Worsley (1835-66), poet, and Oliver Madox Brown (1855-74), author and painter. Those buried in Finchley included Tom Payne (d. 1799), bookseller, John Cartwright (d. 1824), political reformer, (fn. 22) James Thomson (d. 1883), architect, and Mathilde Blind (d. 1896), poet. Rudolph Ackermann (d. 1834), the bookand print-seller, lived at Brownswell and William Bernard Tegetmeier (d. 1912), the natural historian, lived for a time in North Finchley. (fn. 23)
COMMUNICATIONS.
The road from London which came to be known as the Great North Road played an important part in Finchley's history. Norden's belief that the ancient highway to Barnet followed the line of Friern Barnet Lane (fn. 24) was perhaps correct, since Finchley wood originally presented a barrier to travellers and Finchley's earliest settlement was not on the line of the later Great North Road.
The change probably took place during the late 13th century or the 14th. (fn. 25) The hamlet of East End grew up during the 14th century at the exit of the road from Hornsey park but it is uncertain whether the route then passed directly northward across the common, as it did by Norden's time, or whether it followed East End Road through Church End and along Ballards Lane to Whetstone. Pavage was granted to the townsmen of Barnet in 1347 on the road from St. Albans to Finchley wood (fn. 26) and to two Highgate men in 1354 for the road from Highgate to the two crosses at Finchley, extended in 1359 to St. Albans. (fn. 27) The highway from Barnet to the two crosses was mentioned in 1374 and a watercourse at the two crosses was obstructed in 1385. (fn. 28) There were several crosses in Finchley: one next to the church, (fn. 29) another near Bibbesworth on East End Road, (fn. 30) the fair cross at Ballards Reding, (fn. 31) and probably one at Whetstone. (fn. 32) The southern portion of the road, from Hornsey park to East End, was called Newgate Lane by 1395 (fn. 33) and the northernmost was Whetstone Street by 1439. (fn. 34) The intermediate stretch across the common was usually known as the Barnet Road and later as the Great North Road or High Road, its course probably following the highest and best-drained land.
Two routes from the south ran to Church End: Hendon Lane in the south-west, called Finchley Hill in 1659 and 1814 (fn. 35) and probably identical with the medieval Alcockes Lane, (fn. 36) and Ducksetters Street or Lane, mentioned from 1475, (fn. 37) which ran from Golders Green a little west of the modern Regent's Park Road. The two roads joined just south of Church End, where in 1365 the road was called Church Street. (fn. 38) The road continued north to Finchley common as Ballards or Barrow Lane, so named in 1424, (fn. 39) probably from the Ballard family of c. 1300. (fn. 40) It was probably 'le Overstreet', so named in 1365 presumably because it ran parallel with Nether Street, to the west. Both streets were described in 1365 as the 'two old streets'. (fn. 41) In 1756 a raised way was built from the last house in Ballards Lane to the Great North Road at North End. (fn. 42) Nether Street, so called in 1365 and 'le lower street' in 1622, was an access road to houses and fields, (fn. 43) linked at both ends to Ballards Lane. Coles or Boles Lane, mentioned in 1393 and 1476, (fn. 44) may have been the southern link. (fn. 45) About 1867 the northern section was named Mosshall Lane. (fn. 46)
East End Road, linking East End and the southern section of the Great North Road with Church End, was the main east-west road. Although apparently not so named until the late 19th century, (fn. 47) it probably dated from the 14th-century growth of East End. Hunts Green, mid-way along the road, was mentioned in 1437 (fn. 48) and Piryton Lane, named in 1423 and 1485, may have been the western section of the road near Church End. (fn. 49) Long Lane, named in 1719, ran from Ballards Lane to Bulls Lane at East End (fn. 50) and was probably the medieval Ferrours Lane. (fn. 51) The eastern section was called Broad Lane in 1814. (fn. 52) A short lane led from Bibbesworth manor-house to the church by 1657 and was called the Avenue by 1897. (fn. 53) Several roads linked Long Lane with East End Road. The most westerly was Squires, formerly Place, Lane, which ran north from Bibbesworth manor-house and continued across Long Lane to the common and eventually to the Great North Road. (fn. 54) Its northern section, Short Lane in 1657 and c. 1867, (fn. 55) was probably the Heybourne Lane mentioned in the 1380s. (fn. 56) Green alias Philips Lane joined the central portion of East End Road to Long Lane. (fn. 57) Bulls Lane, which after the building of Holy Trinity church in 1846 was called Church Lane, ran from the eastern section of East End Road across Long Lane to the common and the Great North Road. (fn. 58)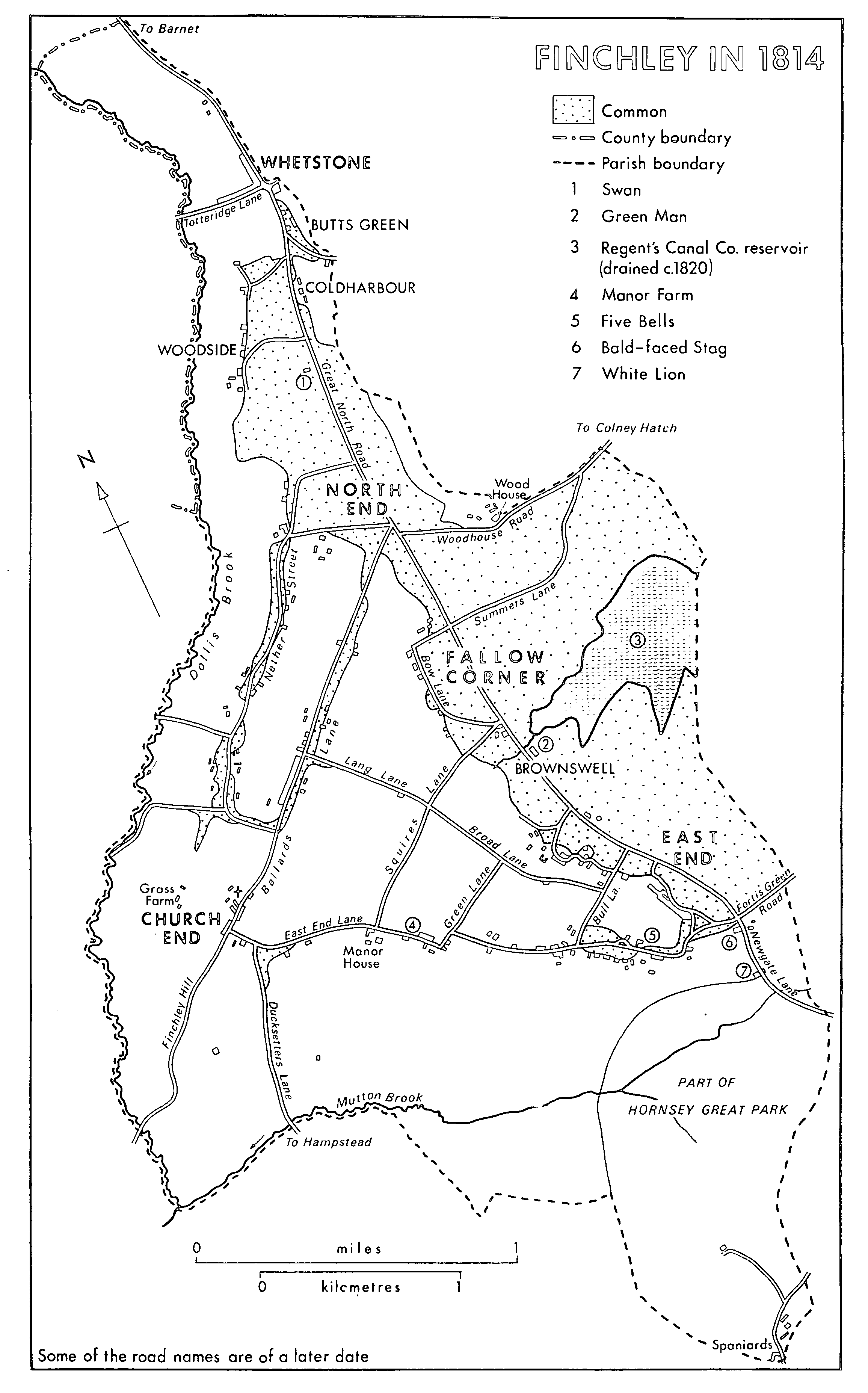 Friern Barnet Lane entered Whetstone at Butts Green and was still important in 1814. (fn. 59) An east- west route across the northern part of Whetstone existed by the early 18th century, the portion from Totteridge (Herts.) to Whetstone being called Totteridge Lane by 1651 and occasionally Brick Lane in the early 19th century. (fn. 60) It continued eastward across Friern Barnet along the line of the modern Oakleigh Road (fn. 61) to Betstile, where it was joined by another road running east from the Great North Road near Tally Ho Corner across the northern boundary of Finchley common, called Woodhouse Road by 1897. (fn. 62) Just west of Colney Hatch the later Woodhouse Road by 1754 was joined by Summers Lane, a more southerly route across the common from the Great North Road. (fn. 63) In 1814 the two roads were called North and South Colney Hatch Road respectively. (fn. 64) The only other easterly road from the parish, called Park Gate in 1754, (fn. 65) Muswell Hill Road in 1814, and Fortis Green Road by 1920, ran from the Newgate Lane stretch of the Great North Road by High Redings into Hornsey. (fn. 66)
In the west part of Finchley, Dollis Road or Lane joined the southern part of Nether Street with Hendon by 1488, although its name did not occur until much later. (fn. 67) A little to the north Love or Lovers Walk, mentioned in 1800, led to Hendon from Nether Street but was probably always a minor lane or path. (fn. 68)
In the south part of Finchley there were two lanes in 1754: Hampstead Lane, which crossed the southern tip of the parish on its way from Highgate to Hampstead, and George Lane, which ran north from Hampstead Lane to Spaniards Farm and thence, by field paths, to East End Road. (fn. 69)
Minor roads grew up along the edge of the common. Bow Lane, named from its shape, existed at Fallow Corner south of East End by 1814. (fn. 70) Farther south there was a settlement at Cuckolds Haven by 1678, linked by causeways before 1814, (fn. 71) the respective roads being named Red Lion Hill by 1821, Oak Lane by c. 1867, and King Street by 1920. (fn. 72) Farther south the Hogmarket developed into Market Place, so named by 1897, and Park Road, named by 1920, (fn. 73) while Prospect Place was built in 1825 to link the settlement with East End Road. (fn. 74) In Whetstone similarly, Swan, Woodside, and Lodge lanes all existed along the edge of the common by 1780. A footpath then led from Woodside Lane to Totteridge and a church path joined Whetstone to the northern part of Nether Street. (fn. 75) Unidentified roads included Smiths Lane or Way (1422), (fn. 76) Tromer Street (1424 and 1484), (fn. 77) Merelfield Street (1429), (fn. 78) Woodsend Lane (1436), (fn. 79) Procession Lane (1452), (fn. 80) Croftlethe Street (1457), (fn. 81) Cowperes Lane (1463), (fn. 82) and Bush Lane (1484). (fn. 83)
The road from St. Marylebone to the Great North Road was turnpiked under an Act of 1825, (fn. 84) Ducksetters Lane being replaced by a new road, Regent's Park Road, to the east and Ballards Lane being extended to a new junction with the Great North Road. The Finchley vestry had tried to resist the imposition of tolls, at least on existing roads, citing King John's charter. (fn. 85) In 1845 parishioners complained that for nearly 20 years they had been oppressed by tolls which were perhaps the heaviest near London. In 1847 the commissioners for the metropolitan turnpike roads intended taking over the St. Marylebone and Finchley turnpike road. (fn. 86) A vestry committee wished to abolish the tolls in 1851 (fn. 87) but Highgate and Whetstone turnpike trust was not ended until 1862. Toll-gates survived at Whetstone until 1863 and by the White Lion in East End until 1901. (fn. 88)
The road pattern survived the spread of 19thand 20th-century housing, the only major new route being the North Circular Road, driven south-westward across the widest part of the parish in the 1920s. (fn. 89)
In 1826 (fn. 90) there were three bridges or fords over Dollis brook and three culverts where tributaries of Pymmes brook crossed the Great North Road. Dollis brook was bridged by Hendon Lane at Finchley or Brent bridge, mentioned in 1438 and in disrepair in 1623. (fn. 91) A three-arched brick bridge, 16 ft. high and 13 ft. wide, was built in 1777 by Mrs. Aislabie of Hendon Place, who also dammed the stream to form a lake, and in 1826 the bridge was said to be of inconvenient height. Finchley inhabitants were indicted for neglecting to repair the bridge in 1623 and Middlesex inhabitants in 1820. It was repaired in 1844 (fn. 92) and had been rebuilt by 1934. (fn. 93)
Totteridge Lane crossed Dollis brook from Whetstone by 1754 and Finchley and Totteridge shared the cost of maintaining a bridge there by 1787. (fn. 94) It was probably the footbridge which in 1826 lay south of a great ford there. A larger bridge, built in 1843 by John Hey Puget, continued to be maintained by both parishes (fn. 95) and was widened in 1939. (fn. 96) In 1826 Dollis Lane crossed Dollis brook by means of a deep ford flanked by two footbridges. A footbridge existed there by 1659 (fn. 97) and Finchley paid half the cost of repairs in 1879. (fn. 98) Mutton brook, although not mentioned in 1826, was probably culverted by that date. Dirt House bridge, in 1444 the 'bridge in the highway at Harringay park', carried the Great North Road across Mutton brook. (fn. 99) It was the responsibility of the bishop of London in 1444 and 1455 but in 1577 the inhabitants of Finchley offered to repair it if he would provide the necessary timber. (fn. 100) It still existed in 1792. (fn. 101)
A daily coach left London for Finchley in 1817 at 4.0 p.m. (fn. 102) and in 1826-7 one left the Queen's Head, Church End, for London at 8.20 a.m., returning in the evening. (fn. 103) By the late 1830s one daily coach left the Queen's Head for the Bank and another left the Torrington Arms, while an omnibus ran from the Five Bells in East End Road to Charing Cross. (fn. 104) In 1845 there were three omnibuses a day from the Five Bells and in the 1860s three from Church End, besides two or three which passed through Finchley from Barnet. (fn. 105) Coaches from London to the north provided additional services: nineteen were said to pass daily to Birmingham in 1829 (fn. 106) and the fact that Finchley lay on their route was one of the reasons why the architect Anthony Salvin (1799-1881) moved there in 1833. (fn. 107) In 1835 over 90 stage coaches passed daily through Whetstone (fn. 108) and in the 1860s the coach journey from Whetstone to London took about 1¾ hour. (fn. 109)
In 1867 the Great Northern Railway opened a line to Mill Hill (later Mill Hill East) and Edgware with stations at East Finchley and Finchley (later Finchley Central). A branch from Finchley to High Barnet, with stations at Woodside Park and Whetstone (called Totteridge and Whetstone) opened in 1872. West Finchley station at Nether Street, south of Woodside Park, was added in 1933. The railway greatly increased accessibility from London. In 1870 the journey from Church End took ½ hour and during the 1890s a return ticket on a workmen's train from Finchley cost 4d. There were 20 daily trains each way in 1870, 36 in 1876, 45 in 1884, 51 in 1889, and 60 in 1902. The railway became part of the London Passenger Transport Board's Northern line, which was electrified to East Finchley in 1939, to High Barnet in 1940, and to Mill Hill East in 1941. (fn. 110)
Intermediate or east-west journeys were less easy. Trams had been suggested in 1880 but it was not until 1898 that the Metropolitan Tramways and Omnibus Co. seriously proposed to introduce them to Finchley (fn. 111) and only in 1905 that a route was opened by Metropolitan Electric Tramways (the M.E.T.) between Highgate and Whetstone. (fn. 112) It was extended to the Hertfordshire boundary in 1906 and to Barnet in 1907 and was crossed by one from New Southgate to North Finchley and Golders Green from 1909. (fn. 113) A tramway depot opened just off the Great North Road near Tally Ho Corner by 1908 became the focus of the M.E.T.'s system before it was superseded by trolley-buses in 1938. (fn. 114)
Omnibuses still ran thrice daily between the Torrington Arms and Oxford Circus in 1890. (fn. 115) More horse-drawn omnibuses linked Church End, Whetstone, and Barnet from 1898 (fn. 116) and another service opened in 1899 to run every 15 minutes between the Bald-faced Stag at East End and Euston Road. In 1900 there were several omnibuses, including one between Charing Cross and North Finchley, and in 1902 the London General Omnibus Co. opened a service between London Bridge and Finchley. The Associated Motor Omnibus Co. started a service between St. Martin's Lane and the Bald-faced Stag in 1905. (fn. 117) By 1908 motorbuses ran every 12 minutes from North Finchley to Oxford Circus. (fn. 118) Trolley-buses ran between Cricklewood and North Finchley from 1936 and between North Finchley and Barnet or Wood Green from 1938. (fn. 119) There were ten motor-bus and trolley-bus routes in 1955 (fn. 120) but all trolley-buses disappeared between 1959 and 1962. In 1959 and 1964 the deficiencies of London Transport buses were such that Finchley B.C. considered running its own. (fn. 121)
Growth before the mid 19th century.
Fincley's earliest settlement (fn. 122) grew up around the church on the edge of the boulder clay at Church End, where there was well-water and the land (282 ft. at the church) was far enough from Dollis brook to be safe from flooding. Houses were mentioned in the earliest records, from the 13th century. Conveyances often involved land in Hendon and Finchley, and settlement may have spread northward from Hendon along Hendon and Ballards lanes. The absence of ancient copyhold reinforces the impression that, while woodmen may have worked there earlier, agricultural exploitation began with assarting at the edge of Finchley wood in the 12th or early 13th centuries. Meadow land along Dollis brook bordered arable, although probably not open-field, land.
Settlement was not strongly nucleated. There were a few houses near the church, including the rectory and, by the late Middle Ages, the churchand clerk's houses. To the west, on the edge of the gravel, was the medieval Grotes farm. To the east at some distance from the main hamlet stood Bibbesworth manor-house. Ballards Lane and Nether Street, each with its medieval houses, carried the settlement northward. Early houses (fn. 123) included Kentesgarden (1398), (fn. 124) Warren's Gift (1489), (fn. 125) the church-house (1547) and clerk's house (1561), (fn. 126) and the 'ancient' Holly Cottage, (fn. 127) all in Church End. The house of the Barnvilles, who lived in Finchley by 1429, (fn. 128) was associated with one called Huddes in Nether Street. (fn. 129) Also in Nether Street were Rodbardes (1466), (fn. 130) Gibbs (c. 1509), (fn. 131) Sellars Hall (1602), (fn. 132) and Flints and Sawyers (17th century). (fn. 133) A house was built at Abbottesgarden in Ballards Lane between 1467 and 1498. (fn. 134) Others in Ballards Lane included Bakers (1501), (fn. 135) perhaps the later White or Grove House which Henry Stephens, inventor of the ink and father of Henry Charles Stephens, bought in 1844. (fn. 136) Little Angells (1633), (fn. 137) and Critchendell House (17th century) (fn. 138) were also in Ballards Lane.
In 1614 28 people in Church End, Ballards Lane, and Nether Street were assessed for poor-rates. (fn. 139) In 1664 31 were assessed for hearth tax in Church End and Nether Street, the largest houses being those of Richard Utber (17 hearths) and widow Hayton (11). Ballards Lane was assessed with Whetstone. (fn. 140)
Much building or rebuilding took place from the 17th century. In Nether Street a cottage at Little Bushells was described as newly built in 1635, (fn. 141) as was a house in Ballards Lane in 1646. (fn. 142) Sellars Hall was pulled down in 1680 and rebuilt soon afterwards, (fn. 143) and Gibbs was described as newly built in 1690. (fn. 144) The church-house had been licensed as the Queen's Head by 1718 (fn. 145) and waste between it and the rectory was granted for building in 1727 to a bricklayer. (fn. 146) He may have divided the clerk's house, which by 1767 consisted of two tenements, one a chandler's shop. The cottage of Warren's Gift was rebuilt as two cottages in 1771 and had become three by 1776. (fn. 147) Park House opposite Gravel Hill, one of the few surviving old buildings, dates from 1739 although it probably occupies an older site. (fn. 148) Nether Street contained Elm Grange, formerly Elm Villa, by 1720 (fn. 149) and two tenements on charity land by 1754. They were demolished in 1810 and replaced by Brent Lodge, a large rambling house, later the home of Francis A. Hamilton, Finchley's benefactor, between 1817 and 1824. (fn. 150) Elm Place, at the south end of Nether Street, existed by 1754. (fn. 151) In Ballards Lane the Red Lion had been built by 1717, Finchley Hall by 1719, (fn. 152) and Willow Lodge in 1727. (fn. 153) The King of Prussia, formerly the King's Head, was licensed by 1731. (fn. 154) A new house and coachhouse stood on the site of a cottage in Ballards Lane in 1765 (fn. 155) and Cornwell House was built on the site of Critchendell House in 1795. (fn. 156) Wentworth Lodge replaced an earlier house in the early 19th century. (fn. 157)
Londoners had been attracted to Finchley since the Middle Ages, to invest in land and also as residents. In 1625 a citizen moved there to avoid the plague (fn. 158) and there were many like Sir Thomas Harris who lived in Ballards Lane in 1775. (fn. 159) About the time of inclosure Finchley was described as small but respectable, with many detached buildings, and also as a straggling village. (fn. 160) There were many elms, especially around Nether Street, and weatherboarded cottages alternated with more substantial brick and stuccoed houses. (fn. 161)
The building of Regent's Park Road and the turnpiking of Ballards Lane in 1826 brought changes. In 1849 the land within the triangle formed by Hendon Lane, Regent's Park Road, and Gravel Hill was for sale in fourteen lots and within eleven years it was covered with buildings, mostly houses (fn. 162) but including the bizarre Christ's College with its tower, which thereafter dominated the skyline and dwarfed the church. (fn. 163) More land was offered in 1848 for the building of villas 'so much in request by merchants and professional gentlemen preferring a location distant from London, undisturbed by railway excitement'. (fn. 164)
During the 19th century some of the larger houses became private schools, accounting, with St. Mary's National school, for the 12 teachers living at Church End in 1841, more than half the total in the parish. There were also more servants, 24 men and 58 women, than in other districts, but only 33 agricultural labourers. A clergyman, a solicitor, and a stockbroker lived there, as did 5 farmers and the usual tradesmen. (fn. 165) By 1851 there were 162 houses and cottages in the district of St. Mary's, corresponding in the main with the old hamlet of Church End. (fn. 166) Ballards Lane, with 56 houses and 7 under construction, was the most populous area, while Church End itself, which probably included Regent's Park Road, had 33. Nether Street had 17 houses, including Elm Place, Sellars Hall, Brent Lodge, Long Lodge, and Courthouse Farm, and housed 2 fund-holders, 2 members of the stock exchange, and 2 solicitors. There were many other residents of independent means, especially in Ballards Lane, which also had two private schools. Tradesmen lived mainly in the centre of Church End.
Whetstone hamlet, recorded in 1398, grew up along the Great North Road, the north-eastern part being in Friern Barnet and the rest in Finchley. There was only a narrow band of arable between the road and Dollis brook, probably too little to support the houses which by c. 1677 stood close together on both sides of the road. (fn. 167) Some of Whetstone's inhabitants followed occupations based on the abundant woodland, as charcoal-burners, tanners, or sawyers. Others catered for travellers, as carters, stable-keepers, brewers, and innkeepers.
There were many inns. (fn. 168) The George, one of the ancient freehold tenements and so named by 1474, was still an inn in 1692 but had been demolished by 1761. (fn. 169) Other inns included the King's Arms (c. 1683-1728), (fn. 170) and the Mare or Black Horse, built on the waste by Robert Odell in 1655 and used as an inn by 1713; it had been converted into three houses by 1741 but one was still licensed in 1779. (fn. 171) The Windmill, a public house by 1723, may have occupied either the windmill built in the 17th century by Basings ponds west of the Great North Road or a near-by house. (fn. 172) It was called the Windmill and Fighting Cocks by 1751 and the Swan or Swan with Two Necks by 1765. (fn. 173) A second Swan, also called the Swan with Two Necks by 1790, existed by 1731 just north of the lane to which it gave its name. (fn. 174) The Bull and Butcher, licensed in 1765 and probably the Butcher and Conjuror which was licensed in 1731, stood north of the junction with Totteridge Lane. (fn. 175) Other public houses included the Cock in the Tree (before 1760) and, in Coleharbour, the White Horse (before 1790) and the Dog or Queen's Head (before 1794). (fn. 176)
Newly built tenements at Whetstone existed in 1489. (fn. 177) By 1614 21 people in Whetstone and Woodside paid poor-rate and in 1664 46 people in North End, Whetstone, and Woodside were assessed for hearth tax and another 36 were not charged. (fn. 178) A cottage stood in Totteridge Lane by 1651 and five cottages by 1763. (fn. 179) The Limes on the west side of the Great North Road, north of Totteridge Lane, was built by 1734, a brown-brick twostoreyed building with later additions. (fn. 180) There were houses at Woodside (costa bosc') by 1365. (fn. 181) Woodside House, so named in 1699, may have been the medieval Runtings. (fn. 182) By 1754 houses along the edge of the common at Woodside formed a distinct hamlet. (fn. 183) On the Friern Barnet border three tenements called the Woodhouses existed by 1655. (fn. 184) One of them was called Wood House by 1754 (fn. 185) and a mansion was built there between 1784 and 1798, (fn. 186) becoming the centre of an estate created at inclosure. (fn. 187) The existing two-storeyed building, a school, is mid-19th-century and consists of a central portion of five bays with an Ionic portico and two wings, one dating from the 1920s. (fn. 188)
Whetstone had few large houses. Friern Watch, on the Friern Barnet border, is early-18th-century and from 1848 was the home of Ebenezer Homan, a local benefactor. (fn. 189) Joseph Baxendale, who described himself as deputy lieutenant, magistrate, and carrier, (fn. 190) had built Woodside House by 1841. (fn. 191) It was described in 1850 as a beautiful villa with a pretty conservatory, in a setting of lawns, groves, and a lake. (fn. 192) St. John's church was built at the southern end of the estate in 1832 (fn. 193) and the Torrington Arms at the corner of the Great North Road and Lodge Lane by the late 1830s. (fn. 194) Most building in the 19th century as in earlier times was of cottages. Charles Jaques built 21 in Lodge Lane in 1824 (fn. 195) and another 17 by 1847. (fn. 196) Richard Attfield built 10 cottages on former common land at Whetstone by 1825 (fn. 197) and others stood at Woodside by 1824 and in Swan Lane by 1847. (fn. 198)
Paupers were probably always numerous at Whetstone, where the percentage of people not assessed for hearth tax in 1664 was much higher than in other districts. (fn. 199) Whetstone provided a typical case of witchcraft by maleficium in that of Agnes Miller, a widow who was acquitted of the charge in 1619: she and her husband had been maintained at Finchley's expense in Friern Barnet's alms-houses and she had later been condemned as a common scold. (fn. 200) Her alleged offence was of causing death by witchcraft, as was that of another Finchley widow and pauper, who received a monthly contribution from the parish in 1614 and was hanged in 1615. (fn. 201) The Great North Road brought beggars on their way to and from London, many of whom died of the plague at Whetstone during the late 16th and early 17th centuries. (fn. 202) Villagers threatened to fire on men journeying from London in the plague of 1665 (fn. 203) and in 1754 they drove off a surveyor and his labourers with pitchforks. (fn. 204) In the late 18th and early 19th centuries Whetstone was a centre of dissent (fn. 205) but in the mid 19th century it was noted for drunkenness and brawling. (fn. 206)
Inhabitants in 1841 included 2 clergymen, 3 teachers, 4 solicitors, 2 surgeons, and some tradesmen and craftsmen. Of the 226 people with occupations stated, 100 were labourers and 39 were female servants. (fn. 207) There were 255 labourers by 1851, many of them lodgers in cottages that were probably overcrowded. (fn. 208)
Settlement along the roads at the exit from Hornsey park can be traced to the Middle Ages. John Manypeny, who left tenements by will dated 1349, probably gave his name to the house in East End called Manny Pennys in the 18th century. (fn. 209) Porters, which included a house by 1583, was named in 1440. (fn. 210) Knightons, a house on the south side of East End Road by 1598-9, took its name from a family recorded in 1406. (fn. 211) Good Robins at Parkgate, mentioned in 1577 and certainly a house by 1732, (fn. 212) was probably named from the Robin family of the 14th and 15th centuries. (fn. 213) Worthy House, on the north side of East End Road at Hunters Green, existed in 1530 and Worthy field was much older. (fn. 214) Redings was a tenement in East End by 1548 and part of the Onyon estates by 1718. (fn. 215) Robert Osborne lived in 1557 at a house which may be identifiable with the Park Gate, later Park Lodge, in Market Place which was the home of the Odells and Jordans. (fn. 216) East End House on the north side of East End Road, later part of John Bacon's estates, may have been a new tenement mentioned in 1579. (fn. 217) On the south side of the road Old House and Elm House, later Elmshurst, may have dated from the late 16th century and been extended in the 17th; a fire-place in Old House was dated 1649. (fn. 218)
Twenty-seven people at East End and Parkgate were assessed for the poor in 1614, (fn. 219) and 41 houses were assessed for hearth tax in 1664, when none except Bibbesworth manor-house was very large. (fn. 220) Growth continued during the 17th and 18th centuries. In 1686 Cromwell Hall, on the south side of East End Road and east of the existing houses, was conveyed to Thomas Pengelly (d. 1696), a Shoreditch merchant. Its name derived from the Lord Protector's son Richard Cromwell, Pengelly's friend, who was said to have lived there for most of his life after returning from exile. (fn. 221) Droving and especially the trade in pigs stimulated the growth of the hamlet, which spread unevenly along the edge of the common, at Cuckolds Haven (by c. 1677) (fn. 222) and the Hogmarket (by 1709). Several cottages were built on the waste at Bush Causey at the eastern end of East End Road in 1716 and two at the Bull Lane end of Long Lane in 1726. The latter, which had become five cottages, were conveyed in 1776 to a bricklayer, who presumably was to carry out more building. (fn. 223) Prospect House was built in 1721 (fn. 224) and Oak Lodge in Oak Lane existed as three tenements in 1749, united by 1766 and probably rebuilt by 1780. (fn. 225)
Many inns appeared during the 18th century: (fn. 226) the George in the Hogmarket (from 1716), the Flower de Lis, later the Dirthouse, and White Lion on the west side of the Great North Road at Newgate Lane (1716 to c. 1902), (fn. 227) the Hog Driver, later the Sow and Pigs (1716-1800), the Bell at Parkgate (1722-65), (fn. 228) the Three Horseshoes in the Hogmarket (1722-79), the Five Bells in East End Road (from 1751), (fn. 229) and the Bald-faced Stag, licensed from 1790 but probably an inn from 1738. (fn. 230) The Spaniards inn, on the Hampstead boundary, was licensed to Francis Porero, the eponymous Spaniard, in 1721. (fn. 231) It stood at the south-west exit from Hornsey park, where a gate was marked in 1754 but where there is no evidence of a toll-lodge. (fn. 232) The building itself may be 17thcentury, although it has been extensively altered and refaced. (fn. 233) It was there that the mob at the time of the Gordon Riots in 1780 was halted on its way to destroy Lord Mansfield's house at Kenwood. (fn. 234) Set on wooded heights, the inn attracted excursions from London; a visit to its tea-gardens was described by Dickens in the Pickwick Papers. (fn. 235)
A view of East End at the Bald-faced Stag in 1812 shows mainly open country. (fn. 236) Building, however, had begun near by on the east side of the Great North Road. High Reding, sold by the bishop in 1800, was leased to a builder, and by 1809 four villas stood on the south side of Fortis Green Road, then called Park Place. In 1822 nos. 3 and 4 were joined as Park Hall. (fn. 237) Anthony Salvin had designed two Italianate villas in Fortis Green Road by 1838. (fn. 238) Belle Vue was built west of Cromwell Hall by 1802 (fn. 239) and Verandah House or BowWindow House, later the home of the Grisewood family, horsedealers and saddlers, in Park Road in 1803. (fn. 240) Many houses, including the Old House, East End House, and Elmshurst, were rebuilt. (fn. 241) The 'innumerable' villas along East End Road were a feature of the parish in 1817 (fn. 242) and were occupied in the 1830s by men like T. B. Herring, a 'rich retired tradesman', Salvin, and the Rews and the Butlers of Cromwell Hall. (fn. 243)
East End itself was a poor area, appalling near-by middle-class residents with its drunkards, 'godless persons', and general lack of moral restraint. (fn. 244) Prospect Place linked the Hogmarket to East End Road from 1825 and cottages had been built along it by 1841; there were 20 by 1869. (fn. 245) Ten cottages were built on an allotment near the White Lion between 1824 and 1844 and another four in 1846. (fn. 246) Many terraces sprawled haphazardly over former common land. New roads included Chapel Street, from 1853, (fn. 247) and Holy Trinity church and school were built to serve the growing community. (fn. 248) The cottages in the Hogmarket, Chapel Row, and Red Lion Hill in 1851 housed tradesmen, craftsmen, and many labourers. (fn. 249) In 1860 Finchley's increase in population was said to be concentrated in North End and East End, with East End as the most populous part. (fn. 250)
There was a marlpit at the North End of Ballards Lane by 1398, on which a house had been built by 1548. (fn. 251) Moss Hall fronted the more northerly of the two east-west portions of Nether Street by 1754 (fn. 252) and was later owned by Thomas Harrison Andrew (d. 1824). (fn. 253) Its name may have come from the Mosse family, one of whom received land in 1463 on condition that he built a mansion house there. (fn. 254)
Other houses included Courthouse (later Court House) or Coathouse at the north-west corner of Nether Street, the seat of the Peacocks which was assessed for fourteen hearths in 1664. (fn. 255) To the north stood Finchley Lodge or Lodge House, built by 1667 on the edge of the common whence it was later reached by Lodge Lane. (fn. 256) It may be identifiable with Pigensland, a cottage built on the waste in 1564. (fn. 257) Two-Chimney House near Finchley Lodge existed by 1794 and probably by 1754. (fn. 258)
Fallow or Follow Corner was a locality on the edge of the common east of Ballards Lane, between North End and East End, by 1429. (fn. 259) At least one house stood there by the mid 17th century and there were three or four by 1754. (fn. 260) The chief property was Fallow or Cobley's farm, part of the Peacock estates, at whose farm-house Charles Dickens was said to have written Martin Chuzzlewit in 1843. (fn. 261) The cottage leased to the clown Joseph Grimaldi (d. 1837) from 1806 to c. 1815 has been identified as Fallow Cottage; Grimaldi chose it for the country air and used to drive there after his performances in London. (fn. 262)
Inclosure and the new turnpike road brought some changes to North End. Tally Ho Corner, the junction between the new road and the Great North Road, acted as a staging post on the route from London to the north; stabling for sixteen horses was provided in expectation of increased traffic but proved an 'unfortunate speculation' and was abandoned in 1837. (fn. 263) Orchard House had been built there by 1841 and a few cottages had been added at the northern part of Ballards Lane and at Fallow Corner by 1851. (fn. 264) North End had not yet, however, become known as North Finchley.
The size of Finchley Common was estimated at anything between 500 a. and 1,600 a. (fn. 265) but at inclosure in 1816 it consisted of some 900 a. (fn. 266) Until Hornsey park was fenced off in the 13th century, Finchley wood was indistinguishable from the demesne woods and the division between the two long remained confused.
Herbage rights existed in Finchley wood by 1410 (fn. 267) and in 1504 it was described as 'a common called Finchley wood'. (fn. 268) Felling and removing timber, however, was forbidden as on the demesne estates. (fn. 269) During the 16th century there was a direct conflict between the pasture rights of the inhabitants and the timber rights of the lord. In 1533 Finchley men asserted their traditional right to 'cooltes' for swine in Finchley wood, which they said had been destroyed by the bishop's woodward, who had also taken away their hedging bills. (fn. 270) In 1562 they defended their claim to common of pasture 'from time immemorial' against the lord's proposal to divide and separate a quarter of his woods. (fn. 271) Judgement was given for the bishop, in accordance with the Act of 1543 for the preservation of woods. (fn. 272) Possibly Great Colefall (later Coldfall) was the quarter so inclosed: when it was leased in 1645 with the other demesne woods it was called 'the wood in Finchley common'. (fn. 273) The inhabitants of Hornsey were within their rights under the Act of 1543 in claiming common within Great Coldfall, but it was treated as demesne rather than common in 1815. (fn. 274)
Conflict also arose during the 16th century between the parishes bordering the common. In the mid 16th century the right of tenants from Friern Barnet to intercommon was refused, Robert Sanny and others being amerced for pasturing sheep. (fn. 275) Presentments of Friern Barnet people were frequent in the early 17th century (fn. 276) and fines of £5 and £10 were respectively imposed in 1648 and 1650. (fn. 277) The two parishes went to court in the 1690s and, although the outcome is not known, presentments of Friern Barnet tenants ceased after that time. (fn. 278) The inclosure award of 1816, largely instigated by John Bacon of Friern Barnet, did not allot any of the common to Friern Barnet parish but made allotments to copyholders of Friern Barnet manor and a large one to Bacon himself. (fn. 279)
A survey of 1647 upheld the joint rights of the freeholders, copyholders, and leaseholders of Finchley and Hornsey to all commons and wastes within their two parishes. (fn. 280) An incloser of waste at Muswell Hill in 1671 was ordered by the Finchley court to open it because Finchley tenants had rights there. (fn. 281) A Hornsey man was presented in 1688 for sheep on Finchley common but his offence lay in overstocking and not, as in the case of Friern Barnet offenders, in merely keeping animals there. (fn. 282) At inclosure, however, none of Finchley common, except Great Coldfall, was allotted to Hornsey men, probably because their parish lacked an advocate like John Bacon.
Timber from Finchley wood was sold by the bishop during the 15th and 16th centuries (fn. 283) and the keepers of the woods complained in 1545, when timber was taken for the Tower of London, Westminster Palace, and the new ordnance house. (fn. 284) In 1645 the bishop reserved all timber in the woods and on Finchley common, when leasing out coppices and springs in Finchley and Hornsey. (fn. 285) In 1647 there was a great store of oak and hornbeam on the common worth £230, compared with trees worth £650 in the demesne woods. (fn. 286) Cutting or selling wood in Finchley wood was forbidden in 1604 (fn. 287) and there were presentments for taking wood in 1609, 1615, 1616, 1623, 1652, and 1655. (fn. 288) During that period the wood came to be called Finchley common, an area of furze dotted with trees. There were still several thousand hornbeam and oak pollards in 1798 but they were being grubbed up and not replaced. (fn. 289)
The woodland cover was reduced by animals, who grazed in increasing numbers from the 16th century. Two people were presented for fattening pigs in 1632 (fn. 290) and three in 1705. (fn. 291) A pigcot was among unauthorized buildings in 1716. (fn. 292) Cattle were grazed in 1650 (fn. 293) but most 17th-century presentments were for sheep, kept in excessive numbers or by people who had no rights in Finchley. (fn. 294) In addition to the many offenders from Friern Barnet, there was one in 1626 from Kentish Town. (fn. 295) Finchley men also pastured outsiders' animals and in 1604 servants and others who did not pay scot and lot within the parish were reminded that they had no right of common. (fn. 296)
Regulations were issued in 1657, 1665, and, in more detail, in 1672, requiring that animals being driven to London should not stray from the road. (fn. 297) From 1664 only householders could keep cattle on the common. (fn. 298) There were pounds for north and for east Finchley, one being mentioned in 1652 when a man sawed through the rails to rescue his sheep. (fn. 299) The pound in North End needed repair in 1685 (fn. 300) and both pounds were dilapidated in 1826 when the one at the northernmost point of the common, in Whetstone, needed complete rebuilding. (fn. 301) The southern pound seems to have been on Bibbesworth land; between Long Lane and the Manor House in 1815, it was moved in 1880 by H. C. Stephens of Avenue House. (fn. 302) Haywards were appointed at the manor court in 1662. Initially one each for North End and East End, they were increased to four in 1665, when they were to receive half of the fine imposed on drovers who did not keep to the roads. (fn. 303) By 1680, however, haywards were no longer appointed (fn. 304) and it was not until 1786 that a common driver was elected at the manor court, with a salary paid by the vestry from 1793 to 1798. (fn. 305) A driver was again appointed in 1802, whereupon the Bibbesworth court felt that its own rights might be threatened. (fn. 306) At first the office of common driver was combined with other parish duties but from 1804 a driver was elected at the bishop's manor court and paid by the vestry. (fn. 307)
In the late 18th century the larger landowners feared that their animals might suffer from contact with inferior beasts on the common. In 1798 the common was 'much poached by cattle' and supported a large stock, mostly of sheep, until after the hay harvest. (fn. 308) In 1801 the rector complained of bad sheep and unprofitable ponies. (fn. 309) The vestry tried to enforce the regulations, threatening landless people who pastured animals or anyone who surcharged the common. (fn. 310) Fines on all straying hogs and cattle and double fines on all belonging to outsiders were ordered in 1816. (fn. 311) A second driver was appointed in 1818 and two drivers were still being elected by the manor court in 1824; their salaries, however, were discontinued in 1820 and elections had ceased by 1834. (fn. 312) After inclosure straying animals continued to be impounded. (fn. 313)
Removal of bushes and furze was a frequent offence, especially during the 17th century by Friern Barnet men. (fn. 314) The manor court forbade cutting of bushes or young trees in 1604, carting away of furze in 1664, and cutting of furze between September and May and fern between April and the end of August in 1672. (fn. 315) Fines were imposed, the orders were repeated in 1673 and 1682, (fn. 316) sales to 'outtownsmen' were added to the amerciable offences in 1683, and penalties were increased in 1691. (fn. 317) Fines persisted in the mid 18th century, although offences were not then so frequent. (fn. 318)
Turf, leaf-mould, loam, sand, and gravel were also taken. When the sea-coal trade was disrupted by the Scots in 1640, turf from Finchley common was used by Londoners. (fn. 319) In 1680 the manor court allowed the inhabitants of Finchley to make ditches on the common and carry away the compost, provided that the ditches were 5 ft. wide. (fn. 320) Generally the court disapproved of anything being removed, particularly if it was sent outside the parish. The taking of gravel from the parish incurred fines in 1683 (fn. 321) and as many as 80 loads were dug in 1652 and 50 in 1721, (fn. 322) whereupon the bishop successfully prosecuted one man for removing 'several thousand' loads. (fn. 323) Fines were also imposed for removing turf, mould, and compost and in 1751 were paid by ten offenders. (fn. 324) The homagers and vestry were probably less concerned to preserve the topsoil than to profit from it: in 1771 an East Barnet man paid to take 150 loads of sand from near the Three Horseshoes. (fn. 325)
'One or two' cottages had been built on the common by 1647, (fn. 326) three more in 1651, nine in 1652, and 25 cottages and barns in 1655. (fn. 327) A carpenter from East Barnet had built a cottage on the waste at night in 1668. (fn. 328) Encroachments were very often presented at both the bishop's and Bibbesworth manor courts during the 18th century, but in most cases only a little land was taken, from the edge of the common. Squatting was less frequent, although gypsies were driven off in 1797. (fn. 329)
Cleared of its woodland cover, the common was ideal for the massing of troops. An old man c. 1678 predicted that the English and French would fight on Finchley common, (fn. 330) which figured in most national emergencies. General Monck drew up his army there at the Restoration in 1660, there were encampments of c. 5,000 soldiers during the Jacobite alarm in 1745, (fn. 331) and of several regiments after the Gordon Riots in 1780. (fn. 332) Military reviews and manoeuvres were also held, since wide ditches and other obstacles offered an excellent training ground, with 'every difficulty that can possibly be met with to impede the progress of an army'. (fn. 333) Duels (fn. 334) and, in the 1730s, horse-races also took place. Shuttlecock was played between gentlemen of the western and northern counties in 1766, and there was a pigeon-shooting match in 1809. (fn. 335)
The common's main claim to fame was as a haunt of highwaymen. It featured in literature from Tom Jones to Lord Lytton's Paul Clifford and in the mostly fabulous exploits of Jack Sheppard and Dick Turpin. Sheppard was captured in 1724 at a farm-house and brought to an alehouse on the common which may have been the George at the Hogmarket or the Hog Driver. (fn. 336) Turpin's oak, which was supposed to have sheltered Turpin, gave its name to Oak Lane. Coach drivers used to shoot at it to deter any robber but there is no evidence to connect Turpin himself with Finchley. (fn. 337)
A Londoner was robbed in Finchley wood in 1468, (fn. 338) and there was a highway robbery in Finchley in 1572 and a murder in Colefall in 1599. (fn. 339) Whetstone people were involved in theft or robberies in 1613, 1614, and 1616. (fn. 340) A gentleman of Finchley robbed a man on the highway in 1673 (fn. 341) and nineteen drovers were robbed by one man between London and Barnet in 1686. (fn. 342) Crimes became more blatant during the 18th century: in 1725 one highwayman sued another for cheating him of his share of the spoils from their partnership on Finchley common and elsewhere. (fn. 343) Several robberies were the work of armed footpads, as in 1762, (fn. 344) but more were committed by horsemen. (fn. 345) Lady Ann Irwin had a narrow escape on the common in 1730, both the York coach 40 yards ahead and the stage coach 100 yards behind having been robbed. (fn. 346) One highwayman held up seven coaches in 10 minutes, (fn. 347) Scots M.P.s journeyed by sea rather than risk the road across Finchley common, (fn. 348) and Sir Gilbert Elliot in 1790 would not trust his throat there in the dark. (fn. 349) Assailants themselves were sometimes killed (fn. 350) and there were many indictments in the 1780s all for robbery on the common. (fn. 351) Gibbets included one near the 6-mile stone at the southern edge of the common, where crowds in 1772 saw two men hanged in chains (fn. 352) and in 1789 the parish officers were paid to attend an execution. (fn. 353) Mounted patrols set up in 1805 to police the major roads around London reduced the robberies and by 1807 the highwaymen were already a legend. (fn. 354) The end, for highway robbery as for so many activities associated with the common, came with inclosure in 1816. (fn. 355)
The only settlement away from the edges of the common was at Brownswell beside the Great North Road, where a well had been 'late re-edified' for travellers in 1593. (fn. 356) By 1718 it contained a newly repaired conduit (fn. 357) and during the 18th century it was maintained by the charity estates. (fn. 358) A cottage stood there by 1623 and the Huntsman, by 1731 called the Green Man, by 1718. (fn. 359) In 1754 there were some three buildings at Brownswell. (fn. 360)
Meadow land fronting the common was advertised in 1796 as a delightful situation for building. (fn. 361) A lease of land on the common was granted in 1805, for the building of substantial brick cottages. (fn. 362) By 1814 a few buildings stood on the west side of the Great North Road, north of the Green Man, and a few more on the east side, nearer East End. (fn. 363) Inclosure did not lead to a sudden spread of building. Some houses were built at Strawberry Vale east of the road near Brownswell by James Frost, who acquired an estate there in 1816, (fn. 364) and by 1851 villas and cottages were dotted on either side of the Great North Road between East End and North End. (fn. 365)
The parish had 118 chargeable and 84 nonchargeable houses in 1664 (fn. 366) and was estimated to have 170 houses in 1717 and 250 in 1795. (fn. 367) There were 256 inhabited and 25 uninhabited houses in 1801. Fewer houses were recorded in 1811, when the census was apparently defective, and in 1821 the numbers were 359 and 11 respectively. Thereafter they rose steadily, to 540 and 49 in 1831, 640 and 41 in 1841, and 755 and 49 in 1851. (fn. 368)
There were 280 communicants in 1547. (fn. 369) Ninety-three ratepayers contributed to 20 poor people in 1614 (fn. 370) and 244 adult males took the protestation oath in 1641. (fn. 371) The population, estimated in 1717 as 400, (fn. 372) had reached 1,503 by 1801, 3,210 by 1831, and 4,120 by 1851. (fn. 373)
Growth from the mid 19th century.
Until the mid 19th century building took place in old settlements along existing roads. Thereafter, especially following the arrival of the railway, whole estates were sold for speculative building and growth accelerated. The number of houses rose from 991 in 1861 to 1,884 in 1881, 3,132 in 1891, 4,366 in 1901, and 7,622 in 1911. By 1911 there were also 240 flats and 379 inhabited shops. (fn. 374)
At Church End one of the earliest estates to result from the opening of a railway station in 1867 was Wentworth, adjoining Wentworth Lodge in Ballards Lane, where the Conservative Land Society offered building lots in 1868. (fn. 375) Lichfield Grove near the station was built on former Bibbesworth land in 1869. (fn. 376)
North End, increasingly called North Finchley, and Woodside were the areas which grew most rapidly until 1914, stimulated by the opening of Woodside Park station in 1872 and the introduction of trams in 1905. (fn. 377) Cottages fronting Ballards Lane were built on parts of Fallow Lodge estate by 1871 and large houses planned for the rest in 1872, although few were built until the next century. (fn. 378) In 1874 Christ Church parish in northern Finchley contained 350 households, most of them too poor to subscribe to the National Society. (fn. 379) Building near by, however, was increasingly for the middle class, which gave the church valuable support. (fn. 380) By 1905 North Finchley was said to be covered with pretty, well-built villas. (fn. 381)
Among estates in the centre of the parish was that of Fallow farm, 80 a. between Ballards, Long, Squires, and Bow lanes, where houses in 1878 included Saxonhurst (formerly Sussex Lodge), Fairlea, and Etchingham Lodge. In 1880 part of the estate was leased to Frederick Wheeler to build substantial brick houses facing Ballards Lane and Etchingham Park Road. Thirty-four acres had been let by 1886, when the rest was offered as building land. (fn. 382) Most of it was not built on by 1897 (fn. 383) but by 1904 five-bedroom leasehold houses overlooking Victoria recreation ground were advertised as in one of London's most charming suburbs, with a rural setting and good transport services. (fn. 384) Large semi-detached houses were designed by C. J. G. Pawley in Seymour Road and Etchingham Park Road, and most of the land between Squires Lane and Bow Lane had been built on by 1907. (fn. 385) Finchley U.D.C. built 60 cottages in Squires Lane in 1902. (fn. 386) North of Etchingham Park the possible introduction of electric trams led to building on the Fallow Corner estate, formerly Ballards Reding. The Wimbush family's house and 12 a. were offered for sale in 1901 and part had been built on by 1902, when the rest was divided into 126 freehold plots, most of which had been built on by 1908. (fn. 387) Fallow Lodge or Holdenhurst at Fallow Corner was sold in 1904 with 13 a., 101 plots were laid out in 1905, and building was finished before 1920. (fn. 388) To the east the county school was built in 1903 and the cottage hospital in 1908. (fn. 389)
North-west of Ballards Lane the Moss Hall estate, which had been unsuccessfully offered for sale in 1830, was laid out from 1867, mostly for middle-class housing, as in Moss Hall Crescent. (fn. 390) To the north building leases of Dale Grove and Hutton Grove were granted from 1873. (fn. 391) Torrington Park, part of Henry Holden's Friern Park estate lying east of the Great North Road, was already being built up by 1872, when his land on the western boundary of the parish was misleadingly advertised as 'Torrington Park', a freehold building estate. (fn. 392) Most of the same estate (34 a.) was offered again in 1900 after Holden's death, by which time most of his land east of Holden Road had been built up. (fn. 393) 'Artistic villas' were under construction in Westbury Road to the south in 1910 (fn. 394) and land in Woodside Avenue was offered for good-class housing in 1914. (fn. 395) St. Alban's church was opened in 1909 in the northern part of Nether Street, a 'rapidly growing' district. (fn. 396) It included the Court House estate between the railway and Nether Street, where 61 freehold plots for detached and semi-detached houses were for sale in 1909. (fn. 397) Most of the area was built up by 1920. (fn. 398)
East of the Great North Road the Churchfield estate, next to Christ Church, was divided for 50 medium-sized houses in 1900. (fn. 399) The Woodhouse estate on both sides of Woodhouse Road, stretching from the Great North Road into Friern Barnet, had already been offered in building lots. By 1900 roads had been laid out in the north-west corner and 46 a. of the rest were again offered as building land, in the heart of a rapidly growing suburb which was easily accessible from the City and the west end of London. A strip of land between Woodhouse Road and Summers Lane had been sold by 1909 and Woodgrange Avenue was built on it soon afterwards. (fn. 400) The U.D.C. bought most of the estate (36 a.) in 1915, building some 100 houses then and starting another 200 in 1919. (fn. 401) North Finchley by 1876 had good shops, inns, and many private houses. (fn. 402) Said c. 1885 to have lately sprung into existence, it then had several 'respectable' shops and residences. (fn. 403) By 1909 shop fronts there along the Great North Road were continuous. (fn. 404)
Church End, which meanwhile had lost its primacy to North Finchley, was in 1876 rambling and well wooded, with country lanes merging into the village street, although building was gaining ground. (fn. 405) Early attempts to build up Olders Hill in the south-west corner of the parish proved abortive. The National Standard Land Mortgage and Investment Co. bought the estate in 1880 but few lots had been built on by 1897. (fn. 406) Part of Grass farm, which adjoined Olders Hill to the north, was offered for building along Hendon Lane with similar lack of success in 1894. (fn. 407) In 1901 that part of Finchley, while providing excellent sites, was thought to be undeveloped because of poor transport, which would be improved by trams. (fn. 408) After the arrival of trams in 1905 housing spread quickly. There was building in 1906 on Grass Farm estate in Dollis Avenue, where Woodway Lodge, designed by Messrs. Bennet & Richardson, was one of several detached houses. (fn. 409) Near by at Elm Park west of Nether Street, where building had started in 1882, land was offered in 1900 for good-class villas which were said to be in great demand. (fn. 410) By 1908 housing was continuous up to Brent Lodge, which was offered with 26 a. for immediate building. (fn. 411) Finchley Co-Partnership Society was then formed to lay out a garden village like Hampstead Garden Suburb for the 'less wealthy middle classes'. In 1910 it decided to preserve Brent Lodge and to develop the 24-a. estate on a co-operative system. (fn. 412) Land of Bibbesworth demesne was among the first to be taken for housing, the land at Church End north of Gravel Hill being sold from the 1840s. (fn. 413) Building spread southward from Gravel Hill on the College farm estate, where Cyprus and Bibsworth roads existed by 1897, and by 1920 had reached the farm-house itself. (fn. 414)
East of Church End and Regent's Park Road, land north of East End Road was leased for building from 1864. (fn. 415) Avenue House was built there in 1867 and its freehold sold in 1874 to H. C. Stephens, who rebuilt it in the 1880s as a 40-bedroom pile in a 'reactionary Italianate' style. (fn. 416) Hertford Lodge, also large, was built next to it in 1869. (fn. 417) The area south of East End Road, mostly Bibbesworth demesne but including part of the glebe, began to be built up in the 1890s. James Vaughan bought land in 1891 and Ernest Vaughan was constructing roads there in 1892-3. About 70 'superior semidetached' houses, designed by W. Barnaby Pinhey, had been built by c. 1900 and 120 by 1904 and were served by a shopping parade in Regent's Park Road and St. Luke's church in Mountfield Road. (fn. 418) Apart from the land opposite Avenue House, which had been bought by Stephens, the whole district had been built up by 1920. (fn. 419) Moat estate, 13 a. of Bibbesworth land between the railway and Manor farm, was offered for building in 1905 and Briarfield Avenue stood there by 1920. (fn. 420)
Typical of many large houses of that time in North Finchley and Church End was Glenroy in Seymour Road, designed by F. W. Poley and built by 1907. (fn. 421) Most houses were in a Gothic or Tudor style, much embellished. There was a revival of pargeting, the plaster designs displaying a great variety of patterns, still visible at the junction of Whetstone High Street with Woodside Lane, at Claverley Grove, Fallowcourt Avenue, and in the shopping arcades at the northern end of Hendon Lane. (fn. 422) The houses were intended for professional men and merchants from the City or west end of London, (fn. 423) whose arrival stimulated the hot-house industry and especially the growing of flowers. (fn. 424) Owners of big London stores included William Pearce Jones and Alfred Gamage at the Manor House, William Whiteley at Manor Farm, and John Harris Heal at Grass Farm. Frederick Goodyear (d. 1937), who came to Finchley in 1849 and was active in local politics, lived at Fallow Lodge and was a straw-hat manufacturer. (fn. 425) Also active were Benjamin Todd (d. 1937) of Elm Grange, Nether Street, a button manufacturer, (fn. 426) and H. C. Stephens (d. 1919), a rich man as the result of his father's invention. (fn. 427) Other local benefactors included James Henry Lermitte (d. 1901) of Knightons, who prospered on the stock exchange, and Ebenezer Homan of Friern Watch (d. 1909), a boot manufacturer. (fn. 428) Samuel Pulham (d. 1938) of Elmshurst owned a butcher's business with 17 branches in and around Finchley. (fn. 429)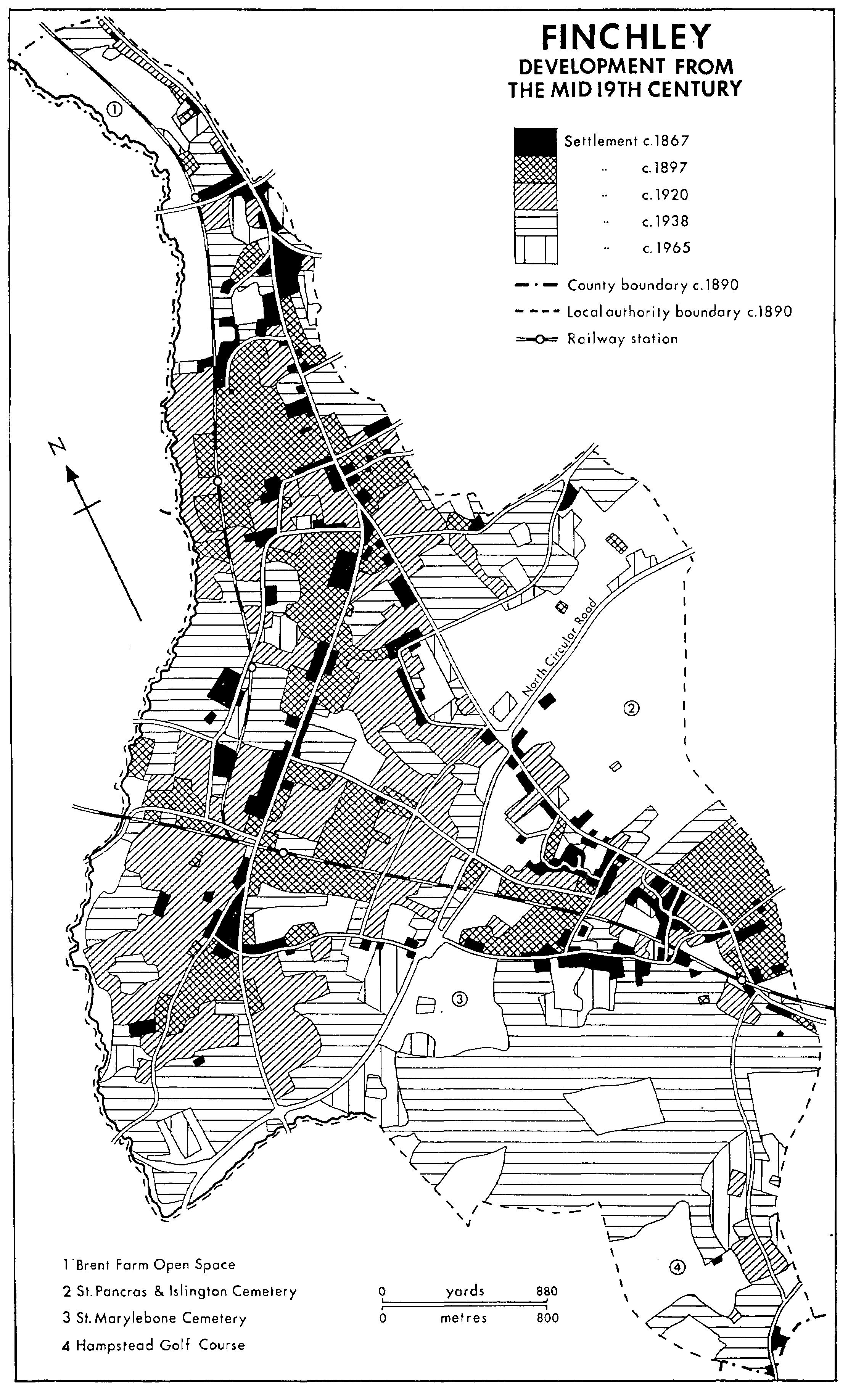 In contrast to North Finchley and Church End, Whetstone and East End remained predominantly working-class in the late 19th century. The Baxendales had left Whetstone by 1890 and vainly tried to sell their land for building c. 1901. (fn. 430) There were some 'genteel villas' at Oakleigh Park (fn. 431) but most building was still of cottages or terraced houses, like the 29 planned behind the Swan in 1871. (fn. 432) In 1876 Whetstone consisted of straggling groups of houses, some of them old and many poor, (fn. 433) and in 1884 the vicar estimated that threequarters of the inhabitants were working-class. Very few were well-to-do in 1904 and by the 1920s most were artisans or lower-middle-class. (fn. 434)
East End grew rapidly after the Ecclesiastical Commissioners granted 99-year building leases from 1878. (fn. 435) In 1881 hundreds of cottages were 'new building', (fn. 436) in 1882 more were expected on Park Hall and the charity estates, (fn. 437) and in 1899 17 a. at Fortis Green Road were built over. (fn. 438) The large houses along East End Road began to disappear: in 1901 Sedgemere was sold and by 1920 it had been replaced by Sedgemere Avenue. (fn. 439) Housing none the less failed to keep pace with the rising population, the birth rate being higher there than in the rest of the parish (fn. 440) and the vicar of Holy Trinity complaining in 1905 that East End was becoming the receptacle for the poor of neighbouring parishes. (fn. 441) Many houses were divided into lodgings which were often insanitary. (fn. 442) Richer families made way for 'struggling clerks, small tradesmen, and artisans', many in casual work. (fn. 443) In 1899 the vicar, who had experience of East London, had 'rarely seen the Finchley boy equalled for profanity and rudeness'. (fn. 444)
While building linked East End along the Great North Road to North End and along the railway to Church End by 1920, it was limited near the eastern boundary by cemeteries. In 1854 87 a. allotted at inclosure to Bibbesworth were sold to the St. Pancras burial board, which sold 30 a. to that of St. Mary, Islington. Chapels were built by Messrs. Barnett and Birch and in 1855 St. Marylebone opened a cemetery on 26 a. of farm-land south of East End Road, between the demesne lands of Bibbesworth and Bibwell. (fn. 445) The St. Pancras and Islington burial grounds were enlarged in 1876 by the purchase of the Strawberry Vale estate (109 a.), which had also been created at inclosure and which the Regent's Canal Co. had sold in 1816 to James Frost, who had built some houses there and sold the rest as a farm to James Morison (d. 1840), founder of the British College of Health. (fn. 446) Although the cemeteries provided open space, Finchley local board in 1893 unsuccessfully objected to an extension of the St. Marylebone one on the grounds that it prevented better houses being built. The London parishes paid only nominal rates to Finchley but the 10,000 corpses a year caused serious health problems. (fn. 447) The cemeteries brought bizarre funeral processions, custom to the Bald-faced Stag, a boom in the work of ornamental stone-masons, and much wear and tear to the Great North Road and East End Road. (fn. 448)
As transport improved, residents increasingly worked outside the parish. Clerks and those engaged in commerce and insurance, most of them in London, formed a rising proportion of the work force. Of the men, clerks formed 8 per cent in 1901 and 1911, 14 per cent in 1921, and 17 per cent in 1931, while banking and insurance accounted for 11 per cent in 1911, 19 per cent in 1921, and 21 per cent in 1931. More women than men worked locally, mostly in domestic service, which employed 55 per cent of the female work force in 1901 and 49 per cent in 1911. Seventeen per cent were typists by 1921, when 43 per cent were still in domestic service, and 23 per cent were typists by 1931 and 38 per cent by 1961. In 1921 38 per cent of a total work force of 20,701 worked in Finchley and 39 per cent in London. (fn. 449) Most building ceased during the First World War and by 1919 houses were in short supply. (fn. 450) The council continued building at Woodhouse Road and provided another 50 houses in 1928 and 72 in 1930. (fn. 451) All building in the 1930s accorded with the council's town planning scheme of 12 houses to an acre where the site fronted a main road and 10 to the acre elsewhere. (fn. 452) There were 13,461 inhabited buildings by 1931 and 18,855 by 1951. (fn. 453)
After the First World War the main change was in the south part of the parish, where the former demesne farms and woods became an extension of Hampstead Garden Suburb. (fn. 454) The Bishop's Avenue from Bishop's wood to East End Road was constructed c. 1887 for expensive houses. Plots were let on 99-year and, more rarely, 999-year building leases (fn. 455) and in 1894 building began. Most leases were to single individuals but William Mattocks Dabbs, a builder from Stamford Hill, took 5 a. in 1898 and the National Hospital for the Paralysed and Epileptic took land at the northern end in 1895. Rich lessees included George Sainsbury, the provision merchant, in 1898 and Christian Carl Lorenzen, a chronometer manufacturer, in 1901. Twelve houses with large grounds existed by 1906. Residents, however, were often disturbed by horsemen who used the road as a galloping ground and later by noise from sports grounds which had opened by 1920. The woods attracted tramps and were used as rubbish tips; assaults forced the council to provide gas lamps, (fn. 456) but the road was still unmade in 1935. (fn. 457)
Apart from land leased to Hampstead golf club, (fn. 458) all the area west and north of the Bishop's Avenue was leased for building to Hampstead Garden Suburb Trust and to the Co-Partnership Tenants in 1909 and 1911. Houses in Falloden Way and some roads off it were built to the designs of G. L. Sutcliffe and C. G. Butler before the First World War. Most building, however, took place during the 1920s and 1930s, when other architects included C. M. Crickmer, J. A. Bateman, and J. C. S. Soutar. (fn. 459) The North Circular Road left the parish in the hitherto empty south-west corner. At the junction of the North Circular and Regent's Park roads, the statue La Délivrance was unveiled as a war memorial in 1927. (fn. 460) Houses and blocks of flats were built near by in the 1930s. (fn. 461)
Elsewhere small villas were built at Woodside, between Woodside House and the railway, after 1923. (fn. 462) Detached houses for the professional classes at East End Road, opposite Avenue House and adjoining the Woodhouse estate on the Great North Road, were built by Vernon Smith in the early 1930s, (fn. 463) Halliwick estate on the Friern Barnet boundary adjoining the Woodhouse estate existed by 1933, (fn. 464) and Essex Park and Wentworth Park west of Ballards Lane were built in 1934. (fn. 465) The new suburb of West Finchley was created between Dollis brook and the railway, with its own station from 1933. (fn. 466) By the 1930s most farm-land had been taken for housing. Large old houses in their own grounds were increasingly bought as building sites, while new offices and shop-fronts appeared in the village centres.
Whetstone began to lose its working-class character and in 1924 its transformation with office blocks was said to be imminent. (fn. 467) Some Edwardian houses had been built along the northern stretch of the Great North Road and smaller semi-detached houses were built in Walfield Avenue near the county boundary in the 1920s. (fn. 468)
North Finchley in contrast became less exclusive, especially along the Great North Road and Ballards Lane, where by 1934 there was a 'vulgar line of hoardings, petrol stations, blatant shops, and muddle of all kinds'. (fn. 469) Orchard Lodge was demolished in 1927 and Kingsway driven through its site in 1934. (fn. 470) Moss Hall was also demolished, in 1927. (fn. 471) Many blocks of flats were built, Etchingham Court dating from 1935 (fn. 472) and Fallow Cottage being sold in 1939 to Wood & Wallers, who built flats on its site. (fn. 473) Willow Lodge on the east side of Ballards Lane was pulled down in 1929. (fn. 474) On the opposite side Maple House and Elm House were for sale in 1934 and made way for the flats of Finchley Court in 1935. (fn. 475) Bay Tree Cottage, already set among shops in Ballards Lane, was offered in 1936 and replaced by Woolworth's in 1938. (fn. 476) Court House at the northern corner of Nether Street was sold in 1936 and flats were built there a year later. (fn. 477) Rocklands, next to Dollis brook, was offered for sale in an area 'ripe for development' in 1938. (fn. 478)
In East End Road the large houses either became convents, like East End House (1864), Manor House (1919), and Knightons (1921), (fn. 479) or were sold for building. Cromwell Hall was demolished in 1934 and Elmshurst, set in 10 a., was sold to builders in 1939 on Samuel Pulham's death. (fn. 480) Prospect House was demolished in 1929 (fn. 481) and eighteen blocks providing 318 flats were planned near the Red Lion in 1938. (fn. 482) During work in 1934, ten old cottages in Red Lion Hill were set alight to enable the fire service to give a demonstration. (fn. 483)
After the Second World War, housing was again in demand. In 1951 there were 18,430 separate dwellings, with a population density greatest in St. Paul's (Long Lane) ward (26.1 persons per acre) and Moss Hall ward (24.9) and least in the Bishop's ward (14.7). By 1961 the number of dwellings had risen to 20,883, although the population had fallen slightly, reducing the density in St. Paul's ward to 24.4. About 54 per cent of the dwellings were then owner-occupied, 29 per cent privately rented unfurnished, and 10 per cent rented from the council. (fn. 484)
In the badly bombed East End tightly packed cottages between the Great North Road and the railway, around the George inn, were to be replaced by eleven-storeyed flats in 1954. (fn. 485) Building was under way in 1955, although many inhabitants regretted the disappearance of family shops and an older way of life. (fn. 486) A municipal estate of 274 flats was built at Vale farm near the Great North Road in East Finchley in 1975, replacing older houses, (fn. 487) as did 109 dwellings in Holden Road, under construction in 1977. (fn. 488) Some large houses were divided into flats (fn. 489) but most were rebuilt. Wentworth Lodge in Ballards Lane disappeared in 1945 (fn. 490) and Wimbush's house at Fallow Corner was sold in 1955. (fn. 491) The Swan with Two Necks was destroyed in 1962. (fn. 492) Brent Lodge was divided into flats in the 1960s and demolished in 1971-2. (fn. 493) Much older property was replaced by houses and maisonettes in Woodside Avenue. Office blocks were built on the site of the Railway hotel and New Bohemia cinema in Church End, at the junction of Queensway and High Road in North Finchley, and at several sites in Whetstone, including one near the Swan. (fn. 494)
By 1977 the building of large blocks of offices and smaller blocks of flats had taken away most of the character of the old centres. Church End was still dominated by Christ's College on one side and the more restrained tower of the church on the other. The early-18th-century Park House survived in Hendon Lane and some fine mid-19th-century houses in Regent's Park Road stood derelict. (fn. 495) Most of the area to the south and westward to Dollis brook was covered by houses of the 1920s and 1930s, with more recent flats, although grass and trees bordered the brook.
Ballards Lane, a collection of Victorian and Edwardian houses, modern flats, used-car depots, chapels, and foreign restaurants, leads to North Finchley, centred on the bleak Tally Ho Corner. Much remains of Woodside, the late-19th- and early-20th-century suburb of 'large spiky houses and heavy foliage', (fn. 496) and of the older terraces on the eastern side of North Finchley. Woodhouse Road retains its large mid-Victorian house, a school, with municipal and other housing of the 1920s to the south.
Whetstone, except near North Finchley, is no longer working-class. (fn. 497) Some early-19th-century farm cottages survive in Lodge Lane but shops, middle-class houses, and office blocks line High Road. There are a few elegant mid-19th-century houses and, on high ground farther north, expensive detached and semi-detached houses built before and after the First World War overlooking the grassland along Dollis brook on the west.
The Great North Road links Whetstone, North Finchley, and East End, where infilling has left no boundary between the old districts. Between the garages and works there are shopping parades, some with dates on their elaborate façades, as at East End (1912). As in Church End and North Finchley, there are many foreign restaurants and provision shops.
At East End modern flats have recently destroyed even the street pattern of the old village. The rebuilt George inn and Holy Trinity church and school remain, however, and community feeling is stronger than in many parts of Finchley. (fn. 498) A few of the old houses survive in East End Road, notably those which are convents. (fn. 499)
The area south-east of the North Circular Road has more affinity with Hampstead Garden Suburb, of which it is an extension, than with the rest of Finchley. Expensive houses remain in the Bishop's Avenue, heavily protected, (fn. 500) although even there some have been divided or rebuilt. In 1977 there were plans to replace the Towers, former home of the singer Gracie Fields, with 'Europe's most luxurious home', for an Arab buyer. (fn. 501)
Finchley's population grew from 4,937 in 1861 to 11,191 in 1881, 22,126 in 1901, and 46,716 in 1921. It was 58,964 in 1931, reached its height of 69,991 in 1951, and fell slightly to 69,370 by 1961. (fn. 502)