Pages 55-59
A History of the County of Middlesex: Volume 6, Friern Barnet, Finchley, Hornsey With Highgate. Originally published by Victoria County History, London, 1980.
This free content was digitised by double rekeying. All rights reserved.
MANORS.
In 1294 the bishop of London claimed that his predecessors had exercised rights over Finchley as a member of Fulham 'time out of mind'. (fn. 1) Although not mentioned in the Domesday survey, FINCHLEY manor probably formed part of the 50 hides in Fulham and elsewhere which Tyrhtel, bishop of Hereford, granted to Wealdheri, bishop of London, c. 704. (fn. 2) No evidence supports the tradition that St. Albans abbey had owned land 'between Barnet and London stone', which was seized by William I. (fn. 3) Although Finchley was called a manor in 1374, (fn. 4) it continued to be treated as part of Fulham until its transfer to the bishop's lordship of Hornsey in 1491. (fn. 5) About the period 1297-1302 Finchley was said to be held by the bishop of London of the honor of Stortford for ¼ knight's fee. (fn. 6) Except during the Interregnum, when the manor was held from 1649 by Sir John Wollaston (d. 1658), alderman of London, and his widow Rebecca, (fn. 7) the bishops remained lords until their rights were vested in the Ecclesiastical Commissioners. (fn. 8) The last manorial rights were extinguished in 1938. (fn. 9)
Demesne estates had been created out of the woodland by 1298. (fn. 10) In 1318 Lordsfield and Little Redings, two 20-a. arable clearings on the edge of Hornsey park, were administered as part of the Harringay demesne, as was the pannage of Finchley tenants. (fn. 11) Other demesne estates were High or Rote Redings, recorded from 1395, mainly in Hornsey but extending across the Finchley boundary to Newgate Lane, (fn. 12) Ballards Reding, on the edge of Finchley wood at the northern end of Ballards Lane by 1425, (fn. 13) and Bibwell, between Hornsey park and Bibbesworth, in 1434 'a certain close in Finchley'. (fn. 14) Apart from the bishop's hunting lodge within Hornsey park, on the parish boundary, (fn. 15) there was no grange or other administrative building in Finchley. (fn. 16)
The demesne was farmed in 1298, exploited directly in 1318, and leased out again from the 15th century, (fn. 17) when new demesne estates were created within Hornsey park, which extended deep into Finchley. Oxleas, an estate comprising meadow land and part of the herbage of the park in 1540, had become there closes by 1576. (fn. 18) The woodland remained in hand until 1645, when it was leased out, and was progressively grubbed up until in 1820 it consisted of 178 a. of farm-land and 88 a. of woodland in Finchley and 124 a. of farm-land and 306 a. of woodland, including Great Coldfall wood (116 a.) in Hornsey. Except Great Coldfall wood the woodland estate, including Bishop's wood (92 a.) of which two-thirds lay in Finchley, was within Hornsey park.
Most of the 113 a. allotted to the bishop at inclosure was added to the leasehold demesne estates but one block of 40 a. formed a new demesne estate which was leased separately. From the 17th to the mid 19th centuries the bishop's control was slight and the demesne estates were held on long and often hereditary leases for lives. Ballards Reding was sold in 1855 and the inclosure allotment in 1865. During the late 19th century the Ecclesiastical Commissioners, seeing the potential value of building land, bought out the remaining interests of the lessees at considerable expense, acquiring parts of Oxleas in 1873 and 1878, the woodlands in 1885, and Bibwell in 1902.
About 1900 the whole of south-eastern Finchley was in the hands of the commissioners, who let building plots on either side of the Bishop's Avenue from 1894. In addition they owned c. 629 a. of farm- and park-land in Finchley, divided into Park, Lodge, Spaniards, and Manor farms and Hampstead and Highgate golf courses. (fn. 19) Over 400 a. of farm-land were leased for building in 1911, the freehold being sold in 1958 and 1959. In 1977 the Church Commissioners owned the freeholds of only the convalescent home and no. 46 the Bishop's Avenue. (fn. 20)
The sub-manor of Finchley or BIBBESWORTH, first called a manor in 1319, (fn. 21) may have originated in 12th-century subinfeudations by the bishops. (fn. 22) There is no evidence that it was held for anything other than rent. (fn. 23) The Finchley family, which included a canon of St. Paul's, was active in the early 13th century (fn. 24) and in 1248-9 Richard, son of Richard of Finchley, granted 80 a. in Finchley to Michael Tovy, first of the many important Londoners connected with Bibbesworth. (fn. 25) Tovy, who already possessed property in Finchley in 1245-6, (fn. 26) acquired another 100 a. in 1248-9 from Hamon FitzAlan. (fn. 27) He sold the estate, apparently a manor, in 1252-3 to Adam de Basing, (fn. 28) who made further purchases in the 1250s. (fn. 29) One grant of 40 a. by Thomas of London was held of Hernicus the tailor (fn. 30) but any mesne interest between the bishop and Bibbesworth soon withered away.
Adam de Basing (d. 1262) was succeeded by his son Thomas (d. 1275), a minor, and then by his daughters Avice and Joan, wives respectively of William de Hadestok (d. 1296) and Henry le Waleys (d. 1301). (fn. 31) By 1299 Hadestok's daughter Joan and her husband Adam de Bedyk were in possession, (fn. 32) although they had earlier lost a suit against Waleys. (fn. 33) Adam was dead by 1302 (fn. 34) and his son Henry Bedyk, who also had property in Hendon and Totteridge, conveyed the manor to uses in 1319. (fn. 35) Accordingly, after Henry's death in 1335, two-thirds of the estate was held in trust with reversion to his son Thomas, while Henry's widow Joan, who married Ernald de Mounteney, had dower rights in the rest. (fn. 36)
In 1352-3 Sir Thomas Bedyk sold the manor to Simon Francis, who in 1357 left property in four counties to his son Thomas. (fn. 37) The latter sold Finchley manor in 1358-9 to Richard of Piriton and Richard of Haversham, clerks, (fn. 38) who in 1360 granted it to William Palmer and Richard Rook, (fn. 39) to whom Sir Thomas Bedyk's mother Joan sold her dower rights in 1360-1. (fn. 40) Palmer and Rook exercised patronage of the manor chantry in 1361 and 1363 (fn. 41) and Rook, acting for the abbot of Westminster, held courts in 1364 and 1365. (fn. 42) In 1366 Rook conveyed the manor to Richard of Stoke and others, who in 1386, on behalf of Westminster, enfeoffed John Flete. From 1392-6 Flete owed suit of court for the holding once Thomas Bedyk's. (fn. 43)
In 1400 the manor was conveyed by Flete to trustees (fn. 44) and by 1401 it was held by Drew Barentyn, in 1412 the richest landowner in Finchley with property worth £6 13s. 4d. (fn. 45) Barentyn died in 1415 and his nephew Reynold conveyed the manor by 1418 to Edmund Bibbesworth (d. 1443), who left it to his wife Godith for life. (fn. 46) In 1448-9 his son John Bibbesworth sold the manor, then described as six houses, 550 a. of land and woodland, and rent in Finchley and Hendon, to John Pontrell and others. (fn. 47)
At about that time the lords of Bibbesworth also acquired the so-called manor of MARCHES or NORMANS. In 1397 Sir William March died seised of 'the manor of Finchley' and 80 a., held of Philip Pelytot for 1 lb. of pepper a year, and 20 a., held of the bishop for rent. March was said to have been enfeoffed, with others, by William Creswick and John Berveyr. (fn. 48) The estate may have been a house, 158 a., and a mill in Finchley and Hendon, which had been held by Robert Kersebroke in 1313-14 and which Walter Kersebroke granted to Creswick, Berveyr, and others in 1378. (fn. 49) It may also have included land which had belonged to John atte Pole (d. 1361) and which was conveyed by his trustees to John Barnes, a Londoner like most of the others. (fn. 50) During the minority of Sir William March's son Thomas the estate was granted to Thomas Chipstead, who in 1412 was the second richest landowner in Finchley. (fn. 51) Chipstead still held it in 1435 but in 1439 trustees sold 'the manor called Marches', a house, 262 a., and rent in Finchley and Hendon to John Norman. (fn. 52) From 1442 to 1445 Norman was presented for lands once Chipstead's but by 1448 some had passed to the tenants of Bibbesworth and some to John Holtoft. (fn. 53) By 1453 all were in the hands of John Pontrell, lord of Bibbesworth. (fn. 54)
Pontrell and his fellow trustees conveyed the manor and combined estates to William Chester and others in 1461-2 and by 1464 they were held by John Plomer or Leynham (d. 1479), who left them to his widow Margaret and his nephew's son Richard Fisher. (fn. 55) They sold them almost immediately to William Hastings, Lord Hastings (d. 1483), whose widow Catherine (d. c. 1503) held the manor during the minority of her son Edward (fn. 56) and apparently was still in control in 1490. (fn. 57) Edward, Lord Hastings, held the manor in 1502 and after his death in 1506 it was held by his widow Mary during the minority of their son George, who came of age in 1509. George, heavily in debt, sold the manor in 1527 to Sir William Compton (d. 1528). (fn. 58) The Crown held it during the minority of Sir William's son Peter (d. 1539), (fn. 59) whose widow Anne (d. 1588), later countess of Pembroke, held it as dower and in 1577 settled it on her son Henry, Lord Compton (d. 1589), with remainder to Henry's second son Thomas. (fn. 60) In 1594 Thomas with his elder brother William, Lord Compton, sold Bibbesworth and Normans to Alexander King, auditor of the Exchequer. (fn. 61) King died childless in 1618, leaving Bibbesworth to his widow Elizabeth (d. 1622), (fn. 62) whose executors were to sell it to raise legacies. (fn. 63)
Edward Allen, a London alderman, bought the manor in 1622 (fn. 64) and other small properties in East End. He was succeeded in 1625 (fn. 65) by his son, later Sir Thomas Allen, who in 1627 married Mary, daughter of Sir John Weld of Arnolds in Southgate. (fn. 66) In 1674 Sir Thomas settled his extensive Middlesex estates, including Bibbesworth, in tail male. On his death in 1681 the estate descended to his son Edward and on Edward's death childless in 1692 it passed to Thomas, son of Edward's brother James (d. 1690). (fn. 67) Thomas (d. 1764) added to the estate and was succeeded by his son Edward (d. 1774) (fn. 68) who broke the entail in 1764 and left it in trust for life to his brother Thomas. Thomas, who until 1774 bore the surname Greenhalgh, (fn. 69) by will proved 1780 conveyed the manor in trust for life to his son Thomas, (fn. 70) who died childless in 1830. The title was then disputed between the Revd. Edward Cooper, (fn. 71) under the will of Edward Allen (d. 1774), and descendants of Edward Allen (d. 1692), (fn. 72) under the will of Thomas Allen (d. 1780). In 1832 Cooper's title passed to his son the Revd. Edward Philip Cooper (d. 1864), who bought out the other claimants (fn. 73) and settled his Finchley estates on his daughters Edith Cassandra (d. 1888) and Sophia Mary Leigh (d. 1888), the wife of Frederick A. H. Fitzgerald. On their deaths Bibbesworth manor passed to Albert Henry Arden (d. 1897), son of their father's sister. A. H. Arden was succeeded by his son Edward Cooper Arden, (fn. 74) who held the last court in 1936. (fn. 75)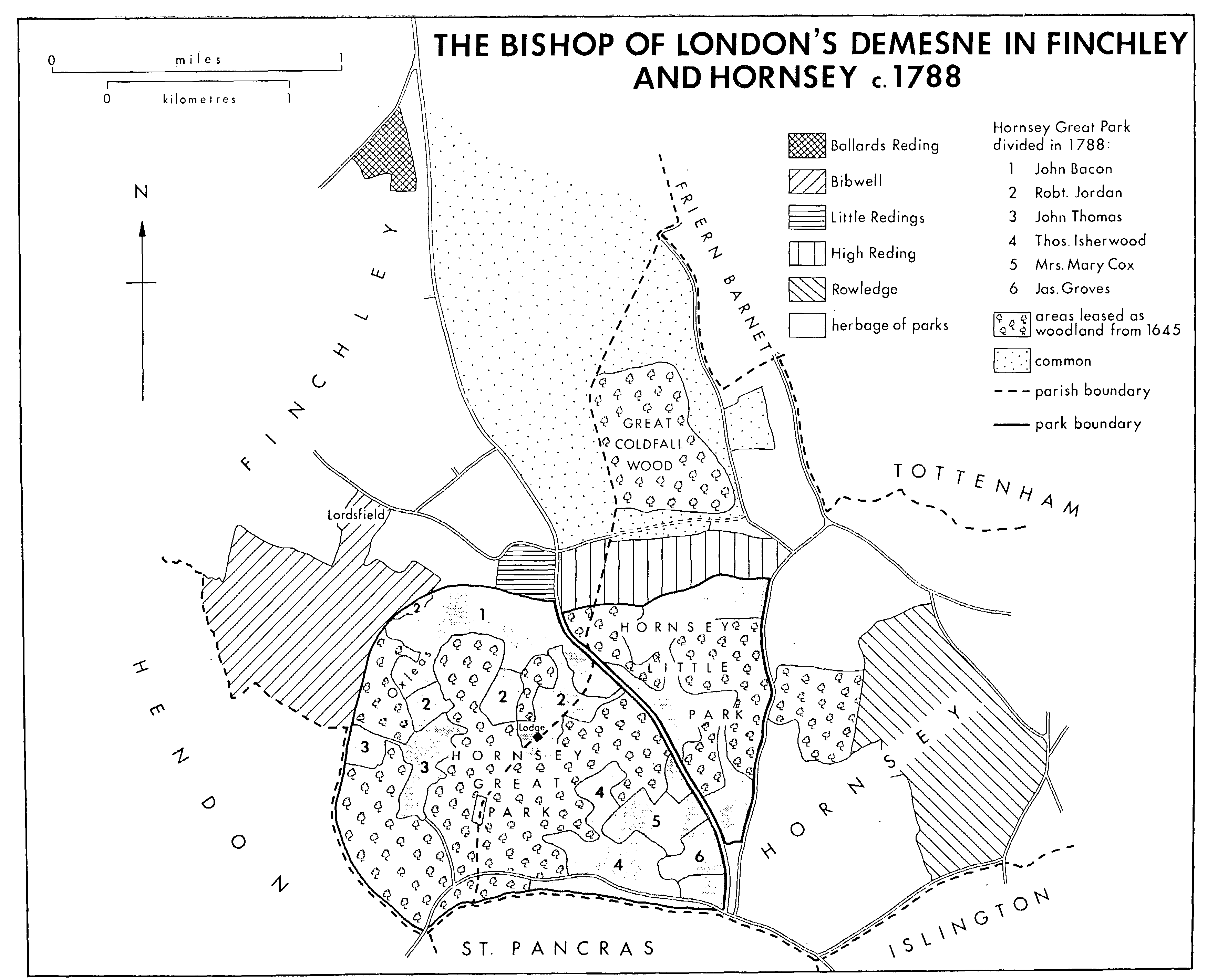 The Bibbesworth estate remained encumbered in the 19th century. Churchfield, already divided by Regent's Park Road, was sold from 1849 (fn. 76) and sales of other portions continued until 1909, when E. C. Arden sold most of the remaining land for building. (fn. 77) William Gamage bought the house with 29 a. at about that time and sold it in 1919 to the convent of Marie Auxiliatrice, which still owned it in 1977. (fn. 78) The Express Dairy bought Sheephouse or College farm in 1909. The farm-house and a small part of the land were conveyed to the Department of Transport in 1974, after most of the surrounding fields had been sold for building. (fn. 79)
In 1376 Richard of Stoke and others leased Bibbesworth manor to Lawrence of Allerthorpe (fn. 80) and in 1502 Edward, Lord Hastings, leased it to Sir Thomas Frowyk, whom he made steward and bailiff. (fn. 81) After Frowyk's death in 1506 the lease was held by his widow Elizabeth, who by 1508 had married Thomas Jakes. (fn. 82) In 1515 Elizabeth surrendered the lease to Lord Hastings (fn. 83) and in 1530, during the minority of Peter Compton, the manor was leased by the Crown to Sir William Brereton, (fn. 84) who sold some of the land. (fn. 85) After Brereton's execution in 1536 his widow Elizabeth, who resumed her former husband's name of Savage, petitioned Cromwell for Bibbesworth, (fn. 86) which in 1537 was leased to her 'cousin' Urian Brereton, still the lessee in 1547-8. (fn. 87) The manor was never again leased in its entirely.
Bibbesworth manor-house stood at the centre of the estate, south of East End Road and between Church End and East End. The manor-house, mentioned in 1335, (fn. 88) existed by 1253 and may have been the house of Michael Tovy where two people were burnt to death in 1245-6. (fn. 89) The house was probably rebuilt or extended by the Bibbesworth or Hastings families. In the early 16th century it was the 'great place of Bibbesworth' and in 1502 it comprised a chief messuage, orchard, and building within the moat and a great barn and long stable outside the moat. (fn. 90) It was the largest house in the parish in 1664, being assessed at nineteen hearths, (fn. 91) and by 1692, when it figured in a dispute between two Elizabeth Allens, respective widows of Edward and James, it apparently already had the distinctive fishponds on the northern side of East End Road and extensive pleasure gardens. (fn. 92)
After the Allens ceased to live in Finchley, Bibbesworth manor-house was leased as a boys' school to William Fanning (1819-37) and Dr. Henry Worsley (1838-57). (fn. 93) Miss Lucy Worsley was in occupation in 1859 and Miss H. Legeyt, who ran it as a girls' school, in 1862. (fn. 94) In 1863 it was leased with 23 a. to George Plucknett, a magistrate who often heard cases in the hall of the house. (fn. 95) Between 1882 and 1887 the lease passed to William Pearce Jones, who surrendered it c. 1906. (fn. 96)
The existing house was built for Thomas Allen c. 1723 north of the earlier seat. (fn. 97) It is a large plain building, seven bays by three and with three storeys above a basement. The interior, which has an unusual plan with four internal chimney stacks, retains the original oak staircase and much panelling. (fn. 98) Later fittings include fire-places and panelling of the late 18th century and many features in the 18th-century style but probably of c. 1900, at about which time a billiards room was added to the north-west. Since 1919 a chapel and classrooms have been built on the north-west and an attic has been added to the old part. An Ionic garden temple was removed to Surrey c. 1970. (fn. 99)