Pages 1-2
A History of the County of Middlesex: Volume 7, Acton, Chiswick, Ealing and Brentford, West Twyford, Willesden. Originally published by Victoria County History, London, 1982.
This free content was digitised by double rekeying. All rights reserved.
Acton
Acton, (fn. 1) parish lies c. 8 km. west of Hyde Park Corner, (fn. 2) bounded on the north by Willesden and West Twyford, on the east by Hammersmith, on the south by Chiswick, and on the west by Ealing and Brentford. It is roughly rectangular in shape, measuring c. 2.4 km. from east to west by c. 4.8 km., (fn. 3) although until 1894 a small peninsula jutted south-westward towards Brentford. The parish contained 2,305 a. in 1871 and had the same acreage after exchanges with Brentford, which received the south-western peninsula, in 1894 and Willesden in 1895. The civil parish was conterminous with Acton U.D., later M.B., which was enlarged to 2,319 a. by minor adjustments in the 1930s. (fn. 4) From 1965 Acton has formed the eastern part of Ealing L.B.
Most of the boundary with Hammersmith was formed by the eastern branch of Stamford brook, and the south-western boundary, from Fordhook south-eastward to Acton Green, by Bollo brook. The southern boundary lay along the line of a Roman road, part of which remains as Chiswick High Road, but was adjusted in 1894 to follow the District and Piccadilly railway lines. The northern boundary and the remainder of the western were marked in 1842 by lanes, (fn. 5) which had probably existed much earlier.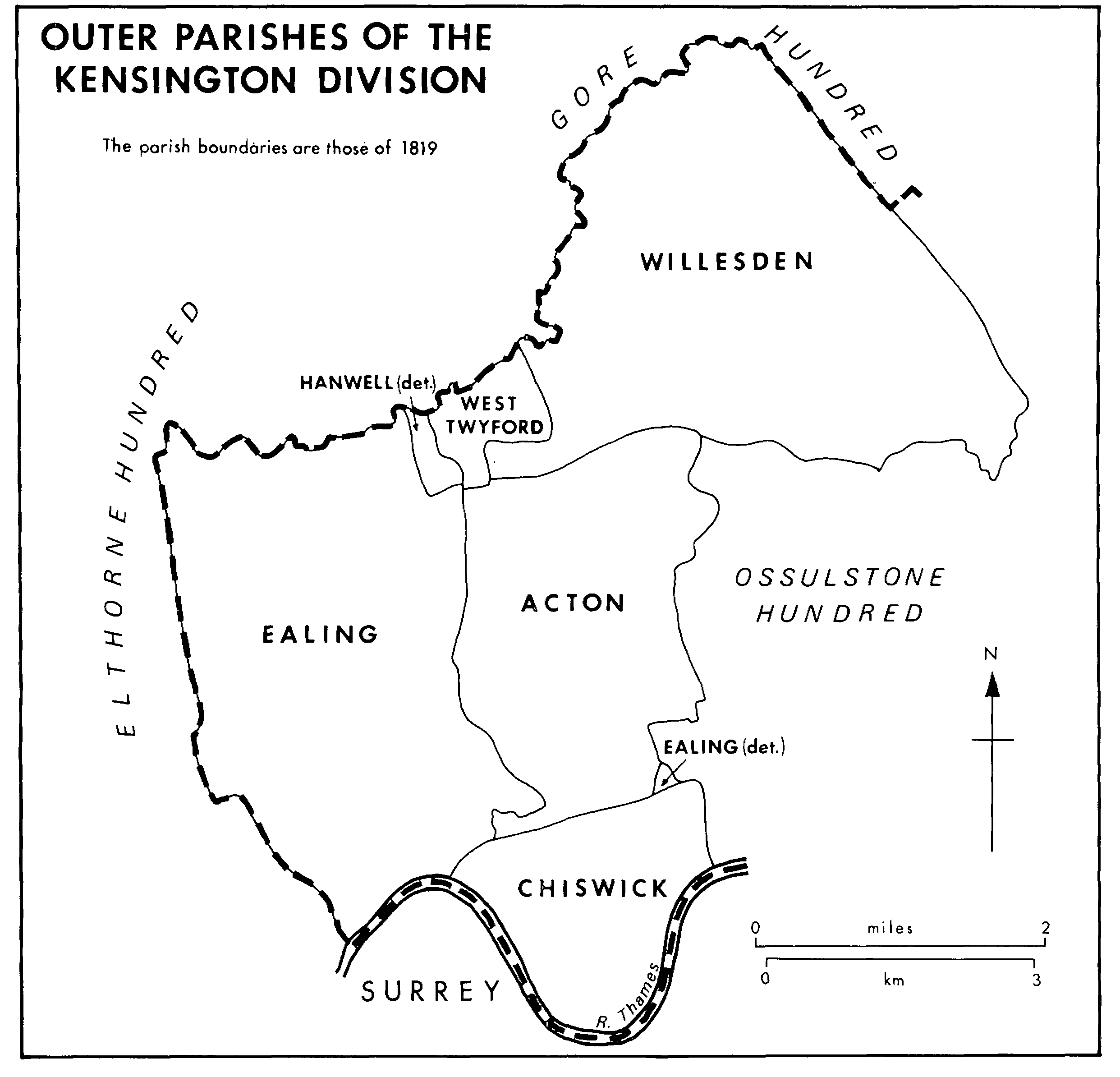 London Clay covers the northern part of the parish as far south as Masons green, Acacia Avenue, East Acton village and the site of Manor House, and Acton park. Brickearth covers the rest of East Acton and the parish south of Uxbridge Road, except around Mill Hill and Heathfield, where Taplow Gravel lies along the south-western and western sides. (fn. 6)
The land slopes from 50 m. in the north-west corner of the parish to 6 m. in the south-east, drained by two main streams. (fn. 7) Bollo brook rises near Fordhook and flows south-eastward to Acton Green, passing into Chiswick. Stamford brook's western branch, apparently rising near Acton Farm west of Horn Lane, flows south to meet another tributary, from Springfield near the Ealing boundary, at a point north of the Steyne and continues down the west side of the Steyne to cross the Oxford road at the foot of Acton hill. Thence it flows south-eastward south of Berrymead and across South field into Hammersmith, where it joins the eastern branch of Stamford brook from Old Oak common.