Pages 30-32
A History of the County of Middlesex: Volume 7, Acton, Chiswick, Ealing and Brentford, West Twyford, Willesden. Originally published by Victoria County History, London, 1982.
This free content was digitised by double rekeying. All rights reserved.
LOCAL GOVERNMENT.
Manorial government.
In 1294 the bishop of London successfully claimed view of frankpledge, infangthief, outfangthief, the assize of bread and of ale, fugitives, goods, and amercements of tenants in Acton, as part of his manor of Fulham. (fn. 1)
Views of frankpledge were held for the vill of Acton by 1383 (fn. 2) and were taken at Fulham on the Sunday after Hocktide or another day generally in April. In 1750, and occasionally thereafter, the views for Ealing and Acton were taken together. The main business, apart from paying the common fine and appointing officers, concerned ditches and highways and the assize of bread and of ale. From the 16th century courts were increasingly concerned with grazing rights. (fn. 3)
The reeve collected quitrents for both Acton and Ealing. In 1697 it was stated that there were eight tenements in Acton from which the reeve was chosen every third year, Ealing tenants being chosen for the other years. The reeve received money, clothing, and food, and the reevable tenements were the only ones for which a heriot was paid. (fn. 4) Other manorial officers served Acton alone. Eight headboroughs were listed in the 14th and 15th centuries but only two by 1553. Two aletasters were recorded in 1393 and only one by 1486 and thereafter, until two were appointed in the early 19th century. A constable occurred in 1461 and there were two by 1528. Thereafter the two constables, with headboroughs and aletasters, were chosen annually until the views for Acton ceased c. 1815. In 1816 not enough tenants attended to form a jury, when the steward recommended that the vestry appoint manorial officers and resist encroachments by Chiswick inhabitants. (fn. 5) By that date business had been limited to elections and court baron transactions.
Land transfers took place at the court baron for Fulham until the 16th century, when some were recorded at the view of frankpledge. A court baron for Acton was held in 1607 and thereafter one for Ealing with Acton met regularly in the autumn for land transactions. By 1750 there were separate courts baron for Ealing and Acton. The view and the court baron were the only courts held every year and from the 17th century they were often adjourned over succeeding months. All the courts for Acton apparently were held in Fulham or Hammersmith. Court baron business continued to be recorded until 1951, by then mainly for extinguishment of quitrents, with a few conveyances and successions to property. (fn. 6) Enfranchisements began in 1846, most of the larger properties being enfranchised during the next 30 years. (fn. 7)
Parish government to 1836.
Two churchwardens were recorded in 1554, (fn. 8) two overseers in 1583, (fn. 9) and two sidesmen from 1586 until the 17th century. (fn. 10) A parish clerk occurred in 1456 (fn. 11) and two surveyors from 1627. (fn. 12) From 1777 the vestry clerk received a salary to carry out the business of the parish officers (fn. 13) and from the early 19th century he was also paid annually as an assistant overseer. The parish clerk and vestry clerk were different men in 1810. (fn. 14) Two inspectors of weights and balances were elected in 1798, and a beadle was appointed in 1800 to keep order in church, remove paupers, and report on new residents likely to become chargeable, for which he received a salary and uniform. (fn. 15) Churchwardens' accounts exist from 1674 to 1819, with a summary from the late 16th century, (fn. 16) overseers' accounts and poor rate books from 1772, (fn. 17) a highway surveyors' rate book from 1775 to 1811, (fn. 18) and vestry minutes from 1775. (fn. 19)
A vestry was held in 1586 with 14 present, but meetings were recorded only occasionally before 1775. The church rate, which included provision for the poor, was 3d. in the £ in 1675, when it raised £25 7s. 4d., and 4½d., in 1703, when it raised £51 10s. 9d. Eighteenth-century rates were generally annual and between 3d. and 4d. Vestries met in the church but were usually adjourned to the Cock, the King's Head, or another inn, until a new vestry room was built in 1781. Apart from elections, business mainly concerned apprenticeships and payments to the poor. Although the vestry met monthly, only the meetings which elected officers or made orders were minuted: eight meetings were recorded in 1776, six in 1780, and five in 1785. In 1800 the agenda was to be announced in advance and the monthly vestries on Sundays were to be confined to settling the overseers' accounts. The rector, William Antrobus, and his curates attended regularly from 1798. A select vestry was approved in 1821 (fn. 20) but a meeting of 43 inhabitants reversed the decision, whereupon the open vestry continued to handle poor relief. (fn. 21)
A separate poor rate apparently began in 1772. (fn. 22) The rate was 5d. in 1772, 7d. in 1790, and 20d. in 1801, and usually exceeded 1s. in the early 19th century, with two or more rates a year. In 1776 c. £220 was spent on the poor and in the early 1780s c. £290 a year. (fn. 23) From 1818 c. £1,000 was collected annually (fn. 24) and in 1836, the last year of parish poor relief, £1,174 was raised and £786 16s. was spent on the poor. (fn. 25) The parish was rated as a whole rather than by districts. (fn. 26)
Objections to the poor rate grew from 1785, when there were refusals to pay (fn. 27) and the vestry rejected a move to assess parishioners on improvements to their property. (fn. 28) Protests (fn. 29) eventually led to a revaluation by John Trumper and Richard Davis, (fn. 30) which thereafter formed the basis of rating. There were further disagreements in 1807 and 1821 and in 1823 Sir Richard Birnie, a resident, refused to sign the poor rate as a magistrate, whereupon some assessments were reduced. (fn. 31)
In 1629 William Ball of Willesden sold his house in Acton to the parish officers, who paid a rent for it as the parish house until 1681. There was no workhouse, but almshouses were built in 1725 on the site of a house in the Steyne which the churchwardens had bought from Charles Fox in 1681 for the use of the poor. (fn. 32) Pensioners were to be badged in 1706 but only one regular pension was paid, out of Ramsay's charity, in 1708. (fn. 33) Paupers were forbidden to keep dogs in 1792, when there were 14 receiving regular relief. Increasing poverty was met in 1799 by providing cheap meat, bread, and coals, paid for by voluntary subscriptions. In 1800 weekly allowances of 2s. 6d. to 12s. were arranged for 17 paupers and clothing was distributed yearly and half yearly to the aged. (fn. 34) A scheme of 1832 for part of Acton Green common to be cultivated by the poor was dropped when the bishop of London, after pressure from some residents and outsiders, withdrew his consent. (fn. 35) Acton was thought not to be a poor parish in 1828, when only three able bodied men were unemployed. (fn. 36)
By the late 18th century the vestry was assuming several functions of the manorial court. In 1792 it ordered that pigs should be controlled and from 1785 it dealt with encroachments on the wastes and lanes. In 1792 six inhabitants were allowed to inclose waste in front of their houses on making payments into the parish funds, (fn. 37) and compensation was also paid by the Grand Junction Canal Co., the G.W.R., and others for removal of common rights. (fn. 38) The vestry in 1810 sued a Hammersmith builder, who had erected six small houses on his strip in Church field, and won confirmation of common rights, (fn. 39) and it viewed an inclosure on Old Oak common in 1826 to protect the commoners there. (fn. 40) It also began to press for the general inclosure of wastes such as Acton Green common in 1794 (fn. 41) and of all commons in 1805 and again in 1813, although without success. In 1816 gatehouses were planned at the entrances to the common fields and a gate was to be put up at the north end of Acton Lane, to protect South field. (fn. 42)
A temporary board of health, similar to one in Ealing, was formed in 1831 to counter the threat of cholera, with the rector as president and eleven other members. (fn. 43)
Local government after 1836.
Acton joined Brentford poor law union in 1836. (fn. 44) The vestry in 1848 appointed a short-lived committee to help the medical officers and guardians carry out the Nuisances Removal Act. (fn. 45) From the late 1850s there was disagreement between those who wished for improvements to attract new residents and those who wanted to do nothing until an increased population made improvements necessary. A meeting was called in 1859 to consider improving the footpaths and lighting the streets. Vestry meetings were moved from mid afternoon to 7 p.m. despite opposition, and those concerned with improvement drew such large numbers that they were adjourned to the George every time. In 1861 it was resolved to meet again before 3 p.m. and in 1862 it was finally agreed to adopt street lighting. (fn. 46)
In 1865 the Local Government Act, 1858, (fn. 47) was adopted to deal with sewerage, (fn. 48) and a local board of 12 members met twice monthly from 1866. A small house in High Street was rented for offices and a salaried clerk was appointed. The board also took over responsibility for the highways and for street lighting. A salaried surveyor and inspector of nuisances was appointed and committees for works and for finance were formed in 1866. Other committees were formed later, often of a temporary nature, such as a drainage committee in 1883 and a fire brigade committee in 1899. The local board exercised strict control over building, which led to criticism in 1869 and accusations of partiality. Examples of discrimination, supplied by 'Lucifer Doubtful' and published in the Acton Press, prompted the board to print a detailed refutation. Bylaws operated against the small builder, who could not afford to observe the regulations, and it was alleged that many sewers were being put down in Horn Lane to accommodate gentlemen, while the badly flooded parts of Acton Green and around Bollo bridge had very few. (fn. 49)
Acton became a U.D. under the Local Government Act, 1894, and was divided into North, East, and West wards, returning 7, 4, and 4 members respectively. Four different wards, North-East, North-West, South-East, and South-West, each with 4 councillors, were created in 1906. (fn. 50) The incorporation of Acton as a borough, discussed as early as 1900, (fn. 51) was achieved with the grant of a charter in 1921. (fn. 52) The borough council consisted of a mayor, 6 aldermen, and 24 councillors, representing the 4 wards of the former U.D. (fn. 53) Conservatives controlled the council in the 1930s and the Labour party after the Second World War. (fn. 54) Acton remained a separate M.B. until 1965, when it was included in Ealing L.B.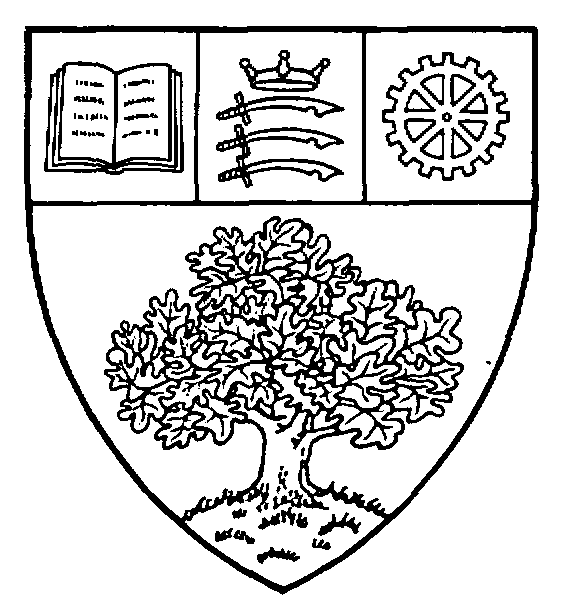 An office was built by the local board in High Street, at the foot of Acton hill, in 1870. (fn. 55) In an Italianate Gothic style, it was used after 1910 by private firms until its demolition c. 1930. (fn. 56) New municipal offices on the Priory estate, next to the swimming baths, were opened in 1910, (fn. 57) accommodating both the council and departments which previously had been dispersed. A threestoreyed building, with its main entrance in Winchester Street, it was of red brick with stone facings in a free Renaissance style. The adjacent High Street site was opened as the King George V garden, but eventually was used for the new town hall, opened in 1939, which contained an assembly room. (fn. 58) After the formation of Ealing L.B., Acton town hall housed an information bureau, cash office, and the registrar of births, deaths, and marriages. (fn. 59)
Acton formed part of the parliamentary constituency of Middlesex until its inclusion in 1885 in the new Ealing division, which also contained Chiswick and returned a Conservative member. In 1918 Acton became a separate division of Middlesex, returning a Conservative, as it did thereafter except between 1929 and 1931 and between 1945 and 1959, when there was a Labour member. As Ealing-Acton, the constituency was enlarged to include part of east Ealing and Twyford, with effect from 1974. (fn. 60)