Pages 143-151
A History of the County of Middlesex: Volume 8, Islington and Stoke Newington Parishes. Originally published by Victoria County History, London, 1985.
This free content was digitised by double rekeying. All rights reserved.
GROWTH
SETTLEMENT AND BUILDING TO 1870. Abney Park cemetery forms part of an extensive palaeolithic working floor containing axes, hammer stones, and flakes. (fn. 57) Continuous occupation, however, probably dates only from the late Saxon period, and the 'ing' form of the name Newington is not recorded before the 13th century. (fn. 58) The first mention was as Neutone in 1086 when there were four villeins and 37 cottars with an amount of cultivated land which suggests that approximately half the area was still woodland. (fn. 59) The prefix Stoke, first recorded as a suffix in 1274 (fn. 60) and used to distinguish the vill from Newington Barrow and Newington Berners in Islington, may refer either to tree-stumps, suggesting clearance of woodland, or to a timber structure. (fn. 61)
The medieval village was probably set in a landscape of open fields and woodland, with homesteads, closes, and gardens surrounding the cottages along Church Street, the London road and, by the later Middle Ages, Newington Green. (fn. 62) The woodland was gradually cleared: three loads of timber were taken from Newington to the Tower of London in 1528, (fn. 63) and in the 1560s and 1570s the manorial demesne, the glebe, and waste along Green Lanes all suffered from illegal felling, while there was still woodland on the copyhold in the north-east part of the parish. (fn. 64) Woodland covered 77 a. of the demesne in 1649, (fn. 65) some 27 a., mostly in the extreme north, in 1734 (fn. 66) and had apparently disappeared entirely from the parish by the mid 18th century. (fn. 67)
Stoke Newington was sufficiently near London to attract residents from outside, like the earl of Oxford, in 1593 living in 'a very proper house there'. (fn. 68) From the burial of a servant of the countess of Essex, then wife of the earl of Leicester, in the church in 1582 it has been argued that Leicester was himself a resident. Leicester and his wife, however, were in the parish as guests of the widow of Leicester's kinsman John Dudley. It was probably the visits of Queen Elizabeth I to the Dudleys that were commemorated in Queen Elizabeth's Walk. (fn. 69) Houses were increasingly leased to outsiders, mostly London merchants but also foreigners. Two Flanders men were living in Newington in 1436 (fn. 70) and two Italian merchants in 1572. (fn. 71) In 1616 a merchant, Cyprian Gabrie, himself possibly foreign, complained of the obstruction of a watercourse from his house in Stoke Newington by Sir Noell Caron, ambassador from the United Provinces, who was presumably his neighbour, (fn. 72) and in 1643 the same house was occupied by Reynatus Augier, apparently another foreigner. (fn. 73)
The parish was affected by religious and political movements. A clergyman was gaoled for repeating London gossip about the queen in 1562 (fn. 74) and in 1623 a tailor from Newington near London was in trouble for remarks about James I. (fn. 75) The parish was strongly parliamentarian during the Civil War, and Col. Alexander Popham and, after 1664, Gen. Charles Fleetwood were among its inhabitants. (fn. 76) The Fleetwoods and Hartopps, and later the Abneys, were the protectors of nonconforming ministers and teachers who settled at Newington Green after the Restoration. In 1661 Henry Danvers (d. 1687), who had been a parlimentary colonel and who had a house at Stoke Newington, was described as one of a group of dangerous men in London who were preparing a rising. (fn. 77) In 1675 a shot was fired at the king from a house which was probably in High Street. (fn. 78) In 1681 Titus Oates was at Newington, presumably to see Danvers, whom he met there in 1682, and in 1685 Danvers was accused of 'treasonous practices', probably in connexion with Monmouth's rebellion. (fn. 79) Daniel Axtel (d. 1687), whose house at Stoke Newington was searched in 1678 for seditious libels, was the son of an executed regicide and fled to Carolina. (fn. 80)
There were 100 communicants in 1548, (fn. 81) and during the 16th and 17th centuries burials averaged between 4 and 10 a year. During plague years 13 were buried in 1563, 34 in 1593, 65 in 1603, 52 of whom 40 died of the plague in 1625, and 25 at least during the 'sad visitation' of 1665. (fn. 82) In 1649 the parish was said to be small and most of the inhabitants attended Islington church, while many from west Hackney came to Stoke Newington church. (fn. 83) Sixty houses were assessed for hearth tax in Stoke Newington village in 1674 and another 24 at Newington Green. Another 19 cottages not chargeable in 1664 should probably be added to the total. There were 13 houses in Stoke Newington village and one at Newington Green with 10 or more hearths. (fn. 84) By manorial custom houses could be replaced by buildings of equal value, as happened in the 1680s. Tenementing, like the division of the Three Pigeons into five tenements by 1692, also implies a demand for housing. (fn. 85) There was considerable building during the 18th century, especially in Church Street, and by 1782 there were 191 houses in the parish, of which two thirds were in Church Street and one fifth along the London road. (fn. 86) In 1795 there were c. 200 houses, (fn. 87) and 208 inhabited and 13 uninhabited houses in 1801. (fn. 88)
Protestant nonconformity and London commerce, exemplified in Daniel Defoe, (fn. 89) featured strongly in local society. In 1698 a London gentleman, wishing to find a place out of town for his mother, rented a house in Stoke Newington. (fn. 90) In 1708 a London mercer, whose sick wife needed to live in the country, leased a house in Church Street and found that he could make a living from wealthy lodgers. (fn. 91) In 1720 Stoke Newington was 'pleasantly situated and full of fine country houses for citizens, being about 3 or 4 miles from London'. (fn. 92) In 1798 merchants' country retreats, where the women could spend much of their time, especially in summer, included 'genteel villas and pleasure grounds' near the New River. (fn. 93)
Hitherto building had been limited to the frontage to existing roads, especially Church Street and the London road. Manorial custom prohibited subleasing on copyhold for more than three years without licence. In 1805 the lord of the manor allowed John Graham, owner of Stonefields, 30 a. of copyhold in the south-east of the parish, to sublease for 61 years without demanding a larger fine than two years' ground rent on any building erected by him. In 1810 a similar agreement was made with James Kibblewhite, who had purchased 9 1/2 a. from Graham. (fn. 94) As a result 92 new houses and cottages fronted Stoke Newington Road, Castle Lane, and Coach and Horses Lane by 1813. (fn. 95) They included Nelson Lodge, (fn. 96) set well back from Stoke Newington Road, and houses at the corner of 'Berrett Street', (fn. 97) which was presumably Barrett's Grove although mapped in 1814 only as a footpath. (fn. 98)
In 1814 Stoke Newington's vicinity to London was said to make it capable of great improvement. Persuaded by the Eades, lessees of the manor, the prebendary obtained an Act enabling him to lease the manor for 99 years and empowering the lessees to grant subleases for terms up to 99 years. The same Act permitted enfranchisements, so opening up both demesne and copyhold land to builders. (fn. 99) There were 379 houses in the parish on the eve of the Act. (fn. 1) The numbers increased (fn. 2) to 442 in 1821 and 670 in 1831, but by 1832 a general depression had brought building to a standstill. (fn. 3) Twelve houses were built in 1841, ten in 1842, and eight in 1843; in 1844, when there were 705, it was thought that few would be built in the next years. (fn. 4) Annual returns of buildings erected from 1856 (fn. 5) show that within increases of 29 per cent between 1851 and 1861 and 68 per cent between 1861 and 1871 the number varied from 16 in 1861 to 113 in 1868. By 1871 there were 1,816 houses in Stoke Newington parish and another 1,087 in South Hornsey.
Construction was by scores, if not hundreds, of independent builders, mostly on a very small scale. Albert Town, for example, was built in the 1850s by 53 builders, the largest of whom, James Witcombe of Islington, built 35 houses. Many others put up a single house. (fn. 6) Best known was Thomas Cubitt and local ones included Meshard Izzard, a carpenter from High Street, and Thomas Widdows of Church Street, described in 1839 as 'a most lascivious old fellow'. (fn. 7) Architects who designed their own houses were John Young c. 1845 and James Brooks in 1862. (fn. 8) There was a contrast between the area north of Church Street, mainly demesne land over which the lords of the manor exercised some control, and that to the south, fragmented among numerous owners. In the north it was possible to lay out roads like Seven Sisters Road, Manor Road, and Lordship Park spanning the whole parish, while in the south small estates were developed piecemeal.
There were 31 houses and cottages on the demesne in 1813, mostly on the north side of Church Street from Church Row to Lordship Lane (later Road) but including four in Edward's Lane and two in Lordship Lane. Woodberry Down, from Green Lanes to Lordship Lane, had been formed although it was still called New Road and had no houses. (fn. 9) Building after the Act proceeded modestly on the existing roads close to Church Street, mostly with small terraced houses. There were six in Meadow Street by 1818 (fn. 10) and Meshach Izzard built another 13 there in 1820-1. (fn. 11) A terrace of 10 brick cottages had been lately built in Edward's Lane in 1820. (fn. 12) From 1821 to 1828 10 houses, with gardens of 1 a. and 1/2 a., were built in Lordship Road. (fn. 13) Building started in Green Lanes in 1821 with a large house at the junction with Woodberry Down (fn. 14) and in 1824 with three detached houses at a crossing of the New River. (fn. 15) At the northern end of Green Lanes Northumberland House, a three-storeyed building with a pillared entrance, balustrade, and urns on its roof, had been built by 1824 (fn. 16) and Thatched Cottage, with Gothic windows, on the Tottenham border by 1825. (fn. 17) Woodberry Down Cottages, four detached houses on the south side of Woodberry Down, had been built by 1829. (fn. 18) Thomas Widdows had built Manor House public house at the junction of Green Lanes and Seven Sisters Road by 1832. (fn. 19) By 1837 the large River House, at the bend of the New River on the south side of Seven Sisters Road, had been built by builders from Clerkenwell (fn. 20) and Homefield Place, six cottages in Lordship Road, by Thomas Widdows. (fn. 21) In the 1840s larger houses were built in the central portion of Lordship Road, (fn. 22) in Green Lanes north of those built in the 1820s, (fn. 23) and on the north side of Seven Sisters Road. There was an ambitious but abortive scheme in 1846 for roads and 34 detached houses on land bounded by Seven Sisters Road, the New River, and Manor House tavern. (fn. 24) One house was built in Queen Elizabeth's Walk by 1846. (fn. 25) By 1848 there were 134 houses and cottages on the demesne. (fn. 26)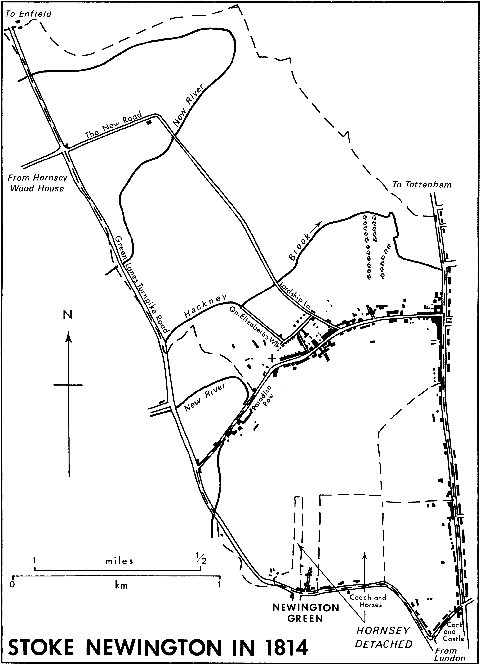 The south-eastern part of the area north of Church Street was not demesne. By 1829 Park Street (later Yoakley Road), with houses on either side, had been driven north from Church Street. (fn. 27) A Quaker meeting house and almshouses opened in 1829 and 1834 respectively (fn. 28) and 12 houses were built between 1845 and 1851 by Thomas Widdows and others. Manor Road (called Park Grove in 1848) had been driven from Stamford Hill to Lordship Road by 1827 and during the 1840s housing spread westward on Thomas Maughan's estate. The builder was Richard Ashby, who occupied a large detached house on the south side of the road. (fn. 29) In 1840 most of the remaining land in the south-east corner north of Church Street became part of Abney Park cemetery, providing a permanent open space, as did the 50 a. of demesne land taken for reservoirs in 1831. (fn. 30)
Except for glebe, all the land south of Church Street was copyhold. In 1821 the largest estate, the Pulteney estate of 60 a. occupying most of the western side of the parish between Church Street and Newington Green, was for sale in lots of 1 a. or 2 a. fronting Green Lanes and two projected new roads, Albion Road and Clissold Crescent. (fn. 31) Thomas Cubitt (fn. 32) bought seven lots (12 a.) mostly on each side of the northern part of Albion Road. In 1822 he purchased two adjoining lots (3 1/2 a.) from John Merrington, a local surveyor. Cubitt assumed responsibility for making and maintaining Albion Road until it was adopted by the vestry in 1837, and he constructed the sewers. (fn. 33) He started with houses at the north end in 1823, some being built by his own men and some, for example, Clarence Cottages (nos. 191-3), which were completed by John Payn in 1827, by small builders. Construction slowed in 1829 and some of the builders went bankrupt, but Cubitt in 1833 started building again, completing houses in South Place which he had left unfinished since 1829. Before 1834 he let land on the north-east to a nurseryman, but building continued during the 1830s on other sites to meet a new demand for larger detached or semi-detached houses (fn. 34) and by 1839 was virtually complete. Within 20 years Cubitt had added more than 70 houses, mostly of a quality to preserve Stoke Newington's character as a select residential area, although a contemporary in 1841 complained that Albion Road 'has spoilt all the quiet of the fields and brought London nearer to Stoke Newington by 50 miles'. (fn. 35)
The building lots on the east side of the southern part of Albion Road were divided among several purchasers, including Thomas Cubitt's brother William. (fn. 36) A few houses were built before 1829 (fn. 37) and more during the 1840s (fn. 38) until by 1848 they formed a continuous line from South Place southward for more than half the length of Albion Road. (fn. 39)
Benjamin Massey bought five lots (11 a.) of the western part of the Pulteney estate and was leased another 4 a. (fn. 40) He had built Newington Hall for himself at the junction of Church Street and Green Lanes and two houses adjoining it fronting Green Lanes, called Paradise Place, by 1829. (fn. 41) The rest of Paradise Place was built in 1846-8. (fn. 42) Cubitt's original purchase in 1821 had included 2 a. between the New River and Clissold Crescent, which he leased in 1822 and 1823 to Massey and to Joshua Ramsay. By 1836 Ramsay had built one house fronting Clissold Crescent and another three facing the New River, forming the northern part of what, after 1839, was named Aden Terrace. (fn. 43) Massey built at the southern end of the terrace and in Millfield Place on the west side of Green Lanes in 1846-8. By 1848 there were 27 houses and a tavern, the Pegasus, on his land. (fn. 44) South of Millfield Place some 20 houses and the Royal Oak tavern were built between 1829 and 1846 on 1 1/2 a. sold in 1821 to George Brown. (fn. 45)
Although Samuel Rhodes of Islington, an important North London developer, bought nearly 15 a. in the centre of the Pulteney estate, he did not build there. (fn. 46) James Rhodes, his son, enfranchised most of it in 1824 (fn. 47) and by 1848 it had passed to Massey and others. (fn. 48) Some 9 a. to the east, joining the small portion of South Hornsey detached, was bought in 1821 by James Browning and was still held by his descendants in 1848, as part of farmland stretching to Albion Road. (fn. 49)
Soon after Victoria's accession Victoria Grove was driven westward from the London road on James Cockburn's estate in the eastern part of South Hornsey. Eleven houses had been built there by 1841 (fn. 50) and building was active during the 1840s. By 1848 Victoria Road had been built and Victoria Grove extended (fn. 51) until by 1849 there were 79 houses, mostly terraced, (fn. 52) and 107 in the Grove and 42 in the Road by 1851. Among the craftsmen, commercial travellers, and clerks who lived there in 1851 were two builders, one of whom, George Major of Albert Terrace in Victoria Road, employer of 30 men, may have built many of the houses nearby. (fn. 53)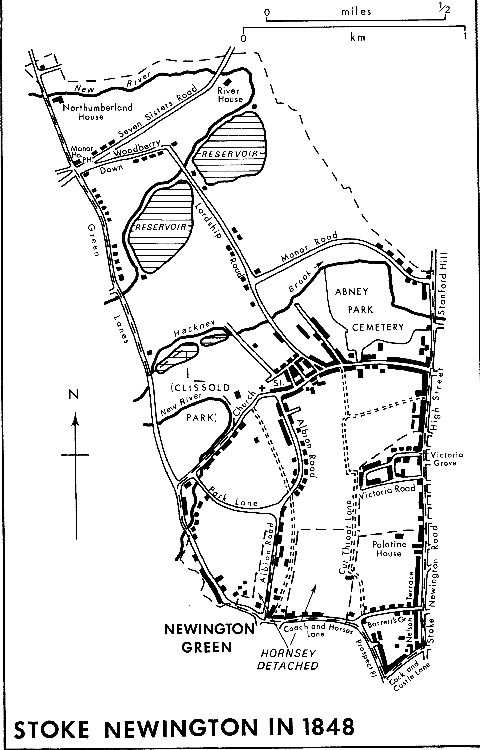 In 1849 the Foy estate east of Albion Road, consisting of 28 1/2 a. in the central part of South Hornsey (fn. 54) and, adjoining it on the north-west, 6 a. in Stoke Newington, (fn. 55) much of which had been leased as brickfields, was conveyed by the assignees of Offley Shore, a bankrupt, to the National Freehold Land Society. (fn. 56) By 1852 the society had laid out the roads, named after poets, of what by 1854 was known as Albert Town, (fn. 57a) possibly to complement the name Victoria in the eastern section of South Hornsey. The society also laid down sewers, relieving fears of fever resulting from stagnant water in brickpits. (fn. 58a) In 1851 the land was sold in lots (fn. 59a) and building started in Albion Grove and Milton and Shakespeare roads. St. Matthias's school was built on the eastern borders of the estate, in Stoke Newington, in 1849 and the neighbouring church in 1853 to serve the built up area to the east and south but also in awareness of growth to the west. Houses were 'springing up' near the church in 1854 (fn. 60a) and building was probably complete by 1855. (fn. 61a) Built to produce Liberal voters, (fn. 62a) Albert Town was inhabited mainly by the middle class, especially clerks and craftsmen, but included brickmakers and labourers in the smaller terraced houses, besides such wealthy residents as Mary King who, supported by railway dividends, lived in Olney Cottage in Cowper Road and John Thomas, landowner, in Albion Grove in 1861. (fn. 63a)
In 1850 the rector, who had relinquished glebe land for the building of Glebe Place in Church Street, granted a lease on 11 1/2 a. to Charles Birch and others with provision for 21 houses, 9 facing Church Street to contain at least 10 rooms each, and the rest on the west side of a new road, Park (later Clissold) Road. (fn. 64a) Birch made the new road, which he asked the vestry to adopt in 1853. (fn. 65a) Several builders worked on 39 houses in 1851-2 and by 1855 the Church Street site (Park Crescent) and the east side of Park Road were completed; on the west side there were eight houses at the southern and two detached at the northern end. (fn. 66a) The rest of the houses were completed by c. 1862. (fn. 67a)
A plan to divide the central portion of the Pulteney estate for building existed in 1846, (fn. 68a) and two houses were built in Grange (later Burma) Road in 1851, but there were still only four in 1855 (fn. 69a) and seven c. 1862. (fn. 70a) Two others were built in Aden Grove South in 1846 but the rest of the project was to wait 25 years. At the northern end of the Pulteney estate Massey built a few houses at the western end of Clissold Crescent between 1848 and 1855. (fn. 71a) York Villas in Albion Road were built in 1852 and Ebor Terrace stood on the eastern side at the southern end of the road by 1855. (fn. 72a) On the Victoria estate in South Hornsey, Gordon Road (fn. 73a) with its two side roads, Warwick and Gainsborough roads, had appeared by c. 1862, although the only building was the Edinburgh brewery. (fn. 74a)
North of Church Street building continued at Woodberry Down during the 1850s, (fn. 75a) and by 1855 large houses covered its south side. (fn. 76a) The Ecclesiastical Commissioners had acquired land on the western borders of Abney Park cemetery by 1848 (fn. 77a) and in 1859 they agreed that John Rodda of Canonbury, who had already worked on the rectory estate, should construct a road, Bouverie Road, from Church Street to Manor Road, lay sewers and drains by 1861, and build eight houses a year on 11 a. The commissioners kept tight control, providing the plan and elevation of the houses, which were to be terraced, three-storeyed and three-bayed, with Ionic columns flanking substantial doorways. (fn. 78a) Rodda was building houses and a chapel in the road in the 1860s and by 1870 had reached northward almost half-way up the new road on both sides. (fn. 79a) The 11 a. included a tongue of land projecting westward at the north end and by 1868 Grayling Road joined Bouverie and Lordship roads and Rodda was building Claremont Terrace there. (fn. 80a)
In 1855 an extension of Manor Road to Green Lanes was projected, (fn. 81a) although it was not until 1864 that an application for it was made to the M.B.W. by the Hackney board. (fn. 82a) Semi-detached houses, each with a bay window and stepped porch, called Lordship Park, were built on either side of the road, then called Manor Road, during the 1860s, mostly by Thomas John Angell, who was probably a speculator rather than a builder. (fn. 83a)
At about the same time Angell was involved with Finsbury Park Villas, a terrace of at least 12 houses, which, starting with Finsbury Park tavern, ran northward along Green Lanes from its junction with the new Woodberry Grove. (fn. 84a) Building also proceeded during the 1860s in Lordship Road (fn. 85a) and was continuous on the west side up to Manor Road by c. 1870. (fn. 86a) During the 1860s it spread westward along new roads like Brook (later Grazebrook) Road (fn. 87a) and Lordship Grove (fn. 88a) and continued eastward along the north side of Seven Sisters Road, built by Angell and a London builder Thomas Oldis. (fn. 89a) An architect,William Reddall of Finsbury, was among those who leased the detached houses built from 1868 to 1870 at the east end of Seven Sisters Road with gardens running to the New River. (fn. 90a) At the east end 3 a. on the south side were leased in 1867 for four detached or nine 'substantial' houses; three detached houses were built by 1871. (fn. 91a) Woodberry Down was dedicated in 1868, (fn. 92a) when it was extended eastward from Lordship Road, and villas were built on the south side in the late 1860s. (fn. 93a)
South of Church Street, Green Lanes was in 1861 a growing neighbourhood, (fn. 94a) and between 1861 and 1870 terraced houses were built on the east side of the road opposite the Pegasus as far south as Aden Grove. Terraces were also built on the west side of Grange Road and on the south side of Park Lane, on land leased in 1848 as a brickfield from Benjamin Massey. (fn. 95a) The most extensive building during the 1860s, however, was on the Walford estate between Albert Town and the Victoria estate, the southern part of which it included. Acquired by the Walford family from Martha Carr, most of the area by 1870 had been covered with terraced houses, of which, in the Stoke Newington part, there were 332 in 1871. (fn. 96a)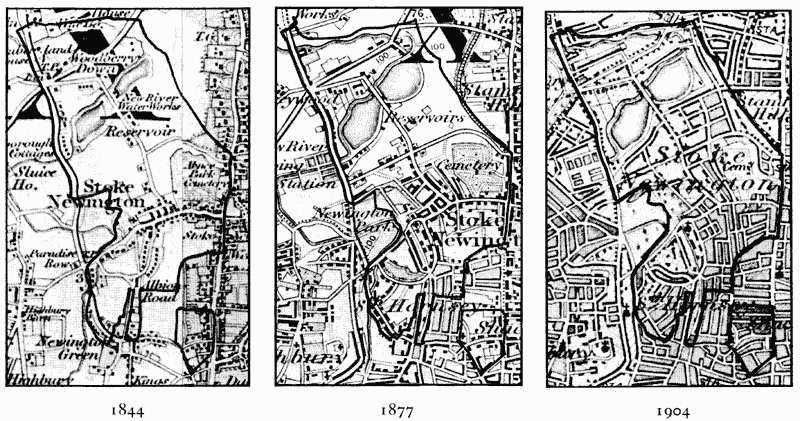 Stoke Newington had many handsome residences in 1826 (fn. 97a) and was 'eminently respectable' in 1834, (fn. 98a) when the dwellings of the poor totalled 110, about a fifth of the whole. (fn. 99a) In 1845 the neighbourhood was 'retired and picturesque'. (fn. 1a) In 1864 Shirley Hibberd observed that nightingales were still there, although 'all around the builders are drawing a close cordon of bricks'. (fn. 2a) Until 1870 Stoke Newington remained predominantly middle-class, with a birth rate said to be very low because of the many unmarried servants. (fn. 3a) Since the great majority of servants were female, wealth was reflected in the preponderance of women. Females formed 63 per cent of the population in 1801, 57 per cent in 1831, 59 per cent in 1841, over 60 per cent in 1851 and 1861, and 57 per cent in 1871, when in the wealthy district west of Albion Road they formed 69 per cent. (fn. 4a)
The chief cause of growth was that Stoke Newington provided good houses in an attractive setting within easy reach of commercial London. Merchants, bankers, and stockbrokers spread from Church Street and the London road to the newer Aden Terrace, Albion Road, Paradise Place, Park Road, Manor Road, Lordship Road, Woodberry Down, and Seven Sisters Road. Clerks, commercial travellers, retailers, craftsmen, and small manufacturers, inhabited the medium-sized houses, especially in Albert Town. Brickmakers, labourers, and scavengers lived in crowded courtyards off High Street, the smaller streets off Church Street, and the south-east corner of the parish. (fn. 5a)
George Grote (1794-1871), a banker who became a classical historian and founder of London University, lived in Paradise Place in the 1820s. (fn. 6a) Thomas Hancock (1786-1865), who was involved in the discovery of waterproofing with rubber, lived in Marlborough Cottage, Green Lanes, in 1848. (fn. 7a) Stoke Newington was the home of James Smetham (1821-89), painter and essayist, in 1855, (fn. 8a) and John Burnet, painter and engraver, retired to Victoria Road in 1860 and died there in 1868. (fn. 9a) William Monk, professor of music and organist at St. Matthias's, lived in a Gothic house, no. 59 Clissold Road, in 1861. (fn. 10a)