Pages 151-158
A History of the County of Middlesex: Volume 8, Islington and Stoke Newington Parishes. Originally published by Victoria County History, London, 1985.
This free content was digitised by double rekeying. All rights reserved.
From 1870 to 1914.
From 1,816 houses in 1871, there was an increase of 127 per cent to 1881. The rate slackened considerably thereafter, to 34 per cent in the next decade and 17 per cent from 1891 to 1901. Only 163 dwellings were built between 1901 and 1911, when there were 7,962 in Stoke Newington borough. (fn. 11)
The scale of building was much larger after 1870. In 1880 the agents of the Ecclesiastical Commissioners said that the buildings on the estate were very varied, ranging from inferior cottages and old residences at rack rents, other houses for various terms, and good residences granted on building leases. (fn. 12) From the late 1870s the Eade trustees, the Commissioners' lessees of the demesne, let blocks of up to 11 a. on 99-year leases to builders or speculators who subleased houses to the buyer, selling the lease back to the Commissioners. The latter in 1881 bought out the interest of the Eade trustees. (fn. 13) Among the holders of building leases on the demesne were Jesse Chessum, a builder who lived in Paradise Place in 1871, Holly Bush Lodge, Green Lanes in 1877, and Amhurst Park Road in 1881, when he employed 60 men. (fn. 14) Francis Hobson, a City surveyor and land agent, who held a building lease on the demesne in 1877, was also involved in constructing the Wentworth House estate in 1883 and the Willows estate in 1892. Edward Paget Nunn, who lived in Lordship Park, took part in numerous building projects, mostly on the demesne in the 1870s and 1880s, and in local politics. The largest builder was probably William Osment of Palatine Road, who had developed the Browning estate (1871-2), Palatine estate (1874-8), and land in Hackney (1876) before working on several sites on the demesne (1879-86). (fn. 15)
In 1866 the part of the Pulteney estate which had been bought in 1821 by William Browning was enfranchised (fn. 16) and in 1870 the part of the Browning estate adjoining it in South Hornsey was put up for sale. In addition to the family mansion fronting Newington Green, the land included 1 a. divided into 26 lots fronting the western side of Albion Road. (fn. 17) The rest of the estate was presumably sold for building at the same time. Four houses were built in Albion Road by Thomas Catling in 1871 and another 11 by Henry Foot in 1875. In 1871-2 roads following the shape of the elongated Browning estate were constructed and houses put up by Osment, Foot, Thomas Thomas, and others: Lavell Road (3 houses), Lilford (later Winston) Road (89 houses), Lidfield Road (34 houses), and Reedholm Villas (11 houses). In the same period 14 houses were built in Green Lanes, 8 of them by Thomas, probably also on the Browning estate. At the northern end of the estate 8 houses were built in Park Lane in 1872-3. There was also building on the neighbouring Rhodes estate, where 53 houses were built in Aden Grove and 41 in Aden Grove North (later Springdale Road) in 1871-3.
During the early 1870s the Walford estate spread north from Broughton (later Barbauld) Road, to Sandbrook (4 houses in 1871), Harcombe (17 houses in 1871), Oldfield (64 houses in 1871-3), Nevill (51 houses in 1871-5), and Brighton roads. (fn. 18) The neighbouring Palatine estate, south of Brighton Road, was the subject of a building agreement in 1874 with William Osment, who was to build 40 houses fronting Wordsworth Road and the newly constructed Palatine Road. Other agreements were made in 1875 and 1877 with Osment, (fn. 19) who built 93 houses on the estate in 1874-8. North-east of the Walford estate 18 a., mostly brickfields, were enfranchised in 1857 by Henry Lee, (fn. 20) and in 1874 building started in Kynaston Road, constructed on the route of Pawnbrokers Lane from the London road to link with Nevill and Oldfield roads on the Walford estate; 85 houses were built there between 1874 and 1877 by several builders, including Charles Hunt and Thomas Finney. In 1876-8 work proceeded on the surrounding new roads: Kersley (38 houses, mostly by Thomas Casey), Brodia (28 houses), Chesholm (45 houses, mostly by George Messenger and James Pullin), Dynevor (115 houses), Lavers (45 houses, all by Thomas Finney), and Dumont (39 houses, mostly by Charles Hunt) roads. In 1873-4 large houses with extensive grounds stretching south from Church Street to the Walford estate were for sale and 31 houses were built there in 1875-6 in Woodlea Road and 136 in Hawkesley Road by Alfred Capsey of Tottenham, Thomas G. Bricknell, Joseph Dawson, and others. In the extreme south part of the parish, on the Stonefields estate, there was considerable growth on the Hindle estate where 95 houses were built in 1874-5, many in new roads. (fn. 21)
North of Church Street, Matthew Allen of Finsbury, builder and member of the Stoke Newington Quaker family, in partnership with the Industrial Dwellings Co. built flats for the middle classes in 1873-5 on a corner site between Bethune Road and Manor Road. The flats, which used much artificial stone but little wood, and whose facilities included a croquet lawn, bowling green, gardener, and rooms for billiards and dancing, excited the admiration of contemporary architects. (fn. 22)
In 1872 the Ecclesiastical Commissioners entered into an agreement with George Blackmore for building in Bouverie Road, Grayling Terrace, and Lordship Road. (fn. 23) Between 1874 and 1878 some 102 houses were built in Bouverie Road, many by Thomas G. and Alfred Bricknell, to whom Blackmore subcontracted. Blackmore also appears to have subcontracted for the Grayling Terrace houses, of which 27 were built in 1874-6. Nine houses were built in Lordship Road in 1874. (fn. 24)
At the eastern end of the northern border Amhurst Park Road, begun in 1864, (fn. 25) had reached Stamford Hill station by 1873 when the owners and lessees of the demesne agreed to continue it westward to Seven Sisters Road. (fn. 26) In 1877 they reached agreement with the owners of the Hermitage estate in Tottenham to widen the private Hermitage Road. (fn. 27) Woodberry Grove had been constructed north of Seven Sisters Road by 1874. (fn. 28)
There was some building on the north side of Seven Sisters Road in the 1870s (fn. 29) and five houses were built on the south side in 1877. Twobedroomed semi-detached houses in Green Lanes between Lordship Park and the nursery north of Clissold Park had been planned in 1858. (fn. 30) As Buckingham Gate and Bertram Villas they were built in 1877 and 1879 by Samuel Sabey of Finsbury. (fn. 31) Most of the demesne, however, retained a rural character in the early 1870s. In 1874 Manor Road was private, with a toll payable on animal traffic, (fn. 32) and farmland stretched from Lordship Road to Stamford Hill. (fn. 33)
Most building on the demesne took place in the late 1870s and the 1880s, following agreements (fn. 34) in 1877 with Francis Hobson, a City surveyor and land agent, for 10 a., with George Blackmore of Bouverie Road for 10 a., with James Smith, gentleman of Green Lanes, and Edward Wells, iron merchant of Shoreditch for 8 1/2 a., with David Bowker Catling for 4 a., and with Jesse Chessum for 2 1/2 a. There was one agreement in 1878, with Charles Gatliff, gentleman, of Finsbury Circus for 3 a. There were further agreements with Hobson in 1879 for 7 a., with Joseph Wilkinson, a Shoreditch timber merchant, for 11 a., and with William Williamson, a contractor from Lower Holloway, Edward Paget Nunn, and William Osment for smaller sites. In 1880 some 37 a. were available for building on the Commissioners' estates. There were further agreements for small sites with Nunn in 1880 and 1881. Other agreements were made in 1881 with William Osment for 8 a., (fn. 35) in 1882 with William Hardy of Stroud Green for 5 1/2 a., (fn. 36) in 1883 with Stephen Goodall of Dynevor Road for an unknown acreage, (fn. 37) and in 1884 with Nunn for 4 a. (fn. 38) and with H. A. Wickes, timber merchant of Finsbury Park, for 7 a. (fn. 39)
Francis Hobson's 10 a. lay in a block south of Fairholt Road, between Heathland and Bethune roads. (fn. 40) In Bethune Road 94 houses were built between 1880 and 1884. Building on the west side between Fairholt and Grangecourt roads was complete by 1882. (fn. 41) Hobson used several builders, including Edward Tidman of Bethune Road on nos. 1, 7, and 9 in 1880 (fn. 42) and William Kelland of Bouverie Road at nos. 63 and 65 in 1883. (fn. 43) In 1880 Tidman also built 10 houses in Heathland Road, which formed the western boundary of Hobson's estate; another 6 were built in 1881. Another new road, called St. Kilda's Road by 1880, passed through the southern part of Hobson's estate and Tidman built 10 houses there in 1880. (fn. 44) It may have been an otherwise unknown road, St. Lawrence Road, Manor Park, where Tidman built 10 houses in 1879. Grangecourt Road, wholly within Hobson's estate, was built up by others, among them William Prescott of Ball's Pond Road and Francis Paxley of Hornsey Rise, in the early 1880s. (fn. 45) Hobson's northern boundary was Fairholt Road where 5 houses were built in 1881 and where Prescott built another 12 in 1883. (fn. 46)
Blackmore's 10 a. lay in three blocks fronting the north side of Manor Road, west of Bethune Road, and the east side of Lordship Road, south of the reservoir. (fn. 47) He subcontracted to Thomas Bricknell, who built 10 houses, probably Manor Park Villas, large semi-detached houses in Manor Road, in 1877. Two more were built by 1879. (fn. 48) The site on the north side of Manor Road west of the villas was occupied from 1876 to 1884 by St. Andrew's temporary church, (fn. 49) and in 1879 Osment, to whom Blackmore assigned the lease, built 22 houses next to it, stretching almost as far as Lordship Road. (fn. 50) The Presbyterian church stood on the corner site from 1883. (fn. 51) Heathland Road provided a northern continuation of Bouverie Road by 1880, a small portion passing through Blackmore's and Osment's estate, and Osment had built on the eastern side by 1880. (fn. 52) The western boundary was a long frontage on Lordship Road, where most of the 37 houses erected between 1879 and 1881 were by Osment. (fn. 53)
The 8 1/2 a. of Smith and Wells lay west of Lordship Road, south of the reservoir. (fn. 54) They were speculators who subleased to Thomas James of Hackney, who built on the west side of Lordship Road by 1879 (fn. 55) and George Wilson, who built houses in Queen Elizabeth's Walk (fn. 56) (which had been extended northward beyond Lordship Park and eastward to Lordship Road, mostly through Smith and Wells's estate) and at the eastern end of Allerton Road in 1881. (fn. 57) David B. Catling, whose lease of 1877 was for Woodberry Grove, built a terrace of four houses in 1878. (fn. 58) In 1879 he assigned some work to Charles D. Lavington, possibly his partner, (fn. 59) who built 24 houses between 1879 and 1881. Jesse Chessum's 2 1/2 a. lay at the bend of the New River where Amhurst Park and Bethune Road met. (fn. 60) He put up large detached houses in 1878 in Amhurst Park Road (fn. 61) and by 1879 on the east side of Bethune Road (fn. 62) and semi-detached houses on the north side of Amhurst Park Road by 1883. (fn. 63)
Following the agreement of 1878 with Charles Gatliff for 3 a., (fn. 64) 16 houses were built in Woodberry Down between 1879 and 1886 and 7 in Seven Sisters Road in 1889. The largest area leased for building in 1879 was the 11 a. at Bethune Road, between Hobson's and Chessum's estates, which was leased to Joseph Wilkinson. (fn. 65) His builder, Arthur Hancock of Lower Clapton, had built at least 18 houses in Bethune Road in 1882, including Hillcrest, no. 143, (fn. 66) and he was presumably also responsible for part of Fairholt Road, the eastern end of which formed the southern boundary of the estate. (fn. 67) William Williamson had built 8 houses at the northern end of Green Lanes, between the New River and Hermitage Road, by 1879 (fn. 68) when he concluded a building agreement for land adjoining it on the east, fronting Hermitage and Eade roads. (fn. 69) Williamson was building houses there in 1884, when he was described as of the Potteries, Green Lanes. (fn. 70) Eleven houses were built in Eade Road in 1881 and 1882 and 16 in Hermitage Road between 1880 and 1884. (fn. 71)
Edward Paget Nunn, in 1876 of Lordship Park, was building houses there in the 1870s, (fn. 72) some 27 between 1878 and 1880. He built 9 on the west side of Queen Elizabeth's Walk and 6 in Brook (later Grazebrook) Road, a side road, in 1879, and 7 on the east side of Edward's Lane in 1880. (fn. 73) On 6 1/2 a. leased in 1881 between Hobson's and Blackmore's estates, Nunn built 5 houses in Heathland Road in 1882 and most of the 28 erected there between 1882 and 1885. (fn. 74) He was responsible for most of the 28 houses built in St. Kilda's Road between 1882 and 1884. (fn. 75)
Osment's agreement in 1879 was for a small area on the south side of Manor Road, where 7 houses (four by William Wyeth) were built in 1879 and 1880 (fn. 76) and another 3 in 1880. Six had already been built, probably those opposite Allen's flats, in 1877. The 8 a. leased by Osment in 1881 stretched southward from the eastern reservoir and included most of Fairholt Road, where he had built some semi-detached houses by 1883 (fn. 77) and another 23 in 1885. (fn. 78) Altogether, between 1881 and 1886 over 100 houses were built in Fairholt Road and the 'new road', probably St. Andrew's Road. (fn. 79) The latter was named by 1888 when 6 houses were built there. (fn. 80)
The estate leased by Hardy in 1882 consisted of 5 1/2 a., west of the Smith and Wells estate, where he had to complete Allerton Road, including the drainage and sewerage, and built at least 10 houses a year. (fn. 81) Sixty-six houses were built in Allerton Road between 1882 and 1888, not all by Hardy himself. (fn. 82) In 1882 Goodall leased land on the east side of Queen Elizabeth's Walk, where 14 houses were built in 1886. (fn. 83)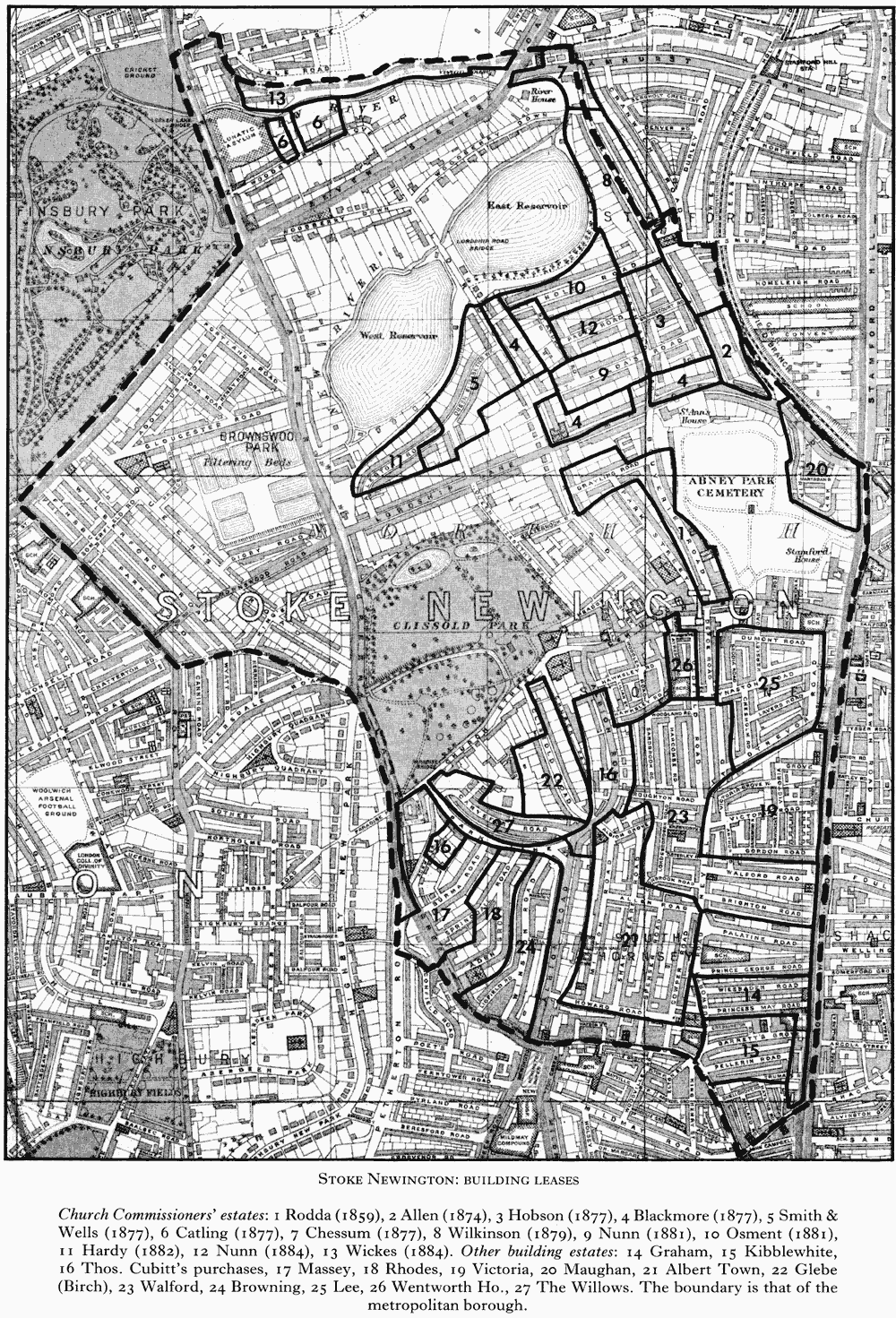 Nunn's lease in 1884 was for 4 a. north of the 6 1/2 a. which he had leased in 1881. Work began in Paget Road, which he constructed, together with drains and sewers, (fn. 84) in 1885, and by 1887 there were 34 houses in terraces of four. (fn. 85) He built 8 houses in St. Andrew's Road at the western end of the estate in 1889. The other building lease of 1884 was of 7 a. on the northern border, east of Williamson's estate, which was leased to H. A. Wickes. (fn. 86) In 1886 the Ecclesiastical Commissioners purchased the Clissold Park estate for housing but a year later they bowed to local pressure and it became a permanent open space. (fn. 87)
Of the remaining area north of Church Street, 11 houses were built in Grayling Road and Park Street in 1881, and the rest of the Maughan estate, at the eastern end of Manor Road, was built up in 1882-4. Sixteen houses were built in Martaban Street and 103, by George Earl, Henry Marston, and others, in Listria Park. (fn. 88)
During the 1880s building south of Church Street included 16 shops in Aden Grove in 1880, 11 houses, mostly by J. Edmundson & Son, in Albion Road in 1884-5 and 6 houses there in 1889, 3 in Hawkesley Road in 1887, and 3 (nos. 91A-c) in Dynevor Road in 1889.
In 1881 George Robert Green, who had inherited the estate of his great-uncle, James Kibblewhite in 1870, enfranchised it and began to develop it. The land was in two sections, part of Stonefields in the south-east and part of the Pulteney estate in the west. (fn. 89) On the Stonefields section 19 houses, shops, and stables were built in Boleyn (formerly Back) Road in 1881-4; 31 houses were built by Henry Dunkerly in 1883 and 25 by Stephen Goodall in 1887 in Barrett's Grove. Most of the remaining houses were by Goodall, 29 in 1884 in Truman's Place, 90 in 1884-6 in Pellerin Road, 48 in 1888 in Cressington Road, the last two being new roads. The Pulteney estate comprised 3 1/2 a. south-east of Grange (later Burma) Road and west of Green Lanes: 32 houses were built in Grange Road in 1882-3 and 15 houses and shops in 1882 and 10 shops in 1884 in Green Lanes. Another 6 houses built in Park Lane in 1883 were probably also part of the estate.
In 1883 the rector made a building agreement with Francis Hobson for the Wentworth House estate. (fn. 90) Terraced houses had already been started in 1882, when 16 were built in the new Painsthorpe Road; 34 were built in Ayrsome Road in 1883-4 and 12 in Oldfield Road, which formed the eastern boundary of the estate, in 1883.
Building started on two of the remaining open spaces in the 1890s. After the death of G. W. Alexander, the Willows and some 10 a., originally the northern part of the Pulteney estate, were put up for auction in 1891. (fn. 91) In 1892 the sanitary inspector considered the plan by F. S. Hobson, presumably one of the purchasers, for new streets on the north side of Park Lane (later Clissold Crescent) 'highly objectionable'. (fn. 92) In 1893 H. C. Foulkes's application to form a new road, Carysfort Road, out of Park Lane was approved (fn. 93) and 76 houses were built in Park Lane, mostly by Foulkes and W. Whymark. Another 11 were built there by Foulkes in 1894 and 9 by Thomas Pryor in 1897; 88 houses were built, partly by Foulkes and Whymark, in Carysfort Road in 1894. (fn. 94)
In 1894 W. Hicklin obtained permission to construct three roads on the Graham portion of Stonefields, north of Barrett's Grove. (fn. 95) Work on terraced houses proceeded rapidly on the new roads: Prince George Road (135 houses in 1894-5, mostly by A. Adams, William Levitt, Herbert Hext, and C. W. Payne), Wiesbaden (later Belgrade) Road (48 houses and 2 shops in 1894 by Thomas Pryor), and Princess May (129 houses in 1894-6, mostly by Pryor and Harreson Bros.). (fn. 96)
Most building during the 1890s was smallscale, infilling or replacement. South of Church Street 9 houses were built in 1893-4 in Church Path, 9 by G. and E. Flaxman in 1891, 5 in 1893, 7 houses and 3 shops in 1894, 6 houses on the site of Ebor Lodge in 1895, a block of flats in 1899, all in Albion Road, and 6 blocks of flats in 1896 in Salcombe Road in the south-east. At the opposite end of the parish 5 houses were built in Hermitage Road in 1891. William Williamson built 3 fronting Hermitage Road in 1892 and 5 houses and shops in 1895. (fn. 97) Nearby 6 houses were built in 1889 and 4 in 1894 in Eade Road, 7 in Seven Sisters Road in 1889, and 6 in Woodberry Grove in 1895. Another 8 were built in Bouverie Road in 1889.
In 1894-6 a peak in building produced 400 houses; a report of 200 dwellings in course of erection on the Willows estate and 600 on Hicklin's estate was considerably exaggerated. (fn. 98)
Thereafter numbers dropped to 30 new buildings in 1897 and only 9 in 1899, when Stoke Newington was 'chock-full'. (fn. 99) Workshops and factories but virtually no new housing appeared between 1900 and 1914, although there was much rebuilding. In Albion Road no. 143 was converted to flats in 1908. In 1905 working-class housing included 114 three-roomed tenements erected by the Stoke Newington Dwellings Syndicate Ltd. and 184 tenements were provided in 1904. There were 326 tenements by 1906. (fn. 1)
Between 1870 and 1914 Stoke Newington was transformed. In increasing more than fourfold, building covered not only all available farmland but even gardens, leaving only one small space (behind Paradise Row) to be developed south of Church Street. North of Church Street the reservoirs, Abney Park cemetery, and Clissold Park provided some open space, and although there was little land left for building and many of the new houses were terraced, they all had larger gardens and streets were less cramped than in the south. (fn. 2) In 1870 land fronting Albion Road which had been bought at £100 an acre was being sold at £2,200 an acre. (fn. 3) Builders crammed as many houses as possible on a site. Following legislation in 1864, working men were attracted by cheap fares on the G.E.R. line just outside Stoke Newington's eastern boundary. (fn. 4) New houses, especially south of Church Street, were smaller and terraced. In 1872 Stoke Newington was said to be 'suffering from a fearful eruption of bricks and mortar of a very low type'. (fn. 5) In 1876 the death rate had risen as a consequence of jerry building: natural earth was replaced with refuse and damp was a constant problem. (fn. 6) In 1877 the surveyor commented on the remarkable increase of houses (fn. 7) and in 1879 on the poor condition of many roads, which were made up by the freeholder (fn. 8) but usually adopted by the local authority only when building was completed. (fn. 9)
The population in Stoke Newington was said in 1875 to be increasing faster than in other districts, partly because of building but also because its social character was changing. Many immigrants were of child-bearing age and the proportion of the elderly and unmarried diminished as the large houses began to be replaced by streets of smaller ones. (fn. 10) A gradual reduction in the ratio of females reflected a fall in the number of servants. From 57 per cent in 1871, it declined to 56 per cent in 1901, 55 per cent in 1911, and 54 per cent in 1921, which, considering the loss of men in the First World War, was a significant drop. There was considerable local variation, Lordship ward in the north having more than 61 per cent of women in 1901 and 1911, compared with Palatine ward, which had under 52 per cent. (fn. 11a)
In 1902 a social decline was observed, following immigration from inner London. (fn. 12a) It began in the south-east and spread northward. The once highly respectable area of Nelson Terrace was already in decline by 1871. Overcrowding and poor sanitation led to disease and squalor: there were 16 cases of cholera in Cock and Castle Lane in 1871 (fn. 13a) and 6 people in one room in the Palatine houses in 1874. (fn. 14a)
The neighbourhood of St. Matthias was said in 1878 to be not too poor, but in 1882 the population was 'increasing at extraordinary speed'. (fn. 15a) By 1888 most of the wealthy had left, and in 1892 the character of the population had 'much degenerated', one street being described by a magistrate as the 'worst in north London'. (fn. 16a) By 1894 South Hornsey had been fully built up with no new building erected for the last five years. The three parts of South Hornsey together comprised 65 a., with 1,333 houses and 9,353 people. The most densely populated area was Albert Town, 28 a. containing 687 houses and 4,831 people, a density of 24 houses and 172 people to the acre. The Victoria area, joining the London road, had 574 houses and 4,018 people on 32 a., 18 houses and 125 people to the acre, while the most recently developed portion, 5 a. west of Albion Road, had 72 houses and 504 people, 14 houses and 101 people to the acre. (fn. 17a) Stoke Newington, with 4,973 houses, had 440 a. north of Church Street occupied by 12,189 people, only 28 to the acre, and 199 a. south of Church Street occupied by 20,719 people, 104 to the acre. In the south part the death rate was 10.2 per 1,000, compared with 8.3 per 1,000 in the north, and many died of tuberculosis, bronchitis, and similar diseases. (fn. 18a) By 1897 there were 5,600 houses in Stoke Newington and the death rate had risen to 16.7 per 1,000 in the south. The increased crowding and poverty was also occasioned by a higher birth rate. (fn. 19a)
In 1894 there was said to be no extreme poverty although there was a 'considerable number' of tenemented dwellings, especially in the south, where houses built for one family were occupied by several or turned into lodging houses. (fn. 20a) There was one common lodging house run by the L.C.C. for men at no. 81 Church Street from 1900 to 1914 with, in 1905, accommodation for 37. A register of houses let in lodgings was begun in 1900 and recorded 180 houses in 1903, another 39 in 1904, and 259 by 1906. The number reached a peak of 273 in 1910, falling to 220 by 1913 but rising again to 259 in 1921. Those in South Hornsey in 1914 housed industrious tenants 'well above the pauper line'. (fn. 21a)
In 1902 it was estimated that 13.5 per cent of Stoke Newington borough was subject to overcrowding and 18.5 per cent to poverty, and in a table of 50 London districts arranged in ascending order of social conditions it ranked no. 45. (fn. 22a) It had a high proportion of upper classes (11.6 per cent) and of servants (7.5 per cent), (fn. 23a) which was expressed in 1901 as nearly 28 servants for every 100 families. (fn. 24a) The part of the borough north of Lordship Park and Manor Road consisted of well built houses with long gardens. In the part stretching south to Park Lane (later Clissold Crescent), Albion Grove, and the northern boundary of Hornsey detached, 17.9 per cent of the people lived in poverty. It included the wealthy in Paradise Row, Park Crescent, and Church Row. The poverty was concentrated in Barn Street and other small areas north of Church Street, in the courtyards off the London road, and to a lesser extent in the newer streets south of Church Street, between Defoe and Kynaston roads. Most of the area was characterized by houses rented at about £30 a year to clerks and skilled mechanics. In the area to the south, which included all the formerly detached parts of Hornsey, 27.5 per cent lived in poverty. Some of the houses at Newington Green were 'very comfortable' and Aden Terrace and Burma Road were well-to-do, but most of the rest contained a mixed population of 'artisans, policemen, shopmen, and labourers' and some houses were in a poor state and very crowded. Many of the newer houses had been built and rented for £30-35 a year. (fn. 25a)
In 1903 a writer in St. Mary's parish magazine commented on changes since 1886: the rich had moved out and the poor flocked in and only 50 out of 200 families were the same. (fn. 26a) In 1874 the congregation of Green Lanes Methodist chapel consisted of men of wealth and social influence. By 1906 they had all gone, Jews had moved in, and many houses had become boarding houses for young foreigners. (fn. 27a) In 1907 there were very few above working class in St. Matthias's parish and many on the verge of destitution. (fn. 28a) In 1913 the same district, originally a pleasant suburb for City merchants and businessmen, was 'becoming an East End parish', especially in Albert Town, its streets tenanted chiefly by Jews. (fn. 29a)
In spite of the decline Stoke Newington was described in 1896 as a 'well-established and reputable suburb'. (fn. 30a) In 1903 it was noted that except in the south and south-east parts Stoke Newington was largely upper middle-class, with a few of the 'very well-to-do' about Clissold Park. (fn. 31a) In 1905 a survey among the Anglican incumbents pointed up the differences between north and south. St. Matthias's had 'none but poor', much drunkenness among women, and an above average of rough districts, with many 'living in sexual vice'; All Saints' had no wealthy, many thieves, much drinking, and a shifting population with a prevalence of Jews and nonconformists; the chief difficulty in St. Faith's was gross indifference. In the northern parishes by contrast the moral conduct of St. Mary's was 'exceptionally good', of St. Andrew's 'very respectable', and of St. Olave's 'above average'. (fn. 32a)
In 1871 some of Rodda's houses in Lordship Road were advertised as 'suitable only for respectable families'. (fn. 33a) Most of the new houses in northern Stoke Newington were for men involved in the commercial life of London, many of whom had moved from outside or from older houses in the parish. In 1877 a lead merchant from High Street moved to Manor Park Villas (fn. 34a) and in 1880 a shipowner moved from Albion Road to Manor Road. (fn. 35a) In the 1870s there was an insurance broker from the City, an architect, a flour factor, a chemical manufacturer from Clapton, and a shipping agent from the City in Bethune Road. (fn. 36a) Similar professional or business men lived in Lordship Road, (fn. 37a) Lordship Park, including Henry Sarson, vinegar merchant of New North Road, (fn. 38a) St. Kilda's Road, (fn. 39a) and Queen Elizabeth's Walk. (fn. 40a) Most of those involved in Stoke Newington's local government lived in the area, including John Joseph Runtz at Hillcrest, no. 143 Bethune Road, (fn. 41a) F. A. Dod at Stoke Lodge, no. 186 Lordship Road, (fn. 42a) and Sir Herbert J. Ormond at no. 83 Lordship Road. (fn. 43a) William Jamrach, a naturalist with a world-wide trade in wild animals, lived at no. 63 Lordship Road in 1896 (fn. 44a) and E. J. Sage (d. 1905), a local historian, lived at no. 64 Lordship Park. (fn. 45a) Another local historian was John Robert Spratling (d. 1934), editor of the North London Guardian, for which he wrote under the name 'Giltspur'. He served on the borough council from 1916 to 1922 and lived for many years at no. 22 Lordship Terrace. (fn. 46a)
A certain cosmopolitanism, present in the upper reaches of Stoke Newington society in the old settlements, spread to the newly built up areas in the north. German 'gentlemen' from the City came to live in Lordship Park in 1878, 1881, 1887, and 1896. (fn. 47a) In the southern area immigrants included many East End Jews who greatly stimulated the growth of the clothing and furniture industries.