Pages 51-57
A History of the County of Middlesex: Volume 8, Islington and Stoke Newington Parishes. Originally published by Victoria County History, London, 1985.
This free content was digitised by double rekeying. All rights reserved.
Manors
The manor of BARNSBURY, earlier called BERNERSBURY or ISELDON BERNERS, originated in 5 hides held by Hugh de Berners from the bishop of London in 1086, which before 1066 had been equally divided between Sired, canon of St. Paul's, and the canons as demesne. (fn. 46) Although the 5 hides were said to be in the vill of Stepney, they were clearly in Islington, where lords called Ralph de Berners made grants before 1176 and 1253 (fn. 47) and where tenants were suitors of the Stepney view of frankpledge in the 14th century. (fn. 48) Sir William Berners held lands in Islington before 1220, when his widow Beatrice claimed from William's son Sir Ralph Berners, of Berners Roding (Essex), a third of her husband's free lands in Islington, (fn. 49) and Sir Ralph was summoned to acquit the service which William had owed the bishop for a free tenement there. (fn. 50) It was probably his son Sir Ralph who held 1/2 knight's fee in Islington in 1242-3. (fn. 51) The latter's son, also Sir Ralph de Berners (d. 1297), of West Horsley (Surr.), custodian of the Tower of London, held at his death the manor of Iseldon of the bishop for 1/2 knight's fee, rent, and suit at the bishop's three-weekly court at Bishop's Stortford Castle. The manor consisted of a capital messuage, 185 a., rents of assize from free tenants, a foreign rent of a pair of gilt spurs from the tenement of Sir Thomas de Meuse of East Smithfield, rents and works from 48 customary tenants, and perquisites of court. (fn. 52) The manor descended to Sir Ralph's son Sir Edmund and in 1303 was settled on him and his wife Amice. (fn. 53) Edmund still held the 1/2 knight's fee in 1316; (fn. 54) on the death of Amice it descended to Edmund's son John (d. c. 1341). (fn. 55) By 1353 John's son Sir John Berners (d. 1361) held the fee, formerly held by his mother Elizabeth. (fn. 56)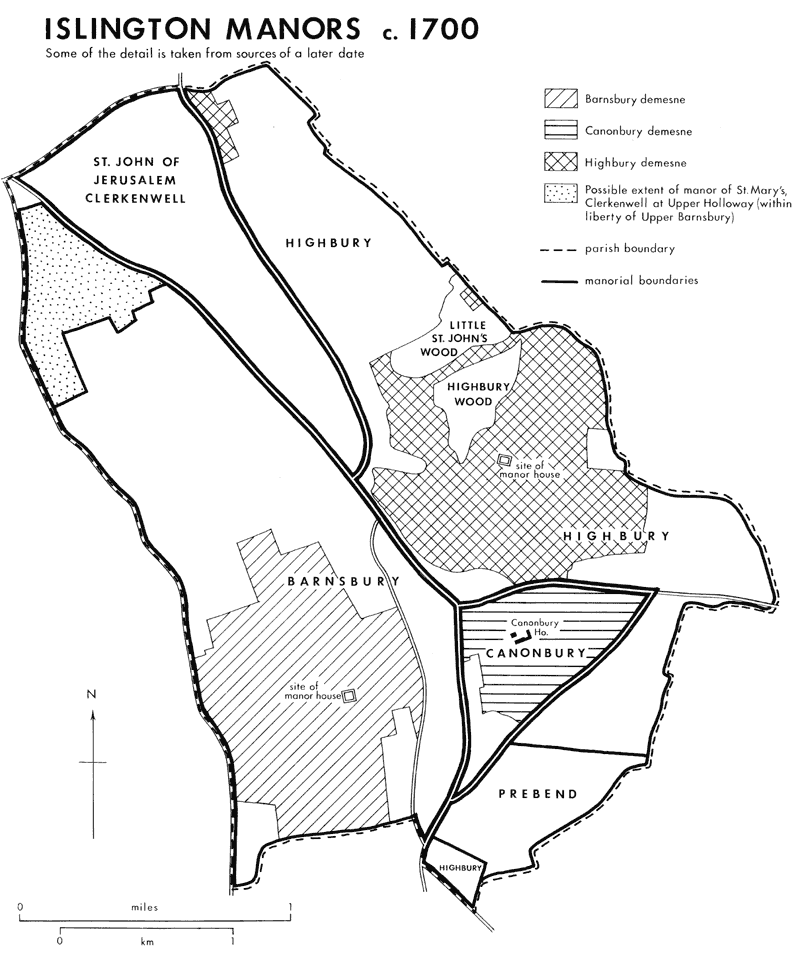 After Sir John's death John Chichester, alderman of London, was in possession for eight years, followed by John de Kingsford. Both held by unknown title, while John Berner's son James was a minor, (fn. 57) and in 1375 the manor was taken into the king's hands until it could be rightly disposed of. (fn. 58) Sir James Berners was in possession by 1386 but forfeited the manor on his impeachment in 1388. (fn. 59) The manor, then consisting of a ruined messuage, 243 a., rents, and works, (fn. 60) was granted in 1389 to John Innocent and John Nottingham, the king's clerks, for ten years, paying 20 marks a year. (fn. 61) In 1391, however, it was found that the wardship of James's son and heir Richard should go to the bishop, reserving to the Crown the fee simple when the entail should end. (fn. 62) In 1405-6 the manor, said to be held in chief, was settled on Richard Berners (d. 1412) and his wife Isabel. (fn. 63) Richard's widow Philippa (d. 1421) and her husband Sir Thomas Lewknor held a third of the manor as her dower, while the bishop held the rest as guardian of Margery, Richard's daughter and heir, (fn. 64) although there was confusion over who was overlord and the two-thirds were granted temporarily to the king's nominees in 1418 with other Berners lands. In 1421 the whole estate passed to Margery, by then wife of John Ferriby, and it was confirmed that it was not held of the king. (fn. 65)
In 1428 the 1/2 knight's fee was held by John Ferriby, (fn. 66) and Margery and John conveyed the manor to feoffees in 1435. (fn. 67) After Ferriby died without issue in 1441, Margery married Sir John Bourchier, Lord Berners (d. 1474), and the manor was settled on their heirs. (fn. 68) At Margery's death in 1475 it passed to her grandson John Bourchier, Lord Berners (d. 1533), (fn. 69) who in 1502 sold it to Sir Reynold Bray (d. 1503). (fn. 70) Bray left his lands to his nephew Edmund Bray, (fn. 71) but in a settlement of 1510 Barnsbury was among lands allotted to Sir Reynold's niece Margery (d. 1539), wife of Sir William (later Lord) Sandys. (fn. 72) In 1539 Lord Sandys and his son Thomas, Margery's heir, sold the manor, valued at £30 p.a., to Robert Fowler, vice-treasurer of Calais, (fn. 73) whose cousin and heir William Fowler of Steeping Parva (Lincs.) in 1542 sold it to Thomas Fowler, water-bailiff of Calais and merchant of the Staple. (fn. 74) Thomas (d. 1556) left the manor to his son Edmund but he left to his widow Alice in addition to her dower his house at Islington (fn. 75) for life and any profits from the manor beyond £60 a year granted to Edmund in 1552. (fn. 76) Alice was alive in 1560, when Edmund died leaving his infant son Thomas as heir. (fn. 77) Thomas (Kt. 1603, d. 1625) settled the manor, except for three parcels, on his widow Dorothy for life, with remainder to his son Sir Thomas (Kt. 1603, Bt. 1628, d. 1656). (fn. 78)
In 1646 Sir Thomas purchased from parliament the bishop's interest in the manor and 1/2 knight's fee, which included a small rent, fines, wards, and the rights to the courts leet and view of frankpledge. (fn. 79) The rights do not seem to have reverted to the bishop in 1660. In 1656 the manor descended to his eldest daughter Sarah, widow of Sir Thomas Fisher. (fn. 80) After her death c. 1666 the manor passed to her eldest son Sir Thomas Fisher, Bt. (d. 1670), to his son Sir Thomas (d. 1671), and then to Sarah's second son Sir Richard Fisher, Bt. (d. 1707). (fn. 81) As Richard had no children his lands passed to Sir Thomas Halton, Bt. (d. 1726), son of his sister Ursula, and then to Sir Thomas's son Sir William (d. 1754), (fn. 82) who left the manor in trust for his godson and kinsman William Tufnell. (fn. 83) William, who took the surname Jolliffe on inheriting another estate, (fn. 84) was succeeded in 1797 by his brother George Tufnell, M.P. (d. 1798), and then by George's eldest son William (d. 1809). (fn. 85) Part of the demesne was settled on William's wife Mary Carleton in 1804. (fn. 86) William's eldest son the politician Henry Tufnell died in 1854 leaving an infant son Henry Archibald Tufnell (d. 1898). (fn. 87) H. A. Tufnell was succeeded by Lieut.-Col. Edward Tufnell (d. 1909), whose widow Ellen Bertha retained a life tenancy in part of the manor (fn. 88) and whose trustees were the lords in 1925, when the court books ended. (fn. 89) Descent of the manor is not traced after 1925.
The manor house was mentioned in 1297 and was ruinous in 1388. (fn. 90) There is no evidence that the lords lived in the parish before Thomas Fowler (d. 1556): (fn. 91) the Fowler and Fisher families had mansions near Lower Street which were copyholds of other manors. (fn. 92) The manor house probably occupied the moated site that lay on what was later the west side of Barnsbury Square until the 1820s, and was sold with other demesne in the 17th century. Sales of demesne were made in the 1550s and between 1654 and 1678, (fn. 93) which probably accounted for all the original demesne. The lord's land, however, was increased by a freehold estate called the Brewhouse and some copyhold that came to the Fishers in the early 17th century, (fn. 94) and was thereafter known as Barnsbury demesne. It consisted of a messuage and c. 50 a. in 1637, (fn. 95) with 55 a. of copyhold, (fn. 96) but was 136 a. in 1755, (fn. 97) possibly through additions of copyhold, and c. 120 a. in 1822 and 1862, when Private Acts enabled the Tufnell trustees to make building leases; (fn. 98) it forms the site of Tufnell Park. The estate included a moat on the south side of Holloway Road near the later Tufnell Park Road, which was let to John Warminger, carpenter, in 1725 with the messuage which Warminger had recently built within the moat. (fn. 99) That house, or another adjoining the moat, was known as the manor farm or house in the 19th century and formed part of the demesne farm in 1804, 1822, and 1862. The house adjoining the moat was occupied by Manor House school in 1851. (fn. 1)
The manor of CANONBURY originated in property given to the prior and convent of St. Bartholomew, Smithfield. Ralph de Berners granted 10s. rent in Islington before 1176 and a later Ralph granted a manor out of his land there, first mentioned in 1253. (fn. 2) In 1306 the estate of c. 277 a. was called the manor of Iseldon, valued at £7 19s. 81/2d. and held of Sir Edmund de Berners for 1/8 knight's fee and 4s., and paying 2s. 9 3/4d. to the overlord, the bishop of London. The manor consisted of demesne, one free tenant, 18 customary holdings, and a mill. (fn. 3) In addition in 1334 Henry the Hayward of West Smithfield and Roger Creton, clerk, were licensed to grant a house and 110 a. in Islington and Kentish Town, (fn. 4) which was probably the estate known as the manor of Cutlers. (fn. 5) In 1349 Edmund of Grimsby was licensed to give land which included 3 a. in Islington. (fn. 6)
After the Dissolution Canonbury manor (fn. 7) with Cutlers was granted in fee to Thomas Cromwell,early of Essex, the lessee by 1529, and it escheated on his attainder in 1540. (fn. 8) An annuity of £20 from the manor was granted to Anne of Cleves in 1541, and in 1547 the lands and lordship of Canonbury, excluding some demesne, were granted to John Dudley, Lord Lisle, later duke of Northumberland. (fn. 9) He exchanged the manor with the king in 1550 but in another exchange in 1552 received the manor house and part of the demesne, (fn. 10) which returned to the Crown on his attainder in 1553. Queen Mary granted the house and demesne for life in 1553 to Sir David Brooke and his wife Catherine, formerly the queen's wet-nurse, but in 1557 granted the manor and the reversion of the house and demesne to Thomas, Lord Wentworth, to hold in chief as 1/40 knight's fee. (fn. 11) Wentworth sold Canonbury manor and Cutlers to John Spencer, later lord mayor, in 1570. (fn. 12) Spencer (Kt. 1595, d. 1610) was succeeded by his daughter Elizabeth, wife of William, Lord Compton, later earl of Northampton (d. 1630). (fn. 13) Lady Northampton died in possession in 1632 and was succeeded by her son Spencer Compton, earl of Northampton (d. 1643), (fn. 14) a royalist (fn. 15) whose sequestered estates were among those charged with payments to the Elector Palatine in 1645. Spencer's son James, earl of Northampton (d. 1681), and the dowager countess redeemed the estates by payment of fines from 1650. (fn. 16) The manor thereafter descended with the earldom as part of the Northampton settled estates, passing to James's son George (d. 1727), to the latter's sons James (d. 1754) and George (d. 1758), to their nephew Charles (d. 1763), and to Charles's brother Spencer (d. 1796), who was succeeded by his son Charles (d. 1828), created marquess of Northampton in 1812. It then descended to his son Spencer Joshua Alwyne (d. 1851), to Spencer's son Charles (d. 1877), to Charles's brother William (d. 1897), to William's son William George Spencer Scott (d. 1913), and to the latter's son William Bingham (d. 1978). (fn. 17) The Northampton trustees had sold the estate to property companies, Western Ground Rents and the Oriel Property Trust, by 1954. (fn. 18)
Thomas Cromwell held a lease of the manor house by 1532 and occupied it from 1533 to 1535 or later. (fn. 19) William Rickthorne had a lease of the house from 1565 for 31 years and died there in 1582; his widow Anne married Sir Arthur Atye, occupant in the 1590s. (fn. 20) From 1599 Sir John Spencer and the Comptons lived there intermittently. (fn. 21) The house was let from 1617 to 1625 to Francis Bacon, Viscount St. Alban, Lord Chancellor, (fn. 22) who may have used it himself, and from 1625 to Thomas Coventry, later Lord Coventry, Lord Keeper, who lived there until his death in 1640. His widow, daughter, and son-in-law Anthony Ashley Cooper, later earl of Shaftesbury (d. 1683), remained there until 1641. (fn. 23) The Comptons were at Canonbury in 1653 when the eldest son of James, earl of Northampton, was born there, and in 1662 when another son died there. (fn. 24) However, by 1661 parts of the building were leased separately to Arthur Dove and Edward Ellis, as Canonbury House, which was the south range, and Turret House, which was the east range, so called from a bellturret in the middle of the roof. (fn. 25) Ralph Suckley occupied a dwelling there with nine hearths in 1663. (fn. 26) William Feilding, earl of Denbigh, died at Canonbury in 1685. (fn. 27) Parts of the building were let on 21-year leases in 1727: Canonbury House, on the south side, was let in two parts, each with some garden. (fn. 28) Parts were let as lodgings, advertised in 1757 as furnished or unfurnished apartments with a good garden, summer house and coach house, and access to an excellent cold bath. Residents included Samuel Humphreys, librettist of Handel's oratorios, who died at Canonbury House in 1736, Ephraim Chambers the encyclopaedist, who died there in 1740, Oliver Goldsmith at Turret House from 1762 to 1764, Henry Woodfall the printer and journalist who had rooms in Canonbury House, the Speaker Arthur Onslow, the publisher John Newbery, and the poet Christopher Smart. (fn. 29) The tower continued to be let as rooms until c. 1840, when it became the residence of Lord Northampton's bailiff. (fn. 30) It was afterwards rented by the Islington C. of E. Young Men's Society, followed by the Canonbury Constitutional Club from 1887 to 1907. After restoration in 1907-8 it became part of a social club for the Canonbury tenants. (fn. 31) It was leased to the Tavistock Repertory Theatre Co. in 1952 and formed its box office and rehearsal rooms in 1983. (fn. 32)
The manor house was presumably the messuage called Canonbury in 1373, which had been part of the grant of Ralph de Berners. (fn. 33) William Bolton, prior of St. Bartholomew's 1509-32, is said to have built a new house, (fn. 34) and a reset doorway bearing his rebus survives in the central (east) range. That house was probably conventionally arranged around at least one courtyard and its plan was preserved in later rebuildings. Thomas Cromwell was paying for work on the house by early 1533, (fn. 35) and a reset datestone of 1556 suggests that further work was done for Thomas, Lord Wentworth. However, it is not until the period of Sir John Spencer's ownership that substantial parts of the surviving buildings can be dated. During his time the house probably had two courtyards, although it is possible that neither was completely enclosed, and the main axis was east-west. (fn. 36) Much of the central range survives, although greatly altered, and it has on the first floor a long gallery with an elaborately moulded plaster ceiling bearing the date 1599. At its south end the gallery abuts the main south range. Although ostensibly of various dates in the 18th and early 19th centuries, the range incorporates parts of an earlier building which formed the north side of a walled garden with late 16th-century octagonal summer houses at its southern corners. (fn. 37) At the north-west corner of the surviving buildings is a tall brick stair turret of the later 16th century. Against its south side the short wing, which has elaborately panelled rooms of the early 17th century on its upper floors, formerly extended towards the end of the south range but appears to have been separated from it by 1735. By the earlier 18th century the house was a cluster of detached buildings, with the walled garden serving the main house and a larger park of 16 a. on the north side. Within the park were an avenue and canal, presumably of the late 17th or early 18th century and associated with the occupants of the tower or the buildings on the site of the Canonbury tavern, itself built at the south-east corner of the park by 1735. (fn. 38) The east end of the south range was partly refaced in the early 18th century and the central section was rebuilt or remodelled c. 1770 by John Dawes, who was erecting buildings there in 1767; the bell-tower on Turret House (the east range) was removed and the building divided into three substantial houses. (fn. 39) The west end of the range was rebuilt early in the 19th century; the vicarage house on the site of the west range is of c. 1820. In the early and mid 19th century the garden and the park were divided into building plots, the two summer houses being preserved as adjuncts to no. 4 Alwyne Villas and no. 7 Alwyne Road. In 1907 the tower was extensively restored and King Edward hall built on the east side for the Canonbury tenants; (fn. 40) the hall was let with the tower to the Tavistock Repertory Co. in 1952 and was used as the theatre in 1983.
The origin of the manor of ISLINGTON PREBEND is uncertain. The canons of St. Paul's were assessed on 4 hides in Islington in 1086 (fn. 41) but only a small part, if any, went to form the prebendal estate. The prebendal lands may have been given by Derman, a prominent citizen of London, (fn. 42) who in 1086 was assessed on 1/2 hide in Islington, formerly held by Algar. (fn. 43) Derman gave land to the church when his son Algar, the first known prebendary of Islington, became a canon before 1104; (fn. 44) there is no direct evidence that the land was in Islington, but the prebendal land separated the two parts of Newington Barrow or Highbury manor, which was held by Derman's descendants. (fn. 45) In 1649, when it was sequestrated, the manor consisted of rents from 13 customary tenants, holding 46 houses and 98 a. There may also have been freehold tenants, as in 1720. There was no demesne or manor house. (fn. 46a) The manor was sold in 1650 to Maurice Gethin, merchant tailor of London, (fn. 47a) who was probably among the customary tenants in 1649, but it reverted to the prebendary in 1660. It was transferred to the Ecclesiastical Commissioners in 1845, when it consisted of manorial rights, quitrents, and five old houses built on the waste and forfeited to the lord. Most of the quitrents came from small dwellings built along Essex Road and adjoining lanes by copyholders. Enfranchisements under the Copyhold Act were made from 1844 and were the subject of a scheme in 1846, and compensations for extinguishing manorial rights continued until 1940. (fn. 48a) The commissioners received 4 1/2 a. in 1845 in return for enfranchisement. (fn. 49a) The land was let to Henry Rydon in 1847 with a building agreement, and was built over with c. 95 houses by 1850; it is bounded by New North Road, Luiton Street, Arlington Square, and the Regent's canal, and included St. Philip's church and school. (fn. 50a)
The manor of NEWINGTON BARROW or HIGHBURY was formed from lands granted to the priory and hospital of St. John of Jerusalem, Clerkenwell, in 1270-1 by Alice, daughter of Thomas of Barrow and grand daughter of Bertram of Barrow who had given land to the priory of St. Mary, Clerkenwell, and was the grandson of Derman of London. (fn. 51a) Alice's grant consisted of a house, mill, and 220 a. in Newington and Islington subject to 7 marks, which Alice gave to St. Mary's, Clerkenwell. (fn. 52a) The estate formed the Hospitallers' camera of Newington in 1338, with the manor and 2 carucates of land, and was leased to the bishop of Lincoln, (fn. 53a) reverting to the priory by 1348. (fn. 54a) In 1540 the manor consisted of rents from 12 customary tenants holding 281 a. at Tollington and Stroud, 8 tenants holding 62 a. at Islington, 13 tenants holding 75 a. at Newington Green, and rents of demesne pastures. (fn. 55a) It covered the whole area contained by the northern and eastern parish boundaries and the later Hornsey, Holloway, and St. Paul's roads, and most of the parish east of Essex Road and High Street. (fn. 56a) The manor passed to the Crown at the Dissolution and under Henry VIII's will passed to Princess Mary in 1548. (fn. 57a) In 1558 it was restored to the Hospitallers (fn. 58a) but reverted to the Crown when the order was again dissolved under Elizabeth 1. (fn. 59a)
In 1610-11 the manor and rents were granted to Henry, Prince of Wales, and in 1616-17 to Charles, Prince of Wales. (fn. 60a) In 1627 the manor was valued as part of the estates to be conveyed to trustees to secure the Crown's loans from the City, but was apparently not among the lands sold. (fn. 61a) The king conveyed it to Sir Allen Apsley in 1629 with other property, in payment of debts incurred by Apsley as victualler of the navy and lieutenant of the Tower of London. Apsley conveyed the estates to feoffees to pay his debts, and seems to have sold the manor to Thomas Austen of London, cheesemonger, who was lord by 1632. In 1639 Apsley's creditors complained that Austen should have conveyed the manor to them. In 1662 Apsley's son Sir Allen tried to recover it from Austen's grandson Thomas who in 1670 successfully opposed a Bill to recover it for the Crown. (fn. 62a) The manor passed after 1683 to Thomas Austen's son John (Bt. 1714), (fn. 63a) who in 1725 sold it to James Colebrooke (d. 1752), (fn. 64a) joining with Colebrooke in the sale of demesne to Peter Abraham Maseres in 1732. (fn. 65a) Colebrooke's youngest son George was lord in 1761, inherited a baronetcy from his elder brother, and was bankrupted in 1773, (fn. 66a) whereupon Highbury Barn, the site of the manor house, and the rest of the demesne were sold to John Dawes. (fn. 67a) The lordship, consisting only of manorial rights and quitrents, was sold in 1791 to Jonathan Eade (d. 1811), (fn. 68a) passing to his son Joseph and by 1835 to the latter's nephews and trustees Samuel and Francis Pett. (fn. 69a) By 1855 the manor belonged to Benjamin Badger of Rotherham (Yorks.) (d. 1861). In 1856 it was put up for sale, presumably without success, for Badger's trustees had not yet sold it in 1877. (fn. 70a) Most copyholds had been enfranchised by the 1850s and a few were enfranchised in 1876 and 1877. (fn. 71a) The manor has not been traced later.
The whole manor was leased to the bishop of Lincoln for life c. 1338, (fn. 72a) and from 1540 the Crown made various leases of the manor, the demesnes, and the woods; in the 18th century most of the demesne was sold. (fn. 73a)
The manor house at Highbury existed by 1338. (fn. 74a) A substantial stone building used as a country residence by the priors of the hospital of St. John of Jerusalem, it was destroyed in 1381 by the followers of Jack Straw in hatred of the prior Sir Robert Hales, who was also Treasurer, and its moated site was popularly known thereafter as Jack Straw's castle. (fn. 75a) The house does not appear to have been rebuilt. A grange existing in 1541, with a walled yard, garden, and pasture called Castlehill, (fn. 76a) was probably the building called Highbury Barn in 1611, on the east side of the castle yard. The moated enclosure was then called Highbury castle, but the house which had stood there had been in ruins for as long as anyone could remember. (fn. 77a) The barn was the only group of buildings on the site in 1718; it consisted of a range on three sides of a courtyard, with a detached building beside it, (fn. 78a) and included a farmhouse occupied by John Harrison, farmer of the demesne, in 1692 and known then as Highbury House and later as Highbury Farm. (fn. 79a) The later Highbury House was built by John Dawes in 1781 on the site of Jack Straw's castle. (fn. 80a) Highbury Barn became a well known tea-gardens and resort in the 18th century. Its gardens were built over by 1883. (fn. 81a)
The Knights Hospitallers held various parcels in Islington and Clerkenwell in addition to Highbury manor, including customary and free lands at Upper Holloway for rent and services. (fn. 82a) Those lands, together with free rents in other parishes, were known by 1624 as the manor of ST. JOHN OF JERUSALEM or ST. JOHN'S, CLERKENWELL, (fn. 83a) although no manor was recorded before that date. The remainder of their land consisted of three fields called Commandery Mantells in Clerkenwell parish and fields called Woodmansfield, Sheepcroft, and Lambartcroft said to be in Islington but lying near the later Angel in Clerkenwell, which was known then as Sheepcote and also belonged to the hospital. (fn. 84a) The origin of the lands in Holloway is uncertain. The hospital had been founded c. 1144 with grants of land from Jordan de Briset and his wife Muriel de Munteni. (fn. 85a) Jordan was the grandson of Brian, identified as the man whose wife held 5 hides of the bishop of London in the vill of Stepney in 1086, which may have included the land granted by Jordan. (fn. 86a) In the reign of Henry VI, however, the prior of the hospital held 1/2 knight's fee formerly William de Vere's, (fn. 87a) so the Holloway property, detached from the rest of the hospital's lands, may have been acquired from that source. After the Dissolution the Holloway land remained with the Crown until 1624, when it was granted at fee farm to Robert Dixon and William Walley and included in the manor of Clerkenwell alias St. John's, Clerkenwell, and the freehold thereafter descended as part of that manor. (fn. 88a) In 1539 the Holloway estate consisted of 19 customary rents and customary works for 8 holdings. (fn. 89a) The copyholds were enfranchised from 1854. (fn. 90a) The customary holdings formed several substantial estates, some of which are treated below.
The manor of TOLLINGTON, consisting of two hides, was held by Ranulf, brother of Ilger, from the king in 1086, and had formerly been held by Edwin, vassal of King Edward. (fn. 91a) Nothing further is known of the manor, but the priories of St. John of Jerusalem and of St. Mary, Clerkenwell, both received grants of land at Tollington. (fn. 92a) Free and customary land held by Robert Foster from St. John's was said to be the manor of Tollington in the 1530s, (fn. 93a) when it seems likely that the manor had become subsumed into the manor of Highbury. The copyhold estate called Upper Place or Tollington farm (fn. 94a) may have had a connexion with the manor.