Pages 57-69
A History of the County of Middlesex: Volume 8, Islington and Stoke Newington Parishes. Originally published by Victoria County History, London, 1985.
This free content was digitised by double rekeying. All rights reserved.
Other estates
The estate of ST. MARY'S priory, Clerkenwell, originated in grants, first of 1152 × 1162 from Bertram of Barrow, who gave 80 a. in Islington comprising 40 a. of Newington lordship lying in the Hide, on the north side of the Prebend manor, 20 a. in Newington in Danebottom, near the modern St. Paul's Road, and 20 a. in Tollington, (fn. 95) secondly of 1173 × 1189 from Muriel de Munteni, wife of the priory's founder Jordan de Briset, comprising her tenant Wigar Kitte and his land, part of her dowry, (fn. 96) thirdly of 1193 × 1196 from the same Muriel of Ravenildes croft in Newington, (fn. 97) and fourthly of 1270-1 from Alice of Barrow, coheir of Thomas son of Bertram of Barrow, comprising 7 marks' rent payable from lands in the manor of Newington. (fn. 98)
By 1491 the priory's lands in Islington consisted of rents for Great Weryng and Little Weryng fields, Hide field, Hopping field and 2 a.near Wenlocksbarn, rents of assize and six hens at Holloway, rent from land at Highbury held by the Hospitallers and three small rents for land in Islington township and Tollington. (fn. 99) In 1535 its lands were valued for rents in Islington at £15 5s. and in Holloway at £1 14s. 2d. (fn. 1) After the Dissolution, the customary rents seem to have remained with the manor of St. Mary's, later St. James's, Clerkenwell, (fn. 2) for tenements in Upper Holloway said later to cover 110 a. (fn. 3) The larger parcels called Hoppings, Weryngs, and Hides, were let by the Crown and sold in fee (below).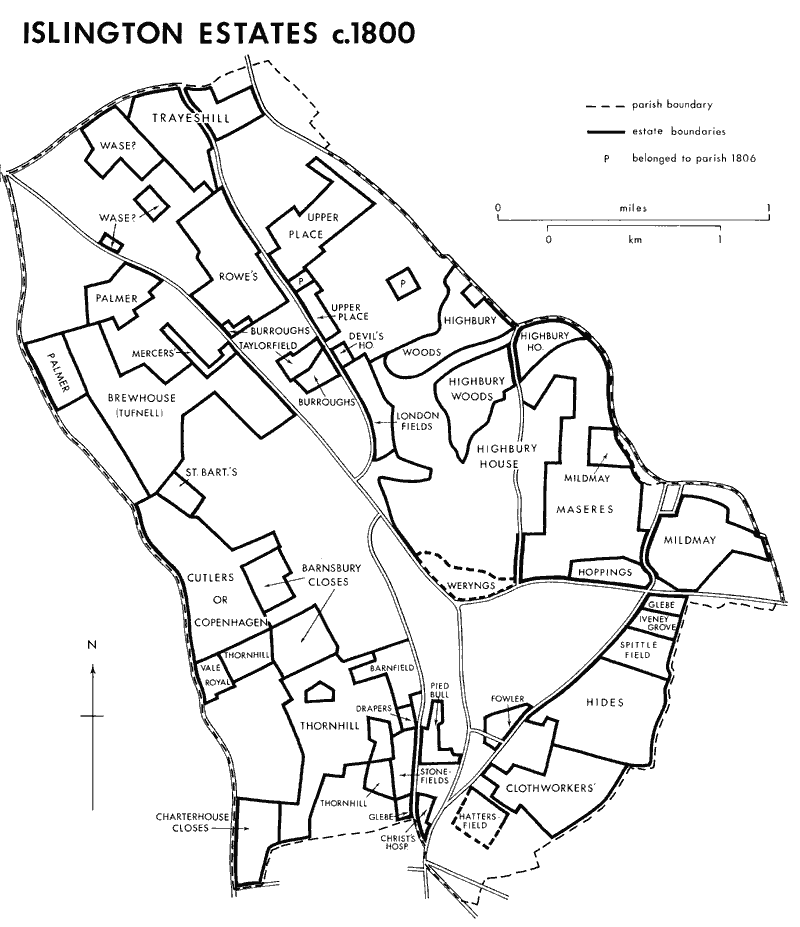 HOPPINGS or HOPPING FIELD was a pasture let to a tenant in 1490. (fn. 4) The priory leased it in 1538 to John Avery, a royal servant, (fn. 5) to whom the Crown granted it in 1540 for life. (fn. 6) Avery's lease was surrendered in 1567 by Walter Myers, a court official, who purchased a new 21year lease. (fn. 7) A lease in reversion was granted in 1573 to Christopher Edmondes and another in 1589 to Richard Lilley, for the use of John Maye and John Monday. (fn. 8) In 1611 the freehold was said to belong to William, Lord Compton, (fn. 9) and it thereafter remained with the earls, later marquesses, of Northampton, as part of their Canonbury estate. (fn. 10) In 1806 it consisted of 11 a. on the north side of St. Paul's Road between Newington Green Road and the New River, and was used for a nursery. (fn. 11) From the 1830s it formed the site of St. Paul's Terrace, St. Paul's Place, Northampton Park, and Compton Street.
WERYNGS and HIDES were let by St. Mary's, Clerkenwell, in 1490 (fn. 12) and 1526. (fn. 13) After the Dissolution they were granted to John Cocks for 40 years, the Hides consisting of three closes totalling 40 a. and Great and Little Weryng of two closes totalling 20 a. (fn. 14) In 1544 Cocks was granted both parcels in fee and shortly afterwards licensed to alienate them to Richard Callard and William Hayes. (fn. 15) In 1556 William Hayes was licensed to alienate the estate to John Clerke, (fn. 16) husband of Elizabeth, who was Callard's daughter and Hayes's mother. Clerke died in 1557 having settled it on himself and his wife. Weryngs was thereafter to descend to Henry Iden and his heirs and the Hides to Iden for life, before passing to Edward and William Wroth, Elizabeth's sons from her marriage to John Wroth. (fn. 17) After Iden's death in 1568 the two parcels therefore descended separately.
In 1575 William Wroth was licensed to alienate the Hides to his cousins Robert and Thomas Wroth. (fn. 18) In 1613, however, the estate was settled by Michael Griggs and his son-in-law John Miller, later knighted, on the Millers and their heirs. After Miller's death in 1639 it passed to his widow Mary, who later married first Thomas Wilks and then one Brewer and died in 1673. She was succeeded by John, eldest son of her eldest son Michael (d. 1644). (fn. 19) In 1717 Edmund, son and heir of possibly the same John Miller of Marsworth (Bucks.), sold 10 a. of Great Hides, 7 1/2 a. called Newmans field, united with the 10 a., and 8 a., part of the Hides, to Stephen Beckingham, who conveyed the property to trustees in 1729. (fn. 20) In 1791 a Stephen Beckingham and his wife Dorothy sold the parcels to Thomas Scott. (fn. 21) Another 8 a. of the Hides, called Tippins field, south of Great Hides, was conveyed to Sir George Colebrooke, Bt., in 1769 by John Richardson and others, and sold by Colebrooke to Thomas Scott in 1774. (fn. 22) Scott also purchased some copyhold houses in Lower Street (later Essex Road) with c. 15 a., held of Highbury manor, (fn. 23) and the Rosemary Branch inn and 4 a. formerly part of the Hides, (fn. 24) and began building terraces at the Essex Road side. In 1806 he had c. 16 a. mainly built over and 55 a. between Essex Road and the parish boundary used for brick-making, together roughly covering the area of the Hides (fn. 25) and including land around the Rosemary Branch. (fn. 26) The estate was held by Mrs. Scott in 1849 and the Scott family continued to build over it in the next two decades. (fn. 27)
Weryngs was held by Henry Iden in 1568. He left most of his lands, undivided, between George Hayes, Elizabeth (probably née Hayes) wife of John Iremonger, and William Wroth, (fn. 28) but in 1571 Iden's cousins and next heirs, John Gilbert and Joan Rydon or Rygdon, were licensed to alienate a third of Weryngs to Sir Thomas and William Wroth. (fn. 29) Sir Thomas died seised of the third in 1573, leaving it to William Wroth, son of his brother John (fn. 30). In 1575 William alienated it with the Hides to his cousins Robert and Thomas Wroth, possibly only in trust. (fn. 31) In 1587 he granted to John Iremonger and his wife 15 messuages and 38 a. of land in Islington, Shoreditch, and St. Giles without Cripplegate, (fn. 32) probably part of the Iden inheritance, and may have received their share of Weryngs in exchange, as in 1593 Great Weryngs was said to be the inheritance of William Wroth. (fn. 33) William died in 1614 without children; Weryngs was left to his wife Mary for life and then to William, son of his first cousin Richard Wroth of Standen (Herts.). (fn. 34)
Its descent thereafter is unknown until 1714, when William Knight and others sold the two closes called Great and Little Weryngs, said to contain 15 a., to Henry Walker of London, brewer. (fn. 35) They were in the possession of Mrs. Walker of White Cross Street, London, in 1747 (fn. 36) and of the Revd. William Nicolls of St. Giles without Cripplegate and his eldest son William Henry Nicolls, later rector of Stoke Newington, by 1760. Rose and Mary Nicolls, cousins and heirs of Samuel the brother of W. H. Nicolls, sold the estate to Robert Mackreth for the use of John Dawes in 1773. (fn. 37) The land seems to have lain on the north side of the modern St. Paul's Road between Highbury Grove and Highbury Place, forming part of the site of the terrace and gardens in the latter street, and was thus built over from 1773.
IVENEY or SEVENEY, later Eden Grove and Spittle fields, was a freehold parcel within the manor of Highbury, bounded roughly by Essex Road, Orchard Grove, Southgate Street, and Northchurch Road. Thomas of Stortford, precentor of St. Paul's, granted I mark a year from his lands at Iveney c. 1239 to the clerks of the choir of St. Paul's; if his tenant should die without heirs, the land itself should revert to St. Paul's and the clerks. (fn. 38) In 1254 Thomas's son William quitclaimed to Peter of Newport, archdeacon of London, all his right in his father's tenement at Iveney. (fn. 39) By 1261 Peter had granted a field on the south side of the messuage there to the hospital of St. Mary without Bishopsgate in free and perpetual alms for making beds for the sick from straw from the field and bread and gruel from the corn, the hospital paying 6s. 8d. a year to the clerks of St. Paul's choir. (fn. 40) The field, said in the Middle Ages to be 14 a. and by 1540 to be 20 1/4 a. became known as the Spittle fields and descended separately from the rest of Iveney. (fn. 41) It passed to the Crown at the Dissolution and in 1553 was granted to William, earl of Pembroke, and William Clerke in free socage. (fn. 42) By 1569 it was held by Sir Thomas Leigh (d. 1572), who settled it on his widow Alice and their heirs, (fn. 43) and in 1627 by Christopher Hewer and his son Thomas, who held it in 1633 at his death. (fn. 44) Its later ownership is uncertain but from its location it appears to have been the 19 1/4 a. called Great Hides in 1812, which had been settled in 1712, when it was estimated at 21 a., by Richard Sutton, vintner, of London (d. c. 1725) on his wife Anne for life and on his daughters Anne, wife of Thomas Yates, D.D., Elizabeth, wife of William Booth, and Katharine, wife of Tomlinson Busby. (fn. 45) A third of the land formed part of the marriage settlements of the Revd. Richard Sutton Yates (d. 1789) in 1760, and of his son the Revd. Richard William Yates. The whole estate was held by R. W. Yates's widow Hester in 1806, and in 1812 the trustees obtained an Act to grant building leases, (fn. 46) but in the 1830s the land formed the site of John Perkins's cattle market. (fn. 47)
The rest of Iveney, called Iveney or Eden Grove, which included a house, (fn. 48) remained with St. Paul's and was occasionally described as a manor. The house was not recorded after 1383. (fn. 49) In 1535 it was leased at a reserved rent of 23s. 4d., as it continued to be, generally for 21 years. (fn. 50) In 1649 it consisted of a 6-a. meadow and was valued at £9 a year. Parliament sold it to the leaseholder Thomas Webb of Islington, but it reverted to St. Paul's at the Restoration and was let on the old terms until c. 1811, when Robert Cannon was granted a building lease. (fn. 51) It was held by Elisha Ambler and used as a brickfield in 1849 (fn. 52) and was built over in the 1850s. (fn. 53)
The VALE ROYAL estate originated in 11 a. in Islington conveyed in 1274-5 to Richard of Hethersett by Gervin, son of Peter the otter-hunter (lutrarius), and Denise his wife. (fn. 54) Richard granted land and rent to the abbey of Vale Royal (Ches.) in 1299, including 12 a. in Islington held of the heirs of Ralph de Berners. (fn. 55) The abbey still held the land, a pasture near St. Pancras church on the east side of Longhedge Lane (later York Way), at the Dissolution. (fn. 56) In 1574 the land was claimed as concealed and granted in fee to John and William Marsh, but by 1580 John had sold it. (fn. 57) Vale Royal close was owned by Mary, widow of Robert Wood, and Roger Wood in 1673. (fn. 58) In 1806 the estate, 10 1/2 a. called Bellfield or Vale Royal, was owned by Samuel Brandon and formed the site of a pottery and a hartshorn factory; it was called Belle Isle in the 19th century. (fn. 59)
The estate called CUTLERS, reputed to be a manor in the 16th century, (fn. 60) may have originated in land held by Adam de Basing (d. 1262), who had received land from William of Haselbech, held of Walter Cardon, clerk, and formerly part of the fee of William de Berners. (fn. 61) Basing also received three grants of land in Islington abutting the land of St. John's hospital, Clerkenwell, from William Peacock, son of Peter Freeman. (fn. 62) Basing granted land, tenements, and a windmill in Islington and neighbouring parishes to his daughter Avice and her husband William de Hadestok, (fn. 63) whose daughter Joan was the mother of Henry Bedyk. (fn. 64) By 1334 Henry the hayward, of West Smithfield, and Roger Creton, clerk, held 52 a. from Henry Bedyk. They granted the estate to St. Bartholomew's priory, together with a house and 50 a. of land and 4 a. of meadow held from the priory and 4 a. held from John de Berners. (fn. 65) In 1373 the house was called Cotelers. (fn. 66) The land lay near Maiden Lane and was often described as in Kentish Town but within Islington parish. The fee remained with St. Bartholomew's until the Dissolution, when it passed to the Crown.
Cutlers, consisting of Great, Middle, and Little Cutlers, Barnfield or Housefield, and Ridymere, was included in the grant of Canonbury to Thomas Cromwell and in grants of both estates to John, duke of Northumberland, to Sir David Brooke and his wife, and to Lord Wentworth, (fn. 67) during which time the fields had been let to a London innholder. (fn. 68) Wentworth sold Cutlers with Canonbury to Sir John Spencer, and it then passed with Canonbury until 1650 when James, earl of Northampton (d. 1681), sold Great Cutlers, Little Cutlers, and Barn close, with a little close adjoining Cutlers, to Robert Wood of Kingston-upon-Thames (Surr.). (fn. 69) Wood's widow Mary, his nephew Roger, and Sir Richard Wiseman sold them to Thomas Batson of London in 1673. (fn. 70) In 1786 the estate was held by Elizabeth Batson of Barnsbury, widow, and was known as Copenhagen farm; its 124 1/2 a. included Barnfield, and 2 1/2 a called Catts acre which lay in St. Pancras parish (fn. 71) and had been part of the lands sold by Northampton. (fn. 72) In 1806 the 120-a. estate was said to be held by a Mr. Leader, (fn. 73) possibly a trustee as it belonged to Robert Batson in 1820 (fn. 74) and to Alfred Batson in 1849. (fn. 75) He sold Copenhagen House and 72 a. for the Metropolitan market c. 1852, (fn. 76) and in 1856 left the rest of his Islington estate to trustees, who included another Alfred Batson. (fn. 77)
St. Bartholomew's priory had granted a lease of Cutlers with Canonbury to Giles Heron by 1530; he had assigned most of the two estates by 1532 to Thomas Cromwell, who secured new leases, (fn. 78) but apparently retained 24 a., let to an undertenant, which passed to the Crown when Heron was attainted on the fall of his father-in-law Sir Thomas More. The Crown let that parcel for 21 years in 1542, (fn. 79) but the lease had passed by 1582 to the lessee of Canonbury and Cutlers, (fn. 80) with whom it remained. Sir John Spencer and Lord Compton let the property, to innholders of London and Clerkenwell, (fn. 81) and it was also let on long leases in 1786 and 1805. (fn. 82) The house mentioned in 1334 and 1373 was not recorded later but was perhaps commemorated in the name Barnfield or Housefield in 1530. (fn. 83) In 1786 Barnfield (17 1/2 a.) lay next to Copenhagen Farm, (fn. 84) which may have stood on or near the older site. The house existed in 1695, and was a tavern and tea-garden by 1753. It became a resort for Londoners until replaced by the Metropolitan market. (fn. 85)
Robert de Ferrers granted an estate in 1377 to Sir Robert Knolles and his wife Constance and others, including land in Islington. (fn. 86) In 1380 the reversion on the death of Robert and Constance was granted to the London Charterhouse. (fn. 87) The land may have been the croft called Twenty Acres in the south-west extremity of the parish by York Way, let by the Charterhouse to a London innholder in 1492 for 35 years. (fn. 88) In 1673 CHARTERHOUSE closes (23 a.) belonged to Mary, widow of Robert Wood, and his nephew Roger Wood. (fn. 89) Later ownership is uncertain but the estate seems to have been the 23 3/4 a. formerly part of Henry Penton's estate and owned by William Horsfall in 1806. (fn. 90).
Henry Frowyk sold 34 1/2 a. in Islington to Sir John Elrington, treasurer of the king's household, in 1480. (fn. 91) They descended to Sir John's son Simon, (fn. 92) whose son Thomas inherited 17 a. in Islington and had died by 1529. (fn. 93) A later Thomas Elrington and his wife Beatrice sold 12 a. in the close called HATTERSFIELD, later TILE-KILNFIELD, to William Tooker, grocer of London, in 1551. (fn. 94) In 1613 the close, of 10 a. with 2 a. called Buttfield divided from it by the New River, was part of the lands settled on John Miller and his wife Mary. Mary inherited it in 1639 and on her death in 1673 it passed to her grandson John. (fn. 95a) In 1717 Edmund Miller sold the 10 a. close to Walter Burton, glazier, (fn. 96a) who built a brewhouse and brick kilns on part before selling it to James Colebrooke in 1727. (fn. 97a) It passed to Sir George Colebrooke, who in 1766 let a strip on the west side as the site of Colebrooke Row, putting a bridge over the New River and a road through the field. (fn. 98a) More building leases were granted in Colebrooke Row in 1776. (fn. 99a) The property was probably sold after Colebrooke's bankruptcy in 1773. (fn. 1a) John Eddington owned 5 1/2 a. formerly Watson's nursery in 1806, which was sold in 1827 to Thomas Cubitt, who built a few houses facing St. Peter Street and sold a strip on the south side to James Rhodes in 1843, letting the rest to local builders in the 1850s. (fn. 2a) Another part of Hattersfield between the New River and High Street and containing 3 a. was sold by Gerard Noel Noel in 1810 to Samuel Rhodes, (fn. 3a) whose family built over the property in the 1830s. (fn. 4a)
Robert Foster held over 120 a. of copyhold at Tollington and Stroud in 1539, parts of 12 homestalls in Highbury manor, and 7 other copyhold parcels at Holloway in the manor of St. John's, Clerkenwell, besides unspecified freeholds. (fn. 5a) Richard Callard c. 1542 bought from Foster 22 a. of freehold known as LONDON FIELDS and later as the HARVIST estate, (fn. 6a) in addition to other land and houses some of which are described below. Callard and his descendants, the Hayes and Wroth families, also held Weryngs, Hides, and leases of parts of the Canonbury and Highbury demesnes. (fn. 7a) Callard (d. 1544) settled his land on Thomas Hayes and his wife Elizabeth, Callard's daughter and heir. (fn. 8a). Elizabeth was mother of William and Elizabeth Hayes and possibly of George Hayes. She married secondly John Wroth (d. 1556), (fn. 9a) brother of Sir Thomas Wroth, lessee of Highbury demesne, by whom she had two sons Edward and William, and thirdly John Clerke (d. 1557), son of her father's second wife Anne by Sir John Clerke. (fn. 10a) Clerke left some lands to Henry Iden to bring up Edward and William Wroth, (fn. 11a) perhaps including London fields which Iden held at his death in 1568, when most of his land was to be shared equally between George Hayes, Elizabeth Iremonger (probably née Hayes), and William Wroth, and their heirs. (fn. 12a) John and Elizabeth Iremonger and William and Mary Wroth made an agreement c. 1586, which probably divided the estate. (fn. 13a). In 1586 the Iremongers and William Wroth sold London fields, said to be 20 a., to John Kitchin and his son Anthony. In 1601 Anthony Kitchin sold the property to Roger Bellow of London, brewer, who immediately sold it to Edward Harvist, also a brewer. (fn. 14a) In 1610 Harvist left the two closes to the Brewers' Company of London in trust for the highway from Tyburn to Edgware; the trust was not observed, which led to litigation in 1811. (fn. 15a) The estate covered 21 3/4 a. in 1806, (fn. 16a) but by 1849 the Brewers' Company held 18 a., the rest having been sold to the G.N.R. Co. for its main line, (fn. 17a) and hoped to build on it. The estate was vested, however, in the Commissioners of the Metropolitan Turnpike Roads North of the Thames under the Metropolitan Roads (Harvist Estate) Act, 1855, to enable building leases to be granted. Lying on the east side of Hornsey Road, between Ashburton Grove and Isledon Road, it was mainly built over in the 1860s. (fn. 18a)
COWLEYS, a freehold parcel of 12 a. of meadow and 2 a. of wood at Stroud, was among the lands left by Henry Iden and shared by Callard's descendants. (fn. 19a) In 1612 Sir James Pemberton sold it to Anthony Ashe and his wife Elizabeth, with a house and 8 a. at Stroud Green and 10 a. of copyhold called Sanders Down. In 1624 Elizabeth Ashe conveyed the estate to Francis Bickley, who sold it in 1629 to William Brooke, who left it in his will of 1645 to Richard Mayor. In 1666 Mayor's widow Jane and his five daughters sold the house and 8 a. to Mary Guilliam. (fn. 20a) By 1687 the remaining land was shared between the daughters or their heirs, Catherine wife of John Winterflood, Dinah wife of John Speight, Elizabeth, Mary wife of William Bateman, and Thomas son of Mary Winspear. (fn. 21a) A fifth share in Cowleys was sold in 1712 by Edward Umfreville to Mary Sheffield, widow, (fn. 22a) and in 1765 three fifths of both fields were Thomas Winspear's. (fn. 23a) The whole of Cowleys and Sanders Down was apparently sold in 1765 to Thomas Cogan, who enfranchised Sanders Down in 1769. (fn. 24a) Later ownership of the property is unknown.
UPPER PLACE was a copyhold house in Tollington, held of Highbury manor with 17 a. called Gentsfield and Barnfield and 1 a.; it belonged to William Wroth at his death in 1614, when the house was divided. (fn. 25a) The estate was probably Wroth's customary land called Tollington farm, which he had been licensed to let in 1602. John Iremonger, however, had left rents from the farm of Tollington in 1605 to his son Henry, and John's daughter-in-law Marie Fell was entitled to £8 a year dower from the same property. (fn. 26a) Wroth's widow Mary in 1615 married Richard Colton, who was admitted for her life. On Mary's death in 1630 Arthur Loane was admitted under a surrender to his parents' use by Henry Iremonger, son of John and William Wroth's nephew and legatee. In 1663 Arthur settled 17 a. called Gentsfield and Barnfield and another 1 a. on himself and his son Nathaniel, whose own son Arthur was admitted in 1691 and was succeeded in 1694 by a younger brother John. John (d. 1702) left his land in trust for his daughters Meliora and Maria, but Joshua Draper, one of the trustes, was admitted under a mortgage. In 1720 Maria Loane settled the estate on her intended marriage with Thomas Huxley, but Draper still held it under the mortgage at his death in 1741, when his interest passed to his nephew Richard Draper. In 1751 Richard surrendered his interest to Meliora, wife of John Shaw, and Susan Huxley, and they immediately sold it to John Gwilt. In 1774 the estate, a house and 20 a. lying east of Hornsey Road near the later Tollington Park, passed to trustees under Gwilt's will. In 1806 it was called Torrington [sic] farm and said to be owned by the Revd. Robert Gwilt, who held land amounting in all to 62 1/2 a., (fn. 27a) but Edward Gwilt held Upper Place in 1802 and 1808 after the death of the trustees. By 1849 the estate was divided between several owners, including Robert Gwilt who held only 3 1/2 a., and building had started on the land. (fn. 28a)
Customary land in Highbury manor called TRAYESHILL, consisting of 45 a. in Tollington Lane with 12 a. more at the lower end of Trayeshill, was held by William Wroth in 1602. At his death in 1614 Wroth also had a house and 20 a. near Holloway Road, (fn. 29a) which, with the 12 a., he left to his wife Mary and her heirs and she surrendered to her own use for life and then to her brother John Sammes. Trayeshill was left to Mary for life, and then to Wroth's nephew Thomas Iremonger, who was admitted on Mary's death in 1630. Thomas left the land, with copyholds in Lower Street and in Barnsbury manor, to his nephew William Iremonger, who was admitted between 1650 and 1655. William conveyed the property in 1655 to Henry Man, after mortgaging it to Henry's father Edmund, who soon acquired it and left it in 1657 to his daughter Elizabeth Gardiner. Elizabeth, who had later married Francis Fowke, died in 1706. One of her daughters, Elizabeth Dee (née Gardiner) acquired a moiety from Zachariah Gibson, husband of the other daughter Mary Fowke, and died in possession in 1729, leaving her copyhold land to her cousin Thomas Gearing to pay legacies. Gearing died in 1730, whereupon his brother Joshua Gearing immediately surrendered the estate to Mary, wife of Henry Samuel Eyre. In 1750 Mary Eyre was succeeded by her brother and sister Jacob and Sarah Harvey and her husband. Eyre and Jacob Harvey surrendered the estate, which included a brick house built c. 1750 near Hornsey Lane, to Jacob's second son William, who sold it to Sarah Nicoll in 1763; the estate was then 63 a., of which 48 a. including Trayeshill on the west side of Tollington Lane were copyhold and the rest on the east side of the lane freehold. She was succeeded in 1766 by her kinsman John Osborn (d. 1800), under whose will Trayeshill was left in trust for his daughter-in-law Dorothy Osborn for life and then to his eldest grandson John Osborn, followed by his second grandson James. In 1806 Osborn's trustees held a house and 65 1/4 a., and the freehold land on the east side of Tollington Lane included c. 12 a. that had been an isolated parcel of the demesne of Highbury manor in 1718. In 1849 the Revd. Thomas Jenkins held the estate, which by then excluded the c. 12 a. Later ownership has not been traced.
John Iremonger (d. 1605) left a customary house with garden and orchard near Tollington and 8 a. in two closes to his granddaughter Elizabeth Fell. Nathaniel Loane died in possession in 1627, when his son Arthur succeeded him. (fn. 30a) The property then descended with Upper Place (above) until 1705, when it was surrendered to Elizabeth Burroughs, who was licensed to pull down the house. On Elizabeth's death in 1743 the BURROUGHS estate, consisting of a toft where the house had stood, 8 a., and 1 a., was shared by her grandsons, Thomas, William, and Charles, who surrendered their shares to John Highmore's use. On Highmore's death in 1759 his nephew Thomas Burroughs was admitted. Thomas died in 1781 leaving the estate in Holloway to Nathaniel Highmore for life, followed by his niece Mary, wife of John Strong. Highmore died in 1790, when Mary was admitted, and in 1793 the Strongs surrendered the estate to Robert Lepper. Lepper held 15 3/4 a. in 1806, (fn. 31a) and on his death in 1812 it passed to his daughter Esther, wife of Robert Enkel or Inkle, who held the estate in 1849. (fn. 32a) The land, a small part of which lay by the later Tollington Way, the rest just south of Seven Sisters Road, was built over in the 1870s.
LOWER PLACE, also known as DEVIL'S HOUSE by 1586, (fn. 33a) was a freehold house with a garden, orchard, and moat, and lay on the east side of Tollington Lane, a little south of Heame Lane and north of London Fields. In 1569 Henry Iden died in possession of the house, which was among the estates shared by Richard Callard's descendants. In 1611 it was included in a survey of Highbury manor. (fn. 34a) Its later ownership was not recorded until 1849, when 1 3/4 a. with buildings belonged to Mrs. Scott, who also owned the Hides. (fn. 35a)
The minor canons of St. Paul's held a close as copyhold of St. John's manor, Clerkenwell, in 1539 called TAYLORFIELD or BELLFIELD. (fn. 36a) In 1639 the close was 10 a. stretching from Holloway Road to Tollington Lane. Parliament sold it in 1649 to Andrew Bunnion (fn. 37a) but it reverted to the canons at the Restoration. In the 1820s 1 1/4 a. was taken for Seven Sisters Road, and the dean and chapter held the remaining 8 3/4 a. (fn. 38a) Building leases were granted from 1846 and the estate was built over by the 1860s. (fn. 39a)
FOWLER'S copyhold, held by Thomas Fowler at his death in 1556, included a house and garden which his widow Alice occupied in 1560. (fn. 40a) It was probably the house on the north side of Cross Street in Canonbury manor occupied by his descendants in 1588. On the death of Sir Thomas Fowler in 1656 the estate probably passed to his daughter Sarah, widow of Sir Thomas Fisher, (fn. 41a) as it was held by her son Sir Richard Fisher in 1690, when it consisted of the house, a farmhouse and 3 a., the Dog and Partridge inn, a barn, two fields, and c. 14 houses. (fn. 42a) After Sir Richard's death in 1707 the estate passed to Sir Thomas Halton (d. 1726) and then Sir William Halton (d. 1754), who left it in trust for William Tufnell to be followed by George Tufnell Foster. (fn. 43a) Its descent thereafter was the same as that of Barnsbury manor, (fn. 44a) and the estate was still held by the Tufnell trustees in 1862, by which time the land had been built over, fronting Cross and Lower streets and forming Little Cross and Halton streets and Pleasant and Astey's rows. (fn. 45a)
FISHER'S estate in Lower Street may have belonged in part to Sir Thomas Fisher (d. 1636), but the house later known as Fisher's House with its land was acquired by Sir Richard Fisher in 1680 from Henry Proctor and consisted of a house, garden, and small plot of land, copyhold of Highbury manor, (fn. 46a) and five houses with 2 a., copyhold of the Prebend manor. (fn. 47a) After his death the Prebend copyhold, which included Sir Richard's residence, passed under his will to his wife Browne Fisher for life, then in 1740 to Mary, wife of his kinsman Richard Halton for life, then in 1748 to Thomas, the son of Mary's son George in tail male. He surrendered the estate to a trustee during his life. (fn. 48a) In 1765 Thomas was presumed to have died while abroad and his son William was admitted. (fn. 49a) As Sir William he surrendered the estate to James Hayes in 1786, who left it to Edward Rowland Pickering, admitted in 1827. It was enfranchised in 1844, having been built over with Pickering Place and other small houses, stretching to Frog Lane. (fn. 50a) The Highbury copyhold seems to have passed with the Fowler estate. Sir William Halton (d. 1754) was admitted in 1733 and left the copyhold, which included the coachhouse and stables used with Fisher's House, to his aunt Mary Halton for life, and after to George Tufnell Foster. The Tufnell family still held the premises in 1851, (fn. 51a) but the later ownership has not been traced.
Anne, widow of Sir John Packington, by will of 1559 left to the Clothworkers' Company of London the profits of a copyhold house and land in the Prebend manor, £16 16s. 9d. a year, for charitable purposes. The Company also acquired an adjoining 34 a., which became confused with the Packington land (fn. 52a) and may have included land said in 1659 to have once belonged to Henry Swinnerton, followed by John Cruth. (fn. 53a) In 1649 the Company paid an annual quitrent of £1 13s. 9d. to the prebendary and a fine of £ 11 1s. 8d. every 20 years. (fn. 54a) In 1659 the CLOTH-WORKERS' estate included the Crown inn in Boon's Lane and another building near it, c. 50 a., and the Clothworkers' ten almshouses. (fn. 55a) In the late 18th century the estate was 57 3/4 a., excluding the two sets of almshouses and other houses in Lower Street, most of it between Frog Lane and the parish boundary. (fn. 56a) In 1819 2 3/4 a. were taken by the Regent's Canal Co. In 1827 an arbitrary division of the charity land from the corporate land was made. The Company gave the lords of the manor, the Ecclesiastical Commissioners, 2 a. for enfranchisement in 1845. (fn. 57a) Building on the estate began soon afterwards and was finished by the early 1860s. (fn. 58a) The charity estate was taken for Packington and Dame streets; the corporate land lay north-east up to New North Road, with a small block in St. Peter's Street.
HIGHBURY WOODS or CREAM HALL estate was formed from Highbury wood and Little St. John's wood, which were part of the manor of Highbury and had belonged to the hospital of St. John of Jerusalem until the Dissolution. (fn. 59a) The Crown let the two woods, estimated at 33 a. each to William Dodington for 21 years in 1570. (fn. 60a) Leases in reversion for 21 years were granted in 1583 to Matthew Martin, the holder in 1604, and in 1590 to James Harden, one of the queen's musicians. (fn. 61a) In 1594 a lease was granted to Sir John Fortescue for 60 years from 1625 at the same rents, reserving great trees and oaks. (fn. 62a) Sir John sold it to Sir John Spencer and it passed in turn to William Halliday, then in 1623 to his widow Susanna, who left her leaseholds to her younger daughter Anne Halliday (d. 1657), wife of Sir Henry Mildmay. (fn. 63a) Anne left the leaseholds in trust for her son William Mildmay, who was still the beneficiary in 1681. (fn. 64a) In 1651 the fee simple of Highbury wood, estimated at 43 1/2 a., and Little St. John's wood, estimated at 35 a., had been sold to Henry Mildmay, second son of Sir Henry, and Richard Clutterbuck of London, merchant, (fn. 65a) but it was repossessed by the Crown at the Restoration, and a lease for 31 years from 1685 on the same terms as Fortescue's was granted in 1670 to Thomas Windham on the nomination of his wife Elizabeth, who had helped Charles II to escape after the battle of Worcester. (fn. 66a)
In 1685 Windham assigned his lease to Anthony Guidott of Lincoln's Inn, whose nephew and namesake was granted a new lease for 31 years from 1714. (fn. 67a) A lease in reversion was granted in 1735 to Anthony's widow Alice and William Guidott for 21 years from 1745, and another in 1759 to Alice Guidott for 23 years from 1767. (fn. 68a) In 1755 her executor sold her interest in the two woods to John Dawes, who in 1776 secured a new lease of 31 years. (fn. 69a) Dawes's son John sold the lease in 1789 to Isaac Walker, together with 45 a. of Highbury demesne and the lease of London Fields. In 1798 Walker assigned the house built on the estate called Cream Hall and 45 1/2 a. formerly Highbury wood to Alexander Aubert. (fn. 70a) A lease of the 45 1/2 a. was granted by the Crown to John Bentley in 1807 at the nomination of Aubert's executrix, for 28 years, and the freehold was sold in 1818 to Jesse Gregson in trust for Robert Felton of Highbury House, who already held a mortgage of Bentley's lease. Felton died bankrupt in 1818 and his estate was sold in 1819. Part was acquired for building in 1824. (fn. 71a) Highbury wood lay between the south end of the later Blackstock Road and Highbury Hill and included the site of Arsenal F.C. ground. A new lease of Little St. John's wood was made to John or James Walker for a term expiring in 1836, when the freehold was auctioned in ten lots to nine purchasers. (fn. 72a) The wood, bounded on the north-east by the later Blackstock Road, formed the site of Ambler and Monsell roads and the G.N.R. sidings.
The farmhouse later known as Cream Hall was built by the Guidott family at the south-east corner of Highbury wood, probably c. 1716 when Guidott received permission to convert the woods to pasture, (fn. 73a) as there was no mention of a house in 1692. (fn. 74a) Although that house was called Cream Hall in 1746 (fn. 75a) and 1775, (fn. 76a) it was known as Mrs. Guidott's new farm in 1718 and 1719, when Cream Hall was the name given to a house at Stroud Green. (fn. 77a) The later Cream Hall may therefore have been rebuilt to replace the earlier house. It was a private dwelling by the early 19th century and was still a villa residence in the 1850s and 1860s, but was sold for building by the early 1880s, forming the site of Legard Road. (fn. 78a)
Christopher Wase bought a capital messuage and seven closes in Upper Holloway containing c. 50 a. in 1622 from William Daniell, all copyhold of the manor of St. John's, Clerkenwell; (fn. 79a) the house and four closes of c. 45 a. had been held by Humphrey Harbury (d. 1560) and by his widow Alice (also surnamed Hancock) c. 1570. (fn. 80a) Wase died in 1643 in possession of the estate, where he apparently lived, besides half of the manor of St. John's. (fn. 81a) His widow Judith held WASE'S estate for life; she had married William Martin, clerk, by 1649 and was dead by 1675. (fn. 82a) A Chancery order of that year confirmed an agrement of 1656 between Wase's two daughters whereby 5 a. adjoining Hornsey Lane went, with the half of St. John's manor, to George Masters, who had married Wase's daughter Judith, and all the other lands in Middlesex went to the other daughter Hester (d. 1678) and her husband Sir Henry Blount (d. 1682), the traveller, and then in succession to their second son Charles (d. 1693), the deist, (fn. 83a) to Charles's eldest son Lt.-Col. Henry Blount (d. 1704), and Henry's brother Charles (d. 1729). A sister Hester, wife of Sir Harry Tyrrell, (fn. 84a) sold the property in 1732, possibly to Watkinson Wildman and his wife Susanna, (fn. 85a) who paid rates on it until 1766. (fn. 86a) Later ownership is uncertain, although the house and land probably formed the 48-a. estate belonging to Edward Dickenson in 1806. (fn. 87a)
The Blount family also owned two closes called BARNFIELD or Barnsbury or Moat field, of 6 1/2 a., and PONDFIELD of 20 1/4 a., with its spring, which were part of the demesnes of Barnsbury manor in 1556, when they were let by Edmund Fowler, (fn. 88a) and included the site of the manor house. (fn. 89a) Barnfield was among lands settled by Sir Thomas Fowler on his son Thomas in 1601, who probably settled both fields on his daughter Sarah Fisher in 1640. (fn. 90a) The two fields were probably included in sales of demesne made from 1654 to 1675. (fn. 91a) By 1678 they were held by Charles Blount (d. 1693), having perhaps been his father's. (fn. 92a) Charles's son Charles sold them in 1714 to Stephen Terry, cursitor of Chancery. (fn. 93a) By 1718, 3 1/2 a. on the north-east side, adjoining the Back Road, were set aside for building. (fn. 94a) The estate passed through Stephen's nephew Richard Terry to Richard's son Stephen, who in 1768 sold it to Nathaniel Bishop (d. 1790), who settled it in 1783 on his son Nathaniel. (fn. 95b) In 1806 the property consisted of a cottage, 5 1/2 a. and a gravel pit, the 20 1/2 a. Workhouse and Moat fields thrown into one, and a row of houses on 1 1/4 a. (fn. 96b) The younger Nathaniel (d. 1836) (fn. 97b) agreed in 1810 with Robert Clarke and Henry Richardson, surveyor to the adjoining Thornhill estate, for a building lease on part of his land, and after their bankruptcy in 1813 obtained an Act in 1815 to enable him to carry out building. (fn. 98b) The whole estate was built over by 1849, (fn. 99b) stretching from the Back Road north of the workhouse to Caledonian Road over the later Barnsbury Square.
In 1587 Jasper Cholmondley died in possession of a capital messuage called the BREWHOUSE, with outhouses and 42 a. in Nether Holloway and two closes of 4 3/4 a. in Islington, all held of Barnsbury manor in free socage. He also held copyhold in various manors. (fn. 1b) A third of the property passed for life to his widow Margaret, who married William Wootton, and the rest to Cholmondley's eldest son John (d. c. 1590), who conveyed it to Thomas Buskel and Richard Cholmondley to pay debts. (fn. 2b) In 1607 Jasper's son William surrendered 55 a. of his father's copyhold of Barnsbury manor to Thomas Fisher of London, (fn. 3b) and the freehold estate may have been conveyed at the same time as in 1619 the property was held by Susan, widow of Thomas Fisher, and her son Sir Thomas Fisher (d. 1636), being settled on his wife Sarah. (fn. 4b) After Sarah inherited the manor of Barnsbury from her father in 1656, the Brewhouse and Fisher's other land became part of the Barnsbury demesnes, known as manor farm. (fn. 5b)
The CHRIST'S HOSPITAL estate originated in a freehold sold by Richard Martin of Islington to John Yorke, brewer of London, and his wife Ellen in 1601. It consisted of a capital messuage known as the Horsehead or Nag's Head, formerly called Gower hawe, a close of 3 1/2 a., and six houses occupied by craftsmen, all on the west side of Upper Street at its junction with the Back Road, and 6 a. called Gosseyfield, on the west side of the Back Road. (fn. 6b) Yorke (d. 1612) left all his free and copyhold lands to Ellen and then to his son William for life, followed by William's four sons. (fn. 7b) In 1630 the three surviving sons, John, William, and Samuel, divided their property in Islington and elsewhere: John Yorke received Gosseyfield, (fn. 8b) William received four houses including the Black Horse and Ringcross field of 5 a., and Samuel received the Nag's Head and an adjoining close, which included 1/2 a. of copyhold of Barnsbury manor. (fn. 9b) In 1638 Samuel Yorke sold the Nag's Head, two houses formerly part of it, and the close adjoining to Richard Atkinson, cordwainer of London, whose family had occupied the inn since 1601. (fn. 10b) Atkinson sold the inn and freehold land to John Browne in 1649, (fn. 11b) who left it by will proved 1663 to Christ's Hospital towards the maintenance of three scholars at Christ's College and three at Emmanuel College, Cambridge. (fn. 12b) The 1/2 a. copyhold, to which Atkinson's four daughters were admitted on his death in 1651, was surrendered to Christ's Hospital in 1662 and enfranchised in 1664, (fn. 13b) when the close adjoining the inn was known as Park field. (fn. 14b) By 1745 there were five wooden tenements fronting Upper Street and three old brick tenements fronting the Back Road. (fn. 15b) The Hospital also bought houses in 1786 from Thomas Clarke, which included one at the corner of Upper Street and the Back Road. (fn. 16b) Christ's Hospital's open land was built over in the 1850s with Paradise (later Parkfield) Street. (fn. 17b) By 1806 the Hospital also owned 6 3/4 a. in Holloway, described as the site of Skinners Place next to the chapel of ease and a field near Ring Cross. (fn. 18b)
Gosseyfield, the 6 a. allotted to John Yorke in 1630, was sold following his bankruptcy to John Walter (d. 1656) in 1638. (fn. 19b) The land passed to Walter's daughter Ann, wife of Walter Mills, and in 1690 she conveyed it to the Draper's Company of London to help maintain its almshouse charities founded by her father. The DRAPERS' estate, of 6 1/2 a. in 1806, was let for grazing and fattening cattle on their way to Smithfield until 1839, when it was let for building as the site of Lonsdale Square and the adjacent streets. The Company sold the estate in 1954.
The MILDMAY estate originated in a copyhold of Newington Barrow manor. William Halliday or Holliday (d. 1623), alderman of London, held it by 1611 and surrendered it to uses in 1622. (fn. 20b) He had a capital messuage at Newington Green with a 2-a. orchard and garden enclosed with a brick wall and 44 a. occupied by himself, together with three tenements or cottages, a house with a walled garden and orchard, and c. 19 a. The chief house was of at least six bays and probably three storeys; the first floor had oak wainscotting, a decorated plaster ceiling with the initials of James I, and carved chimneypieces, including one with Halliday's arms. (fn. 21b) In 1623 the estate passed to Halliday's widow Susanna (d. 1646) (fn. 22b) who later married Robert Rich, earl of Warwick (d. 1658), (fn. 23b) and the Newington Green estate may have been that which was damaged by soldiers in 1643. (fn. 24b) By will dated 1645 Susanna left her copyhold to her daughter Margaret Halliday, wife of Sir Edward Hungerford. (fn. 25b) Margaret (d. 1673) left her copyhold to Henry Mildmay, second son of her sister Anne and Sir Henry, in tail male. (fn. 26b) Mildmay broke the entail and sold some decayed houses. (fn. 27b)
After Henry's death in 1704, the estate passed to Letitia (d. 1749), daughter of Henry's son Halliday (d. 1696), and she married a cousin, Humphrey Hervey Mildmay (d. 1761), in 1706. Their son Carew (d. 1768) left the estate to his eldest daughter Jane (d. 1857), whose husband Sir Henry Paulet St. John, Bt. (d. 1808), added the name of Mildmay in 1790. (fn. 28b) The estate covered 64 1/2 a. in 1806. (fn. 29b) Lady St. John Mildmay obtained an Act in 1827 to allow her to grant building leases, (fn. 30b) but little building was done until the 1850s and most of the estate was sold in lots in 1859. (fn. 31b) The main house had been divided in two by the early 19th century, with one part occupied by Mildmay House boarding school. (fn. 32b) It was later taken over by the Mildmay Mission as a nurses' home (fn. 33b) and was demolished c. 1960. (fn. 34b)
John Banks gave some land on the west side of Holloway Road to the Mercers' Company of London in 1619. (fn. 35b) The MERCERS' estate was 6 3/4 a. in 1806, (fn. 36b) and Mercers' Road was built on it in the 1860s. (fn. 37b) The Mercers' Company also bought land in 1823 on the east side of Archway Road from the Highgate Archway Co., as a site for Whittington college, and bought land opposite the college in 1838. The collège housed almswomen until 1966, when it moved to East Grinstead (Suss.) and the site was sold for road widening. (fn. 38b) A small public garden was laid out on part of the site in the 1970s.
Sir John Miller (d. 1639) bought a house and 14 a., copyhold of Barnsbury manor, from Thomas Sanderson by 1624, and used the house as his residence. He left the estate to his second son John, who was to pay an annuity to another son and who was admitted in 1640. In 1642 John's elder brother Michael surrendered the estate to James Ravenscroft, on condition that Ravenscroft pay the annuity for John. In 1646 Ravenscroft surrendered the estate to the use of his son James and the latter's wife Mary, to use it as security for the payment of legacies to Mary's daughters Elizabeth and Judith, left by their father Theophilus Fletcher. The daughters were admitted to the estate in 1649. (fn. 39b) Judith, who married Henry Dew, held the estate in 1668, and by 1675 it had passed to her son Henry Dew. (fn. 40b) By 1727, the house, called the Pied Bull inn, was held by William Westbrook who surrendered it to Thomas Milner, and Milner also held the 14 a. at his death in 1733, when his son Thomas was admitted. In 1798 a kinsman Thomas Miloner Gibson was admitted to the PIED BULL estate and on his death in 1814 it passed to his son Thomas Gibson. (fn. 41b) Gibson built over the estate from 1825 to 1842, with Gibson and Milner squares and the adjacent streets, and enfranchised the estate in 1846. (fn. 42b)
A large copyhold estate at Holloway in the manor of St. John's, Clerkenwell, was held by Thomas Rowe in 1625. (fn. 43b) ROWE'S estate consisted of 50 3/4 a. drawn from various holdings. By will dated 1624 Rowe left his copyholds to his eldest son John, who was admitted in 1625. John, by will dated 1657, left his Islington estate to his nephew Thomas Darrell or Dorrill (d. 1700) for life. Henry and William Darrell succeeded in 1701 and immediately conveyed the estate to George Jarvis (d. 1718), who sold a house in Lower Holloway to Elias Moreton in 1717. The rest of Jarvis's estate, including in 1715 a farmhouse, 2 barns, 9 fields of c. 60 a., 2 little tenements, and the Plough (later the Crown) in Lower Holloway, was bought in 1720 by Lascelles Metcalfe (d. 1741) and passed to his son Lascelles, who died in 1781 leaving his estate, 57 a. besides 5 a. of copyhold of Highbury manor, to John Harman to pay legacies. Harman left the copyhold by will proved 1817 to his sons Jeremiah, Edward, and Henry to sell as they wished, and Henry was admitted in 1819 as trustee. Seven lots were sold in 1822, when copyholds totalling 31 3/4 a. and the freehold Further and Hither Dock fields totalling c. 6 a. fronting Hornsey Road were bought by William Mayor. (fn. 44b) In 1838 the estate was mortgaged to James Peachey, who was listed in 1849 as owning 33 1/4 a.; (fn. 45b) the copyhold was enfranchised in 1854. In 1855 Richard Anstead Simmons bought 10 1/2 a. for building and c. 23 a. were conveyed outright by Mayor to Peachey; both blocks were soon built over, from Kingsdown Road to just south of Elthorne Road. (fn. 46b) Of the rest of Metcalfe's estate, the Crown and 6 3/4 a. were owned by Charles Bligh in 1849, and 15 1/2 a. were owned by Lord Northampton. (fn. 47b)
The Revd. James Palmer, vicar of St. Bride's, Fleet Street, had bought a copyhold house and 47 a. at Upper Holloway in the manor of St. Mary's, Clerkenwell, by 1637, and by will published in 1659 left the estate to trustees who were to continue his payments of £5 a year each to 20 widows of orthodox clergymen. (fn. 48b) In 1693 the trustees conveyed the PALMER estate to the governors of the Charity for the Relief of Poor Widows and Children of Clergymen, later known as the Corporation of the Sons of the Clergy, who held the estate until 1972. Most of it was then sold to the Peabody Trust. (fn. 49b) In 1684 the house, fronting Holloway Road, was the Castle and Falcon inn (later the Horse and Groom), (fn. 50b) and in 1715 fields totalling 50 1/2 a. stretched westward from the inn to the parish boundary. (fn. 51b) About 1 a. was given for the site of St. John's church and school in 1827 and the rest was enfranchised in 1846. (fn. 52b) Building leases were granted from the early 1840s, most of them in the 1850s. (fn. 53b)
Sir Thomas Fowler in 1639 granted to Richard Corbett, husband of his daughter Jane, BARNSBURY CLOSES, part of the demesnes of Barnsbury, in trust for Corbett's sons Thomas and Rowland. The closes consisted of Upper, Lower, and Hither Barnsbury, altered to two closes by 1651, and totalling 15 a., and Clayfield of 3 a. In 1662 the property was held by Rowland Corbett, with two other parcels of land of 24 a., and in 1686 it was being let by Richard Corbett, (fn. 54b) who died between 1689 and 1696. Richard's widow Elizabeth and son William mortgaged the estate for terms of 500 years and 1,000 years in 1710 and 1716 respectively and as a result the beneficial ownership seems to have been acquired by Richard Orton in 1717, (fn. 55b) and to have passed by his will dated 1728 to his son William, who assigned his interest in 1737 to his sister Sarah (d. 1780). It then passed to another sister Ann (d. 1786), wife of John Little; (fn. 56b) she left it to her son Richard, who left it to his five daughters by will proved 1796. In 1826 the daughters and their husbands sold 19 a. of their 43 a. to John Thomas Pocock, who had agreed to sell it to Richard Chapman, the builder. Land owned by the Littles near the Back Road was said to have been sold to Thomas Cubitt by 1840 but all the open land between Pentonville Prison and the Back Road belonged to Pocock's son Samuel in 1849. (fn. 57b) The Littles' estate lay between Hagbush Lane (roughly Sheringham Road) and Offord Road and took in the site of Westbourne Road. J. T. Pocock also acquired adjoining property, including WATERPIT or BENTLEY'S field which had provided the site of the parochial school in 1814. (fn. 58b)
The THORNHILL estate originated in the sale of demesne of Barnsbury manor in 1654 to Thomas Arnold, George Arnold, and Edward Anthony, including Bowling Alley fields and totalling 65 1/4 a. (fn. 59b) In 1656 the two closes called Maiden Knowles, 17 1/4 a. near Copenhagen House, were added and in 1670 Anthony confirmed them to George Arnold as Thomas Arnold's heir. By 1720 the estate was owned by Cuthbert Routh, who sold Bowling Alley fields and Maiden Knowles to Thomas Thornhill, subject to a rent charge of £26 to the Haberdashers' Company of London. The rest of the Arnold's estate was Thornhill's by 1767, when he conveyed it all to his brother George (d. 1827). The estate covered 88 a. in 1806. (fn. 60b) From 1808 Thornhill made building agreements, which were continued by his son George (d. 1852) and grandson George (d. 1875), until the whole estate had been built over. (fn. 61b) The freehold of part remained in the Thornhill family, being vested in trustees after the death of Noel Thornhill in 1955, and tenants were seeking to buy freeholds in 1968. (fn. 62b)
Michael Davison by will dated 1676 left a freehold house and land in Upper Holloway to the parish of St. Benet Sherehog for the upkeep of his tomb. (fn. 63b) By 1862 the ST. BENET estate was the site of Euston Place, Holloway Road, and the house was called Union Cottage, Hercules Terrace. (fn. 64b)
The MASTERES or HIGHBURY NEW PARK estate originated in the sale of 135 a. of demesne of Highbury manor to Peter Abraham Maseres in 1732, (fn. 65b) to which were added 4 a. of enfranchised copyhold between the demesne and Newington Green Road in 1753. (fn. 66b) A farmhouse, later called Dells Farm, was built on the 4 a. by 1793. The estate passed to Peter's elder son Francis Maseres (1731-1824), mathematician and historian, (fn. 67b) and he held 139 1/4 a. in 1806, 120 a. in 1822. (fn. 68b) Francis left the estate to his friend the Revd. Robert Fellowes (1771-1847), philanthropist, (fn. 69b) who left it to his sons Robert and William. (fn. 70b) In 1849 the estate was 118 1/2 a. (fn. 71b) and in 1852 it was transferred to Henry Rydon, who built over it. (fn. 72b)
The HIGHBURY HOUSE estate was formed from 247 a. of the demesne of Highbury manor sold to John Dawes in 1773. (fn. 73b) Dawes, who had also bought adjoining lands consisting of the freehold Weryngs and the leases of Highbury woods and of London Fields, (fn. 74b) laid out Highbury Place and Terrace and built Highbury House in 1781 on the site of the ruined manor house of Highbury, adding extensive pleasure gardens. (fn. 75b) After his death in 1788 his son John (d. 1822) sold most of the property to pay his father's debts, (fn. 76b) retaining 92 a. in 1794, of which c. 10 a. had not been demesne. (fn. 77b) Under the will of the younger John, the remainder of the estate, which was 62 a. in 1849, (fn. 78b) passed to trustees for Henry Dawes, who was succeeded as beneficial owner by Charles William Dawes, who retained some freehold in 1885, principally the sites of Highbury Place, Terrace, and Crescent and part of Highbury Grove. (fn. 79b)
After the death of the elder John Dawes, Highbury House was sold to William Devaynes, M.P., and then by 1797 to the astronomer Alexander Aubert (d. 1805), who built an observatory of three storeys, where there was a reflecting telescope said to be the largest made by James Short. Other additions by Aubert included the placing of a clock from St. Peter-le-Poer, Broad Street, in a turret nearby, and the filling of the moat except in front of the house. In 1805 the house with 74 a. was sold to John Bentley, who walled a large part of the grounds, which included a plantation of tobacco in 1809 and were noted as productive gardens in 1810. The government was said to use the observatory regularly. (fn. 80b) Bentley was succeeded by Robert Felton in 1815, followed by Mr. Knight, a distiller, and John Gostling, the owner in 1835. (fn. 81b) The rest of the moat was filled in 1855, (fn. 82b) and the grounds were built over by the late 1860s. The house was demolished in 1938 and Eton House, Leigh Road, built on the site. Part of the servants' wing survived behind Christ Church hall, Leigh Road, in 1973. (fn. 83b)
St. Bartholomew's Hospital in 1806 owned 6 3/4 a. called BAKER'S field, of unknown origin. It lay between Camden Road and Tufnell Park in 1849 and was built over with St. Bartholomew's Road (later Dalmeny Avenue) from the mid 1850s. (fn. 84b)