Pages 8-15
A History of the County of Middlesex: Volume 9, Hampstead, Paddington. Originally published by Victoria County History, London, 1989.
This free content was digitised by double rekeying. All rights reserved.
SETTLEMENT AND GROWTH.
Finds on Hampstead Heath, including many Mesolithic flint tools, pits, postholes, and burnt stones, indicate a community of hunter-gatherers of c. 7000 B.C. (fn. 1) Cinerary urns and grave goods of 90-120 A.D. were found near Well Walk in 1774, suggesting a nearby Roman dwelling or road. (fn. 2) Continuous habitation, however, dated from Anglo-Saxon times, when the name Hampstead indicated a single farm-site, presumably in a woodland clearing. (fn. 3) Fragments of pottery possibly dating from the 5th-7th centuries were found on the heath but were too small to furnish evidence of settlement. Charcoal-burning took place on the heath in the 10th century. (fn. 4)
The charter attributed to King Æthelred mentions one dwelling (Deormod's wic) on the eastern border. (fn. 5) Domesday Book recorded only 1 villein, 5 bordars, and 1 serf and, although there were presumably famuli on the demesne and probably also on Ranulf Peverell's subinfeudated hide, it is unlikely that any other category of inhabitant was omitted. (fn. 6) Probably during the 12th century there was considerable increase both in the population and in the cultivated area. There were 41 tenants and another 4 tenants of the Hyde by 1259 (fn. 7) and 54 by 1281. (fn. 8) Some tenants may have held only land and it was not until 1312 that the holdings were described. (fn. 9) There were then 40 customary dwellings and six freehold houses in addition to the demesne farm. The manorial demesne farmland occupied the centre of the parish, with woodland and heath to the north and north-east. The freehold estates, most of them held by religious houses, were on the edges of the parish, in areas originally largely woodland. Most of the customary land and dwellings were in Hampstead town and Pond Street, south and east of the heath, with smaller settlements at West End and Kilburn, and one tenement at Frognal. The location of the church suggests that its primary function was to serve the manor, although it was not far from the town well and High Street.
Hampstead, on high ground visible from London, may always have represented health to the overcrowded citizens. In 1349 the abbot of Westminster fled there to escape the Black Death, which he probably brought with him. (fn. 10) In 1524 Londoners sought safety on Hampstead's heights from a threatened flooding (fn. 11) and in the late 16th century topographers remarked on the fine views and 'very healthful air'. (fn. 12) In the plague of 1603 Sir William Waad, who lived at Belsize, wrote of people coming from town and dying under hedges, 'whereof we have experience weekly here at Hampstead'. (fn. 13) During the great plague in 1665, trust in clear air on hills brought throngs from London to Hampstead town, where there were 260 deaths in 100 houses. (fn. 14)
By 1653 Hampstead had acquired an additional attraction, when doggerel advertised 'Air and Hill and Well'. (fn. 15) In 1683, however, the earl of Arran was pleased that the duchess of Ormond was leaving Hampstead: 'for I do by no means think that a wholesome air, there being a bog very near as I remember'. (fn. 16) Most people, however, delighted in the air on the heath (fn. 17) and agreed with the earl of Oxford in 1720 that Hampstead was a very good place for air and yet within the reach of the best physicians. (fn. 18)
The Black Death may have contributed to the concentration of customary holdings among fewer tenants, the most important of whom, by the mid 15th century, were Londoners. Fewer names in rentals from the late 14th century did not, however, necessarily reflect a smaller population, for the inhabitants may have been undertenants. (fn. 19) By 1548 Hampstead had 147 communicants, (fn. 20) and in 1642 178 males took the protestation oath. (fn. 21) As outsiders, particularly Londoners, acquired property, the old inhabitants became landless labourers, employed in the brickfields, or as launderers, servants, or tradesmen. In the early 16th century Hampstead was said to be chiefly inhabited by washerwomen, who served the nobility and London citizens. (fn. 22) In 1653 Hampstead pleaded poverty on the grounds that 'divers houses' were occupied by citizens who paid their taxes in London and many inhabitants were poor wage-earning labourers at the tilekilns, while their wives washed clothes for Londoners. (fn. 23)
Cheap lodgings were available for people like Sir Martin Frobisher's wife and children, who were said to be starving in Hampstead c. 1577. (fn. 24) Most of the newcomers were more prosperous: merchants, courtiers, lawyers, writers, and artists, who often bought or rented a house, initially only for the summer. In 1661 John Woodward sought exemption from the office of constable because he lived in Hampstead only during the three or four summer months (fn. 25) and in 1674 the manor house was leased to a man who stayed there six weeks a year. (fn. 26) As late as 1724 Defoe observed that in winter Hampstead had nothing to recommend it. (fn. 27)
In 1648 poor inhabitants complained that Londoners were taking their houses for the sake of the air in the summer. (fn. 28) As more substantial houses were built for the newcomers on the copyholds and on some of the freehold estates, several, for example, being built in Belsize, indigenous inhabitants tended to move to the heath. Some may have been squatters but most sought grants of the waste, which became copyhold, on which they built small cottages, having in 1648 established their right to do so without needing 4 a. in support. (fn. 29) There was one grant of waste, in Pond Street, in 1607 and one in 1654; c. 20 grants, possibly more, were made between 1654 and 1690, another 20 in the next decade, 30 in 1700, and 60 between 1700 and 1720. (fn. 30) Some of the earliest inclosures, at Cloth Hill and Boad's Corner (New End), were made during the Civil War and not recorded, presumably because of disorders and because the lord of the manor was on the losing side. Other early inclosures were probably forgotten after court rolls were destroyed in a fire c. 1684. There was another period of disorganization between 1720 and 1737, when rival courts were held and records of grants by Ditchfield, the deputy of one of the contending stewards, were lost. (fn. 31)
Settlement spread during the 17th century from Hampstead town across the heath, northward to Cloth Hill and Littleworth, eastward to Boad's Corner and New End, and westward to East End and Frognal. Settlements grew up about the same time at the northern end of the heath, at North End and Spaniard's End and, during the 18th century, at the Vale of Health. Growth in the older hamlets of West End and Kilburn, although not on the heath, was at least partly at the expense of roadside waste. There were 78 cottages in 1646 (fn. 32) and nearly 100 in 1664, made up of 57 dwellings not charged for hearth tax and another 40 with one or two hearths. (fn. 33) In 1674 130 dwellings had two or fewer hearths (fn. 34) and in 1762 70 dwellings were described as cottages. (fn. 35) The increase in the number of dwellings, therefore, was mainly of larger houses, which gradually replaced first the old cottages and then the newer ones on the waste. A few places in the old town, notably west of High Street, which became an area of crowded yards, and the low-lying New End, long remained the homes of the poor. Most of the copyholds, however, fell into the hands of newcomers, either as owners or occupiers. Hampstead was the home of several prominent parliamentarians during the Civil War, probably because of its connexion with London merchants. In 1664 they still occupied the six largest houses, each with 16 or more hearths, except that Belsize House was occupied by the royalist Daniel O'Neill. Also on the Belsize estate were houses occupied by Serjeant John Wilde, the parliamentarian, and by Thomas Hawley, a London mercer of unknown political affiliation. To the north all the large houses on Slyes estate were occupied by parliamentarians: Col. John Owen and the widow of Harry Vane; the widow of John Towse (d. 1645), grocer and colonel, lived in the Old Mansion at Frognal. Of a total of 161 houses in 1664, 6 had 11-15 hearths, 17 had 6-10 hearths, and 35 had 3-5. (fn. 36) By 1674 the total had increased to 225 houses, Belsize House had been rebuilt and was by far the largest, with 36 hearths, and one house had 23 hearths and another had 20; there were six with 11-15, 29 with 6-10, and 54 with 3-5 hearths. (fn. 37) By 1704 there were 267 copyhold dwellings, of which 64 were specified as having been taken from the heath. (fn. 38)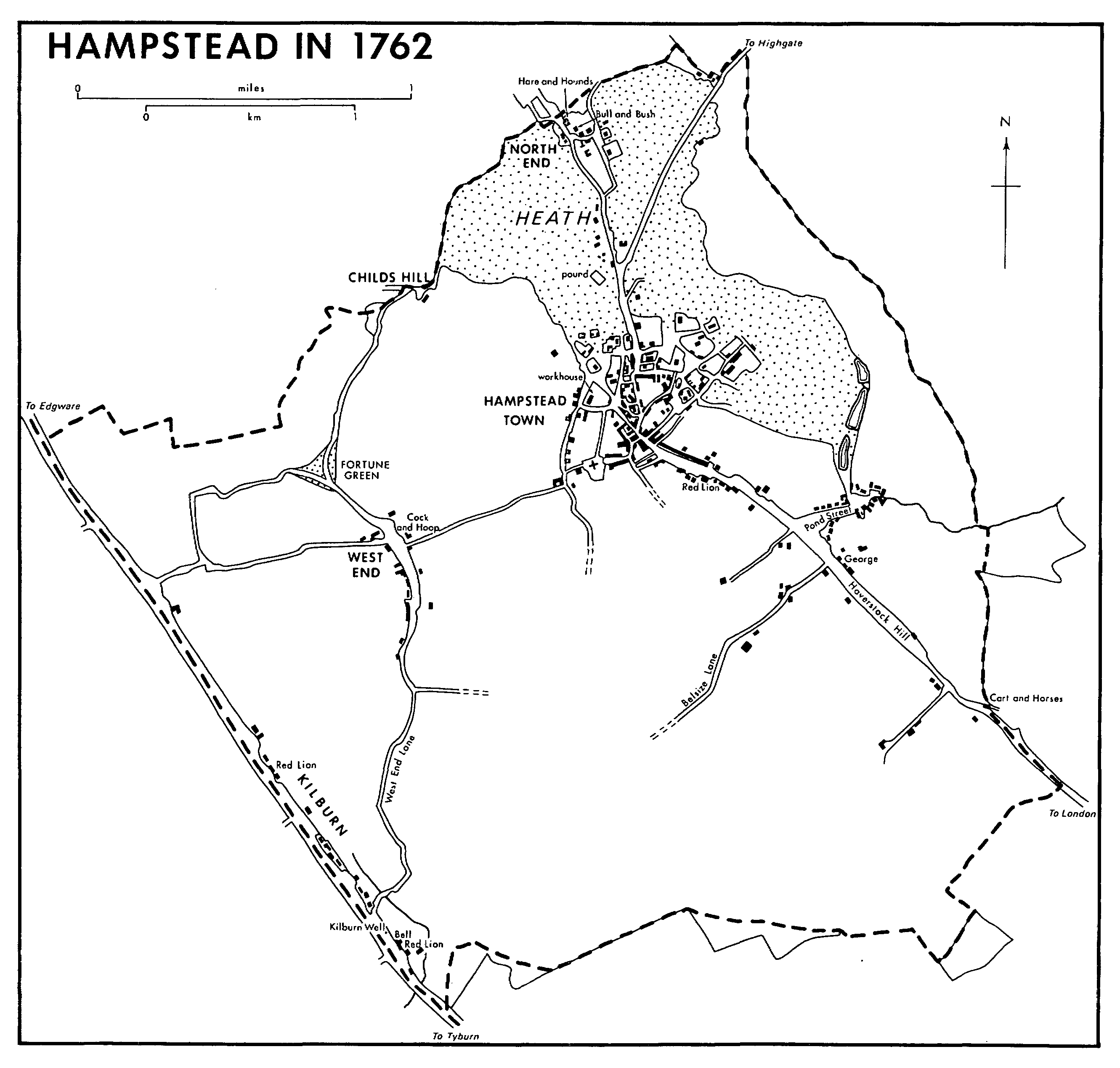 With the commercial exploitation of the wells from 1698, more visitors wanted lodgings. In 1710 a German observed that 'many drive out from London and some spend all summer there'. (fn. 39) For a brief period Hampstead and, a little later, Belsize were the height of fashion, but as early as 1709 the nearness of London brought 'so many loose women in vamped-up old clothes to catch the City apprentices, that modest company are ashamed to appear'. (fn. 40) Although in 1735 'the meaner sort' were discouraged from settling there, (fn. 41) the town continued to grow, attracting the middle class rather than the fashionable. The petition for a new church in 1747 gave as its reason that the town was a place of great resort, especially in the summer. (fn. 42) Hampstead in 1709 was a large village with many pleasant lodgings (fn. 43) and by 1724 it had 'increased to that degree, that the town almost spreads the whole side of the hill'. (fn. 44) There was some terraced housing, notably in Church Row, which was probably speculative, but most building was of one or two houses, 'good substantial carpenters' jobs'. (fn. 45) There were between 500 and 600 families in the parish c. 1730 (fn. 46) and about 500 houses and cottages by 1762. (fn. 47)
During the later 18th century some inns closed and some larger houses were divided or tenemented. More of the wealthy, including lawyers, merchants, bankers, and politicians, moved into the newer areas of settlement, Upper Terrace, Littleworth, Frognal, and North End. In Littleworth, for example, the total number of dwellings declined as villas in extensive grounds replaced the crowded cottages. By 1774 the heath was described as adorned with many gentlemen's houses, (fn. 48) and during the late 18th and early 19th centuries villas were built on several freehold and copyhold estates, including Bartrams, Belsize, and West End, and on the demesne at Frognal. There were 686 houses in 1795, (fn. 49) 842 inhabited houses in 1811, and 1,180 in 1831. (fn. 50) In 1814 Hampstead's permanent residents formed a 'select, amicable, respectable, and opulent neighbourhood'. (fn. 51) Although Hampstead had ceased to be a spa, it continued to attract visitors and permanent residents anxious for their health. During the 19th century its reputation increased, as London became more polluted. In 1833 residents could enjoy 'pure air, lovely scenery, and retired and beautiful walks', while taking part in the amusements of the capital and in summer receiving an influx of genteel Londoners. (fn. 52) In 1816, however, the far-famed salubrity of Hampstead was said to have led speculators to encumber it with tenements far beyond the need of the population. Many streets diverged from the 'great thoroughfare' (presumably the London road), crowded with ill-constructed and unoccupied buildings, intended as lodgings for invalids. (fn. 53) In 1826 there was a 'vast and increasing number of small houses' and nearly half the houses were rated at less than £10. Since rates were not collected from them, there was until 1827, when the owners were rated, an inducement for the owners, mostly bricklayers and carpenters, to build small houses. There were still many small dwellings in 1834. (fn. 54)
Hampstead town, with its copyholds, was, together with the heath and the demesne, the area mainly affected after 1821 by the restrictions of Sir Thomas Maryon Wilson's will. (fn. 55) The wholesale development of estates, (fn. 56) as opposed to small-scale building, was largely on freehold land to the south, adjacent to districts outside the parish, where building had already recently taken place. Wholesale exploitation on the Belsize estate began on the Bliss estate in 1815 and increased after an Act in 1842 enabled church lands to be let on building leases. It began on the Kilburn priory estate in 1819 and accelerated during the 1840s and 1850s. An Act enabling 99-year building leases to be granted on the Chalcots estate of Eton College was passed in 1826, followed by much building, especially in the 1840s and 1850s. The construction of the Finchley New Road in 1829 stimulated building on the St. John's Wood estate, which followed agreements in 1838 and 1845. The numbers of houses in the parish rose from 1,411 in 1841 to 2,653 in 1861 and 4,348 in 1871. (fn. 57)
The rate of building quickened from the 1860s, partly as a result of the opening of railway stations, which particularly affected West End and central Kilburn. Another factor was the lifting of the restrictions of Sir Thomas Maryon Wilson's will after the death of his son in 1869. The central demesne area was then opened up for development and the copyhold estates on the edges of Hampstead were similarly developed in the 1870s. The tide of building washed northward, reaching Childs Hill by the end of the century, with no estate untouched. In the mid 1950s it was estimated that 69 per cent of Hampstead's buildings had been put up between 1870 and 1916, compared with 20 per cent before 1870 and 11 per cent after 1916. (fn. 58) The numbers of dwellings rose to 9,517 in 1891 and 11,976 in 1911. (fn. 59)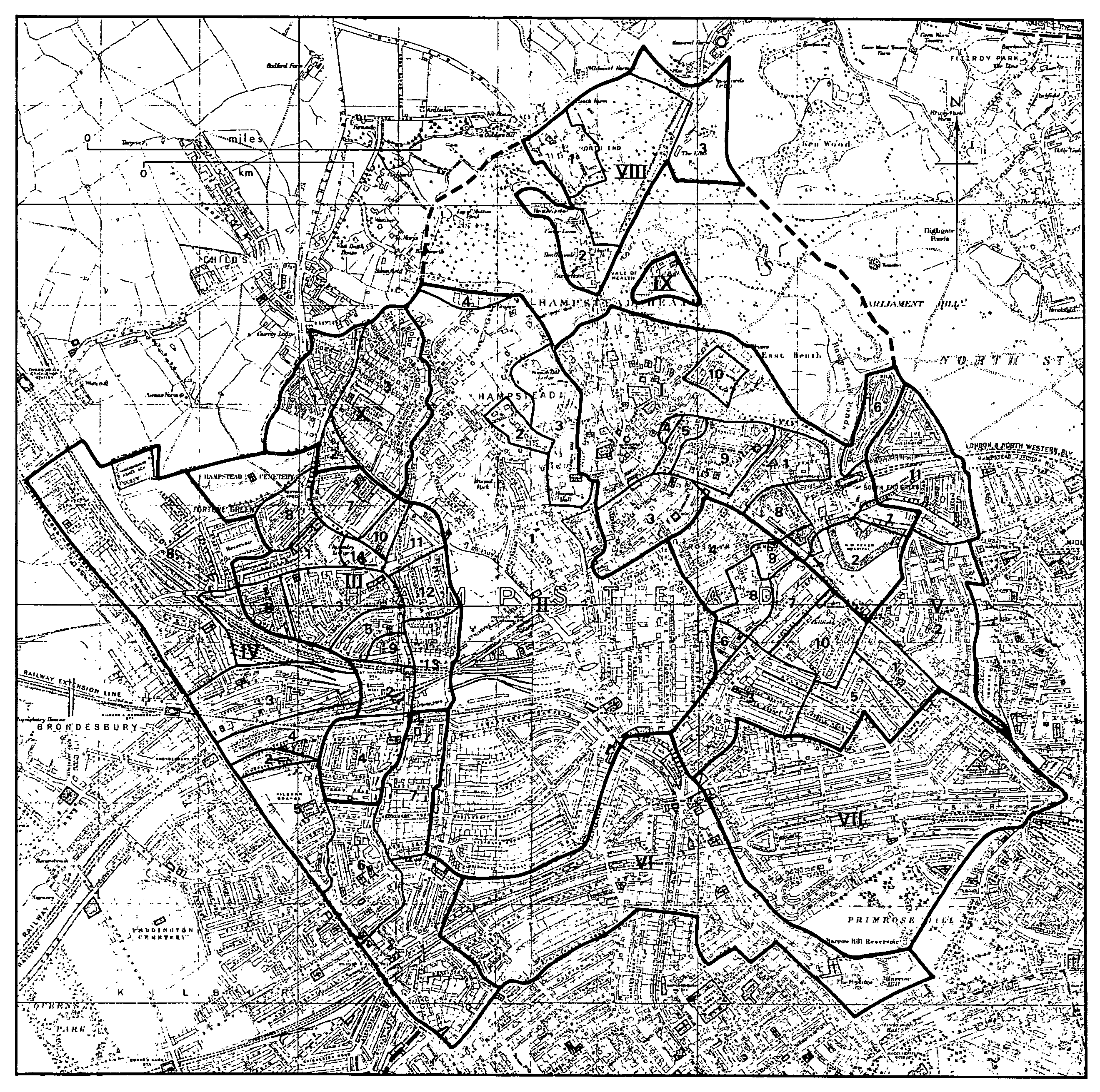 Most of the 19th- and early 20th-century houses were a mixture of builders' vernacular and architectdesigned, the latter mainly in the better-class districts. There were many on the Fitzjohn's and Greenhill estates of the 1870s and later among the northern demesne houses around Redington Road, but virtually none in West Hampstead or Kilburn. Among architects who built in Hampstead, including several who built houses for themselves or their relatives, were Ewan Christian, Richard Norman Shaw, C. F. A. Voysey, Reginald Blomfield, and Basil Champneys. Hundreds of builders, mostly local men, worked on a small scale from pattern books. Among more substantial builders were Daniel Tidey, Charles Bean King, Batterbury & Huxley, William Willett, father and son, E. J. Cave, and Thomas Clowser. In spite of the many different builders, the general impression was of homogeneity, dictated by the style current at the time, from the stuccoed, classical, or Italianate houses of the south part of the parish, to the red-brick, spiky, gabled Gothic or comfortable large-windowed 'Queen Anne' of the central and north parts. (fn. 60)
The houses throughout the period were mostly occupied by middle-class families. In 1831 Hampstead contained 356 capitalists, bankers, professionals, and 'other educated men' and 14 per cent of the female population were servants. In 1861 it housed 92 solicitors, 46 barristers, 132 merchants, and 23 stockbrokers. There were 102 coachmen, 56 grooms or horsekeepers, and 147 gardeners, and 2,559 women, 21 per cent of the female population, were servants. (fn. 61) By the end of the 1880s Hampstead, 'one of the largest and most prosperous' of London's residential suburbs, had a higher proportion of upper-class and servants, 25.5 per cent and 16.3 per cent respectively, than any other place in London except Brompton. All building was for the rich, rents were high and, with a few exceptions, all areas in Hampstead were becoming more wealthy. (fn. 62) An analysis of the occupations of the population (fn. 63) confirms that view. Of the male population, professional men and merchants increased from nearly 11 per cent in 1851 to 18 per cent in 1911, (fn. 64) and gentry, independents, and annuitants of both sexes similarly increased. (fn. 65) A surplus of unmarried but marriageable women was accounted for by servants, whose numbers, indicated by the ratio of women to men, were a sign of the relative wealth of the parish. From 57-8 per cent in the early 19th century, the ratio increased to 61.6 per cent in 1862 and remained c. 61 per cent until 1931. (fn. 66) The highest point was reached in the period before the First World War, when 26-7 per cent of all females over the age of 10 were domestic servants. (fn. 67) In 1901 in the wealthy Central ward females formed 68 per cent of the total population and in Kilburn, the poorest area, 54.6 per cent. (fn. 68)
Professional men and gentlemen were dominant in directing Hampstead's affairs, although in the 1870s and 1880s tradesmen, especially in the old town, were influential, and in 1874 Hampstead was castigated for backwardness in cultural and civic matters. By c. 1900 professional men and gentry from the newer areas were in control and there was a revival in cultural and intellectual life. (fn. 69)
Writers had visited or settled in Hampstead at least since the early 18th century, attracted, like others, by the air and rural peace or by the company and entertainments associated with the wells and Belsize. (fn. 70) Later, at the time of the romantic movement, the wild beauty of the heath itself became the chief attraction. (fn. 71) Hampstead was an especial favourite with artists and writers, many of them young and radical, who could still find relatively cheap lodgings in Hampstead town, the Vale of Health, or North End. There were other, more staid and, in their day, celebrated people like George Romney, Joanna Baillie, and the publishers Longman, but it was Constable and Leigh Hunt and his circle who established Hampstead's reputation as an intellectual centre. Lesser writers and artists, mostly fashionable ones throughout the 19th century, moved in to the newer estates or Church Row. Thomas Batterbury, who lived in Parkhill Road, of the firm Batterbury & Huxley, built artists' studios on the Belsize and Chalcots estates, (fn. 72) a group of architects established themselves in Church Row in the 1870s, and architects designed studio houses for artists on the expensive demesne estates and at Greenhill. At the end of the 1880s Hampstead included an influential colony of workers in art, science, and literature. (fn. 73) The number of authors, editors, artists, architects, musicians, and actors rose from 42 men and 7 women in 1851, to 1,033 men and 679 women in 1911, an increase from 0.66 per cent to 3.7 per cent of the occupied population. (fn. 74)
The wealth and culture were not found everywhere. About 1890, in spite of improvements which had cleared away the worst slums, Hampstead town was still the area with the highest proportion of families in poverty, 28 per cent. In the district east of Haverstock Hill, which included South End, 27.5 per cent of families were in poverty, partly accounted for by a blight on building near the smallpox hospital, which itself increased the death rate in the 1870s in an otherwise very healthy parish. About 1890 20.2 per cent of families in Kilburn were in poverty. The increase in the numbers of wealthy residents caused a rise in rents, and clearances in the old town led the poor to move to Gospel Oak, in St. Pancras, or to West Hampstead and Kilburn, where rents were lower. Other immigrants, from poor parts of London and from Ireland, were competing for rooms there in houses which, though small, were beginning to be divided. (fn. 75) Thus developed a cleavage between the wealthy east and the increasingly poor and crowded west parts of Hampstead. Some 10.3 per cent of its inhabitants were living more than two to a room in 1898 (fn. 76) and the number of houses let in lodgings rose from 199 in 1906 to 405 in 1920. (fn. 77)

A certain cosmopolitanism had been apparent since the 16th century, when Londoners owning property and probably living in Hampstead included people whose names indicated Jewish or European origins. (fn. 78) There were some 200 refugees from the French revolution (fn. 79) and six Jewish households in Belsize in 1868, while Kilburn had enough Irish by 1879 to lead to the opening of a Roman Catholic church. (fn. 80) In the late 19th century foreignborn inhabitants came mainly from Germany, France, or the United States; (fn. 81) c. 1890 an influx of Jews and Bohemians, especially in West Hampstead, tended to replace the older families. (fn. 82)
The arrival of foreigners and urbanized Jews may have furthered the growth, from the late 19th century, of purpose-built flats, and the division of houses into flats and, increasingly, into bed-sitting rooms or lodging houses. By 1931 there were 14,758 separate dwellings. (fn. 83) The division of houses spread from West Hampstead to the large, middle-class houses of Belsize, Chalcots, and St. John's Wood. The trend, intensified after the First World War, was to smaller families and more separate households: between 1911 and 1931 the population grew by only 4 per cent but the number of households by 27 per cent. Although domestic servants dwindled from 27 per cent of the total female population in 1901 to 19 per cent in 1931, there were still 10,348 servants in 1931. Meanwhile the ratio of servants to households almost halved, from 81.4 servants to every 100 households in 1901 to 47 in 1931. (fn. 84) Most people rented their homes and many moved on after the short leases expired: in 1895 it was estimated that 4,000 out of 12,000 voters had left the district between electoral registrations. (fn. 85) The turnover was still greater after the First World War, partly because use of the motor car hastened migration by some of the wealthy to the country. As others moved to the upper part of the old town or the grand houses hear the heath, 'a tide of multi-occupation swept in' across the formerly smart southern estates, which began to deteriorate, physically and socially. Houses in Belsize Avenue halved in value between the 1880s and the 1920s and 1930s. (fn. 86) The number of houses let in lodgings had increased to 1,295 by the end of 1930 (fn. 87) and a drab existence in bed-sitting rooms, described by George Orwell, (fn. 88) became more common during the 1930s. There were patches of poverty but, while the general social and economic level of Hampstead declined, real poverty held only 1.4 per cent of its population in 1930, the lowest for any London borough. (fn. 89) Overcrowding, defined as more than two persons to a room, was the lot of 6.5 per cent of the population in 1921 and 4.1 per cent in 1931. (fn. 90)
In 1921 Hampstead was still favoured by prosperous businessmen. (fn. 91) It also attracted the intelligentsia, who formed 2.6 per cent of the occupied population in 1921 and 2.8 per cent in 1931. (fn. 92) Hampstead was then about to see a flowering in the arts, which made the 1930s 'the most significant and influential period in its history'. (fn. 93) A group of leading British artists and writers, who came especially to the Mall studios in Belsize and to the Downshire Hill area, attracted European refugees, mainly painters but also psychoanalysists, scientists, architects, Viennese booksellers, and German Jewish cabaret artists. (fn. 94) Hampstead consequently remained in the forefront of the arts until their practitioners were dispersed by the war.
The percentage of foreign-born residents rose from 4.9 in 1921 to 6.4 in 1931 and 16.4 in 1951. Of those, mainly Jews, most came from Germany, others from Poland, Austria, and Russia. In 1951 those born in the Irish Republic comprised 4.7 per cent of the population, although the number of those in Kilburn with Irish ancestry was evidently much higher. Those born in the Commonwealth overseas formed 2.9 per cent, a proportion which had risen to 7.9 per cent by 1961. (fn. 95)
During the Second World War air raids killed 200 people, destroyed 407 houses, and damaged another 13,000. (fn. 96) Maintenance was neglected and the deterioration apparent before 1939 continued into the 1950s. In 1951 the Church Commissioners sold off many of their freeholds, which had long been declining in value. Bed-sitting rooms multiplied and the population became still more fluid, with one-third leaving every year. (fn. 97) In 1955 Hampstead had the highest suicide rate in England and Wales, which was explained by the loneliness of so many people who had left home for London. (fn. 98) In 1961 almost half of all dwellings were unfurnished and privately rented and, in spite of the virtual disappearance of servants, there were still 27,000 unmarried girls, compared with 31,000 in 1931. Hampstead metropolitan borough was one of the first, albeit on a modest scale, to build houses or flats. Its activity in that field greatly increased after the Second World War. There were 2,989 local authority dwellings by 1961, when the total housing stock was 29,468, (fn. 99) and 3,660 by 1965, when Hampstead became part of Camden L.B. (fn. 100) Blocks of flats, some built by the borough and the L.C.C., others by private developers, have transformed much of Hampstead, particularly the south and west parts. The flats, aesthetically controversial, have relieved the overcrowding, which rose from 0.71 persons to a room in 1931 to 0.81 in 1951, being as much as 0.92 in Kilburn ward. By 1961 the ratio was 0.75 to a room and by 1971 0.66. (fn. 101)
Except in Well Walk, where the last of the wells buildings were demolished, Hampstead town survived the war with its old buildings intact and later escaped the wholesale transformation of some other areas. The best houses had never lost their desirability and by the mid 1950s speculators were buying up houses on some of the dingier streets and selling them to the better off. In 1961 most of the 5,467 owner-occupied dwellings, 18.5 per cent of the whole, were in Hampstead town and the more attractive areas to the north. (fn. 102) Throughout the 1960s and 1970s, as redevelopment grew more obtrusive, Victorian houses were rehabilitated in increasing numbers, first in Hampstead town and then in the surrounding estates. Although many dwellings were still bed-sitting rooms, more and more houses came to be occupied again by middleclass families, many of the large houses having been divided. At the end of the 1970s the contrast between west and east remained: council flats and large families, often of Irish or more recent immigrant origin, characterized the west, conservation areas with young and prosperous inhabitants the east. (fn. 103) By the late 1980s property in most of Hampstead was expensive. Residents included many people prominent in the arts and popular entertainment.
The population doubled from 4,343 in 1801 to 8,588 in 1831, and had increased to 19,106 by 1861, 45,452 by 1881, and 82,329 by 1901. The increase had slowed to 88,947 by 1931 and, after dropping to 58,000 in 1941 during the war, increased, partly by immigration, to 95,131 in 1951 and 98,844 in 1961, before dropping to 89,910 in 1971. (fn. 104)