Pages 113-122
A History of the County of Northampton: Volume 3. Originally published by Victoria County History, London, 1930.
This free content was digitised by double rekeying. All rights reserved.
WARMINGTON
Wermingtime, c. 980; Wirminton, Werminton, Wormington.
Warmington extends eastward from the Nene; on the northern boundary is Elton in Huntingdonshire, the old part of its manor-house standing on the border line, part in each county, and Elton Park extending some way into this parish. The acreage is 4,013 (including 20 acres in water), of which a good deal more than half are permanent grass. The soil is clay, with gravel underlying. Wheat and barley are grown. The land rises to about 212 ft. above sea level in the middle of the parish, whence it falls towards Billing Brook on the eastern boundary to 100 ft., and more quickly towards the Nene on the north-west, where the level is as low as 55 ft. to 50 ft. The straggling village is in this western part, with the church to the south and the manor-house or Berrystead to the north; there is a moat a little northeast of the latter. To the south of the church is a late 16th or early 17th century two-storey house, now unoccupied and in a dilapidated state, with two bay windows on the ground floor, low mullioned windows above, and a thatched roof. The mill is on the river some distance to the north-west. The chief road leads from Oundle north-east through the village, going to Elton and Peterborough; another road goes east towards Norman Cross. Eaglethorpe to the north and Papley to the south-east were formerly hamlets, but were depopulated even in Bridges' time (1711), when he records only three shepherds' cottages in the latter place. There is a moat at Papley. Eaglethorpe House has a door said to have been brought from Fotheringhay.
Formerly the parish was considered partly in Willibrook Hundred and partly in Polebrook, and Bridges thus states the position: "Adjoining the town and lying intermixed with it is Warmington hamlet, all lying in (Willibrook) Hundred. In the earliest records this township is comprised within Willibrook Hundred, but Warmington town is now reputed a member of the Hundred of Polebrook. (fn. 1) Maps of a century ago show the north-west portion (the Grange) in Willibrook Hundred. One part of the town was called Southorp and the other Mill End. Near the town are two springs formerly known as Stockwell and Caldwell or Chadwell, the latter yielding a mineral water.
In 1393 the lordship was divided into four fields— the Ernefield, Bolwell Field, Blackthorn Field and Westfield. (fn. 2) The common fields were enclosed by an Act of 1774.
In 1921 the population numbered 550.
George Thicknesse, a former master of St. Paul's School, at one time resided with an old schoolfellow at Arlescote, and was buried in Warmington churchyard in 1790. (fn. 3)
Manors
From a very early time the whole of WARMINGTON belonged to the abbey of Peterborough, possibly from its foundation. There is a charter attributed to Wulphere (fn. 4) embodying such a claim, and Edgar's charter of 963 names Warmington among the estates confirmed or restored to the monks. (fn. 5) Two of the inhabitants about that time have their names recorded as sureties for land here—Thurferth and Cytel Claccessune, (fn. 6) and one Swerteling took land on the understanding that it should revert to St. Peter at his death. (fn. 7)
In 1086 the abbey held, as it had held in 1066, 10 hides in Warmington. (fn. 8) (I) Of these 7½ were held in demesne; the mill rendered 40s. and 325 eels yearly. The value in 1066 was 5s., but in 1086 it had risen to £11, pointing to ruthless devastation just before the Conquest. (fn. 9) In this portion the rubrication (fn. 10) is defective or erroneous. (II) Two knights held one hide, which belonged to Willybrook Hundred; the value had risen from 2s. to 20s. The two knights were probably ancestors of the Gargates and Peverels of later days. (III) Isembard [Artifex] and Rozelin held 1½ hide; the land had increased in value from 5s. to 40s. between 1066 and 1086. This estate was Papley.
The Survey made c. 1125 gives no further information, but again affirms that one hide was in Willybrook Hundred; the assessment of Papley is given as one hide only, and is recorded under Polebrook Hundred. (fn. 11)
Later than Domesday the abbots appear to have made further grants to free tenants. Thus one portion, ¼ hide, was joined with the manor of Churchfield in Oundle (fn. 12); another with Stoke Doyley, (fn. 13) and a third with Torpel in Ufford. Papley seems to have been the only free tenement entirely within Warmington, for Gargate had land in Irthlingborough as part of his fee, and the Peverel holding here was attached to Paston.
The manor proper, that held in demesne by the abbots, remained undisturbed till the Dissolution. Warmington, with its churches and mills, was confirmed to the abbey by Eugenius III in 1146 (fn. 14) and by Richard I in 1189, (fn. 15) as well as by later kings. Its condition about 1125 is described in detail in the Liber Niger, as follows: (fn. 16)
In Warmington there are 8 hides geldable; of which 20 full villeins and 29 half-villeins hold 34½ virgates. The full villeins work 3 days weekly; the others according to their tenures. In all they have 16 ploughs and plough 68½ acres, and also do 3 boon works with their ploughs; they carry 34 cartloads from the wood. They render £4 11s. 4d., and give to the charity of St. Peter 10 rams, 400 loaves, 40 dishes (disci), 134 hens and 260 eggs. There are also 8 sockmen, who have 6 ploughs. In demesne are 4 ploughs for 32 oxen, 9 cows, 5 calves and one idle beast, 129 sheep, 61 pigs, a draught mare (aura) and a foal. Also a mill with one yard (virga) of land and 6 acres, rendering 60s. and 500 eels. Ascelin the clerk holds the church with 2 yards of land of the altar of St. Peter of Burgh. Robert, son of Richard, has 2½ yards. In this town can be stocked 100 sheep.
In 1231 a composition was made between Abbot Martin and John (Scot), earl of Huntingdon, as lord of Fotheringhay, concerning the fishing in the Nene. It was agreed that where the earl had one side of the river and the abbot the other, the two should have the fishing; but where the abbot had land on both sides he should have the sole right of fishing between them; from Turnbrook to Pirihou (in Southwick) the earl should have sole right. (fn. 17)
There is a very full rental made in 1393 (fn. 18) under Abbot Nicholas de Elnestowe.
After coming into the hands of Henry VIII the manor was, with Oundle, etc., given to Katherine Howard, his queen, in 1541, (fn. 19) and after reverting to the Crown on her execution in the same year was given to queen Katherine Parr in 1544, (fn. 20) and she retained it till her death in 1548, when it again fell to the Crown. A very full survey made in 1546 is extant. (fn. 21)
From a survey of 1605 (fn. 22) it appears that Thomas Elmes held by charter of 28 October, 1555, a messuage, late of Edmund Elmes, his father, and previously of Robert Kirkham, and various others; also the rectory. The Warden of Stamford had land in Middlefield and Westfield. The inhabitants claimed to hold by copy a tenement near the parsonage called Scobhouse. William Dickenson had the tithes of Eaglethorpe, paying £3 a year. The jury found that the fines of all the ancient copyholds were certain, being half a year's rent; all freeholders and copyholders were accustomed to feed their cattle on the common; copyholders could use the timber on their copyholds for repairs; land had been taken out of every farm to make cow pastures, called Angerstonne Leyes (50 ac.); leys at the over end of Golding Slade next the Wold were their sheep and neats' pasture, and there was other pasture on the Greens. There was no waste in the woods. "Thomas Elmes, esq., had a fishing in the manor butting on the east end of Thornbrook, and so to the Fishhouse butting east, so to the Holme butting east, so to Elton dam butting north; being in the same water these kind of fishes—perch, roach, cheviun, pickerell, eel," etc.; the extent was about ¾ mile. There were ashes and wiches in the woods. These were the ancient bounds of the manor: Portersherne on the north-west, to Warmington Grove, to Tansor Cross, to the corner of William Blofield's close, so up Barnwell slade, to Tansor Mere, to Potter's Hill, to Butcher's Grave, to Lutton brook, to Wasingley brook, to Odgarstone brook, to Great Wolwell, to Foxhalls hill, to Eglethorp, to the Watch close, so to Thornbrook east, over the high stream to the weir of Fotheringhay Park to Fotheringhay bridge, from the bridge in the farther side of the causey (the bridge lying east) to Portersherne.
Leases of portions had been made by the Crown from time to time (fn. 23) until in 1614 the manor was sold to Thomas Elmes of Green's Norton (fn. 24); court leet and view of frank-pledge were added in 1617. (fn. 25) Thomas Elmes, who had inherited the manors of Lilford and Papley, with various other estates in the neighbourhood, settled this manor of Warmington on his younger son Thomas on his marriage (1621) with Anne, daughter of Robert Clark of London, as appears from the inquisition after the father's death in 1633. (fn. 26) In 1651 Thomas, the son, was discharged of an assessment for the service of the State, as possessing no considerable estate. (fn. 27) In 1653 he suffered a recovery of the manor of Warmington, with four water mills and a rent of £24 from the rectory; (fn. 28) and then in 1657, in concert with his wife, transferred this manor to trustees. (fn. 29) He died in 1664, aged 73, having had by his wife four sons and nine daughters. Only one of the sons, William, reached manhood, and he died before his father in 1653, aged 28 (fn. 30); so the inheritance became divisible ultimately among the five surviving daughters, (fn. 31) the widow retaining the manor till her death in 1686. The daughters were Ann, wife of John Pain, of Colsden Grange in Roxton (fn. 32); Margaret, wife of Robert Tatnall, of London, clerk (fn. 33); Martha, wife of Edmund Spinkes, of Oundle, clerk (fn. 34); Elizabeth, wife of Richard Holt, and Mary, wife of George Wroth of South Farnham, mercer. (fn. 35) There were disputes in 1692 among the coheirs, and according to Nathaniel Spinks, clerk, of St. Giles in the Fields, eldest son and heir of Edmund and Martha, Richard Holt obtained possession, and Nathaniel had to sue in Chancery for his own right in the Elmes estate. He had three brothers—Seth, William and Elmes Spinks— and a sister Martha. (fn. 36) The youngest of these sons, Elmes Spinks, appears to have obtained possession of the whole manor, (fn. 37) and Bridges describes him as lord of it in 1711. By his will of 1720 this Elmes left all his real estate in Aldwinkle and Warmington to his only son Elmes, with remainder to daughters Debora and Ann. (fn. 38) He died soon afterwards.
Elmes Spinks the son, in 1738 suffered a recovery of the manor, (fn. 39) and again in 1745 in conjunction with his wife Jemima. (fn. 40) In the next year (10 January, 1745–46) he sold it to Thomas Powys of Lilford for £4,362; the sale included the manor house (Berrystead), Millholme, Berrystead and Lammas closes, land in Bolwell field, various pieces of meadow, and a fee farm rent of £24 from the rectory. (fn. 41)
Thomas Powys, who bought up a number of smaller estates in the parish, died in 1767, leaving a son and successor of the same name, who was created Baron Lilford in 1797. He also bought some minor estates, and made a settlement in 1772, previous to his marriage with Eleanor Mann of Bourne Place, Kent. (fn. 42) A further settlement of the manors of Warmington, Lilford and Wigsthorpe, with various lands there, was made in 1794, to provide for younger children, and in June, 1797, Powys sold the manor of Warmington with quit rents and other perquisites, a fishery in the Nene, and various messuages, closes, etc., to John Joshua (Proby), 1st Earl of Carysfort, of Elton Hall. The manor descended in this family until the death of the last Earl of Carysfort in 1909, (fn. 43) when it passed to a nephew. His sister Elizabeth (d. 1900) had married Lord Claud Hamilton, brother of the 1st Duke of Abercorn, and their son, Col. Douglas James Hamilton, who took the name of Proby in 1904, is now lord of the manor.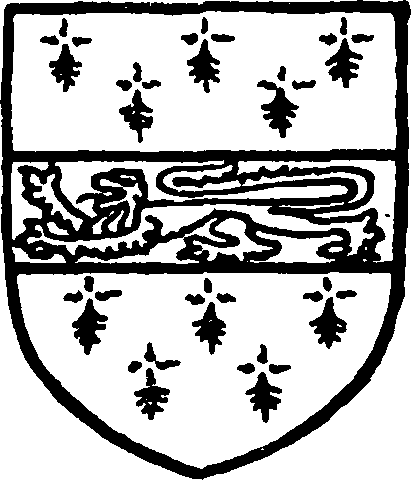 The Gargate knight's fee lay two-thirds in Warmington and one-third in Irthlingborough. (fn. 44) Robert de Gargate, who was living about 1160, is said to have been the first feoffee. (fn. 45) He had apparently two sons, Roger and Robert. Roger and Agnes his wife had a son Hugh, who held the fee in 1189. (fn. 46) In 1206 Robert de Gargate, probably his uncle, gave him 8½ virgates of land in Warmington, (fn. 47) and two years later he conveyed 2 virgates to Walter, prior of St. Andrew's of Northampton, the grant being confirmed by Robert and Maud his wife. (fn. 48) Hugh is mentioned in 1216, but died before 1220. (fn. 49) He left two daughters by his wife Sibyl, namely, Muriel, the wife of William de Ros, who died before 1230, leaving a son Hugh, (fn. 50) and Isabel, wife of Gerard, son of Roger de Munibery, who had a son Peter. (fn. 51) Apparently the Irthlingborough third of the Gargate fee passed to Gunfrid de Gargate, whose son David conveyed 7 virgates of the fee there to Walter, abbot of Peterborough (1233–46). (fn. 52) Ernulf, prior of St. Andrew's, Northampton, granted the 2 virgates in Warmington given to his house by Hugh de Gargate, to Simon de St. Liz, (fn. 53) and in 1253 and 1254 the twothirds of the Gargate fee in Warmington were held by John de St. Liz. (fn. 54) William de St. Liz acquired further lands in 1285, (fn. 55) and he, or another of the same name, did homage in 1310, (fn. 56) and in 1315 held these two parts of the Gargate fee. (fn. 57) About 1322 William de St. Liz sold his interest to Ralph de Thorney, who died in 1333. (fn. 58) His widow Margaret was holding in 1346, and their son Thomas was in pos- session shortly afterwards. (fn. 59) The almoner of Peterborough secured a virgate of this fee. (fn. 60)
Soon afterwards the Stokks or Stock family became prominent. They may have originally been connected with the Stoke Doyly land in Warmington. (fn. 61) In 1375 the right of Thomas del Stokkes to a tenement in Elton and Warmington was acknowledged by Hugh Rauf and Agnes his wife; (fn. 62) and the same was held by John Stokkes and Alice his wife in 1390. (fn. 63) It was probably the same John who, in 1428, held the fourth part of a knight's fee in Warmington which had formerly (1346) been held by Margaret wife of Ralph Thorney. (fn. 64) He or his son John seems also to have had a grant of lands forfeited by John Moyne. (fn. 65) A son of John and Agnes Stock was Sir William Stock, knight, of Warmington, who, in 1464, was attainted as an adherent of Henry VI, (fn. 66) but procured pardon and restitution in 1472. (fn. 67) He died in 1485, leaving as heir his brother Thomas Stokes, clerk. (fn. 68)
Agnes, widow of John Stok, died in August, 1465, holding tenements in Warmington and Papley of the abbot of Peterborough, and others in various places in the district. The heir was her son the abovenamed Thomas Stok, clerk. (fn. 69) This son died 23 October 1495, having settled his estate on one Thomas Stock the younger and his sister Agnes; these may have been illegitimate, for his heirs were his two sisters, Isabel, widow of — Fazakerley and Margaret wife of William Brown of Stamford, whose daughter and heir married John Elmes. (fn. 70) The Fazakerley share, described as 8 messuages, 100 acres of land and 40 acres of meadow in Warmington and Churchfield, was purchased by George Kirkham about 1504. (fn. 71) By his will (fn. 72) (3 March 1527–28) he bequeathed all his land to his son Robert, some being in the hands of trustees for Robert's wife Sibyl; should Robert have no children, then the lands in Warmington, Papley, Churchfield, Elton, etc., were to be given to his daughter Margaret Middleton, with remainders to his other daughters Agnes Lynne and Cecily Kirkham. (fn. 73) Dying soon afterwards, he was succeeded by his son Sir Robert Kirkham, who at the Dissolution acquired the priory of Fineshade and made it his seat, selling his lands in Warmington, which he styled a manor, (fn. 74) to Edmund Elmes in 1555. (fn. 75) The Stock estate was thus reunited and afterwards descended with Papley (q.v.).
Walo de Paston held of the abbot (about 1100) ½ hide in Warmington for the third part of a knight's fee, in conjunction with his land in Paston. (fn. 76) This had descended to Robert Peverel by 1146, (fn. 77) and to William Peverel by 1189, (fn. 78) and he was succeeded by Robert Peverel. Robert's under-tenant a little later (1211) was Gilbert Peverel, (fn. 79) who released to abbot Martin the 4 virgates of land he held by the service of the third part of a fee. Robert quitclaimed to the abbot all his right in Gilbert's tenement, and at the same time released its liability to knight's service. Gilbert retained one virgate at a rent; the other holders were Hugh Gargate, Hugh de Codestoke, Reginald son of Walter Le Noreys. (fn. 80) The name Peverel fee was retained for some time. It rendered 13s. 4d. to the scutage of Deganwy c. 1250, (fn. 81) and the reeve of Warmington received from it 18d. yearly for ward of Rockingham castle. (fn. 82) The tenants at this time were Robert Peverel, the almoner of Peterborough (successor of Coterstock), Reginald Porthors (Noreys), and John de St. Liz (Gargate). (fn. 83) Hugh Aubrey and Athelina, widow of Robert Coif, had succeeded Peverel and Porthors in 1346. (fn. 84)
The Churchfield (Angevin) part of Warmington seems to have lain in Eaglethorp. In 1202 Christian, widow of Adam Gargate, released to Ismena, widow of William Angevin, dowry in Warmington. (fn. 85) The same Christina was concerned in another sale to Geoffrey, the clerk of Elton. (fn. 86) Baldric, son of William Angevin, released to the almoner of Peterborough a virgate which his mother, Ismena, had once held, (fn. 87) and he was holding in 1227. (fn. 88) The property seems to have followed the descent of Churchfield in Oundle and Lyveden in Aldwinckle St. Peter (q.v.), and formed part of the lands in Warmington, and Elton forfeited by Sir John Holt in 1387. (fn. 89)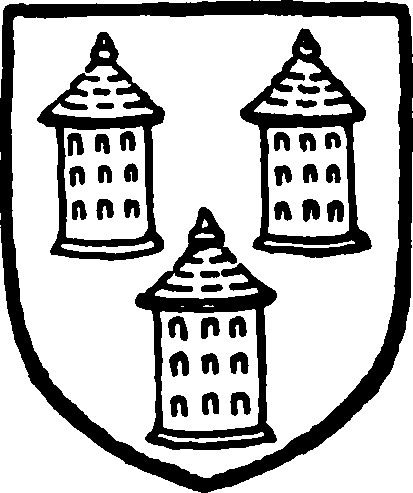 John, son of Sir John Knyvet, in 1395 made a settlement of an estate in Warmington and Elton sometime held by Joan, widow of Richard Knyvet, and by John Knyvet the father, by feoffment of William Lyveden. (fn. 90) From abbot Elnestow's rental of 1393 (fn. 91) it appears that the Knyvet holding was largely in Eaglethorp, and a later corrector altered the name Knyvet to Sapcote. How the latter family succeeded is not manifest, but Richard Sapcote and Margaret his wife held the manor of Elton and lands in Eaglethorpe in 1517. (fn. 92) The estate descended to Henry Sapcote, who was in possession in 1600, in right of his wife Joan, daughter and coheir of Robert Sapcote. (fn. 93) Soon afterwards it was acquired by the Proby family, descending through the Earls of Carysfort to the present owner as shown above. In an inquiry made in December 1605 it was stated that Henry Sapcote had copyhold and freehold lands in Warmington, rendering £3 9s. 10d. a year, but how much was copyhold and how much freehold was not known. He also had copyhold tenements in Eaglethorp, which decayed about 1570. (fn. 94)
In 1291 the prior of Fineshade had 1s. rent from Warmington, and the prior of St. Andrew's 19s.; the almoner, sacrist and infirmarer of Peterborough had respectively £3 13s. 4d., 6s. 8d., and 6s. (fn. 95) In 1535 the almoner received £28 3s. 4¼d. from this manor and the cellarer had 60s. from Eaglethorp. (fn. 96)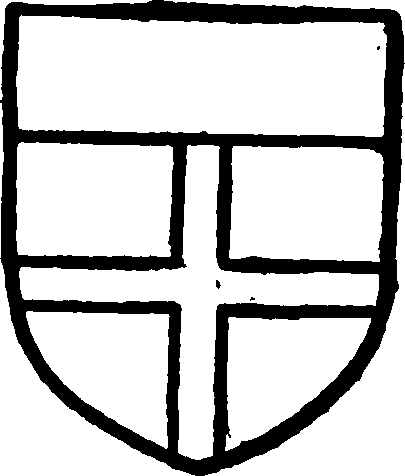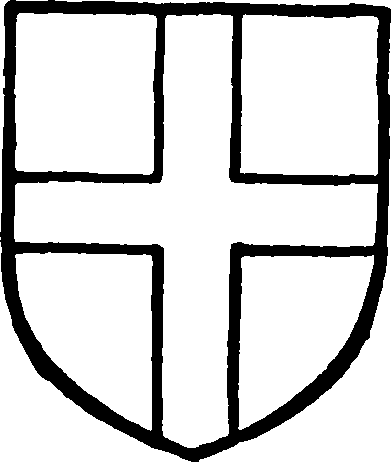 The nuns of Stamford had an estate here, (fn. 97) called Blofield. In 1545 a rent of 20½d. and lands in Warmington were granted to Richard and Robert Taverner. (fn. 98) Bridges gives the following description of the house there: 'There are still [1711] remaining arched windows and a chamber at the west end, now a dove house, called the Chapel Chamber; 4 ac. of meadow called Nuns' Acres belong to it.' (fn. 99) There was a local family named Blofield, and Ishmael Blofield, gent., died in 1636, holding a tenement called Ederley Place, descending to him from his father William and grandfather Thomas. He left sons, William and Ishmael. (fn. 100) The Knights Templars (afterwards the Hospitallers) had an estate here from an early time, for Brother Aymery, Master of the Temple, claimed from Hugh Gargate land in Warmington and Ogerstone in 1209; (fn. 101) in 1546 appurtenances of the manor of Sibston, late of Temple Brewer preceptory, were sold by the Crown. (fn. 102) Rents of 7d. and 4d. are recorded from Warmington and Lutton in the Temple Brewer accounts. (fn. 103)
The various minor tenements of Gargate and others seem to have varied considerably from time to time, so that the tracing of them is uncertain, but the manor of PAPLEY retained its individuality. Isembard Artifex, named in Domesday Book, is recorded to have been the first enfeoffed by the abbots of a knight's fee. (fn. 104) His successors took the local surname but the descent cannot be traced in detail. Martin de Pappele attested charters of the abbot in 1117 and 1120 and is mentioned in 1146. Probably a son or grandson of the same name held the knight's fee in 1189, (fn. 105) and was defendant in a claim for dower in 1202. (fn. 106) Walter de Papley had succeeded by 1212. (fn. 107) Roger de Peterborough gave land in Peterborough to Martin son of Walter de Papley in free marriage with his daughter Alice. (fn. 108) Martin de Papley was tenant in 1227 (fn. 109) and acquired other land in 1240; (fn. 110) he occurs in 1242 (fn. 111) and 1254, paying 4s. for ward of Rockingham Castle. (fn. 112) The hamlet, which made with Warmington one geldable vill, about this time contributed 2s. for sheriff's aid, 2s. for view of frankpledge and 3s. for suit. (fn. 113) John de Papley did homage in 1276 and Thomas son of John in 1300. (fn. 114) The name of this latter occurs again in 1316, (fn. 115) and 1322, when he was recorded to hold a knight's fee and the fourth part of the serjeanty of being bailiff at Castor Court. (fn. 116) He or another Thomas occurs in 1346, (fn. 117) and the Bishop of Lincoln in 1398 gave licence for divine service in the manor house of Papley for two years to Thomas Papley and Isabel his wife. (fn. 118) The same tenement was held in 1428 by John Papley (½ fee), and John Beven and John Ward (½ fee). (fn. 119) In 1456 Richard Papley, son and heir of John, and Isabel his wife, joined in selling the manor to William Brown of Stamford, merchant. (fn. 120)
As already stated, this William Brown married Margaret Stock, so that his descendants inherited Papley, Lilford (which he acquired in 1473) (fn. 121) and a large estate in Warmington and the surrounding country. He appears to have been an innkeeper in Stamford, where he founded an almshouse called the Bedehouse. He died 14 April, 1489, (fn. 122) having made a will in which he desired to be buried in Our Lady's chapel in All Hallows', Stamford. (fn. 123) The manor of Papley was held of the abbot of Peterborough by fealty only. Margaret, his widow and executrix, survived but a short time, dying on 28 October, 1489. The heir was their daughter Elizabeth, wife of John Elmes, aged 48 and more. (fn. 124) Margaret's will (fn. 125) left many gifts to churches, including a vestment of black velvet for Warmington (cope, chasuble and two tunicles); it mentions John Elmes the elder, my son, and Elizabeth his wife, William, Katherine, John the younger, Joan and Isabel Elmes, Thomas, Margaret and Jane Fazakerley, and the executors were her brother Thomas Stock, clerk, John Elmes and William his son.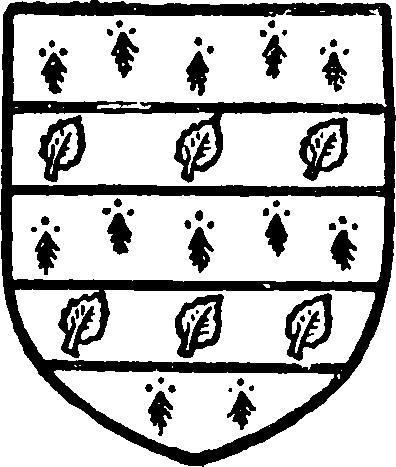 John Elmes, son of John Elmes of Henley, died 4 May, 1491, and it appears by the inquisition that he had married Elizabeth by 1457; their son and heir William was 27 years old. (fn. 126) Elizabeth and William Elmes obtained the manor of Papley and other estates from Brown's trustee in 1495. (fn. 127) Thomas Stock died 23 October, 1495, leaving as heirs his sister Isabel Fazakerley and his niece Elizabeth Elmes. (fn. 128) Elizabeth survived till 1511, (fn. 129) but her son William Elmes, of Stamford and the Inner Temple, died in 1504, having by his will (fn. 130) made many charitable gifts, including one to Warmington. The will mentions his mother Elizabeth, his wife Elizabeth and Joan Iwardby her mother, sons John and Thomas, and daughters Elizabeth and Joan. He desired to be buried in the Temple church in London. His wife was one of the three daughters and coheirs of John Iwardby of Great Missenden, Bucks, where she was born 24 August, 1475. (fn. 131) She seems to have died in 1526. (fn. 132)
The son, described as John Elmes of Lilford, esq., made his will, (fn. 133) a very long one, in November, 1540, and it was proved 7 February, 1544–5. By it he left £10 to his 'grandfather' William Brown's almshouses at Stamford and small gifts (including 6s. 8d. to Warmington) to many churches, the gild of our Lady at Oundle, etc. His son Edmond was under 22 years of age, and other children and kinsfolk are mentioned; also lands in Papley, Ogerston, Elton, Fotheringhay and Stamford. The executors were desired to make reparation for any wrongdoing by him, and to give knowledge of this 'about Oundle and Stamford, where I shall be most defamed.' His wife, who survived, was Edith, daughter of John, lord Mordaunt of Turvey, Beds. In 1539 charges had been brought against him in the Star Chamber, which may explain the defamation mentioned in his will. The inhabitants of Warmington and Barnwell claimed common of pasture in these places and in Lilford and alleged that Elmes had closed up highways in Papley, etc., converted arable into pasture and impounded their cattle. He was learned in the law and a man of great lands and substance. The witnesses for complainants described Papley as a hamlet in Warmington, and the inhabitants of Warmington had common there till Elmes stopped them. Once there had been twelve ploughs going in the fields of Papley, but now only three. There had been ten houses of husbandmen and four cottages in Papley, but only two houses were now inhabited. Elmes had surcharged the fields with cattle and sheep. He had stopped the highway from Huntingdon to Fotheringhay called Bradgate, and other roads. (fn. 134)
The son Edmund succeeded, and made in 1579 a settlement of his manors of Papley and Warmington (this latter being the Stock estate) (fn. 135); and he died 12 March, 1601–2, holding these manors of the bishop of Peterborough, having settled them on his second son Thomas. The heir was a son John, then aged 40. (fn. 136) No reason is given for thus giving them to a younger son, but his widow Alice (sister of Oliver St. John of Bletsoe) in her own will directed that her late husband's will was to be carried out, and left household stuff at Lilford to John on condition that he did not disturb it; Thomas was to have the household stuff at Papley. Thomas Elmes, who thus succeeded, had already several children—William, John, Edmund, Thomas and Anthony being named. (fn. 137)
A survey of Warmington and Papley in 1605 has been cited above. Thomas Elmes complained as to Papley, that the jury had done their work badly. He said the cow pastures in Ogerstone Leyes were in the waste of Papley manor between Goldingdale gutter and Papley hedge. Ogerstone Leyes had been common or several, according to the time of the year. In 1573 Sir Walter Mildmay procured a commission to have the bounds between Warmington and Papley defined (fn. 138) and also obtained an exchange of lands, acre for acre. After this exchange Warmington and Papley did not intercommune. Ogerstone Leyes (though in Papley) were then allotted to Warmington for common of cattle, but the soil still belonged to the lord of Papley, who felled the wood, etc. The true and ancient bound of Papley and Warmington was Goldingdale, not Lutton brook. (fn. 139) Thomas Elmes made settlements of the manor of Papley in 1615 and 1621 (fn. 140); and died at Lilford, 10 July, 1632. As already stated, he had divided his estates, leaving the older manors of Lilford and Papley to his eldest son William, then aged 40 or more, and the newlypurchased manor of Warmington to the younger son Thomas. (fn. 141) William had in 1614 married Margaret, sister of Sir Francis Goodwin. The manor of Papley was held of the bishop of Peterborough in socage. The rectory of Warmington descended with it for a time. William Elmes suffered a recovery of his manors of Papley, Lilford and Wigsthorpe watermill, etc., in 1632, (fn. 142) and died 17 April, 1641, leaving a son and heir Arthur, aged only ten years. (fn. 143)
Arthur Elmes and Jane his wife were in 1663 still in possession of the manor of Papley and the rectory of Warmington. (fn. 144) Arthur died in that year and Jane married Sir Francis Compton, the estate being sold in 1668 to Edward (Watson), lord Rockingham. (fn. 145) Lilford descended separately. In 1708 Lewis, lord Rockingham (son of Edward) was in possession, (fn. 146) and in 1735 his grandson Lewis, earl of Rockingham. (fn. 147) On his death in 1745 his brother Thomas (d. 1746) succeeded and left his estates to a kinsman, Lewis Monson (afterwards Watson), created baron Sondes in 1760, who held Papley in 1751. (fn. 148) The same family (fn. 149) were in possession in 1785 (fn. 150) and 1818. (fn. 151) Afterwards Papley went to the FitzWilliam family, one of whom had married Anne, sister and coheir of Charles, 2nd marquis of Rockingham, heir male of the Edward, lord Rockingham of 1668. It was owned in 1864 by the Hon. George Wentworth-Fitz William, younger son of Charles, 5th earl FitzWilliam, whose son, George Charles Wentworth-FitzWilliam, is the present owner.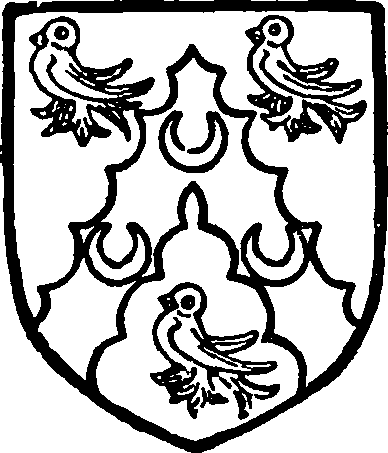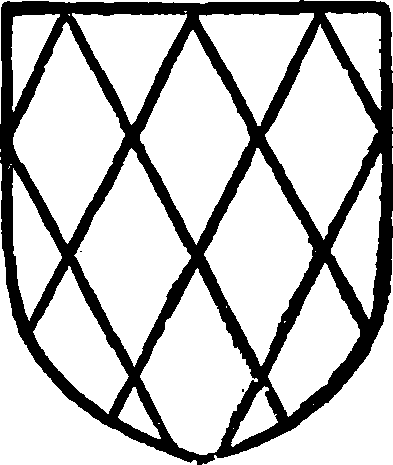 Church
The church of ST. MARY-THEVIRGIN consists of chancel, 42 ft. 6 in. by 19 ft., clearstoried nave of five bays, 73 ft. 6 in. by 15 ft. 6 in., north and south aisles each 13 ft. 6 in. wide, north and south porches, and west tower 13 ft. 6 in. square, surmounted by a broach spire. The width across the nave and aisles is 47 ft. 9 in. All these measurements are internal. An organ chamber was added in 1893 in the angle of the chancel and south aisle.
The church is built of Barnack ragstone, plastered internally, and has plain parapets throughout. The chancel is covered with grey slates, the rest of the roofs being leaded. With the exception of the nave arcades and certain minor alterations named below, the building is all of 13th century date, a very beautiful example of the work of that period, the plan of which has remained practically unaltered. Shortly before 1850 the interior was partially restored, numerous coats of whitewash and a west gallery being then removed (fn. 152) : a more extensive and careful restoration of the whole building was carried out in 1876.
The nave arcades belong to an earlier building and date from c. 1180–90, at which time aisles were probbably first added to a 12th century church. The tall and slender columns are octagonal on the north side and on the south cylindrical in section, with responds to correspond. The bases rest on plinths, probably fragments of the walls of the earlier church, and have good water mouldings. The capitals, which on both sides have octagonal abaci, differ considerably. The eastern respond and the two eastern columns on the north side, and the western respond and eastern column on the south side have scallopped capitals. The third column and west respond on the north and the second and third columns on the south have waterleaf foliage, the northern column and respond having volutes in addition. The western column on the north side has well-developed crocketed foliage, while the western column and eastern respond on the south have plain early gothic mouldings, the respond having also an extra band of moulding in the base. The arches are high and pointed with small hoodmoulds and consist of two orders of square outline with keeled edge-rolls and broad flat soffits.
About the middle of the 13th century the original chancel was lengthened and rebuilt, the aisles were rebuilt and widened, a clearstory was added to the nave, and the tower, spire and porches were erected. The south aisle seems to have been set out first, but the whole of the work was planned with strict regard to the spacing of the existing arcades of the nave. The south doorway, covered by a magnificent vaulted porch, is in the middle of the length of the wall, with two three-light windows on each side, and the north door is directly opposite in the middle bay of the aisle, covered by a vaulted but less lofty porch.
In the 14th century new buttresses were added to the aisle walls, and the east wall of the chancel seems to have been rebuilt in the 15th century with a window of poor design, and other windows were inserted in the south wall. New buttresses were also added to the chancel, a three-light window inserted in the west wall of the south aisle, and a stair-turret, giving access to the roof, made at the north-west angle of the north aisle.
The chancel is of three bays and retains two original windows on the north side, each of two-lights divided by a slender mullion and with a cusped quatrefoil in the head. Their hoods are continued as a string along the upper part of the wall inside and out, and the windows are extremely plain in detail. Below the sills is another string, continued round the whole chancel and raised to form a hood to the round-headed doorway of a former sacristy and to the pointed priest's doorway in the south wall. Both these doorways are now blocked. The east window is four-centered and of five cinquefoiled lights without tracery. The windows on the south side are of similar type, the first of two and the others of three lights, and at the west end of the wall a modern arch opens to the organ chamber, in which the displaced window has been re-used. No traces are visible in the chancel of either piscina or sedilia, but at the east end of the north wall is a rectangular aumbry, and on each side of the east window is a 13th century image bracket, that at the north end elaborately carved but in a mutilated state, the other moulded. A stone bench remains along the lower part of the north and south walls, and against the north wall is a large table tomb, with dowel holes at the corners. (fn. 153) The chancel arch is of two moulded orders, the inner one resting on slender detached shafts with moulded bands half-way up and unrestored foliated capitals; the outer order dies into the wall. The roof of the chancel dates from the restoration of 1876, when it took the place of a plaster ceiling and flat roof which had apparently been erected in the 18th century. (fn. 154)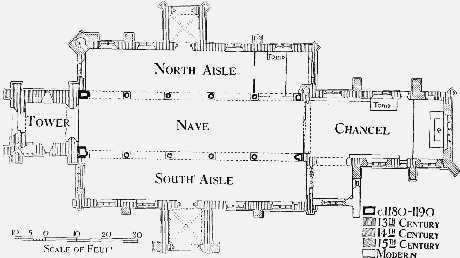 The nave has a remarkable timber inner roof of 13th century date, in imitation of stone vaulting, with ridge rib and two diagonals in each bay, the springers of which are carried on stone shafts resting on corbel heads in the spandrels of the arcades. The capitals of these shafts have foliage which shows a strong naturalistic tendency, (fn. 155) and the bosses of the wooden diagonals are formed by grotesque heads and carved foliage. The ribs are deep and massive with chamfered edges. At the east end of the nave are two small sexfoiled circular openings lighting the space between the outer and inner roofs (fn. 156); the pitch of the outer roof, always low, has been preserved.
The windows of the aisles differ considerably in detail. The east window of the north aisle is of tracery formed by the curving and intersection of the mullions, but all the others (fn. 157) on this side are of two lights similar to those on the north side of the chancel, and the clerestory windows on both sides are of similar type, but smaller. In the south aisle the windows on each side of the doorway consist of three grouped lancets with moulded mullions and jambs under a containing arch or label. Externally the detail is fairly elaborate, especially in the windows east of the porch, which are richly ornamented with dog-tooth and have jamb-shafts with foliated capitals, but internally the openings are simply splayed, with chamfered rear-arches. There is also a small window of two lights over the doorway. The east window of the aisle, now opening to the organ chamber, is of five lights, with 13th century jamb-shafts, but its mullions at a later date were continued upward to meet the arch. A string, like that of the chancel, is continued at sill level round both aisles.
The south doorway is of three moulded orders on jamb-shafts with moulded capitals and bases, and the porch has an internal wall-arcade of three moulded arches on each side set on a bench table. The oak door is original and retains plain 13th century hinges. The porch is covered by a single quadripartite vault with chamfered ribs springing from the end shafts and meeting in a carved boss. The outer opening has an arch of three moulded orders on jamb-shafts with moulded capitals, bases and mid-bands, the outer order being enriched with dog-tooth. On the inside there are two chamfered orders only. The north doorway is of a single moulded order and hoodmould, on attached jamb-shafts with moulded capitals and bases, and the porch opening is of two orders, the outer on engaged and the inner on detached shafts, all with moulded capitals and bases. (fn. 158) The porch walls are plain and the ribs of the vault die out in the angles.
At the east end of the south aisle there was an altar, with a ledge for an image in the south-east corner, and the piscina niche in the south wall has a rounded trefoil opening with a triangular head, in the tympanum of which is an octofoiled circle. West of this is a tomb recess in the wall, now half blocked up, and there is another recess in the same wall west of the doorway. In each of these recesses part of a 13th century grave slab is exposed. (fn. 159)
The tower is low and massive and of three stages with moulded plinth and square angle buttresses. The elaborate west doorway has an inner trefoiled head set within an outer arch of three moulded orders on jamb-shafts with moulded capitals and bases, the whole profusely ornamented with dog-tooth. In the lower stage, north and south, is a tall roundheaded window, and in the middle stage a quatrefoiled circle on each face. The bell-chamber windows are of two lights deeply set, with a quatrefoil in the spandrel, dog-tooth ornament, and jamb-shafts with moulded capitals and bases. The spire is low, but well proportioned to the tower. It rises from a corbel table of masks and has three tiers of lights of somewhat disproportionate height. The doorway to the vice, in the south-west corner, has a rounded head and the arch into the nave is of three chamfered orders, the outer springing from small moulded corbels, the others resting on half octagonal jambs round which the mouldings of the corbels are continued; the jambs have bases with water-moulding and stand on very large plinths.
The stair to the rood loft is at the south-east corner of the north aisle, and the doorway remains in the wall of the nave above. The whole of the upper part of the existing rood screen dates only from 1876, before which time "a portion of the base" only remained, in the panels of which were some vestiges of colour. (fn. 160) The original work, which is of 15th century date, has been restored and the whole is richly coloured and gilded. The pulpit, similarly restored, appears to be of about the same date; it has six panelled sides, with painted figures of our Lord and St. John the Baptist. A handsome Jacobean screen, extensively restored, incloses the eastern bay of the north aisle, which contains a late gothic table tomb, said to have been erected by Sir Robert Kirkham, (fn. 161) and an alabaster mural monument to Thomas Elmes, of Warmington (died 1664), his wife Ann (died 1686) and son William (died 1653).
The font has an octagonal bowl with trefoiled panels, on a pedestal dated 1662, with the initials S.S., W.B.; it has a plain flat cover.
The tower contains six bells, the treble being an addition in 1912 (fn. 162) to a former ring of five, the second (fn. 163) and tenor of which had been recast by Mears and Stainbank in 1876. The present second (original treble) is dated 1670, the fourth 1604, and the fifth is by Henry Penn, of Peterborough, 1710. (fn. 164)
The plate consists of a silver cup and cover paten c. 1570, a silver flagon of 1736 given by Mrs. Anna Maria Compton, and a silver plate of 1834. (fn. 165)
The registers before 1812 are as follows: (i) all entries 1558–1687; (ii) all entries 1688–1718; (iii) baptisms and burials 1719–1812, marriages 1719– 1754; (iv) marriages 1754–1802; (v) marriages 1802– 1812.
Advowson
The advowson, like the manor, belonged to the monks of Peterborough, and they presented the rectors. Giles de Spoleto, one of the Legate Otho's clerks, was rector in 1238, but not being resident, a "vicar," or deputy, Thomas de Wudeston, chaplain, was appointed for Giles's life; he was to have all the altarage. (fn. 166) Ellis de Bedingham, a judge without a taint, was rector in 1281; he was buried at Bottisham (Cambs.) (fn. 167)
In 1291 the value of the rectory was estimated at £38 a year, out of which a pension of 26s. 8d. was paid to the abbot of Peterborough. (fn. 168) In 1316 the rectory was appropriated to the abbey, and a vicarage was ordained. (fn. 169)
On the dissolution of the abbey the rectory came to the Crown. A lease of it was granted in 1595 to Thomas Elmes, (fn. 170) who in 1609 obtained it in fee, a condition being that he paid £10 a year to the vicar and £24 to the King. (fn. 171) The advowson of the vicarage was reserved. The rectory descended with the manor of Papley to Arthur Elmes, who in 1654 sold or mortgaged it to Sir John Trevor. (fn. 172) Sir Francis Compton and Jane his wife (daughter of Sir John Trevor and widow of A. Elmes) passed it to trustees in 1668, (fn. 173) and in 1701 James Compton had the tithes in Warmington, Papley and Eaglethorp. (fn. 174) Mrs. Anne Compton, widow of James, son of Sir Francis Compton, was the lay rector in 1711. (fn. 175) In 1656 an augmentation of £20 a year for the minister was approved, (fn. 176) but this would not continue after the Restoration. Soon afterwards the rectory was subdivided. The separate tithes of Papley were acquired by Lord Rockingham, owner of that manor, in 1704, (fn. 177) and those of Eaglethorp were held by William Whitwell and his wife in 1739; (fn. 178) the residue was probably the "moiety of the rectory" which occurs in a fine of 1719 between Francis Cudworth Masham and Nathaniel Gower, clerk, and Frances his wife. (fn. 179) In 1775 John Williamson acquired the rectory from William Compton and Catherine his wife. (fn. 180) The tithes had been commuted in 1774, when the Inclosure was made, excepting those of Eaglethorp.
The rent of £24 reserved to the Crown when the rectory was sold, was granted out in 1619, (fn. 181) and came to the Elmes family, becoming divided, like the manor, among the five daughters of Thomas Elmes, who died in 1664. (fn. 182) A fifth part of it was acquired by William Walcott in 1709. (fn. 183)
Sir Walter Mildmay of Apethorpe (fn. 184) acquired the advowson of the vicarage, and it descended regularly to the earls of Westmorland. It was sold with the Apethorpe property in 1904 to Sir Leonard Brassey who exchanged the advowsons of Warmington and King's Cliff with the Bishop of Peterborough for those of Apethorpe and Woodnewton. The Bishop is the present patron. About 1880 the vicar had £25 a year from the Tithe Rent Charge, and £106 rent from the 44 acres of glebe. The net income is now £185, with a house. (fn. 185)
According to Bridges (1711) there 'was anciently St. Andrew's chapel [near the manor-house], of which no vestige hath been remaining within any person's memory, nor any mention occurs in any record.' William Proby had paid £4 16s. a year out of Eaglethorpe, which was supposed to be the purparty of this chapel; the rent was then paid to Lord Rockingham, who owned part of the impropriated rectory by purchase from Mr. Whitwell of Oundle, who had purchased from Mrs. Compton. (fn. 186)
The Wesleyan Methodists have a chapel, which was rebuilt in 1881.
Three almshouses for aged widows were built in 1860 by the Ladies Fanny and Charlotte Proby.
Charities
Poor's money. A sum of £100, formerly given for the poor by benefactors whose names are unknown, was placed out in 1754 on security of the tolls of the turnpike road from Peterborough to Wellingborough. The endowment is now represented by £113 19s. 2d. Consols producing £2 17s. 0d. annually. The income is distributed in money to poor men who have attained the age of 65. In 1924 there were 13 recipients.
The Mossop Fund was founded by Declaration of Trust dated September 1879. The endowment consists of £301 8s. 1d. Consols producing £7 10s. 8d. yearly.
By his Will proved 23 September 1908 the Rev. Charles Henry Ward Capron gave £1,000 to the Vicar and Churchwardens upon trust to apply the income in the distribution of coal to the poor on or about St. Thomas's Day. The money was invested in £1,157 14s. 10d. India 3 per cent. Stock, producing £34 14s. 8d. yearly. In December 1924 4 cwts. of coal were delivered to each of 98 recipients, by the Vicar and Churchwardens in respect of this Charity and the Mossop Fund.
By his Will proved 27 August 1888 Daniel John Baxter gave £100 to the Oundle Wesleyan Methodist Circuit Superintendent and Circuit Stewards and the Chapel Stewards and Society Stewards of the Wesleyan Methodist Chapel at Warmington upon trust to apply the income for the benefit of poor Widowers and Widows without respect of creed, sect or otherwise. The endowment consists of £96 1s. 6d. India 3½ per cent. Stock with the Official Trustees of Charitable Funds producing £3 7s. 4d. annually in dividends. The income is distributed in money to about 25 recipients.
By her Will proved at Peterborough 13 April 1891 Mrs. Elizabeth Mossop gave a sum of money to the Vicar and Churchwardens now represented by £93 2s. 5d. India 3½ per cent. Stock producing £3 5s. 4d. yearly, the income to be distributed to poor Widows on St. Thomas's Day. There are about 18 recipients.
The several sums of Stock are with the Official Trustees of Charitable Funds.