Pages 123-124
A History of the County of Northampton: Volume 3. Originally published by Victoria County History, London, 1930.
This free content was digitised by double rekeying. All rights reserved.
THE HUNDRED OF NAVISFORD
containing the parishes of Clapton; Pilton; Stoke Doyle; Thorpe Achurch; Thrapston; Titchmarsh; Wadenhoe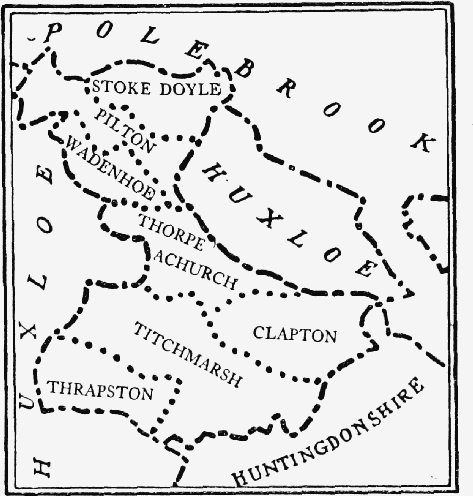 The Hundred of Narresford or Navisford was one of the eight hundreds held by the Abbey of Peterborough, which were confirmed to it in the charter of Richard I. (fn. 1) In the Domesday Survey, the four parishes of Clapton, Thrapston, Titchmarsh and Wadenhoe are given under the definite heading of Navisford Hundred (fn. 2) and there is no reason to think that Thorpe Achurch and Pilton, which were held of the Abbey, did not belong to it. Stoke Doyle is given under the heading of 'Wicesle,' (fn. 3) but this apparently is a mistake. The Abbot, however, seems to have held only one court for the Hundreds of Polebrook and Navisford, so that the seven parishes frequently appear under Polebrook. (fn. 4) A part of Catworth in Huntingdonshire was held with Thrapston, and was within the Hundred of Navisford. (fn. 5)
After the dissolution of the Abbey, the issues of the courts of the two hundreds were returned jointly, and only one bailiff and one steward are named. (fn. 6) Henry VIII granted the Hundred of Navisford for life to Queen Catherine Howard, (fn. 7) but after her death it remained with the Crown (fn. 8) until 1611, when James I granted it to John Eldred and George Whitmore (fn. 9) to hold with all the privileges formerly belonging to the Abbey of Peterborough. (fn. 10) In 1613 the two grantees sold it to Sir Edward Montagu of Boughton. (fn. 11) Shortly afterwards a writ of quo warranto was issued against Sir Edward regarding his rights in the Hundreds of Polebrook, Huxloe and Navisford which were duly allowed to him. (fn. 12) In the early 18th century his descendant the Duke of Montagu held it, and the court of the hundred was held at Thrapston. (fn. 13) It afterwards passed to the Duke of Buccleuch and Queensberry.