Pages 172-174
A History of the County of Northampton: Volume 4. Originally published by Victoria County History, London, 1937.
This free content was digitised by double rekeying. All rights reserved.
HANNINGTON
Haniton (xi cent.); Hanygton (xiv cent.).
Hannington lies between Walgrave and Holcot, and is 5 miles south-east from Lamport station. Two roads, from which other roads branch, run south through the parish from Walgrave, and the village, which is small and compact, lies on the easternmost of these. It is very pleasantly situated, and has several good houses and cottages, and a plentiful supply of excellent water.
The church stands high at the western end of the village, with the rectory to the south of it. The school (public elementary, mixed), to the north of it was built in 1871 for 35 children, at the sole expense of the lord of the manor. A little east of the church is the Manor Farm, on the farther side of a small Nonconformist chapel erected in 1865, but now closed. Hannington Grange lies away by itself at the north-eastern extremity of the parish. There is an old quarry at the opposite end of the village. The parish has an area of 1,248 acres. Its soil is red marl and clay: its subsoil shale and gravel. The chief crops grown are wheat and barley, and there is some land in pasture. The population, which in 1801 was 144 and was 222 in 1871, was 114 in 1931.
A notable rector was Thomas Godwin (1517–90), afterwards Bishop of Bath and Wells, whose son, Francis Godwin, D.D. (1562–1633), the historian, Bishop of Llandaff and Hereford, was born here.
Manor
Three virgates in HANNINGTON were entered in the Domesday Survey among the lands of the Countess Judith in Willybrook Hundred. (fn. 1) This property, increased to 1½ hides, was returned in the 12th-century Northamptonshire Survey as held of the Countess Judith's successor King David (fn. 2) of Scotland, and the overlordship descended with the honor of Huntingdon.
In, or before, the first half of the 13 th century the family of Preston, of Preston Deanery (q.v.), had obtained the lordship of two fees in Preston, Wootton, Quinton, and Hannington, which in 1242 were held of the honor of Huntingdon by Gilbert de Preston. (fn. 3) These fees descended to Thomas de Preston, who was holding half a fee in Boughton and Hannington in 1375, (fn. 4) but in 1428 the fee which Thomas de Preston held in Wootton, Quinton, and Hannington was held by John Longvile and Geoffrey Bald; (fn. 5) and after this no more is heard of this intermediate lordship.
In the inquisition taken in 1274 after the death of Gilbert de Preston, three properties held under him in Hannington were recorded: namely, 3 virgates held by Simon son of Ralph de Hannington by homage and suit of court; 2 virgates held by Simon de Seymour by homage, service of a pound of cummin and suit of court; and half a virgate held by Simon le Fu of Hannington by the like service; (fn. 6) and these lands were assigned to Gilbert's widow Alice in dower. (fn. 7)
Simon de Hannington, under-tenant of the Prestons in 1274, came of a family which had probably been present in Hannington from an early date. Sarah de Hannington was dealing with lands in Hannington in 1227, (fn. 8) as were Simon son of Herbert de Hannington in 1258, (fn. 9) and William son of Simon de Hannington in 1268. (fn. 10) Simon son of Ralph de Hannington, referred to above, claimed view of frankpledge here in 1275–6. (fn. 11) Ralph de Hannington, who was recorded with William Wardedeu as holding lands in Hardwick and Hannington in 1316, (fn. 12) was probably the Ralph de Hannington who enfeoffed of the manor of Hannington Master Roger Broun, who enfeoffed thereof William Broun, father of the William Broun by whom this manor was held in 1329–30, when the said William claimed view of frankpledge and assize of bread and ale, and other liberties appurtenant to this manor, as held of the honor of Huntingdon. (fn. 13) The manor passed in some way to Roger Wakyrley, whose son and heir John in 1381 granted all the lands he had in the vill of Hannington by inheritance from his father to Sir Richard Waldegrave, (fn. 14) who had a grant of free warren in Walgrave, Hannington, and Sywell in 1383. (fn. 15) Sir Richard Waldegrave in 1428 paid subsidy for the quarter fee William Broun formerly held. (fn. 16) His successor Richard Waldegrave was holding this manor as the manor of BROWNS in Hannington in 1445, when with his wife Joan he conveyed it to William Tresham, (fn. 17) to whom in the following year John Morys of Trumpington, co. Cambridge, released all right in the manor of Hannington. (fn. 18) The attainder and forfeiture in 1472–3 of Sir Thomas Tresham, to whom, with Sywell, this manor had descended, resulted in its being granted on 2 May 1480 to the king's servant Edward Brampton. (fn. 19) But it returned to the Treshams on the reversal of his attainder, and descended with Rushton (q.v.) in the Tresham family until in 1597 it was conveyed to Valentine Acton by Sir Thomas Tresham and Merilla his wife, Francis Tresham, esq., Lewis Tresham, gent., and William Tresham, gent., sons of Sir Thomas. (fn. 20) In 1615 Valentine Acton and his son Nathaniel conveyed the manor to William Wilmer (fn. 21) of Sywell, and Hannington again descended with Sywell, (fn. 22) with which manor it was held in 1725 by William Wilmer and his wife Mary. (fn. 23)
The manor came later into the hands of the Fremeaux of Kingsthorpe and was devised under trust by Peter John Fremeaux of Kingsthorpe, who died in 1784, (fn. 24) to Thomas Boddington (who on 16 March 1764 married Maria Catherine Fremeaux) and others. Thomas Boddington was returned as lord of the manor at the Inclosure Act of 1802, (fn. 25) and died, aged 85, in 1821. (fn. 26) Susanna, daughter and heir of Peter John Fremeaux, married in 1799 Thomas Reeve Thornton of Brockhall (fn. 27) and died in 1846, her husband in 1862. Their second son and ultimate heir, the Rev. Thomas Cook Thornton, M.A., of Brockhall, held the manor until his death unmarried in 1884. Hannington then passed to his nephew Francis Hugh Thornton, of Kingsthorpe, the third son of his brother the Rev. William Thornton of Kingsthorpe Hall, (fn. 28) and Francis H. Thornton is now lord of the manor.
A quarter fee in Hannington held of the honor of Huntingdon in 1241 by Ingram Wardedieu (fn. 29) had come to him from his brother Richard. (fn. 30) They may have been sons of William 'Warde Deu', who was dealing with lands here in 1227. (fn. 31) Ingram must have died in or before 1242, when his son William was holding the quarter fee; (fn. 32) and William's son Henry, who had succeeded his father but was under age in 1260, (fn. 33) was holdingin 1284. (fn. 34) Henry had been succeeded in 1312 (fn. 35) by William Wardedieu, who was still holding this quarter fee in 1316, (fn. 36) but in 1325 had given place to Henry Wardedieu. (fn. 37) Simon de Kelmarsh and his wife Sarra, widow of William Wardeu, were holding the manor of Hannington in 1329–30, for life of Sarra, with reversion to John Wardeu, son and heir of William, then a minor. (fn. 38) A John Wardeu was holding this quarterfee in 1348, (fn. 39) andagain in 1376. (fn. 40) These were probably the two Johns referred to in a covenant of 1347 for the marriage of John son and heir of John Wardeu to Margaret daughter of Sir Waryn Latimer, and for a settlement of the manor on them. (fn. 41) The Hannington manor was settled in 1378 on Sir Edward Dalingrigge and his wife Elizabeth, daughter and heir of John Wardedieu. (fn. 42) Sir Edward's son Sir John in 1394 granted, or mortgaged, these manors to Thomas Beston and Hugh Catesby. (fn. 43) The quarter fee which John Wardeu had formerly held was in 1428 in the hands of Richard Waldegrave and William Tresham and held severally by them. (fn. 44) William Tresham on 10 November 1441 received a grant of free warren in all the lands and woods which he held in demesne and in reversion in Rushton, Sywell, and Hannington and elsewhere in the county, (fn. 45) and when Browns Manor was conveyed to him by Richard Waldegrave, in 1445, this presumably completed the transfer to him of the whole of Hannington, which from that date appears in one ownership.
Half a hide in Hannington was held before the Conquest by Edwin freely, and in 1086 was held of the Count of Mortain by William [de Cahagnes]. (fn. 46) This half hide was returned in the 12th century as held of the fee of the Earl of Leicester, (fn. 47) and in 1236–42 was entered among the fees of Simon de Montfort, Earl of Leicester, as a quarter fee held by Henry de Mawr or Seymour. (fn. 48) According to a return of 1235 a small fee in Creton, Holdenby, and Hannington was held by William le Faukener of the fee of Keynes, (fn. 49) but there is no other trace of this Faukener lordship.
William de Seymour, who had acquired from Gerard de Dudinton 6¾ virgates of land, as a quarter of a knight's fee, in Hannington in 1195–6, (fn. 50) was the father (fn. 51) of the Henry de Seymour holding under Simon de Montfort. They seem to have held part of their estate under the chief manor from the Prestons, as in 1293 Simon de Seymour was holding 2 virgates in Hannington from Gilbert de Preston. (fn. 52) A William de Seymour complained against John Waldegrave and his brother Richard in 1324 that they, with William, parson of Chalfont, and others, had assaulted him at Milton when on his way to his home at Hannington from the court at Northampton. (fn. 53) On 28 September 1326 William son of William de Seymour of Hannington received pardon for breakingthe castle of Rockingham, (fn. 54) and in the following year the King committed to William de Seymour of Hannington the county and castle of Northampton. (fn. 55)
Robert Seymour of Hannington went on campaign in France with Edward III, and a general pardon, for good service in the war in France, was granted him at Calais by the King on 4 September 1346 on condition of his remaining in the King's service 'so long as he shall stay this time on this side the seas'. (fn. 56)
In 1364 complaint was made by William Sywardly that Thomas Seymour had poached in his fishery of Hannington, taking bream, perch, tench, and pike to the value of 100s. (fn. 57) This is the last record of a Hannington Seymour that survives.
Church
The church of ST. PETER AND ST. PAUL stands on high ground above the road in the middle of the village and consists of chancel, 29 ft. 9 in. by 15 ft. 2 in.; nave, 44 ft. by 30 ft.; north porch and embattled west tower, these measurements being internal. The plan of the nave is unusual, being divided longitudinally into two equal aisles (fn. 58) by a lofty arcade of three pointed arches which supports the ridge of the roof and abuts against the end walls above the chancel and tower arches. The tower sits over the west wall with external and inner arches, and measures 6 ft. 9 in. (north to south) by 5 ft. 3 in. internally at the bell-chamber stage. The church, which was restored in 1868–9, (fn. 59) is built of rubble and has a slated eaved roof to the nave. The chancel has plain parapets and a tiled roof.
With the exception of the upper stage of the tower, which is of the 14th century, the whole of the building dates from the last quarter of the 13th century, but the round-headed south doorway probably belongs to a previous small 12th-century church.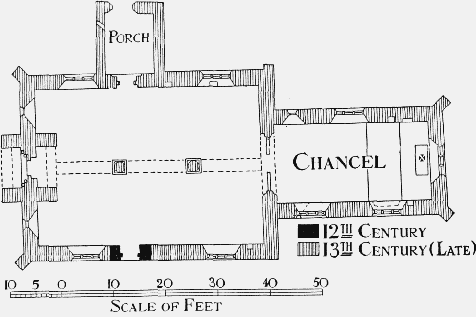 The chancel has short diagonal buttresses of a single stage and an east window of three lights with tracery formed by the forking and intersection of the mullions. There is a similar window on the north side and two on the south, all with hood-moulds, and a keel-shaped string at sill level goes all round the chancel and nave. At the west end of the south wall is a rectangular lowside window, and a similar one opposite in the north wall, both equally splayed inside and now glazed. (fn. 60) The piscina has a fluted bowl under a trefoil arch with moulded hood, and the pointed arches of the two sedilia have dog-tooth in the hollow moulding and rest on a middle shaft with moulded capital and base, and on hollow-chamfered jambs. In the north wall is a rectangular aumbry and farther east a small arched recess. The chancel arch is of two chamfered orders, the innermost springing from half octagon responds with moulded capitals and chamfered bases. Across the opening is a late-14th-century traceried screen, with doors, and solid lower panels.
The plan of the nave is very regular, with north and south doorways opposite each other, two windows similar to those in the chancel in the north and south walls, and at the west end two lancets, one on either side of the tower. The arches of the arcade are of two chamfered orders springing from circular pillars with moulded capitals and bases, and dying into, or abutting against the east and west walls as already noted. In the north wall are two tall lockers for banner staves and processional cross, and in the usual position at the east end of the south wall a trefoiled piscina with fluted bowl. All the walls are plastered internally.
The south doorway has a semicircular arch of two chamfered orders with hood and imposts, the outer order on jamb shafts with moulded bases and scalloped capitals. The north doorway has a pointed arch of two continuous chamfered orders, the nave string-course serving as a hood-mould. The porch has a slated eaved roof and moulded gable coping, with modern apex cross.
The tower is of three stages, with lofty external western arch of two chamfered orders dying into the wall, below which is a pointed doorway of three orders, the two outer on shafts with moulded capitals and bases. The upper stage is of dressed stone, in contrast to the older rubble below, and the bell-chamber windows are of two trefoiled lights with quatrefoil in the head. The arch to the nave springs from moulded corbels and is of two chamfered orders.
The 13th-century font has a plain octagonal bowl moulded on the upper and lower edges and lined with lead. The oak pulpit is coeval with the chancel screen, and is a well-preserved and interesting example, in plan a half octagon, with narrow traceried panels. There are no monuments.
In the tower are two bells, and a priest's bell cast in 1868. The first bell is of early-16th-century date from the Leicester foundry and is inscribed 'Love horteth not': the second is dated 1615, and bears the stamp of Hugh Watts and the inscription 'Celorum Chrste platiat tibi rex sonus iste'. (fn. 61)
The plate consists of a silver cup and cover paten c. 1570, and a flagon of 1882. (fn. 62)
The registers begin in 1538, the entries of baptisms, marriages, and burials being recorded together until 1706. There are churchwardens' accounts beginning in 1710.
Advowson
The church of Hannington was valued at £4 6s. 8d. in 1291, (fn. 63) and the rectory in 1535 was returned at £11 1s. 8d. (fn. 64)
The advowson was held at an early date by the convent of Sempringham in Lincolnshire; the prior made the presentation in 1223, (fn. 65) and continued to do so until on 15 October 1320 the convent received licence to alienate it in mortmain to the Bishop of Lincoln, (fn. 66) by whom it was held until transferred to the bishopric of Peterborough in 1852. In 1853 the rectory was separated from that of Walgrave, to which it had formerly been annexed. (fn. 67)
An Inclosure Act was passed in 1802 (fn. 68) and an allotment made in lieu of glebe and tithes, &c.