Pages 195-200
A History of the County of Northampton: Volume 4. Originally published by Victoria County History, London, 1937.
This free content was digitised by double rekeying. All rights reserved.
LAMPORT (with HANGING HOUGHTON)
Langeport (xi cent.); Hanga de Houghton, Hoghton by Langeporte, Hengende Hocton (xiii cent.).
Lamport now contains the chapelry of Faxton, till 1935 a separate parish, as well as the hamlet of Hanging Houghton, which, though separately rated, forms its southern half. It lies to the west of the high road from Northampton to Market Harborough. This for a considerable distance runs parallel with and near to its eastern boundary; and the Northampton and Market Harborough section of the L.M.S. railway runs through the centre of the parish, with a station about half a mile north-west of the village.
Lamport village, Hall, and Park are near the eastern boundary of the parish, on a hill above the station, commanding good views over a wooded and hilly country. Lamport Hall, a handsome stone mansion in grounds of about 20 acres, is the property of Gyles Isham, esq., since 1931 by deed of gift from his father, Captain Sir Vere Isham, bart., J.P., principal land-owner. It had a famous library, rich in rare books, (fn. 1) as well as 'books of evidences', diaries, documents, and deeds giving the history of its Isham owners. Most of the books were sold in 1895 and divided between the British Museum and the Britwell Court Library. The Britwell Court books, including the unique 1599 edition of Shakespeare's Venus and Adonis, are now in the Huntington Library, California. The family records have been deposited on loan with the Record Society at Northampton. Sir John, the first baronet, set down 'Remembrances' of his grandfather John, who leaving the neighbourhood at 16, made his fortune in London as a mercer and merchant adventurer, and came back to buy the manor and parsonage in 1559, as also of his father, the blind squire Thomas. (fn. 2) From these we learn of the manor-house built by John Isham the grandfather in 1568, and of the buttery with the chamber over it, and the 'foresyde of the hall' built by himself in 1610 and 1611: and that John Isham inclosed the Pond Close and Caulcot Closes in 1570; Hoback, Dinges, Blewbarrows, Redgwas, and Parkes in 1576. Sir Justinian Isham in 1654 had the central part of the west front new built by John Webb, (fn. 3) the pupil of Inigo Jones. This comprises the lofty 'Music Room', which contains the original fireplace designed by Webb. The elaborate plaster work on ceiling and frieze, however, dates from 1738 when the room was altered to its present form by the sixth baronet. The staircase was altered in 1830, but the upper part is of Webb's time. In 1732 Francis Smith, of Warwick, the architect of the Georgian block at Stoneleigh Abbey, began to add a wing on each side of Webb's work, reducing the west facade to uniformity, but the north front retained the Elizabethan hall and kitchens until 1821, when they were rebuilt. This portion was remodelled in 1862, and although a few early windows lighting a cellar have survived, the interest of the house lies in Webb's work and the Georgian library. There are also some stained glass coats of arms of the 16th century, brought from the destroyed manor-house of Sir Euseby Isham at Pytchley. In the beautiful grounds is a fine avenue of yews called 'the Eagle walk' from its having once led to a cage of captive eagles. The gardens were laid out in their present form in 1677 and there are fine wrought-iron gates made by a local blacksmith in 1700.
The rectory, east of the church, is a well-designed two-story building, with plain parapets and slated hipped roof. The stone of which it was built in 1730, and its fine staircase and wainscoting, came from the dismantled manor-house of Hanging Houghton. (fn. 4) The rectory and church are at the western end of the park, the Home Farm at its north-eastern. There are good springs and quarries of stone.
A road branching west from the Northampton road forms the boundary between the hamlet of Hanging Houghton and the rest of the parish: Lamport village is about a quarter of a mile to the north of this road, and the scattered houses of Hanging Houghton on a hill only a short distance south of it. A chapel of some importance once existed at Hanging Houghton, but Bridges says that its ruins were used for the building of a manor-house, which in turn was left deserted in 1665 after the Montagu household had been carried off by the plague, which they had fled from London to escape. In 1670 it was sold by the Montagus to the Ishams. Lamport Grange, the residence of Sir Charles Frederick, bart., O.B.E., lies near the boundary of Hanging Houghton. There is a school, founded by the Ishams. The Manor Farm is at the western end of the village, Hanging Houghton Lodge in the south of the hamlet.
In the north of the parish is Bullock Close Spinney: south of Lamport Park the Long Plantation with Boundary Oak to the west of it. Lamport is a parish of hill and dale, but a height of about 400 ft. is frequent. The area is 4,605 acres, mainly pasture: the soil red loam and subsoil clay. Population in 1931 was 263.
Manors
Among the lands of Walter the Fleming, otherwise called Walter de Wahull or Odell (Beds.), there were entered in Domesday Survey 4 hides and 1 virgate in LAMPORT held by Fulcher, a member of the Malsor, or Malesoures, family. (fn. 5) This estate continued to be held of the barony of Wahull until the 16th century. In the 12thcentury Northamptonshire Survey 4 hides in Lamport were held by Simon Malsover of the fee of Wahull. (fn. 6) Peter Malsover of Lamport levied a fine of land in Lamport with John son of Thomas in 1196–7, (fn. 7) and the presentation to the church was made by Sir Peter Malsover in 1217. (fn. 8) He had been succeeded before 1242 by Guy Wake, who with his wife Isabel held a fee here in that year, (fn. 9) and in 1250 presented Richard Trussell to the living. (fn. 10) The advowson was held with the manor, which was in the hands of the Trussells in 1260–1, when a fine was levied of it between Richard and Isabel Trussell. (fn. 11) Dugdale considers that the Trussells of Cublesdon in Staffordshire were the principal male branch of the Trussell family, and the Trussells who held Lamport seem to have belonged to that branch, and to have had under them a younger branch of the family as under-tenants. Richard Trussell, who claimed view of frankpledge, &c, in Lamport in 1276, (fn. 12) was in 1284 holding a knight's fee in Lamport of William Trussell, who held of John de Wahull. (fn. 13) William Trussell, who in 1316 was holding Lamport with Hanging Houghton, (fn. 14) had been succeeded in 1329 by John Trussell, of whose demise Thomas Trussell was then holding the manor for life. (fn. 15) In 1339 John Trussell 'of Cublesdon' levied a fine of the manor and advowson, (fn. 16) and in 1346 he held a fee in Lamport and a quarter fee in Scaldwell. (fn. 17) According to Dugdale, Margaret daughter and heir of William Trussell of Cublesdon married Fulk de Pembruge. (fn. 18) Fulk and Margaret were dealing in 1383 with the manors of Marston Trussell, Lamport, Thorp Malsor, and Orlingbury. (fn. 19) Sir Fulk Pembruge died in 1408–9, seised of the manor and advowson, which he was holding for life jointly with his wife Isabel, with remainder to Sir William son of Lawrence Trussell and Margery his wife. (fn. 20) The heirs of John Trussell paid 6s. 8d. subsidy in 1428 for the fee in Lamport formerly belonging to John Trussell, (fn. 21) but Fulk's widow Isabel held these manors until her death on 9 October 1445. (fn. 22) Her own heir was her son William Ludlow, but the manor reverted to the Trussells, and on 5 May 1475 William Trussell granted it to Humphrey Belcher and others for performance of his last will, and died seised on 23 January 1481. (fn. 23) His son and heir Edward died while still a minor on 10 July 1499. (fn. 24) His infant son and heir John (fn. 25) died two years after his father, according to Bridges, when his sister Elizabeth evidently became his heir. Humphrey Belcher was returned in 1500 as sole surviving feoffee under a settlement of the manor and advowson to the use of Elizabeth; and their value was given as £18 13s. 4d. (fn. 26)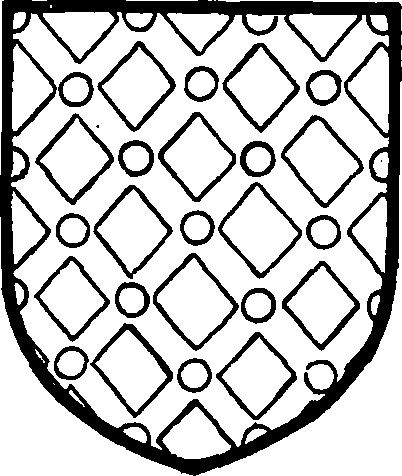 The marriage of the heiress Elizabeth to John de Vere, Earl of Oxford, to whom and his brother, then earl, her wardship and marriage had been granted in 1507, carried the manor and advowson to the Earls of Oxford, by whom they continued to be held with Marston Trussell, Thorp Malsor (q.v.), &c., for the next fifty years, when they passed from them to the Ishams. In 1556 the manor was recovered against John, Earl of Oxford, and his wife Lady Margaret by John Isham, (fn. 27) ultimately the purchaser. According to the Isham family records, of which an abstract is given in the Genealogist, (fn. 28) Sir William Cecil of Burghley purchased the manor and advowson of John, Earl of Oxford, for £530 on 7 May 1559, and sold them to John Isham for £610 on 13 January 1560. (fn. 29) It is recorded on his tombstone in Lamport church, which bears with the Isham arms the arms of London, of the Merchant Adventurers of Flanders, and of the Mercers' Company, that 'John Isham, one of the 20 children of Euseby Isham of Picheley and of Anne his wief, daughter of Giles Pulton of Desborow Esquier, married Elizabeth daughter of Nicholas Barker citizen of London, was once Governor of the English Marchaunt Adventurers in Flaunders, and thrice Warden of the Mercers of London, purchased the mannor and parsonage of this parish of Lamport, and was 22 yeares Justice of the Peace (fn. 30) and once sheriff of this shyre of Northampton (fn. 31) and died the 17 day of March 1595'. This concise record of a full life can be supplemented from notes left by his son Thomas which have fortunately survived.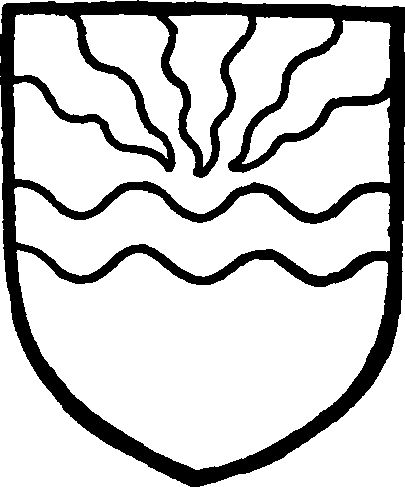 John, kept by his father at school until he was 16, was sent to London and bound apprentice in 1541–2.
At length he havinge gotten some good store of substance with good credit and honest report he came and dwelt in the year of our Lord God 1572 upon his land in Langport which before he had purchased. Heer he aplyed himselfe to plantinge, buildinge, making of pooles, including of groundes and all other woorks of good husbandry as though he had been brought up to them from his infansy. Butt his company of ye Mercers perceiving him to forsake them in this order, In the year of our Lord God 1577 being greatly effected unto him, called him out of the cuntry and made him their Master Warden. Yit he havinge settled himself heer in the cuntry woulde nott by any meanes be drawne agayn to dwelle at London. Wherefore his office being past, heer he continued till his dyinge daye havinge as great good frendship of gendemen in this his cuntry, as he had before of Cytesens among whom he was bredd. . . . He was a wise man though altogether unlerned, writinge and reading Inglish only excepted. . . . In housekeeping he was bountefull. . . . Unto Thomas Isham, his eldest son, being blind, he left such directions both by speach and writynge as to him were instead of an eye. (fn. 32)
This son Thomas who had been born in London and baptized at Bow, and succeeded his father at the age of 30, (fn. 33) had been blind since a great sickness he had at 14. He died at the age of 50 in 1605, his death hastened by a fall from an unruly horse. He married Elizabeth Nicholson in 1576, and it is to him that the credit of founding the Lamport library belongs.
The inquisition taken after the death of Thomas records the purchase of the manor by John Isham and states that it never belonged to the monastery of Bury St. Edmunds nor had it ever been granted by Henry VIII in 1541 to Sir Edward Montagu (fn. 34) —a suggestion of disputed claims, to which a reference in his father's will to losses by 'a great suit at law' supplies the clue. John Isham succeeded his father at the age of 23, and in 1607 married Judith youngest daughter and ultimately co-heir of William Lewin, D.C.L. and LL.D., of Otteringden, Kent, Judge of the Prerogative Court, and sister to Sir Justinian Lewin. (fn. 35) He was knighted in 1608, high sheriff 1611–12, and made baronet on 30 May 1627. Though a Royalist, Sir John was allowed to remain undisturbed at Lamport until he died in 1651. His accounts show he paid a total of £1,202 to the Parliament, and contain an application under the royal sign manual from the king for a loan of £500 in 1642. (fn. 36)
His son Justinian, who was dealing with the manor in 1653, (fn. 37) the year in which he married his second wife Vere daughter of Sir Thomas Leigh, first Lord Leigh of Stoneleigh, was a person of culture and learning. It was he who employed Webb to re-build the west front of the Hall, and the masons worked under his instruction. He also built the chancel of the church at Lamport, and the Isham chapel (q.v.). He was a friend and correspondent of Seth Ward, later Bishop of Salisbury, and was one of the earliest Fellows of the Royal Society in 1663. As a widower with four daughters he courted the youthful Dorothy Osborne, who amusingly describes in her letters to Temple, her future husband, the elaborate suit of the baronet whom she christened 'the Emperor'. He suffered imprisonment many times as well as fines for his Cavalier principles, but was rewarded at the Restoration by his election to the Parliament of 1661. He died at Oxford where he had gone to place his two sons at Christ Church on March 2, 1675, and was buried at Lamport.
The detailed pedigree of the family of Isham with biographical accounts of its members to the present day is to be found in the Genealogical volume for this county, (fn. 38) and their succession can be summarized briefly. Sir Thomas, who succeeded his father while still a minor in 1675, and has left a Latin diary written by his father's commands, died, aged 23, in London on the point of marriage in 1681. His brother and heir Justinian, who succeeded him, was M.P. for Northampton and for the county in many parliaments, and one of the guard formed at Nottingham for Princess Anne of Denmark to enable her to desert her father James II. (fn. 39) He died in 1730, and was succeeded by his son Sir Justinian Isham, M.P. for the county from 1730 to 1737, a good antiquary and lover of literature, who at his sudden death s.p. in 1737 was succeeded by his brother Sir Edmund Isham, bart., M.P. for the county from 1737 until he died in 1772. Sir Justinian, who then succeeded to the manor, was the son of his brother the Rev. Euseby Isham, D.D., the third son of the fourth baronet. When in 1794 an Inclosure Act was passed for the open and common fields in Lamport and Hanging Houghton, these were estimated at about 539 acres, and all except the church lands were his property. (fn. 40) His son Sir Justinian, who succeeded him at his death in 1818, died at Lamport Hall in 1845, and was succeeded by his son Sir Justinian Vere Isham, at whose sudden death in 1846 Sir Charles Edmund Isham his brother succeeded him. Captain Sir Vere Isham, son of John Vere Isham, son of Vere Isham (d. 1845), Rector of Lamport, son of Sir Justinian Isham (7th bart.) (d. 1818), succeeded Sir Charles Edmund Isham at his death in 1903, and is the present lord of the manor.
The Domesday Survey records 1 virgate 1 bovate in Lamport among the lands of the Abbey of St. Edmund's. (fn. 41) This had become half a hide in Lamport in the Hundred of Mawsley of the socage of St. Edmund in the 12th century, (fn. 42) and by 1284 must have been looked upon as part of the Trussell's manor of Lamport, being returned at that date in the Hundred of Orlingbury as 3 virgates of land in Lamport which the Abbot of St. Edmund's held of William Trussell, William of John de Wahull, and the latter of the king. (fn. 43) Lands in Lamport were specified in the grants of 1541–2 to Sir Edward Montagu, Chief Justice of the King's Bench, of all lands belonging to the abbey of St. Edmund, (fn. 44) and this inclusion may have led to the specific statement at the death of Thomas Isham that his manor had never been part of the abbey property. (fn. 45)
Property was also held in Lamport in 1086 by the Countess Judith, who had 1 bovate of land with 1 bordar rendering 16d. (fn. 46) The Hastings purparty of the honor of Huntingdon included in 1235 half a fee in Scaldwell, [Hanging] Houghton, and Upthorp held of them in 1235 by Simon 'Major' (fn. 47) and in 1242 by Simon son of Simon. (fn. 48) This was modified by subsequent redistributions into a quarter fee in Lamport, Houghton, Scaldwell (q.v.), and Upthorp held by John Hastings senior in 1313, (fn. 49) and into a third of a fee held in the same places in 1325 (fn. 50) and in 1376 by the Hastings, (fn. 51) and under them by Thomas de Verdun and his heirs.
Hanging Houghton
Four owners of lands appear in the Houghton later known as Hanging Houghton in the Domesday Survey. (fn. 52) The Conqueror's halfbrother Robert, Count of Mortain, received an estate of 2 hides less 1 virgate; the Conqueror's niece the Countess Judith 1 hide and 1 virgate; the abbey of St. Edmund 1 hide and ½ virgate; and Walter the Fleming 2 virgates and 1 bovate of land: a total of nearly 4½ hides, three of whose owners were also holding lands in Lamport, with the result that in later centuries the delimitation of lordship was sometimes involved in confusion; the claims of the abbey of St. Edmund seems to have been a disputed question from first to last in both places.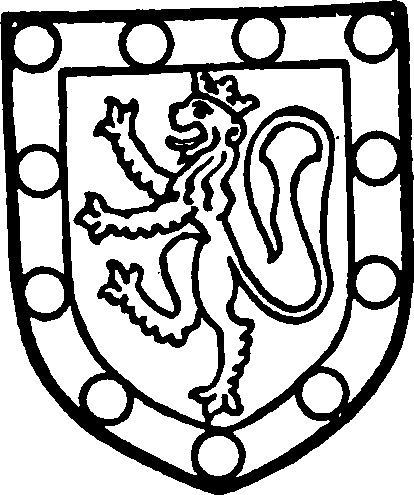 The land of the Count of Mortain had been held in King Edward's time freely by Fredgis; under the count it was held by Ralf. The Abbot of St. Edmund's claimed the soc of 2½ virgates of land. (fn. 53) The property of the Count of Mortain passed to his successors, Earls of Cornwall, (fn. 54) and in the 12thcentury Survey his Domesday holding in Houghton appears as 1 hide 3 virgates there, held by 'Rocinus' in Mawsley Hundred of their fee of Berkhamsted. (fn. 55) A reference in 1226 to the demesne of Philip 'Bosce' in Houghton (fn. 56) may be a scribal error for 'Rosce'. In 1235 one fee was held here by Hugh 'Russell', apparently of Ralph Cheynduit; (fn. 57) in 1242 one small fee was held by Roger 'Roce'; (fn. 58) a little later Robert 'Roce' gave to the Hospital of Holy Trinity by Northampton lands in Houghton, including Galtrefurlong; (fn. 59) and in 1284 Stephen Cheynduit was holding 14 virgates of the Earl of Cornwall, (fn. 60) then held of him by Hugh de Dunster. At the death of Edmund, Earl of Cornwall, s.p. in 1300, fixed fines at the views of frankpledge in Houghton by Lamport, Thorp, and elsewhere, were held of the barony of Cheynduit of the honor of Berkhamsted, which then came to the king as his cousin and heir; (fn. 61) and in 1491 lands and rent in Hanging Houghton, evidently part of this property, were returned as held of Prince Arthur, the eldest son of Henry VII. (fn. 62)
In 1252 Hugh de Dunster and Alice his wife levied two fines of rents in 'Hengende Hocton', one with Thomas de Addingburne, (fn. 63) the other with the same Thomas and John de Freyne (Fraxineto) and Alice his wife; (fn. 64) and in 1284 Adam de Grendon was holding 14 virgates in Houghton of Hugh de Dunster, who held them of Stephen de Cheynduit. In 1302 (fn. 65) this property was held by Peter de Grendon, who owed 2 marks rent yearly for the tenements he held of Thomas de Addingburne, John de Freyne, and Alice his wife, under the fine of 1252, to Richard son and heir of Henry de Dunster. (fn. 66) Lettice, the wife of John son of Peter de Grendon, was with her husband John enfeoffed by Henry son of Peter of the manor of Hanging Houghton, and, as the widow of John, recovered seisin against Walter Paries in 1347–8. (fn. 67)
Humphrey Belcher, previously mentioned as sole surviving feoffee under the settlement made of Lamport by Sir William Trussell in 1475, was returned as holding, at his own death in 1501, 4 messuages 5 virgates of land and 6s. rent in Hanging Houghton held of the most excellent prince [Arthur, eldest son of King Henry VII]. (fn. 68) His son Roger succeeded to this estate, which appears, according to Bridges, quoting Montagu evidences, to have been bought by Sir Edward Montagu, (fn. 69) as were also certain lands and rents in Hanging Houghton, formerly held by Sir Thomas Tresham. They had been forfeited by him under the Act of Attainder of 1462, and granted to John Donne, (fn. 70) who in 1489 had the custody of the lord of Lamport Manor during his minority, (fn. 71) and who with his wife Elizabeth received a fresh grant of the Tresham lands on 11 March 1465. (fn. 72) Isabel the wife of Sir William Pecche was holding these lands in dower, as widow of Sir Thomas. (fn. 73)
The Countess Judith's hide and virgate in Houghton in Mawsley Hundred was held under her by Hugh. (fn. 74) In the Northamptonshire Survey it was entered, unchanged in extent, as held of the fee of King David, (fn. 75) and appeared in 1235 and 1242 as half a fee in Scaldwell, Houghton, and Upthorp held by the Hastings of the honor of Huntingdon. (fn. 76) It must ultimately have been merged in the other holdings.
The hide and half virgate which the abbey of St. Edmund's held in Houghton in 1086 (fn. 77) remained in the fee of St. Edmund at the date of the Northamptonshire Survey. (fn. 78) In 1284 Richard Trussell was holding 9 virgates in Houghton of the Abbot of St. Edmund's. (fn. 79) The abbot was at the same date holding 3 virgates in Lamport of William Trussell, under whom Richard Trussell was holding his fee in Lamport, and in 1316 William Trussell was returned as holding Houghton cum Lamport. (fn. 80)
Richard Mountygowe of Hanging Houghton, husbandman, alias Richard Ladde alias Richard Montagu, yeoman, who appeared in 1471 in a plea of debt, (fn. 81) may have been identical with Richard Montagu, the father of Thomas, and grandfather of Sir Edward Montagu, Lord Chief Justice, who is said to have bought Hemington, and lived there. (fn. 82) Probably he removed thence from Hanging Houghton, where, according to Bridges, (fn. 83) quoting Montagu evidences, he made a settlement of lands on Edward Montagu and his wife Cecily, daughter of William Lane of Orlingbury, in 1512–13. Bridges' further statement that both father and son were buying lands in Hanging Houghton in the reigns of Henry VII and Henry VIII is borne out by the extent of the lands there with which Sir Edward was dealing before the grant to him of the lands of St. Edmund's in 1541–2. (fn. 84) Although Sir Edward was dealing in October 1540 with 'manors' and lands in Lamport and Hanging Houghton, (fn. 85) in 1555 premises which Anthony Catesby had held in Hanging Houghton were returned as held of Sir Edward Montagu as of his manor of Warkton, without reference to any manor of Hanging Houghton; (fn. 86) and as late as 1648 lands in Houghton were still held of Warkton. (fn. 87) At his death in 1556–7 Sir Edward left his manors, tenements, &c., in Lamport, Hanging Houghton, &c., to his eldest son Edward, (fn. 88) who settled them in tail male on his second son Walter, with remainder to his eldest son Edward and other sons Henry, Charles, James, and Sidney. (fn. 89) In 1599 Sir Walter Montagu was dealing by recovery with the manor of Hanging Houghton, including a mill. (fn. 90) By his will dated 2 December 1614 he devised 160 acres in Mawsley and Hanging Houghton for the maintenance of a hospital for the poor founded by him at Chepstow in Monmouthshire. (fn. 91) Sir Henry Montagu, his brother, was in 1626 created Earl of Manchester, and was succeeded in the earldom in 1642 by his son Edward, whose son Robert, Viscount Mandevile, was dealing in 1655 with the manor of Hanging Houghton, with its windmill and other appurtenances. (fn. 92) In 1670 he and his father Edward, Earl of Manchester, conveyed the manor of Hanging Houghton to Sir Justinian Isham, bart., and from that time it has been held with Lamport. (fn. 93)
The 2 virgates 1 bovate of land in Houghton which Walter the Fleming held in 1086 (fn. 94) were not recorded again and were probably absorbed in his manor of Lamport.
The priory of Daventry, the recipient of benefactions from Ralph Cheynduit, was in 1276 returned as holding half a virgate of land worth half a mark in Hanging Houghton. (fn. 95)
In 1563–4 a hermitage, croft, dovecote, and orchard called the Chapel yard in the town of Northampton; and the chapel and all lands, meadows, pastures, &c., to the said chapel belonging in Hanging Houghton were granted to William Grice and Anthony Foster. (fn. 96) This probably came next into the hands of Sir Edward Montagu, to whom, according to Bridges, concealed lands belonging to the keepers of the chapel of Hanging Houghton were granted in 1566–7. (fn. 97)
Lands in Lamport were included in the possessions of the priory of Studley in the county of Oxford granted in February 1540 to John Cooke. (fn. 98)
Lands called Pennyfathers and Skeretts, and the moiety of 'a manor' in Lamport, were the subject of proceedings in the Court of Requests by the brothers Robert and John Ingoldsby or Yngolsby in regard to a settlement by their father Thomas on his wife Agnes. (fn. 99)
Church
The church of ALL SAINTS consists of chancel, 28 ft. 6 in. by 17 ft. 3 in., with north chapel and south vestry; nave of three bays, 32 ft. 9 in. by 17 ft. 6 in.; north and south aisles each 9 ft. 3 in. wide; and embattled west tower of three stages, 12 ft. 6 in. by 11 ft. 4 in.; all these measurements being internal. The width across nave and aisles is 41 ft. 3 in.
Two small round-headed windows in the tower, widely splayed inside, suggest that in its two lower stages this is of 12th-century date, but in the main the fabric belongs to the 13th century, the tower arch, nave arcades, and upper part of the tower being of that period, together probably with some portion of the walling in other parts. The chancel was built in 1652 by Sir Justinian Isham, the second baronet, who in 1672 added the chapel north of the chancel as a place of burial for the Isham family. Of his building Sir Justinian wrote to a friend: 'My building I intend to have substantial and grave without Pictures or guildings either in windows or walls'. (fn. 100) In the 18th century, however, the building was made to assume its present Italian appearance, following a legacy left by Sir Justinian Isham (5th baronet) in 1737, after his visit to Italy, for its 'rebuilding, beautifying and adorning'. His intentions were carried out by his wife (who died in 1744) and others, with the result that little of the medieval building is visible but the tower and the nave arcades. A shallow south porch was added about the same time, in the pseudo-Classic style of the day, with drafted quoins, and externally the whole of the building with the exception of the tower was reconstructed in the same style. The vestry was added in 1879 in the style of the 14th century, from the designs of Mr. G. F. Bodley.
The chancel has a three-light east window of 'Venetian' type, ornamental flat plaster ceiling, and lowpitched roof covered with copper. It is open on the north to the Isham chapel by three round arches, and on the south is a round-headed window. (fn. 101) The wide pointed chancel arch is of two chamfered orders.
The arches of the nave arcades are of two chamfered orders, on octagonal pillars with moulded capitals. At the east end the arches rest on keel-shaped responds and at the west on moulded corbels. The flat ornamental plaster ceiling of the nave and all the round-headed aisle windows are of the 18 th century. At the west end of the north aisle are the remains of an older window, now blocked. The roofs of the nave and aisle are leaded.
The tower has diagonal buttresses of later date than the walls (fn. 102) and a pyramidal leaded roof. One of the 12th-century windows is in the lower stage on the west and the other in the middle stage on the south side. An 18th-century west doorway is now blocked. The bellchamber windows are of two plain pointed lights under a single hood-mould. There is no vice. The tower arch is of three chamfered orders, the two inner resting on keel-shaped responds with moulded capitals and bases.
The font is modern and has a spire cover of oak designed by Mr. Bodley. There is an 18th-century pulpit, and an old oak chest with three locks.
In the chapel is an elaborate monument, (fn. 103) with bust, in memory of Sir Justinian Isham (d. 1736) and Elizabeth Turner his first wife (d. 1713). There are also tablets to John Isham (d. 1746) and to the Rev. Euseby Isham, rector (d. 1824). In the chancel floor are two brass plates, one in memory of John Isham (d. 1595) and Elizabeth his wife (d. 1594) with three shields of arms, and the other commemorating Thomas Isham (d. 1605) and other members of the family. (fn. 104) There is also a blue stone slab, now against the north wall, to Jane Garrard, wife of Justinian Isham, esquire (d. 1638).
There are four bells, the first a recasting by Taylor in 1872 of a bell by Christopher Graye 1663, the second and third by Hugh Watts of Leicester 1641, and the tenor by Toby Norris of Stamford 1616. There is also a priest's bell. (fn. 105)
The plate consists of a silver cup and cover paten of 1653 given by Sir Justinian Isham, 2nd baronet; a paten of 1720 with the Isham arms; and a flagon made by William Fawdery in 1717, but inscribed '1718'. (fn. 106)
In 1907 Sir Vere Isham presented to the church a gilt latten processional cross, c. 1470–80, which had been in his family from at least the time of the first baronet. It is an unusually good example of a type which can be used either as a processional or an altar cross. The base only is wanting. (fn. 107) It was discovered during some building operations in the time of Charles II. (fn. 108)
The earlier registers are as follows: (i) baptisms and burials 1587–1688, marriages 1587–1687, but with no entries 1644–8; (ii) baptisms and burials 1653–62, marriages 1655–61, being a duplicate in parchment of part of the first volume; (iii) baptisms and burials 1688–1806, marriages 1692–1753; (iv) marriages 1754–1806. There are churchwardens' accounts beginning in 1699.
Advowson
The church of Lamport, a rectory to which the chapelry of Faxton is annexed, and in former times the chapelry of Hanging Houghton, (fn. 109) was valued in 1291 at £23 6s. 8d. with pensions deducted. (fn. 110) In 1535 the profits of the rectory in tithes great and small, with issues from the mansion and glebe land, were £48 13s. annually. (fn. 111)
The advowson has always been held with the manor (q.v.).
Bridges wrote that there had been formerly a chapel in the hamlet of Hanging Houghton of which no trace then remained. As early as 1228 two-thirds of the tithes from the demesne of Philip Bosce in Houghton had been granted to Stephen de Axebridge, clerk, with leave for the rector of Lamport to hold the same on lease from him at a rent of one mark. (fn. 112) This may possibly indicate the foundation of this chapel. In 1269 Richard de Lamport, chaplain, was presented by Dom. Richard Trussell, rector and patron of Lamport church, to the chantry of the chapel of Hanging Houghton in the parish of Lamport, and to all the altarage of the chapel, with 20s. annual rent from the parishioners of the said chapel. (fn. 113)
By the Inclosure Act of 1794 an allotment was made instead of the glebe lands and right of common belonging to them, and instead of the Church Hadley (about half an acre of land vested in the rector and churchwardens for the repair of the church, under the will of Sir Edward Montagu), while a rent-charge was placed on Sir Justinian Isham's lands in lieu of tithes. (fn. 114)
Charities
The Isham Charity regulated by a scheme of the Charity Commissioners dated 11 February 1910 comprises the Charity of Sir Justinian Isham, bart., will 30 December 1670, and the Charity of Sir Edmund Isham, bart., codicil to will dated 16 November 1762.
The endowment consists of a farm of 46 a. 3 r. 6 p. at Brixworth let for £70 yearly and stock producing about £44 yearly. The scheme directs that a yearly sum of £5 shall be applied for the benefit of poor members of the Church of England who have been for not less than two years resident in one of the ancient townships of Lamport and Hanging Houghton. The residue of the income is applicable in apprenticing to some useful trade or occupation poor children resident in one of the aforementioned townships. There are six trustees, one being Sir Vere Isham.
The United Charities are regulated by a scheme of 2 May 1913. They comprise the building known as the Almshouses at Faxton, founded in 1736, and the Charity of Dame Susannah Danvers, will of about 1730, consisting of a rent-charge out of a field at Pitsford.