Pages 200-204
A History of the County of Northampton: Volume 4. Originally published by Victoria County History, London, 1937.
This free content was digitised by double rekeying. All rights reserved.
OLD alias WOLD
Walda, Walde (xi cent.); Waud, Waude, Wauld (xiii cent.); Wolde, Welde (xiv cent.); Olde, Woold, Owlde, Wold or Old (xvi cent.).
The parish of Wold (fn. 1) contains 2,076 acres and is situated between 300 and 400 ft. above the ordnance datum. The subsoil is stone, and the soil on the north side is a cold black clay, on the south, red clay and gravel. The chief crops are wheat and barley, and some of the land is devoted to pasture. There are several natural springs in the parish. The population in 1931 was 291.
Manors
At the time of the Domesday Survey 2 hides and 3½ virgates of land in Wold and Walgrave belonged to Faxton manor. It seems probable that the 25/8 hides held by Aubrey de Vere of the Bishop of Coutances, given in Domesday Book under Wadenhoe, were actually in Wold, for at the time of the Northamptonshire Survey (12th cent.) Aubrey de Vere held there 4 hides and 4 virgates of the fee of Oxford. (fn. 2) The next mention of WOLD occurs on the Pipe Roll of 1191, when Osbert de Glanvill owed to Aaron the Jew of Lincoln £40 for his land there. (fn. 3)
Osbert's son Ranulf, who was a minor in 1199 (fn. 4) but apparently came of age before 1201 (fn. 5) and died shortly afterwards, seems to have left three daughters: Isabel, mother of William St. Leger (fn. 6) and (? subsequently) wife of William Mauduit; (fn. 7) Christiane (fn. 8) wife of William of All Saints; and Margery, who died without issue. (fn. 9) In 1235 two fees in Wold were held of the Earl of Oxford by Walter St. Leger, William of All Saints, Robert de Hastings, and Jordan le Breton; (fn. 10) and seven years later each of these held half a fee, except that William of All Saints was replaced by Robert Rote and Christiane his wife, (fn. 11) obviously the widow of William. Walter's lands were seized by the Crown in 1244 among other 'lands of Normans' and he himself died about the same time. Before this he had leased his land in Wold to William Gaugy of Northampton, who then obtained a confirmation of his lease from the king (fn. 12) but in 1245 was induced to surrender his lease to William St. Leger for 27 marks, to be paid in yearly instalments. (fn. 13) In 1247 William held 12 virgates, formerly Walter's, worth £7, (fn. 14) and at some date before May 1251 he transferred his estate in Wold to William son of Geoffrey St. Leger, lord of Fairlight in Sussex, (fn. 15) to whom the king granted right of free warren here in 1254. (fn. 16) Two years later the king states that he had promised that if he could recover the land of William (fn. 17) St. Leger, a Norman, in Wold, he would give it to (this) William, and that he has recovered in his court against Philip son of Robert one rood of land, which he orders shall be handed over to William St. Leger. (fn. 18) Alice, widow of Robert de Beauchamp, and probably daughter of William, succeeded to the St. Leger fee of Fairlight, (fn. 19) and the heirs of Alice de Beauchamp are similarly found holding in Wold in 1284; (fn. 20) and in both counties the next tenant is James de Audely, who held at Fairlight in 1300 (fn. 21) and at Wold in 1316. (fn. 22) William 'Daudele', who held the half fee in 1360, (fn. 23) died in November 1365, leaving the manor to his wife Joan for life with remainder to his brother Thomas. (fn. 24) Joan died in 1383 and, Thomas having predeceased her, the lands were inherited by his daughter Elizabeth, then aged 14. (fn. 25) The manor seems to have passed by marriage into the family of St. Clere of Little Preston, (fn. 26) and was held by Thomas St. Clere at the time of his death in October 1416. (fn. 27) His heir Philip died without issue and was succeeded by his cousin Thomas, who levied a fine of the reversion of the manor, then held for life by John Nelond and Margaret his wife, in 1429. (fn. 28) As one of the daughters and co-heirs of Thomas married Sir John Gage (fn. 29) it seems possible that this was the 'Gawgis manor' (fn. 30) in Wold which was in the hands of William Catesby when he was attainted in 1485 and was granted four years later to Sir David Owen. (fn. 31) John Owen, his second son, who had married a daughter of Sir Richard Catesby, (fn. 32) had the manor by 1558, when he sold it to Gregory Isham of Braunston. (fn. 33) Gregory died in September of that year, leaving a son Euseby, and this manor has remained in the Isham family, Sir Vere Isham, bart., being the present owner.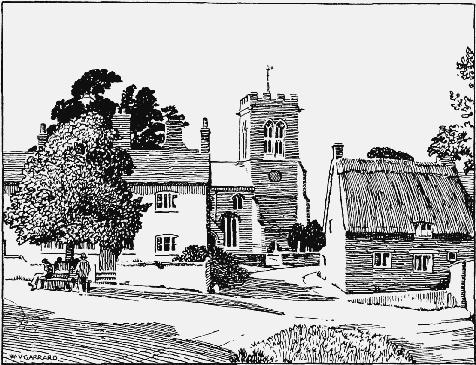 The half fee held by William of All Saints in 1235 had passed by 1245 into the hands of William Gaugy, who in that year granted it to his son John, retaining a life interest in it. (fn. 34) Possibly Walter St. Leger had acquired this fee and it was this, and not the St. Leger half fee, which he leased to William Gaugy, as already mentioned. Roger of All Saints, son of William and Christiane, was claiming a half fee here in 1260 against William St. Leger, (fn. 35) and his grandson (fn. 36) Ralph still held land in the parish in 1330. (fn. 37) From John Gaugy, who was holding in 1284, (fn. 38) the half fee apparently descended to Philip Gaugy, in 1332. (fn. 39) This may be the half fee held of the Earl of Oxford by the heirs of Thomas Carnell in 1360, (fn. 40) and by the heirs of William Carnels in 1371 (fn. 41) and of William de la Kervell (sic) in 1428. (fn. 42)
William de la Carnail, died in 1349 seised of 40s. worth of land and rent in Wold held of the Earl of Oxford. (fn. 43) His daughter and heir Maud was then aged 1 year. Eventually she married Robert Holdenby of Holdenby, who held the 'manor' in 1375. (fn. 44) On his death in June 1411 he was succeeded by his son John, from whom the manor passed to his second son John. He was succeeded by his son William, (fn. 45) whose son William died seised of a sixth of a knight's fee in Wold held of the Earl of Oxford in July 1498. His son and heir John was then about 10 years old. (fn. 46) He died without surviving male issue, and on the death of his wife Joyce in 1511 the manor passed to Elizabeth Giles, the sister of William Holdenby. (fn. 47) Elizabeth married as her first husband Henry Hatton, and was succeeded by her son George Hatton. By 1532 he had been succeeded by his son William, (fn. 48) who died in 1546 when the manor passed to his sons Francis, who died without male issue, and Sir Christopher Hatton successively. On the death of Sir Christopher in 1591 his property was left to Sir William Newport alias Hatton, the son of his sister Dorothy by John Newport, with remainder to John Hatton, his cousin-german. Sir William died without male issue in March 1597 and was succeeded by Sir Christopher, son of John Hatton, (fn. 49) but the manor is not mentioned among his lands at his death in 1619. (fn. 50)
John Malory of Welton held a manor of Wold in 1427, (fn. 51) to which his daughter Eleanor, wife of Sir John Bernard of Isleham (co. Cambs.), had succeeded by 1437. (fn. 52) Her daughter Margaret married Thomas Peyton and their son Thomas about 1484 sold the manor of Welton, and probably that of Wold, to William Catesby. (fn. 53) After his attainder 'Peyton's manor' in Welton and 'Gawgis manor' in Wold, as already mentioned, were given to Sir David Owen.
The half fee of Jordan le Breton was held in 1284 by Hugh le Breton (fn. 54) and in 1332 by John. (fn. 55) It had passed by 1371 to the heirs of Robert 'Bret', (fn. 56) and by 1428 the estate had become split up into a number of small tenancies. (fn. 57)
Henry son of Robert de Hastings in 1285 gave the advowson of the church of Wold to Theobald son of Sir Philip son of Sir Robert de Pitsford, (fn. 58) and he at once transferred it with 100s. of rent in Wold to his brother William de Landwathe. (fn. 59) Bridges, (fn. 60) quoting Knightley deeds, says that Aubrey de Vere, Earl of Oxford, had given Langwath in Wold to Sir Robert de Pitsford as one knight's fee and that his son Philip was father of William de Landwathe, who married Isabel daughter of Sir Nicholas de Withmale. There is no further trace of this knight's fee, but in 1284 William de Landwathe replaces Robert de Hastings as the fourth tenant of the two fees. (fn. 61) His son John (fn. 62) held in 1316 (fn. 63) and 1332 (fn. 64) and Andrew Landwath held half a fee there in 1360, (fn. 65) but at his death, lacking male issue, it descended to his daughter Isabel, the wife of William Harrowden of Harrowden. (fn. 66) She was succeeded by her son William who was holding part of the half fee in 1428 (fn. 67) and died in 1423, (fn. 68) his heir being his son William by his wife Margaret daughter and heir of Sir Giles de St. John of Plumpton. (fn. 69) William Harrowden died in 1447, (fn. 70) and the manor remained in the possession of his wife Margaret during her lifetime, but on her death in 1486 passed to her daughter Margery, (fn. 71) who was twice married, first to Henry Skennard and secondly to William Garnon. Her successor was Joan, the child of her first marriage and wife of Sir Richard Knightley of Fawsley. (fn. 72) On her death in 1539 her third and eldest surviving son, Sir Edmund Knightley, inherited KNIGHTLET'S MANOR in Wold. In April 1542 he gave all his land in Wold to the king in exchange for other property. (fn. 73) From the king Knightley's Manor passed to Thomas Reeve of London and Giles Isham, who sold it to Thomas Dallison. (fn. 74) He died in April 1562 and was succeeded by his son Edward. (fn. 75) In 1608 Thomas Dexter died seised of the manor, leaving it to his wife Elizabeth during her lifetime, with remainder to their son Stephen and his son Gregory. Stephen was at that time 50 years old. (fn. 76)
In March 1497 John Smith died seised of a manor in Wold, which he held of the Earl of Oxford in socage. From the descent of the advowson it appears probable that he had acquired this manor by marriage with a Harrowden. He was succeeded by his cousin Margaret, the wife of Thomas Spencer, (fn. 77) who at her husband's death married Edmund Belcher. On her death in March 1501 (fn. 78) the manor passed to her son William Spencer. He married Agnes, daughter and heir of Thomas Heritage, and their son Thomas succeeded to the manor in 1531. (fn. 79) Thomas Spencer married Dorothy, daughter of Sir William Spencer of Althorp, and on his death in 1576 the manor passed to his third and eldest surviving son William, who conveyed it to John Cotton, Anthony Roper, and three others early in 1577. (fn. 80)
Land in Wold was also held of the honor of Huntingdon as part of a quarter fee in Wold and Holcot (q.v.).
Church
The church of ST. ANDREW stands on the south side of the village, and consists of chancel 28 ft. 4 in. by 17 ft. 9 in., clerestoried nave of four bays 52 ft. 6 in. by 24 ft. 3 in., south aisle 13 ft. 6 in. wide, north porch, and west tower 13 ft. by 12 ft. 2 in., all these measurements being internal.
The building was extensively restored in 1874–5, when the chancel was almost entirely modernized and a vestry and organ-chamber added, one on either side. The restoration also included the removal of a west gallery and the stripping of the plaster from the walls inside, new roofs to chancel and aisle, and the renovation of the fine 15th-century roof of the nave.
No part of the existing building is older than the latter part of the 13th century, to which period the south doorway and a piscina and aumbry at the east end of the aisle belong: three windows with forked mullions in the aisle are little if any later in date, but whether any of these features is in its original position is uncertain. If the 13th-century church had an aisle it would be narrower than at present, but the east end may represent a chantry chapel, to the depth of which the aisle was afterwards widened. The tower is of the latter part of the 14th century and the chancel may have been rebuilt in its present form at the same time, but no ancient features remain. The chancel arch, however, is of 15th-century date, and in that period, perhaps about 1480, the nave assumed its present aspect, the arcade being rebuilt, the clerestory and porch added, and the aisle probably widened. The tower is embattled but the parapets elsewhere are plain; the roofs of the nave and chancel are covered with modern slates.
The church is built throughout of rubble and the chancel has an east window of four lights with modern Decorated tracery and a modern window of two lights on the south side. The piscina and double sedilia are also modern. In the north wall is a flat four-centred arched recess containing a tablet to Alexander lbs, rector (d. 1606). The chancel arch is of two moulded orders, on responds with capitals and bases similar to those of the nave arcades, which have chamfered arches of two orders. The piers are composed of four rounded shafts with hollows between and the responds are half-octagonal. On the north wall of the nave are two 15th-century four-centred windows each of three cinquefoiled lights, and a four-centred doorway to the porch with carved spandrels: the original oak nailstudded door remains. The roof is of five bays, of flat pitch, with wall-pieces below the principals resting on stone corbels carved with angels bearing shields with emblems of the Passion. There are five two-light clerestory windows on the south side, but only four on the north, the easternmost bay being blank.
The aisle is now open at its east end to the organchamber by a modern arch, but the piscina and aumbry remain in the south wall, the former with a trefoliated arch ornamented with dog tooth, and jamb-shafts with moulded capitals and bases; the aumbry trefoil-headed and rebated all round. The easternmost window has been restored and has early tracery in the head, but the others are of two lights, c. 1280–90. The doorway is of two orders, the inner square and the outer hollowchamfered on angle shafts with moulded capitals and bases. It is no longer used, but the door remains. Near to the doorway is a square-headed window of two lights and segmental rear arch, the sill of which is only about 2 ft. 10 in. above the floor. It appears to be of 14th-century date, and its west light seems to have been used as a low-side window. (fn. 81)
The tower is of four stages, with diagonal buttresses and a vice in the south-west angle. The west doorway has continuous moulded head and jambs and above is a four-centred window of three cinquefoiled lights. The bell-chamber windows are of three trefoiled lights with quatrefoil in the head and transom at half height, the lower lights being cusped. Below the parapet is a band of quatrefoils. The tower arch is of three chamfered orders.
The font is ancient, and has an octagonal panelled bowl with quatrefoils in circles and shields in the hollow member beneath, four blank and four with a fret, possibly for Audley.
The oak pulpit dates from the time of the restoration of the church, but the lower panels are made up from old bench-ends formerly in the gallery.
The old glass described by Bridges as in the east window is now in the square-headed window of the aisle: it has the figure of a man in a blue gown carrying the devil on his back and over his head a label inscribed in black-letter characters 'All claterers I the kyrght . . . schall hae yow for yowr waight'. (fn. 82) It is probably of early-16th-century date.
Below the tower are mural tablets to Tresham Chapman (d. 1794), John Chapman (d. 1795), and others of later date.
There are five bells in the tower, the treble by T. Mears of London, 1825, the second dated 1723, the third 1631, the fourth a medieval bell inscribed 'Missi de Celis habeo nomen Gabrielis', from the Leicester foundry, and the tenor by Hugh Watts of Leicester, 1639. (fn. 83)
The plate consists of a silver paten without marks inscribed 'Old, 1683', and a cup and cover paten of 1758 by John Payn, of Cheapside. (fn. 84)
The registers before 1812 are as follows: (i) baptisms and marriages 1560–1653, burials 1559–1653; (ii) baptisms 1653 (fn. 85) –4, 1662–92, marriages 1664–94, burials 1663–78; (iii) burials 1678–1790; (iv) baptisms 1692–1790, marriages 1695–1754; (v) marriages 1754–1812; (vi) baptisms and burials 1790–1812.
The churchwardens' accounts begin in 1686. There are copies of the Book of Homilies 1676, Jewel's Apology 1611, and a Paraphrase of Erasmus containing Romans to Revelation.
Advowson
About 1235 Robert de Hastings successfully brought an action against Jordan le Breton, William of All Saints and Christiane his wife, Walter St. Leger, William Maudit, and Walter de Eringwurth, who claimed the patronage of the church. (fn. 86) By 1275 the advowson was in the hands of Thomas de Slypston and Letya his wife who had recovered it against Alice de Beauchamp, John de Gaugy, and Hugh le Breton. (fn. 87) Henry de Hastings granted the advowson in 1285 to Theobald brother of William de Landwathe, (fn. 88) and it descended with the Landwathe manor until 1466, when Margery Harrowden presented. (fn. 89) It seems then to have become divided into moieties, as John Smith presented in 1489 and William Lane, by grant of Smith's representative William Spencer, in 1511, while James Charell in right of his wife Helen, widow of Thomas Harrowden, presented in 1510 and 1529. (fn. 90) Sir Edmund Knightley surrendered his patronage with the manor to Henry VIII, and in 1557 or 1558 it was granted to Gregory and John Isham. (fn. 91) John Smith's moiety passed from his heirs Margaret Belcher and William Spencer to William Lane who held it in 1516. (fn. 92) His son Ralph who died in 1540 held half the advowson, which was sold with the land for £40 by his son Robert Lane to John Isham in 1569. (fn. 93) Euseby Isham, the son of Gregory, granted his moiety to John Isham, who sold both shares to Giles Barnwell in 1575, from whom it was purchased for £240 by Sir Christopher Hatton the next year. (fn. 94) Remaining in the possession of his family until 1676, the advowson was then sold by Christopher, Lord Hatton, to Brasenose College, Oxford, (fn. 95) the present patrons.
Charities
The Rev. John Townson, D.D., (fn. 96) by deed dated 12 May 1668 conveyed a messuage and land in the parish of Duston to trustees for the benefit of the poor of Wold. On an inclosure of the parish of Duston an allotment of 33 acres was set out in lieu of the lands devised. The land is let for about £107 yearly.
John Ward by deed dated 25 August 1707 conveyed to trustees a cottage in Wold for the poor. The premises were sold at the time of the inclosure for £20, which sum was applied towards the inclosure expenses of Townson's land.
On an inclosure of the parish 1768 an allotment of 24 acres was awarded to the rector, churchwardens, and overseers. The charity is regulated by a scheme of the Charity Commissioners dated 3 January 1908 under which one-third of the net income forms the Poor's Allotment educational foundation and the residue is applicable for the general benefit of the poor and is distributed in bread. The land is let for £15 yearly.
Avice Lucas gave £40 for industrious poor widows or fatherless children. This sum together with £28 arising from the rents of Townson's Charity was laid out in the purchase of 1 a. 1 r. of land which was conveyed to trustees by indenture dated 13 April 1752. The land, which is usually called The Smaller Poor's Close, is let for £9 10s. yearly which is distributed by the trustees of Townson's Charity to poor widows.
The Church Cottages and Church or Town Land, as to which no deeds or writings are to be found, consist of several small properties, producing about £45. There is a charge of £5 a year on the Church Allotments in respect of Parr's Benefaction. The Cottages and School Garden were determined in 1906 as being applicable to educational purposes together with £3, part of the interest of James Parr's Benefaction. The remainder of the rents is applied by the rector and churchwardens to church expenses.
James Parr in 1774 gave £100 upon trust that £2 a year be distributed among the poor at the discretion of the minister, churchwardens, and overseers and the residue of the interest, about £3, paid to the schoolmaster for the instruction of six children.
A rent-charge of 15s. originating under the will of Francis Baxter is paid by Mr. H. E. Beers out of an orchard in Wold. The money is distributed in bread by the trustees of Parr's Charity.