Pages 204-207
A History of the County of Northampton: Volume 4. Originally published by Victoria County History, London, 1937.
This free content was digitised by double rekeying. All rights reserved.
ORLINGBURY
Ordinbaro (xi cent.); Orlingberge (xii cent.); Ordingber, Orlingeber (xiii cent.); Orlebere (xvi cent.); Orlebear (xvii cent.).
Orlingbury is a compact parish about twice as long as it is broad, with an area of 1,939 acres. The soil is of good fertile mixed character, the substratum being Great Oolite limestone, white sand, ironstone, and Upper Lias clay. The principal crops are cereals.
The western edge of the parish, bounded by Walgrave and Hannington, is about 450 ft. above the ordnance datum. From this the ground slopes slowly to the east, and in the north-east corner of the parish, around the village of Orlingbury itself, the level falls to 330 ft. In the south-east the ground falls rapidly, and is only 220 ft. at the parish boundary on the Orlingbury-Little Harrowden road.
The village green, around which the village is built, is at the crossing of two by-roads, which connect it with the Harrowdens, Pytchley, Broughton, Hannington, and Isham. South-east of the village green, on the crest of the hill facing Little Harrowden, is Orlingbury Hall, built by Richard Young soon after 1700, and now the residence of Mrs. Jacques. It is a well-designed building of two stories, with barred sash windows, pedimented doorway, and grey-slated eaved roofs. It is faced with local ironstone and the long front elevation is divided into three bays by wide pilasters. It stands on the site of the old manor-house inhabited successively by the Lanes, Toftes, and Chibnalls; which, in 1678, contained about 20 rooms and paid tax on 13 hearths. (fn. 1) On the right of the hall is the rectory, built in 1703, (fn. 2) and on the opposite side of the green stands the church of St. Mary. South-east of the church is a gabled rectangular dovecote, probably of the 17th century but without architectural features. (fn. 3) A small chapel for dissenters was built in 1830, and there is a public elementary school, erected in 1845.
The village itself is very compact, but scattered in the fields to the west are several farms. In the far north-east corner of the parish stands Badsaddle Lodge, a house which, in Bridges' time (c. 1700) was moated. (fn. 4) Southeast of this on the Orlingbury-Hannington road stands Wythmail Park Farm, a moated house which marks the site of an ancient hamlet and manor of that name.
A terrier of Beaver's Manor made in 1673 mentions a windmill. (fn. 5)
Owen Manning (1721–1801), the historian of Surrey, was born in the village; his father or grandfather Owen Manning is recorded as a tenant of the 'townehouse' in 1673. (fn. 6)
Manors
In Domesday Survey Fulcher (Malesoures) held of Walter the Fleming 2½ hides in 'Widmale'. (fn. 7) Walter the Fleming's lands formed the barony of Odell (Wahull), and in the Survey, temp. Henry I, Fulcher Malesoures held of the fee of Wahull 1 hide in Orlingbury and 1½ hides and 1 virgate in Withmale; (fn. 8) from which it would appear that of the 2½ hides which Domesday allocates to Withmale one hide was really in Orlingbury. This hide was the land which in later times was known as BEAVER'S MANOR. The Malesoures, and later their successors the Trussells, held it of the barony of Odell as part of their manor of Lamport (q.v.), the local tenants in early days being the family of de Orlingbury.
In 1130 Simon Malesoures, Gerald de Wismalua, and Alvred de Orlinberga were concerned in deerstealing. (fn. 9) A Simon de Orlingbury was a surveyor of repairs to certain royal houses in 1174, (fn. 10) and Ralph father of Robert de Orlingbury was named in the Hundred Rolls for 1276. (fn. 11) Robert de Orlingbury held one third of a fee of Richard Trussell and he of William Trussell, who held it of John de Wahull in 1284, (fn. 12) and was succeeded before 1316 by Hugh de Orlingbury. (fn. 13) Another Robert de Orlingbury held a quarter fee in 1347, (fn. 14) and an Adam de Orlingbury is recorded in 1351; (fn. 15) no later references to this family have been found in connexion with Orlingbury. It was apparently this manor which John Piel of Irthlingborough and others purchased in 1377 from Henry Piel, Archdeacon of Northants., and William Braybrooke, parson of the church of Cransley. (fn. 16) John Piel died in 1386, when the manor, with that of Irthlingborough and several others, descended to his son Nicholas Piel, an annuity of 50 marks being granted to his widow Joan. (fn. 17) Nicholas died in 1406 leaving a son and heir John, then under age and in the custody of William, Abbot of Bury. (fn. 18) In 1412 a John Beamer (probably a scribe's error for Beaver) and others purchased from Andrew Newbottill and Joan his wife a third part of the manor of Orlingbury, (fn. 19) and in 1428 Robert le Bever was holding a quarter fee late of Robert de Orlingbury. (fn. 20) In 1469 Thomas Beavyr and Isabel his wife sold the manor, called for the first time 'Beavyr's manor', to William Tanfield of Gayton. (fn. 21) Before 1502 it had passed to William Lane of Orlingbury, who died seised of it in that year, together with certain lands in Orlingbury called 'Blakys' and 'Monkeys'. (fn. 22) His son and heir Ralph, then aged 36, died without issue and the manor devolved on his nephew Sir Ralph Lane of Horton. Sir Ralph died in 1540 leaving a son Robert, then under age, and a widow Maud, who was granted an annuity of £50 from the estate during Robert's minority. (fn. 23) In 1572 Sir Robert Lane sold the manor to William Tofte of the Middle Temple, (fn. 24) who died in 1575. (fn. 25) His son William died without issue in 1599, (fn. 26) when the manor passed to his sister Elizabeth, the wife of Godfrey Chibnall of Orlingbury, and of Astwood, Bucks. In the following year the manor was claimed by Roger Dale for his infant daughter Elizabeth, as heir of his wife Elizabeth, the daughter of William Tofte senior by his first wife. (fn. 27) An agreement (fn. 28) was reached shortly afterwards whereby Godfrey and Elizabeth Chibnall remained in undisturbed possession, to the complete exclusion of the infant Elizabeth, who was, according to the considered opinion of Serjeant Pemberton given in 1680, unjustly disinherited. A settlement of the manor took place in 1618 (fn. 29) on the marriage of Thomas Chibnall, the son of Godfrey and Elizabeth, who inherited on the death of his mother in 1631. (fn. 30) At the death of Thomas in 1673 (fn. 31) the manor passed to his only son Godfrey, who died without issue in 1678, having willed the manor to his widow Anne for life, with remainder to his sisters Frances and Elizabeth. (fn. 32) They sold the manor in 1682 to John and Nathaniel Bridges, (fn. 33) a claim to it by another Godfrey Chibnall, nephew of Thomas, being unsuccessful. (fn. 34)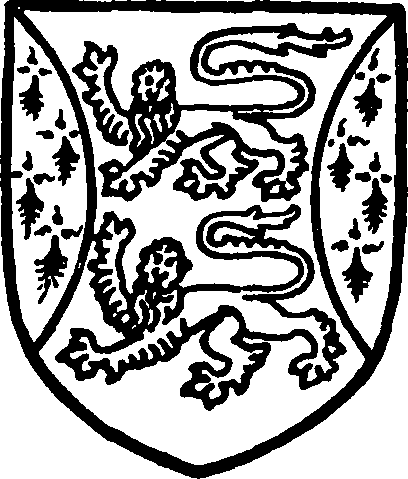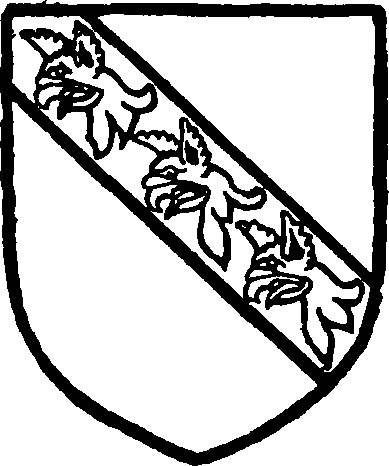 Brook Bridges inherited half the manor from Nathaniel, and purchased the other half from John in 1685, the whole manor being conveyed to Richard Young in 1705. (fn. 35) At his death in 1751 he was succeeded by his son Allen Young, who died in 1796. (fn. 36) The estate then passed to his surviving son Allen Edward Young, who was succeeded at his death in 1835 by his eldest son Allen Allicocke Young. He entailed the estate so that at his death in 1895 it passed to his grandson Arthur St. Leger Newton Young, the eldest son of his son Richard Newton Young. Col. Arthur St. Leger Newton Young was killed during the Great War, when the estate devolved on his only son, Richard Arthur Allicocke Young, a minor. The trustees of the estate sold it in 1920 to Mrs. Jacques of Orlingbury Hall, who is the present possessor.
In 1086 Fulcher Malesoures held of the Count of Mortain 3 virgates in Ordinbaro. (fn. 37) At the later survey, temp. Henry I, he held 1½ hides of the honor of de Courcy. (fn. 38) The overlordship of the fee remained with this honor during the next three centuries, but some time before 1506 (fn. 39) appears to have come into the hands of the Trussells of Lamport, intermediary lords of Beaver's Manor mentioned above.
The local tenants were the Loges family, from whom the holding derived its name of LOGES MANOR. The first recorded member is a Simon de Loges in 1242. (fn. 40) Richard de Loges, the successor of Simon, paid scutage for half a knight's fee in Orlingbury, Harrowden, and Isham in 1284 and 1296. (fn. 41) A William de Loges is recorded in 1347 and 1351. (fn. 42) Either he or a successor of the same name sold the manor in 1374 to William Thurling. (fn. 43) Alice Thurling is recorded as owner of half a fee, late William Loges, in 1428. (fn. 44) Within the next few years, possibly by marriage, the manor passed to the Withmales (see that manor), for in 1506 Sir Thomas Pulteney died seised of it in right of his wife Rose, the heiress of the Withmales. (fn. 45) It then passed to their grandson, another Sir Thomas Pulteney, whose son, Michael sold it in 1565 to William, 2nd Lord Vau x of Harrowden. (fn. 46) Edward, 4th Lord Vaux, died without male issue in 1661, when the manor passed to his wife's son Nicholas, titular 3rd Earl of Banbury. (fn. 47) At his death it passed to Charles, titular 4th earl, who, with Sir John Briscoe, mortgaged the manor in 1688 to Lord Ashburnham. Lord Ashburnham's executors seem to have foreclosed on the property a few years later and sold it to Richard Young of Orlingbury, who was in possession some time before 1717. (fn. 48) The history of the manor then follows that of Beavers mentioned above.
BADSADDLE (fn. 49) is not mentioned in Domesday, but at the survey temp. Henry I Fulcher Malesoures held ½ hide in 'Bateshasel' of the fee of Wahull (Odell). (fn. 50) It descended, with the other Malesoures property, to the Trussells. John Trussell was holding the manor in 1285, when it was stated that Badsaddle, Withmale, and Orlingbury ought to be represented together as one vill at the sheriff's tourn. (fn. 51) William Trussell of Lamport was the tenant at the death of Thomas de Wahull in 1303. (fn. 52) The extent of the manor was then given as one capital messuage, one water-mill, and certain customary work.
In the early part of the 14th century Sir John Trussell sold it to Henry Green the younger and Isabel his wife, the sale being confirmed by his son William Trussell in 1349. (fn. 53) Sir Thomas Green died in 1392 seised of the manor, which was then held of Richard Chamberleyn. (fn. 54) His son and heir Sir Thomas Green was recorded as owner in 1395. (fn. 55) The manor passed, like Great Harrowden (q.v.), to Nicholas, 1st Lord Vaux of Harrowden, and Thomas, 2nd Lord Vaux, sold it to Richard Humphrey of Barton Seagrave, who was the owner at his death in 1558. (fn. 56) The manorial rights seem then to have lapsed, and a lawsuit of 1571 stated that certain lands called Battsadell in Orlingbury, which had long been common of pasture, had recently been hedged and converted into a park by William Humphrey of Barton Seagrave. (fn. 57) Bridges stated that the land at his time was owned by Osborne Fisher and Lord Arran. (fn. 58) Badsaddle Lodge was owned in 1846 by Lewis Loyd, at whose death in 1858 it passed to his son Samuel Jones Loyd, created Lord Overstone. The trustees of Lord Overstone's estate sold it in 1920 to Mr. C. H. Tomkins, the present possessor.
WYTHMAIL (fn. 59) can be traced as a hamlet from the 11th to the 15th centuries. Although a priest is mentioned in Withmale in 1086, this must refer to Orlingbury, as the hamlet was always a parcel of Orlingbury parish. It is true that in 1357 John de Wythmale granted land to the parson of Orlingbury to provide for services in Withmale chapel, but this was probably a private chapel attached to his own manor-house.
On the marriage of Rose, the heiress of the Wythmales, with Sir William Pulteney at the end of the 15th century, the hamlet was allowed to decay, and the land seems to have merged into the common fields of Orlingbury—for Bridges states that when Wythmail Park was made in 1614 the 300 acres inclosed were taken out of the common fields. He adds that the land was disparked in 1657; but the name has survived. Wythmail alias Wilmer Park is mentioned frequently in the 19th century and at the present time there is a moated house called Wythmail Park Farm.
WYTHMAIL MANOR. Widmale was rated at 2½ hides in 1086 and was held by Fulcher (Malesoures) of Walter the Fleming. (fn. 60) A later survey, temp. Henry I, assigns only 1½ hides and 1 virgate to Withmale, (fn. 61) the other hide being in Orlingbury (see Beaver's Manor above). The manor, like that of Beaver's, formed part of the honor of Wahull (Odell), and was held by the Malesoures, and later their successors the Trussells, as part of the manor of Lamport. The Withmale family were the local tenants. Nicholas de Withmale held 2/3 of a fee here in 1284, (fn. 62) and in 1305 he and his wife Alice settled the manor on their son Nicholas. (fn. 63) Another John de Withmale was owner in 1346, (fn. 64) and a survey of the manor taken four years later showed that it was worth £4 8s. 4d. per annum. (fn. 65) It was apparently this John who in 1357 settled a messuage and 1½ virgates of land on Adam Trussell, parson of Orlingbury, to find a priest to perform services three times a week in Withmale chapel. (fn. 66) Another John was returned as owner in 1428, (fn. 67) and at his death, or perhaps that of his son, the manor descended to Rose Withmale, wife of Sir William Pulteney. Sir William died seised of the manor, together with that of Loges in Orlingbury, in 1507, (fn. 68) and for the next 150 years the descent of the manor follows that of Loges (q.v.).
In 1654 (fn. 69) Edward, 4th Lord Vaux of Harrowden, settled a yearly rent of £50 issuing out of Withmale Park on Frances Harvey. At Lord Vaux's death in 1661 it passed by previous settlement to Nicholas, titular 3rd Earl of Banbury. (fn. 70) Charles, titular 4th earl, sold it in 1694 to Thomas Wentworth, (fn. 71) with Great Harrowden (q.v.), with which manor it passed to the Earls Fitzwilliam, who continued to own it until recent times, when it was sold to Mrs. Jacques, the present owner of Orlingbury Hall.
Church
The church of ST. MARY was entirely rebuilt in 1843 on a new plan, and consists of chancel with north vestry, lofty central tower, north and south transepts, aisleless nave, and south porch. It is in the style of the 14th century, faced with local ironstone, with embattled parapets and low-pitched roof. The east window is circular, but the others are pointed, those of the bell-chamber being of three trefoiled lights with reticulated tracery. The tower is in two stages above the roof, and has open traceried parapets and tall angle pinnacles. The building was repaired in 1912.
The old church, according to Bridges, consisted of chancel, nave, north cross-aisle, and west tower and spire, (fn. 72) but no adequate record of it has been preserved.
The 14th-century alabaster effigy, already described, (fn. 73) lies in a wall recess on the north side of the chancel, a position similar to that which it occupied in the old church. In the chancel (south wall) a brass plate records the burial-place of John Mar (father of Henry Mar, rector), who died 2 August 1450, (fn. 74) and in the floor of the south transept are the figure brasses of William Lane (d. 1502) and Elizabeth his wife, but the portion of inscription recorded by Bridges is missing. The figures are no longer in their proper relative positions, and the four brass shields, which were formerly at the corners of the original slab, are now on an adjoining stone. (fn. 75) In the floor of the south transept also are brass plates to Thomas Chybnale (d. 1673), his son Godfrey (d. 1678), (fn. 76) and his two wives, Elizabeth eldest daughter of Thomas Andrewe (d. 1643) and Elizabeth daughter of Sir John Wingfield (d. 1671). In the chancel is a floor-slab with the name of Alexander Ekins, rector (d. 1699), and a mural tablet to Charles Sturgis, rector and canon of Lincoln (d. 1745). The south transept, which has a separate entrance on the west side, contains various 18th-century tablets to members of the Young family.
The font now used is modern, but the bowl of an ancient one, much weathered, is in the south transept. It is roughly octagonal, but quite plain. There is a 17th-century oak chest.
The tower contains a ring of five bells cast by Thomas Mears of London in 1843. They were rehung and rededicated in 1919. (fn. 77)
The plate consists of a cup and cover paten of 1637, a bread-holder of about 1673 inscribed '1691 Patina ecclesiae de Orlingbury ex dono Alexandri Ekins Rectoris Ecclesiae praedicte', and a flagon of 1776 inscribed 'Orlingbury: the gift of a pious and charitable Lady 1776'. (fn. 78)
The registers begin in 1564, but the years 1653 to 1668 are missing. Before 1812 the volumes are as follows: (i) all entries 1564–1653; (ii) baptisms 1667/8– 1750, marriages 1668–1749, burials 1667/8–1751; (iii) baptisms and burials 1749–1812; (iv) marriages 1754–83; (v) marriages 1783–1812. Penances are recorded in 1753, 1757, and 1763, and briefs between 1699 and 1722. There is also a parchment roll consisting of many strips stitched together, with entries of baptisms, marriages, and burials 1564–1646.
Advowson
The advowson of Orlingbury appears to have belonged from the earliest times to the honor of Wahull (Odell), and was probably held by the Malesoures, for their successors, the Trussells, held the right of presentation as parcel of their manor of Lamport, (fn. 79) with which it passed to the Veres. The 17th Earl of Oxford sold it with Lamport Manor to John Isham, who sold the right of presentation in 1561 to Sir Robert Lane, (fn. 80) then owner of Beaver's Manor. It followed the descent of this manor through the Toftes, Chibnalls, and Bridges, but was retained by Brook Bridges at the sale of the manor to Richard Young in 1705. The Bridges family presented until the middle of the 19th century, but had disposed of the right before 1874, when it was in the possession of the then rector. Mrs. Jacques of Orlingbury Hall is the present patron of the living.
In 1254 Orlingbury church was valued at 13 marks and in 1535 at £20 17s. 10d. (fn. 81)
Charities
In 1750 Robert Bushby left £10 and in 1818 Joseph Manning left £18 to the poor. In 1874 these produced 10s. and 18s. per annum respectively, but at the present time the combined value is only 15s. per annum, and this is distributed in bread to the poor on Christmas Day.
Eighteen acres of land called 'Poors' hold' are let at an annual rental of £9.