Pages 259-262
A History of the County of Northampton: Volume 4. Originally published by Victoria County History, London, 1937.
This free content was digitised by double rekeying. All rights reserved.
HORTON
Horton (xi cent.); Hortun (xiii cent.).
The parish of Horton lies 6½ miles south-east from Northampton on the road to Newport Pagnell, with a station on the Northampton and Bedford branch of the L.M.S. railway. The area is 1,930 acres of land and 6 of water and the soil is clay and marl with subsoil of stone. The chief crops are wheat, oats, and beans, and there is some pasture. The land lies between about 300 ft. to 400 ft. above the ordnance datum. There is a group of six cottages north of the church, and a few scattered farms, but no real village. Horton House, standing in a park of about 200 acres, in which there is a long lake fed by several streams, was pulled down in 1936. It was a large 18th-century stone mansion of two main stories and an attic, with an Ionic portico, built by Lord Halifax. The park also contained a building formerly used by Lord Halifax as a menagerie. To the south of the parish lie Horton wood and Little Horton wood now (1936) being felled. Little Horton House, a small Georgian house, stands in its own grounds of about 30 acres off the HortonBrafield road.
In the early 18th century the parish was inclosed and contained 8 or 9 families. By Local Government Board Order of 24 March 1884, a detached part of Great Houghton was added to this parish and Cheney Brand's farm (fn. 1) transferred from Cogenhoe. The population in 1931 was 844 in the civil parish.
Manors
In 1066, 3 virgates in HORTON were held by Turbern of the Bishop of Coutances, (fn. 2) 2 hides by Otbert of Walter the Fleming, (fn. 3) and half a hide by Turbern of the Countess Judith, who also held 1 hide of socland as a part of the manor of Yardley Hastings. (fn. 4) In the 12th-century survey these three fees were described respectively as 6 virgates held by Walter fitz Winemar of the fee of Olney; (fn. 5) 2 hides, 1 small virgate held by Alouf de Merk, son of Otbert, of the fee of Wahull; (fn. 6) and 6 virgates held by Turgis de Quenton of King David, who had 3 small virgates in addition. (fn. 7)
The holding of Walter fitz Winemar passed to his descendants, the Prestons of Preston Deanery, and its history can be traced under their part of Preston which was held of the fee of Chester (q.v.). In 1235–6 William de Scrlingford (sic) was said to hold one knight's fee in Horton of Olney. (fn. 8) This was possibly an over-estimate, as his holding seems to correspond to the 4½ virgates and other land there held by Sarah de Scrimplingford of Gilbert de Preston in 1274, (fn. 9) and Gilbert was said to hold of the king by service of one eighth of a knight's fee, and in the following year his heir held half a fee in Preston, Hackleton, and Horton of the fee of Chester. (fn. 10) No more is heard of the Scnmplingford tenancy, but part, at least, of the lands may have been acquired by Aubrey de Whittlebury. (fn. 11)
The history of the mesne tenures of the fee of King David which passed to the honor of Huntingdon is obscure because the land became attached to holdings elsewhere. (fn. 12) In 1284 the tenants of John de Hastings were Henry de Hackleton for one carucate and the Abbot of St. James by Northampton for 2 virgates. (fn. 13) The carucate probably represents part at least of the former holding of Turgis de Quenton, as in 1246 Roger de Hackleton had acquired land here from John Passelewe and Mabel his wife, (fn. 14) who seems to have been the daughter of Sewal de Quenton. (fn. 15) Its subsequent descent is unknown.
The Wahull overlordship by 1235–6 had descended to William fitz Warin in right of his wife Agnes the daughter of John de Wahull. (fn. 16) He was then holding half a knight's fee in Horton and 3½ fees in Evenley, Horton, Charlton, and Astwick, (fn. 17) and his sub-tenant for at least part of the land was Hugh son of Richard Gubion. (fn. 18) In 1231 this Hugh had been impleaded in respect of land in Horton, (fn. 19) and in 1242 he shared with John de Shirington and Ralph Dayrel the one knight's fee in Horton held of Saer de Wahull. (fn. 20) Land in Horton had been acquired by John de Shirington in right of his wife Joan from Ralf de Evenley in 1232. (fn. 21) Dayrel's part was probably included in the 2 carucates, &c., in Horton, Hackleton, and Quinton which passed to him by fine from William de Horton in 1242, confirmed by Nicholas de Horton three years later. (fn. 22)
In 1284 the mesne tenants of this fee were John Morteyn and Laurence de Preston for half a knight's fee, John Sherington for one carucate, and Aubrey de Whittlebury for one carucate held of Laurence de Preston. (fn. 23) In 1304, under Thomas de Wahull, ½ fee was held by Ralf le Botiler, Henry de Sewelle and the heirs of Richard Gubion, ¼ fee by John de Sheryngton and ¼ fee by John de Whittlebury. (fn. 24) Henry de Sewelle was probably tenant in right of his wife Joan, the widow of John Morteyn. (fn. 25) Nothing more is known of the Sheryngton tenure.
On the death of Sir Richard Gubion, son of Hugh Gubion, in 1300, it was found that he held in Horton 10½ acres assart of the king, also 1/10 of a fee; his heirs were his daughters Avice, wife of Ralf le Botiler of Northbury, co. Stafford, and Elizabeth, aged 13, (fn. 26) and in 1316 Ralf was returned as lord of Horton. (fn. 27) On the death of his widow in 1361 his grandson Edward, son of John Botiler, was the heir to 4 messuages and 4 halfvirgates of land in Horton. (fn. 28) He died without heirs, so that the estate passed to Sir Philip Botiler of Woodhall, co. Hertford, the grandson of Ralf, second son of Ralf and Avice. (fn. 29) He died in 1420 leaving his son Philip a minor, who was succeeded in 1453 by his son John, aged 18. (fn. 30) The subsequent history of this estate is obscure.
The portion of the Wahull fee held in 1284 by Aubrey de Whittlebury seems to represent that held by Ralph Dayrel in 1242, as in 1262 Sybil Dayrel conveyed to Aubrey the reversion of 2 carucates in Horton; (fn. 31) and this can be traced back to 1241, when William de Horton conveyed the property to Ralph Dayrel. (fn. 32) On the death of Aubrey de Whittlebury from drowning in 1290 a capital messuage with 5 virgates comprised ¼ fee held by him of John de Wodhull by service including 18d. yearly for the castleguard of Rockingham. (fn. 33) The John de Whittlebury named above as tenant in 1304 (fn. 34) was later succeeded by his son Aubrey. (fn. 35) In 1369 the Escheator was ordered not to meddle with the manor of Horton with appurtenances in Piddington which Joan, widow of Aubrey, held at her death jointly with her husband. (fn. 36) Her heir was her son John, whose proof of age had been taken in 1353 on the death of his brother Thomas. (fn. 37) This John died in 1400 seised of the manor, called WYTTELBERYES PLACE, worth £4, and said to be held of the king in chief. (fn. 38) On the death of his son Aubrey six years later the land was said to be held partly of the barony of Wahull and partly of Reynold de Grey of Ruthin. (fn. 39) His heir was his daughter Isabel, who later married Sir Henry de Plessington, but there is no record that they continued to hold land in Horton.
In 1452–3 the manor of HORTON was in the hands of John Mortimer of Grendon; (fn. 40) and Roger Salisbury of Grendon died seised of it in 1492, when it was said to be held of George, Earl of Kent, as of the manor of Cotton beside Northampton. (fn. 41) From Roger's son William in 1511 it passed to his daughter Mary. (fn. 42) She married Sir William Parr, who, being made chamberlain to his niece Queen Catherine, was created Baron Parr of Horton in 1543. (fn. 43) The manor, including one windmill and appurtenances in Piddington and Hackleton, was settled on them for life and afterwards on their daughter Maud and her husband Sir Ralph Lane. (fn. 44) Sir William Parr died in 1546 and his widow in 1555, (fn. 45) when the estate passed to their grandson Sir Robert, son of Maud and Sir Ralph Lane, (fn. 46) and he with his wife Catherine was party to a fine concerning the manor in 1557. (fn. 47) Their son Sir William Lane, who married Mary daughter of Sir Thomas Andrew, in 1597 settled the manor upon himself and his wife with remainder to their son Robert and his wife Theodosia. (fn. 48) Robert died before his father, and Theodosia then married Edward Thynne, esquire, before 1616, when Sir William Lane was succeeded by his grandson William, aged 17. At this date the manor was still held of the barony of Wahull by service of one knight's fee, suit of court and 6s. yearly towards the castleguard of Rockingham. (fn. 49)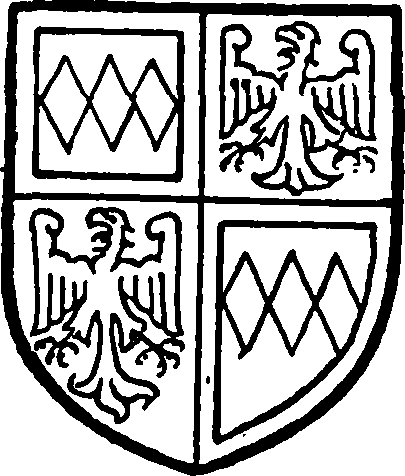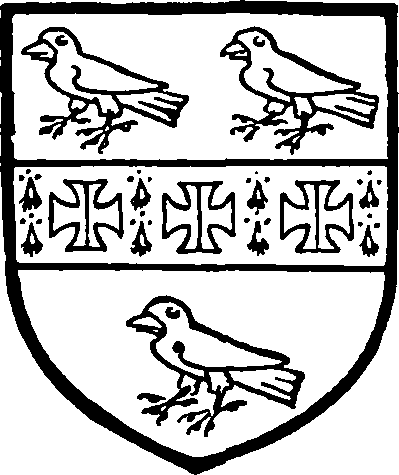 At the beginning of the reign of Charles I William Lane sold to Ralph Freeman, alderman of London, all rights in the manor together with the rectory and advowson. (fn. 50) This estate is said to have passed into the possession of Sir Henry Montagu, (fn. 51) who was created Earl of Manchester in 1626 (fn. 52) and died in 1642. (fn. 53) Three years later a recovery relating to the property was suffered between Edward, Lord Montagu, Margaret, dowager Countess of Manchester, third wife of Sir Henry Montagu, and his half-brother George Montagu, esq., son of the said Margaret. (fn. 54) This George appears to have become lord of Horton and was buried there in 1681. (fn. 55) His grandson George (fn. 56) was party to settlements in 1712 and 1738. (fn. 57) George Montagu was appointed auditor of the Exchequer in 1714 and in the following year became Baron and then Earl of Halifax as nephew and heir of Charles, the fourth son of George Montagu of Horton. (fn. 58) His son George Montagu, Earl of Halifax, succeeded him in 1739 and died at Horton without issue male in 1771. (fn. 59) The estate was purchased by Sir Robert Gunning, K.B., minister plenipotentiary at the Courts of Denmark, Berlin, and St. Petersburg, who was created a baronet in 1778 and died at his seat at Horton in 1816. (fn. 60) This family owned the manor until 1887, when it passed to Pickering Phipps, esq., J.P., brewer, of Northampton. In 1899 Mr. George H. Winterbottom, of Manchester, purchased the manor and estate and resided at Horton House (fn. 61) until his death in 1935. The property was then sold to Mr. W. Storey, of Portsmouth, who resold most of the estate in small lots.
Church
The church of ST. MARY THE VIRGIN consists of chancel, 25 ft. by 15 ft., nave, 33 ft. 6 in. by 17 ft. 3 in.; south aisle, 8 ft. 6 in. wide; south porch, and west tower, 10 ft. 3 in. square, all these measurements being internal. The width across nave and aisle is 27 ft. 10 in.
With the exception of the nave arcade, and in a less degree of the tower, which are of early-14th-century date, the fabric retains very little ancient work. The slated roofs are all new and without parapets, the roof of the chancel being considerably higher and of steeper pitch than that of the nave. The chancel is faced with coursed roughly dressed stone, but in the nave, aisle, and porch the walling is finely dressed and in alternating courses (three and two) of limestone and local ironstone.
Bridges, writing about 1720, states that 'the church has been repaired by the Earl of Halifax, and is now handsomely pewed with oak and paved with freestone', (fn. 62) and though in 1862 the fabric underwent an extensive restoration, amounting almost to a rebuilding, some traces of this 18th-century 'repair' still remain. The more recent work is in the style of the 14th century; but the chief interest of the building lies in its monuments. Internally all the walls, except those of the tower, are plastered, and the floors tiled.
The chancel has pairs of buttresses at the east end and a modern pointed east window of three lights with Decorated tracery. In the south wall are two modern pointed windows of two trefoiled lights, but the north wall is blank. No ancient features have survived. The sanctuary floor is of marble, and there is a single marble sedile in the south side. The chancel arch is modern: there is no screen.
The early-14th-century nave arcade is of three bays, with pointed arches of two chamfered orders springing from octagonal pillars with moulded capitals and bases, and from moulded corbels at the ends: the double roll is used in the bases. The nave roof is of low pitch, and the wall above the arcade is unpierced. All the windows in the nave and aisle are modern, (fn. 63) of one or two lights, and of Decorated character. The south doorway and porch are modern. (fn. 64)
The tower is of rubble and is of three stages marked by strings, with diagonal buttresses on the west to the height of the lower part of the second stage only. On the west side, near the top of the lower stage, is an original pointed window of two uncusped lights, with an elliptical opening in the head, the hood-mould of which has been cut away. The tower retains the straight moulded parapet of the 18th century, with short pilasters at the angles, (fn. 65) and a lofty and elaborate iron vane: in the middle stage there is a large circular opening on three sides, those to the south and west serving for clock dials, the other glazed. The single-light pointed bell-chamber windows are of very plain character and apparently of late date, but they are partly covered by the wooden frames of the louvre boards. The pointed tower arch is of a single order, chamfered on the edge and without hood-mould. There is no vice. The ground story of the tower is used as a vestry, separated from the nave by a low oak screen erected in 1910.
The font in use is modern and of an elaborate Gothic character: the 18th-century marble font, of good design, is in the churchyard. The pulpit and other fittings are modern.
The monument of Sir William Parr, Lord Parr of Horton (d. 1546), and his wife Mary Salisbury has already been described, (fn. 66) but other monuments in the chancel are of scarcely less interest. Of these the earliest are the fine brasses of Roger Salisbury (d. 1492) and his two wives, now on the north wall, but in Bridges' time 'within the altar rails on a large grey marble lying on the ground'. (fn. 67) The figures are 2 ft. 4 in. high and represent 'a man in armour and on each side of him a woman in the habit of the times', below which are the inscription and the indents of the figures of four children. (fn. 68)
The monument to Sir William Lane (d. 1502) is also on the north wall. (fn. 69) It bears the effigies of Sir William and his wife kneeling opposite each other at a desk, with their two sons (fn. 70) and five daughters. Above are eight small shields of arms and the monument is surmounted by a large shield of fourteen quarterings with helm and crest. (fn. 71)
There is also a wall monument erected in 1756 by the Earl of Halifax in memory of his brother Edward Montagu and of his sister Henrietta, (fn. 72) together with several brass and other tablets to members of the Gunning family. (fn. 73)
There are three bells; the first by Thomas Newcombe of Leicester (c. 1567–8) inscribed '+ Iacobo', the second inscribed 'Sancta Katerina ora pro nobis,' probably by John Saunders of Reading (1539–59), and the third by James Keene of Woodstock 1641. (fn. 74)
The silver plate consists only of a cup and paten of 1862 given, together with a brass flagon and alms dish, by Mrs. Gunning Sutton in memory of Sir Robert Gunning, bart. (fn. 75)
The registers before 1812 are as follows: (i) all entries 1605–23; (ii) baptisms 1612–1741–2 (Feb.), marriages and burials 1626–1741–2; (iii) baptisms and burials 1743–1812, marriages 1743–54; (iv) marriages 1754–1812.
Advowson
Early in the 13th century Richard Gubion granted to the Abbot of St. James, Northampton, the church of Horton with 'Presteswode' and the croft of 'Byrystede'. (fn. 76) The advowson of the vicarage was held by this house until the Dissolution (fn. 77) and before 1535 the rectory of Piddington had been annexed to it. (fn. 78) In the 13th century the rectory of Horton was valued at 6½ marks, exclusive of a pension of ½ mark paid to the prior of St. Andrew's, and in 1535 it was at farm for 60s. (fn. 79) In 1559 Elizabeth granted the rectory and advowson of Horton with Piddington to John Doddington of London and John Jackson, (fn. 80) and from them it passed to Sir William Lane who died seised of it in 1616. (fn. 81) It was in the gift of the lord of the manor until 1924, when Mr. Winterbottom gave it to the Bishop of Peterborough.