Pages 262-266
A History of the County of Northampton: Volume 4. Originally published by Victoria County History, London, 1937.
This free content was digitised by double rekeying. All rights reserved.
GREAT HOUGHTON
Major, Magna (xiii cent. onwards); Michel (xiv cent.); Moche (xvi cent.). See Little Houghton for variants of 'Houghton'.
The parish of Great Houghton lies west of Little Houghton and like it is bounded on the north by the River Nene, where there is a mill and a lock. Its area is 1,702 acres of land and water, and the soil, subsoil, and crops are the same as those for Little Houghton. A detached part of the parish was transferred to that of Horton in 1884. (fn. 1) The height rises abruptly from about 190 ft. by the river to 3 58 ft. in the south. The village is in the northern part and pleasantly situated on an eminence 260 ft. above the ordnance datum, with its church to the north-west. There were about 40 families in the village in 1720. (fn. 2) The population of the parish in 1931 was 250. Within the last eighty years about 40 old thatched cottages have been pulled down and some 20 new ones built. (fn. 3) Great Houghton Hall, a large three-story square stuccoed building of brick and stone, stands near the entrance immediately north of the church: there is no record of its erection, but it is apparently of early-19th-century date. (fn. 4)
The parish was inclosed under agreement in 1612; (fn. 5) but this was apparently the inclosure for which Thomas, Lord Brudenell, was fined £1,000 and ordered to restore 8 farms by Archbishop Laud (i.e. in 1633 or later), being accused by the archbishop of 'devouring the people with a shepherd and a dog'. Brudenell asserted that it was a 'most benign and charitable inclosure' such as England could not produce a second, and that he had not 'decayed' a single house. (fn. 6) Daniel Ward of Little Houghton (q.v.), who bought Mordaunt's manor here, received in 1618 licence to inclose 132 acres in the two places.
The wake was the Sunday before Michaelmas. (fn. 7)
Manors
The lands of Great Houghton belonged in 1086 to two fees, the fee of Peverel and the honor of Huntingdon. Osmund was the pre-Conquest tenant of 1 hide, ½ virgate, and 2 carucates, held in 1086 by William Peverel who had enfeoffed Robert (de Pavely). (fn. 8) As PAVELY'S and later TRESHAM'S MANOR these lands were held as one knight's fee of the honor of Peverel, an overlordship mentioned until 1547. (fn. 9)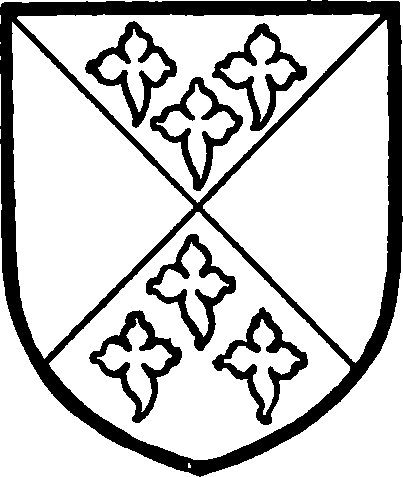 Robert de Pavely, the Domesday tenant, gave to Lenton Priory at its foundation two-thirds of the tithes of his demesnes here. (fn. 10) A later Robert died in 1194, leaving a son and daughters under age. (fn. 11) This son was presumably Geoffrey, who succeeded in 1198 (fn. 12) and was tenant of this knight's fee in 1212. (fn. 13) The manor then descended with the Pavely manor of Paulerspury (q.v.) until 1428, (fn. 14) when Sir Oliver St. John and Thomas Mortimer held the Pavely lands in Paulerspury and Great Houghton, Mortimer presumably having Great Houghton, as St. John had Paulerspury. Moreover, in 1413 Drew Barantyn, citizen and goldsmith of London, and Margaret his wife made a fine of the manor with Hugh Mortimer. (fn. 15) In 1436 Robert Andrews made a fine of a manor of Great Houghton. (fn. 16) In 1448 Henry VI granted to his esquire William Tresham the services of certain tenants here. (fn. 17) On the attainder of Sir Thomas Tresham as a Lancastrian in 1460, this manor was forfeit and granted in 1462 with Rushton to John Downe, (fn. 18) and in 1465 he was also given the reversion of the site of the manor, 5 virgates of land, and 20 acres of meadow, on the death of Isabel wife of Sir William Pecche, who held it in dower. (fn. 19) When Isabel Pecche died, however, it was granted in 1480 to her then husband Edward Brampton. (fn. 20) John son of Thomas Tresham recovered it shortly after the accession of Henry VII, (fn. 21) and alienated it with lands in the towns of Northampton and Abington, parcel of the manor, to the yeoman family of Robins. William Robins died seised leaving a son John, (fn. 22) who died seised in 1541 of this manor, out of which he paid a rent to Sir Thomas Tresham. (fn. 23) The king granted the custody of his son and heir George and the manor to Alexander Belcher, in 1544. (fn. 24) George Robins was sued by Thomas Tresham of Rushton, who pleaded an entail that made the grant to the Robins void. (fn. 25) In 1572 George Robins conveyed the manor to William Belcher; (fn. 26) but in 1584 Sir Thomas Tresham made a settlement. (fn. 27) In 1601 his son Francis (soon afterwards implicated in the Gunpowder Plot) advised him to raise money from the manor towards a heavy debt, (fn. 28) and he seems to have done so in 1605. (fn. 29) James Smith, yeoman, died seised of Tresham's Manor in 1635, leaving a son and heir James. (fn. 30) Edward brother of Alexander Smith of Great Houghton obtained the removal of a sequestration order on his royalist brother's estate in 1645. (fn. 31) William Ward of Little Houghton held Tresham's Manor in 1696 (fn. 32) and in about 1720. (fn. 33) William and Thomas Ward conveyed it to Robert Meese in 1728. (fn. 34) In 1788 John Blake and Elborough Woodcock conveyed one of the Great Houghton manors, not specified, to the Hon. Edward Bouverie and Edward Bouverie jun. (fn. 35) of Delapré Abbey from whom it has descended (fn. 36) to Miss Mary Helen Bouverie, the present owner.
Robert de Pavely had amends of the assize of bread and ale and view of frankpledge in 1276. (fn. 37) On the site in 1346 there were 2 dovecotes, a water-mill (called Clak), a windmill (called Twygrist), a mill in Abington, and a fishery in the Nene, (fn. 38) and a court. (fn. 39) Abington mill still belonged to the manor in 1526. (fn. 40) Robert de Pavely granted the tithe of Twygrist to St. James, Northampton. (fn. 41)
In the Northamptonshire Survey Simon is entered as holding 1 hide 1 virgate in Great Houghton. (fn. 42) This cannot be identified in the Domesday entries, but was probably part of the Countess Judith's estates, as the overlordship of the manor, which was later divided into Green's and Houghton's manor, descended with the honor of Huntingdon. (fn. 43)
Henry de Audley was mesne lord in 1241, (fn. 44) and James de Audley six years later. (fn. 45) This mesne tenancy is no more mentioned, though the occurrence of Nicholas de Audley, parson of the church in 1265, (fn. 46) suggests a continuance of the family interest.
William son of Simon, who was impleaded in 1200 by Elias son of Oger [de Lisurs] for ½ virgate in Houghton, (fn. 47) was probably son of the 12th-century tenant and identical with William de Houghton, who married Isabel the elder daughter of Robert Daubeney; (fn. 48) he presented to the church in 1230 and 1234, (fn. 49) dying shortly afterwards. (fn. 50) His son William claimed the advowson of the church and 2 carucates of land here in 1247. (fn. 51) He took the name Daubeney and did homage in 1263, after his mother's death, for all the lands she held in chief. (fn. 52) Two years later Henry de Hastings held the manor as guardian of William's son and heir (fn. 53) Simon. Simon Daubeney died in 1272 when his heirs were Isabel or Elizabeth, Christine, and Joan, his sisters, (fn. 54) or daughters. (fn. 55) Isabel married Hugh de St. Croix, tenant of this ½ knight's fee in 1284. (fn. 56) Joan, wife of Hugh de Lacy in 1272, had married Roger Dakeney by 1286, when Christine, then wife of Peter de la Stane, Hugh de St. Croix and Isabel granted him ½ virgate here, one-third of the advowson and one-third of the tenements that Robert de Noers had held. (fn. 57) His grandson Roger apparently enfeoffed Richard de Houghton of his share, (fn. 58) which descended as Houghton's Manor. (fn. 59)
GREEN'S alias VAUX and MORDAUNT'S MANOR. Christine had children by Peter de la Stane; but in 1312 she had the manor (these thirds appear later as maneretta) settled on herself and her then husband John de Gaddesden (fn. 60) for life with remainder to Edith their daughter. (fn. 61) John de Gaddesden, returned as lord of the whole in 1316 (fn. 62) and 1325, (fn. 63) died seised in 1338–9. Edith had died childless and Christine had been dead 20 years. Her lawful children (by Peter de la Stane) were Elizabeth, Margery, and Christine, and the heirs in 1338–9 were Sir Thomas de Norton, son of Elizabeth, Brian Saffrey or Savory, son of Margery, and John Biddick (fn. 64) son of Christine, who had married Anthony Biddick and died in 1326. (fn. 65)
Brian Saffrey did homage for his pourparty in 1339, (fn. 66) i.e. ⅓ of ⅓ of this ½ knight's fee or ⅓ of the manerettum, of little value, owing to floods and the Black Death, when he died in 1349 leaving a daughter Alice aged 2. (fn. 67) Alice died next year, her uncle and heir Thomas (fn. 68) in 1361, and his sister and heir Joan Saffrey then had livery of £4 rent here and the ninth turn to present to the church. (fn. 69) This may be the share conveyed by John son of Richard to Henry Green (of Drayton) two years later. (fn. 70)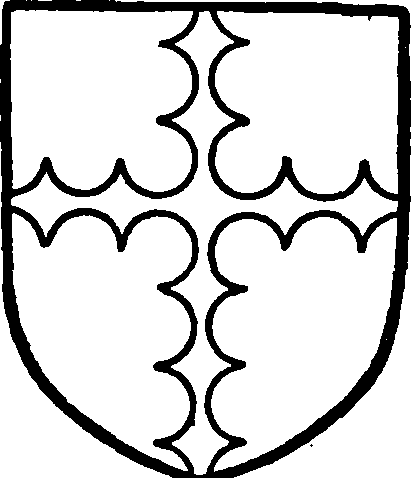 John Biddick leased his 'third' (i.e. 9th) to Thomas de Stretton, and in 1344–5 conveyed the reversion to Henry Green, reserving 1/5 of the advowson. (fn. 71) Shortly afterwards John Bifle died seised of tenements; (fn. 72) and Thomas Bifle died seised of 1¾ virgates as 1/20 of a knight's fee in 1360, when John de Stretton was his kinsman and heir. (fn. 73) Whether this property had any connexion with Henry Green's share is not clear. Sir Thomas de Norton died seised of 1/5 of the manor in 1347 leaving a son and heir Ralph aged 11, (fn. 74) and the king presented to the church in 1349 as his guardian. (fn. 75) Ralph entailed his 'third' in 1359, (fn. 76) but leased it for life to Peter Neubolde, clerk, and in 1367 alienated the reversion of it (1 carucate, 2 virgates of land, two parts of the advowson, and other tenements) to Sir Henry Green (fn. 77) of Drayton, who died in 1369. He settled his ninth of the manor on his younger son Henry; (fn. 78) but it reverted to the elder son Thomas, whose son and heir Thomas had livery in 1391 of ⅓ and 1/9 of the manor and the advowson. (fn. 79) This estate now descended as a 'manor' or 'third' or tenements, together with part of the advowson, with the Greens' manor of Lowick (q.v.) until the 16th century, when it was again divided among many heirs. Like Lowick it came to the Huddlestons, Mordaunts, and Browns, (fn. 80) and like Irtlingborough (q.v.) the Huddleston share descended to the Vaux family. Thomas, (fn. 81) 1st Lord Vaux of Harrowden, made a settlement of both manor and advowson in 1530. (fn. 82) The Vaux family continued in possession of this part until 1612, (fn. 83) when for assurance of title Edward Vaux, Lord Harrowden, obtained a Crown grant; (fn. 84) but by 1614 the manor of Vaux had become absorbed into Tresham's Manor. (fn. 85)
In the preceding century George Browne settled various estates on his wife Elizabeth including one third of this manor, and about 1558 she, as widow of Sir Henry Hublethorne, with her son-in-law William Price, brought a suit against her stepson Wistan Browne. (fn. 86) The Prices and their kinsfolk, the Flamesteds and Lawes, (fn. 87) were subsequently concerned with both manor and advowson; (fn. 88) and in 1590 John Flamstede conveyed two thirds of the manor to Lord Mordaunt, (fn. 89) with various remainders. In 1601 Sir Thomas Tresham and his sons conveyed this to Daniel Ward (fn. 90) of Little Houghton, who joined in a settlement of the manors of Mordaunt and Parke in 1612, (fn. 91) but in 1623 conveyed Mordaunt's Manor to Henry, Lord Danvers of Dauntsey. (fn. 92)
The Irish family of Scudamore seem to have been connected with this county through the marriage of James Scudamore (ob. 1619) with Anne Throckmorton, (fn. 93) and in 1656 a James Scudamore conveyed '1/5 of the manor of Houghton Magna, alias Mordaunt's manor', to John Thornicroft and John Cartwright, (fn. 94) to whom Katharine Gargrave widow (daughter of John Danvers, created a baronet 1661 (fn. 95) ) made the same grant in 1660. (fn. 96) Her daughter and co-heir Elizabeth with her husband Sir Thomas Derham, bart., Sir Edward Baynton, John Osborne and Eleanor his wife, both of them Danvers descendants, (fn. 97) Richard Walmesley, and Thomas Colt made a settlement of the manor in 1664, (fn. 98) as did Richard Derham and Charles Danvers in 1676; (fn. 99) and two years later Sir John Osborn, bart., and Sir Edward Baynton conveyed the manor to Sir William Temple, bart., and John Temple, kt. (fn. 100) Henry Temple of Sheen, Surrey, was lord in 1714, (fn. 101) which is the last mention found.
HOUGHTON'S alias PARKE'S alias ATTERBURY'S MANOR. Roger Dakeney, as already mentioned, granted his share of the Daubeney inheritance to Richard de Houghton. (fn. 102) The manor passed later to the Parkes, apparently through an heiress. William Parke received some tenements here in 1407 by a Crown grant for life, (fn. 103) renewed to his son John in 1440, (fn. 104) and in 1428 was one of the joint tenants of the Daubeney manor. (fn. 105) His grandson Lewis, in a plea concerning land here, mentioned William's wife Margaret as though she was an heiress. (fn. 106) The Crown had resumed by 1592 the tenements granted by Henry VI to John Parke, (fn. 107) but Houghton's Manor descended to Isabel daughter and heir of Lewis. She married Lewis son of John Atterbury, (fn. 108) and Lewis Atterbury, presumably their son, made a settlement of Parke's Manor in 1612, (fn. 109) and died seised in the capital messuage in 1631. His son and heir Stephen (fn. 110) in 1637 or 1638 sued his stepmother for the manor, capital messuage, dovecote, closes of about 133 acres called upper, middle, and nether, or little burrough, ground on the west of the town and closes called Saftridge, Hawney, and Hardney, of which she had taken unlawful possession. (fn. 111) His wife Frances is mentioned, and it is probably their son Francis Atterbury, clerk, who, with his son and heir Lewis, made a settlement of 'two parts of the manor of Great Houghton alias Parke's manor' in 1655. (fn. 112) Lewis Atterbury, clerk, was concerned with Abraham Bowcher and Barbara his wife with a ninth part in 1657, (fn. 113) and in 1658 and 1660 with Gifford, Samuell, Tompkins, Battison, Plowman, Chalcombe, Day, and Roberts, (fn. 114) whereby all the nine parts were reunited in his possession. Lewis Atterbury, M.D., who made a settlement in 1695 (fn. 115) would be the Dr. Lewis Atterbury of Highgate who was lord when Bridges made his visit. (fn. 116) In 1738 Osborn Atterbury conveyed it to William Lock. (fn. 117) It has been no further traced.
Winemar held of the Countess Judith in 1086 1 virgate in Houghton of the soc of Yardley. (fn. 118) This may be represented by the 4 small virgates held in the 12th century by King David, though these are said to have been held by one Osebert. (fn. 119) Three virgates here, which Oger de Lisurs recovered in 1199 against Ilbert de Pavely, (fn. 120) were held in 1274 by Adam de Lisurs of Gilbert de Preston, (fn. 121) the representative of Winemar. As late as 1350 certain tenements and rent in Great Houghton were held by the Pavelys of 'the fee of Lysours' of the heirs of John Halewyk. (fn. 122) The lands of the Prestons in this parish were attached to their manor of Preston Deanery (q.v.) and descended with it, being granted by Wynmer de Preston in 1429 to John Hartwell. (fn. 123)
Church
The church of THE ASSUMPTION, which was described by Bridges as consisting of chancel, body, and two aisles, with an embattled tower 'in the midst', (fn. 124) was found to be 'greatly decayed' in 1753, (fn. 125) and in the following year was taken down and rebuilt in 'a plain, decent, and commodius manner, without unnecessary ornament'. The new church consisted of a nave measuring internally 45 ft. 6 in. by 25 ft. 6 in., with a recess 6 ft. deep and 12 ft. 6 in. wide for the communion table at the east end, and a west tower 9 ft. 6 in. square surmounted by a spire, and was in a very plain classic style, with a three-light east window of 'Venetian' type, and two round-headed windows and a doorway on each side of the nave. It has since been altered and its character in some measure changed, but the present fabric is in the main that of 1754. No part of the old church has survived, unless it be the vice, or newel staircase leading to the first floor of the tower. In 1875 a porch was added on the south side, the windows and south doorway refashioned, and a new window substituted for the north doorway. All this new work is in the 'Romanesque' style, the windows being of two round-headed lights under a semicircular arch with shafted jambs. A north-west gallery was taken down and the church reseated. There were further internal alterations in 1910–11, when the sanctuary was carried westward, its floor paved with marble, an oak altar erected, the walls panelled to a height of 7 ft., and the side lights of the east window blocked.
The nave is faced with ironstone ashlar, and has a square plinth, flat strings at sill level and at the spring of the window arches, and boldly dentilled cornice. There is a pediment at the east end and on the north and south aisles of the nave over the original doorways, where the wall is slightly advanced. The roof is slated. The eastern recess, which projects externally 7 ft. 6 in., is separately roofed. Internally the walls are plastered, and there is a flat plaster ceiling with cornice, and plain round arch to the sanctuary recess.
The square lower stage of the tower is ironstone, and of the same character as the nave, with plinth, strings, and cornice, but it retains its original tall round-headed west window. The second stage is also square but of limestone, with a circular opening on three sides, (fn. 126) sunk panels at the angles, and cornice. Above this is a lighter octagonal stage surmounted by Tuscan columns sup- porting a cornice, from which incurved buttresses rise to the base of the spire. The appearance of the spire has been spoilt by the removal of the vases from the top of the buttresses, (fn. 127) but the steeple as a whole is of pleasing design, the plainly treated square lower stages contrasting well with the lighter construction above. On each side of the octagon is a round-headed opening, and the spire has a good iron vane.
The font and pulpit are modern and in the Gothic style.
There are wall tablets in the nave to Francis Brownsmith (d. 1778), Theophilus Goodfellow, rector (d. 1782), and others of later date.
There are six bells, four new small ones by Taylor & Co., of Loughborough, having been added in 1935 to the two bells then in the tower. Of these the second is by Robt. Taylor & Son, St. Neot's, 1817. (fn. 128)
The plate consists of a silver-gilt cup of 1553, a cover paten of 1606, and a paten of 1740 made by Robert Abercromby. There is also a plated flagon of modern medieval design given in 1871. (fn. 129)
The registers before 1812 are as follows: (i) all entries 1558–1678; (ii) August 1678–December 1706; (iii) baptisms and burials January 1706/7–93, marriages to 1753; (iv) baptisms 1794–1812; (v) marriages 1754–1812; (vi) burials 1794–1812.
Facing the church on the other side of the road is a memorial cross to fourteen men of the parish who fell in the war of 1914–18.
Advowson
From the time when William de Houghton presented, as husband of Isabel Daubeney, the advowson descended with the Huntingdon manor and was shared by the three co-heirs of Simon Daubeney in 1272. Elizabeth the eldest presented William de Houghton, in the time of Edward II. On his death (by 1309), Christine presented Brian de Pampworth. (fn. 130) From Joan the right descended to her son Robert Dakeney and from Robert to his son Roger, who in 1330 granted his right to John Kynebelle of Filgrave. (fn. 131) In 1363–4 John son of Richard (? Houghton) granted the next presentation (on the death of Peter Newbold, clerk, who presented 1363 (fn. 132) ) to Henry Green. (fn. 133) Richard Houghton, however, presented in 1367, (fn. 134) and he or a namesake recovered the next presentation against Thomas Green in 1399 on a claim that he had been enfeoffed by Roger Dakeney. (fn. 135) Sir Thomas Green conveyed land and the advowson in 1435 to John Throckmorton; (fn. 136) although it was settled on Sir Nicholas Vaux on his marriage with Ann daughter of Sir Thomas Green, (fn. 137) the advowson apparently descended in the Throckmorton family until 1562. (fn. 138) Sir Robert Throckmorton sold the advowson in 1562 to Thomas Nichols. (fn. 139) It was settled for life on William his father, who was still living when Thomas died ten years later. Sir Thomas Tresham was concerned with the advowson in 1576, (fn. 140) and it was attached to the manor of Tresham and Vaux in 1614, as in 1629, when William Baude conveyed it to Sir William Wilmer. (fn. 141) John Ward and George Daunce presented in 1631. (fn. 142) William Wilmer and Francis Wickes conveyed it to Dabridgecourt Ward in 1654; (fn. 143) but Sir William Wilmer, bart., presented in 1680, (fn. 144) and Francis Arundel in 1706. (fn. 145) The last named was patron about 1720. (fn. 146) During the next sixty years members of the families of Warner, Goodfellow, and Rogers presented, (fn. 147) as did Thomas Wilkinson, clerk, in 1804 and 1805, (fn. 148) which seems to be the year in which itwas transferred to Magdalen College, Oxford, (fn. 149) the present patrons.
Charity
Margaret Goodfellow by will dated 18 October 1785 bequeathed sufficient stock to produce an annual income of £5, to be applied by the minister and churchwardens for the benefit of the poor. The endowment now consists of £115 2½% Consols held by the Official Trustees, producing £2 17s. 4d. annually in dividends which are distributed by the rector and 2 trustees appointed by the parish council.