Pages 266-270
A History of the County of Northampton: Volume 4. Originally published by Victoria County History, London, 1937.
This free content was digitised by double rekeying. All rights reserved.
LITTLE HOUGHTON
Hohtone (xi–xiv cent.); Hocthone, Houthun (xii cent.); Hoctune (xii–xiii cent.); Houton (xii–xvi cent.); Houghtone (xiv cent.). Parva (1220 onwards); Minor (xiii cent.).
To the parish of Little Houghton, which comprises 1,730 acres land and water, was added by Local Government Board Order of 25 March 1884 a detached part of Brafield-on-the-Green called Brafield Holme. (fn. 1) Little Houghton lies between Brafield to the east, and Great Houghton to the west, all three parishes being narrow strips with the Nene for their northern boundary. There were 40 families in about 1720; (fn. 2) in 1921 the population of the civil parish was 422, in 1931, 415. The soil, subsoil, and crops are the same as for Brafield, with some pasture land. On the south bank at a bifurcation of the river, and perhaps guarding the ancient ford here, stands at a height of about 265 ft. the circular moated earthwork of Clifford Hill. Roman coins have been found, but the 'hill' has no Roman characteristics. (fn. 3) Already in the early 14th century it was called Clifford Hill. (fn. 4) The top is said to have been pared off in the 17th century by a lord of the manor who wanted a bowling-green. (fn. 5) Close by is Clifford Mill on the Nene, now disused.
The village, with the church at its centre, is grouped round the point where the Northampton-Bedford road is met by that leading to Cogenhoe and Billing. Most of the houses are of the local brown ironstone and are not of great antiquity, the oldest of which the age is known being a cottage adjoining the grounds of Little Houghton House, which bears the almost obliterated date 1616. (fn. 6) The proof of age of John Pavely shows that the village was almost completely destroyed by fire in 1333. (fn. 7) In that year the church was polluted, and the Bishop of Lincoln, who came to reconcile it, dined with the lord of Great Houghton manor and confirmed his infant heir. (fn. 8) Opposite the church are the stocks, dating in their present form from 1835, and adjoining the churchyard is the school. A school was founded under the will of William Ward in 1673 for 8 boys of this parish and 4 from Great Houghton. (fn. 9)
Daniel Ward received licence in 1618 to inclose 132 acres in Great and Little Houghton, (fn. 10) and 2,500 acres here and in Brafield and Cogenhoe were inclosed in 1827. (fn. 11)
Manors
Ulf son of Azor held 1½ virgates in [LITTLE] HOUGHTON before the Conquest, with sac and soke. After 1066 this was given to Odo, Bishop of Bayeux, and after his forfeiture claimed by the Countess Judith, who also had 1 virgate of land and 5 acres of meadow held by Winemar of the soke of Yardley Hastings. (fn. 12) These lands descended as 1 knight's fee held of the honor of Huntingdon, together with another knight's fee in Brafield-on-the-Green, being still held of the manor of Earls Barton in the 16th century. (fn. 13)
One William held 3 virgates in Brafield and 1½ here in 1086, but there is nothing to connect him with William de Houghton who in the 12th century held 3½ hides in the two places. (fn. 14) William de Houghton held lands in other counties and was chamberlain of Henry I. (fn. 15) In 1130 he paid £200 in Northamptonshire and Leicestershire for the widow and land of Edward of Salisbury, to the use of his son Payn (fn. 16) de Houghton, 'le chamberlayne', (fn. 17) who also made a payment. (fn. 18) Payn presented to the church (fn. 19) and was probably dead by 1155. By his wife Adeliz de Raimes he had a daughter Maud de Houghton, called his heir. (fn. 20) He had another daughter Emma, (fn. 21) not called his heir; and though she shared his inheritance she and her descendants held of Maud and her heirs.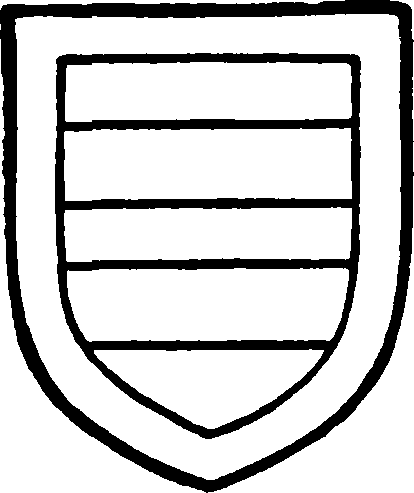 HOUGHTON GRIMBALD. (fn. 22) Maud married Robert Grimbald, and he (or his father) was called Grimbald de Houghton in about 1155. Robert, like his father, was sewer of the Earl of Northampton and sheriff before 1155. He, with the consent of Maud, gave to St. Andrew's, Northampton, a moiety of the church of Little Houghton before 1168, the probable date of his death being about 1161. (fn. 23) Maud, with the consent of her son (fn. 24) and heir Simon, confirmed the gift to the priory. (fn. 25) By 1176 she had married her second husband Richard del Peak who then joined her in granting to St. Mary 'de Voto' near Cherbourg all their land at Arville at a rent payable at Houghton. (fn. 26) Simon de Houghton and William Grimbald, the son of her first husband (fn. 27) and afterwards called by Maud her heir, (fn. 28) were witnesses. By her second husband (who died in 1196) (fn. 29) Maud had apparently an only child Isabel, who married Hugh de Waterville. (fn. 30) In one charter, before 1166, Maud says 'with the consent of Simon my heir and of my other heirs', (fn. 31) which suggests the division of her inheritance between her sons Simon and William. Simon evidently died without issue and William received Little Houghton. Their mother is last mentioned in 1201 when Anketil le Lou (Lupus) sued her and her sister's husband for 6 virgates of land here. He died and the case ended. (fn. 32) William Grimbald was tenant of the 7 Ryhall fees and half the Lincolnshire lands of the Houghtons in 1203–4 (fn. 33) and by 1212 had succeeded here. (fn. 34) His son and heir Robert (fn. 35) held two fees in these two places and two in Hardwick, Moulton, and Newton in 1235 and 1242. (fn. 36) His son William, a minor in 1265, (fn. 37) married Mabel sister and later co-heir of John and William de Kirkby and was lord in 1284, (fn. 38) but the same year alienated the manors of Brafield and Little Houghton to John de Kirkby, (fn. 39) Bishop of Ely 1286–90, whose brother and heir, William, (fn. 40) granted the manor of Little Houghton for life to Henry Spigurnel. Mabel successfully claimed her dower third in both manors in or before 1302, when, her brothers being dead, she was assigned the reversion of Little Houghton manor as her pourparty of the Kirkby estates. (fn. 41) Henry Spigurnel was returned as lord in both places in 1313 and 1316. (fn. 42) Mabel died in 1312, her son and heir Robert Grimbald, succeeding her by 1325, (fn. 43) after which date no more is heard of the family here. Walter de Houby is said to have acquired the Grimbald pourparty of the Kirkby inheritance, (fn. 44) but does not appear in Brafield or Little Houghton; apparently the two moieties of the manors now became united. This is borne out by the tenure of 3 virgates in Brafield which Theobald de Gayton, descendant of a 13th-century Simon de Houghton, (fn. 45) held in 1313 as ¾ of a knight's fee of Henry Spigurnel. (fn. 46) His younger sister and co-heir Escholace, wife of Geoffrey de Meaux, (fn. 47) lord of Meaux in Holderness, died seised of 2 virgates in Brafield in 1354, of the gift of her father John de Gayton and held of the lord of the other portion of Brafield and Little Houghton, the descendant of the second Houghton daughter Emma. (fn. 48)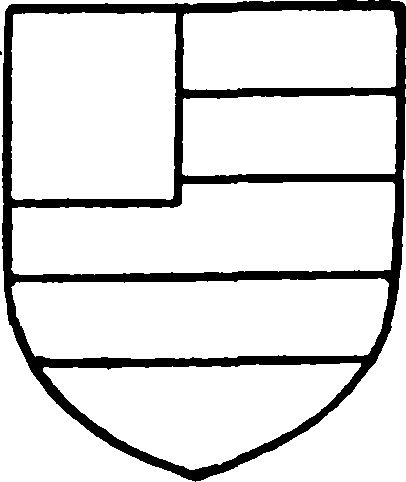 Arnold de Bois II, who maried Emma younger daughter of Payn de Houghton, (fn. 49) belonged to a family connected with Bois-Arnault in France and Thorpe Arnold in Leicestershire. At the request of Emma he gave, with his body, half Little Houghton Church to his father's foundation of Biddlesden Abbey, Bucks., with land in Great Houghton, and, before 1166, their part in Little Houghton mill. (fn. 50) His son Arnold III (fn. 51) was with the rebels in 1216 but returned to great favour. (fn. 52) Arnold de Bois IV (fn. 53) died seised of the manor of Brafield in 1277, leaving a son and heir John (fn. 54) (younger brother of another Arnold (fn. 55) ), who held the one knight's fee of William Grimbald in Little Houghton and Brafield in 1284. (fn. 56) He died in 1295 and his brother and heir William (fn. 57) in 1300 enfeoffed Milicent de Monhaut of a moiety of these manors for Milicent to grant them to himself for life with remainder to Maud daughter of his sister Isabel by John, Lord Lovel, (fn. 58) and her husband William la Zouche of Harringworth, Milicent's son. (fn. 59) These two moieties henceforth descend with Harringworth (fn. 60) (q.v.). By 1376 the Zouche family alone was returned for the two vills.
Thomas Wake of Liddell made a fine in 1333 with William la Zouche for the two manors, (fn. 61) possibly a quitclaim as guardian of the heir of Waterville. (fn. 62) Edward, Lord Zouche, between 1604 and 1615 sold the two manors with the rectories, tithes, and advowsons to William and Daniel Ward of Brafield. (fn. 63) William Ward, elder son of John Ward of Brafield, acquired the rectory of Brafield, while Daniel the younger son acquired the manor and rectory of Little Houghton, (fn. 64) and possibly the manor and advowson of Brafield. Daniel made a settlement of the rectory in 1618 and died at Little Houghton in 1625, leaving a son and heir William, (fn. 65) sheriff 1646–7. He died in 1674, (fn. 66) being in possession of both advowsons at least ten years earlier, (fn. 67) and his son Thomas was father of William Ward who held both manors and advowsons in about 1720. But by this date two thirds of the manor of Little Houghton had become divided up among the tenants, William Ward holding one third of the manor and of all the lands. (fn. 68) William's son Thomas died in 1772, when his four surviving sisters, Mary, Martha, Bridget, and Dorothy, sold Little Houghton House in 1773 to Edward Cox of Northampton, who pulled it down. Subsequently, in 1777, Dorothy Ward, the last surviving sister, sold the remainder of the property to Christopher Smyth, son of the rector of Emberton, Bucks. (fn. 69) Thomas Thornton of Brockhall married in 1692 Elizabeth daughter and heir of William Ward of Brafield. She died in 1737. Her great-grandson Thomas Reeve Thornton (fn. 70) and Susan his wife conveyed one fifth of the manors of Little Houghton and Brafield in 1801 to Christopher Smyth. (fn. 71) William Tyler Smyth, nephew of Christopher, came to live at Little Houghton, and died here in 1838. His eldest son William, sheriff 1862, died childless in 1872. His brother Christopher, vicar of Little Houghton, was succeeded in 1897 by his son Christopher Smyth, esq., D.L., J.P., (fn. 72) lord of both manors, and patron of the living until his death on 8 February 1934, when he was succeeded by his daughter Ursula Catharine, wife of Cecil Vere Davidge, esq.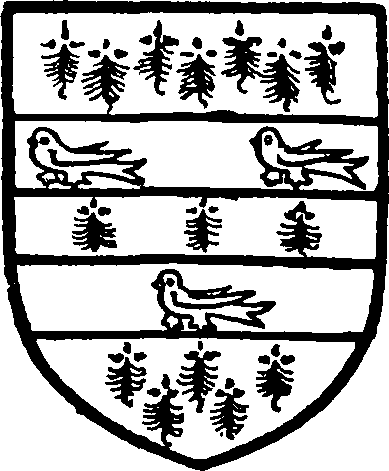 There was a mill in Little Houghton in 1086, (fn. 73) and it was shared by Maud de Houghton and her sister Emma, who with her husband Arnold de Bois II gave their share before 1189 to Biddlesden Abbey. (fn. 74) Arnold III confirmed, reserving the grinding for his house, and added 1½ virgates of land. (fn. 75) The other half was bestowed on the abbey in 1260 by Robert Grimbald, who also reserved the grinding for his table and fishery as far as the abbey court. William Grimbald made an agreement as to the pool in 1278. (fn. 76) In 1326 Ralph Cusyn, perpetual vicar of Brafield, made an agreement as to tithes from the mill called 'Clyfford mylne'. (fn. 77) William la Zouche quitclaimed all right in the two Clifford mills and the pool in 1396. (fn. 78) The abbey dovecote is mentioned 1296. (fn. 79)
The abbey received 110s. 10d. rents and farms here in 1535. (fn. 80) After the Dissolution the abbey property in Houghton, including 'three good mills' at Clifford, was leased to the miller, William Chamberlayne, reputed a 'common lease-monger', who let the mills decay. (fn. 81) For this property he appeared as free tenant at the royal court of Great Billing. (fn. 82) In 1573–4 the abbey's possessions were granted to Christopher Fenton and Bernard Gylpyn. (fn. 83)
Church
The church of ST. MARY THE VIRGIN consists of chancel, 30 ft. 6 in. by 16 ft. with organ-chamber on the north side, clerestoried nave, 42 ft. 8 in. by 16 ft. 6 in., north and south aisles each 16 ft. 8 in. wide, south porch, and west tower, 11 ft. 9 in. by 12 ft. 3 in., all these measurements being internal. The width across nave and aisles is 55 ft. 3 in.
The north aisle with its extension eastward is an addition of 1873, (fn. 84) at which time the body of the church underwent a very extensive restoration, amounting almost to a rebuilding, and externally, with the exception of the tower, and in some degree the chancel, very little original work remains. The building is of ironstone, with separate low-pitched gabled roofs to nave and aisles, behind straight parapets. The chancel roof overhangs and, with the porch, is covered with red tiles. Internally all the walls are plastered.
The restoration of 1872–3 (fn. 85) included the removal of south and west galleries (the stairs to which, however, at the west end of the south aisle still remain), (fn. 86) the erection of new roofs, the building of the porch, and of a new south arcade and clerestory. All this work, together with the new north aisle and its arcade, is in the style of the 14th century, to which period much of the old building appears to have belonged. The south doorway, however, though much restored, is of 13thcentury date, as is the greater part of the tower. The doorway has a semicircular arch of three orders, the two outer ones square and the innermost with a slight chamfer. The hood-mould is keel-shaped. The arch springs from moulded imposts and from single jamb shafts with carved capitals and moulded bases. (fn. 87) The 13th-century portion of the tower is of three stages, with pairs of buttresses at the western angles, the upper or original bell-chamber stage having on all four sides an arcade of five pointed arches on shafts with moulded capitals and bases, the middle and end arches being wider than the others. (fn. 88) The arches are plainly chamfered and have keel-shaped hood-moulds. There is also a shaft at each angle of the tower at this stage, below which the buttresses stop. The bottom stage of the tower was originally blank on all three sides but at the time of the restoration two lancet windows were inserted in the west wall. In the second, or middle, stage there is a single original lancet opening on the north side, with keel-shaped hood-mould.
In the 14th century the tower was heightened by the addition of the present bell-chamber, which has tall pointed windows of two trefoiled lights with quatrefoil in the head, and terminates with a battlemented parapet, below which is a band of quatrefoiled circles.
The heightening of the tower seems to have formed part of a very complete 14th-century reconstruction of the church, which probably included the building of a new chancel. The pointed east window is of three trefoiled lights with new reticulated tracery and mullions, but the double hollow-chamfered jambs and head are old. The chancel has a chamfered plinth and diagonal angle buttresses, and there are two restored pointed windows of two trefoiled lights in the south wall and a single modern window of the same character on the north. The two sedilia and piscina form a single architectural composition of three uncusped ogee arches, in the spandrels of which are unpierced trefoils. The piscina, which has a circular bowl, is plainly chamfered, but in the sedilia the roll and fillet is used. At its west end the chancel opens to the aisle on each side by a pointed arch of two chamfered orders, on half-octagonal responds with moulded capitals and bases, and the lofty arch to the nave is of the same character, but wholly restored. The chancel screen was erected in 1873, and the rood and attendant figures were added in 1918.
Bridges states that in his day the east end of the south aisle was 'parted off from the rest' and was called the vicar's chancel. (fn. 89) It covers the chancel about 8 ft., but is not structurally divided from the aisle: at the north end of its east wall is a priest's doorway, now blocked. (fn. 90) In 1921 this chapel was restored to its proper use. There is a modern organ-chamber on the north side.
The modern nave arcades are of three bays with pointed arches on octagonal pillars with moulded capitals and bases and on responds of similar design. There are three clerestory windows on each side, and all the windows of the south aisle are modern. The wide and lofty 14th-century tower arch is of three chamfered orders to the nave, (fn. 91) the innermost order on half-octagonal responds with moulded capitals and bases.
The font has an early-13th-century circular bowl on an octagonal shaft and four legs, on a circular plinth and step. The bowl is ornamented with a species of straight-topped 'arcading'.
The oak pulpit dates from 1873. An oak screen separating the vestry from the north aisle was erected in 1931. (fn. 92)
On the north wall of the chancel is a monument to William Ward (d. 1737), his wife Bridget (d. 1735), and seven of their children, erected by two surviving daughters in 1775. The floor slabs of William Ward (d. 1674) and Thomas Ward (d. 1687), mentioned by Bridges, are under the altar. (fn. 93)
In the churchyard is a memorial cross to thirteen men of the parish who fell in the war of 1914–18.
There are five bells in the tower. The first is by Thomas Russell of Wootton (Beds.) 1720, the second by Henry Bagley I 1669, the third by James Keene 1624, the fourth by Henry Bagley II 1685, and the tenor by Matthew Bagley I 1685. (fn. 94)
The plate consists of a cup of 1685; a paten and flagon of 1721, each inscribed 'The Gift of William Ward Esq. 1722'; a 17th-century bread-holder without marks; (fn. 95) and a chalice and paten of 1897–8.
The registers before 1812 are as follows: (i) all entries 1541–1632; (ii) 1558–1695; (iii) 1558–1669 on paper; (iv) 1653–95; (v) 1695–1736; (vi) baptisms and burials 1742–1801, marriages 1742– 54; (vii) marriages 1754–1812; (viii) baptisms and burials 1801–12. The first two volumes have been rebound.
Advowson
Payn de Houghton presented to the church (fn. 96) before 1161, and the advowson was shared by his daughters. Robert Grimbald gave Maud's share, on the day he died, with his body, to the Priory of St. Andrew, Northampton. Robert, Bishop of Lincoln (1147–66), confirmed this grant, as did Maud, her heir Simon, and her second husband Richard del Peak. (fn. 97) Arnold de Bois II at the request of Emma his wife gave their moiety to Biddlesden Abbey to provide lights in the church for ever before 1189. (fn. 98) That abbey alienated it early next century to St. Andrew's Priory, for 2 marks annual pension, (fn. 99) which was still paid at the time of the surrender. (fn. 100) John de Bois quitclaimed in 1285. (fn. 101) The priory continued to present, except when its possessions as an alien priory were in the king's hands owing to the Hundred Years War, until 1538, when the rectories and advowsons of Little Houghton and Brafield and all the possessions of the priory there were surrendered. (fn. 102) The Crown retained the advowson when leasing the rectory in 1568–9 and in 1587–8 granted both to Edward Downing and others. (fn. 103) John Stanley and John Payne are said to have been seised in fee of the two rectories and sold to Lord Zouche, (fn. 104) but Henry Knollys and Anne his wife conveyed this rectory in 1590 to Lord Zouche. (fn. 105) The advowsons descended with the manors (q.v.) until 1774, when Mary and Dorothy Ward sold the joint advowson of the two parishes, which had been united about 1685, to Mrs. Ann Walker, and presentation was made by Tilley Walker in 1775. Next year the Rev. J. Walker sold it to Esther Mendham, who presented in 1794. She sold in 1808 to Thomas Graham, who conveyed it in 1817 to the Rev. John Johnson, who was vicar from 1817 to 1838, in which year the advowson was bought by William Tyler Smyth for his son the Rev. Christopher Smyth, in whose family it has remained, being now in the gift of Miss Smyth and Mrs. Davidge. (fn. 106)
The vicarage was ordained in the time of Hugh de Welles, Bishop of Lincoln (fn. 107) (1209–35), who in 1231 deprived the vicar Peter de Northampton for refusing to appear at his summons or reside at Little Houghton or perform his office. (fn. 108)
Edward Lye (1694–1767), the Anglo-Saxon scholar, was vicar of Little Houghton 1721–50. (fn. 109)
William Grimbald, lord c. 1265–84, obtained from the priory the right to a chapel for himself and his heirs, presumably in the manor-house, whenever staying at Little Houghton, saving the rights of the mother church. (fn. 110)
Charities
Town Estate or Church Land and Cottages. An allotment of 8 a. 3 r. was set out on an Inclosure in this parish in lieu of certain parcels of land in the open fields, which had from ancient time been held as appropriated to the reparation of the church. There are also six cottages belonging to this charity the origin of which appears to be uncertain. The land and cottages are let and the rents amounting to £28 (approximately) yearly are applied by the churchwardens towards the repair of the church.
Dorothy Ward by her will dated 11th June 1792 bequeathed £200, the income to be applied in putting out poor boys as apprentices. The endowment is now represented by Stock held by the Official Trustees producing £10 7s. 6d. yearly in dividends.
Gifts of Mary, Martha, and Dorothy Ward. Dorothy Ward by her will dated as above also directed two sums of £100 each given by her sisters, and £100 given by herself, to be invested, the interest to be distributed among the most necessitous poor old persons of the parish. The endowment is now represented by £500 Consols held by the Official Trustees producing £12 10s. annually in dividends. This charity is now regulated by a Scheme of the Charity Commissioners dated 5 May 1905, by which 5 trustees were appointed. The income of the charities is applied in apprenticing and for the benefit of the poor.