Pages 169-181
A History of the County of Oxford: Volume 11, Wootton Hundred (Northern Part). Originally published by Victoria County History, London, 1983.
This free content was digitised by double rekeying. All rights reserved.
SANDFORD ST. MARTIN
Sandford St. Martin, (fn. 1) known simply as Sandford until c. 1884 when the suffix, from the church dedication, was added to distinguish it from Sandford on Thames and Dry Sandford (in Abingdon), (fn. 2) lies 14 miles (20 km.) north-west of Oxford and 10 miles (15 km.) south-west of Banbury. It is a long, narrow parish, covering 2,292 a. (977 ha.) and containing two villages, Sandford St. Martin and Ledwell; Grove Ash, the northern end of the parish, contained a third village in the Middle Ages and for much of its history has been a separate township. The parish boundaries for the most part follow field boundaries, although the road from Deddington to Chipping Norton forms part of the short northern boundary, parts of the eastern boundary follow small streams, and part of the southern boundary follows the line of an old road from Great Tew to Wootton. (fn. 3)
The land slopes down from 155 m. in the south-west to 125 m. in the Dorn valley, then rises again to 180 m. in the centre of the parish, near Ledwell. It falls steeply to 100 m. at the Worton brook, which divides Grove Ash from the rest of the parish, and then rises sharply, reaching 165 m. at the Deddington road. The high ground at Ledwell marks the change from the limestone of the Chipping Norton or great oolite series in the south to clay in the north, upper lias clay on the high ground and lower lias clay on the lower ground, giving way to a band of alluvium along the Worton brook. Both the villages lie mainly on the Chipping Norton limestone. (fn. 4)
The northern part of the parish is drained by the Worton brook which flows east into the river Cherwell, the southern by the river Dorn and its tributaries the Cockley brook and the Tyte which flow south-east into the river Glyme. The Cockley brook rises in Ledwell, it or its source presumably being the loud stream or spring which gave the village its name, (fn. 5) and flows east, out of the parish, to join the Dorn in Steeple Barton. The Tyte rises between Sandford and Ledwell and flows west into the Dorn through the artificial lakes in Sandford Park. A spring in Cow ground, north-east of Sandford village, was reputed in the 17th century to cure sores, ulcers, and eye diseases. (fn. 6)
Grove Ash was inclosed in the 16th century, but over much of the rest of the parish the open fields survived until parliamentary inclosure in 1768, farmed from houses in the villages. There are only two outlying farms, Hobbs Hole, built c. 1770, and Flighthill recorded in 1815. (fn. 7) A large park south of Ledwell, Ledwell Park, was created in the 18th century and abandoned in the 19th. In Sandford village, Sandford Park was created in the 18th century and reduced in size early in the 20th. (fn. 8)
Minor roads and footpaths connect Sandford and Ledwell with each other and with neighbouring villages. No major road passes through the parish, but the road from Deddington to Chipping Norton, turnpiked in 1770 and disturnpiked in 1871, runs along its northern edge, and the road from Bicester to Enstone, turnpiked in 1792–3 and disturnpiked in 1876, (fn. 9) along its southern edge. A road from Banbury to Oxford which ran through the parish in 1691 (fn. 10) was presumably the road through Grove Ash and Sandford village; its southern part was called Old Cow Lane in 1768 when it was the only road respected by both pre- and post-inclosure field boundaries. (fn. 11) It remained the main road from Sandford to Banbury until the early 19th century when the road through Nether Worton assumed equal importance. In 1857 the occupier of Flighthill farm was allowed to divert the southern end of the Grove Ash road away from his land. (fn. 12) By 1886 the road had become a cart track, (fn. 13) and by 1980 it had almost disappeared. In the south of the parish the line of the Bicester-Enstone road was slightly altered after it was turnpiked in 1793. (fn. 14)
Its name implies that there was an early ford in or near Sandford village. (fn. 15) Village tradition asserts that it was on the northern edge of the village, over the Tyte, but there is no evidence to support the belief, and the ford is perhaps more likely to have been at one of the crossing points of the Dorn. By 1279, when the surname 'at bridge' was recorded, (fn. 16) it had presumably been replaced by a bridge. Sandford bridge in the South field, probably on the Woodstock road, was recorded in 1706. (fn. 17) Both it and the bridge at the mill were footbridges c. 1770. (fn. 18) A new bridge was built at the mill in 1842, a cart bridge at Sandford bridge in 1847, an 'arched bridge' over the Tyte in 1840, and a bridge over the Worton brook in 1869. (fn. 19)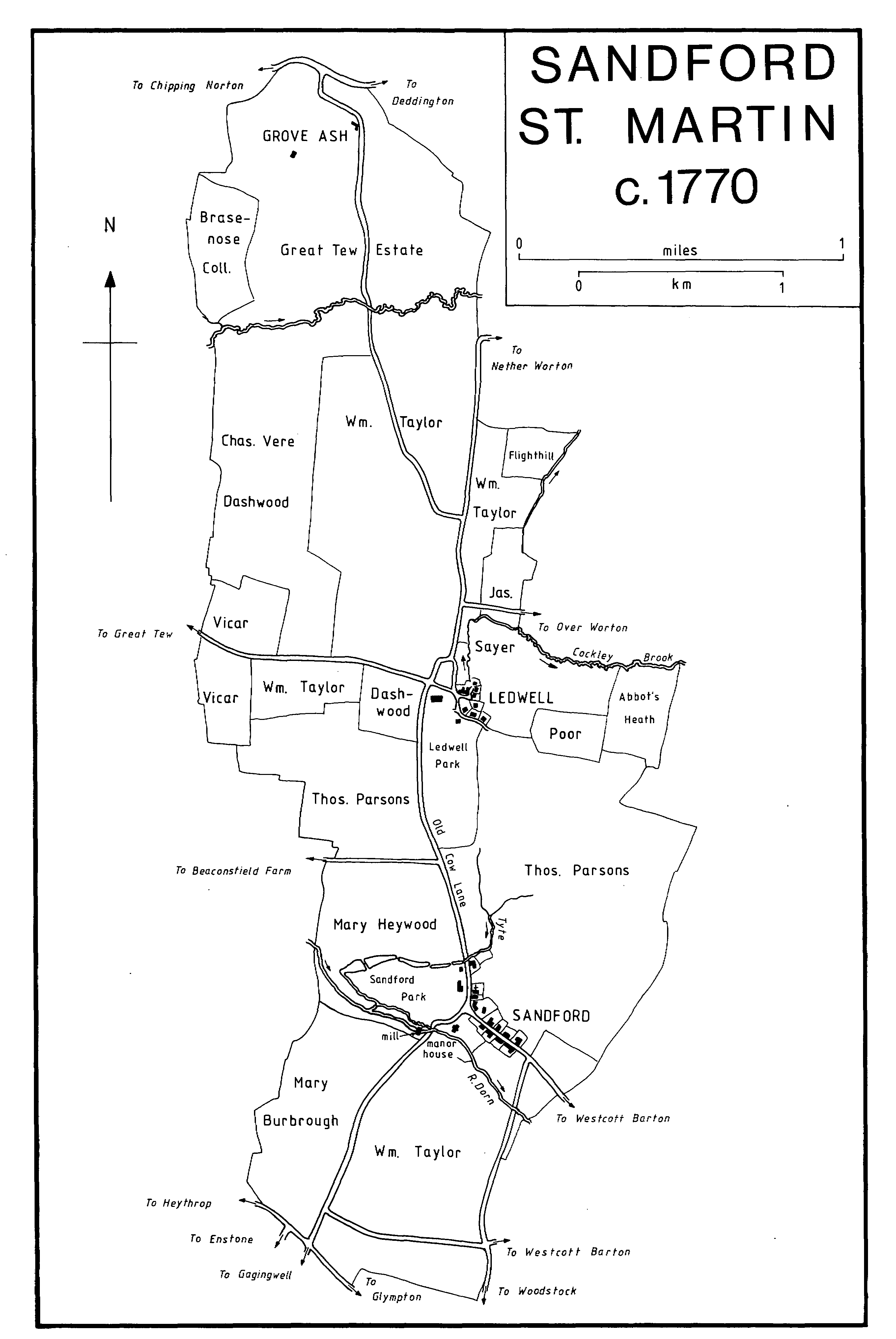 In the later 19th century carriers' carts usually ran twice a week to Banbury and once a week to Oxford. (fn. 20) The nearest railway station is Upper Heyford, 4 miles to the east, opened in 1850. (fn. 21) There was a post office in the village by 1847. (fn. 22)
There is no evidence of prehistoric or RomanoBritish settlement in the parish, although concentrations of flint implements have been found near the boundary with Great Tew, and a coin of Valens near the manor house. (fn. 23) Both Sandford and Ledwell were established by 1086 when 39 men, 2 of them serfs, were recorded on the main Sandford manor. (fn. 24) In 1279 there were on that manor 26 unfree and 3 free tenants in Sandford and 14 unfree and 5 free tenants in Ledwell; (fn. 25) the tenants of c. 8 yardlands were not recorded, but the total population of the two villages may have been c. 250. Sandford and Ledwell, like Steeple Barton, apparently suffered badly in the Black Death, and in 1377 only 71 people in Sandford and 31 in Ledwell paid poll tax. (fn. 26) Much of the population loss may have been in Ledwell, where traces of deserted houses and lanes remain north of the village. (fn. 27)
The population had risen by 1641 when 65 men took the protestation oath and 3 refused. (fn. 28) In 1676 there were 178 adults, and vicars estimated the population at c. 70 families in 1738 and c. 85 families in 1768. (fn. 29) The population seems to have declined in the 1770s and 1780s; (fn. 30) in 1801, when it had started to rise again, it was 312, and it rose to 534 in 1831. Almost all the newcomers were agricultural workers, and the increase may have been due partly to a change from pasture to arable farming. Ledwell, away from the domination of the manor house and Sandford Park, probably grew more than Sandford; in 1768 c. 30 per cent of the population of the parish lived in Ledwell, in 1841 c. 40 per cent. The population remained over 500 in 1841 and 1851, but fell thereafter, to 443 in 1891 and to 340 in 1901, and to 254 in 1961. It rose slightly, to 259 in 1971, as new houses were built. (fn. 31)
Grove, Grove Ash, or Welcombe Grove, was first recorded in 1217. (fn. 32) In 1279 there were 16 villeins there, and 34 people paid poll tax in 1377, suggesting that the township was then about the same size as Ledwell. (fn. 33) It was alleged c. 1503 that 10 people had been driven off the land as arable was converted to pasture, but nevertheless 8 men were assessed for subsidy in 1524, compared with 12 in Ledwell. In 1543 only 2 men were assessed, and one of them lived in Chipping Norton. (fn. 34) Three farmhouses survived in the 17th and 18th centuries. One, with a hall, buttery, kitchen, and at least five chambers, was occupied in the earlier 17th century by Edward Rainsford, formerly of Great Tew, but in 1662 it had only three hearths. (fn. 35) Another was often uninhabited and by 1796 had been reduced to a cow shed. (fn. 36) Two houses, Upper and Lower Grove Ash Farm, survived in 1980; Lower Grove Ash seems to have been built originally in the 18th century, Upper Grove Ash in the later 17th century, but both have been much altered. Traces of house platforms remain in the field between the two surviving houses, and a large fish-pond, recorded in 1774, below Upper Grove Ash Farm. (fn. 37)
Sandford village reflects the dominance, from the late 18th century to the early 20th, of the Park and Manor estates. The manor house stands beside the Dorn, hidden from the village street by trees and by a steep fall in the ground, but the Park, on high ground opposite the church, is the most prominent house in the village. Several smaller houses, particularly on the Barton road, are 19th-century estate cottages, but there are also some 17th- and 18th-century limestone rubble cottages with slate roofs, among them the former inn, a slightly larger house on the south side of the Barton road. The village also contains a few substantial 17th- and 18th-century farmhouses, built by prosperous yeomen or gentry. The largest, Brandon Farm on the corner of the Barton and Ledwell roads, has an irregular plan, suggesting that it was built in two stages. The north wing is of the early 17th century and has a panelled room with an overmantel bearing the initials P/IK, presumably for John Parsons, whose family owned the great tithes of the parish, and his wife. (fn. 38) The house was the largest in the village in 1662 when it was taxed on seven hearths. (fn. 39) The south end of the house was largely rebuilt in 1705 and bears the initials of William Parsons and his wife Elizabeth. (fn. 40) Southfield Farm, east of Brandon Farm, is a 17th-century rubble house with stone mullioned windows and a slate roof. Clover Hall, dated 1715 and 1808, the last house in the village on the Barton road, is the only old house in the village of dressed stone.
In the centre of the village is a small triangular green, largely a 19th-century creation, on which is a medieval cross base and shaft, restored and given a new head by G. E. Street in 1856. (fn. 41) In 1927 the former school from Ardley was erected east of the Ledwell road as a village hall. (fn. 42) The only other 20th-century additions to the village are five detached houses and a group of six council houses north of the village.
Ledwell was described as late as 1952 as a tumbledown hamlet of 'patched farmsteads' and 'battered cottages', (fn. 43) but in 1979 the village, largely inhabited by professional people, was well kept and prosperous. The houses lie along a winding street, once the start of a road to Over Worton, and around a small green on which is the village well, removed from its former site higher up the street in the 1920s or 1930s. (fn. 44) Manor Farm, at the entrance to the village, is an imposing, early 18th-century house of ashlar with a Welsh slate roof, its front decorated with pilasters of full height. It may have been built by the Appletree family. (fn. 45) Adjoining the farmhouse on the east are four cottages of similar date. Ledwell House, approached by a drive from the green, appears to have been built in the 17th century as a relatively small house and enlarged in the 18th century and the later 19th. In the later 17th century it belonged to the Lock family; later owners included Vice-Admiral James Sayer (d. 1776) who played a prominent part in the naval campaigns of the Seven Years War, and James Paxton, a noted surgeon and medical writer. (fn. 46) The large house or mansion, Ledwell Park, built on the southern edge of the village in the 17th century, was demolished c. 1800. (fn. 47)
For much of the later 18th century and the early 19th there was one public house in Sandford and one in Ledwell. That in Sandford, successively the Silver Tavern (1774, 1784), Taylor's Arms (1785–7), and the Crown (from 1788), stood near the manor house gates. It was closed between the 1880 and 1883, according to village tradition by Edward Marshall of the manor house, who objected to a public house so close to his gates. (fn. 48) That in Ledwell, known in the 20th century as the Plough, remained open until the 1960s. (fn. 49)
Sandford wake or feast was kept on the Sunday after St. Martin's day (11 November), and on the Sunday after 22 November from 1752. It survived into the later 19th century. (fn. 50) A small fair at Ledwell, held on 22 July, the feast of St. Mary Magdalene, patron of the medieval chapel, died out in the late 19th century. (fn. 51)
During the Civil War a dispute over a moiety of the mill in Sandford St. Martin village erupted into violence, and one claimant, assisted by soldiers, broke into the premises. (fn. 52) The uncertainty of the times is also demonstrated by the large hoard of coins of James I and Charles I discovered in 1762 in an old outbuilding. (fn. 53)
Manors and other Estates.
In 1086 Adam son of Hubert de Ryes held 14 hides less 1 yardland in Sandford of Odo of Bayeux. (fn. 54) The estate, which included land in Ledwell and Grove Ash, (fn. 55) formed part of Steeple Barton manor until the mid 16th century and was held by the St. Johns, and their successors until it was sold to John Blundell in 1552. At the division of Blundell's lands in 1559 SANDFORD AND LEDWELL was treated as a separate manor (fn. 56) but followed the descent of Steeple Barton, being divided in the early 17th century between Gresham Hogan, who held two thirds, and Gerard Croker, who held one third. (fn. 57) Hogan's share passed with Steeple Barton to his daughter Elizabeth Waller and to her heirs the James family, and was sold in 1726 to Joseph Taylor. At Taylor's death in 1732 Sandford and Ledwell manor was separated from Steeple Barton, being devised to his nephew, another Joseph Taylor. (fn. 58) The younger Joseph died in 1760 and was succeeded in turn by his brother William (d. 1780), and William's sons James (d. 1814) and William (d. 1828). (fn. 59) Joseph did not exercise any manorial rights, and the elder William received no compensation for any at inclosure in 1768, but James appointed gamekeepers and called the estate a manor. (fn. 60) William devised it to his cousin Edward Marshall who had assumed the additional surname Hacker. From Edward Marshall Hacker (d. 1841) the manor passed to his son Edward Marshall (d. 1899), to Edward's son Edward Henry Marshall (d. 1909), and to Edward Henry's son Edward Ralph Marshall who in 1937 sold it to A. J. Edmondson. (fn. 61) Edmondson, created Lord Sandford of Banbury in 1945, gave the manor in 1948 to his son J. C. Edmondson, who sold it in 1957 to Mrs. S. C. Rittson-Thomas. (fn. 62)
The manor house, a much altered 18th-century building, is presumably the house built by Joseph Taylor c. 1715, before he acquired the manor. (fn. 63) The north-west front, of three storeys and five bays with a central pediment, survived in 1979. E. Marshall Hacker added west and east wings, and Edward Marshall made further additions and reversed the main entrance, moving it to the south-east front and making a new drive from the village street. In 1924 the south-east front was enlarged and altered to conform with the Cotswold style of building. (fn. 64)
The other third of the manor remained in the Croker family, descending from Gerard Croker (d. 1577) and Mary Blundell to their son John (d. 1610), to John's son Gerard (d. 1620), and to Gerard's sons John (d. 1629), Gerard (d. 1647), and Henry (d. 1651). (fn. 65) Henry was succeeded by William Croker, younger son of John (d. 1610), who died c. 1653. The manor then descended to his son John (d. by 1666), to John's son William (d. 1709), and William's son Gerard (d. 1733). (fn. 66) Under the terms of Gerard's will it passed to his sisters Anne (d. 1741) and Stuart (d. 1746) Croker, to their nephew Samuel Wilmot (d. 1772), and to Wilmot's daughter Mary Heywood. Mrs. Heywood was succeeded in 1797 by her cousin Samuel Cox (d. 1809) and by his son Samuel Fortnum Cox. (fn. 67) On S. F. Cox's death in 1849 the estate, then known as Sandford Park, was sold to Edwin Guest, master of Gonville and Caius College, Cambridge, who died in 1880. Guest's widow Anne (d. 1900) devised Sandford Park to her nephew E. F. Chance. The estate was split up in 1920 and 1923. (fn. 68)
Sandford Park is an early 18th-century house, perhaps built by Gerard Croker (d. 1733), to which additions were made on the west side later in the century. The main house has an east front of five bays and a balustraded parapet, and a west front of three bays with venetian windows and central porch. A north wing, added in the early 20th century, was demolished in 1954. (fn. 69) The service quarters and stables north-west and north of the house appear to have been built at various dates in the 19th century. The earlier 18thcentury park lay west of the house and had along its north side a wooded valley with a stream and small lakes, crossed at one point by a sevenarched bridge. Following inclosure in 1768 the park was extended northwards where some clumps of trees survived in 1979. A new entrance was made from the Ledwell road through the extended park and across the bridge over the lakes. Beside the road to the mill is a circular mound ascended by a spiral path; it is of 17thcentury character and may have formed part of the garden of the Crokers' earlier house, taxed on 5 hearths in 1662. (fn. 70)
One hide and 1 yardland in Ledwell belonged in 1086 to the royal, formerly comital, manor of Bloxham and Adderbury. (fn. 71) The estate was probably the 1 hide given to St. George's in the Castle, Oxford, before 1135 which passed with the rest of St. George's endowments to Oseney abbey. (fn. 72) Oseney added 4 yardlands and 140 a. to its holding in 1350 and 1357 by exchange with the justice William Shareshull. (fn. 73) Shareshull had acquired land in Sandford by 1338, and perhaps by 1334 when his brother John Shareshull held land there. (fn. 74) In 1354 he bought a further 140 a. from John le Duddere of Ledwell, who had acquired them from the St. John family. (fn. 75) Oseney abbey retained its property in Sandford and Ledwell until the Dissolution, when it passed to Leonard Chamberlain (fn. 76) and was absorbed into the manor estate.
The property later known as Ledwell Park belonged to Thomas Parsons in 1635. (fn. 77) In 1666 Francis Smith, Lord Carrington, enlarged the estate, and in 1682 lived in the house there. (fn. 78) He sold it in 1685 or 1686 to Richard Brideoak (fn. 79) from whom it passed before 1717 to Henry Scott, earl of Deloraine, son of the duke of Monmouth, who created a park. (fn. 80) He also rebuilt and refurnished the house at a cost of over £9,000. (fn. 81) In 1732 his son Francis, earl of Deloraine, sold Ledwell Park to Sir Robert Dashwood of Northbrook who settled it on his younger son Richard and his wife Elizabeth. (fn. 82) Elizabeth and her second husband Charles Armand Powlett enlarged the park in 1739 and in 1750 bought from William Cartwright of Aynho a further 5 yardlands and several closes bought by his grandfather John Cartwright from William Croker (d. 1709). Elizabeth Powlett died in 1756 and was succeeded by her grandson Charles Vere Dashwood who in 1774 sold the Ledwell property to Mary Heywood. (fn. 83) The house, 'a smart hunting seat', was uninhabited and dilapidated in 1759, and was demolished c. 1800. (fn. 84) A range of 18thcentury outbuildings survives, much altered, as Upper Close Farm; a range of contemporary buildings to the south was probably coachhouses. Some distance to the east is the dovecote, converted into a cottage.
Much of Grove Ash was alienated by the St. Johns and their successors in the later Middle Ages. Richard Page of Nether Worton (d. 1375) held an estate, later 4 yardlands, (fn. 85) which descended with his Nether Worton manor until 1598 when Philip Babington sold it to Richard Fermor of Tusmore, whose descendants sold it in 1716 to the executors of Anthony Keck of Great Tew. (fn. 86)
An estate of c. 2 yardlands sold by the St. Johns to William Dene in the earlier 14th century passed to John Busby of Grove, to another John Busby (d. 1351), to the second John's son Nicholas, and to Nicholas's son John who sold it c. 1416 to Richard Busby and Richard Thurston. (fn. 87) The later descent of that and other small freeholds, such as the 4½ yardlands leased by the Chamberlains to Robert Busby in the early 16th century, and sold to him in 1518, (fn. 88) or the estate held by Sir Thomas Englefield (d. 1537), (fn. 89) is obscure, but one or more of them may have been acquired by the lords of Great Tew who held an estate in Grove Ash by 1550. (fn. 90)
By 1537 Richard Andrews of Yarnton held land in Grove Ash; he sold part of it to Brasenose College in 1538 and exchanged the remainder with the Crown in 1541. (fn. 91) The Crown land was leased in the late 16th century to Henry and William Rainsford who assigned the leases to their father Edward Rainsford of Grove Ash (d. 1624). (fn. 92) The freehold was presumably later acquired by the lords of Great Tew.
From 1716 the Great Tew estate owned the whole of Grove Ash except for the c. 48 a. held by Brasenose College. That estate was leased to the owners of Great Tew from 1798 and exchanged with them in 1848 for land in Postcombe in Lewknor. (fn. 93)
The great tithes of Sandford St. Martin formed part of Steeple Barton rectory in the Middle Ages and passed after the Dissolution to John Blundell and his heirs. Richard Champneys acquired two thirds of the tithe of Sandford and in 1602 granted them to Richard Parsons, in whose family they remained until they were commuted for c. 248 a. at inclosure in 1768. Most of the land was sold to Mary Heywood in 1783. (fn. 94) A sixth of the tithe passed from Richard Freston to Gerard Croker who in 1617 sold it to Thomas Giles. Giles settled it on his daughter Alice wife of John Croker (d. by 1662) from whom it descended, with a third of the manor, to Mary Heywood who received c. 52 a. for it at inclosure. (fn. 95) The remaining sixth of the tithe presumably descended with the Hogan share of the manor; it was held at inclosure by William Taylor who received c. 48 a. for it. (fn. 96)
A third of the tithe of Grove Ash was among the endowments of Sandford vicarage. (fn. 97) The remaining two thirds were granted to Oxford cathedral in 1542 and sold in 1546 to Leonard Chamberlain and John Blundell, from whom they passed to Gresham Hogan. (fn. 98) Hogan's successors Thomas and Elizabeth Waller sold them in 1661 to Henry Fermor, from whose family they passed to the owners of Great Tew. When the tithe of Grove Ash was commuted in 1849 the impropriator was M. P. W. Boulton of Great Tew. (fn. 99)
Economic History.
Sandford and Ledwell shared a field system, but Grove Ash was separately cultivated even before its inclosure in the earlier 16th century. In 1310 the arable of Sandford and Ledwell was divided into north and south fields. (fn. 100) By the early 15th century the two-field system had apparently been modified; the demesne had been consolidated and inclosed and an area of c. 50 a. east of Ledwell was described as a field (campus). (fn. 101) Down quarter, Fosthill quarter, Dean quarter, and Beacon quarter were recorded in 1697, but they were only four among ten divisions of varying sizes. (fn. 102) The south field, south of Sandford village, remained, often divided into three parts, and strips in the area north of Ledwell village were identified only by furlong names. (fn. 103) In 1767 the arable was said to be divided among 'several open common fields', and in 1768 there seem to have been four major divisions: North or Lower field north of Ledwell (c. 675 a.), Down quarter in the east (c. 350 a.), Beacon quarter in the west (c. 300 a.), and South field (c. 335 a.). (fn. 104) In practice the arable was presumably divided into more or less flexible groups of furlongs, rather than into fixed fields or quarters.
The demesne, 2 ploughlands in 1279, was still 7½ yardlands in the later Middle Ages. (fn. 105) Before 1413 it had been consolidated and inclosed in two Berry fields on either side of the road from Sandford to Ledwell, but in the 16th century it was leased to tenants in yardlands scattered among the furlongs of the Berry fields. (fn. 106)
The parish was well supplied with meadow, as much as 100 a. being recorded in 1086. (fn. 107) In the 16th century some was attached to individual holdings, the rest was lot meadow. (fn. 108) There was also in 1086 pasture 4 furlongs by 3 furlongs, and more had been added by the late 17th century when between a fifth and a quarter of each customary yardland was composed of greensward, mainly leys. (fn. 109) Most of the leys lay in blocks of a furlong or more, almost half of them in the north field. (fn. 110)
In the early 16th century, and presumably in the Middle Ages, Grove Ash was divided into an upper and a lower field. (fn. 111) Its inhabitants had no intercommoning rights in the fields of Sandford and Ledwell. (fn. 112) The township was not named in 1086, but the furlong of spinney and some of the meadow and pasture on Sandford manor were probably there. (fn. 113) If Grove Ash was an early medieval assart, it was well established by 1279 when its tenants were villeins holding ordinary yardlands, mostly by labour services. (fn. 114)
The field names 'flax hill' (1359), 'linland' (flax land, 1413), and oat croft (1686) in Sandford and Ledwell and ryeland (1537) in Grove Ash presumably reflect the more unusual crops grown. (fn. 115) In the 17th century the most common crops were barley, wheat, and peas, with some maslin, which suggests that the normal four-course rotation of (1) wheat or maslin (2) peas, beans, or vetches (3) barley (4) fallow was followed. (fn. 116)
At least two of the three wool producers from an Oxfordshire Sandford, recorded in 1342 (fn. 117) bore the names of Sandford St. Martin families, and in Oseney abbey's bailiwick of Barton, which included Sandford, there were several flocks of c. 200 sheep. (fn. 118) The largest recorded flock in the parish in the 17th century or the early 18th was that of 220 owned by John Parsons in 1702, but several others contained between 90 and 125. (fn. 119) In 1450 the mill with 2 yardlands had rights of pasture for 6 oxen, a bull, and a draught horse; in the 17th century the stint for a yardland seems to have been 4 cows or else 2 cows and 16 sheep. (fn. 120)
In 1086 Adam's estate, with land for 16 ploughteams, supported 3 ploughteams and 2 serfs on the demesne and 13 ploughteams owned by 24 villeins and 13 bordars on the tenants' land. The king's 1 hide and 1 yardland at Ledwell was land for 1 ploughteam, but none was recorded. (fn. 121) In 1279 Adam's estate was held by John of St. John as part of his manor of Steeple Barton. (fn. 122) He held 2 ploughlands in demesne; in Sandford 26 villeins held a total of 27 yardlands and 15 a., individual holdings ranging from 2 yardlands to 3 a., and in Ledwell 13 villeins and a cottar held a total of 18½ yardlands, individual holdings ranging from 2 yardlands to ½ yardland. There were only three free tenants in Sandford, two of them holding 2 yardlands each for money rents, and the third holding a yardland for ½ lb. of pepper. In Ledwell five free tenants held a total of 10 yardlands, 4 yardlands of which were held by one man, Henry of Ditchley. The 22½ yardlands in Grove Ash were held by 16 villeins who held 2, 1½ or 1 yardland each; there were no free tenants, but four of the villeins paid only money rents. All the other villeins on the manor owed services, rents, and customary payments like those of Steeple Barton. There is no record of the tenants or services on Oseney abbey's estate in 1279, but the abbey was still exacting some labour services in 1359 although they had been commuted on the St. John estate before 1353. (fn. 123)
Sandford St. Martin village, although the largest settlement in the parish, has not, for most of its history, been the wealthiest. In 1306 Grove Ash had both the highest average assessment to the subsidy (1s. 3d.) and the largest individual assessment, William Swet's 4s. In 1316 the average assessment in Ledwell and Grove Ash, 3s. 8d., was again higher than the average 2s. 2d. in Sandford, and Joan of Ledwell's 12s. was by far the highest assessment in the parish. In 1327 Ledwell's average assessment of 2s. 11d. was the highest in the parish, and the highest individual assessment was Nicholas le Mayster's 7s. there. (fn. 124) Among those assessed in Grove Ash in 1327, at a slightly below average 2s. 2d., was John Bisseby, presumably an ancestor of the Busby family who were prominent in the parish until the 17th century. The assessments suggest that although there was no resident lord of the manor or other large landowner, several men, among them the descendants of some of the villeins of 1279, were comparatively prosperous, and in the earlier 14th century Henry Stertup, Nicholas son of William of Ledwell, Simon of Ditchley, and John Franklin each bought small freeholds from John of St. John (d. 1322) or from Catherine, relict of his son John. (fn. 125)
In 1524 the highest assessments to the subsidy were those of 2 Ledwell men, Richard Thorpe (6s.) and John Taylor (4s.), but the village also had the highest proportion of men assessed on wages, 6 out of the 12 men assessed. In Sandford 15 men were assessed, 5 of them on wages, the highest assessments being those of John and Thomas Giles, 3s. 6d. each. In Grove Ash too the highest assessment was 3s. 6d. and only 3 of the 8 men assessed were wage labourers. (fn. 126)
In 1550, shortly before the division and consequent disintegration of the manor which covered the whole parish except for Grove Ash, there were 64 yardlands, 32 held by 13 copyholders and 1 freeholder in Sandford, and 32 held by 9 copyholders in Ledwell. In Sandford, John Buller and his son Edmund held the mill and 9 yardlands which had earlier formed three separate holdings, and Richard Giles held 8 yardlands, 6 of which he had only recently bought. In Ledwell, Jane Taylor held 6 yardlands and Richard Andrews 5 yardlands. (fn. 127) Few of the large holdings survived for long; much of the Bullers' property had been dispersed by the early 17th century and in 1614 Richard Andrews held only a cottage and a close. (fn. 128) Thomas Giles held 5 yardlands in 1614 and bought a sixth of the great tithes in 1617; he described himself as a gentleman and was alleged to have left a personal estate of c. £3,000 at his death in 1638. (fn. 129) The Lock and Appletree families survived for longer. Richard Lock held 2 yardlands in Sandford in 1550. (fn. 130) John Lock of Ledwell left goods worth just over £200 at his death in 1612; his son Humphrey held 4 copyhold yardlands in 1614 and Humphrey's son John acquired part of the freehold from Gerard Croker in 1617. (fn. 131) Another John Lock bought part of the freehold of 5 yardlands in Ledwell from William Croker in 1656; his son John acquired the remainder of the freehold in 1723, but by 1727 was heavily in debt to Joseph Taylor to whom he sold much of the property. (fn. 132) Richard Appletree held 3 copyhold yardlands in 1611 and acquired the freehold in 1614. (fn. 133) In 1698 Anthony Appletree of Ledwell seems to have held a substantial estate in the parish, including the mills, and the family were still in Ledwell in 1744; in 1768 they held only ½ yardland and 2 cow commons. (fn. 134) Between 1707 and his death in 1732 Joseph Taylor bought a total of 15 yardlands and several smaller pieces of land, much of it from the Lock family. His nephew and successor, another Joseph Taylor, added a further 3½ yardlands bought in 1743 and 1745 from John Appletree. (fn. 135)
In 1413 Oseney abbey inclosed its demesne in the field called Heath and Linland, with the agreement of both its own tenants and those of the manor. (fn. 136) The resulting inclosure, later called Abbot's Heath, was an area of c. 50 a. on the edge of the parish, east of Ledwell. In 1550 the manor estate included four small closes in Sandford and three in Ledwell, as well as Abbot's Heath. (fn. 137) Flighthills Close, north-east of Ledwell, was recorded in 1614, and Berry Close, next to the little Berry field, in 1686. (fn. 138) In 1768, when c. 1,686 a. in Sandford and Ledwell were inclosed by Act of parliament, there were c. 255 a. of old inclosures, including Ledwell Park and Sandford Park. The largest allotment of former open field made under the Act, c. 583 a., was made to William Taylor, lord of the manor, in lieu of a sixth of the great tithes and 25¾ common and 3 Berry yardlands. Thomas Parsons received c. 386 a. for two thirds of the great tithes and 6¾ common yardlands; Charles Vere Dashwood of Ledwell Park received c. 197 a., and Mary Heywood of Sandford Park c. 150 a. There was one other allotment of over 100 a., five of between 10 a. and 99 a., and seven under 10 a. (fn. 139)
Grove Ash was inclosed and converted to pasture in the 16th century. Robert Busby, a woolman of Chipping Norton, was accused of turning the men off a ploughland of arable soon after 1503, and by 1543 the hamlet was largely depopulated. (fn. 140) The whole of the Brasenose College estate was inclosed by 1537; the name of one of the closes, Great Steps leynes in 1537 and Great Steps leys in 1556, indicates that it was former arable which had been laid down to grass. In 1538 the college estate comprised c. 10 a. of arable, c. 10 a. of meadow, c. 100 a. of pasture, and c. 2 a. of wood. (fn. 141) In 1659 most of the township was pasture closes, and one farmer's stock included c. 20 fattening cows, 2 or 3 milk cows, and c. 60 sheep. (fn. 142) By the end of the 18th century some pasture had been converted back to arable, and 41 a. out of the 47 a. of the Brasenose College estate was arable, albeit hilly and poor and in a bad state of cultivation. (fn. 143)
In the years after the inclosure of Sandford and Ledwell Mary Heywood enlarged her estate there until in 1789 she paid 42 per cent of the land tax in the parish. (fn. 144) On her death in 1797 most of the estate descended to the Cox family, but Hobbs Hole farm (c. 198 a.) was sold to G. F. Stratton of Great Tew. (fn. 145) In 1815 William Wilson of Over Worton bought 236 a., the later Flighthill farm, from William Taylor. (fn. 146) Throughout the 19th century the parish was divided between the four estates. In 1868 the Park estate comprised c. 700 a., the Manor and the Great Tew estates c. 500 a. each, and Flighthill farm c. 240 a. (fn. 147) Most of the land was leased to tenants, usually in 10 farms, which in 1895 were: Upper Grove Ash (167 a.), Lower Grove Ash (152 a.), and Hobbs Hole farm (206 a.) on the Great Tew estate; Ledwell farm (265 a.) and Manor farm (225 a.) on the manor estate; Southfield farm (91 a.), Brandon farm (282 a.), Tite farm (131 a.), and Park farm (265 a.) on the Park estate, and Flighthill farm (246 a.), owned and farmed by Henry Painter. From 1901 Southfield and Brandon farms were farmed together. (fn. 148)
In 1801 there were c. 875 a. of arable, c. 1409 a. of permanent grass, and c. 24 a. of woodland in the parish. (fn. 149) In 1868 the agriculture was 'chiefly arable', although the five shepherds recorded in 1871 indicate that several farmers also kept sheep. (fn. 150) In 1914 there were c. 600 sheep and c. 200 cattle on the 54 per cent of the land which was permanent grass: the main crops on the arable were wheat (22 per cent of the arable), barley (19 per cent), and oats (10 per cent). (fn. 151) Wheat and barley were still the main crops in 1977, and sheep and cattle were kept. (fn. 152)
One man in Ledwell in 1316 was surnamed tailor and others in Sandford were named weaver, smith, and butcher, all perhaps denoting occupations. (fn. 153) A carpenter, a mason, two weavers, two broadcloth weavers, and two fullers were recorded in the 17th and 18th centuries, and a sieve-maker in the earlier 19th. (fn. 154) In 1841 a commercial traveller, a plasterer, a druggist, and a leather dresser lived in the parish, but over half (57 per cent) of the working population were farmers or farm workers, and that percentage increased to 63 per cent in 1851, to 65 per cent in 1861, and to 61 per cent in 1871. (fn. 155) The land drainer in Ledwell in 1861 should perhaps be included among agricultural workers, and the machinist in the same village in 1871 may have operated the agricultural machinery which had recently been introduced. (fn. 156) Less than half the agricultural labourers were permanently employed on farms in the parish, only 59 out of 147 in 1851, only 58 out of 132 in 1861, but 83 out of 121 in 1871. The chief form of employment after agriculture was domestic service, including coachmen, grooms, and gardeners employed at the Manor and the Park. In 1851 there were 9 glovers in Sandford and 6 in Ledwell, all of them wives or daughters of agricultural labourers; none was recorded in other years, although the industry flourished in the neighbouring parishes of Westcott and Steeple Barton.
There was a mill in Sandford in 1086; in 1279 it was held, with a pasture close and 2 yardlands, by Thomas of the mill, a free tenant of John of St. John. (fn. 157) In 1307 Thomas conveyed the mill and its property to Richard Batyn. (fn. 158) In 1350 William Shareshull the younger granted it to Oseney abbey. (fn. 159) At the Dissolution it passed, with the rest of the abbey's land, to Leonard Chamberlain, and in 1550 it was held of John Blundell by John Buller and his son Edmund. (fn. 160) Another John Buller in 1617 acquired the freehold, and in 1626 he divided the property between his wife Elizabeth and his son John. After a dispute in the 1640s the younger John Buller recovered the whole property. (fn. 161)
In 1698 Anthony Appletree settled both the water mill and a windmill, apparently in Ledwell, on his son Richard. The windmill had gone by 1771 when Richard's grandson, another Richard Appletree, mortgaged the water mill. He sold it in 1772 to John Gardner who in 1780 sold it to Mary Heywood. (fn. 162) After Mrs. Heywood's death in 1797 the mill was sold to Thomas Hollis of Middle Barton who sold it in 1811 to George Andrews of Spelsbury. In 1861 Andrews's grandson George Andrews sold it to Edward Marshall, and the mill remained part of the manor estate until it was sold in 1918. (fn. 163)
The mill and mill house were rebuilt by Oseney abbey's tenants in the late 14th century. (fn. 164) In 1626 it seems to have been a double mill, and it was still described as water corn mills in 1811. (fn. 165) The mill was equipped with modern machinery at the time of its sale in 1918, but the buyer removed it and converted the mill into a private house. (fn. 166)
Part of the mill may have been a fulling mill in the late 16th century and the early 17th, for Richard Buller (d. 1602), presumably one of the family who owned the mills, was a fuller. (fn. 167)
Local Government.
In the Middle Ages tenants of the manor in Sandford St. Martin presumably owed suit to the court in Steeple Barton. In 1279 free tenants owed suit to the hundred court at Wootton. (fn. 168) In the 16th and 17th centuries and the early 18th, courts baron were held for Sandford manor by John Blundell's heirs; the only surviving records are grants of land. (fn. 169) Oseney abbey held a court for its tenants in Sandford, the Bartons, and other neighbouring parishes. The surviving rolls, of the mid 14th century and the late 15th, deal with grants of land and with such offences as allowing animals to stray, leaving the manor without permission, and failing to perform labour services. (fn. 170)
The usual parish officers were elected in the 18th century and the early 19th. In 1842 the vestry agreed to the appointment of a paid constable for Sandford and some of the neighbouring parishes, and in 1881, after 'riotous proceedings' there, a separate constable was appointed for Ledwell. (fn. 171) In 1894 many of the vestry's functions were taken over by the newly formed parish council.
Expenditure on poor relief was c. £126 in 1776, and rose to an average of £179 a year between 1783 and 1785 and to £463 or £1 9s. per head of population in 1803, the second highest rate in the area. It reached a peak of £667 or £1 14s. a head in 1814, an unusual peak year. Expenditure remained high until 1820 but fell to a low point of £398 or 16s. a head in 1821. In 1831 the parish spent a total of £451 or c. 17s. a head of population, rather less than most parishes in the area. (fn. 172)
There were 42 adults on regular out-relief in 1803; the number rose to between 50 and 55 in 1813 and 1814 but fell thereafter to between 20 and 30. There was no workhouse; the £10 spent on rent in 1776 was presumably used to pay paupers' rents. The roundsman system seems to have been in use from 1802 to 1816 or later. In the winter of 1815 at least 20 roundsmen worked for 9 employers. (fn. 173)
After 1834 Sandford St. Martin was included in the Woodstock poor law union. In 1932 it was moved from the Woodstock rural district to the Chipping Norton rural district, and in 1974 was included in West Oxfordshire. (fn. 174)
Church.
In the late 12th century Sandford church was a chapel of Steeple Barton. Its status was disputed in 1217 but confirmed as that of a chapel, although it paid all episcopal and archidiaconal dues as a parish church. (fn. 175) It remained officially a chapel throughout the Middle Ages although, as it had an endowed vicarage and a dependent chapel in Ledwell, it was often called a church. After the Reformation it was treated as an independent church. In 1977 the benefice was united with Westcott Barton, Steeple Barton, and Duns Tew. (fn. 176)
Ledwell was also a chapelry of Steeple Barton in the late 12th century. In 1217 it was served from Steeple Barton or Sandford, in 1225 from Sandford, but in 1240 the rector of Great Tew was censured for taking tithes and other dues in the township. (fn. 177)
The advowson followed the descent of Steeple Barton, and in 1559 was divided among John Blundell's coheirs. (fn. 178) Grants of a turn had been made in 1608 and 1610; in 1635 Thomas and Elizabeth Waller held a moiety of the advowson, and for the remainder of the century their descendants presented alternately with the Croker family. (fn. 179) At least three out of the four early 18th-century vicars were presented by the Wallers' successors the Taylors. The descent of the Crokers' share of the advowson is obscure, but at least an interest in it seems to have passed, with the advowson of Steeple Barton, to the duke of Marlborough. (fn. 180) In 1784 a third of the advowson was confirmed to the duke by an agreement reached between James Taylor and Mary Heywood after Mrs. Heywood had claimed it as belonging to her share of the tithes. (fn. 181) The Taylors' two turns passed, with the manor, to the Marshalls in 1828, to Lord Sandford in 1937, and to Mrs. S. C. Rittson-Thomas in 1957. (fn. 182)
A vicarage, comprising the small tithes, 4½ a. of land, all obventions, and altar fees, was ordained in 1217 when Oseney abbey appropriated Steeple Barton rectory; a third of the tithes of Grove Ash, assigned for the maintenance of a chaplain at Ledwell, formed part of Sandford vicarage by 1225. (fn. 183) The vicarage was valued at 15s. in 1254 and £7 0s. 4½d. in 1535. (fn. 184) By 1635 the glebe had increased to ½ yardland, and in 1675 the living was worth £22 15s. 5d. (fn. 185) Henry Meads (d. 1755) gave £100 for four sermons; his executrix, Anne Roberts, and the vicar, John Blake, gave a further £100, and in 1757 Queen Anne's Bounty met the benefaction with a further £200. In 1761 the £400 was invested in land in Barford St. Michael. (fn. 186) At inclosure in 1768 the vicar received c. 12 a. for glebe and c. 56 a. for tithes. His third of the tithes of Grove Ash had already been commuted for a modus of £20 a year. (fn. 187) In 1814 the living was worth c. £185 net, but in 1831 the average income was only £175 a year; in 1831 the endowments in land were worth £205 a year, fees £2. (fn. 188)
There was a vicarage house on the south side of the church in 1258. (fn. 189) By the late 18th century it was used only as a source of income, the vicar complaining that when he had been forced to spend a night there it had been far too cold. (fn. 190) In 1814 the house was largely rebuilt, and a new wing added. It was further enlarged in 1842 when the original house was demolished and replaced by a square, two-storeyed house of rubble with ashlar quoins and lintels, facing west on the village street; the wing of 1814 remained as servants' quarters and offices. (fn. 191) It was sold in 1975.
At least nine of the later 15th- and early 16thcentury vicars held university degrees, but such men presumably spent much of their time in Oxford. (fn. 192) The vicar c. 1520 was apparently resident, but he was reported to have two women living in his house, and he was also censured for saying mass twice a day. The inhabitants of Grove Ash were criticized for attending Sandford church only four times a year; they presumably went to Ledwell, or perhaps Nether Worton, at other times. (fn. 193) William Medyn of Deddington, by will dated 1499, left £5 6s. 8d. for a chantry for a year in Sandford church, £6 13s. 4d. for a portable breviary for the church, and 3s. 4d. to the vicar. (fn. 194)
The chapel of St. Mary Magdalene in Ledwell, in existence by the late 12th century, was last recorded in 1499 when William Medyn left it 6s. 8d. The surname 'by the graveyard' recorded in Ledwell in 1279 suggests that it had burial rights. (fn. 195) It is thought to have stood in the centre of the village, on the east side of the road which once went to Worton.
The 16th century and the early 17th were marked by a series of short incumbencies. Robert Foster, 1560–3, had subscribed to the Elizabethan settlement in 1559 as rector of Over Worton. (fn. 196) Tange or Tangind Beale, 1566–78, died in office bequeathing 6d. to each poor household and 12d. to the parish poor box. (fn. 197) In 1601 the vicar, who held Steeple Barton in plurality, was deprived for adultery. (fn. 198) In 1605 the church was served by a curate, and William Payton, vicar 1618–c. 1624, continued his studies, presumably in Oxford, during his incumbency. (fn. 199)
Thomas Belcher, vicar c. 1624–c. 1656, retained the living throughout the Civil War, although he was deprived of Westcott Barton, which he had acquired in 1640, in 1646; he was still living in Sandford in 1659. (fn. 200) His successor at Sandford was Hannibal Potter, the deposed president of Trinity College, Oxford, who was appointed in 1658. (fn. 201) In 1663 the vicar was Edward Cockson, vicar of Steeple Barton 1661–1712; he was succeeded in 1678 by his brother Henry Cockson who held the living until his death in 1695. (fn. 202) He was accused c. 1685 of not catechizing, and in 1694 he was excommunicated for performing an irregular marriage in Great Tew, where he was vicar. (fn. 203)
In 1738 the usual services were morning and evening prayer with one sermon on Sundays; holy communion was administered three times a year, at the great festivals. (fn. 204) By 1768 the number of communion services had risen to four a year, and there were prayers, with Henry Meads's sermons, on Ash Wednesday, Good Friday, 1 January, and 5 November, (fn. 205) but otherwise services remained the same throughout the 18th century. Many vicars, notably John Blake, 1750– 84, who lived in Warwickshire, and Edward Walker, 1784–1807, also vicar of Steeple Barton, (fn. 206) were pluralists, and the church was served by curates, often themselves non-resident. (fn. 207) Nevertheless, Sandford seems to have been comparatively well served until 1801 when a group of parishioners complained to the bishop that Walker's curate, who served three other churches, had abandoned weekday services, reduced the number of Sunday services to one in the winter, and ceased to catechize. The trouble may have been exacerbated by ill feeling between the Taylors at the Manor and the Coxes at the Park; although Walker was Taylor's brother-in-law, the objectors were led by James, William, and Catherine Taylor, while the curate's chief supporter was Samuel Cox. The new curate, licensed in 1801 on the bishop's instructions, was the Taylors' cousin Edward Marshall (later Edward Marshall Hacker). (fn. 208) Under him and his brother and successor Nicholas Marshall, both of whom lived in Enstone, church life improved somewhat, the number of communicants rising from 14 in 1802 to c. 20 in 1805 and 1811; the number fell again to c. 15, after Nicholas's departure in 1813. (fn. 209)
William Thorp, vicar 1807–35, lived in Sandford from 1814, but the living was too poor to support him, and in 1818 he served South Newington as curate, and in 1827 Westcott Barton. (fn. 210) The comparative neglect which Sandford suffered was reflected in Thorp's frequent complaints that many of his parishioners attended other churches or conventicles, or were inclined to Methodism. (fn. 211) Thorp seems to have died in poverty, and Edward Marshall Hacker, who presented himself to the living in 1835, appointed his son Charles as his curate and gave him the use of the vicarage house. (fn. 212)
After Marshall Hacker's death in 1839 there was a vacancy until 1841 when the bishop presented, by lapse, Thomas Curme, the duke of Marlborough's chaplain, who was already serving the church. (fn. 213) Curme was a sincere and staunch Evangelical who increased the number of communion services to one a month and preached twice each Sunday. His ministry was popular in the parish and neighbourhood. In 1851 congregations averaged 210 in the morning and 220 in the afternoon, and in 1854 Curme reported that the church was sometimes full on Sunday evenings. (fn. 214) Curme was antagonistic to the Oxford movement, and the leader of a group of North Oxfordshire clergy opposed to Bishop Wilberforce. The bishop, while considering him a 'man of piety' and 'devout', clearly found him disruptive, and protested strongly at some of his activities, notably his public support in 1848 of a clergyman who had become a nonconformist minister, and his interference in 1853 in Steeple Aston parish. (fn. 215)
On Curme's death in 1884 Edward Marshall presented himself to the living and held it until his death in 1899. (fn. 216) His high church views were a complete contrast to Curme's; he increased the number of communion services to one a week in 1886, and introduced daily prayers. In 1896 he was able to report an increase in the number of communicants. (fn. 217) A further increase was reported by his successor in 1902. (fn. 218)
The church of ST. MARTIN comprises a chancel, aisled and clerestoried nave, west tower, and south porch. The narrow north aisle of three bays was added to the nave in the late 12th or early 13th century. Extensive alterations and additions were made in the mid 13th century when the chancel (demolished in the 19th century) and the south aisle were added; the work may perhaps account for the dedication of the church recorded in 1273. (fn. 219) The surviving chancel arch is particularly striking, being built of alternating light and dark stones. The south aisle was widened in the early 14th century when the vaulted south porch of two storeys was added, and later in that century new windows were inserted in the east walls of the chancel and the tower was built. In the 15th century the clerestory was added and the west tower remodelled.
The tower, porch, and chancel were all presented as out of repair at various times in the later 18th century and the early 19th, and the chancel was repaired by E. Marshall Hacker and S. F. Cox in 1827. (fn. 220) In 1844 and 1845 the church was thoroughly repaired and the interior rearranged. (fn. 221) Further repairs were carried out in 1853, and in 1856 the chancel was rebuilt by G. E. Street at the expense of Edwin Guest; the 14th-century east window was preserved and inserted in the new building. (fn. 222) The windows in the north aisle seem to have been replaced at the same time. (fn. 223)
The 12th-century font with zigzag carving has been roughly shaped to fit a later octagonal base. The 15th-century rood screen survived until the reordering of the interior in 1844, and fragments remained in 1910. (fn. 224) What appears to have been the rood beam was in use in 1979 to support the arms of Elizabeth I on the west wall of the chancel above the arch. Fragments of medieval glass are preserved in the windows of the south aisle, and glass by John Piper was inserted in the east window of the north aisle in 1973 as part of the septcentenary celebrations of the church. (fn. 225)
There are a number of wall plaques, the earliest and one of the most elaborate that to Thomas Giles (d. 1637). On the nave walls are five hatchments: Henry Scott, earl of Deloraine (d. 1730), and his wife Anne (d. 1720), James Sayer (d. 1776), and two members of the Taylor family. In the churchyard is the humpbacked tomb of the earl and countess of Deloraine.
The plate includes a silver chalice given in 1691, and a paten of about the same date. (fn. 226) There are six bells the earliest of 1629 and 1630. (fn. 227)
Nonconformity.
A few papists or dissenters were occasonally reported in the later 17th century and the 18th, (fn. 228) but only the Quakers, who were closely connected with the Quaker community in South Newington, survived long. There was at least one Quaker in the parish in 1663, but no more were reported until 1768. (fn. 229) Between 1784 and 1825 six Quakers from Ledwell were buried at South Newington, five of them members of the Jeffcoat family who moved to Ledwell from South Newington c. 1782. (fn. 230) Four adult members of the family were baptized in 1797. (fn. 231) Joseph Harris, a member of another South Newington Quaker family, farmed at Grove Ash from 1791 to 1801 or later. (fn. 232)
Many Sandford people were said to attend conventicles in neighbouring parishes in 1817, and in 1823 the absentees were identified as Methodists. (fn. 233) A Ranters or Primitive Methodist meeting was occasionally held at a house in Sandford c. 1850, (fn. 234) and in 1854 a chapel was built at Ledwell; it closed c. 1955. (fn. 235)
Education.
In the later 18th century there was usually a small school for c. 8 poor children. (fn. 236) It was supported by a charity, presumably that of Henry Meads and Anne Roberts mentioned below. In 1808 there were two schools, attended by c. 20 boys and c. 10 girls. (fn. 237) By 1815 the numbers had risen to c. 40 boys and c. 20 girls, and there was also a Sunday school for 12 girls, established by Mrs. R. Kynaston of Sandford Park, (fn. 238) but in 1818 only 10 boys and 5 girls were at school. (fn. 239) A day school started in 1820 contained 4 boys and 17 girls in 1833, and a further 38 infants, 26 boys, and 34 girls were taught in two infant and two day schools largely supported by Mrs. Perrot of Sandford Park. (fn. 240) The infant school collapsed that year on Mrs. Perrot's departure, and numbers in the day schools fell sharply. In 1834 the only infant school was one in Ledwell for 10 children. (fn. 241)
In 1843 a school for 83 children was built on glebeland north of Sandford village, largely at the expense of E. Marshall, Mrs. Marshall Hacker, and S. F. Cox. A separate room for infants was added c. 1865. The school was supported by subscriptions and children's pence; it received a government grant from 1867. (fn. 242) In 1858 there were 59 children on the roll but average attendance was only 47; there was also an evening school during the winter. (fn. 243) In 1868 a quarter of the children under 10 were habitually absent, and 16 boys under 13 were agricultural labourers. (fn. 244) Average attendance increased from 50 in 1871 to 65 in 1890, but thereafter declined with the decreasing population of the parish. (fn. 245)
There was one certificated teacher in the school in 1858. (fn. 246) In the 1870s the mistress was assisted only by E. Marshall's and the vicar's daughters, who were quite unqualified, and in 1879 the government inspector insisted on the appointment of an assistant teacher. Standards improved in the 1880s, but in the 1890s the school buildings were inadequate, and there was again no qualified assistant. In 1898 the managers were severely rebuked for trying to divert a grant for an assistant teacher to the provision of a water-supply. (fn. 247)
In 1930 the school was reorganized as a junior school, older children going to Steeple Aston. Attendance fell from 28 in 1930 to 17 in 1939, and the school was closed in 1947, the children being transferred to Middle Barton school. In 1979 juniors attended Middle Barton county primary school, seniors Chipping Norton comprehensive. (fn. 248)
Henry Meads (d. 1755) and Anne Roberts (d. 1767) apparently gave money or land for the schooling of eight poor children. (fn. 249) By 1768 the charity comprised c. 6½ a. in Barford St. Michael, the profits of which rose from £3 3s. a year before inclosure in 1808 to £6 6s. a year in 1811. The number of children benefiting rose to 10 in 1802 and to 15 in 1833. (fn. 250) After 1842 the money was used to support children at the parish school. Since the school's closure it has been applied to more general educational purposes, notably the church hall and the Sunday school. (fn. 251)
Charities for the poor.
Thomas Giles, by will dated 1637, left £100 to the poor. (fn. 252) Most of the money was lost in the later 17th century and the early 18th, and in 1756 the remaining £20 was invested in land in Westcott Barton. In the 19th century it was used, with the profits of the poor's allotment made under the inclosure award of 1768, to buy coal at Christmas. (fn. 253) It was still so used in 1972, but a Scheme of 1970 authorized relief in cash or kind, in general or particular. (fn. 254)
John Lock (d. 1711) gave £40 for an annual dole of food. The charity was lost c. 1780. (fn. 255)
Henry Meads (d. 1755) and Anne Roberts (d. 1767) provided for an annual dole of bread, as well as for the education of poor children. The dole was still distributed in 1812, but had been lost by 1852. (fn. 256)