Pages 118-127
A History of the County of Oxford: Volume 13, Bampton Hundred (Part One). Originally published by Victoria County History, London, 1996.
This free content was digitised by double rekeying. All rights reserved.
MANORS
The 14-hide estate at Ducklington which King Edgar granted to his 'minister' Earnulf in 958 seems to have been reduced in size before 1086, when only 11 hides were recorded on two Ducklington estates. The shortfall was partly accounted for by the creation of a 2½-hide estate at Claywell, although probably only I hide of that had been part of the Saxon estate at Ducklington; possibly the transfer to Standlake of a large area in the south of the estate had already taken place. (fn. 1)
In 1086 Robert d'Oilly held 4 hides in Ducklington in chief. He was probably also the Robert who was tenant there of 7 hides of the fee of William FitzOsbern, earl of Hereford, whose lands had passed to the Crown in 1075 after the rebellion of William's son Roger. (fn. 2) Robert d'Oilly died c. 1093 and DUCKLINGTON manor descended with his barony of Hook Norton. (fn. 3) Henry d'Oilly, lord in 1230, died without issue in 1232; his heir, after the dower of his relict Maud (d. 1261), wife of William de Cauntelo, was a nephew Thomas de Newburgh, earl of Warwick (d. 1242). Thomas's sister and heir Margaret, countess of Warwick, was recorded as overlord of 2 knights' fees in Ducklington in 1242-3. (fn. 4) The reversion escheated to the Crown on her death without issue in 1253, but was regranted to her husband John de Plessis who entered on the manor on Maud de Cauntelo's death. (fn. 5) John died in 1263 and Ducklington descended from father to son in the Plessis family, being held by four successive Hughs. (fn. 6) John de Plessis, brother and heir of Hugh (d. 1349), died without issue in or before 1354. The barony of Plessis, which had been created in 1297, passed to John's sister Eleanor Lenvesey, (fn. 7) but Ducklington seems to have descended separately: a Hugh de Plessis (d. 1363) and a John de Plessis (fl. 1372) were recorded as overlords (fn. 8) but thereafter the heirs of the former undertenants held in chief.
The Roger who was recorded as Robert d'Oilly's tenant at Ducklington in 1086 was probably Roger de Chesney, since Ducklington and Roger's other Domesday estates at Heyford and Wicken (Northants.) were all later held by the Chesneys. (fn. 9) Hugh de Chesney (fl. 1163), probably Roger's eldest son, was succeeded before 1166 by Ralph de Chesney 'of Ducklington', who was amerced for forest offences in 1176. (fn. 10) Ralph died c. 1195 and Ducklington passed to his daughter Lucy and her husband Guy de Dive. (fn. 11) Guy died in 1218 leaving a minor son William who before 1224 married Margaret, daughter of his guardian John of Bassingbourn, and died in 1261. (fn. 12) His son John died fighting against the king at Evesham in 1265. (fn. 13) Osbert Giffard was granted the forfeited lands and the wardship of the heir, but Ducklington was granted for life to John's relict Sibyl, a decision disputed by Giffard in 1268 on the ground that Ducklington was the most valuable part of the Dive estates. (fn. 14) Sibyl and her second husband Richard of Carbrook retained the manor into the 1290s. (fn. 15) In 1292 free warren in Ducklington was granted to John de Dive, son of Sibyl's son Henry (d. 1277), but he was not formally granted seisin until of age in 1295. (fn. 16)
John died in 1310 and was followed by his son Henry (d. 1326 or 1327). (fn. 17) Henry's relict Martha, assigned dower in two thirds of the manor in 1327, (fn. 18) was still in possession in 1343 when a settlement of the manor was made by Henry's son John. (fn. 19) After John's unrecorded death c. 1350 (fn. 20) the manor seems to have descended in two parts until reunited in the hands of the Lovel family in the mid 15th century.
One part, held with the advowson and acquiring the name of DUCKLINGTON BRETON, derived from the dower in one third of the manor held by John de Dive's relict Joan, who married William Breton. Breton was a landholder in Ducklington in 1361, (fn. 21) and Joan was still alive in 1386. (fn. 22) Presumably she conveyed Ducklington to John, Lord Lovel who at his death in 1408 held a Ducklington manor, allegedly of Gilbert, Lord Talbot, perhaps because of suit owed to Bampton hundred court. (fn. 23) Level's son John died in 1414 holding the reversion of Ducklington Breton after the life interest of his mother Maud, who died in 1423 holding, by the same service as John, Lord Lovel (d. 1408), what was evidently about a third of the earlier Ducklington manor. (fn. 24) She was succeeded by her grandson William Lovel, Lord Lovel and Holand (d. 1455), who held Ducklington as 1 knight's fee in 1428. (fn. 25)
The other two thirds of Ducklington passed from John de Dive (d. c. 1350) to his son Henry (d. c. 1360), (fn. 26) who during his lifetime let, and later seems to have granted, the reversion to Roger Mortimer (d. 1360), earl of March. (fn. 27) The life interest of Henry's relict Elizabeth, who married Edward Twyford, was established despite several challenges, notably in 1372 when the manor was mistakenly taken into the king's hands and regranted to Edmund Mortimer, earl of March. (fn. 28) In 1377 Edmund agreed to pay an annuity to Elizabeth Paries, presumably the former Elizabeth Twyford, in return for her life interest in Ducklington, (fn. 29) but before his death in 1381 he had granted his reversionary interest for life to a retainer, Sir John, later Lord Lovel (d. 1408). (fn. 30) Ducklington was not recorded among the possessions of Roger Mortimer (d. 1398), earl of March, but in 1415 Roger's son Edmund, earl of March, settled the manor in trust. (fn. 31) Before his death in 1425 Edmund granted an annuity of £10 from the manor to William Cottesmore, who was recorded as lord of ½ fee at Ducklington in 1428. (fn. 32) During the minority of Edmund Mortimer's nephew and heir Richard Plantagenet, duke of York, the fee was in royal hands. (fn. 33) In 1449 Richard reunited the manor by granting his portion of Ducklington to the lord of the other portion, William Lovel, Lord Lovel. (fn. 34) Ducklington's later inclusion in the possessions of the earldom of March claimed by the Crown against the coheirs of Edward IV was presumably an error. (fn. 35)
Shortly before his death in 1455 William Lovel settled the reunited manor, still nominally held of the Talbots for hundredal service at Bampton, on trustees; (fn. 36) it passed to his son John (d. 1465) and John's relict Joan (d. 1466), both of whom held from Roger Beaufitz, presumably associated with John Talbot (d, 1473) earl of Shrewsbury, a minor. (fn. 37) Their son Francis, until 1477 a minor in the wardship of Richard Neville, earl of Warwick, and others, (fn. 38) died at or after the battle of Stoke in 1487. (fn. 39) As an opponent of Henry VII he had been attainted in 1485, and in 1486 Ducklington was granted from the forfeited estates to Thomas Lovel, possibly a kinsman, son of Sir Ralph Lovel of Barton Bendish (Norf.). Thomas, chancellor of the Exchequer under Henry VII and Henry VIII, died without issue in 1524 having bequeathed the manor to his nephew Francis Lovel, but because the grant of 1486 had been in tail male Ducklington reverted to the Crown. (fn. 40)
In 1525 the king granted it to Sir Thomas More, after whose attainder and execution in 1535 it was regranted to the courtier Sir Henry Norreys. The following year Norreys was attainted and executed for alleged intimacy with Anne Boleyn. (fn. 41) Ducklington was then retained by the Crown and administered by a bailiff. (fn. 42) In 1545 it was bought by speculators, Sir Richard Long and Christopher Edmonds, (fn. 43) who sold it in or before 1547 to Sir John Williams of Rycote, treasurer of the Court of Augmentations. (fn. 44) By 1552 Williams had sold it to Sir John Brome of Holton, (fn. 45) who died in 1558 holding Ducklington in chief. (fn. 46) His son Sir Christopher Brome (d. 1589), in financial difficulties, disposed of much of the manor, including Barley Park, (fn. 47) and in 1591 Sir Christopher's son George sold the rest to Walter Jones of Chastleton and his son Henry. (fn. 48) In 1603 they sold Ducklington manor to the owners of Barley Park, William Bayley and his wife Elizabeth. (fn. 49) The manor descended in the Bayley family from father to son, William (d. 1613) being succeeded by Richard (d. 1644) and William (d. 1688). (fn. 50) In 1685 William sold the advowson and mortgaged the manor, and in 1687 the mortgagee, Richard Stevens, acquired a 1,000-year lease without provision for redemption. (fn. 51) William Bayley's son William (d. 1716) retained an interest, however, and when Barley Park was sold in the 1690s Bayley was associated with Stevens's executor in the sale of at least part of it, Moulden's wood. (fn. 52) They may have disposed of most of the manorial estate: in 1697 Bayley, by then of Yelford, sold two Ducklington farms, (fn. 53) and when in 1712 he and an unidentified Col. Chivers (perhaps connected with Stevens) sold the manor to Simon Harcourt, Lord Harcourt, the only land besides the manorhouse grounds was a 3-yardland estate let for years at rack rent. (fn. 54) The manor descended with Harcourt's Cokethorpe Park estate. (fn. 55) Manorial rights were recorded into the 20th century. (fn. 56)
The medieval manor house, described in some detail in 1328 when it was divided for dower, (fn. 57) was set in a garden which extended to the river Windrush. By 1430, however, there was only a precinct which 'once contained' a manor house. (fn. 58) Its probable site was Court close, recorded from the 16th century, a large field between the church and the river. (fn. 59)
From the later Middle Ages Ducklington's lords were non-resident until in the early 17th century William Bayley (d. 1613) rebuilt a house bought from Robert Foster, whose holding had been granted away from the manor on a 2,000year lease in 1587. (fn. 60) The house retained the name Foster's in the 1680s, (fn. 61) but was evidently the Ducklington manor house granted to Harcourt in 1712. (fn. 62) In 1722 he let it for lives to an associate, Samuel Scott, and his wife Elizabeth, (fn. 63) but after Scott's death in 1727 the manor house was in hand. (fn. 64) It was repaired in 1723, but lessees in the 1740s paid rents so low that decay seems indicated. (fn. 65) The manor house was pulled down c. 1754. (fn. 66) The 'close where the manor house stood' (fn. 67) was probably that called in 1838 Manor close, south-east of the surviving Yew Tree House: (fn. 68) the Bayleys' house is known to have abutted a furlong called Lillands, which lay immediately south-west of Manor close on the site of the modern Feilden Close. (fn. 69) A house on the Witney road, demolished c. 1840 and reputedly the 'old manor house', was the chief house of a substantial estate but not a manor house. (fn. 70)
Claywell lay within the Ducklington estate granted by King Edgar in 958. (fn. 71) Part of Claywell probably belonged to one of the Ducklington estates mentioned in 1086, since 8 yardlands there belonged to Richard of Carbrook in 1279. (fn. 72) That land descended with Ducklington manor later; quitrents paid to the manor in 1716 for an estate formerly Lord's were probably for Claywell, (fn. 73) and part of the site of the former village was later attached to Ducklington manorial holdings. (fn. 74)
Some of Claywell, however, was probably separated from the Ducklington estate before the Conquest: in 1086 Theodoric the goldsmith, who had been in the service of Edward the Confessor, held 2½ hides in 'Welde' (Claywell), which had been held freely by his wife. (fn. 75) Theodoric was succeeded by Walter de Cauz, (fn. 76) who in 1179 granted the estate, as 1 hide in Claywell and 1½ hide in Aston, to the tenant Ralph de Chesney, lord of Ducklington, reserving a rent of 15s. a year. (fn. 77) Before 1185 Ralph granted the Claywell hide and the Aston land to Eynsham abbey, which was to pay the same rent to Walter. (fn. 78) The abbey acquired at least 2 more yardlands from later lords of Ducklington, Guy and William de Dive, (fn. 79) and its Claywell estate in 1279 comprised perhaps 7 yardlands, with a further yardland in Putlesley. (fn. 80) In the mid I3th century the abbey was released from the 15s. rent by an heir to the estates of Walter de Cauz, Cecily de Cumberwell. (fn. 81)
Eynsham abbey retained EAST WEALD, later CLAYWELL, manor until the Dissolution, administering it in the later Middle Ages, when it was perhaps reduced to a single farm, with Shifford manor (in Bampton). (fn. 82) It passed with Shifford to Sir George Darcey in 1539, to Sir Edward North in 1543, to the Stanleys, earls of Derby, in 1545, and was purchased in 1600 by Joseph Mayne of Creslow (Bucks.). (fn. 83) From 1544 Claywell was sublet by Sir Edward North to Leonard Yate of Witney, clothier, (fn. 84) and Yates of Witney were still suitors of Shifford court for land in Claywell, not necessarily the farm estate, in the 1570s. (fn. 85) In 1610 Claywell farm, reckoned as 5 yardlands, was held, on a long lease of unknown date, by Thomas North, (fn. 86) but in that year Joseph Mayne sold the freehold, along with his Shifford estate, to Sir David Williams and Edward Yate of Buckland (formerly Berks.). (fn. 87) In 1612 Williams and Yate completed a partition whereby Claywell passed to Yate, whose son Sir John was holding it when sequestrated for recusancy in 1654. (fn. 88) After his death c. 1658 it was held by his son Sir Charles (d. 1680) and grandson Sir John (d. 1690). Sir John's sister and heir, Mary Throckmorton, and Apollonia Yate, eldest daughter of Sir John (d. c. 1658), who was granted a reversionary interest in Claywell in 1658, were still holding Yate estates (perhaps including Claywell) in 1717. (fn. 89) Before 1731, however, Claywell passed to William Townesend, from whom it was bought by the Revd. Samuel Adams, who in that year made a settlement. (fn. 90) Adams (d. 1751), rector of Alvescot, bequeathed Claywell, after the life interests of his wife Susannah and niece Elizabeth Adams to a nephew, the Revd. Knightley Adams (d. 1769), who did not, however, hold Claywell at his death. (fn. 91) By 1785 the owner of Claywell was John Woolridge, and from c. 1818 until the 1840s it was owned and farmed by the Townsends of Cote; (fn. 92) by 1847 it was farmed by James Wood- bridge, who had married a Townsend, and it remained in his family until the 1890s. (fn. 93)
In 1544 Leonard Yate's tenancy of Claywell was disputed by Thomas Ford, the occupier. (fn. 94) The Lord family farmed Claywell for much of the 17th century, (fn. 95) the Leveridges in the early 18th, and the Foxes in the late 18th. (fn. 96) Claywell Farm, standing among the earthworks of the deserted settlement, may occupy the site of Eynsham abbey's early manor house. Presumably it was the house on which, in 1662, Christopher Lord was assessed on 5 hearths. (fn. 97) The surviving building is L-shaped and stoneslated, its symmetrical dressed-stone south front rebuilt or added in 1842 by the Townsends, (fn. 98) its coursed rubble rear range probably 18th- century. A farm cottage to the north, built before 1839, (fn. 99) was largely remodelled c. 1990.
In 1086 Hardwick presumably belonged to one of the two estates recorded under Brighthampton, and probably to the 1½ hide which Wadard held of Odo, bishop of Bayeux, and which was forfeited to the Crown on Odo's fall. (fn. 100) In 1131 Henry I granted land worth £10 from the royal manor of Bampton to the newly founded priory of St. Gervase and St. Protase attached to the cathedral of Sees (Orne); the land was said to be in Brighthampton, but then and later evidently included Hardwick, (fn. 101) which continued to be claimed as ancient demesne. (fn. 102) The £10 worth of land was accounted for annually in the Exchequer, (fn. 103) and in 1199 the estate was included in a papal confirmation of the priory's possessions. (fn. 104) It was enlarged at various times, but in 1242-3 was still recorded as £10 worth of land in Hardwick. (fn. 105) In or before 1245 the priory granted its estate in Brighthampton, Hardwick, and Yelford to Walter de Grey, archbishop of York, who gave it to his nephew Walter, son of Robert de Grey. (fn. 106) The estate, previously held in free alms, was assessed at 1/20th of a knight's fee; in 1295 it was said to be held freely, but the knight service was confirmed in 1304 and later. (fn. 107)
After the death of the younger Walter de Grey in 1268 (fn. 108) HARDWICK manor descended with the Greys' adjacent estates in Cogges and Standlake from father to son to Bartholomew, Lord Grey (d. 1375). (fn. 109) Bartholomew's brother and heir Robert, Lord Grey (d. 1388) was succeeded by his second wife Elizabeth (later Clinton, later Russell), who held in dower until her death in 1423. (fn. 110) The manor then passed to the coheirs of Joan Deincourt (d. 1408), daughter of Robert de Grey (d. 1388): they were Alice, wife of William Lovel, Lord Lovel, and Margaret, wife of Sir Ralph Cromwell. (fn. 111) Margaret died without issue in 1454, (fn. 112) and when Alice, as Lady Sudeley, died in 1474 her heir was her grandson Francis, Lord Lovel. (fn. 113)
On Lovel's attainder after the battle of Bosworth Field the forfeited manor was granted by Henry VII in 1486 to his uncle Jasper, duke of Bedford. (fn. 114) On Jasper's death without legitimate issue in 1495 (fn. 115) it reverted to the Crown and was regranted in 1514 to Thomas Howard, duke of Norfolk. (fn. 116) Thomas's son and heir Thomas sold it back to the Crown in 1540. (fn. 117) In 1544 part of it, centred on Yelford, was granted to Alexander Unton and passed later to Wadham College, Oxford. (fn. 118) The rest was granted in 1554 as 1/40;th of a knight's fee to John Herle, esquire of the Stable. (fn. 119) Herle sold a few holdings in Hardwick in 1569, (fn. 120) but the main estate, as the manor of HARDWICK AND BRIGHTHAMPTON, was sold in 1571 to St. John's College, Oxford, which retained it thereafter. (fn. 121)
The manor contained a court and curtilage in 1295, but in 1312 the manor house was reported to be 'not built' and in 1423 only the site of a manor was valued. (fn. 122) The site may have been Court close in Hardwick, belonging to St. John's College and let with the mill in the 16th and 17th centuries. (fn. 123) Court close was not named among the lands (apparently unchanged) included in the mill estate in the 19th century, but may have been one of the adjacent closes, by then partly occupied by farm buildings. (fn. 124) Manor Farm, another St. John's holding, acquired that name in the 20th century, and was earlier College Farm. (fn. 125)
All the area covered by the surviving Cokethorpe Park, including the chapel, lay within the bounds of the large Ducklington estate granted by King Edgar in 958. (fn. 126) Some of it descended with that estate and became part of Ducklington manor, but by the 13th century much of the west side of the area, including the site of the later Cokethorpe House but not the chapel, was attached to Standlake manor and belonged to Standlake parish. (fn. 127) In 1279 Clement of Cokethorpe's freehold house held of the Giffard portion of Standlake manor may have been in Cokethorpe. Three other holdings certainly in Cokethorpe at that date were all attached to Ducklington manor. (fn. 128) One of them, a freehold tenement of Robert of Yelford, was presumably among the 3 houses and 2½ yardlands in Cokethorpe held by Edmund Walwyn at his death in 1439, since elsewhere the Walwyns succeeded to the Yelford family's estates. (fn. 129) Edmund's estate was said to be held of William Lovel's Hardwick manor, although it seems more likely to have been held of Ducklington manor, also held by the Lovels. (fn. 130) On the death of Joan Lovel in 1466 she was said to be holding Ducklington manor and also COKETHORPE manor, perhaps referring to the Walwyn estate; it was worth only £2 13s. 4d., and was reportedly held by Joan in socage from Sir Richard Reyser. (fn. 131) That name was perhaps an error for Thomas Raysaker, Ducklington's rector, whose precursor as rector in 1444 was taking the revenues of Edmund Walwyn's estate. (fn. 132) The Walwyn property in Cokethorpe has not been identified later, nor any other reference found to the Lovels' reputed Cokethorpe manor. Ducklington manor retained at least 4 tenements in Cokethorpe in the early 16th century, (fn. 133) and estates in Hardwick, Yelford, and Sutton (in Stanton Harcourt) at various times claimed appurtenancies there. (fn. 134) The bulk of the later park, however, descended with Standlake manor.
In 1555 the reversion of some former Standlake demesne, including many closes and meadows later associated with Cokethorpe and by then known usually as Golofers manor, was acquired by Francis Fettiplace from Cuthbert Temple. (fn. 135) Fettiplace (d. 1558) also held another part of Standlake, once belonging to the Giffards and later the Fienneses: in 1573 his daughter Cecily and her husband Edward East of Bledlow (Bucks.) settled the manor of GOLOFERS or GIFFARDS alias STANDLAKE FIENNES on themselves and their heirs. (fn. 136) The Easts, noted recusants, were resident at Cokethorpe by 1577; their only daughter Dorothy (d. 1588) married Thomas Fitzherbert, later, in exile, a leading Jesuit. (fn. 137) The Easts were still concerned in the manor in 1606, but in 1610 Fitzherbert's son Edward and his wife Bridget sold it to Sir David Williams. (fn. 138)
Williams, a justice of King's Bench, died in 1613, having settled the estate on his second son Thomas. (fn. 139) Thomas (d. 1636) was resident at Cokethorpe until at least 1623. (fn. 140) His son David was married at Cokethorpe in 1634 to Elizabeth Carew, whose family, headed by Sir Matthew Carew, seem to have been resident, perhaps as lessees, from 1625 or earlier. (fn. 141) In 1635 David Williams sold the manor to Elizabeth Stonehouse of Radley (formerly Berks.) and her third son William. (fn. 142) The Stonehouse family lived at Cokethorpe for most of the 17th century. At his death in 1660 William Stonehouse was succeeded by his eldest son William; (fn. 143) Nicholas Bowell (d. 1688), who was also living at Cokethorpe in 1673, had married the elder William's relict Elizabeth. (fn. 144) In 1696 William Stonehouse conveyed the manor, by then sometimes also called COKETHORPE manor, (fn. 145) to William Jennens, who in that year granted it to trustees on his marriage to Mary Wiseman. After Jennens's death in 1708 an Act was obtained to clear incumbrances on the estate, and by 1710 it had been acquired by Sir Simon Harcourt, one of the trustees of 1696. (fn. 146)
Sir Simon, appointed Lord Keeper in 1710 and Lord Chancellor in 1713, created Baron Harcourt in 1711 and Viscount Harcourt in 1721, added Ducklington manor to the estate in 1712; Cokethorpe was his principal residence. (fn. 147) After his death in 1727 his third wife Elizabeth (d. 1748) retained a life interest, but she gave Simon's grandson and heir Simon, created Earl Harcourt in 1749, possession of the house and park; in 1737 he was formally leasing from her the farmland. (fn. 148) In the early 1750s Earl Harcourt extended the Cokethorpe estate, notably by buying Barley Park, but from 1755 was planning a new seat at Nuneham Courtenay. (fn. 149)
In 1766 he sold the Cokethorpe estate to Maximilian Western, (fn. 150) son of Maximilian Western (d. 1764), a director of the East India Company. (fn. 151) Western resided at Cokethorpe until his death in 1801, having been predeceased by his son Maximilian (d. 1795). (fn. 152) His heirs, after the life interest of his relict Elizabeth (d. 1804), (fn. 153) were his daughters Elizabeth, wife of Francis Sackville Lloyd (later Lloyd Wheate) of Glympton Park, (fn. 154) and Frances, who in 1803 married Walter Strickland of Boynton (Yorks.). (fn. 155) After Lloyd Wheate's death in 1812 the Stricklands seem to have become sole owners. By 1817 they were resident at Cokethorpe, which after the death of Maximilian Western had been let, notably to Capt. Edward Shirley. (fn. 156) Walter Strickland died in 1839 and was succeeded by his son Walter, who in 1844 married Catherine Thornhill; Walter died in 1870 and Catherine in 1892. (fn. 157) The estate then passed to Clement Aldemar Cottrell-Dormer (d. 1906), grandson of Charles Cottrell-Dormer of Rousham (d. 1874) and Frances, eldest daughter of Walter Strickland (d. 1839). Cokethorpe was occupied for much of the late 19th century and early 20th by C. A. Cottrell-Dormer's younger brother, John (later John Upton). (fn. 158) In 1908 the estate was sold to Capt. P. H. G. Feilden who was resident from 1911 until his death in 1944. He was succeeded by his son Major-General (later Sir) Randle Guy Feilden. In 1957 the house and part of the park were let to Francis Brown, who opened Cokethorpe School. In 1966 the school trustees bought the freehold. (fn. 159)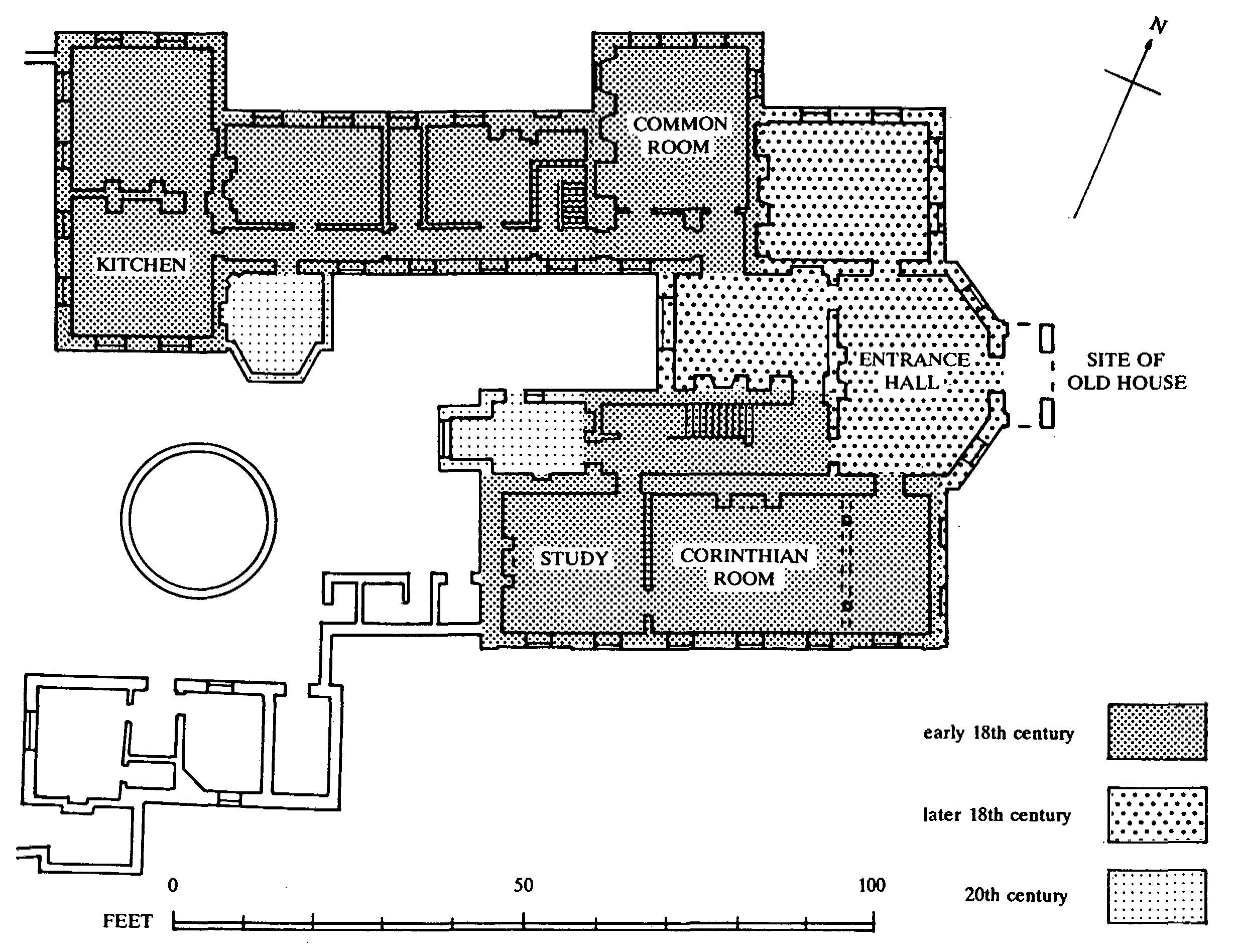 There was probably no gentleman's house at Cokethorpe until the Easts settled there in the 1570s. In 1611, when held by Sir David Williams, the estate included a close 'whereon the house now standeth and is to be builded'. (fn. 160) The intended new building was perhaps complete by 1613 when Sir David Williams bequeathed plate which was to remain at Cokethorpe 'as heirlooms'. (fn. 161) For a time, when occupied by Williams's son Thomas, the house seems to have been called Williams Lodge. (fn. 162) Probably it was the building which, until the later 18th century, occupied the site of the east front and part of the forecourt of the surviving Cokethorpe House. (fn. 163) Simon, Lord Harcourt (d. 1727), seems to have begun his extensions to that earlier house on the north: (fn. 164) to the projecting block (incorporating the staff common room in 1995) which possibly pre-dates the Harcourts (fn. 165) he added on the west a five-bayed range and end pavilion. The range contained some high-status rooms until (probably in the early 20th century) it became the kitchen block. The surviving south front was built c. 1720, as an extension of the earlier house, to the designs of Dr. George Clarke of Oxford. (fn. 166) Its centrepiece is a 3-bayed panelled room, later called the Queen Anne room (though postdating her death) (fn. 167) or the Corinthian room, referring to the heavy pilasters which punctuate the oak panelling; when the east front was rebuilt the room was extended eastwards by one bay to incorporate an existing small room, the earlier wall being replaced by panelled Corinthian piers. In the early 18th century the Corinthian room was evidently the chief reception room, while the panelled headmaster's study on the west was the state bedroom. Above the Corinthian room was a 3-bayed library, completed in 1721, (fn. 168) stripped out and turned into bedrooms probably in the mid 19th century.
The earlier, 17th-century, house was demolished and replaced by the existing east front and central canted entrance bay (fn. 169) soon after Cokethorpe was purchased by Maximilian Western in 1766. The roof balustrades and some of the attics seem to have been the work of Walter Strickland in the 1820s, (fn. 170) although attics on the south were allegedly added in 1844, presumably on the marriage of Walter Strickland (d. 1870). (fn. 171) For several years following their purchase of the house in 1908 the Feildens extensively renovated the interior in 18th-century style, altering or replacing panelling, and adding fireplaces. (fn. 172) All the sash windows on the principal fronts date from that period. The stables and service buildings which form the western court were built at various times from the early 18th century; (fn. 173) the circular building in the centre was probably a game larder.
By the 1620s the grounds of Cokethorpe House extended well to the east of the house, (fn. 174) but the creation and landscaping of the surviving park seems to have been the work of the Harcourts in the earlier 18th century. There was reference c. 1711 to three demolished houses in Cokethorpe, including Mountain's, which had stood near the road some 80 m. north-east of the chapel, (fn. 175) and in 1712 the north side of the churchyard was annexed to allow an avenue or vista to be laid out from the east front of the house towards the road. (fn. 176) Much of the east side of the later park, however, seems to have remained in closes, many of them arable, and some of the hamlet survived. Between the chapel and road was 'Peck's house', the farmhouse for the estate's principal farm, which seems to have continued in use for many years. (fn. 177) Another, unlocated, house (Hart's), with a substantial attached estate in the Ducklington part of Cokethorpe, also survived into the 1720s. (fn. 178) The park was extended by Simon, later Earl, Harcourt some time after he took over Cokethorpe in 1727. By 1745 he had acquired Hart's estate, which was kept in hand, (fn. 179) and by then the estate's farmland was much reduced and probably no longer worked from the farmhouse near the chapel. (fn. 180) Harcourt had added to the park on the west by acquiring the Lawns, between Home and Boys woods, formerly held by the lords of Yelford; (fn. 181) the Long Train, a wood at the west end of the Lawns, was probably planted to mark a new park boundary. (fn. 182) By 1766 when Harcourt sold the park it had reached its full extent and was estimated variously at between 280 a. and 310 a., including Home wood and the Lawns; (fn. 183) it extended east to the river and was well wooded throughout, with no significant buildings except Cokethorpe House, the isolated chapel, and the Water House (later Fish House) on the river Windrush. (fn. 184)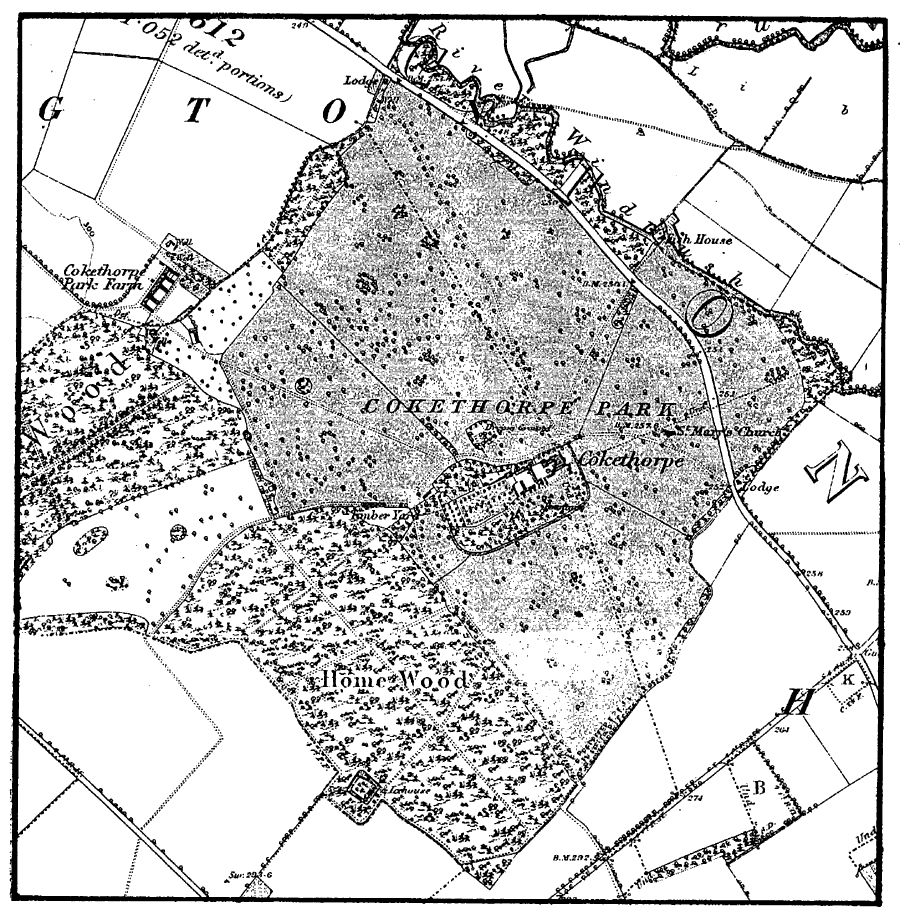 Fish House (fn. 185) was evidently designed as an eyecatcher, but its primary function was to pump water to the house and estate. It was built in
1723-4, replacing an earlier 'fish house' of unknown date and purpose. (fn. 186) It comprised a gothicized tower, incorporating re-used fragments of carved masonry; it housed a watermill and a dwelling house, perhaps for a fisherman. The undershot water-wheel was linked to pumping equipment, and the survival of grinding stones indicates a dual function. (fn. 187) The house abutting the tower dates from the mid 19th century.
Walter Strickland (d. 1839) laid out gardens at Cokethorpe House 'on an improved principle', perhaps those surrounding the house which by 1839 were divided from the park by a ha-ha; by 1876 they included formal gardens, a wilderness, and a fountain. (fn. 188) Strickland also built the surviving lodges where the Ducklington-Standlake road entered and left the park; that on the north was Coachman's Lodge in 1831. (fn. 189) By the 1870s there was no sign of an avenue or vista passing the north side of the chapel; the surviving avenue from the house to the north lodge, aligned on the steeple of Witney church, was seriously decayed, suggesting that it had been part of the 18th-century design; there were indications of a possible vista towards Fish House. The trees in the body of the park were chiefly deciduous, but evergreens, perhaps 19th-century additions, had been planted extensively in Fish House plantation and other peripheral belts, and in the garden south of the house. (fn. 190) The north avenue was restored before 1921, (fn. 191) but elsewhere in the park many trees were lost in the 20th century, particularly through elm disease in the 1970s.